Here we share our pergola lighting ideas guide including how to illuminate this outdoor feature, the different kinds of lighting, and how to customize them.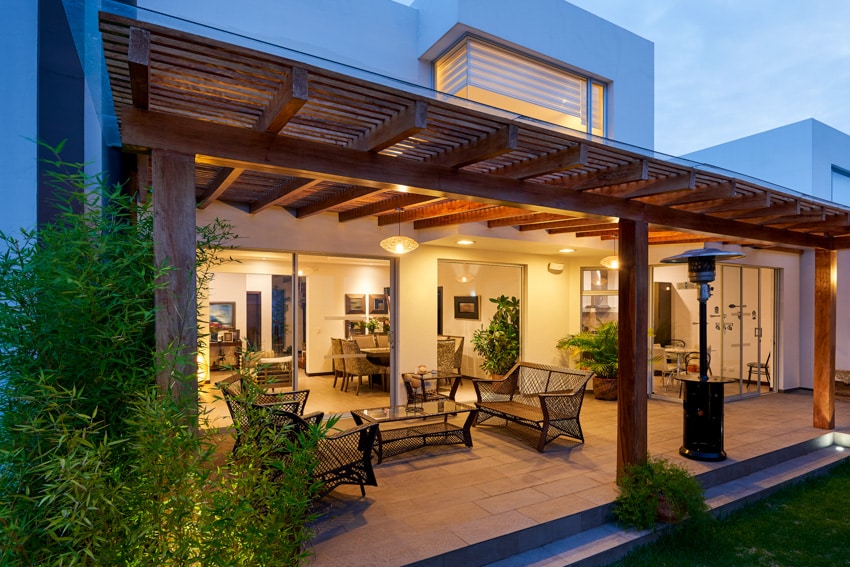 Lighting your pergola can help you maximize your enjoyment of this space. There's something magical about a beautiful pergola all lit up at night. They can be great places for entertaining and hanging out with friends and family. Having the right lighting is essential to ensure your pergola is best used.
How Do You Light A Pergola?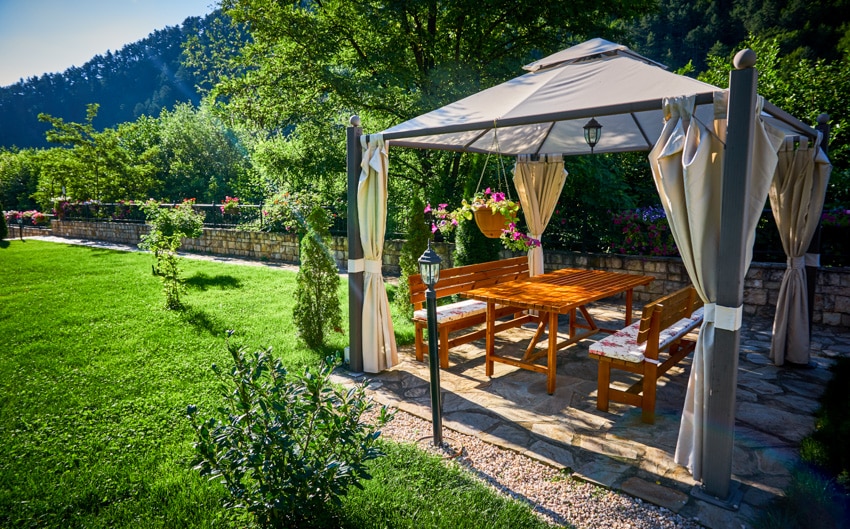 The first thing that probably comes to mind when you think of the pergola is the furniture that comes along with it. You start wondering about the events that you're going to be holding there and how you're going to set the entire place up.
There's just so much to do if you're planning on adding a pergola to the exteriors of your home. There are patio chairs and tables, outdoor couches, fire pits, barbecue grills, and so much more.
One thing that you shouldn't miss, though, is the lighting fixtures. There are a lot of times wherein the furniture has been all set up and the lighting fixtures haven't been figured out just yet. This can ruin the overall aesthetic of your pergola.
Thankfully, whether you're planning on getting a pergola built from scratch or you're updating a current one, you have quite a lot of options to choose from.
Outdoor Pergola Lights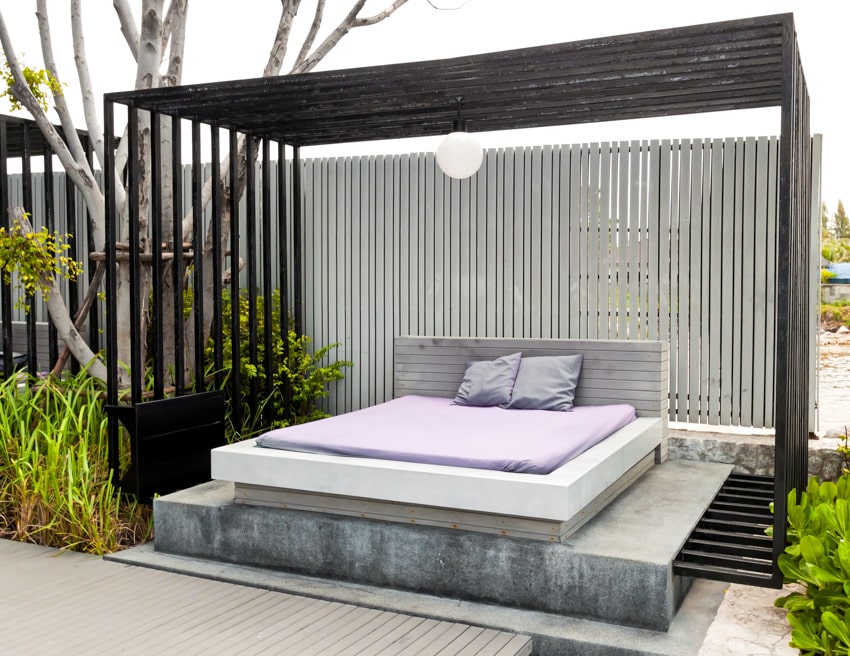 Here we share the different pergola ideas for lighting your outdoor space.
Pendant Lights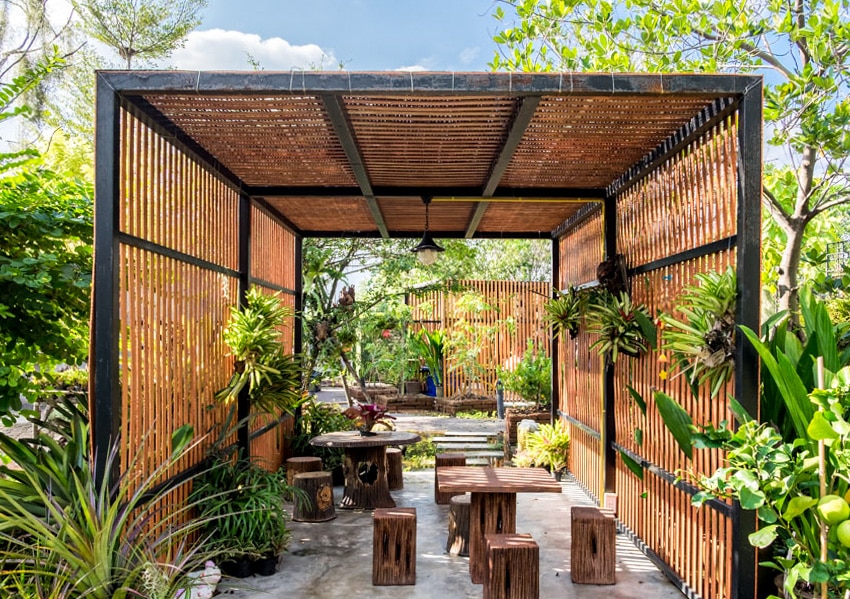 Pendant lights can lend a modern, contemporary look to your outdoor pergola. With a few basic beams for you to hang them from, you can go straight to business.
If the look you're going for is making your outdoor pergola space look a bit like an indoor space, then pendant lights should be your go-to. A small pergola with some basic tables and maybe three or more pendant lights can fully illuminate it. They can also make it an easy workable space for you to hold parties or entertain people in.
Pendant lights are great for providing ample lighting for your pergola. The best part of it is that they wouldn't block the view at all, further maximizing the space.
Among the great pergola lighting ideas would be if you have a bigger space, you can put up a fake tree and hang your pendant lights in varying lights for dramatic effect.
Built-In Lighting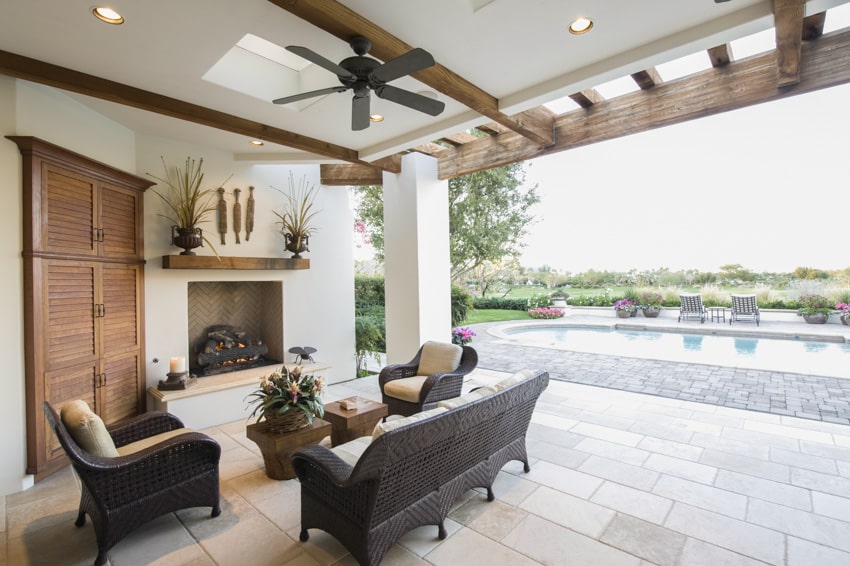 If you're currently having plans of getting your pergola construction under way, another great idea would be to include the lighting in it. Built-in lighting is hassle-free and they can create a seamless, polished look for your outdoor space.
A word of caution, though. These things can take up more money than the other lighting options. You might need to talk about budget and what your limits are with your contractor.
If done right, though, it can actually increase the overall real estate value of your home. That's a benefit worth considering for your lighting ideas.
String Lights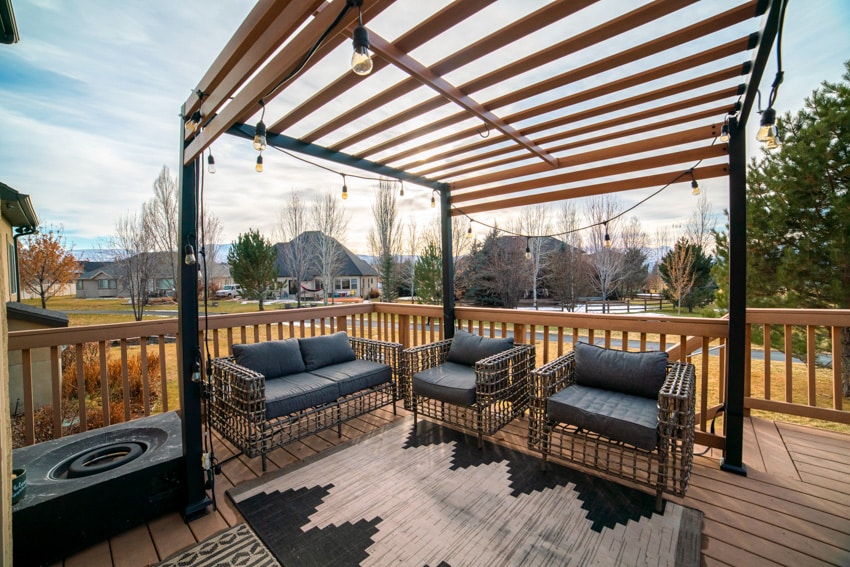 If you're a bit more on the whimsical side and you want to create a magical outdoor space that's dreamy, you should consider getting string lights hung up on your outdoor space.
String lights usually come along with natural fiber textures. The warmth it brings in can create a positive and relaxing nook for you outside your home.
Throw in some cozy furniture or maybe some fat throw pillows, some fabrics, and plants; and you're in for quite a treat. Read more about our guide on how to hang string lights here.
Mounted Light Fixtures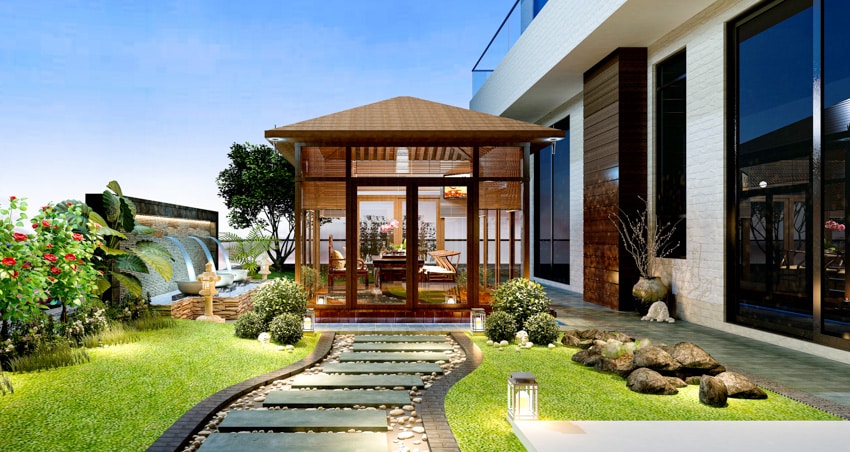 Mounted lighting fixtures can be one of the pergola lighting ideas you can consider. Technically speaking, they tend to serve more as guiding lights.
Although they might not always come top of mind as a main lighting fixture, they can provide a homey and cozy look to the place with the dim lighting that they bring.
What's really great with these lighting options is that there is a wide variety of looks and styles for you to choose from. Mount it on walls or posts that support the structure.
These lights can blend in well with the overall design of your pergola or your entire home, even. It doesn't matter if your tastes are more traditional, contemporary, or minimalist.
There is bound to be a type of mounted fixture out there that will suit your taste. It can take a bit more effort to get these installed because of their wiring requirements. Taking all of the necessary precautionary measures will save you from a lot of setbacks in the years to come.
Up-Lights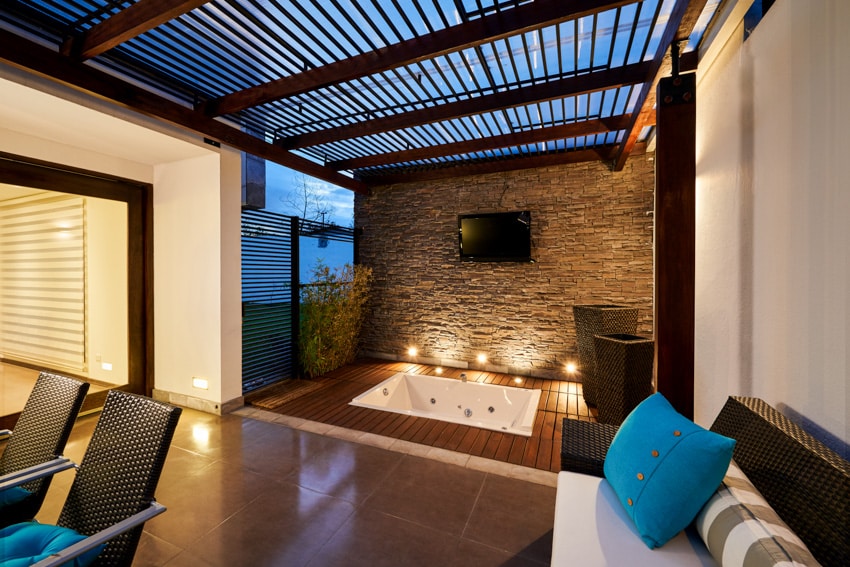 Uplighting sounds exactly what it sounds like. These are the kind of lighting fixtures that can be installed in either the ground or flooring structure of your pergola. This type of lighting, similar to mounted light fixtures, can be quite dim.
However, the overall lighting effect can be intimate and soft. This also requires some skilled labor to get installed. The costs justify it though because the end result is a relaxed environment that's perfect for spending watching the sunsets in.
Down-Lights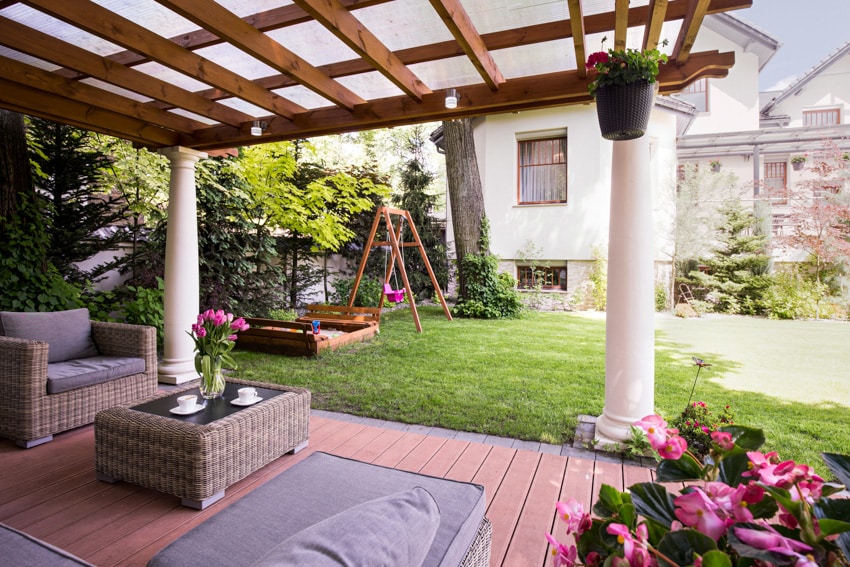 Using downlights in a pergola isn't really a pergola staple but more of a landscaping technique but it still technically works quite well.
Down-lights are also commonly used indoors when you want some soft artificial lighting. However, if used outdoors, the overall look and feel can turn out to be special.
In some ways, it mimics the soft lighting of the moon which is why it is also at times nicknamed as moonlights. Although downlights look and feel like they are hardwired, there are a lot of alternative ways to avoid hardwiring.
This means that you can save up on skilled labor costs. If you're handier than some, it can even be something that you can opt to do yourself.
Hanging Lanterns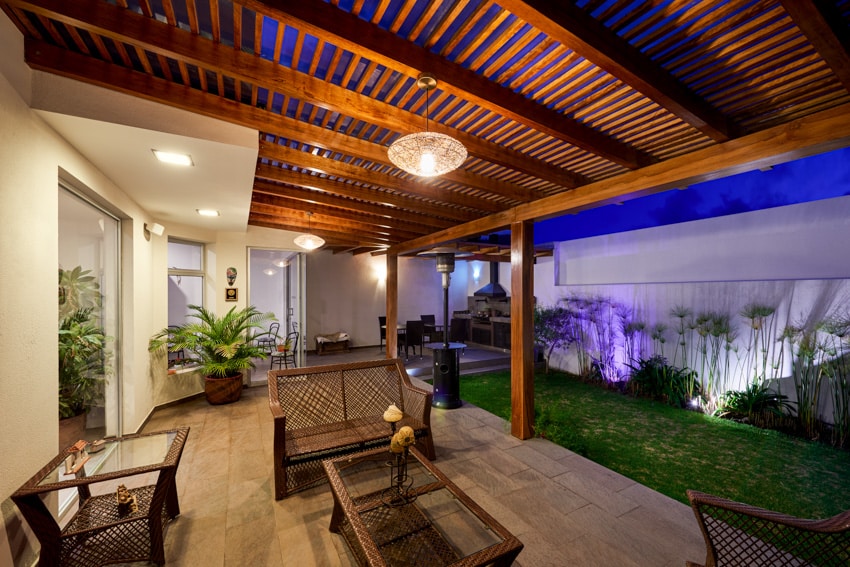 If you want your pergola to look like it's always ready for a party at a moment's notice, then hanging lanterns should be your go-to lighting fixtures. Paper lanterns are among the common pergola lighting ideas homeowners use because they're cheap and easy to install.
You can hang your lanterns in varying heights if you want to create an interesting and multidimensional look to the space.
White lanterns are classics, of course, and they aren't going away anytime soon as they blend in well with any type of décor. If you want a more whimsical touch, you can actually go for colored ones.
Perimeter Lights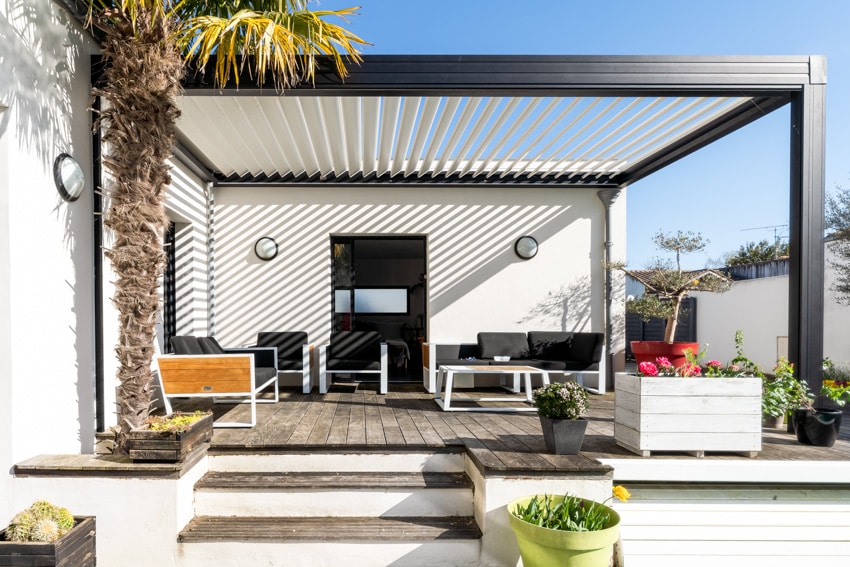 If you're interested in getting a clean look that doesn't get in the way or doesn't obstruct the view, a lighting option to consider would be perimeter lights. They're basically little bits of spotlight surrounding.
As the name suggests, the perimeter area of your pergola. These lights can make the space look much larger and can make you enjoy the outdoors of your home more as they stay away from the visual horizon.
Symmetrical Lights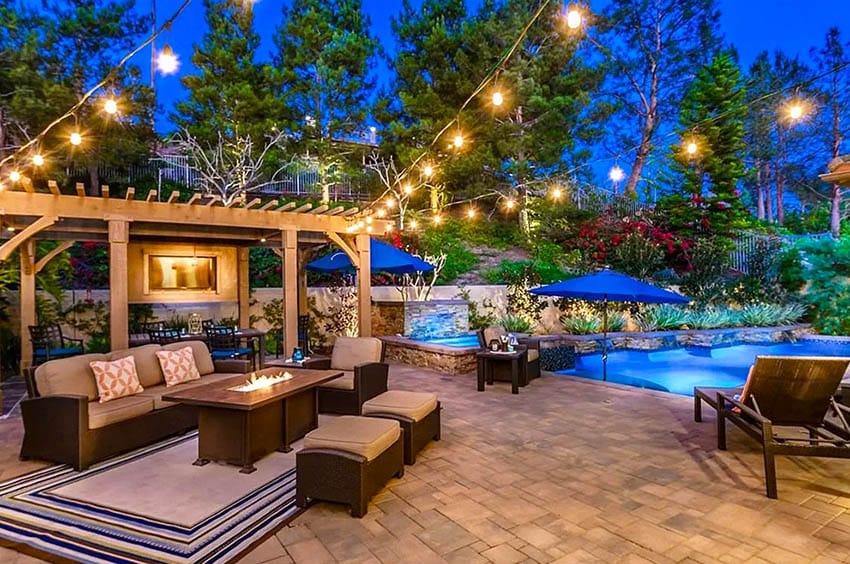 If you're a fan of string lights but you aren't really all that fond of how haphazardly they look together as they can be all over the place at times, symmetrical lights can turn out to be the perfect solution to your lighting challenges for your pergola.
Symmetrical lights are equidistant from each other which means that they are spaced uniformly with mathematical accuracy. Carefully installed symmetrical lights mean that every element in your pergola will be well lit.
It can also be a budget-friendly option for when you want your pergola to attain a sophisticated look without burning a hole in your pocket.
Drum Lights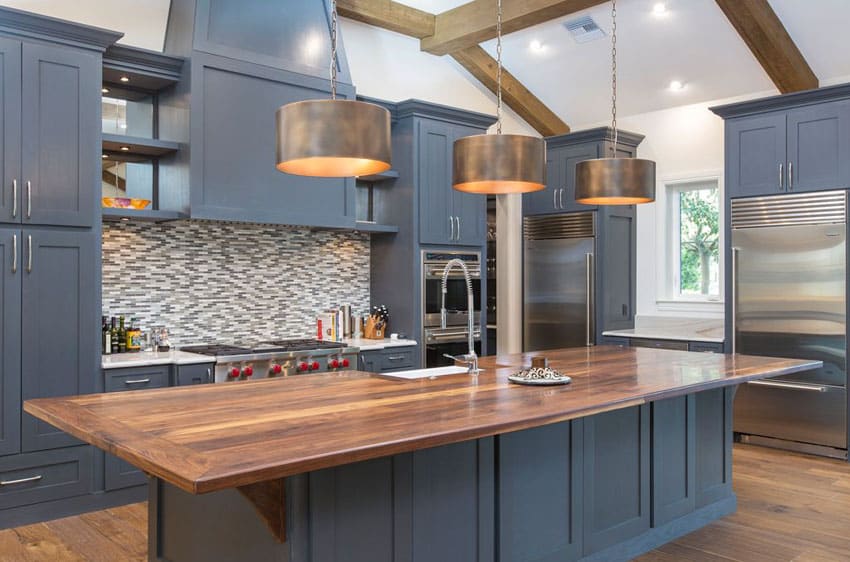 Drum lights are normally built for and used indoors. Although this isn't commonly the lighting of choice for the outdoors because the material that it's made of is usually out of burlap fabric, it is still an option worth looking into.
Drum lights can add a stylish flair to your outdoor gatherings in the pergola. You can mix and match it as well with your color scheme for the party that you're planning out.
What's even better is that you can change the designs every now and then depending on what your preferences are at any certain time. Read more about our guide on the top drum pendant lighting ideas here.
Mason Jar Lights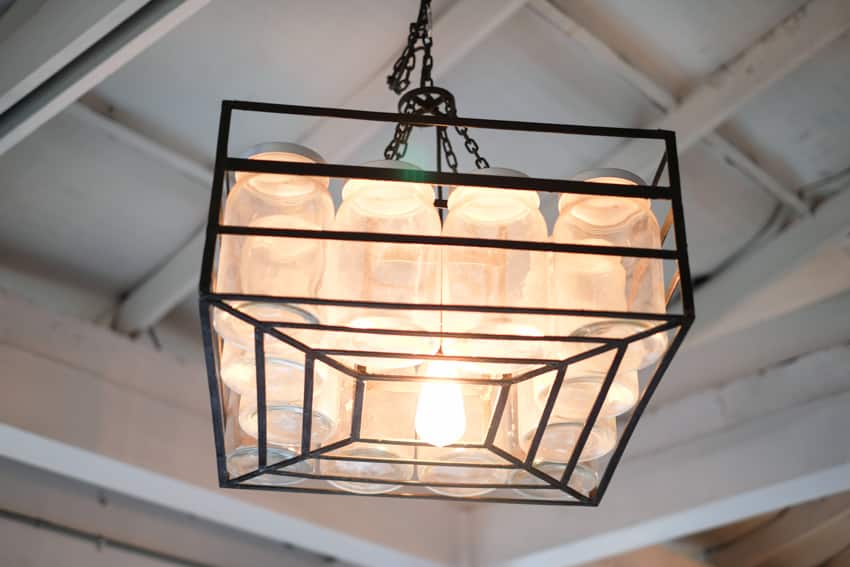 Mason jar lights are every DIYer's dream. You can easily get this done with a little bit of repurposing and creativity.
If you aren't the handy type and you don't want the lighting bulbs you currently have in your pergola fitted in these jars, there are store-bought ones that you can easily install.
They also don't cost too much so if you're trying to work with a budget, this can just be the outdoor lighting fixture for you. Read more about our guide on the mason jar hanging lights here.
Custom Light Fixtures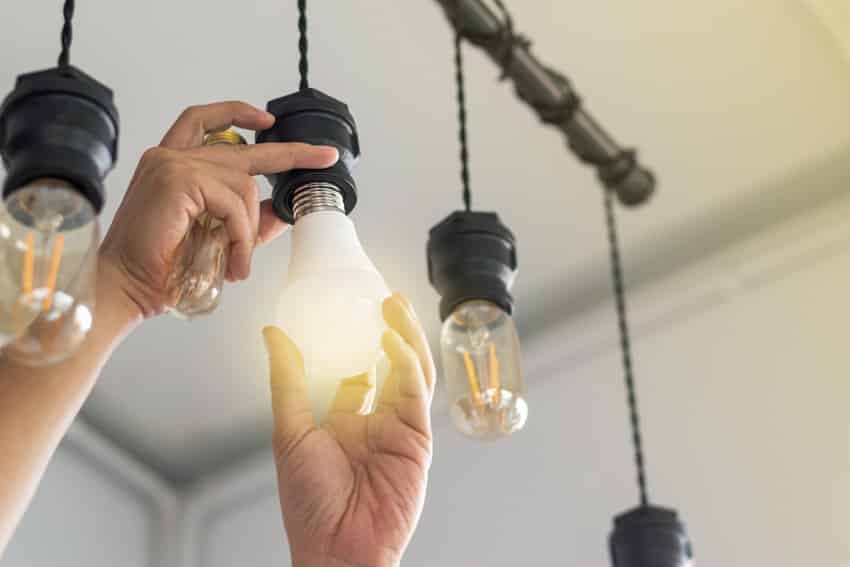 You can always personalize and customize to your heart's content, of course. What's great about lighting options outdoors is that if you can think it up, you can definitely see it through all the way to reality.
It would be great for you to always consult your contractor and maybe a skilled electrician as well just to get your bases covered. On the high end, they can cost quite a lot of money as you would have to commission artists to get it done just the way you want to get it done.
But the end result would mean that you have successfully created a space outdoors that is uniquely you. You can even opt to mix and match whatever existing outdoor lighting options are available to you and work from there.
Either way, the end goal would be to achieve that vibe that you and your friends and family will get to enjoy especially during those cozy summer nights.
See more related content at our article about modern pergola designs on this page.