Here we share outdoor deck lighting ideas, including the types of outdoor deck lights, which lights to use, and proper light placement for a brighter and more relaxing backyard ambiance.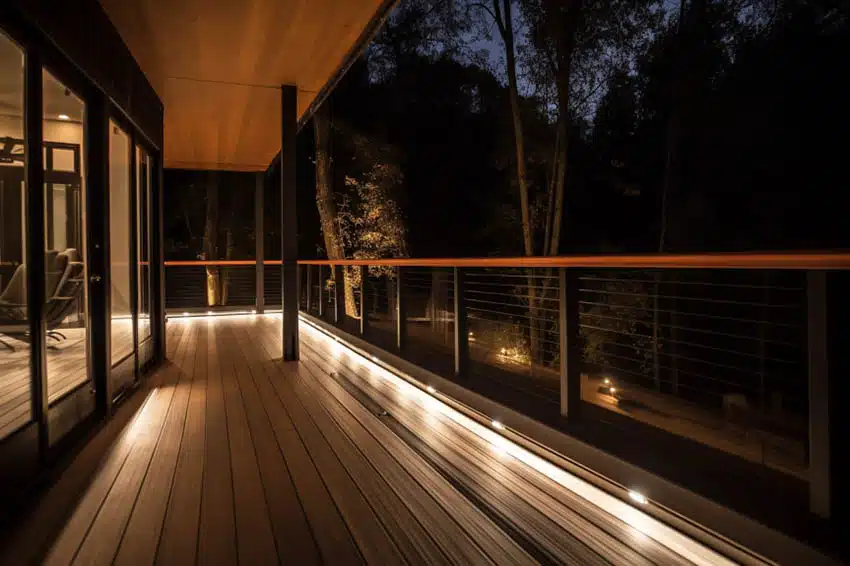 Deck lighting is a fascinating way to add a touch of elegance to the home, especially at night. It also makes the property safer and more secure while allowing the whole family.
Choosing the correct deck lighting also provides a more pleasant, relaxing atmosphere or a safe place to play and cook dinner.
If you wonder what lighting you should install in your home, here are several outdoor deck lighting ideas to get you started.
Types of Outdoor Deck Lights
There are plenty of options for deck lighting. Some are subtle, while others are brighter, illuminating every square inch of the deck. The following are the most common types of outdoor deck lights.
Deck Post Lights
Affordable and trendy, deck post lights make an excellent choice for homeowners who want a subtle lighting effect in their backyard or garden. The lights point downwards, illuminating the railing, deck floor, and surrounding areas.
Available in different styles, colors, and shapes, deck post lights are affordable and worry-free to install. One can choose plastic if working on a tight budget.
Homeowners can also buy aluminum, copper, or stainless-steel deck post lights for a more refined look. Many of the models used on decks can also work as fence lights.
Under Rail Lights
Deck posts are not the only structures one can use to mount outdoor light. The railing can also serve as an excellent platform for modern accent lights.
The best part about under rail lighting is that it illuminates the deck and pathway better than deck post lights.
Under rail lights are suitable for providing the outdoors with subtle lighting, allowing homeowners to relax sitting on the deck without hurting their eyes.
The lights give the deck a warm and welcoming glow, perfect for quiet evenings or solemn occasions. Read more about deck railing ideas here.

Recessed Lighting
Homeowners with covered decks will love using recessed lighting in their ceilings. These lighting fixtures contrast the dark ceiling environment, illuminating the area underneath. When positioned strategically, recessed lights can ensure a safer environment for everyone.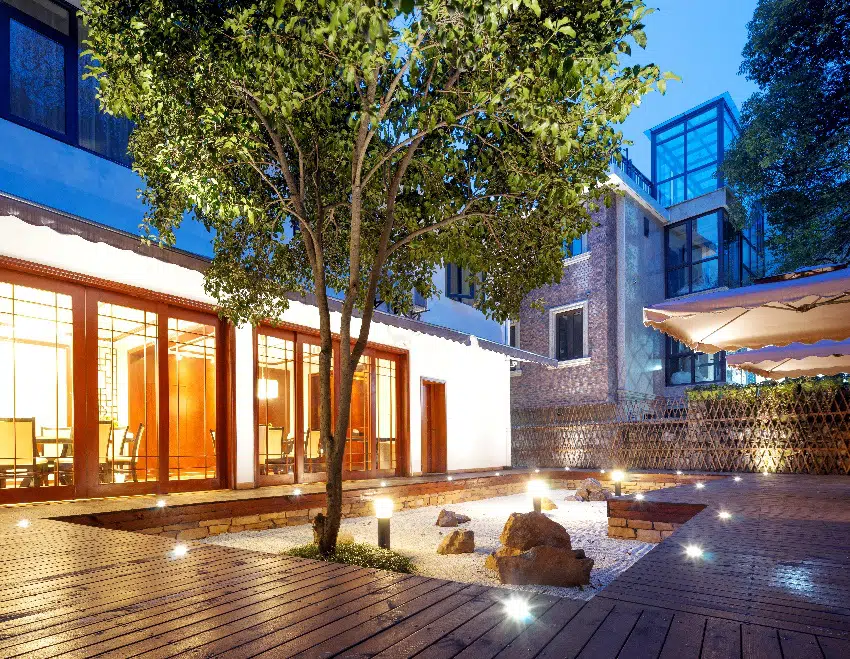 One must understand that recessed lights are not only effective on ceilings. One can also mount them flushed on the deck itself or on a thick deck post.
Homeowners who want to highlight a special deck feature will do well with recessed lighting.
In Floor Lighting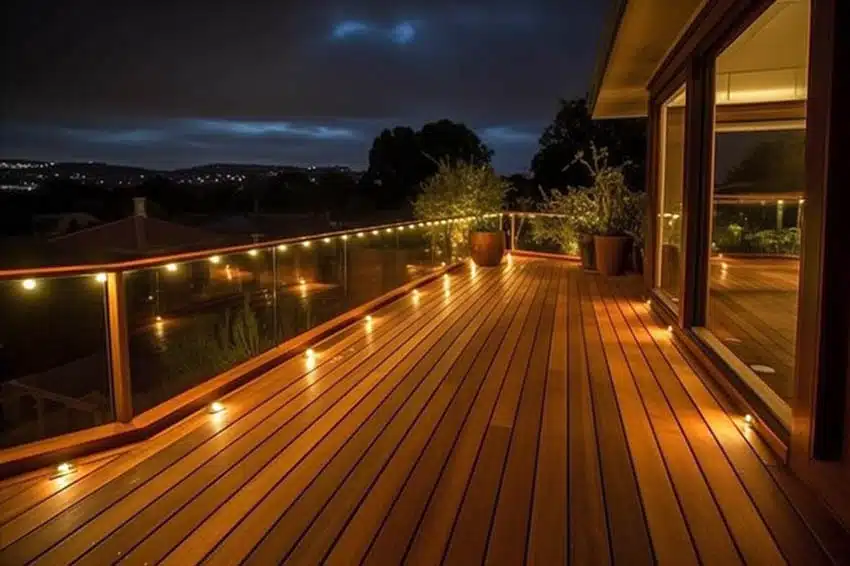 Recessed lighting, and in-floor lights are perfect for producing a dreamy, stylish, and relaxing ambiance.
Like their in-ceiling counterparts, in-floor lights serve as a guide for homeowners and guests. It can highlight architectural features and define pathways.
In-floor lighting can produce a refined ambiance, highlighting the deck's beauty while allowing the city skyline to dominate in the background.
In-floor deck lighting can create fascinating shadows, giving the property an almost magical feel.It can be a showstopper if placed strategically on one's deck.

Spotlights/Downlights
Downlights make excellent lighting for the deck bar because they project concentrated light straight down. Depending on the light color, one can turn the deck warm and cozy or crisp and cool.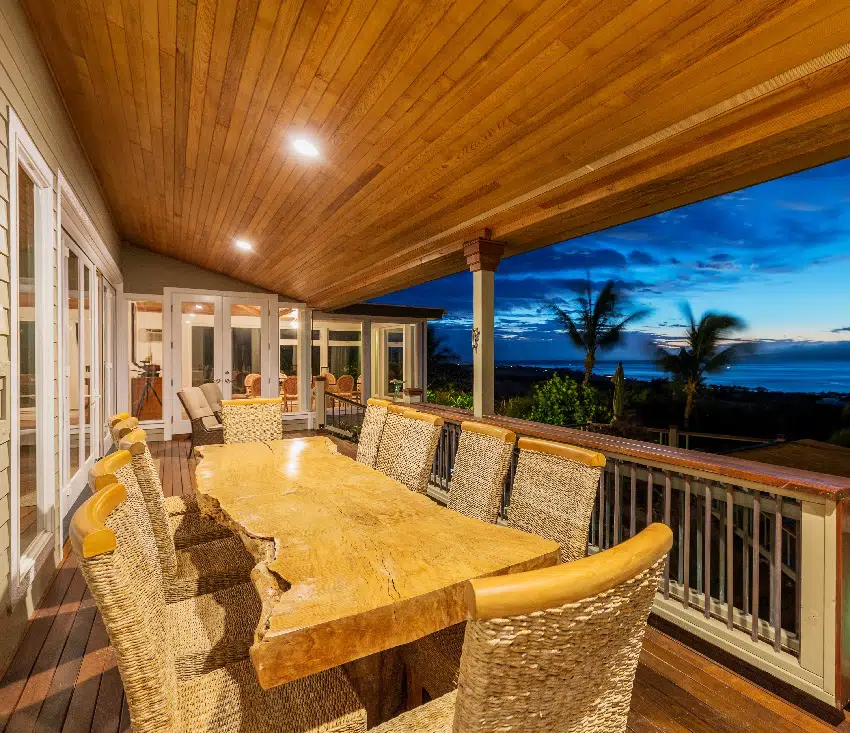 On the other hand, spotlights are suitable for projecting an intense but narrow light beam onto a specific deck area or feature.
These lighting fixtures are perfect for highlighting an architectural or decorative element. It differs from a downlight because one can adjust the light's angle.

String Lights
A favorite of many homeowners, string lights are the easiest to install. One only needs an electrical outlet, and the lighting fixture is ready to illuminate the outdoor deck. It is like the string lights families use on their Christmas trees.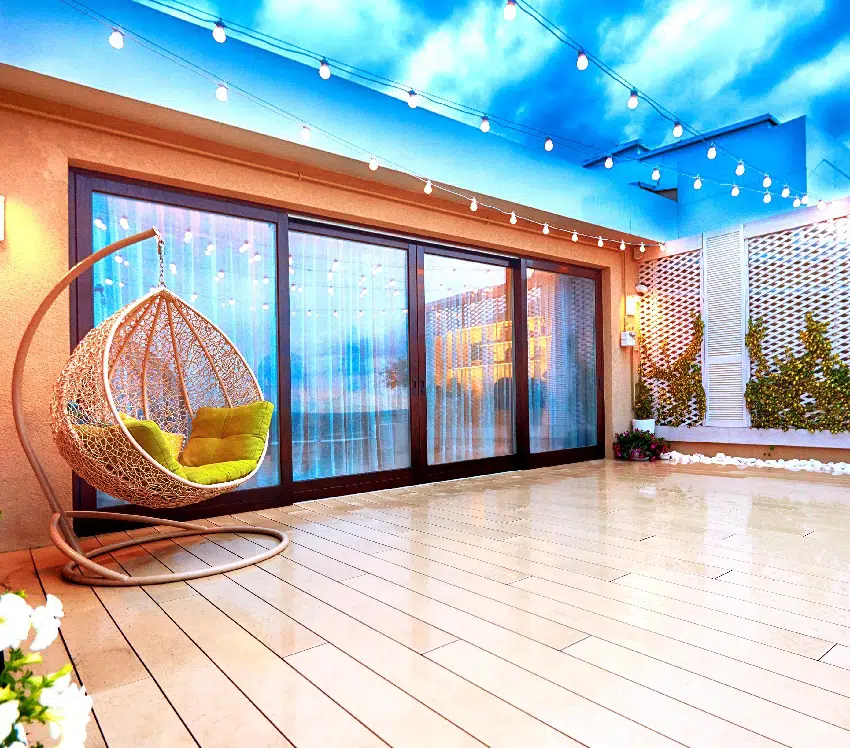 One can choose different colors and hang them along the deck railing or on tree branches. The only issue with this option is that the lights are not as durable as other outdoor lighting fixtures.
Hanging String Lights
A form of string lights, hanging string lights form a magical cascade of lights from the deck ceiling or railing. They look like a curtain of stars or jewels, making the deck breathtaking.
Depending on the brightness of each bulb, hanging string lights can illuminate the entire deck with their soft glow.
This lighting option is also perfect for adorning trees. One can hang them on branches so that they cascade naturally down like vines.

Solar Lights
Families living in sunny environments can opt to install solar lights in their outdoor decks and patios. These lighting fixtures use sunlight to recharge their built-in batteries.
When darkness falls, the lights turn on automatically to illuminate the surroundings.
Solar outdoor lights come in different styles, shapes, sizes, and colors. One can pick solar lights that accentuate their deck's unique features or improve safety during nighttime movement on the platform.
The issue with solar lights is that they may not shine brightly when not sufficiently charged.
Deck Stair Lights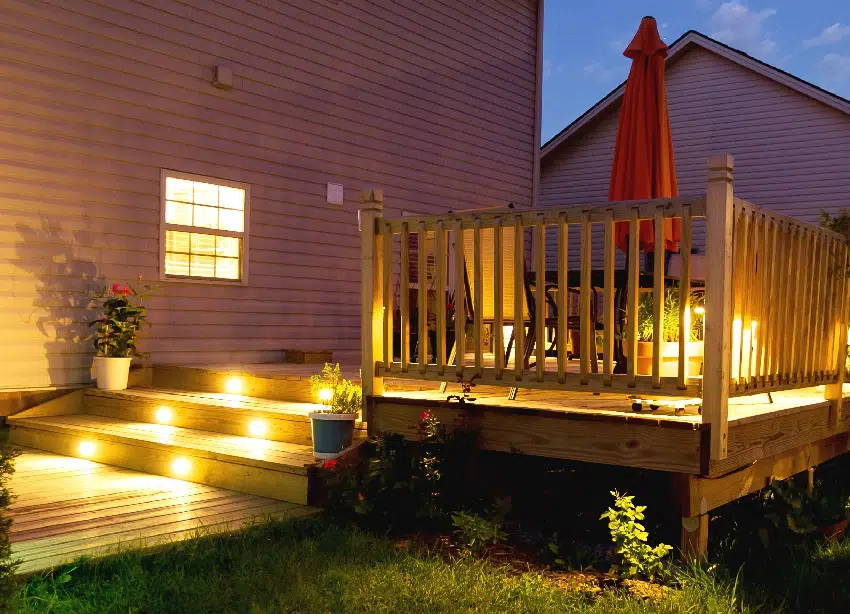 Decks with stairs will be safer to use if they have the correct deck stair lights. One can mount these lighting fixtures on every rise to illuminate the corresponding run or step.
It comes in different colors, although white and yellow offer the safest way to light the steps.
Deck stair lights can accentuate the natural elegance of an outdoor deck. They are small enough not to undermine the platform's beauty during the day.

Under Deck Lighting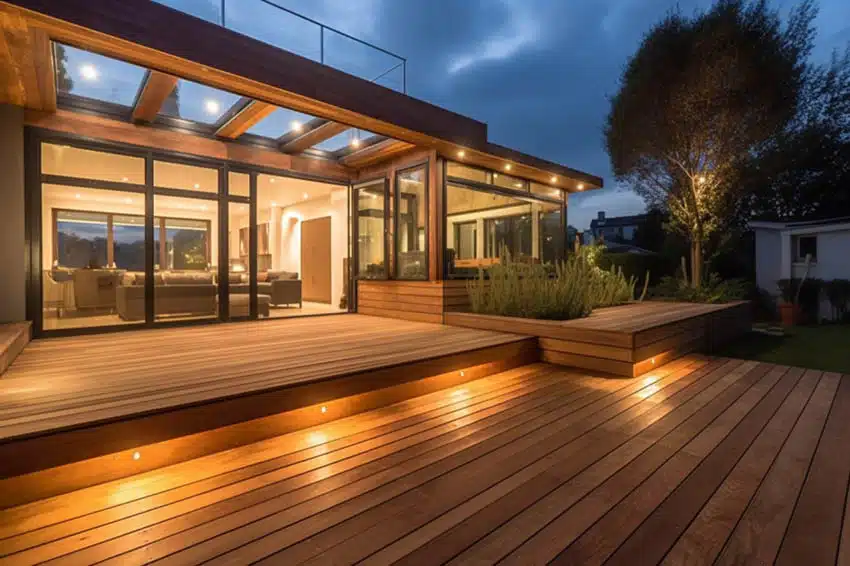 If one has space under the deck, this type of outdoor deck lighting is an excellent choice. It can be a recessed form of light fixture, a downlight, or a spotlight. Some homeowners also like to mount string lights under the deck.
These lighting fixtures are suitable for extending a deck's valuable space. Families can create a makeshift space under their decks to enjoy a quiet escape when everyone is partying on the floor above.
Under Counter Lighting
Counters are almost always waist-high, leaving the space below it unoccupied. One can install under-counter lighting in this section to turn it into a valuable mini den.
It makes storage of deck essentials safe and secure, eliminating groping for items in the dark.
Some people look at under-counter lighting as something they can install under their cabinets to illuminate the countertop. These lighting fixtures make excellent countertop lamps to make food preparations safer.

Outdoor deck lighting ideas using outdoor kitchens provide many different ways to light the area and are highly advised when cooking at night.
Lanterns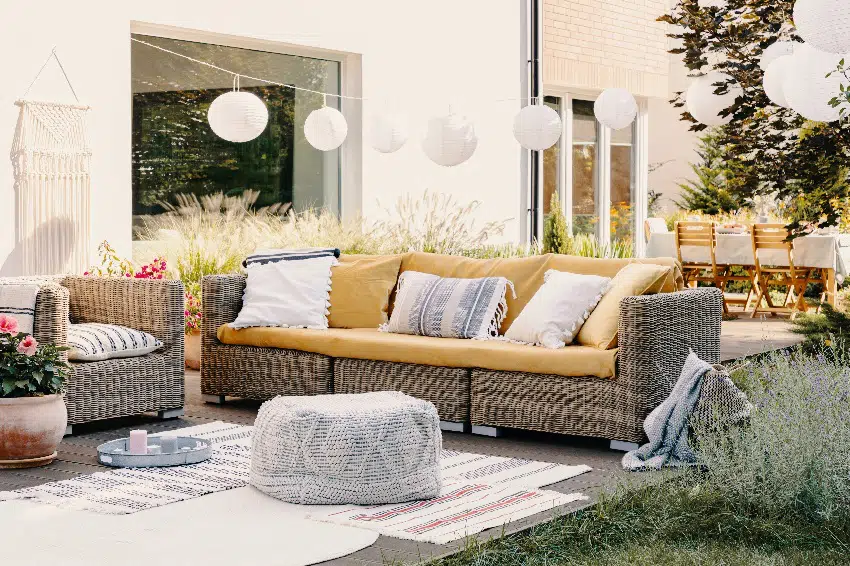 Ambient outdoor deck lanterns are excellent for turning the platform into a magical place with their warm, welcoming glow. Lanterns give decks a soft glow, perfect for creating a suitable mood for a quiet evening.
Deck lanterns can be hanging or propped on the deck floor. One can also choose copper, glass, and wooden lanterns that give the deck a more natural vibe.
There are also candle lanterns, which can showcase the railings or the deck stairs.
How Do You Light An Outdoor Deck?
Families have plenty of outdoor deck lighting options, depending on their needs and budgets. Lanterns are perfect for most families because they are portable and affordable. One can position them on one deck, only to reposition them one week after.
String lights are also popular because people can hang them vertically or horizontally, depending on their outdoor illumination needs. These lighting fixtures are also portable, allowing families to redecorate their decks instantly.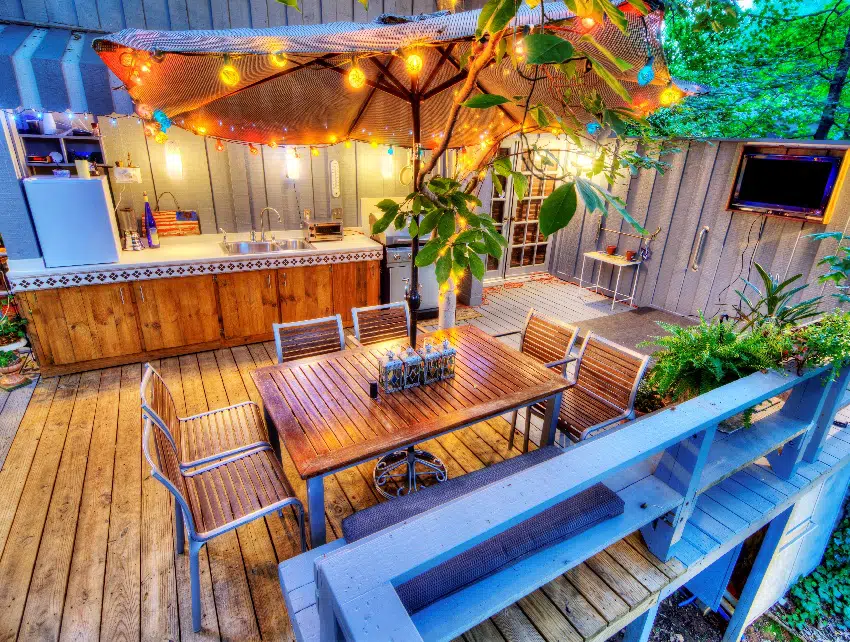 Of course, there are lighting fixtures that people can mount permanently into place. Recessed lights, downlights, and spotlights are perfect options.
Families can install these in the ceiling, on the floor, under the deck, on the stairs, or on the deck railings.
Where Should Lights Be Placed?
There are no hard and fast rules about where one should place deck lights. Everything depends on the homeowner's primary goal: improving safety or elevating the deck's aesthetics.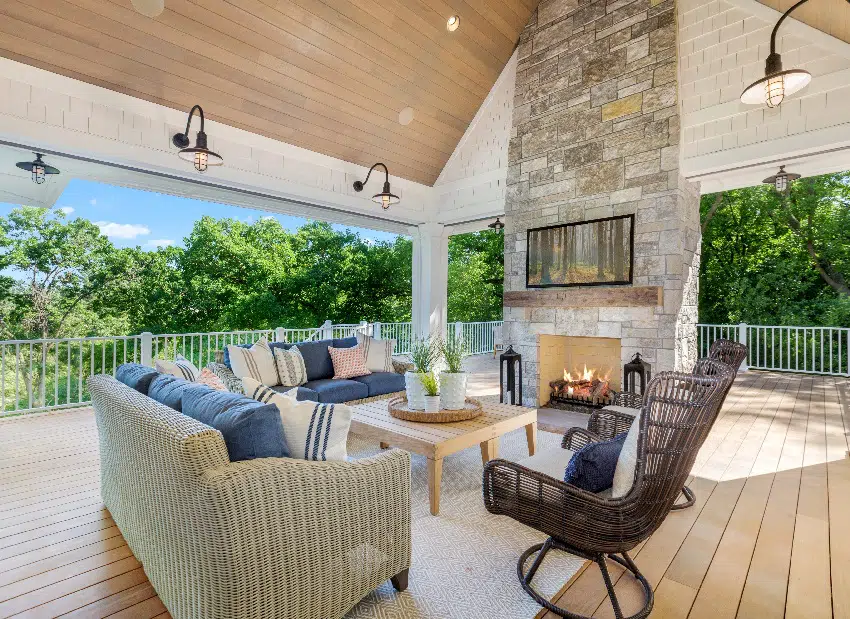 In general, pathways should always receive sufficient lighting to facilitate safe traffic. For example, one can illuminate the deck stairs, railings, and deck sections where people move.
If the family needs to illuminate the deck's surroundings, having several lanterns or hanging string lights will be ideal.
Deck lights can also highlight architectural and decorative elements. For instance, having a spotlight above a sculpture, plant, or any artwork will draw attention to this part of the deck.
Functional deck areas also need adequate lighting. Decks with integrated bars and grill areas will benefit from downlights or recessed lighting above these sections.
Light coming from the side will be useless in such instances.
How Far Apart Should Deck Lights Be?
Deck light spacing depends on the lighting fixture type. For example, recessed lights should have four to six feet in between fixtures.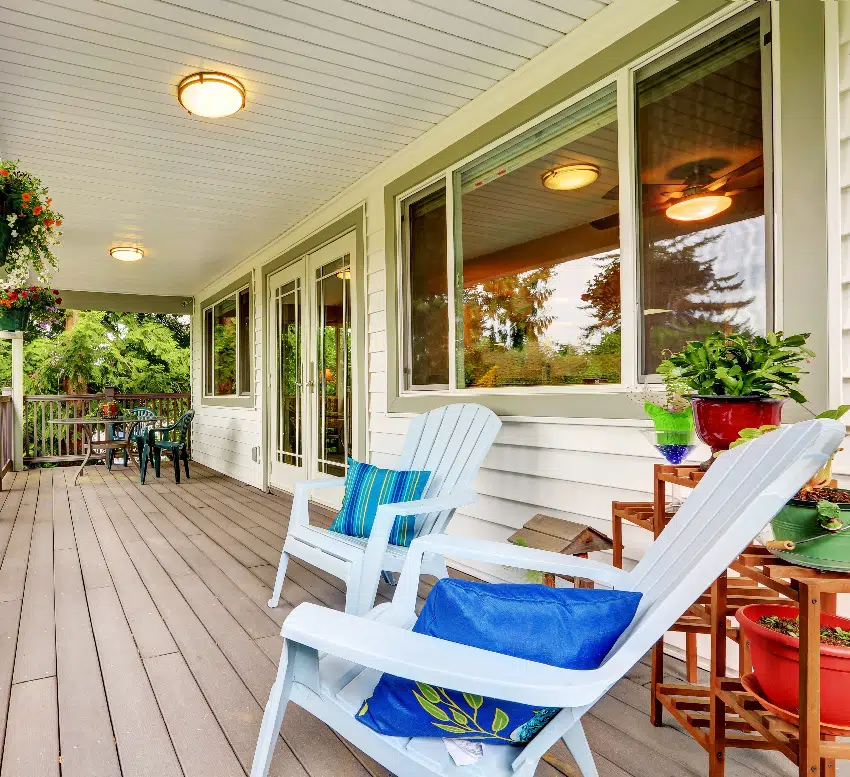 On the other hand, stair lights should always come in pairs per tread, spaced anywhere between three and six inches.
If one wishes to install spotlights, the minimum distance between fixtures is six feet. One can extend this up to ten feet if other lights are on the deck.
The ideal distance between deck post lights is 72 to 96 inches. Although, one can mount a lighting fixture on every other deck post if the distance between pillars is less than five feet.
As for deck rail lighting, there is no spacing requirement. However, the light's brightness must be less than the deck post lighting fixture's luminosity. The focal point must always be the deck posts, not the railing.
Conclusion
Deck lights not only add beauty to one's property, like a gem shining in the night. It can set the mood for a fun evening or a peaceful ambiance for couples.
These fixtures can also improve deck use safety, allowing everyone to enjoy a relaxing time on the platform.
The outdoor deck lighting ideas shared in this article should empower homeowners to beautify their decks and make them safer.
For more related outdoor deck lighting ideas visit our gallery of top modern deck ideas here.