Here's our Spanish tile patio guide including popular styles such as terracotta, Saltillo and hand painted design ideas.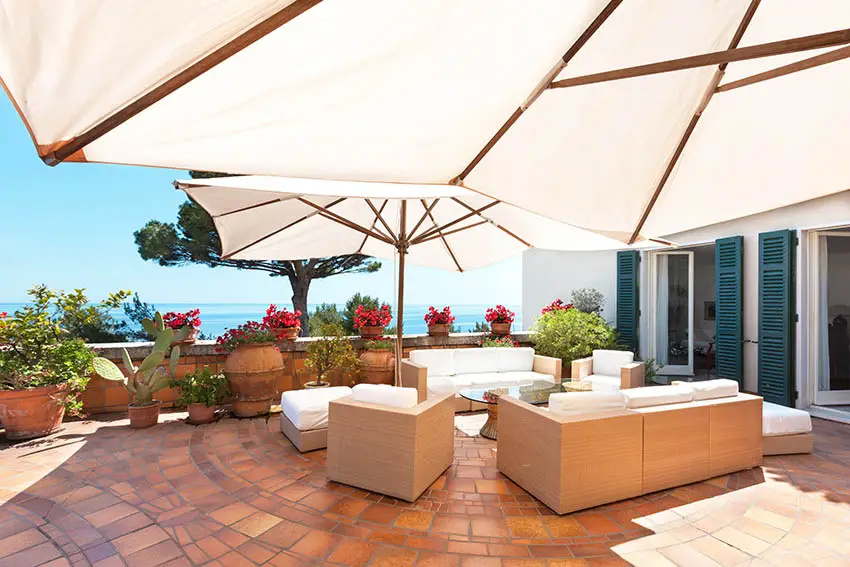 Spanish tiles have been around since the Medieval ages, most popularly used for churches and palaces. These artisan tiles eventually found their way into private homes, most popularly used in kitchens, floors, bathrooms, and of course, patios.
Different periods will depict different trends and influences in Spanish tiles. Some designs have obvious influences from the art and culture popular at that time, such as Mediterranean, Mexican, etc.
Traditional Spanish tiles were also an art form, beyond its functional and aesthetic use, and were used as a medium to depict different scenes similar to paintings.
The picture above is a great example of traditional Saltillo tiles in a variety of sizes and colors. The tiles were installed to form a classic rosette pattern, creating a visual definition of spaces in the patio. You will see a variety of colors and gradation on the terra cotta colors, which is typical of Saltillo tiles.
Types of Outdoor Spanish Tile
There are different types of outdoor Spanish tiles you can choose from. Here are the most popular tiles used outdoors:
Saltillo Tile Patio
Traditionally Saltillo tiles are hand-pressed sun-dried raw clay tiles that gives it its signature uneven edges due to its hand-made quality.
These types of tiles also give a more rustic look, and generally more durable. These usually come in terra cotta colors, ranging from yellow, orange, red, and gold.
Color and patterns vary with each tile depending on how they were dried, which is part of the charm of these tiles. Saltillo is also sometimes referred to as Terra Cotta tiles, and it also comes in different shapes and sizes.
On average, Saltillo tiles cost between $5 to $8 per square foot. Price can be lower or higher depending on the design, color, and size. Custom-made Saltillo tiles will, of course, cost more.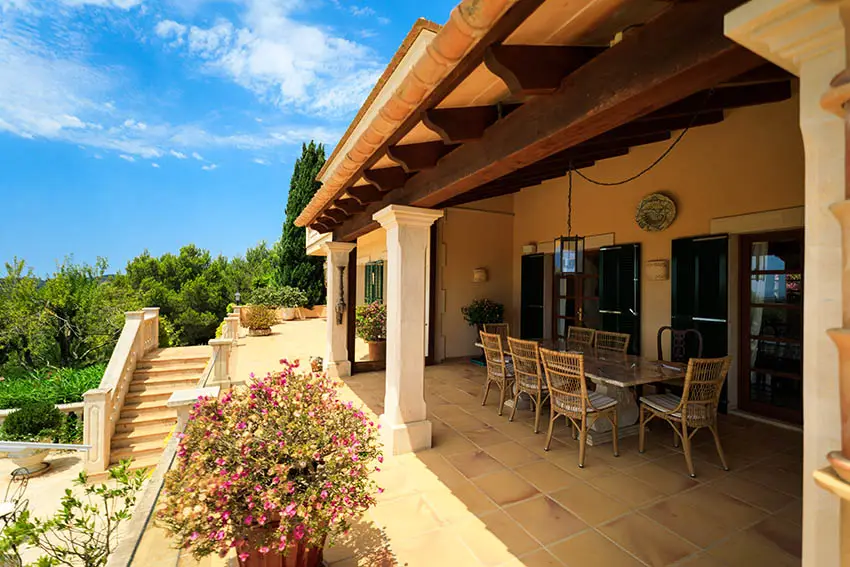 Following the theme of the architecture, this patio uses mainly yellow-toned terra cotta tiles or Saltillo tiles. You will see hints of red terra cotta on some tiles, which is naturally seen on this type of tiles.
Glazed Tiles
Glazed tiles are also known as Mayólica or Talavera, are tiles enameled with oxides that give it its signature glossy look, and milky-white glaze. These tiles have a strong Islamic influence when it comes to colors and patterns, and this type of tile is most popular for its hand-painted designs.
Glazed tiles' price will vary depending on color, size, and intricacy of design. Hand-painted designs can cost as much as $20 to $100 per tile. On average, it can cost anywhere from $8 to $100 per square foot.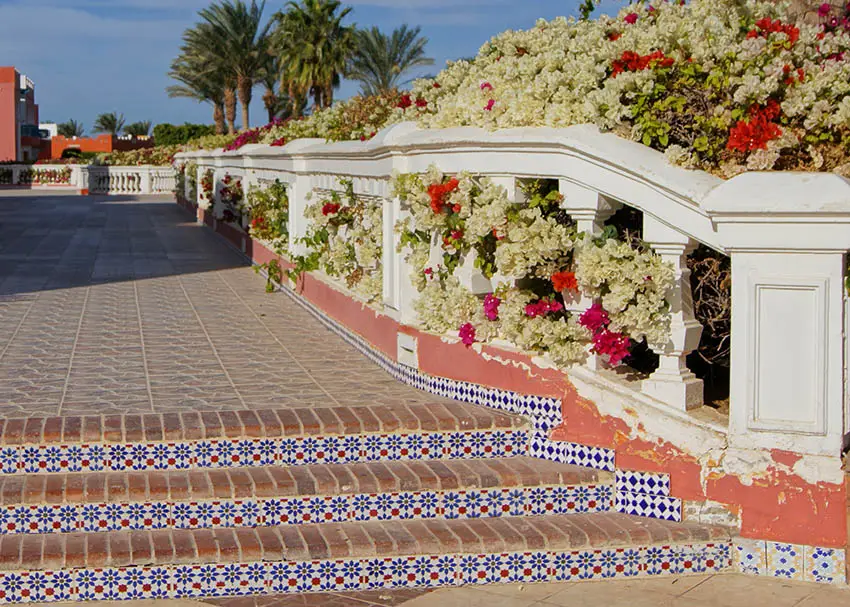 For this spacious patio, red terra cotta tiles with stamped flagstone pattern were combined with glazed hand-painted tiles.
The glazed tiles were applied on the patio's stair rise, so that it doesn't have to directly come in contact with the foot traffic, allowing the designs to last longer.
The bright blue, white, and red color of the glazed tiles also adds a nice accent to the area, making it more attractive.
Cement Tiles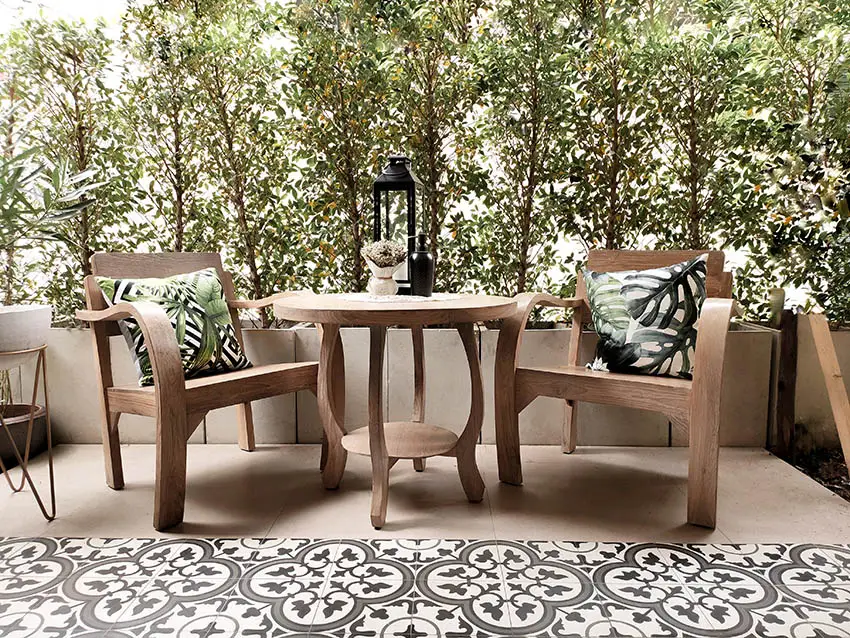 Cement tiles with Moorish-inspired patterns were used as an accent in this modern patio. The achromatic scheme of the tiles helps it blend in, and also gives it a more contemporary feel.
Cement tiles are a more modern adaptation of traditional Spanish hand-painted tiles. Cement tiles offer extra durability at a lower cost, making them a better choice in high-traffic areas.
Compared to ceramic tiles, these are more resistant to fading when sealed properly. Expect it to last for years! An additional benefit is its customization – cement tiles come in a wider variety of colors and patterns, and can also be customized to your own pattern.
Just like glazed tiles, the pricing for cement tiles will vary depending on the size, pattern, and colors. Price can range anywhere from $3 to $5 per square foot, and will cost more of custom designs.
Here are some great examples of Spanish tiles you can use for your outdoor patio:.
Hand Painted Spanish Tiles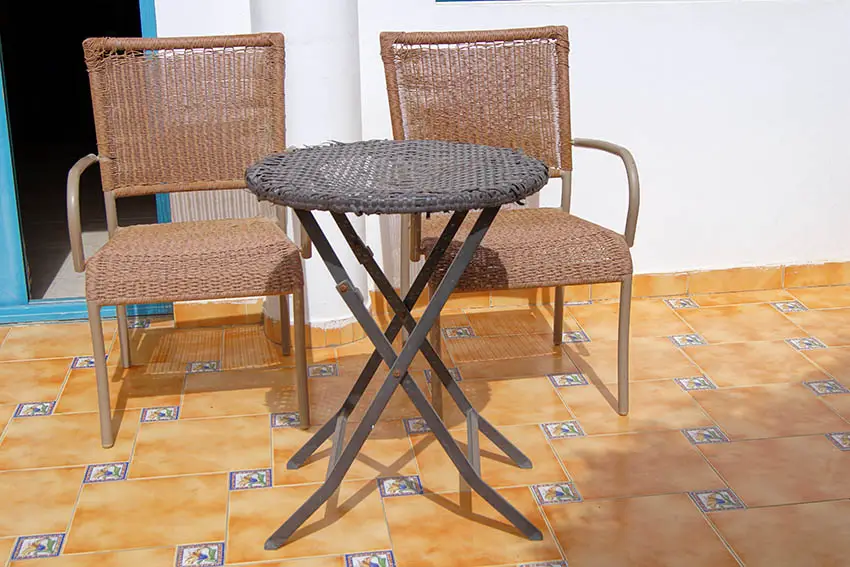 This patio uses a combination of square saltillo tiles and small hand-painted tiles as an accent piece, creating a hopscotch (also known as pinwheel) tile pattern.
This is a great way to introduce hand-painted tiles to your patio flooring without having to spend a fortune for an all-glazed flooring. See more types of tile patterns here.
Terracotta Tile Patio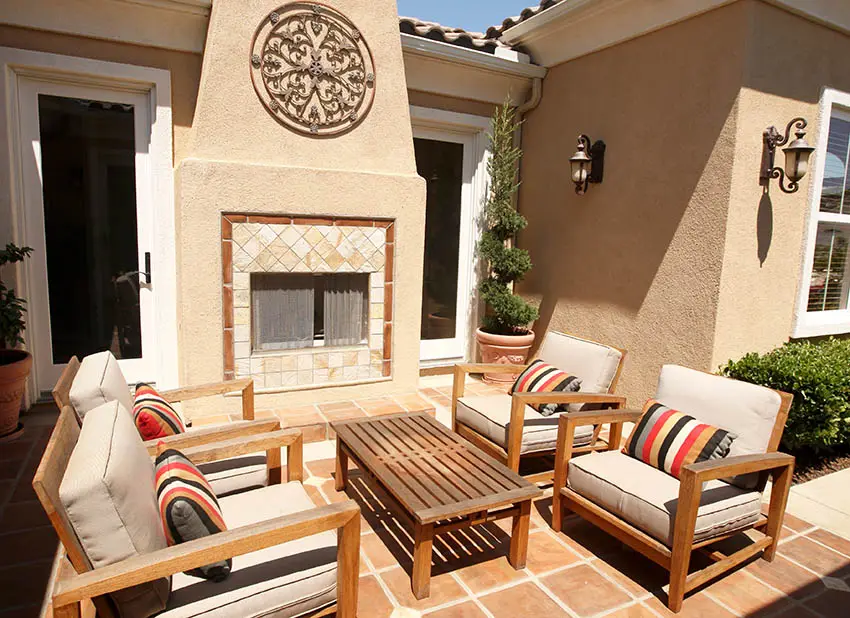 This small outdoor patio uses a combination of saltillo tiles in their natural terra cotta colors or orange and yellow tones. The larger square tiles are in orange, while the smaller accent tiles are yellow, and was applied in a corner square pattern/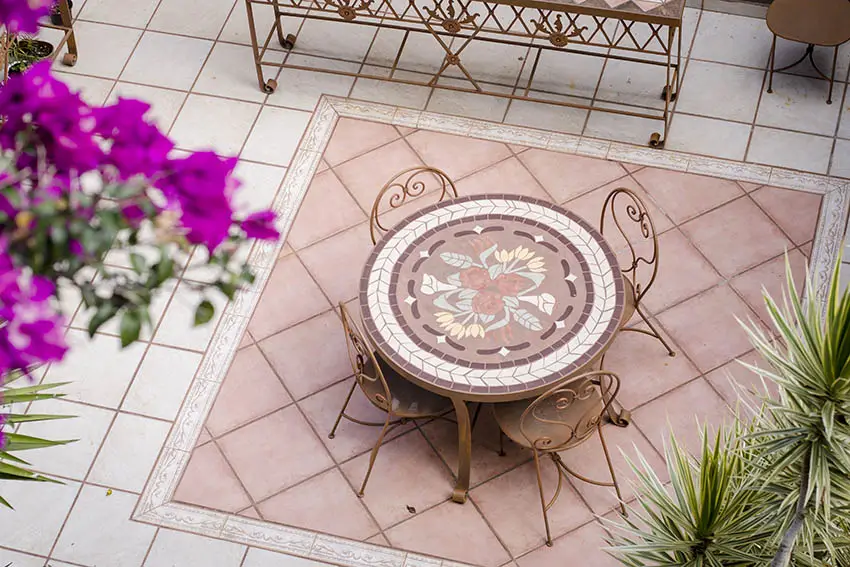 This gorgeous patio gives off a romantic English vibe with its red color and natural finish. The Saltillo tiles applied in a diamond pattern, with the darkest tiles at the center, and framed with lighter-colored tiles to create a carpet-like effect.
Spanish Pavers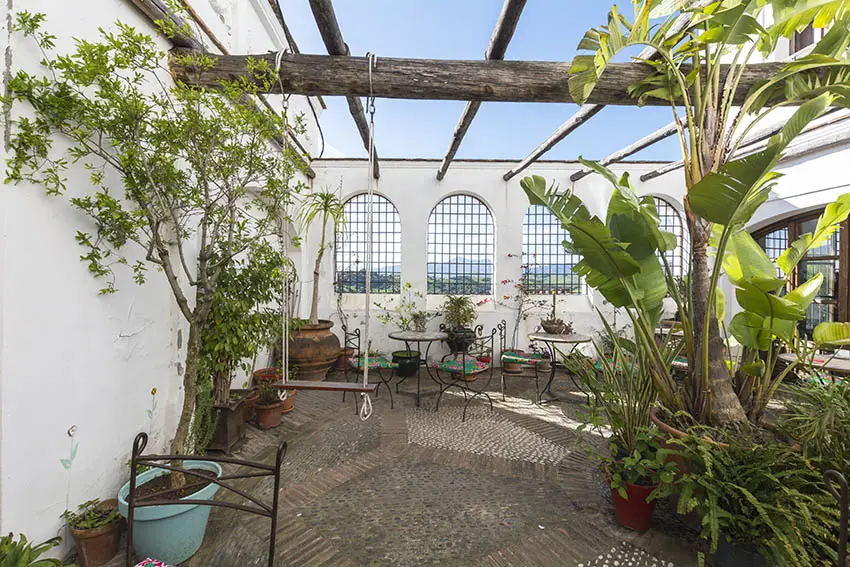 For this patio, natural stone pebbles surrounded by red pavers were used to create a promenade pattern that converges into a round center. The use of pebbles gives it a more natural and rustic appeal that matches the garden-theme of the space. See more paver patio ideas on this page.
Colorful Glazed Spanish Tiles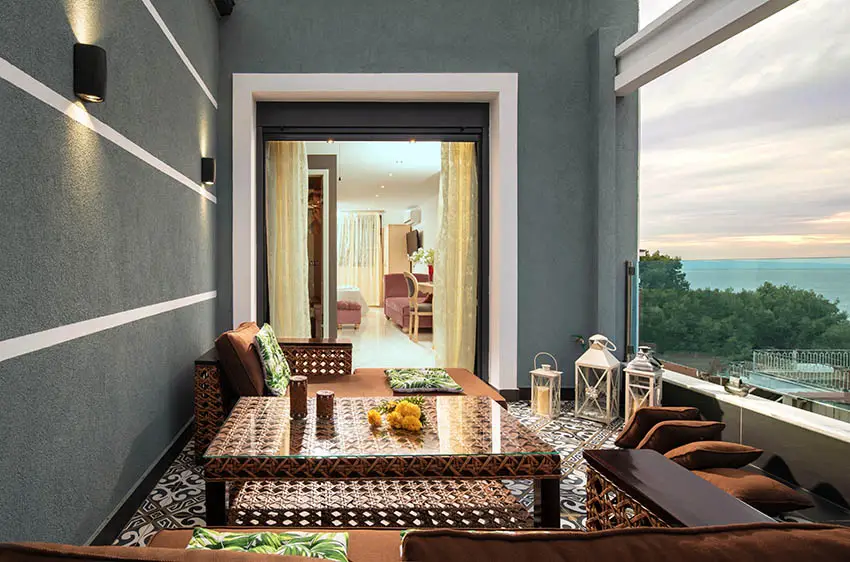 Because this is a small indoor/outdoor patio, real glazed tiles were used for the floors. The colorful hand-painted tiles use a combination of navy, yellow, and white colors, that gives a very classic Mediterranean look that still matches the modern architecture of the space.
For more different designs visit our gallery of the types of patios here.