Welcome to our natural stone pool deck design ideas including color, cost and popular types such as limestone, travertine, flagstone, marble, shell stone & sandstone.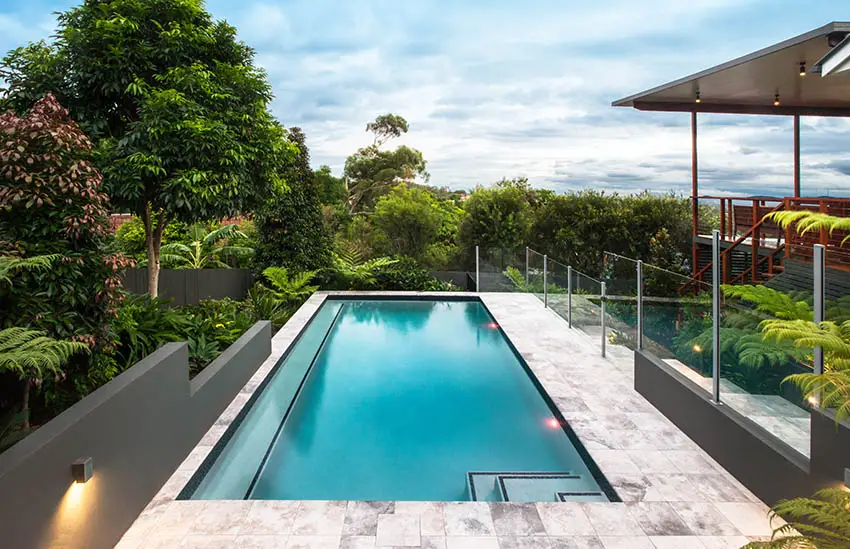 You can complete the look of your swimming pool design by using a natural stone pool deck. Whether emulating the beauty of nature, or aiming for that clean-cut modern theme for your swimming pool, natural stone is the most versatile materials available.
There are many types of natural stone pool deck materials to choose from. Some of the most popular stones are limestone, flagstone, marble and travertine. Below we'll take a more detailed look at the types of stone pool decking to help you find the one that fits your taste and needs.
Types of Stone Pool Decking
We've put together the best types of stone pool decking and their features to help you to create that fabulous look you've always wanted for your personal oasis. Some of the most popular types are limestone, flagstone, marble, travertine, sandstone and shell stone
Limestone Pool Deck – Classic and Cool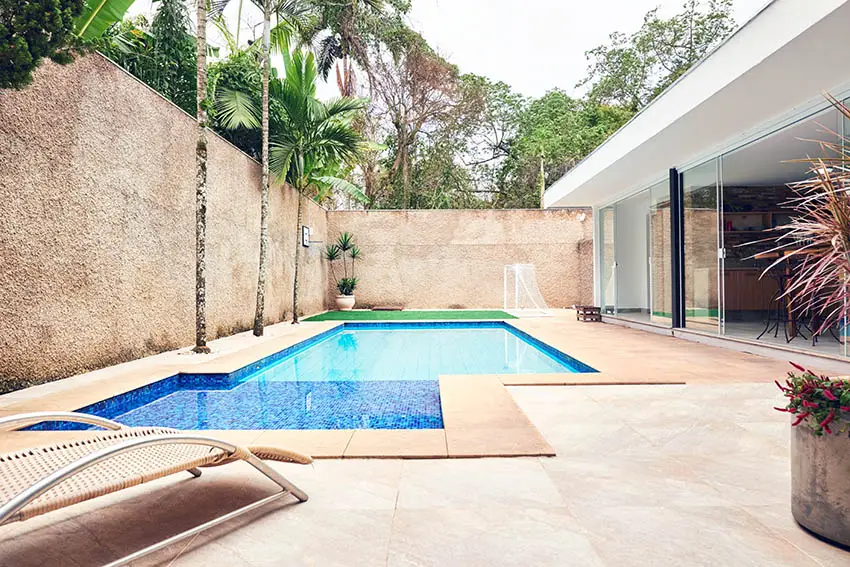 Limestone gives a classic look to your swimming pool area and doesn't get hot even under direct sunlight. And, it's a hardy material that can withstand fluctuating temperatures very well.
Throughout the ages, the classic look of limestone has been beautifully showcased, from ancient buildings until today's landmarks.
Limestone pool surrounds give off a warm and earthy appearance that can be cut into various shapes and sizes. Therefore it makes it an ideal material for irregularly shaped pools. You can get colors such as gray, blue, tan, brown, pink, and many other variations and will commonly show a more solid color, unlike other stone tiles such as travertine or marble.
It is recommended to seal off your limestone pool deck to protect it from dents and weathering, and this will require you to reseal it occasionally. Limestone is easy to maintain as the surface usually lacks pockmarks, making it easy to sweep and mop the area.
There are mixed views on limestone when it comes to durability, porosity, and cost. Take note that all of these can be different for each supplier.
Limestone is not as durable as bluestone pavers or granite pavers but is denser than your average travertine or sandstone. Premium limestone has high strength and is slip and salt tested and made sure that they are suitable for saltwater pools but are not recommended for vehicle traffic driveways.
Color: Ranges from light to cream and brown to black Cons: There are limestone pavers that are so porous that deep sealing is needed.
Cost: Limestone pavers can cost from $65 per square meter to $230 per square meter. Maintained density across the batch and the cut and color selection can influence the cost of your limestone paver. A price increase can also be due to the type of limestone you use, as there are rare types of limestone.
Flagstone Pool Deck – Diverse and Durable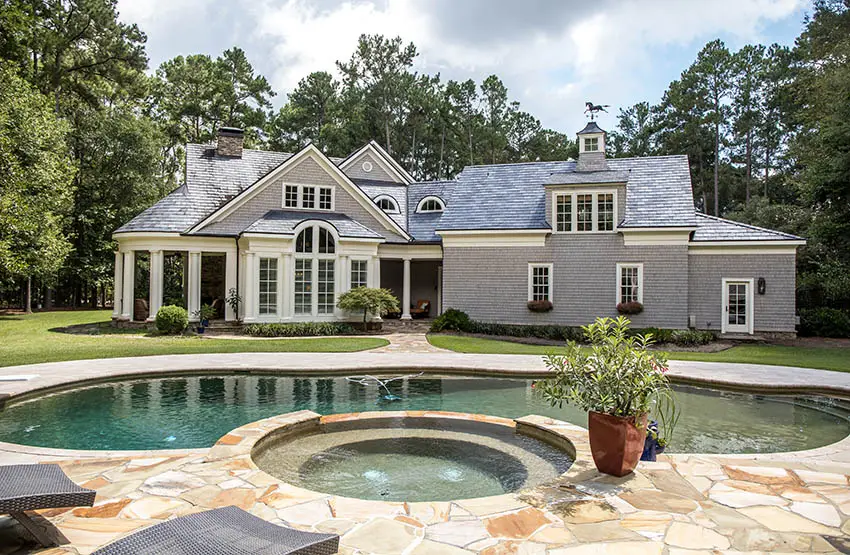 Flagstone material for your pool deck offers endless ways to customize your pool deck and is very dense, making it a hard material for your pool area.
You can easily identify a flagstone tiling with its typical irregular pool shapes but can also be cut in a rectangular or square-shaped slab or tile.
They are usually 1 to 3 inches thick and have a roughened surface which gives good traction. However, it is best to check with your contractor on its slip resistance as there are flagstone varieties that can be slippery when wet.
Primarily made from sedimentary rock, flagstone makes it a very durable surface for your pool area. Compared to limestone, travertine, and sandstone, flagstone doesn't dent easily. Moreover, it doesn't expand or contract under fluctuating temperatures making it a stable material for your pool decking.
Color: The color depends on where the flagstone is sourced.
Sandstone
Limestone
Bluestone
Quartzite
Cons: Swimming pool with chlorine can create significant damage to the surface over time.
Cost: Flagstone costs $15 to $22 per square foot and can be labor-intensive because of its weight that can reach from 12 to 20 pounds per square foot.
Marble Pool Deck – Cool and Luxurious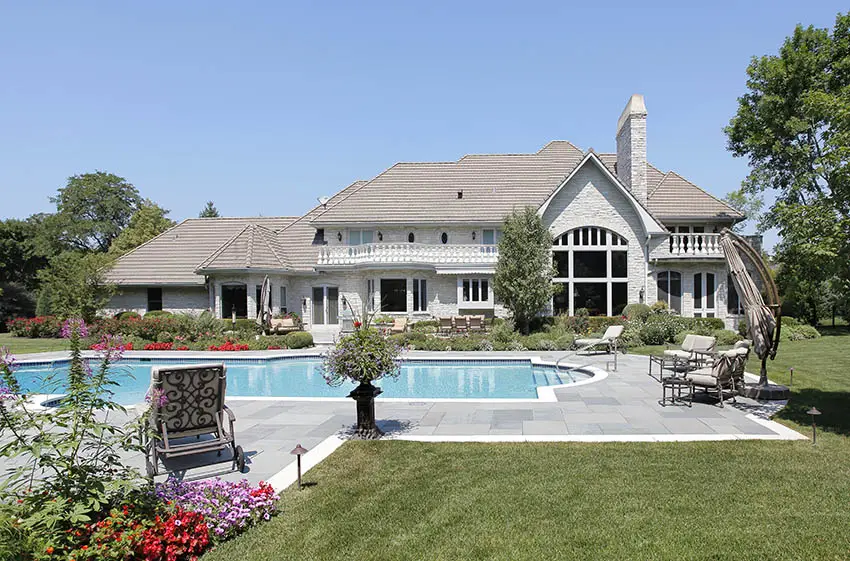 Usually used as interior flooring, marble can also be a suitable option for pool decking for you, especially, if you want that opulent and translucent quality that is not seen in any other stone material.
Leave it unpolished and, you'll get a luxurious-looking pool deck that's slip-resistant. Sandblasting your marble is an excellent finish where very small indentations and bumps are formed to create that rough and ancient look, thus, creating good traction for your pool decking.
Marble material is typically used if you've got most of your pool deck covered as it can conduct heat fast. If away from direct sunlight can be a cool flooring material during the hot summer months.
You can easily clean your marble pool deck with mild soap and water and remove spilled liquid, though it is best to remove other acid-containing liquids immediately to prevent staining.
Color: Wide range of colors from, white, black, beige, browns and green are the most common. You'll find familiar graining and color such as Carrara white, Pacific gray and many more.
Cons: Can heat up fast under direct sunlight.
Cost: Marble can range from $8 to $45 per square foot where the premium or specialty marble can cost around $45 per square foot.
Travertine Decking Around Pool – Comfortable and Safe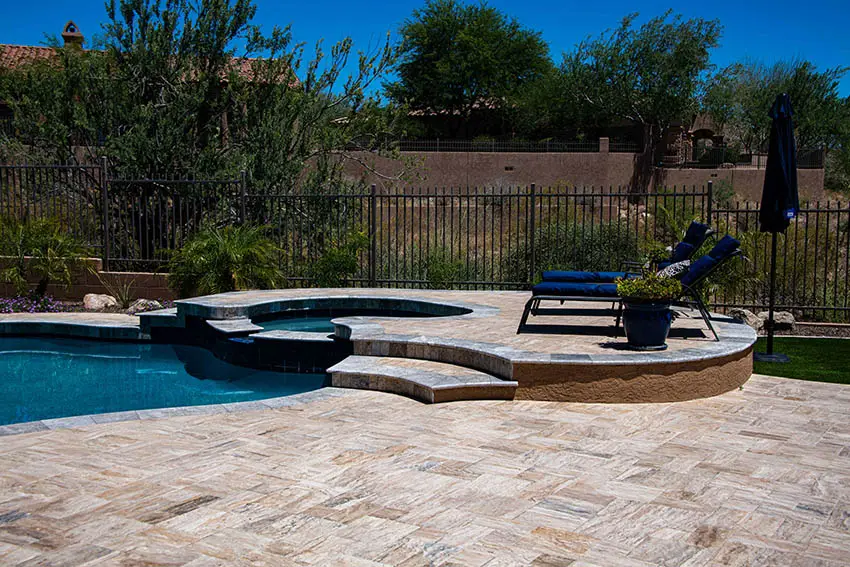 Travertine decking feels comfy under your feet as it looks, making it a favorable material for your swimming pool surround. With its porous surface, it absorbs water that can contribute to water slippage. You can choose the tumbled finish to add traction to your travertine pool decking.
One of the strengths of travertine is that it stays cool under the sun as reflects the heat off your floor surface. This makes it possible to use your pool even during midday. Travertine tiles and pavers are durable and resistant to freeze-thaw cycles.
Travertine pool decks are simply gorgeous as you can see the natural formation of grains, veins, fissures, and various patterns naturally found in the stones. Moreover, you have enough choice for colors and designs to create an aesthetically appealing pool deck.
Travertine-like limestone is also made from sedimentary rock that has unique patterns and formations. However, unlike limestone, it has more variations and patterns. See more pictures of travertine pool decks here.
Color: Primarily having warm hues such as white, cream, beige, gold, brown, and red.
Cons: Due to its porosity, it is advisable to seal off your travertine pool material, especially when near soil, as it can go through your surface.
Cost: Travertine pool decks cost around $13 to $16 per square foot to install and will depend on many factors, most especially on where it is sourced as it is typically imported yet readily available.
Sandstone Pool Deck – Non-slip and Tough
Since it is made from sand and quartz particles, sandstone is one of the most hard-wearing surface materials for your pool deck.
The hardscape absorbs a minimal amount of water on its surface that minimizes slippage and growth of algae on your pool deck. High-quality sandstone will have a slip resistance of P5 or R11.
An identifiable feature of the sandstone surface is that it has a brush-painted effect with plenty of fine grains and veins and enjoys an aged finish. The colors range mostly from lighter colors to beige and you can choose the darker tones if you want minimal maintenance for your pool deck flooring.
Sandstone is naturally resistant to abrasion and salt deterioration but depending on the quality of your sandstone, low to mid-range stones will need resealing and maintenance.
Color: Beige to light brown colors.
Cons: Can deteriorate over time due to salt content on water, best to find a good sealer to use.
Cost: Sandstone pool decking can cost around $11 to $30 per square foot to install.
Shell Stone Pool Deck – Neutral Toned and Slip-Resistant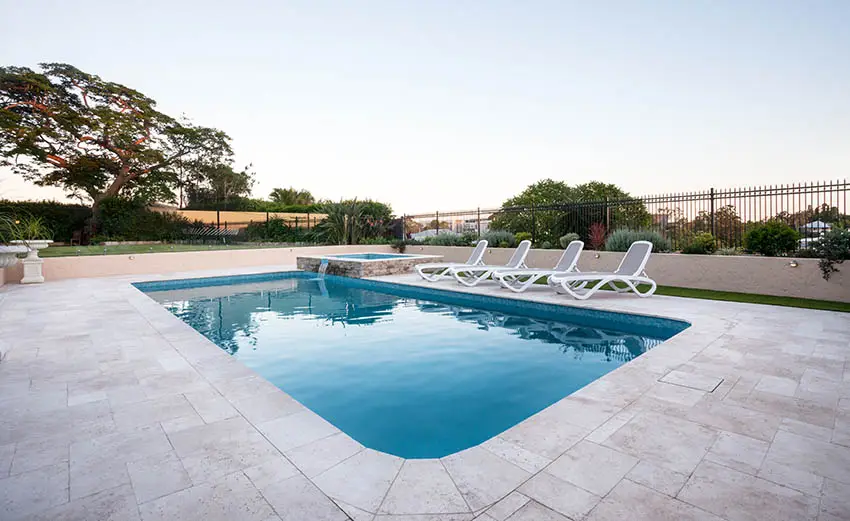 For that cool coastal appeal, shell stone is your perfect pool decking material. It's slip-resistant making it great not only for flat surfaces but can be used for steps on your swimming pool deck.
Like limestone and travertine, shell stone composes of sedimentary rock the difference is the distinctive fragments of shells and corals creating unique patterns. Also termed as "coral stone", shell stone is strengthened by its natural form making it very durable even under extreme temperatures and climate.
Aside from the unique showcase of shell stone encased in the stone surface, you'll love the cool neutral hues on your pool decking. And not only does shell stone look cool but feels comfortably cool underneath your feet. This makes the hardscape ideal, even enjoying the pool under the sun.
Another reason to love shell tone is that it won't show dirt easily, preventing owners from cleaning religiously. Though, it's best to have regular dusting and wiping off your shell stone to keep your pool decking surface pristine and looking brand new all the time.
Color: A popular choice are warm whites, beiges, and pink undertones but you can get warmer tones such as walnut, or brown hues.
Cons: Like other stone hardscapes, you'll need to seal off your shell stone pool deck to minimize its porosity.
Cost: On average, shell stone or coral stone pool decking can cost around $15 and $40 per square foot not including.
Stone Pool Deck Cost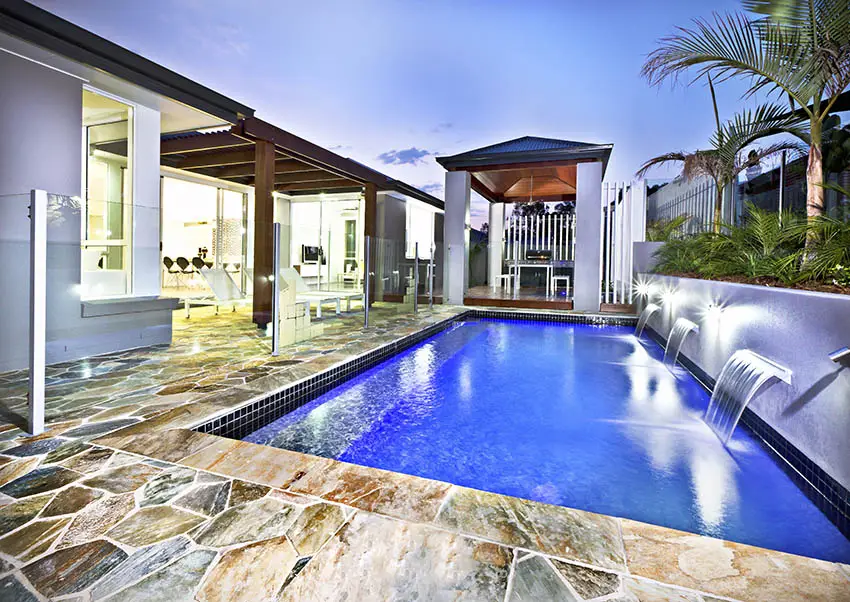 The range of stone pool decking construction can start from $5 per square foot to as high as $40 per square foot.
This price varies depending on the cost elements such as area, paver quality, size of pool, deck configuration, excavation, location, and time of the year that you plan to do your pool decking construction.
Most homeowners pay $3,000 as the lowest cost, with a $5,000 average cost and $12,000 high cost for a stone pool decking. A significant addition to your pool decking costs is excavation prices when you want to install another inground pool, with a basic fee of $500.
Best Natural Stone for Pool Deck
Deciding to have a natural stone pool deck is a powerful design statement that showcases your sensible taste and status. As not all-natural stones are made equal, finding the best natural stone for the pool deck can be difficult. One of the most popular used natural stone for around the swimming pool is travertine.
A rule of thumb is to prioritize safety and comfort. This means using non-slip stone swimming pool finishes are highly recommended. Those that don't heat up during the hot months in another added benefit.
It advisable to also have a balance of other factors such as durability, appearance, longevity, cost, and sustainability. Don't rule out a finishes ability to adhere to a good sealant especially for porous stone materials.
Since pool decking is generally under the sun and that your pool can cover a significant area, it is best to choose lighter tones for your natural stone.
Light-colored stones minimize heat retention and absorption on your hardscape and to its surrounding structures. This way you keep the pool and surrounding area cool while minimizing unwanted heat to the environment in general.
Knowing all this information is helpful in your quest for the best natural stone for your pool decking, but the best way to satisfy all your preferences is to hire an expert in natural stone pool decking to maximize the potential of your stunning natural stone hardscape.
To help create your own pool there are many different types of pool design software. These programs can be used to design a pool and visualize different materials to find the best one for your home.