See the pros and cons of sealing flagstone including the best flagstone sealer to use and some ideas on how often you should seal your stone patio.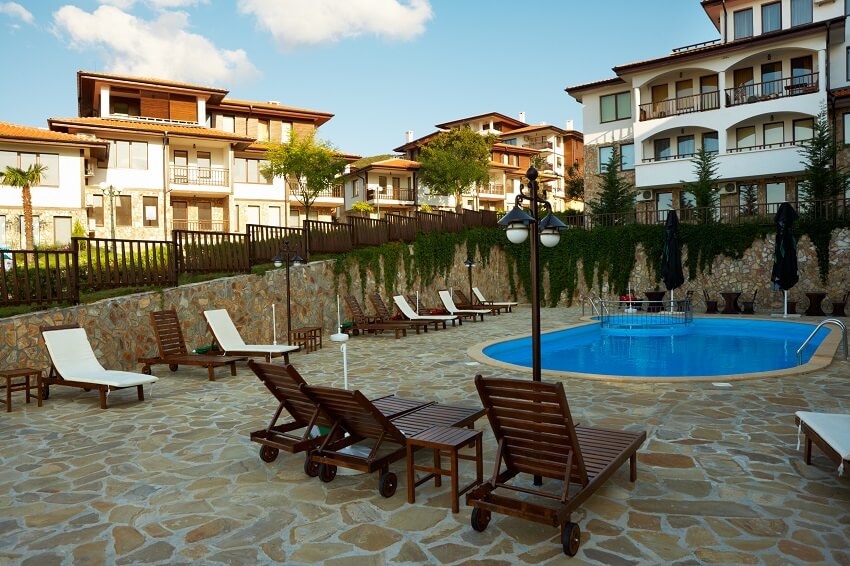 Installing flagstone comes with several responsibilities. It is very crucial for homeowners to know how to maintain the flagstone and be knowledgeable about its aspects.
Indeed, flagstone is a very durable and long-lasting material. It is also appealing, that is why it is a popular choice for patios as it enhances the look of your outdoor space.
However, some say that one of the best ways to increase its longevity and make it more appealing is to seal it. Is that true? What are the pros and cons of sealing flagstone? We will talk about these things in this article.
Sealing A Flagstone Patio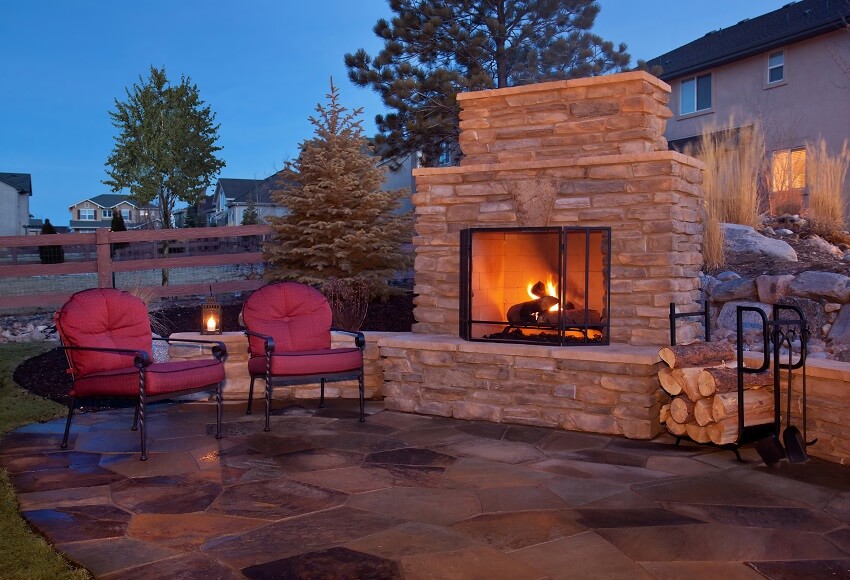 A lot of homeowners seal their flagstone patio after the complete installation to protect it against cracking and breaking. Flagstone is either made out of granite, sandstone, bluestone, limestone, or slate. And yes, they are all prone to staining. But sealing them, however, will prevent them from getting stains.
Generally, the sealer is composed of penetrating acrylic with a flat finish. That is to prevent the material from absorbing water. Some homeowners, on the other hand, use sealers that have a glossy finish, but that could compromise the natural appearance of the stone.
However, the seal should fill the pores thoroughly to fully protect the flagstone patio. Check our guide to the types of patio covers that could add protection to your flagstone patio from absorbing water.
Sealing Flagstone Pros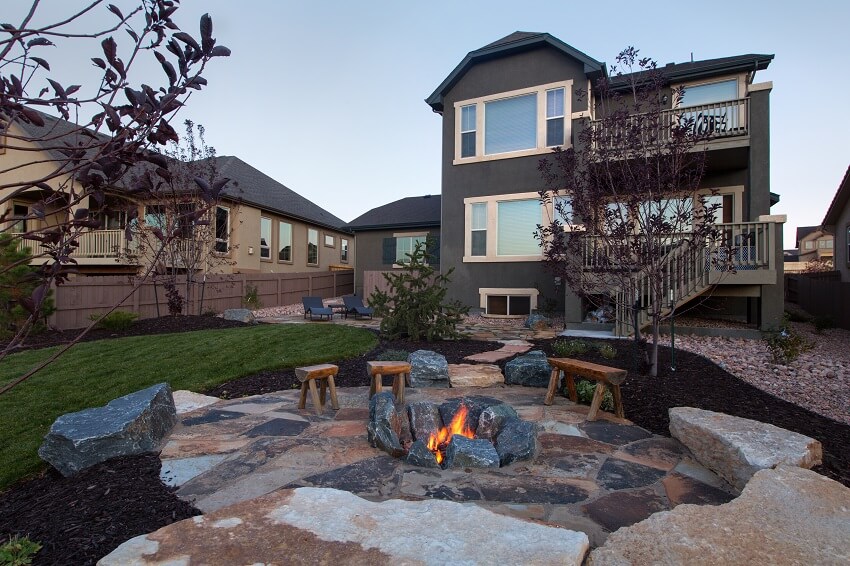 Protection against stains
Flagstone can be susceptible to stains especially when it is installed outdoors. When left unsealed, it can easily accumulate dirt and molds.
However, when it is sealed, these problems would be prevented. Sealing your flagstone can provide great protection against staining, making it look naturally appealing at all times.
Prevention against spalling
Coating your outdoor flagstone with a sealer can help in preventing spalling. The water causes the minerals of flagstone to weaken and break over time.
However, a high-quality sealer can restrain the water from getting into the underneath surface of your flagstone.
Protects the natural texture of the flagstone
Aside from the appearance of the flagstone, another feature of it that we want to protect is its natural texture.
If you want to maintain a non-skid texture on your flagstone, you can use a sealer that has a matte finish. Some sealers are infused with penetrating acrylic so that moisture will be prevented.
To maintain the natural appeal of the flagstone, you can seal it twice or thrice a year to maintain its beauty and texture.
Sealing Flagstone Cons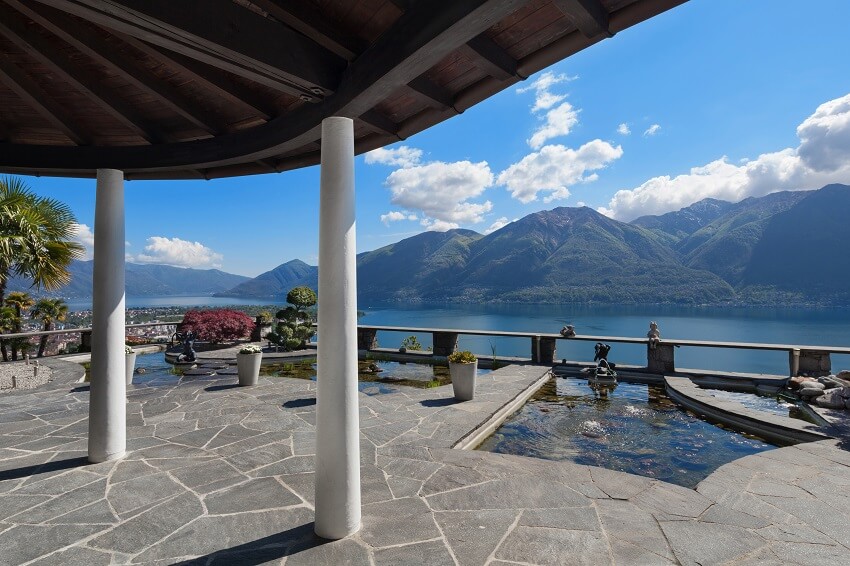 Sealing could potentially trap moisture
Even if flagstone is sealed, excessive flowing of water, such as heavy rainfall, can still find its way to access the stone. Most probably, it will get into the flagstone through its bottom part.
Once the water reaches inside, the moisture will be trapped and it will not evaporate as the top surface is sealed. This will result in mold growth underneath the seal, which can possibly damage the flagstone. Moreover, it can cause the top layer to flake, peel off, and crack over time.
The wrong type of seal can make the flagstone surface slippery
A seal with a glossy finish can make the surface slippery, which makes it dangerous for people to walk on as they might slide and fall. That is why it is always important to ensure that you're choosing a seal with a matte finish.
How to Seal Flagstone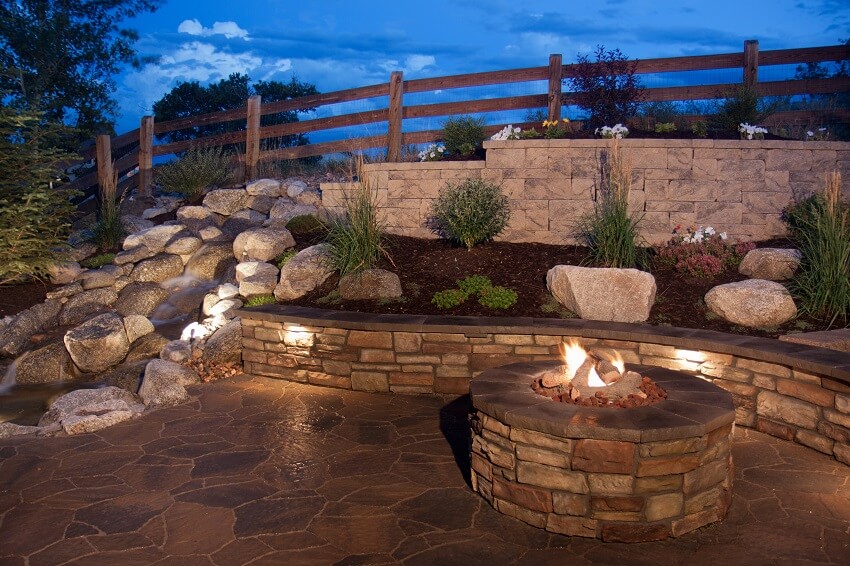 Make sure to clean the flagstone first with a pressure washer.
Let the surface completely dry. No drops of water should be left on the surface, otherwise, the seal might trap moisture.
Once the flagstone surface dries, start applying 1 to 2 coats of sealer. This will be the first coating you will do before applying grout. Let it dry for 1 day.
Once the first layer of seal dries, ascertain that it's thoroughly clean first, then start applying the grout onto the surface.
Make sure to grout according to the instructions by its manufacturer. However, some sealers can already work as grout. If this is the case, you can put a second layer of your seal instead and wait for 1 day to let it fully dry.
After letting the grout dry for 1 day, clean the surface first and apply the final layer of seal above the flagstone and grout.
Apply an abundant amount of the penetrating sealer to the whole flagstone surface. Let it dry for 1 day.
Once the final coating fully dries, it is best to prevent too much walking or stepping on the surface first. Yes, the sealer is already dry, but it's not that hard already. Its curing and hardening process will take 10 to 15 days.
How Often To Seal Flagstone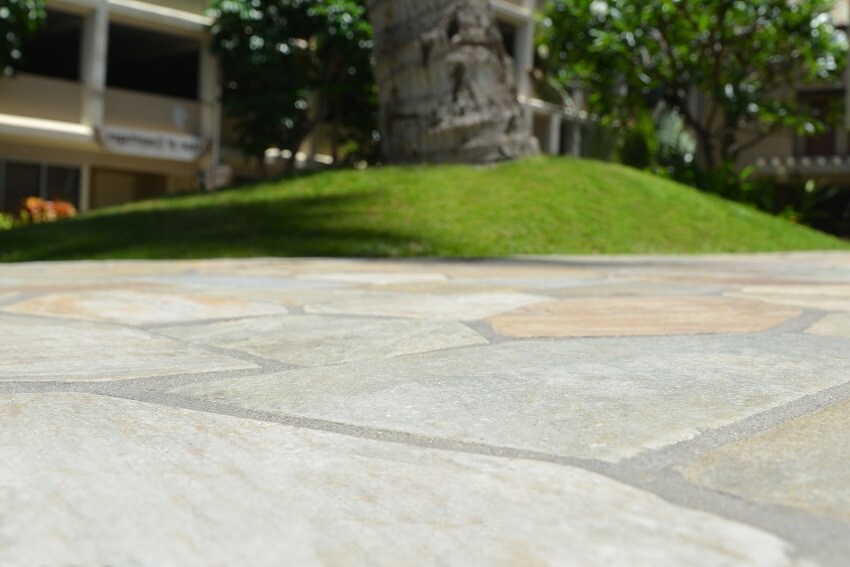 Generally speaking, flagstone is resealed every 3 to 4 years. But it will still depend on the quality of the flagstone and how you sealed it. If the flagstone is not sealed properly, the possibility of moisture or mold buildup would be high.
If you notice that there are unwanted elements such as flakes or molds in some areas, that's a sign that you have to seal your flagstone once a year. You need to make sure to properly seal the whole surface to prevent any problems.
Best Flagstone Sealer
Silane Siloxane Sealer
This is a type of penetrating sealant that powerfully repels water and it works best on flagstones that are installed indoors or outdoors. They create a highly resistant barrier within the pores of the flagstone.
This sealer can also resist stains and protect the flagstone from mold, mildew, harsh chemicals, and UV rays. This extends the longevity of the flagstone.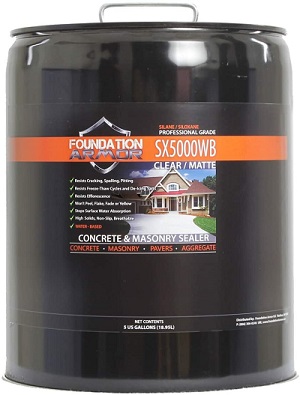 See this SX5000 wb dot approved water based silane siloxane at Amazon [sponsored link]
SX5000 WB DOT Approved Water Based Silane Siloxane Penetrating Concrete Sealer and Siloxa-Tek 8500 Penetrating Concrete Sealer are some of the best silane siloxane sealers you can try for your flagstone.
Natural Stone Sealer
This type of sealer can protect your flagstone against water, oil, and other porous chemicals. Aside from maximum protection, it also maintains the natural appeal of the flagstone. It is suitable for both indoor and outdoor uses and provides a non-skid matte texture.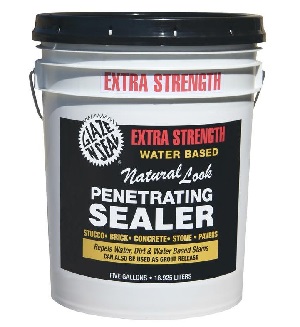 See this Glaze'N Seal extra strength natural look penetrating sealer at Amazon [sponsored link]
Glaze 'N Seal Clear Extra Strength Penetrating Sealer is one of the most recommended natural stone sealers in the market as it is superior in terms of protecting your flagstone against harsh elements while maintaining its natural beauty.
Flagstone Sealer For A Wet Look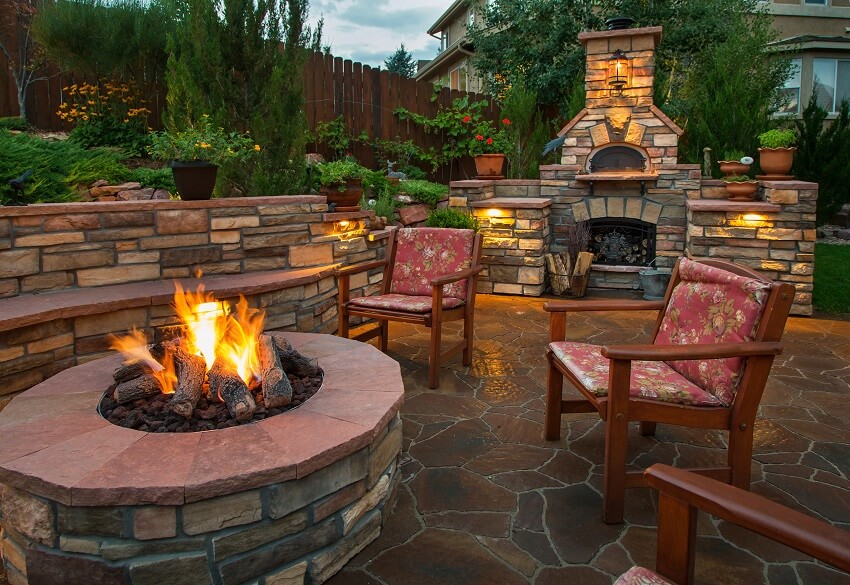 To make your flagstone achieve a wet look, you can use an acrylic concrete sealer. This type of sealer is normally used to seal concrete. It is also used for flagstones as it provides a glossy wet finish.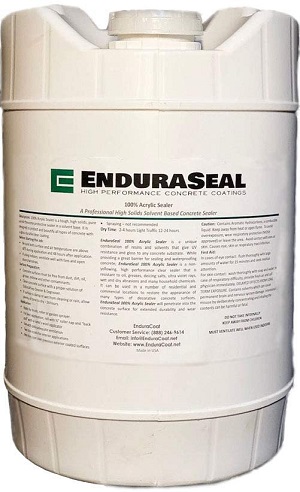 See this Enduraseal 100% acrylic wet look semi gloss concrete sealer at Amazon [sponsored link]
Acrylic sealers are excellent when it comes to providing a protective and durable finish. However, before using the product you bought, make sure to check first its instructions to determine if it is compatible with flagstones.
EnduraSeal 100% Acrylic" Wet Look" Semi-Gloss Concrete Sealer is a superior acrylic concrete sealer that works extremely great in providing a wet-look flagstone surface.
Should You Seal Flagstone Around The Pool?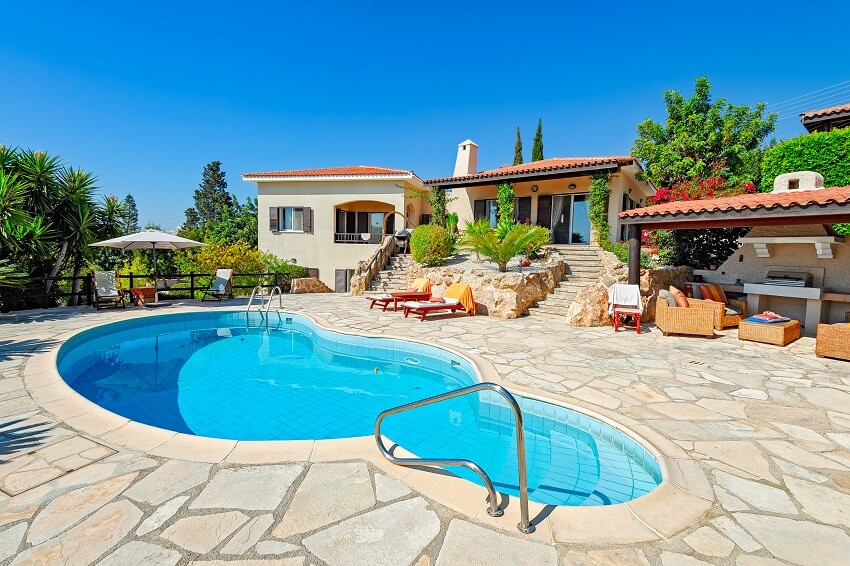 Ideally, you should seal the flagstone around the pool. Proper sealing will protect your flagstone against moisture. The flagstone around the pool would be highly susceptible to moisture since it is in persistent contact with water. Check out the best natural stone pool deck design ideas here.
However, it is highly recommended if you seal the flagstone around the pool with more than 3 layers to ascertain that no water will reach the flagstone. Moreover, you need to ensure that you are properly sealing the whole surface.
Do not leave any small areas unsealed as it might cause worse problems. This could lead to a huge moisture buildup inside the flagstone. Yes, sealing flagstone around the pool is very important, but the sealing process must be done carefully and thoroughly.
For more related articles on sealing, visit the pros and cons of sealing pavers.