Here's how to create a backyard yoga space including the equipment needed and ideas for putting your own yoga studio on your home patio or deck.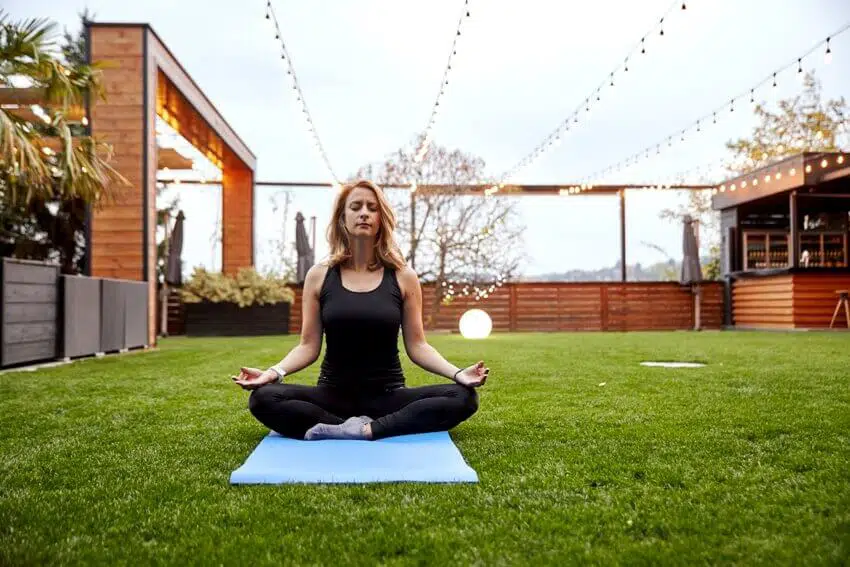 Although yoga was first introduced in the United States in 1893, it only rose into popularity during the 20s and 30s. Thanks to the celebrities like Charlie Chaplin and Aldous Huxley who practiced it. Now, yoga has become one of the highest-ranked fitness activities.
Yoga has a lot of health benefits from increasing your flexibility and building your muscles to mindfulness. And there's no better time to practice yoga than now.
If you're thinking of creating your outdoor yoga space, here are a few ideas for you.
How to Create an Outdoor Yoga Space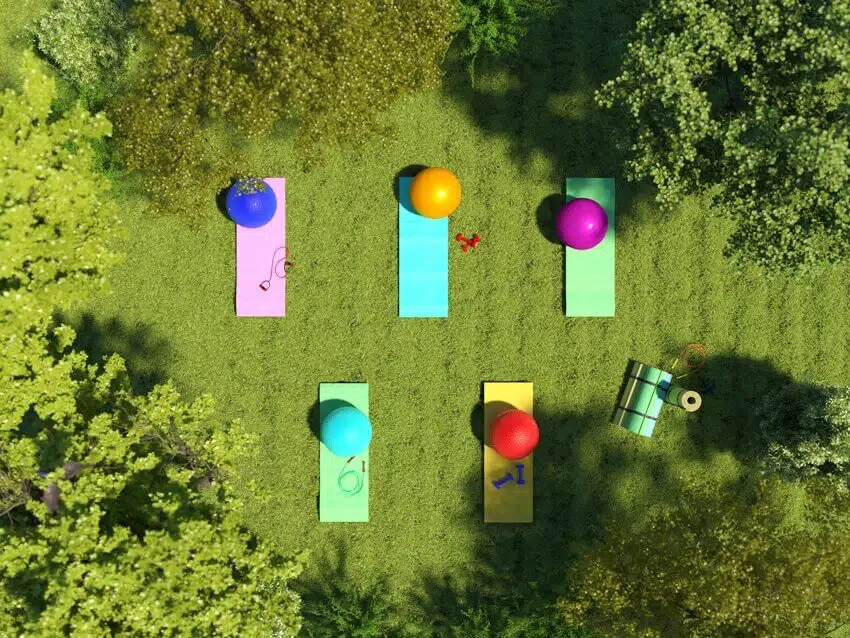 Yoga is true to its principle of flexibility — you can practice it anywhere. All you need is a flat area with enough space to do your poses.
But if you want to level up your outdoor space, here are some elements you can add.
Shade, Shade, Shade
When you do your poses and meditate, you want to be as comfortable as possible. So make sure the spot you chose is in a cool and shady spot.
Sure it's awesome to do your stretches in the morning but as the day progresses and the sun gets hotter, it becomes annoying.
Add Some Zen Elements
Whether you have a small or big outdoor space, adding some Zen elements will help you get in focus while meditating. It could include some plants and Zen-inspired structures and design.
The aim of these elements is not only for aesthetic purposes but also to help you meditate as you feel, see, and smell nature.
Add a Water Feature
There's something about water that takes away your stress. Even just listening to it removes any negative energy from your body and from the place. See our beautiful gallery of backyard garden waterfalls here.
Water also blocks out any unnecessary noise that might distract you while meditating.
The water feature doesn't have to be expensive. You can find one that fits your budget and your space.
What Does Every Yoga Room Need?
Yoga is very simple and does not require a lot of paraphernalia. When you practice it outdoors in a park, you don't even need a mat.
However, if you want to make the most of your asanas and meditation, adding some elements to your yoga room makes a lot of difference.
Just a note, you don't have to include all but choose what items will benefit you more.
Yoga Mat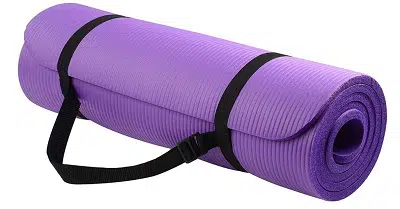 See this BalanceFrom GoYoga All-Purpose yoga mat at Amazon [sponsored link]
If you practice yoga at home or indoors, you need a yoga mat. It is super helpful when doing advanced postures and stretches. Invest in a high-quality mat so you can use it for a long time.
Towel
A towel isn't just to wipe your sweat. You can also use it for comfort and easier grip.
Meditation Pillow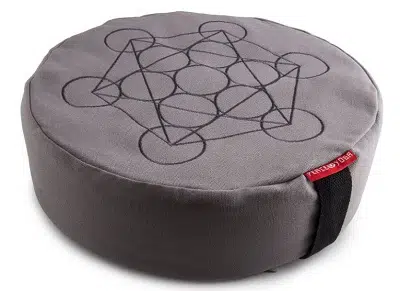 See this Yoga meditation buckwheat bolster pillow cushion at Amazon [sponsored link]
A meditation pillow supports you while sitting or kneeling. It improves your posture and allows you to meditate longer.
Yoga Sandbag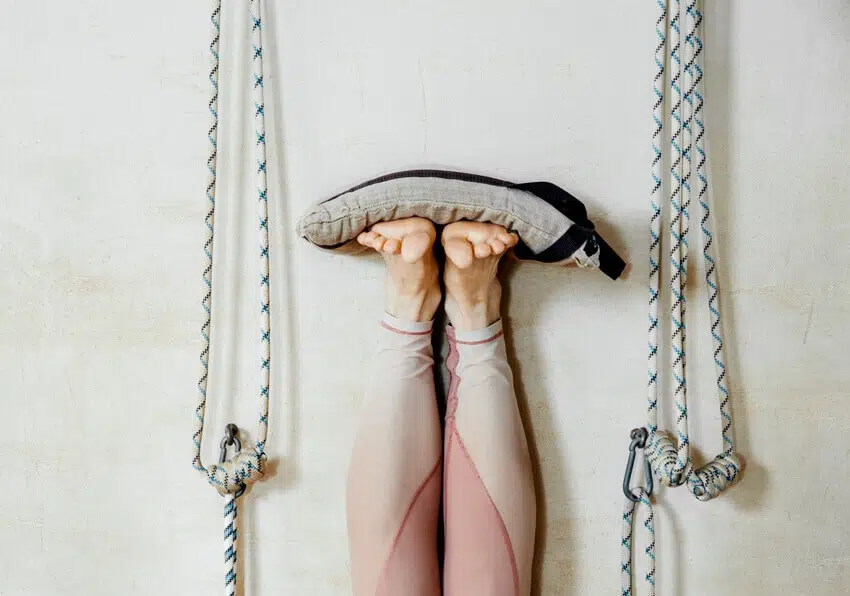 A yoga sandbag helps your stretch and makes you relax into postures. According to some practitioners, the weight of the yoga sandbag helps you focus and diffuses feelings of anxiety as you relax into your poses.
Yoga Blocks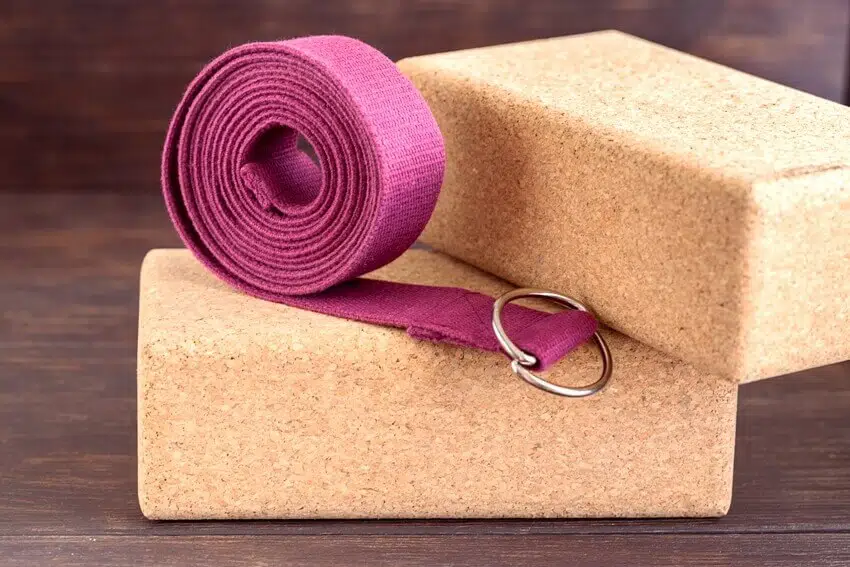 Yoga blocks are one of the essential props in yoga. It generally supports your back, chest, legs, and arms as you settle in your poses. Yoga blocks are made up of different materials — wood, cork, or foam.
Yoga Strap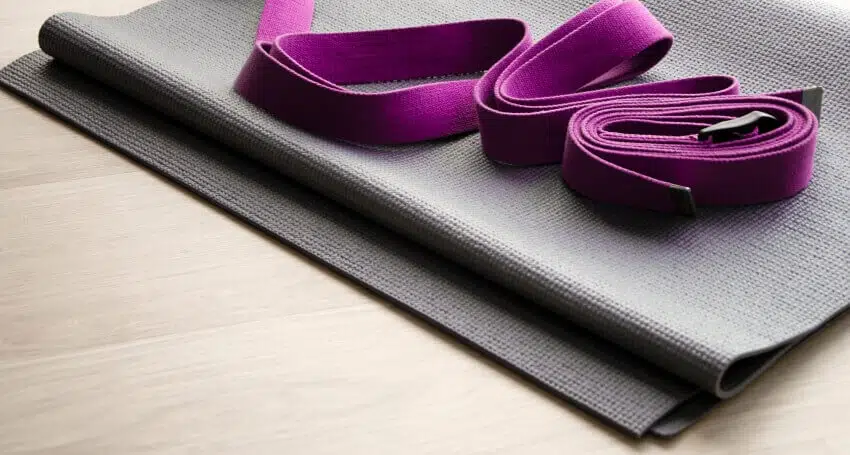 A yoga strap enhances your postures. You can either lengthen or shorten it according to your preference. The main goal of using straps is to decrease tension and increase flexibility.
Bolster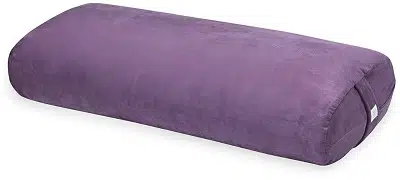 See this Gaiam yoga bolster rectangular meditation pillow at Amazon [sponsored link]
Just like the other yoga props, the bolster is used to make your poses, especially the difficult ones, much easier.
Patio Yoga Space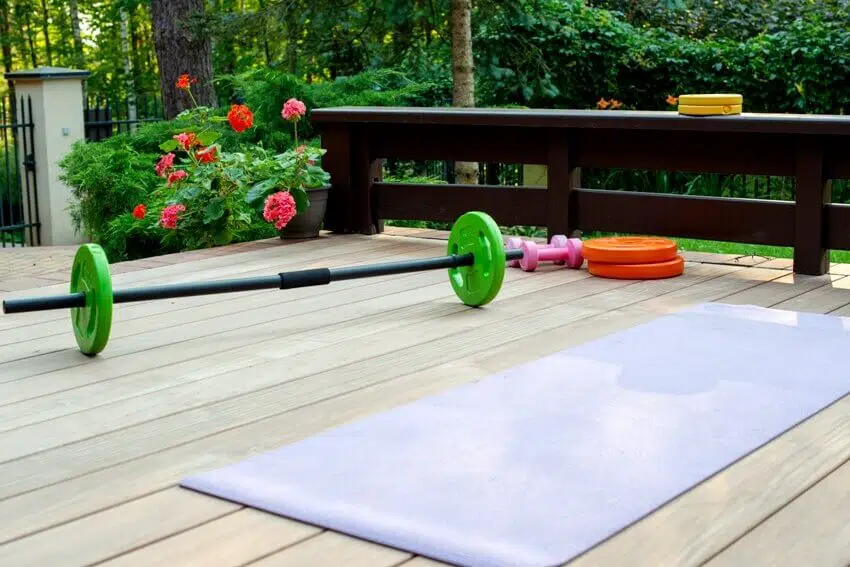 You can also create your own yoga space in your patio, even if you have a small area. Creating a space of calm and quiet is not impossible with a few simple touches. Check our gallery of patio design ideas here.
Clear the Space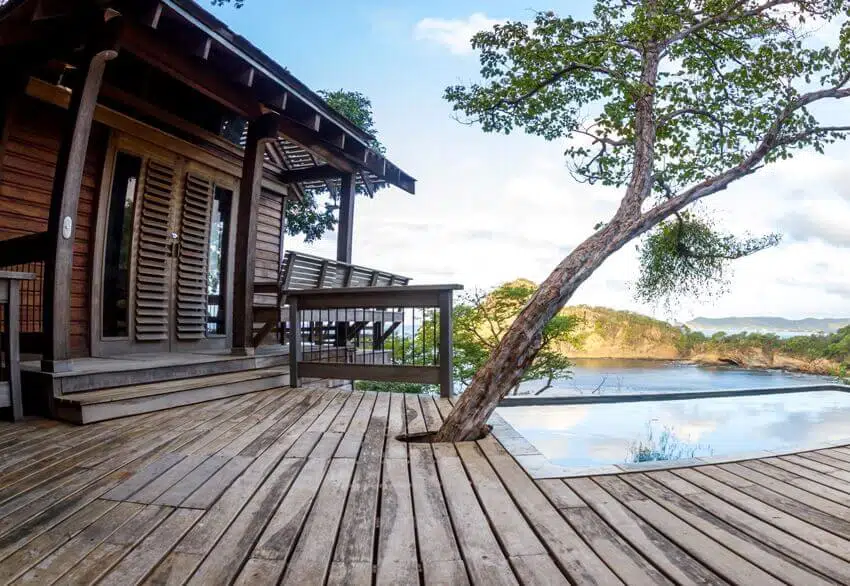 You feel some sense of peace when you see a clutter-free space. Since you're using your patio for yoga and meditation, make sure that there's no visual pollution. Remove any unnecessary items — less is better.
Add Some Zen Accessories
Candles, plants, tiki torches, small water fountain — these are just some items you can add to soothe your mind and senses.
If you don't have enough space for a water fountain, you can opt for a birdbath. The flutter of wings and the splash of water can also be calming when you meditate.
Throw In Some Scents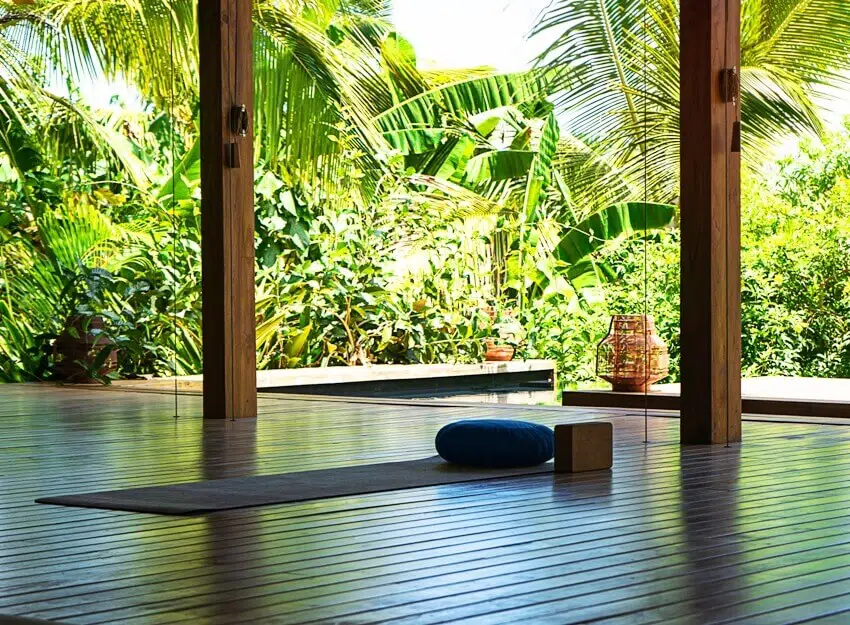 You can put in some candles or incense on your patio and enjoy the magic of scents as you meditate. Create or buy a small wooden shelf where you can put your incense or candles.
Add Lace Curtains
If you're using your gazebo or pergola as your yoga space, drape lace curtains around it to give you some sense of privacy.
Backyard Yoga Studio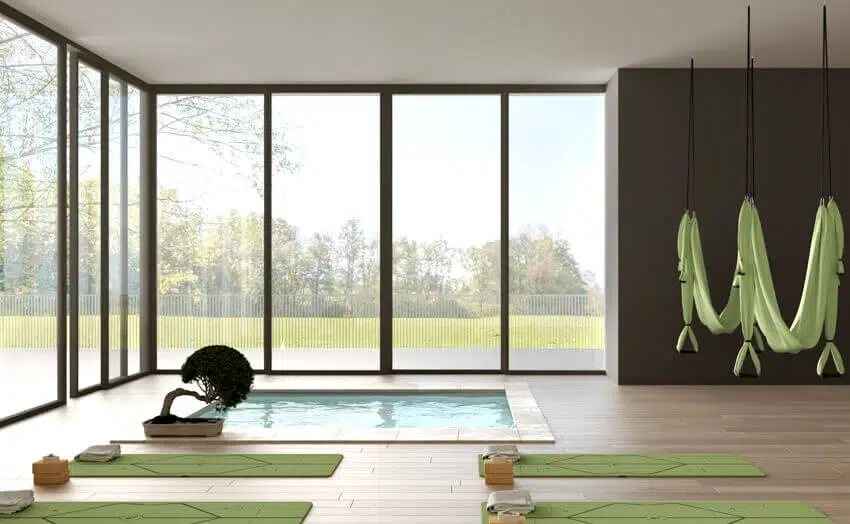 If you have an extra room outside your house, you can transform it into your own yoga studio.
First of all, declutter your space and remove everything that doesn't serve its purpose. You want to make your room functional and free from any clutter. After that, you can add the following elements:
Lighting
Candles or tiki torches are affordable yet great options. If you have the budget for it, adding a small fireplace to your yoga studio is amazing, especially during the cold months.
The soft glow it provides is calming to the soul and mind. Another option is a string light which you can hang around the room.
Aromatherapy
There's nothing more calming when meditating than smelling your favorite scent wafting around you. You can use scented candles or incense and place them around the room or on a wooden shelf.
Plants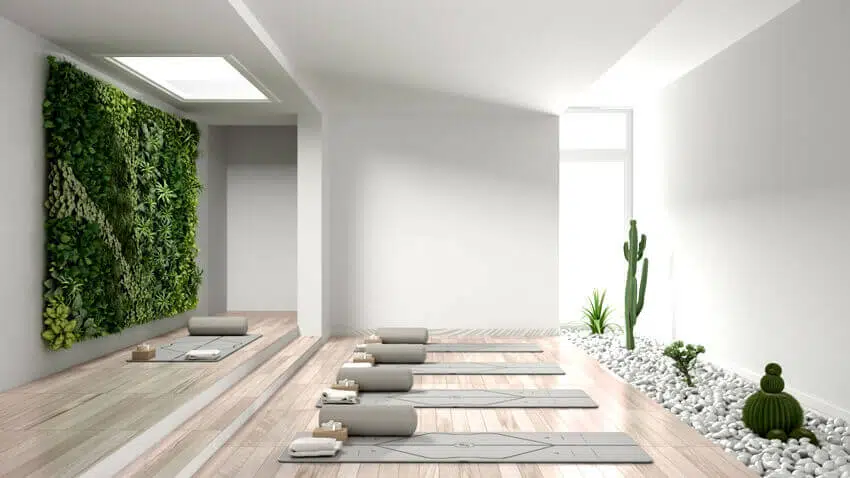 If you can find or purchase Chinese bamboo in your area, use it to adorn your yoga studio. Then, add some potted plants to complement the bamboo plant. See indoor plants that remove toxins from your home.
Portable Speaker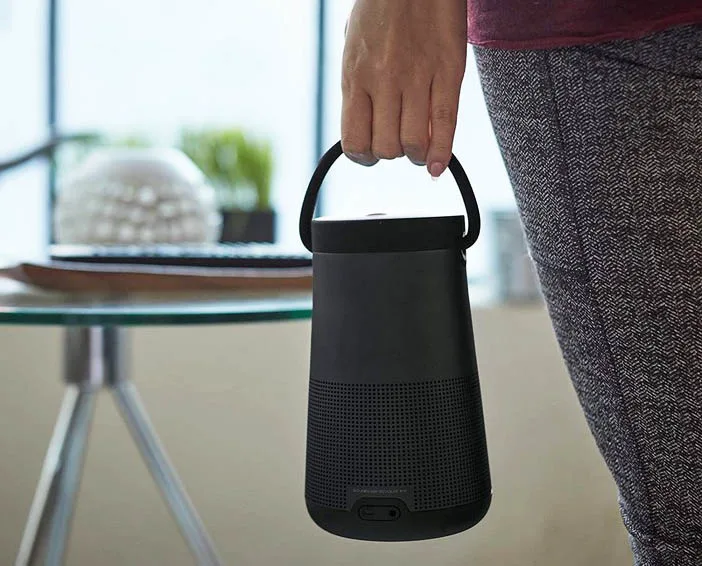 See this Bose portable bluetooth speaker at Amazon [Sponsored link]
If you want some soothing music in the background while meditating or doing your asanas, add a portable speaker in your space.
Yoga Shed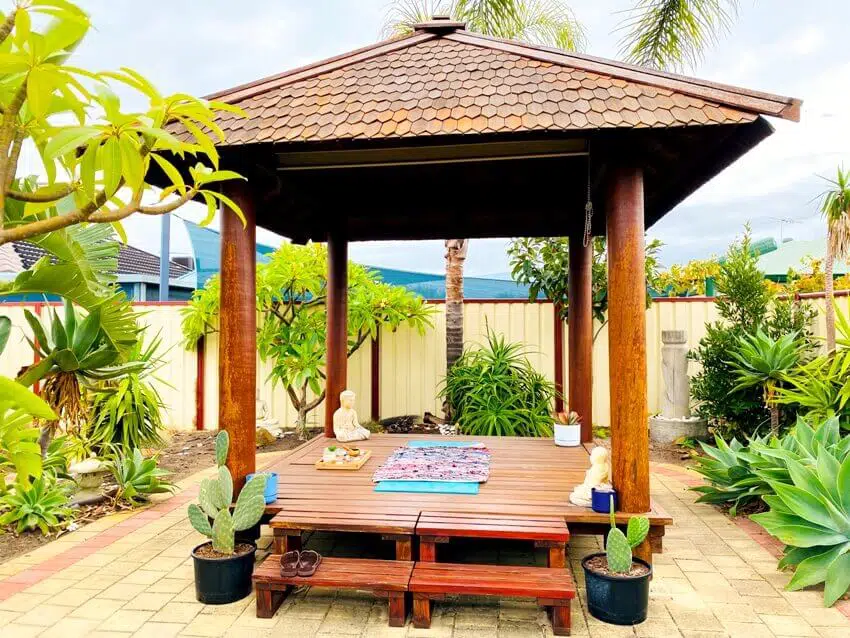 If you have a shed that's not in use, you can also convert it into a yoga space. Throw away everything you don't need anymore and remove any unnecessary things.
You can fill or decorate it with items mentioned above to create a Zen and peaceful environment.
For more related ideas visit our backyard deck ideas picture gallery.