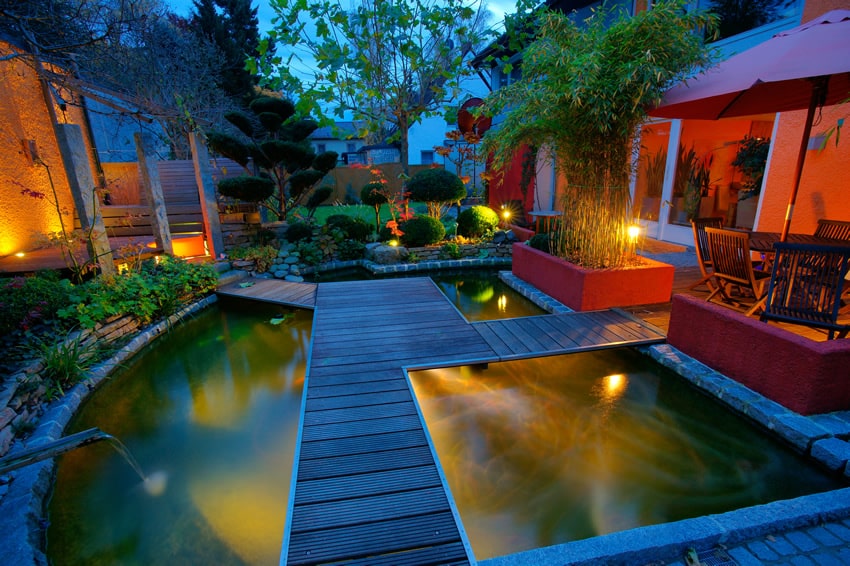 Adding a water feature in your yard is a great way to add a touch of beauty and tranquility to your space. Garden water feature designs can also increase the curb appeal of your home, reduce noise pollution and improve air quality. If you want to incorporate the soothing and cooling effect of water in your garden consider one of three of the most basic water features: the pond, the fountain or the waterfall.
The water feature shown in the picture above is a fairly large quarter-circle pond which has underwater lighting for additional drama and a walkway above the water for a more engaging experience. This walkway serves as the bridge to different areas of the garden and uses steel framing and Wood planks with horizontal grooves.

Backyard Water Features
Here are the popular types of backyard & garden water feature designs most commonly found:
Ponds – Small ponds can serve as accent pieces in a front garden or even inside the home. Large ponds are better suited for the back garden or some other place that offers privacy to reflect. Ponds can be either curvy and natural looking or geometrically designed.
Decorative pond rocks can be added to add the colors you want and improve the aesthetics of the space. An artificially created garden pond usually falls under one of three categories: reflecting pools, ornamental pools, and water garden.
Reflecting pools are formal, geometric shaped pools with walking surfaces made of tile or stone bordering the pool. As the name suggests, these pools are designed to hold still, clear water that can reflect their surroundings.
Ornamental pools are small bodies of water that are designed to surround an ornamental piece such as a statue. These can also work in tandem with other water features such as a fountain or waterfall.
A water garden is the most elaborate of the artificial ponds, serving as a complete water ecosystem. Because of this, a water garden is also the most complicated garden pond as you need to ensure that the pond can support the living things you place in it.
A water garden always features aquatic and semi-aquatic plants living both inside and around the parameter of the pond, creating a lush natural setting. Aquatic plants are depth sensitive and most require a specific water depth to thrive so care must be taken to ensure the pond is deep enough.
Some people like to add ornamental fish such as goldfish or koi to add an interesting splash or color and motion. Again though, care must be taken that the pond maintains the right conditions to keep the fish alive.
Fountain – A fountain is a piece of artwork for your garden. Water flows through a fountain and is eventually discharged in a stream from a specific point into a basin or a pool. It can be a standalone feature or it can also be incorporated as part of a pond or water garden. Fountains can come in many different shapes and sizes and can depict many different fanciful images. Almost any garden statue or decorative piece can be converted into a fountain.
Waterfalls – A backyard waterfall basically consists to two or more pools of varying heights from which water flows. The higher pool is small, just enough to contain water that can spill out into the larger pool. The beauty of a waterfall lies in the wall between the two pools.
This wall is made up of natural or man-made rocks or boulders placed in such a way that they create a course in which the water can flow down. The course the waterfall can take can be straight down or wind fancifully, artificial landscaping is often included and it can even be part of a water garden or pond system.
Water Feature Ideas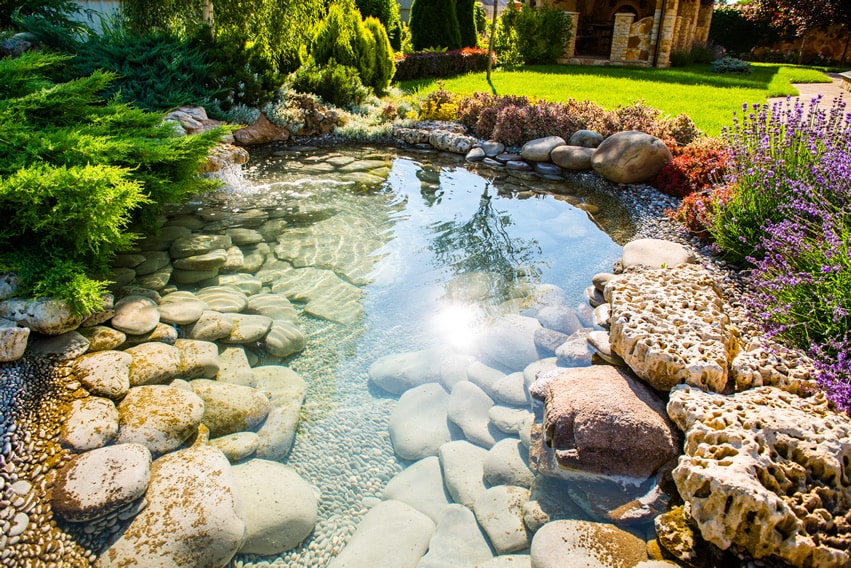 A gorgeous corner water feature which adapts an irregular shape to mimic more naturally-occurring ponds. The bottom is cemented with small river stones while the sides has large blocks of stones, and even pieces of dead coral stones on the side to give it a variety of textures including the surrounding plants.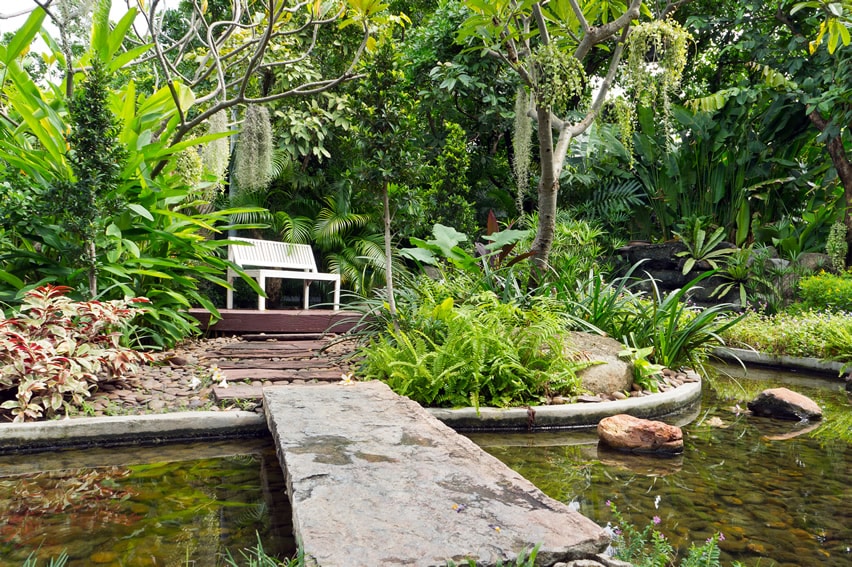 This water feature is fairly large, surrounding a little island in the middle. The water is shallow, making the natural river stones visible. A large rectangular solid slab of stone serves as the bridge / walkway towards the small island where it leads to a wooden pathway to an elevated sitting area surrounded by ferns, shrubs and other plants. The good variation of plants and shrubs in this garden makes it look more natural and has a feel of a little organized rainforest.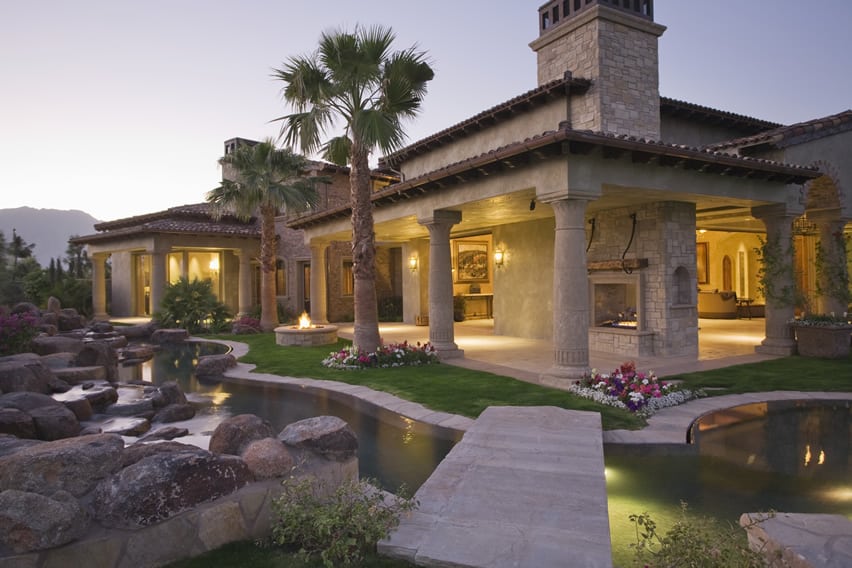 A Mediterranean style home/resort which has a very long water feature in the back, spanning almost as long as the main structure. The irregular shape of the little pond is clad with stone tiles, framing it and emphasizing it from the manicured garden. Underwater lighting is also used for additional drama, as well as multi-level stone formations and a slab of stone bridge.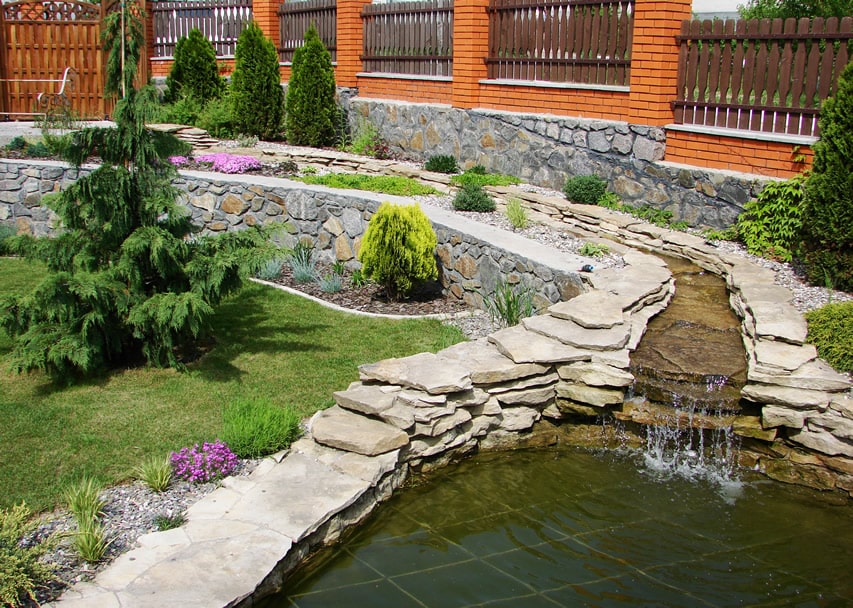 This water feature takes advantage of the terrain's slope and gravity in order to create a small flowing "falls". The water goes through a narrow channel made out of slate stone pieces which flows down into a bigger basin with black tiling, in which the water is circulated back to the highest point through a small motor pump. the water feature is surrounded by small pebbles, lawn and shrubs, making it an integral part of the garden design.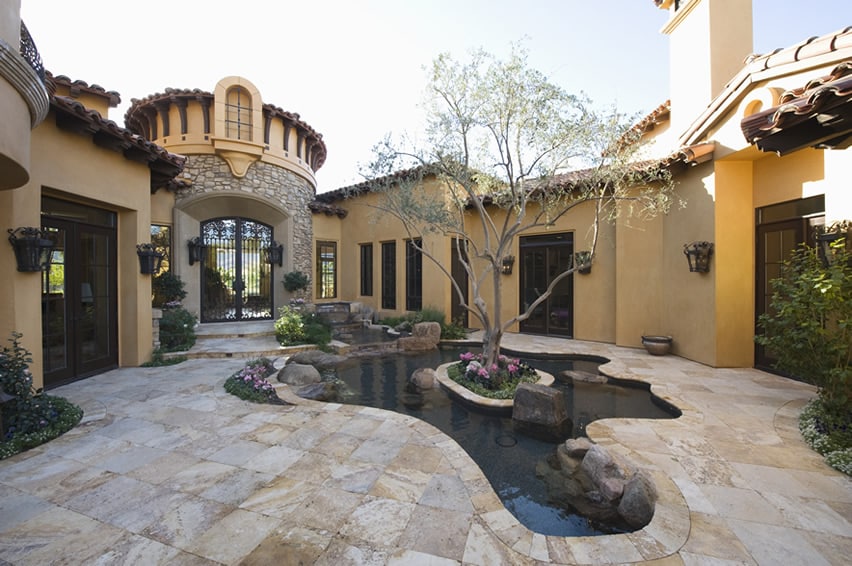 This house has a large atrium with an equally-large water-feature at its center, The atrium has natural stone tile floors which runs until the edge of the irregularly-shaped water feature, The shallow water has black flooring and also features a small island in the middle in which a small tree is planted along with flowers and lawn.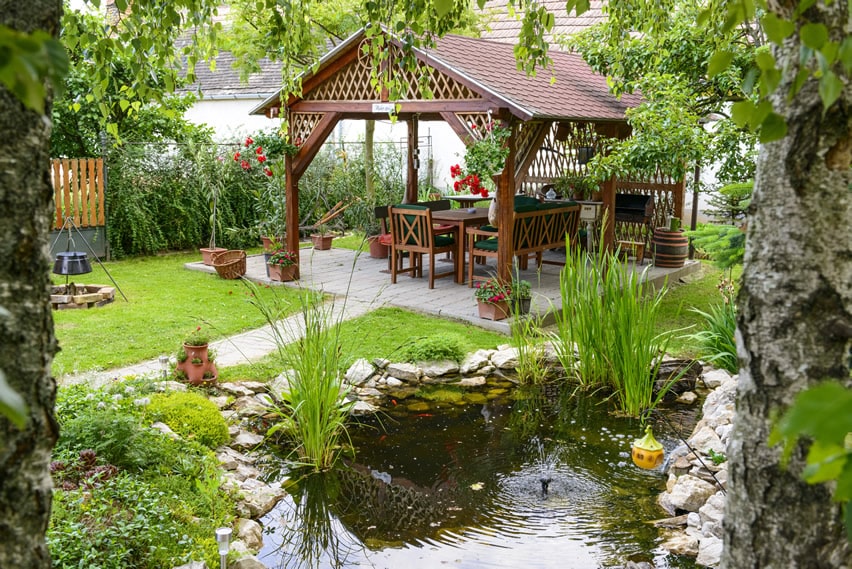 Previous examples show water features which are embedded into the ground, but this example is raised above the ground level and surrounded by rocks to frame it and keep the water in. It has a small central fountainhead and sustains living koi and plant life, making this water feature both ornamental and functional.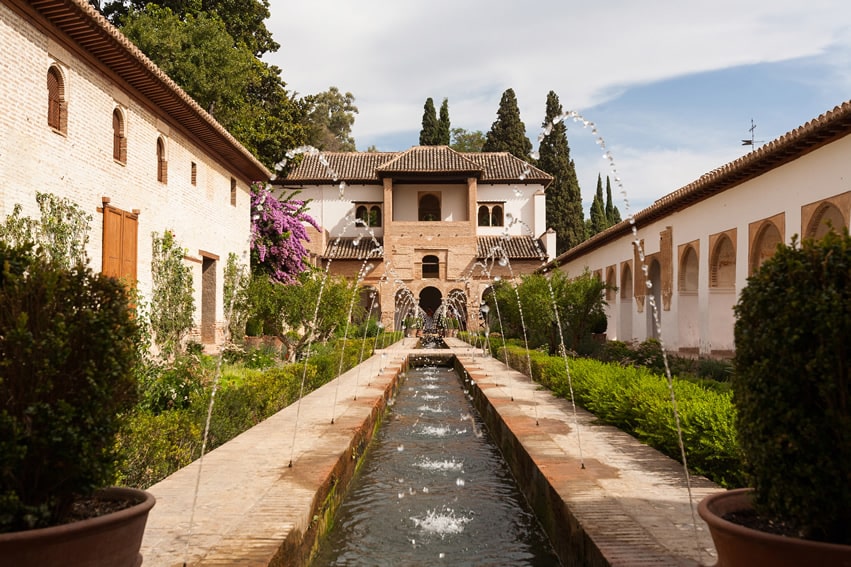 This water feature combines the simplicity of a straight waterway, mimicking an actual strait, and combines it with more dramatic elements like the small jets of water coming out of the fountain that goes from end to end of the water feature. It also has a small bridge connecting the two sides between the little strait, and is surrounded by well-manicured shrubs, creating an elegant landscape worthy of the architecture.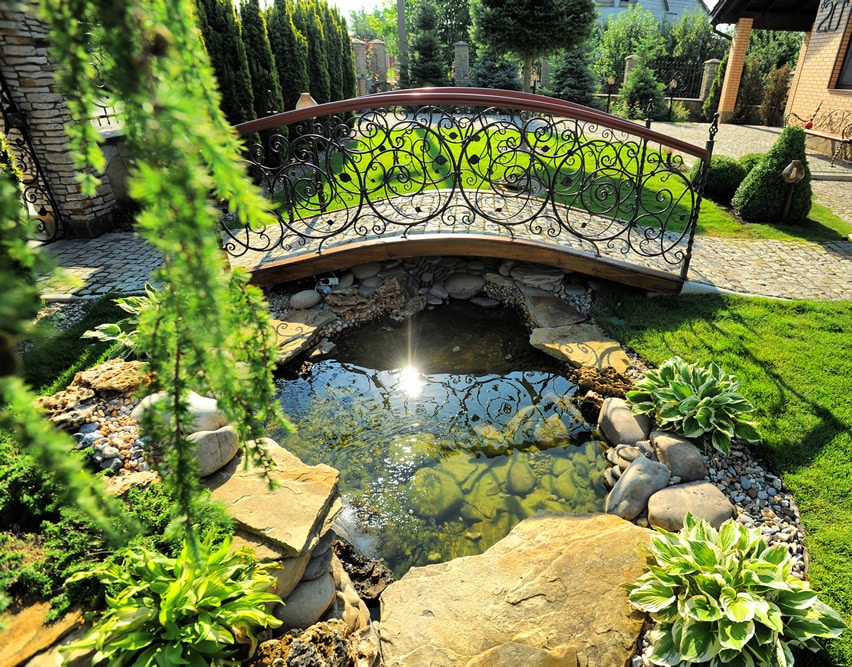 A shallow pond with a small waterfall sprouting from slabs of stone on one side, this water feature adds motion and sound into the garden, making it more relaxing. The pond's floor has a variety of stones in different sizes, colors and shapes and is also surrounded by a variety of river stones, ferns and shrubberies. The little arch bridge with wrought iron railings makes a good vantage point to view the pond and adds a unique touch to the landscape.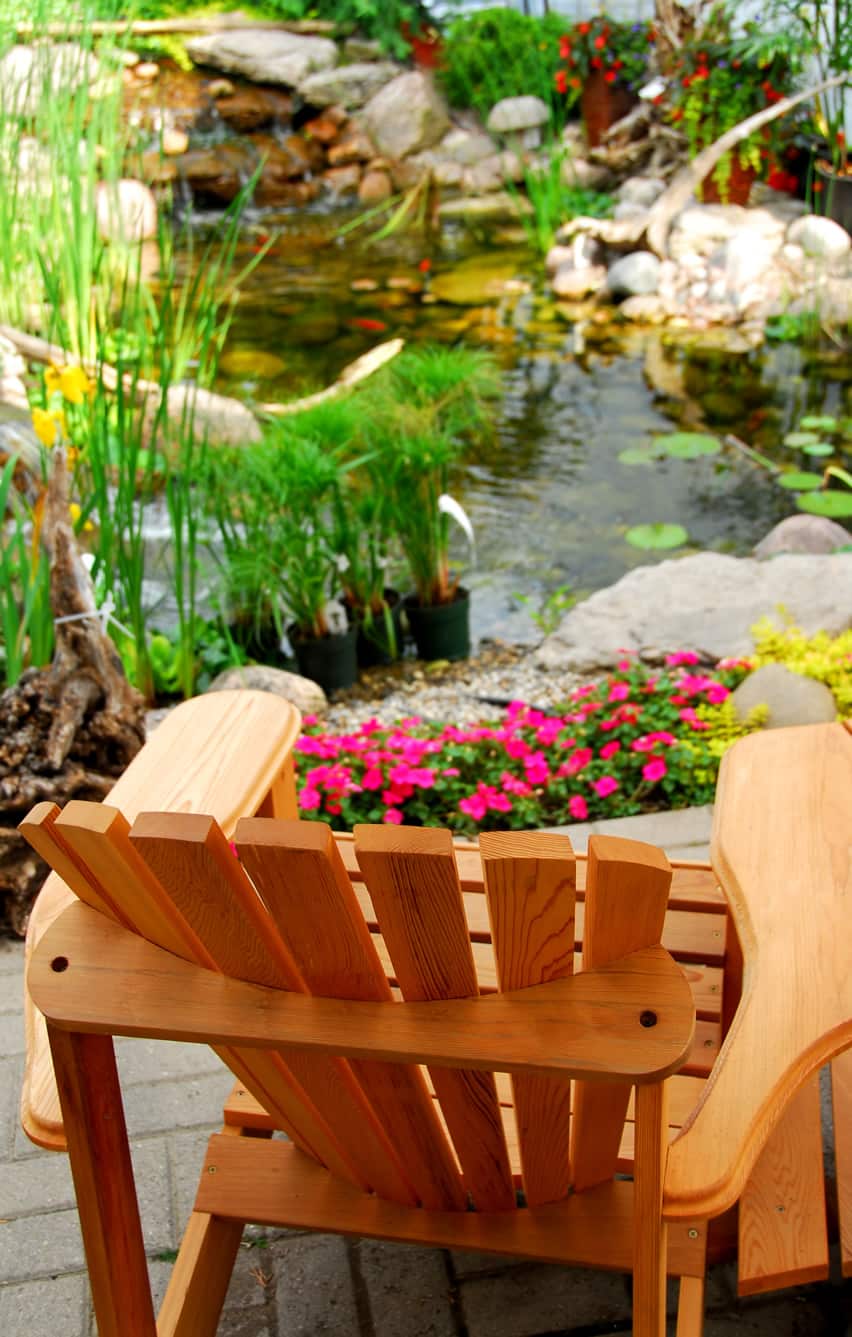 This little water garden has a good combination of stones and plants, as well as a working waterfall to keep the water circulating, making it a perfect place for koi fish and water lilies. It is surrounded by various river rocks, potted plants and ornamental sculptures, and the sound of the flowing water helps make a relaxing garden. This addition of an Adirondack chair makes this a great spot for peaceful contemplation.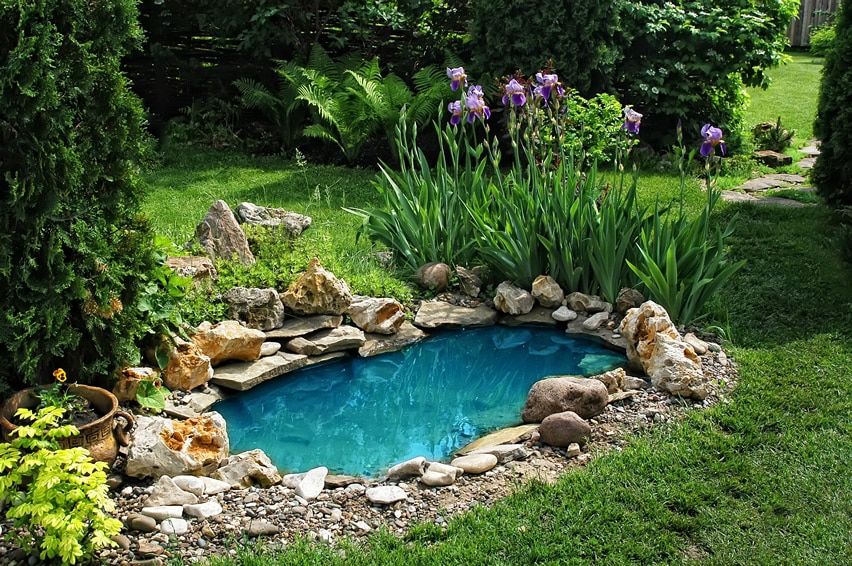 This little pond is a reflecting pool type of pond which has standing water as compared to the flowing waters of the previous water features. It has a very simple elliptical shape with sand and dirt floor and framed by various sizes of river stones and plants. The gorgeous blue color of the water adds a vibrant pop of blue to the lush green garden.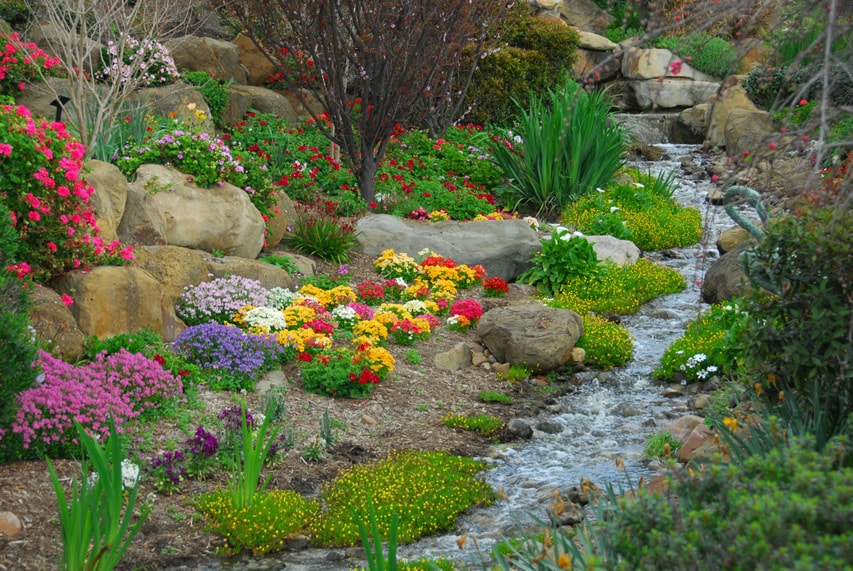 This gorgeous water feature simulates water rapids with its design, featuring a slope with flowing water that passes through a series of river rocks and pebbles, causing it to form white ripples reminiscent of water rapids. To add to the effect, the water feature surrounds itself with various plants, shrubs and gorgeous flowers, making it a more picture-perfect garden feature.
A reflecting pool type of pond which follows the minimalist design aesthetic of the architecture. It features a ground-level rectangular pool with stagnant water and colored cement flooring and walls, and recessed underwater light to emphasize it during night time. In the middle is a small square island with a palm tree in the middle framed by pebbles and slate tiles.
This is another waterfall type of pond, a bit small in size, and has sparse shrubs and flowers surrounding it. It is framed mostly with rocks and also has a rock base to keep it looking natural. Ornamental features such as the Asian-inspired garden lamp give it a more oriental feel.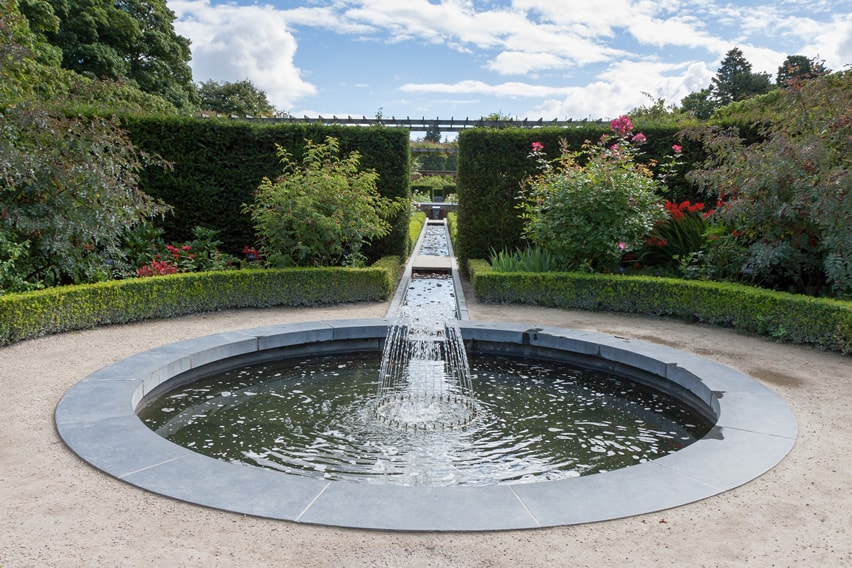 This water feature is the central accent piece of this expansive French formal garden. It is basically an ornamental pool with a fountain center and connects to another similar circular ornamental pool on the other side through a waterway which cascades into a small waterfall, keeping the water flowing.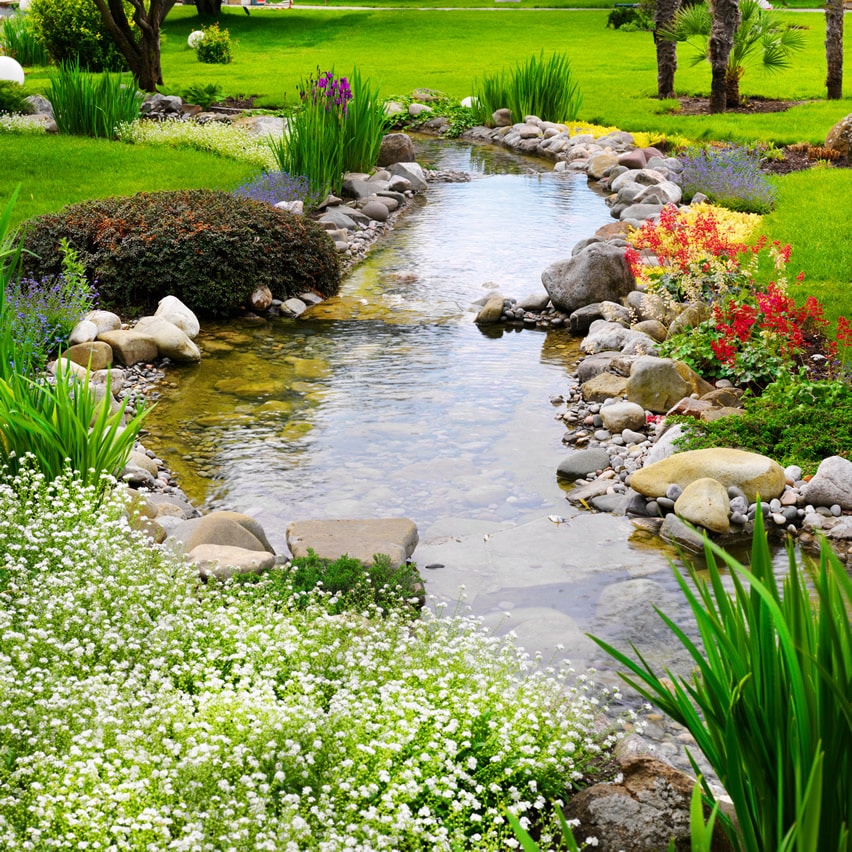 A waterway type of water feature smacked in the middle of a gorgeous expansive garden. It features an irregular shape to mimic a naturally-occurring river, with a floor made out of sand, dirt and various river stones. It separates itself from the manicured lawn by framing it with pond rocks and pebbles, as well as a combination of different plants and flowers.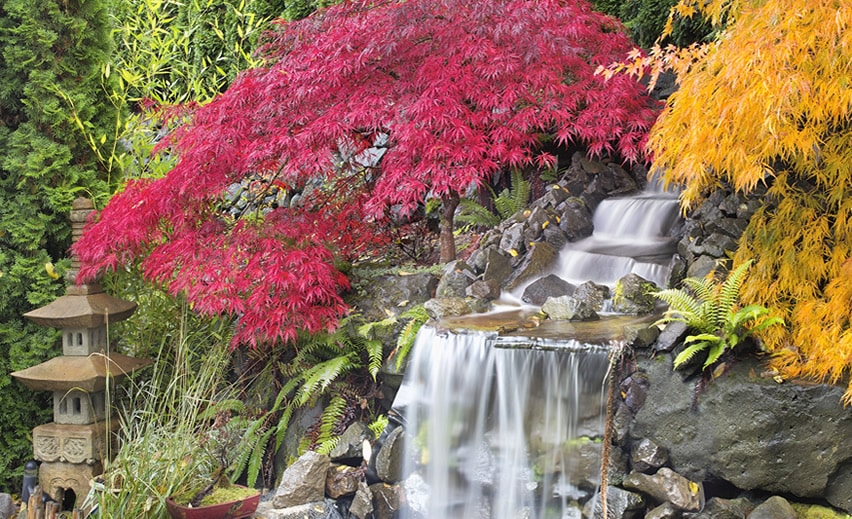 A gorgeous waterfall which is made more realistic by making it higher than typical mini waterfalls. It was constructed using slabs of river stones placed on a fairly steep slope to achieve the look of a natural waterfall. To add to its realistic appeal, bonsai trees and ferns were planted around it, with additional oriental ornamentations, making it look like a scene Japanese landscape.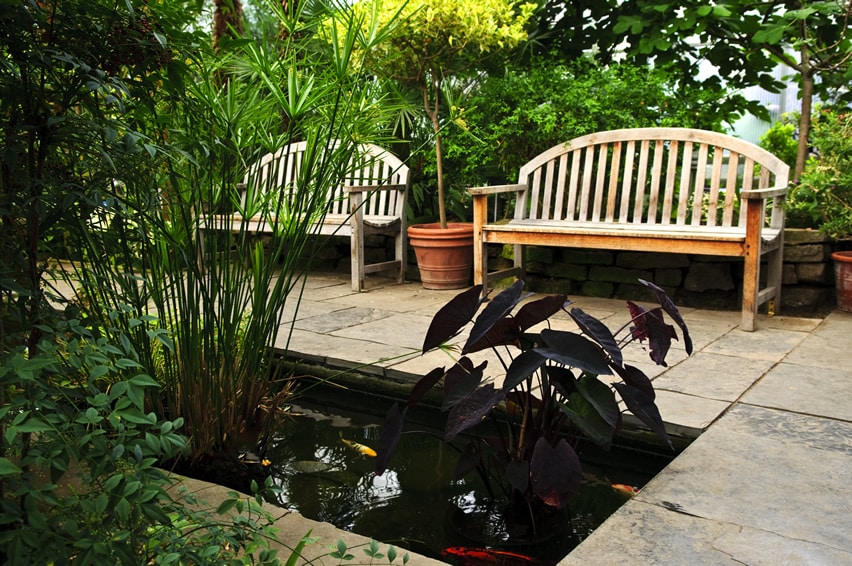 A very simple rectangular pond with live fish and water plants, this water feature is minimalist and very subtle, blending itself in with the stone floors. It is fairly shallow, enough for the plants and koi fish to thrive. Wood benches offer plenty of space for quiet relaxation.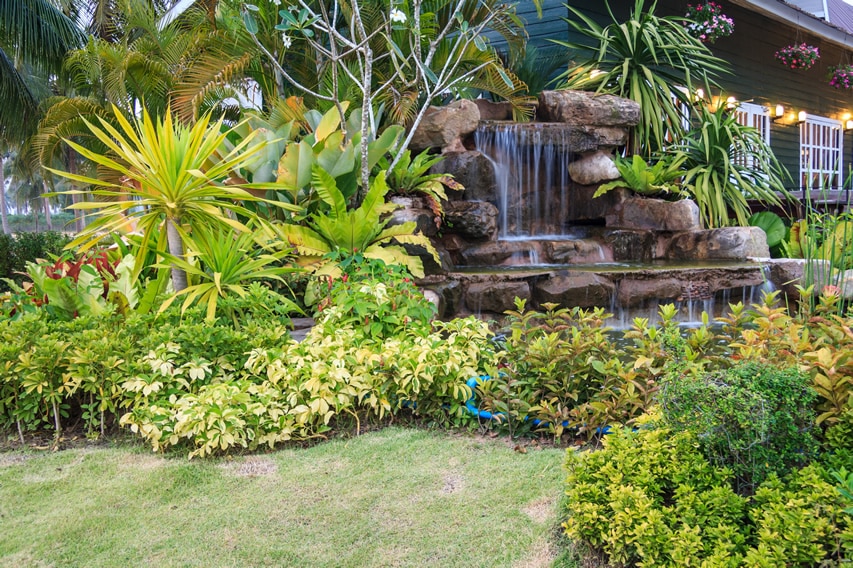 A gorgeous waterfall water feature which serves as the main feature of the garden. It was constructed out of multiple layers of large rocks cut horizontally, forming a multi-level waterfall. Surrounding the water feature is a variety of plants and flowers, adding more depth and interest to the waterfalls.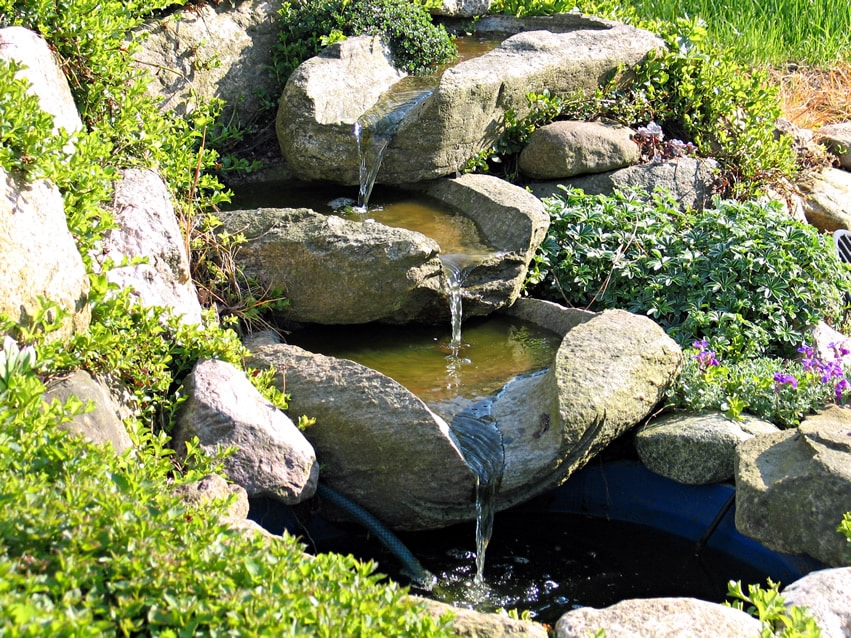 This lovely fountain waterfall is small in size. It uses large slabs of rocks with a carved out surface in which the water flows, forming a gentle flow of water which is circulated using a water pump. It is sparsely surrounded by plants and shrubs, but the 3-level waterfall design is enough to attract attention and create a serene trickling water sound.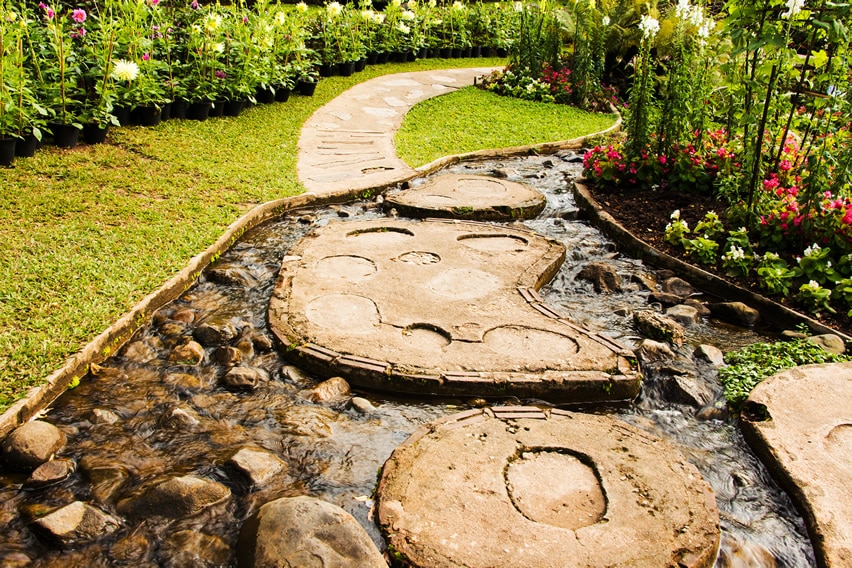 A unique water feature which is inspired by aqueducts and natural rivers. Combining the two inspirations, it has produced a very shallow water feature with river stone bed and cemented walls/sides to keep the water in. The natural slope of the terrain helps the water to flow continuously through the channel.
A very large pond water feature which is constructed using poured concrete and various river stones. The man-made pool is fairly deep, which can be an ideal pond to breed koi fish. The floor, walls and sides of the pond is fashioned out of concrete with stones, as well as random cut tiles which can be seen at the deepest part of the pond.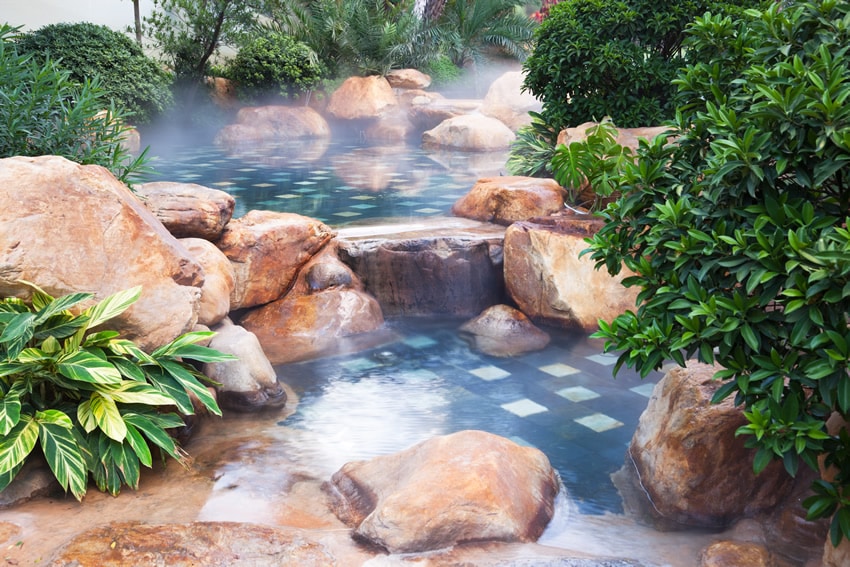 This is a simple water terrace water feature with ceramic tile flooring and surrounded by a couple of large red rocks to give it a more natural appeal. The expansive upper and lower pools makes it look like a traditional Japanese hot springs. It also has a multitude of plants and shrubs surrounding it, making it blend in with the rest of the garden.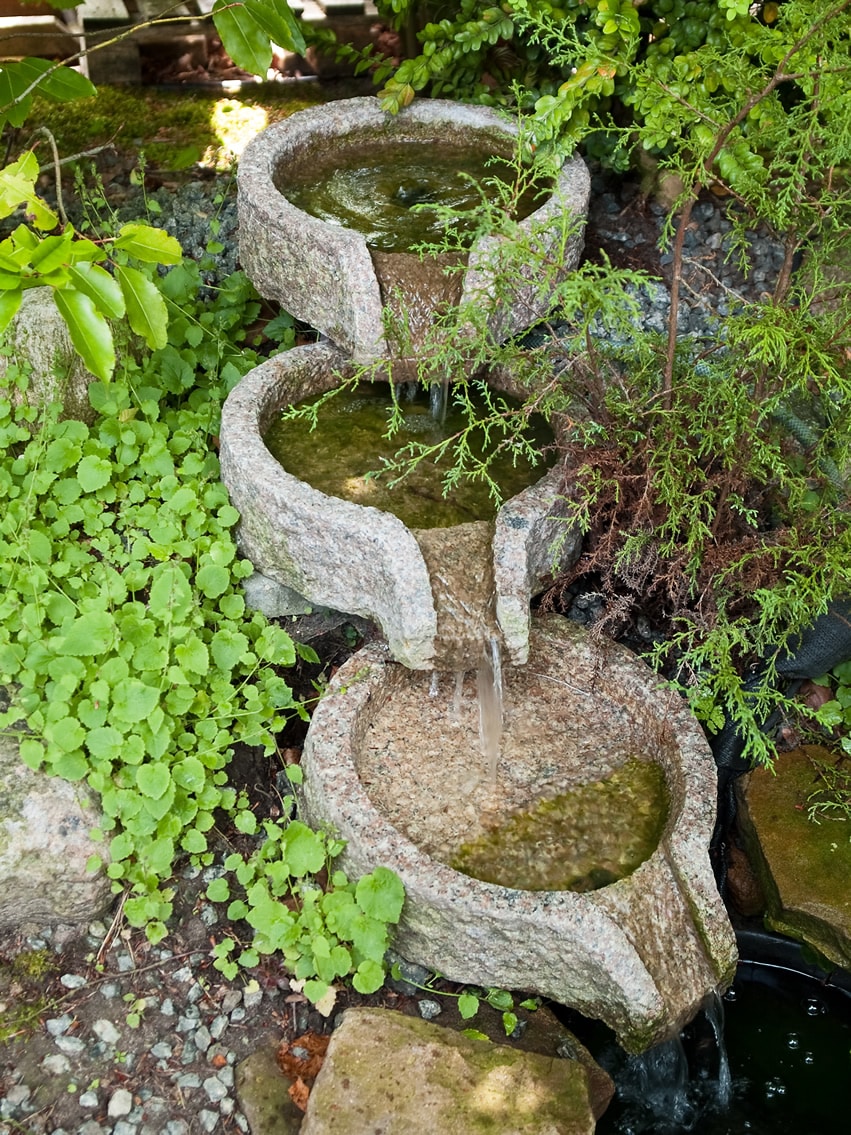 A tiny fountain made out of three levels of roughly finished concrete in a circular shape and a downspout in which the water flows down to the lower basin and pumped back up to the top to keep it flowing. This small fountain is a perfect addition to a small garden, indoor or outdoor, as it doesn't take up too much space.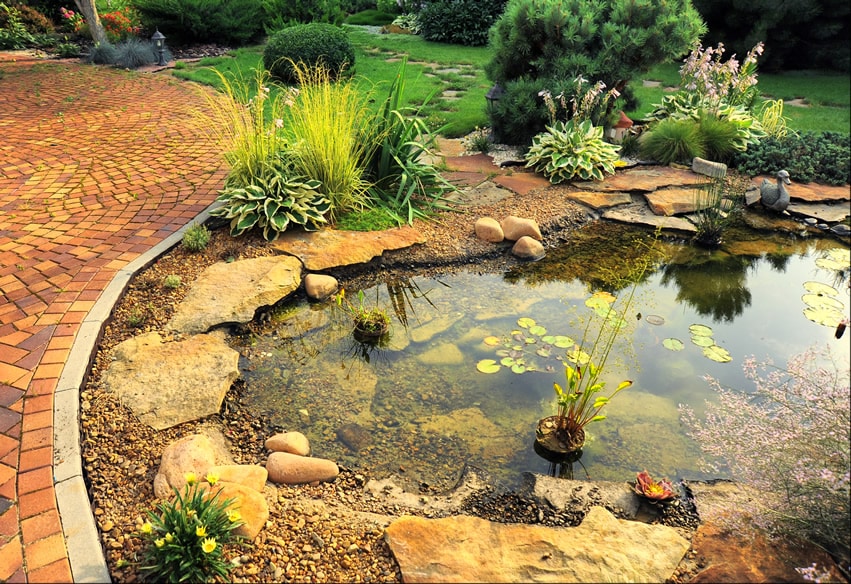 This is an example of an excellent water garden made out of multiple layers of pebbles and large rocks, creating depth and texture to the pond. It is kept simple, with no waterfall or fountain, but remains an interesting an essential feature of the garden as it allows water plants to grow and thrive.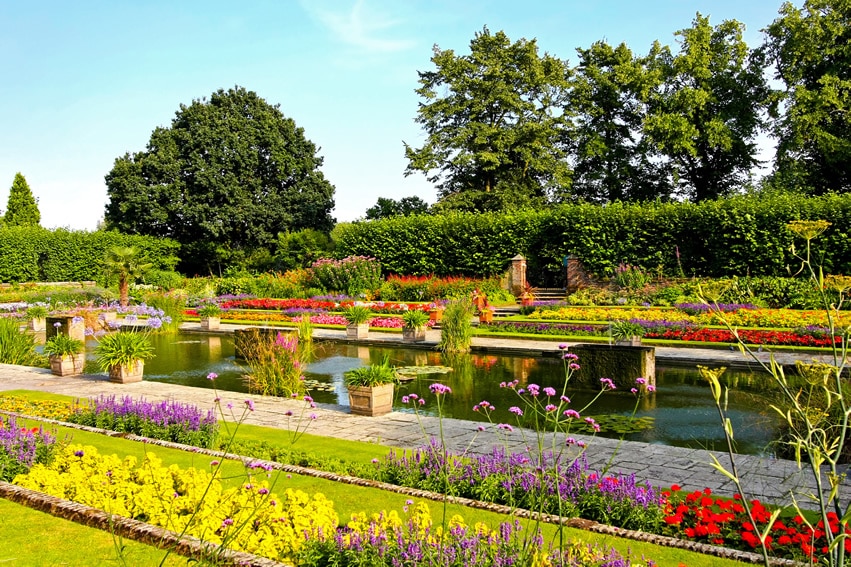 A large gorgeous garden with a variety of blooms and plants with a central rectangular water feature which reflects the gorgeous flowers surrounding it. It has a paved walkway all around it and three rectangular fountains along its center to add more interest to the water feature. It also serves as an excellent habitat for aquatic plants to thrive in.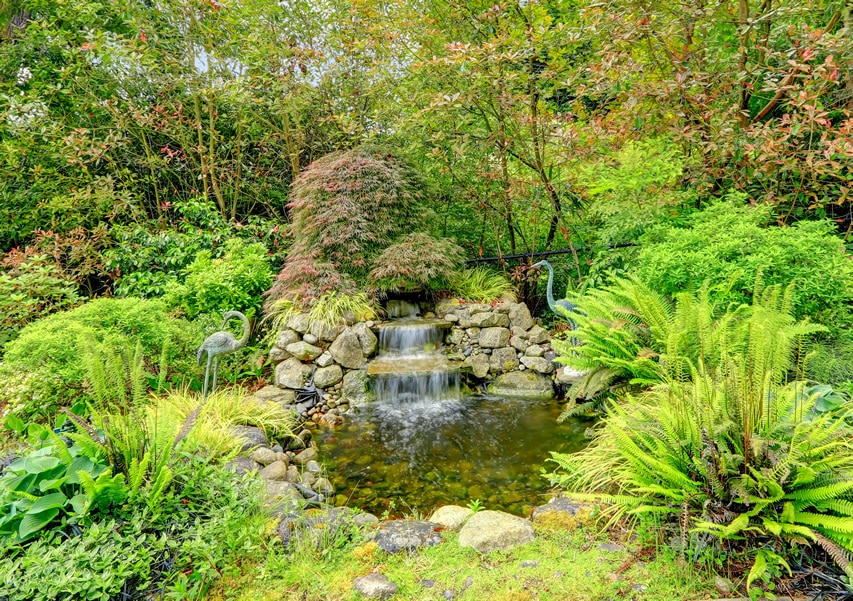 This is another waterfall pond feature placed in one corner of a garden. Constructed out of river stones and multi-level basalt rocks to create the 2 -level waterfall effect, making this water feature a welcome addition to any garden. It surrounds itself with various ferns and plants, as well as ornamental flamingo sculptures to add more drama and interest.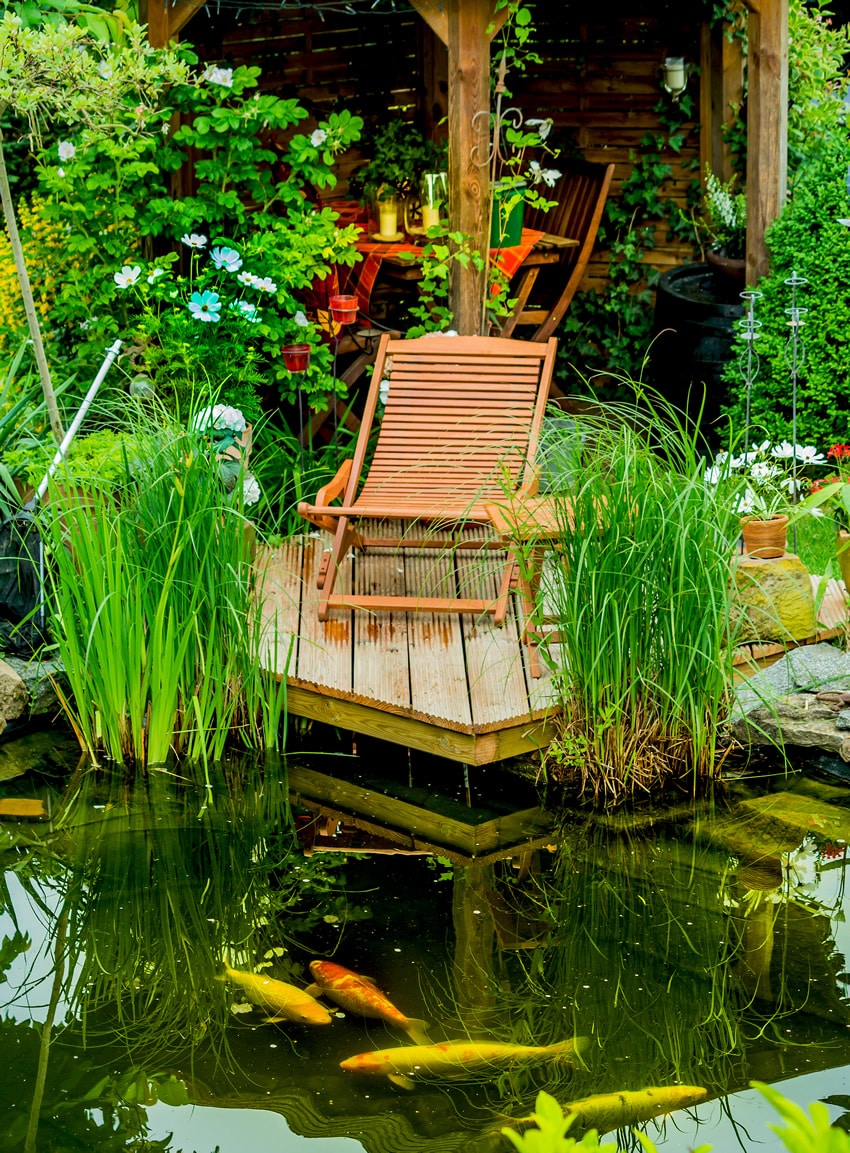 Garden water feature designs like this are all about relaxation. A small wooden deck is placed beside a water garden with live koi and aquatic plants. The deck hangs over a part of the water garden, making it a perfect spot to relax and view the fish. It is sufficiently deep for the fishes to thrive and framed around with blocks of stone.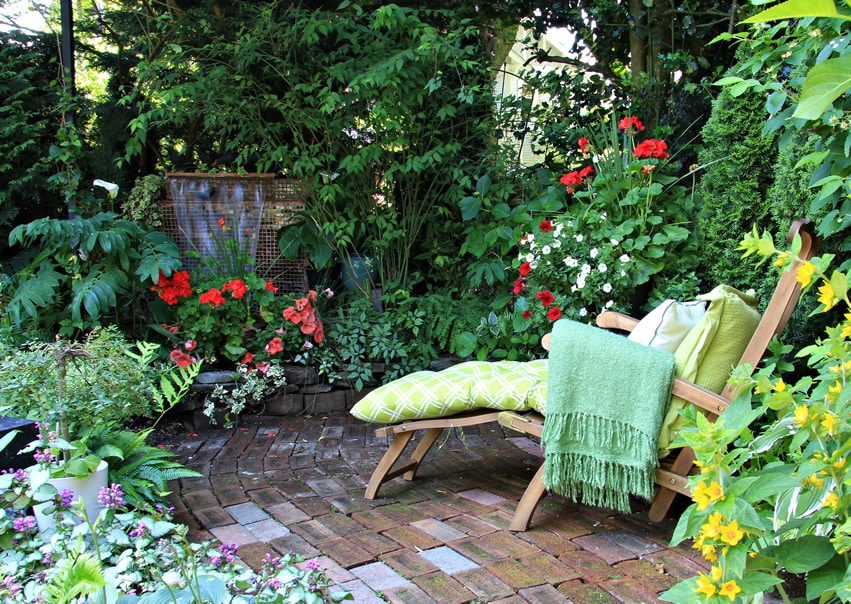 This paved garden tucks away a little fountain within its lush plants and flowers. In a corner by the lounge area, you will notice a fountain made out of concrete with mosaic tiles with a curtain of water flowing out of its spout. It enhances the look of the garden, adding an interesting piece in the midst of the the natural green surroundings.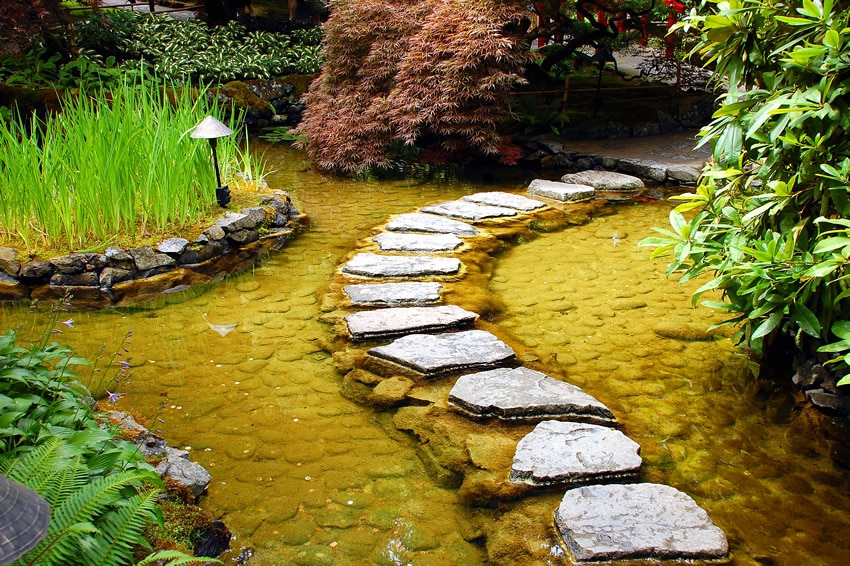 A sort of interactive pond, this water feature has a stone pathway in the middle of the water leading to the other side of the garden/pond. The water is simply made out of poured concrete with large pieces of river stones embedded into it, with sides also made of large stones. The pathway are large pieces of basalt just a few centimeters higher than the water. The water is fairly shallow, making the bottom full of moss visible.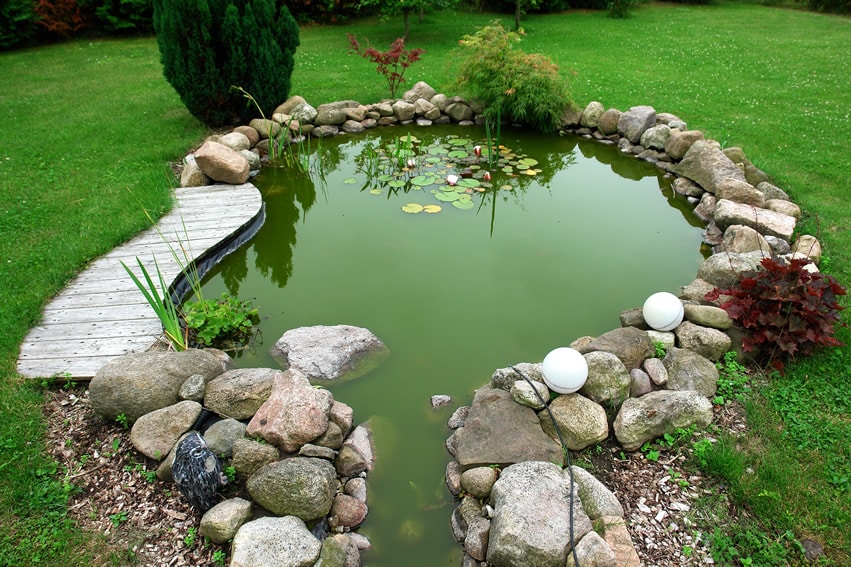 This water garden becomes the centerpiece of this well-manicured garden, placed in the middle of the lawn and framed with large blocks of stone. There's a little wooden deck on one side for viewing made out of bleached weather-proofed wood, overlooking the water lilies thriving on the pond.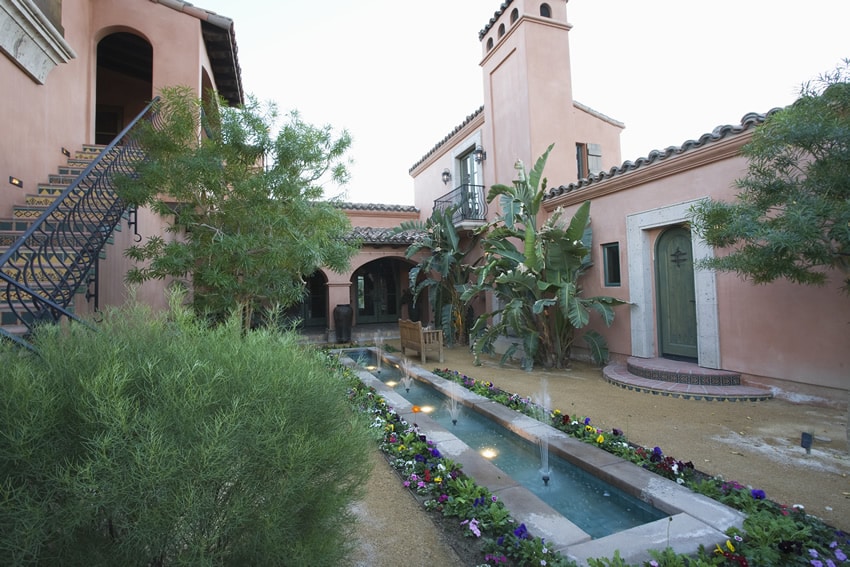 This is a simple straight water fountain with a narrow rectangular shape framed with rectangular cut stones and has a series of fountain sprays in the middle. This is surrounded by a bed of flowers and also has underwater lighting for additional effect especially during the night.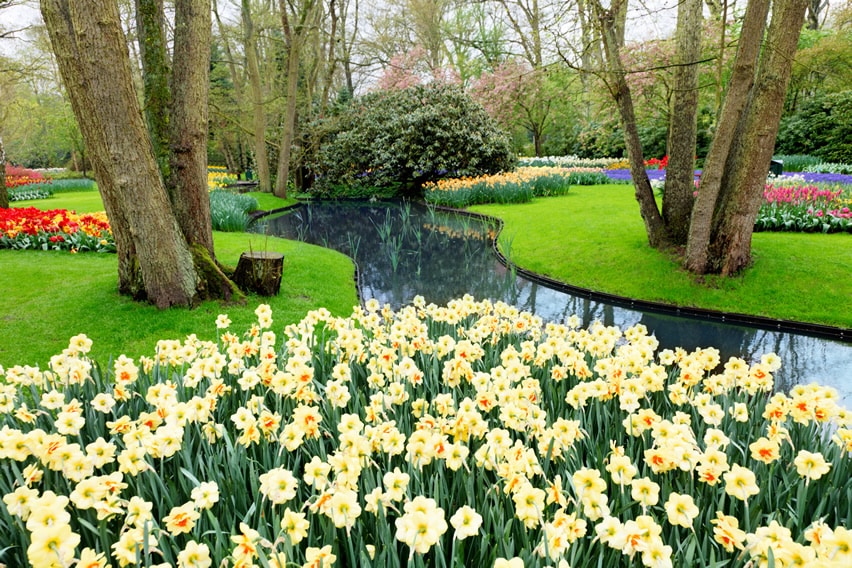 A gorgeous flower garden with sprawling organized beds of flowers surrounded by well manicured lawns and trees, with an interesting water feature that separates the garden. Inspired by aqueduct water channels, its walls was lined with PVC material to "frame", highlighting it from the lawn. The channel is not straight, but instead adapts a curvy pattern, creating an interesting element in the garden.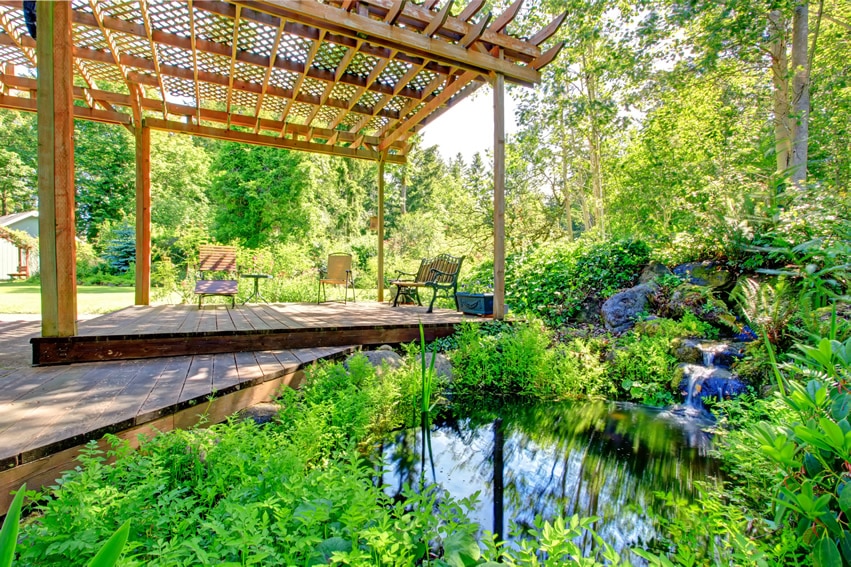 This lush water garden just stands beside a decked patio with trellis roofing. The elevated deck has a good view of the tiny water garden which has a little waterfall feature made out large river stones. Surrounding the water feature are various plants and grasses, creating a miniature marsh beside the deck.
Garden Waterfall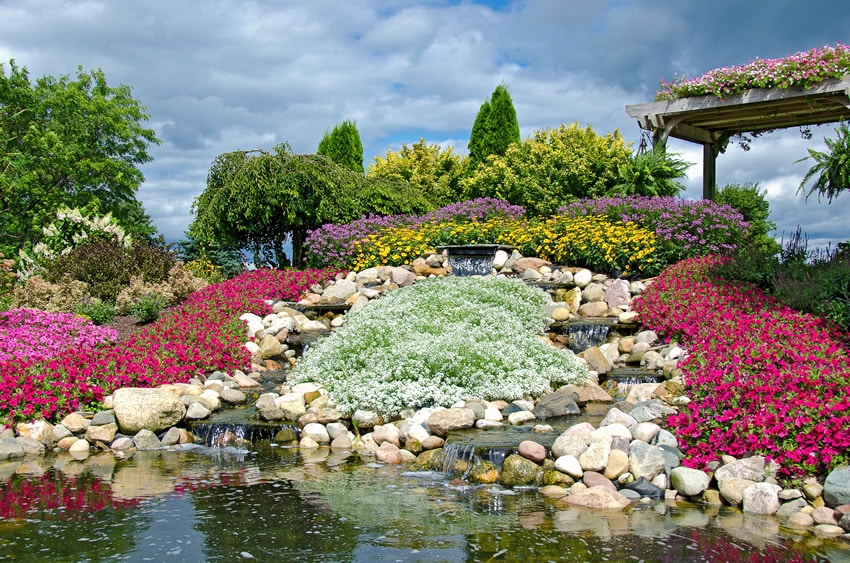 A large and grand waterfall feature that obviously stands-out and serves as the focal feature of the garden. It features 2 parallel curtain waterfalls with a central water source at the top. It was constructed on a small hill/slope using a combination of river rocks and flat slate or basalt pond rocks to create the natural cascading water, which falls into a fairly large basin/pond of water. Surrounding the water feature are beds of flowers grouped according to its color, creating a gorgeous landscape design.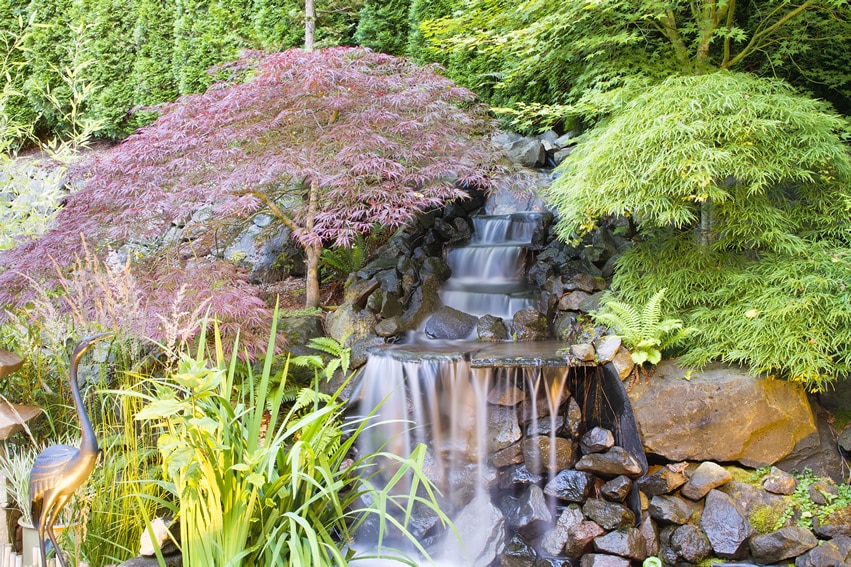 Similar to one of the previous examples of waterfall water features, this water feature was constructed on a steep slope, taking advantage of the gravity to create an interesting waterfall. Using large natural river stones combined with flat blocks of basalt, a multi-level waterfall was created wherein various ferns and bonsai trees were planted around it to make it appear like an actual waterfalls.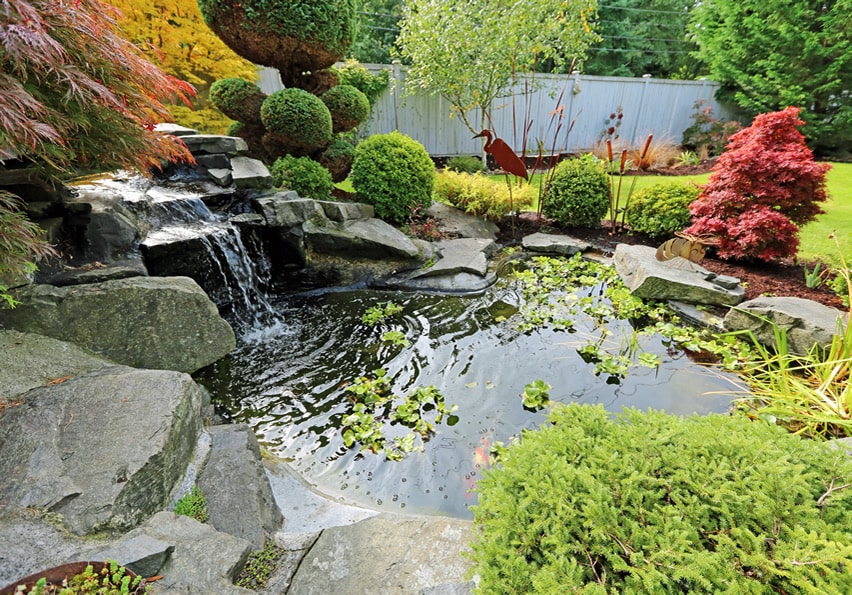 Surrounded by shrubs and lawn, this small water feature serves as a refreshing change from the well-manicured plants with its irregular form. Made out of slate stones, it forms a two-level curtain waterfall which flows into a little pond with koi fish and aquatic plants.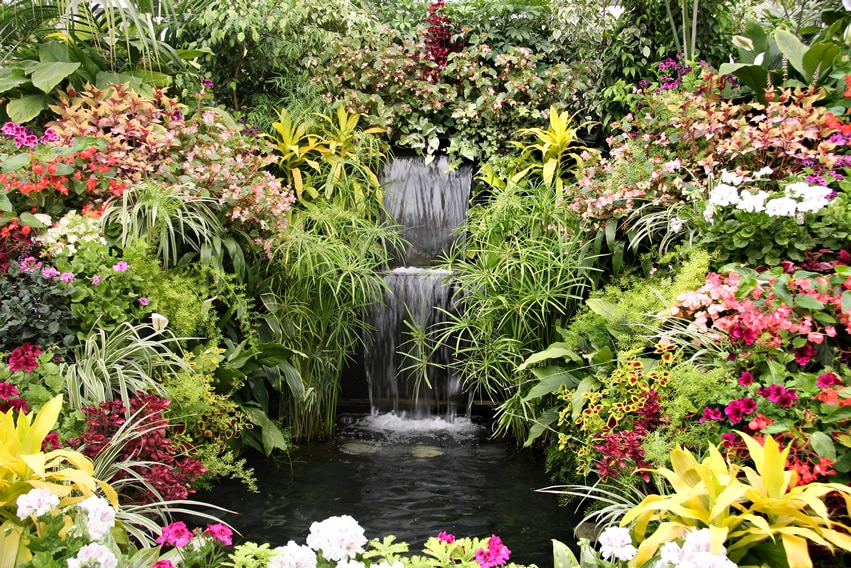 This gorgeous waterfalls camouflages itself in the middle of various flowers and plants. The two-level waterfall feature seems to sprout out of the the plants as the surrounding leaves hides the origin of the water. The vast amount of plant which surrounds the water feature help make it have a mysterious appeal.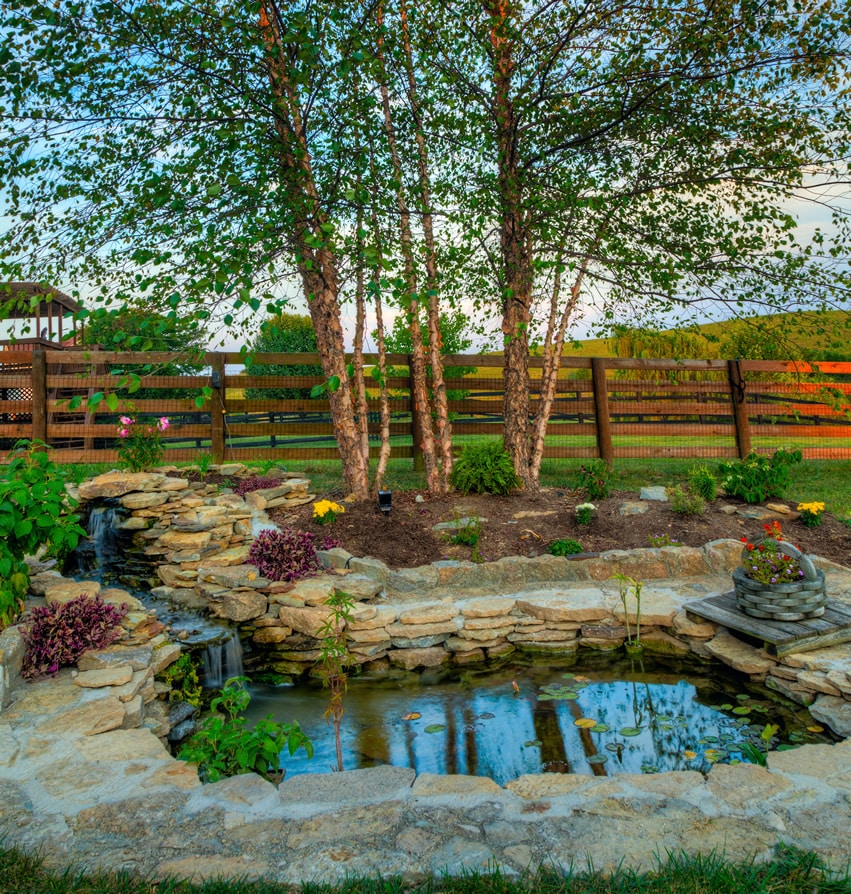 A little water garden is a welcome addition to any backyard. This for example, is made of simple materials, like piece of rocks to frame the pond and a little waterfall made from rocks as well. Surrounding the pond are stones fixed together with concrete, creating a smooth walkway to stand or look around the little pond.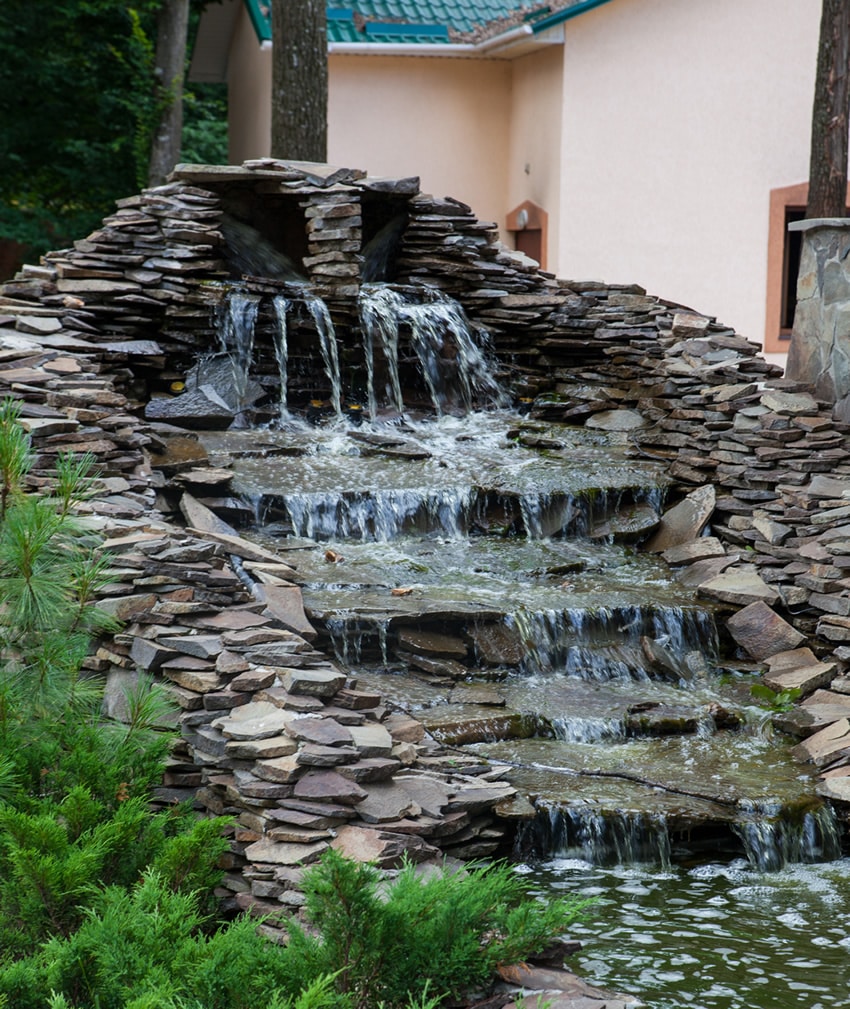 A large multi-level waterfall water feature made of loosely layered black slate stones. There was no concrete used to construct this and only relies on gravity and the weight of each piece of rock to hold them together. The flat slate stones used are perfect for creating a gentle water terrace.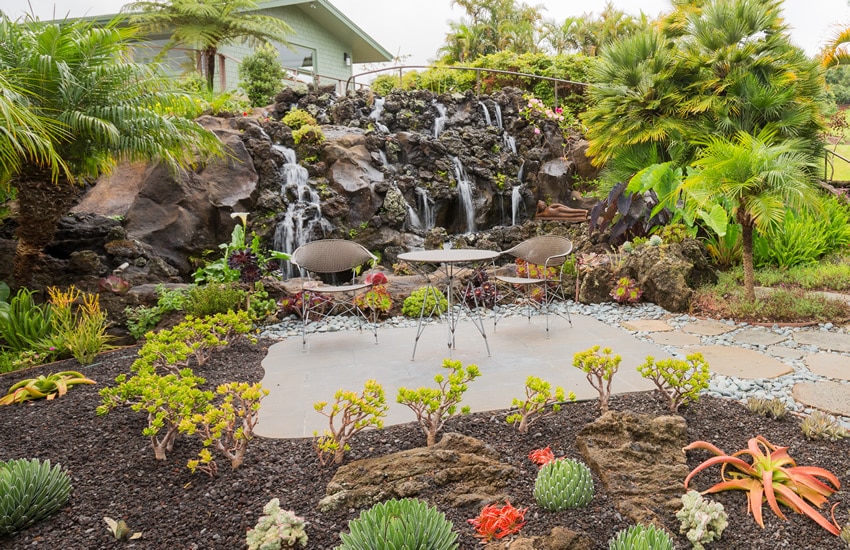 This is an open patio with a succulent garden strewn with various pebbles and stone pathways has a large accent piece of water feature. It is made of a large and expansive natural stone formation placed on a slope, producing multiple multi-level waterfalls. It is also surrounded by ferns and other plants, making it a gorgeous addition to the garden of succulent plants.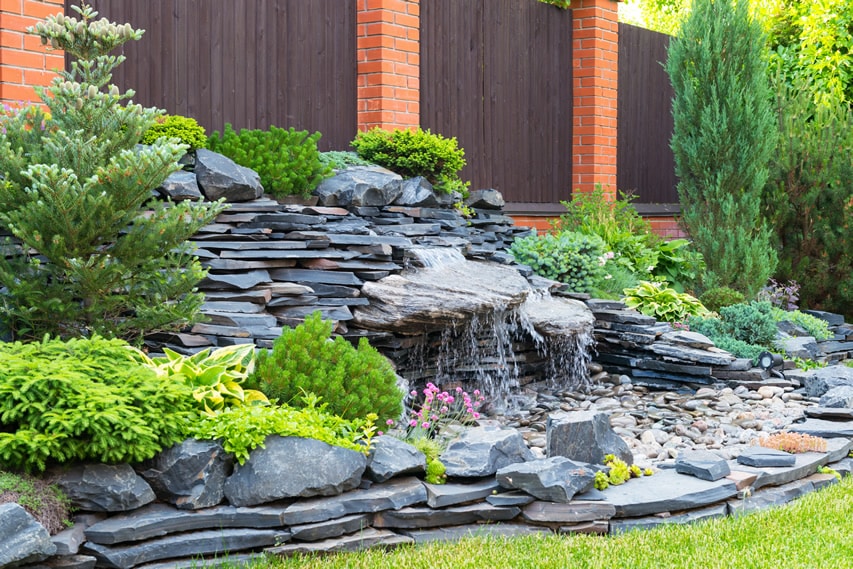 Made to be an interesting additional garden feature, this waterfalls was made by combining slate stones and natural river stones. The slate was used as the main "frame" frame of the water feature, piling them together to form a "wall" and a slope which conceals the pipe which circulates the water. 2 large pieces of river rocks serves as the waterfalls creating a rippling curtain of water that trickles down into a bed of river rocks.
Small Water Features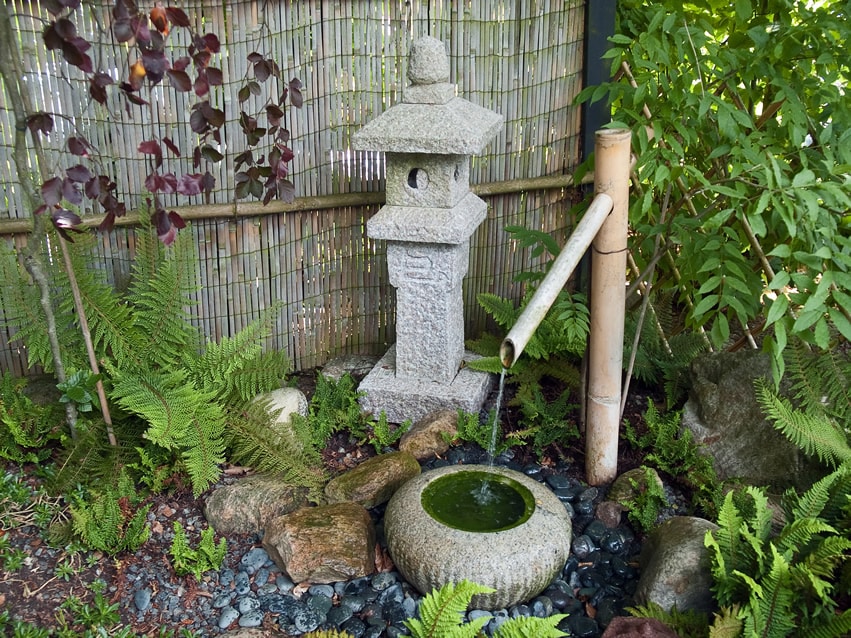 Sometimes, you don't need a rushing flow of water to create a relaxing water element into you garden and a constant trickle of water would suffice to create a zen-like feel to your garden. This example is inspired by a Japanese garden's "sōzu", a type of water fountain made of bamboo with a pivoting tube which was traditionally used to scare away crows and other animals away from the garden. This variation, however, doesn't have a pivoting tube, but a fixed spout made from bamboo which constantly trickles down into a spherical reservoir and pumped back into the spout to circulate.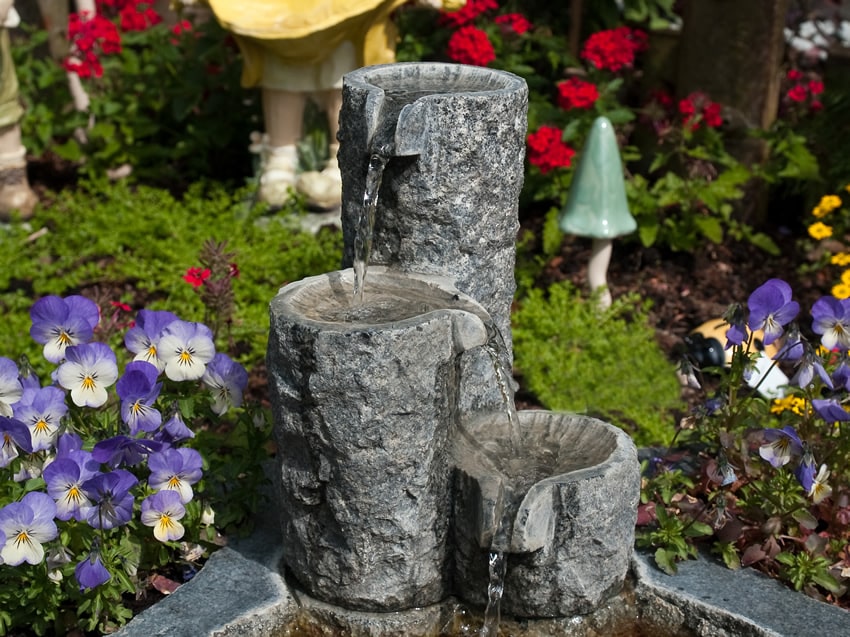 A simple water fountain feature you can place at any garden or a small front yard. This one is made out of stone with carved-out tops, forming a spout in which the water flows. The water flowing from the 3-level spouts fall onto a large stone basin and the pumped back up to keep the water flowing.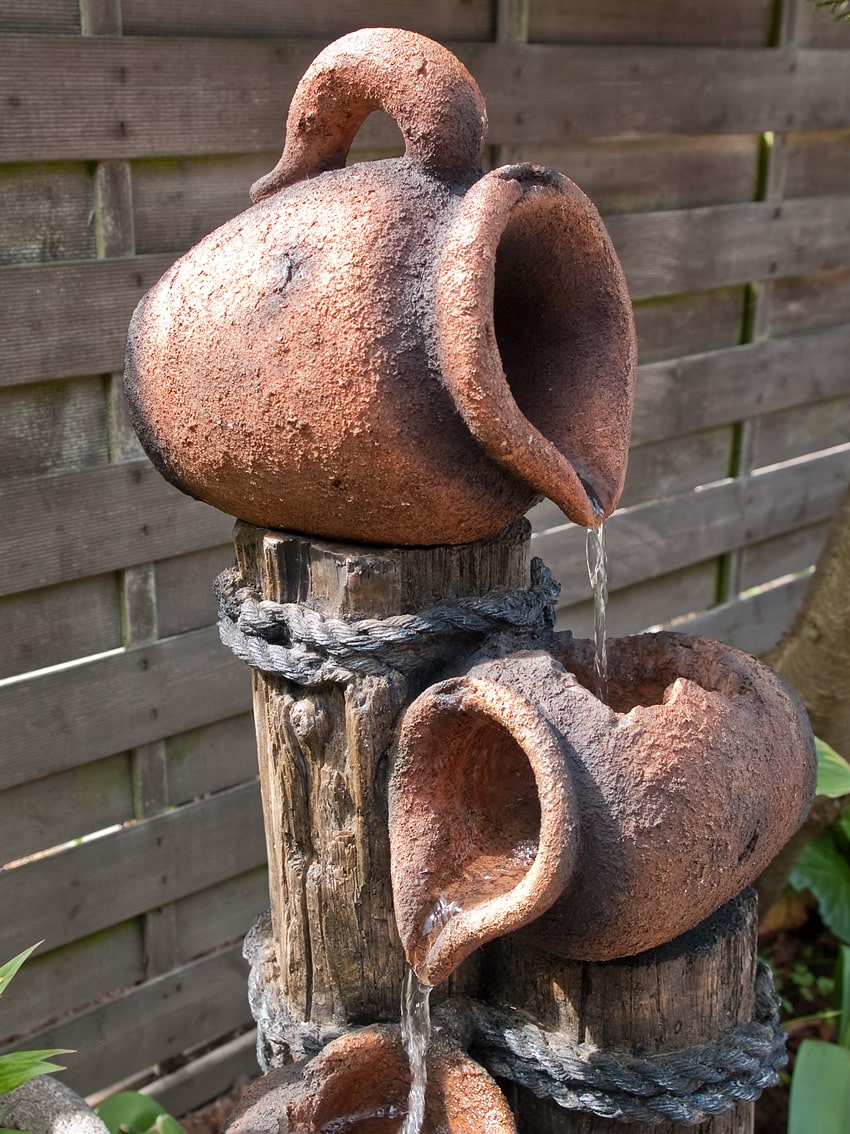 Another interesting water fountain design which is basically made out of old wood logs with straw ropes, and 3 pieces of miniature terracotta water jugs. These water jugs are placed on top of multi-leveled logs, and the water flows from one jug to another through a "cracked" opening on top of the lower jars. This is ideal for those who doesn't want to maintain a large water feature in their garden, but wants to have a flowing water element.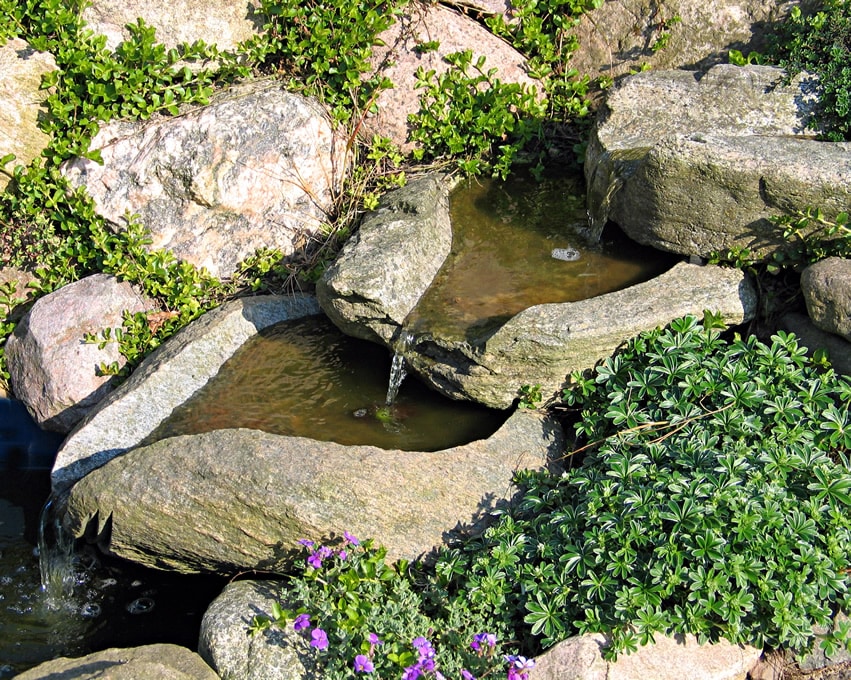 This is a larger version of the mini water fountains made out of cut-out basalt from the above examples. This one uses a more shallow but wider piece of stone with a cut-out top surface and spout on which the water flows down. Instead of being a stand-alone water fountain, this one blends into the landscape like other types of water features.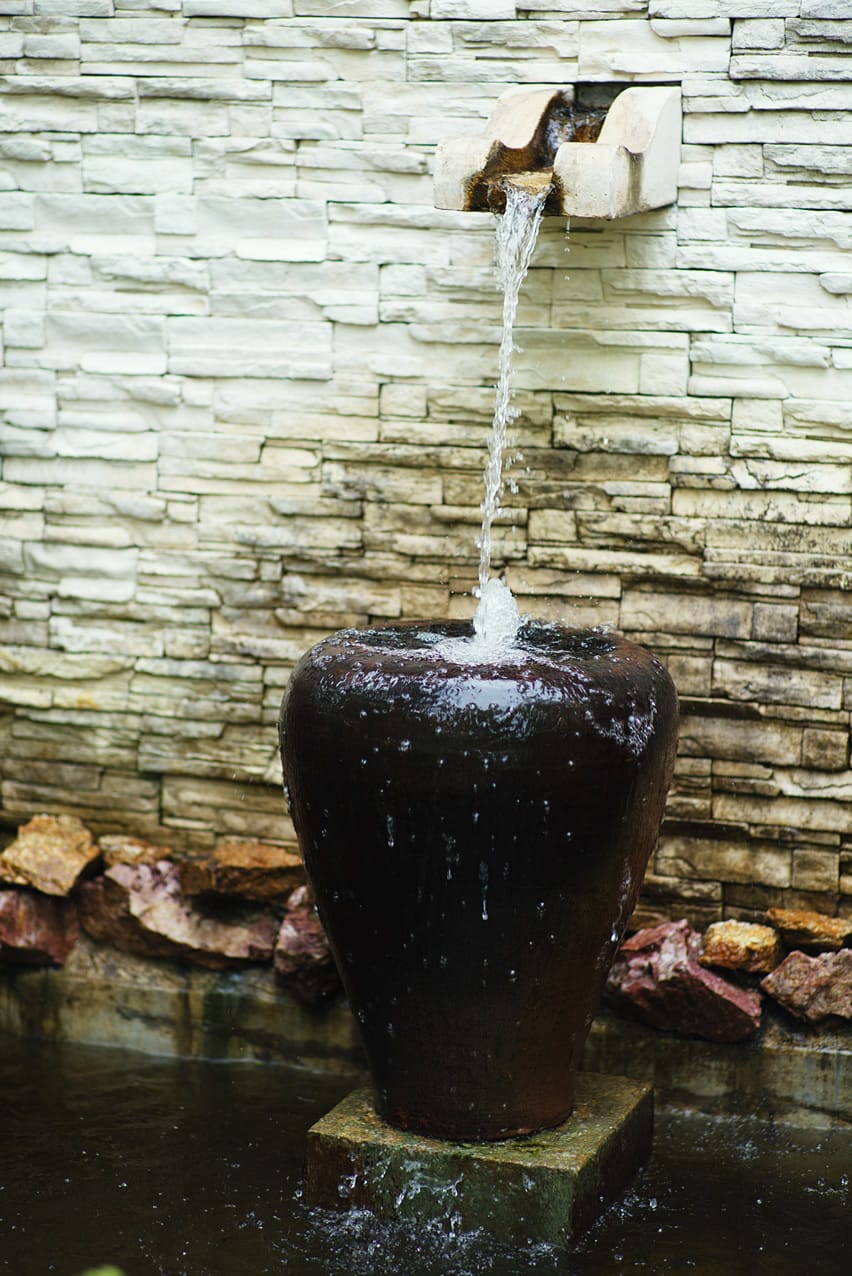 This water feature combines different elements to create this look. First of all, it has a fountain spout which sprouts from the wall tiled with stone mosaic/bricks. The water comes out of a clay spout shaped similar to a corbel and is then caught by an urn-shaped fountain standing in the middle of a pond. The water is continuously circulated through the wall spout and the urn fountain.
Small Pond Ideas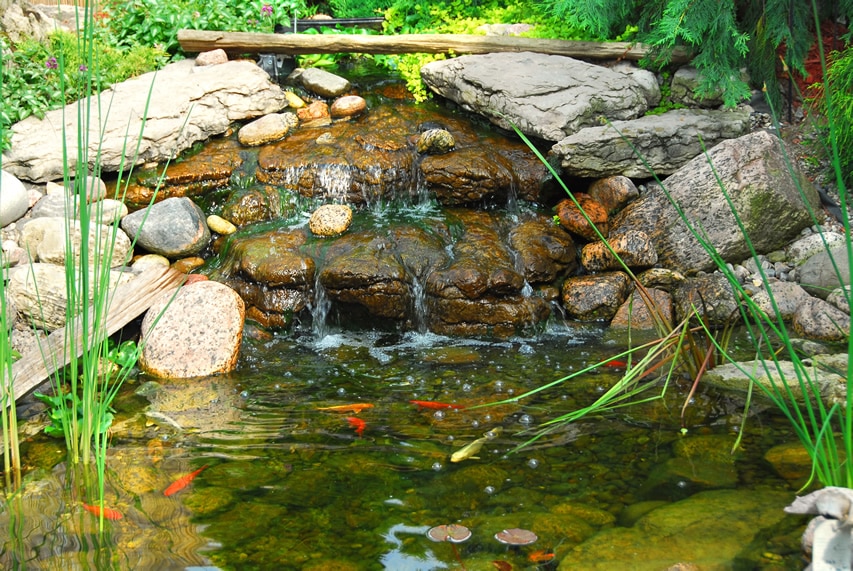 Mimicking a naturally-occurring river, this water feature combines a good variety of rocks in different shapes and sizes. The bed of the pond has both small pebbles and large rocks just like a real river and is also surrounded by a variety of rocks in different shapes and sizes. The curtain waterfalls are produced by two large slabs of stone and a bed of plants and shrubs surrounds this water feature to make it look more natural.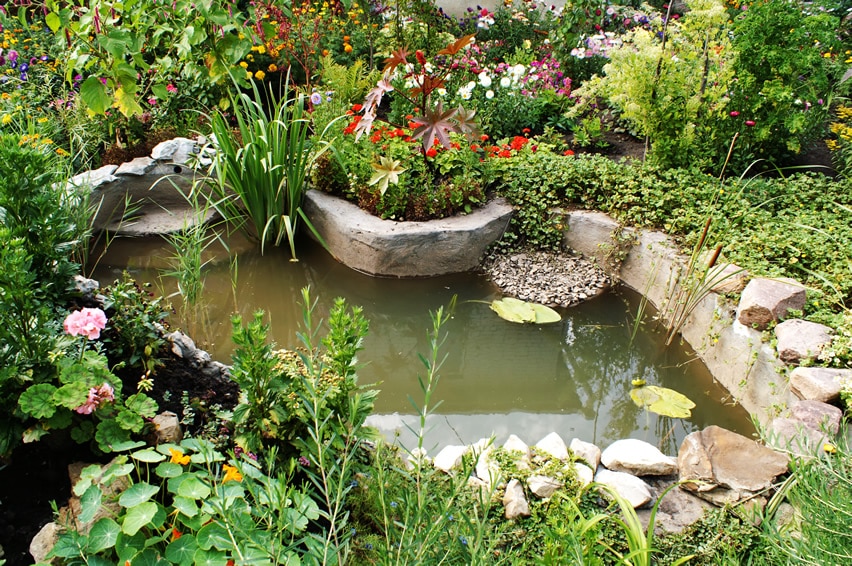 This is a small water garden feature made by using poured concrete as the reservoir for the irregularly-shaped pond. To make it look more natural, pieces of stones were put on top of the concrete, and a variety of plants, grass and flowers grows around the feature, surrounding it.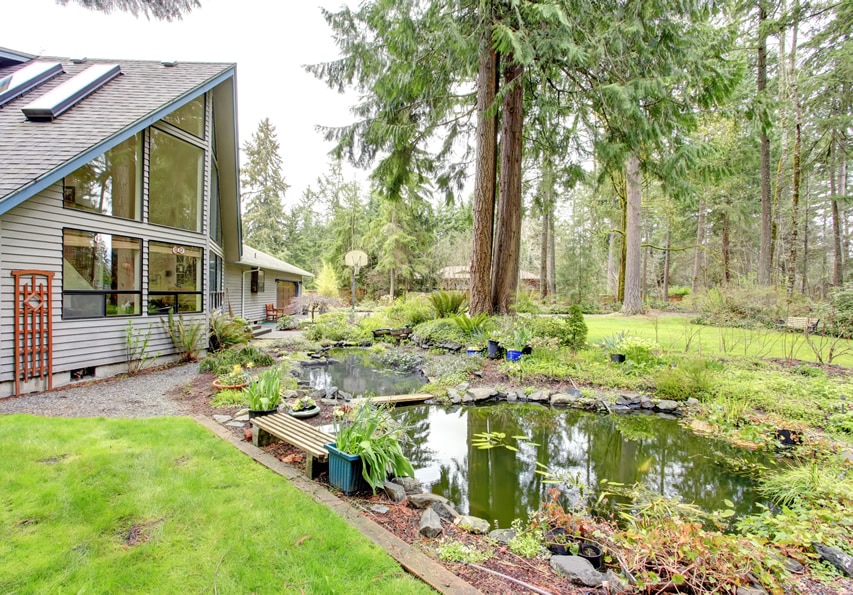 This small pond beside the house looks like it has always been there and wasn't manually made, as it blends perfectly with its surroundings and has a natural, irregular shape. Another factor that makes it look natural is the untamed growth of grass, ferns and other various plants surrounding the pond. It will also be great to use to keep koi fish or grow aquatic plants.
A series of wood decks made of solid teak wood stands above a reflective pool, in which the stilts supporting its flooring are cover with white river stones. The water is shallow and has small pebbles on the bottom. The water feature creates an interesting character to the decks and adds a dramatic effect especially at night as the reflections from the water would set a mysterious and romantic ambiance.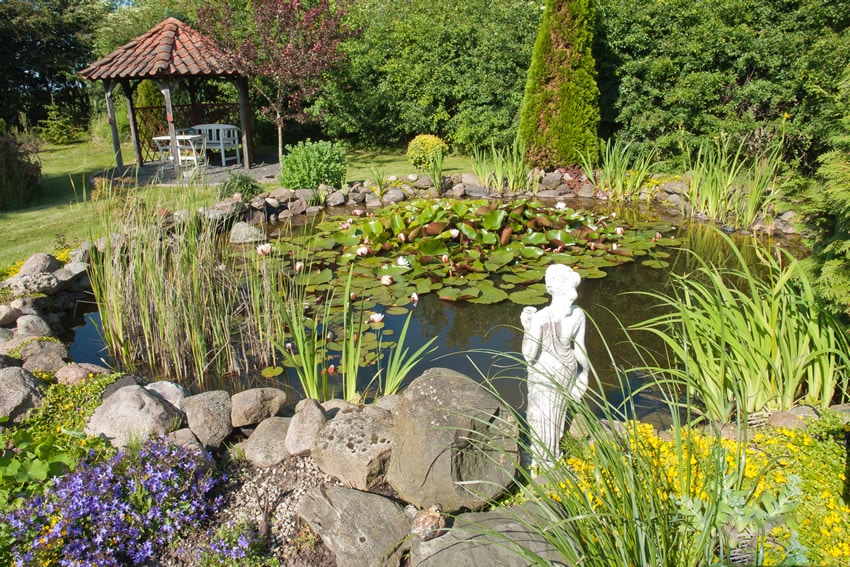 A large circular water garden, framed with large rocks and a variety of plants. Aquatic plants and water lilies can be seen thriving on this pond, and ornamental sculptures with classical influence can also be seen around it.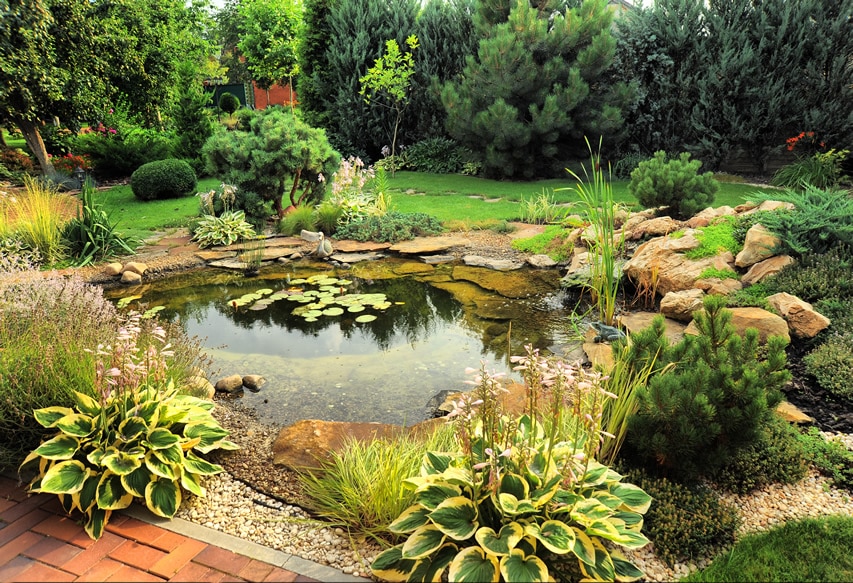 This water feature design is devoid of waterfalls or fountains to keep the water moving, but instead focuses on the tranquil stillness of its water to reflect the rest of the garden, creating a mysterious appeal. The use of multiple depths of water gives the water feature more life, and the organized way the plants and shrubs grow around the pond also helps create a zen-like ambiance.
Unlike the previous garden water feature designs, this particular example resembles an actual body of water because of its location and size. It runs on the side of the house/structure and is below a slope, making it look natural. A white-painted wooden bridge / walkway runs across the water feature and leads to the entrance of the home. Garden water feature designs such as this transport you to another place and create an interesting atmosphere for guests.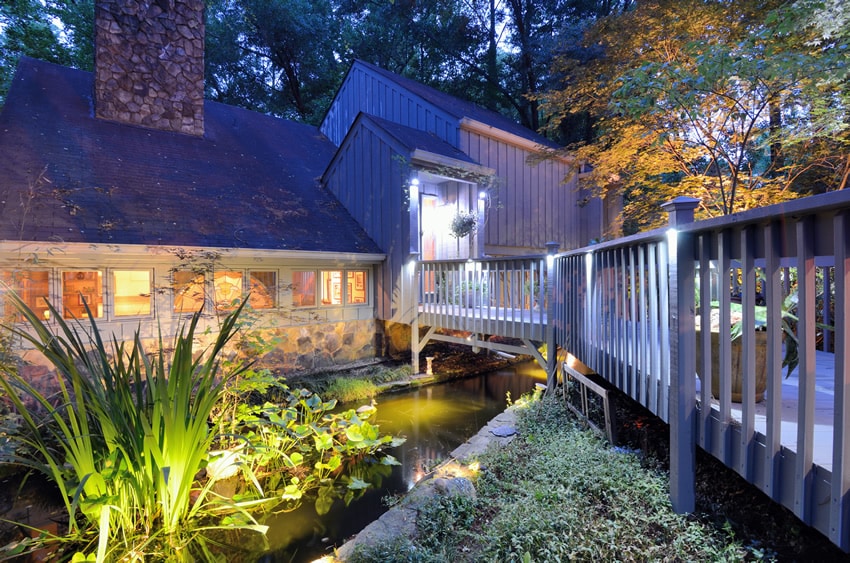 Here's another image of this home's entrance that is inspired by an aqueduct waterway. This water feature spans on the side of the structure, separating it from the other side of the lot, creating a small canal in which a wooden bridge is constructed over. The wooden bridge leads to the entrance of the structure and overlooks the water feature, with lighting that creates an interactive experience for the visitor.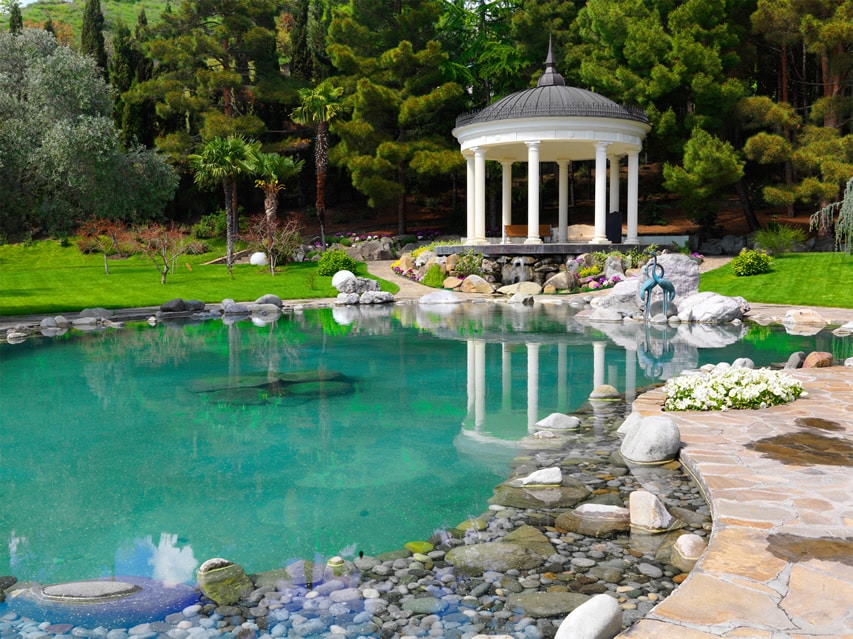 This large ponds main selling point would be its bright blue still waters which reflects the gorgeous rotundas gazebo on one end. It is surrounded by a cemented pathway of stones and some loose river rocks on the sides, while the main bed of the pond is kept plain with a bluish-green material on the bottom to make the water reflect blue/green as well.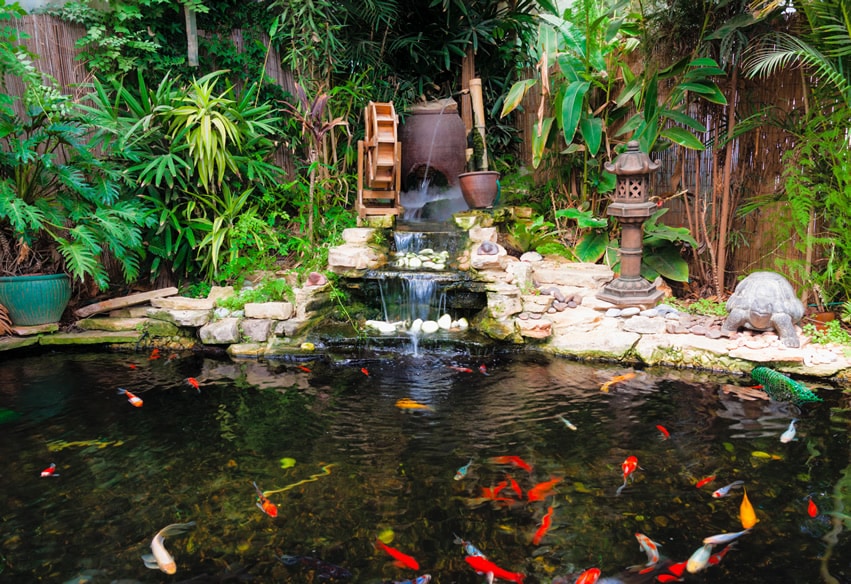 This water feature combines a variety of styles to create this look. It has a large pond reservoir with a bed made of river stones deep enough for koi fish to thrive. It also has a multi-level waterfall made from slate stones whose water source is a spout made from bamboo which flows into a terracotta vase. It also as various oriental-inspired ornamentation, and even a small wooden watermill for design.
Related Outdoor Living Design Galleries You May Like:
65 Patio Design Ideas – 50 Deck Design Ideas – Outdoor Fire Pit Ideas – 35 Gazebo Designs – Swimming Pools with Water Features – Backyard Garden Waterfalls