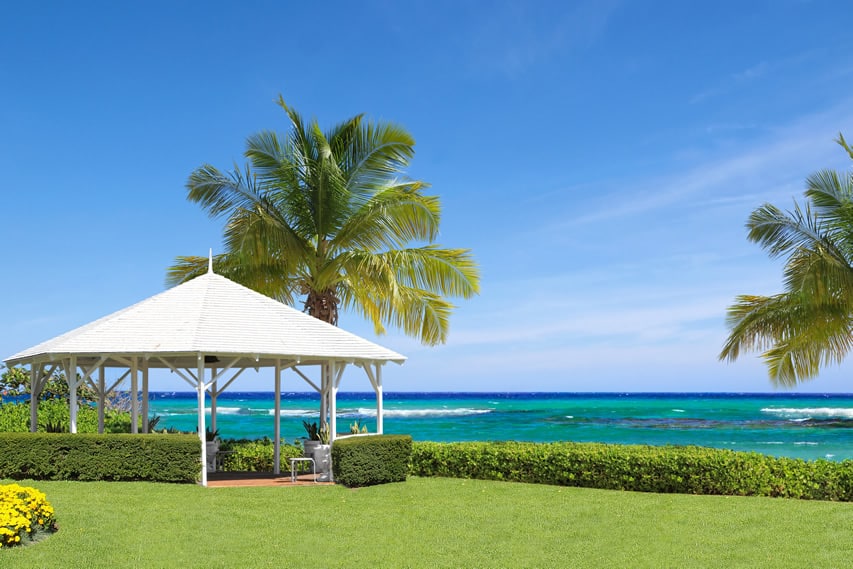 Welcome to our gallery of beautiful gazebo designs. A gazebo is perfect ornamental element to complete your garden. An elegantly designed gazebo can provide shelter and shade for you and your guest to relax and enjoy the fresh air. A gazebo can come in a variety of shapes, designs and materials. It's important to choose the one that best fits and compliments your overall landscaping plans.
Gazebo Pictures of Common Shapes
The most common shapes for a gazebo are: Six sided, eight sided, rounded, oblong, square and rectangular. While these are the most popular shapes for backyard gazebo's, there are a variety of design types to compliment any style of garden or backyard plan. Popular types include the folly, rotunda, Victorian, Asian, pergola and pavilion gazebo.
Six Sided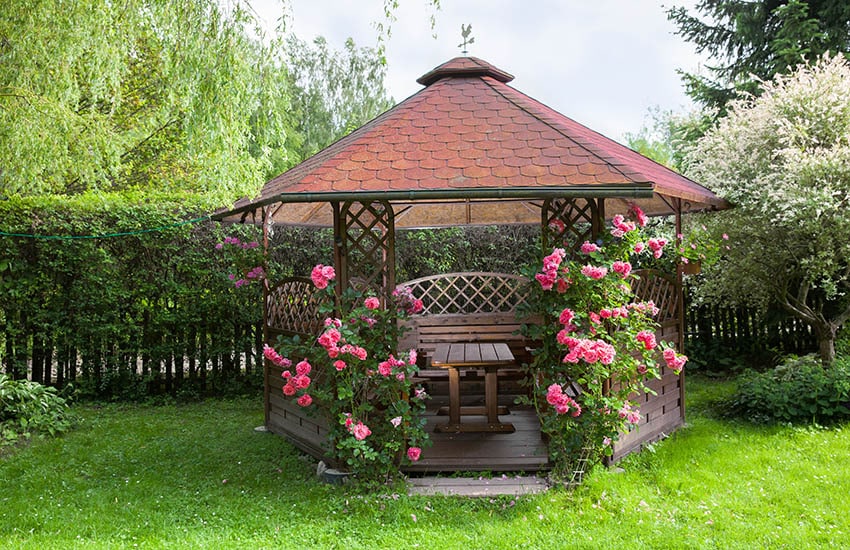 This six sided wood gazebo features built-in wood benches with ornate flower trellis creating a whimsical and inviting space to socialize and relax.
Eight Sided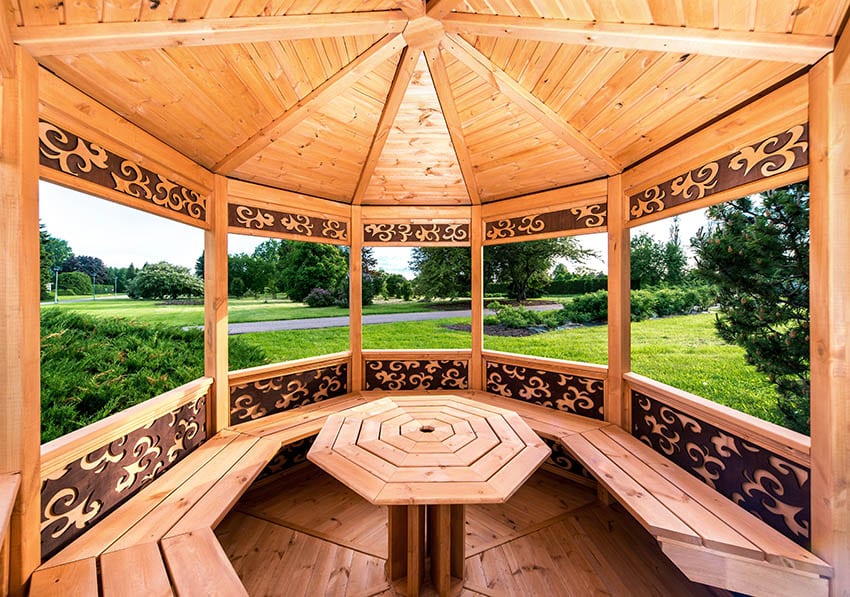 This eight sided wood gazebo is large enough to accommodate plenty of guests and offers a center table for setting drinks or playing games in the shade.
Rounded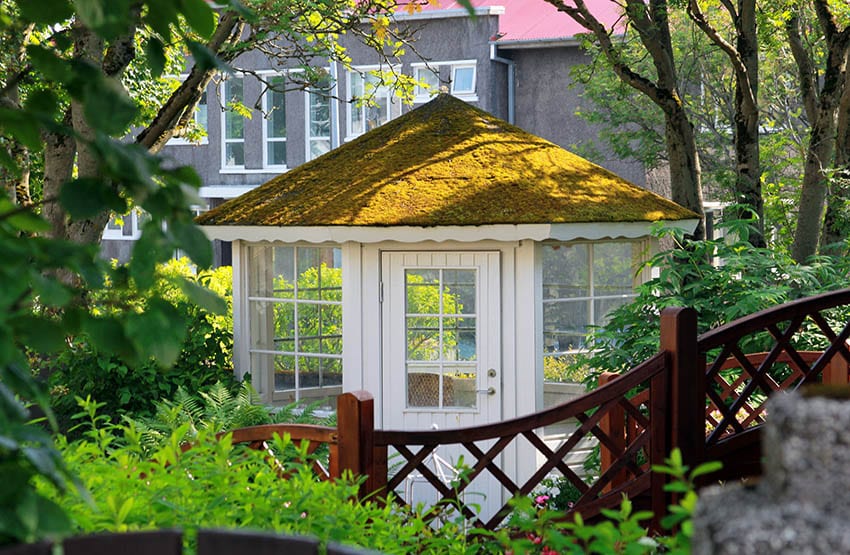 This rounded garden gazebo with windows is the perfect spot to relax away from the sun, wind and insects. It can also provide a stable and warm environment for growing a variety of vegetables or other types of plants.
Oblong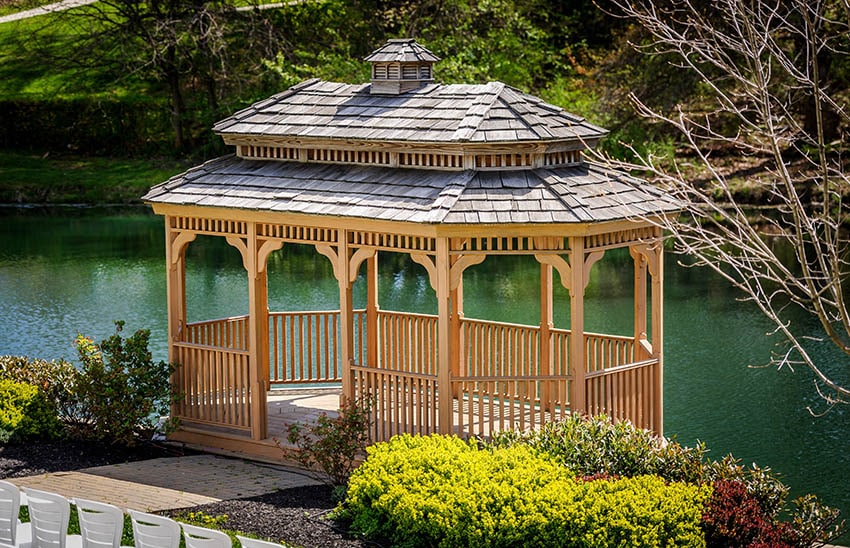 An oblong gazebo can be beneficial for maximizing views such as the one shown in this lake side location. Wood railings can help enclose the space and keep kids from taking an unwanted dip.
Square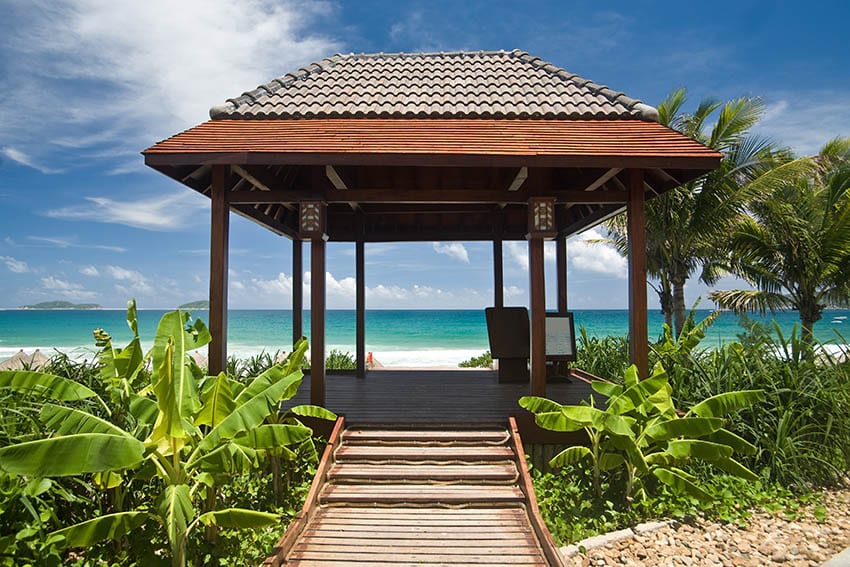 This square gazebo is situated on the beach to take advantage of the perfect views and provide a break from the sun.
Rectangular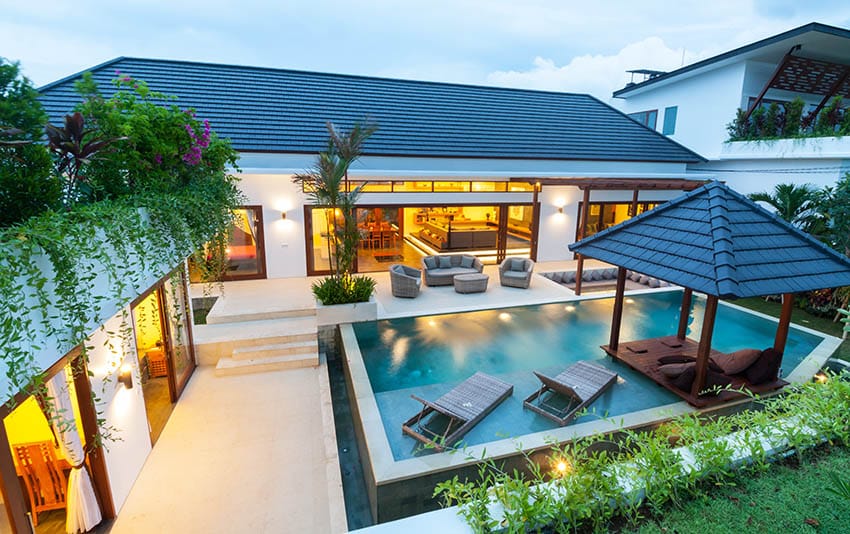 This beautiful poolside gazebo has a rectangular design with a pavilion style roof. It's swim up lounge platform creates the ideal place to relax in the shade while enjoying this infinity pool.
Types of Gazebos
These popular gazebo design types can be used with a variety of shapes to match your garden's style. The main types of gazebo designs are as follows:
Folly Gazebo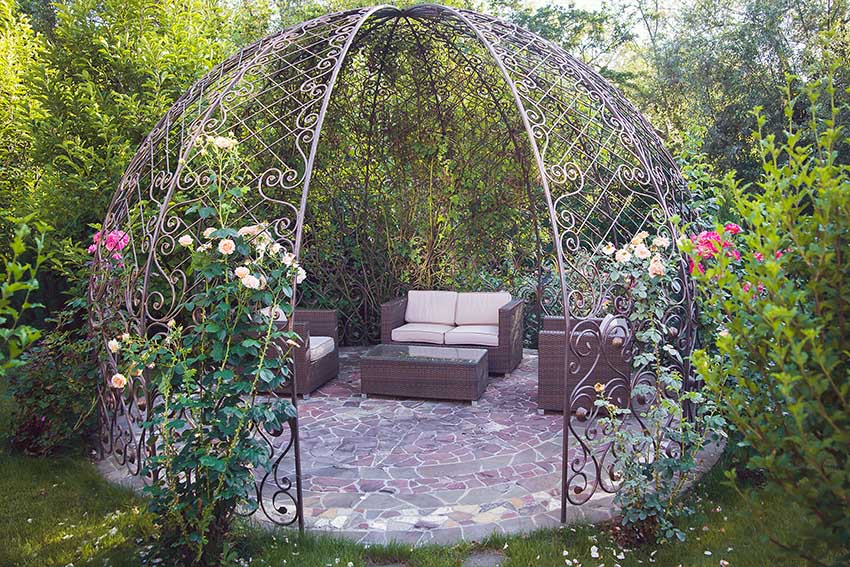 Unlike other gazebo designs, a Folly gazebo does not always provide shelter; it is strictly a decorative piece. It can be large or small and is often place in a flowerbed or other area to improve aesthetics. It can benefit from climbing vines and flowering plants to create a whimsical design.
Rotunda Gazebo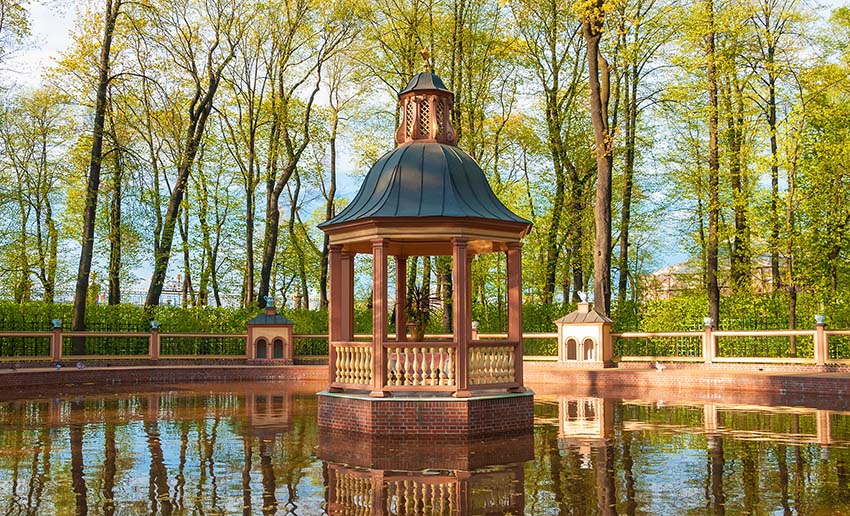 The design of this Rotunda gazebo is European in origin. It is mostly a rounded or circular shaped gazebo. The most distinctive feature of this gazebo design is its domed roof.
Victorian Gazebo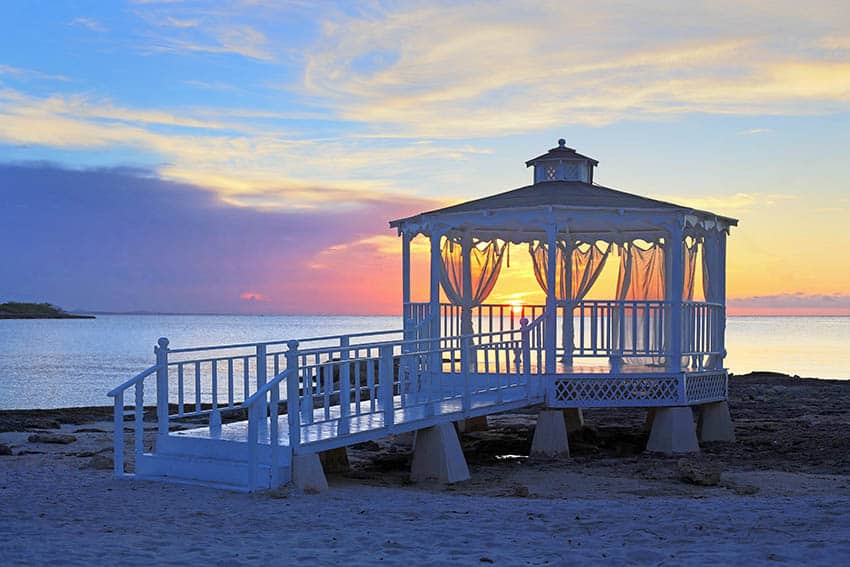 A Victorian gazebo is a classic elegant design mostly made from wood or metal. It is very elaborate often featuring many decorative touches such as low carved wood or wrought iron railings, decorative finials, friezes and fretwork to increase the beauty of the building.
Asian Gazebo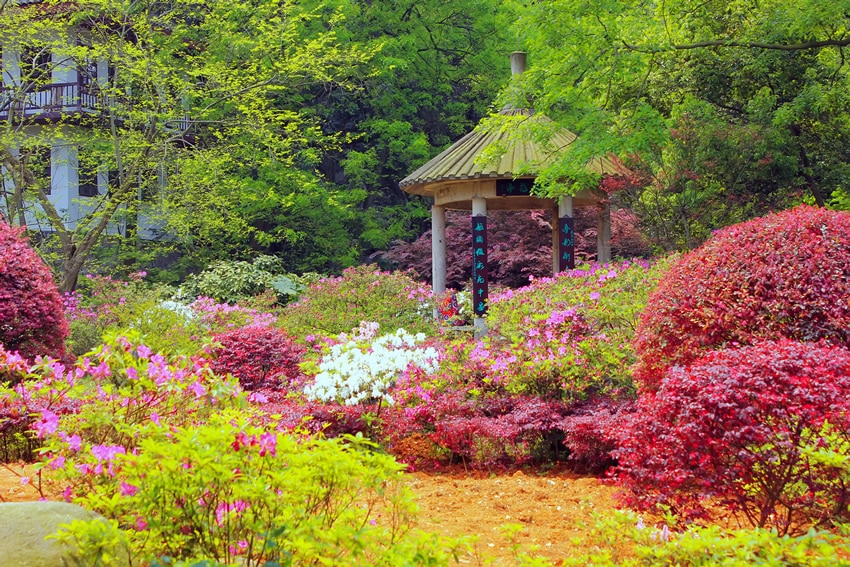 Based on classic Oriental / Asian architecture such as pagodas and Asian gazebo can be beautifully intricate or elegantly minimalist. Generally made from wood with a thatched or tiled roof.
This small circular gazebo in the middle of an Asian garden provides a good place to sit, rest, relax or even meditate. It uses painted circular wood frames with inscriptions and has an umbrella-like roofing design. Although devoid of more intricate details, the design matches well with the setting and blends in harmoniously.
Pavilion Gazebo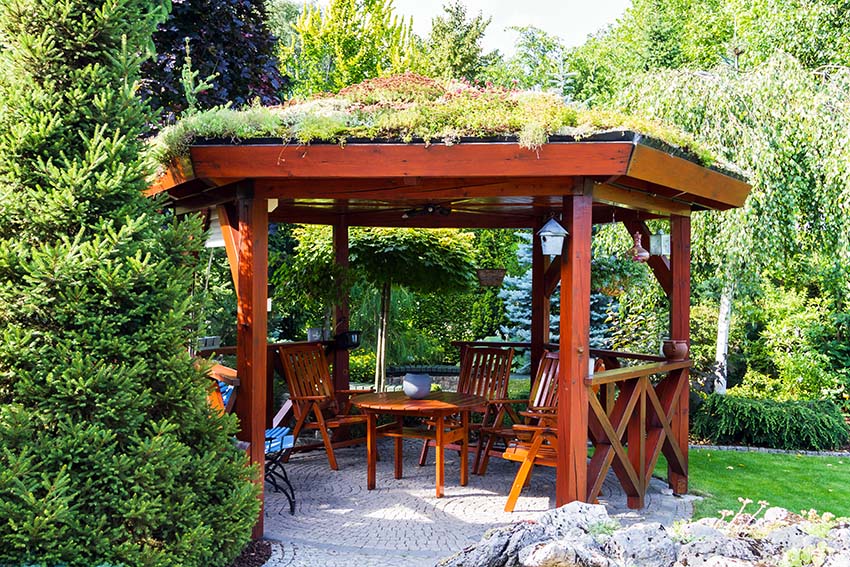 A pavilion gazebo is often octagonal shaped (with six or eight sides) but can be rectangular or oval shaped with a flat, sloped or platform shaped roof. Mostly open-sided, lattice work or ornate half-railings. Because it is open sided, occupants can enjoy fresh air flowing from all sides.
Pergola Gazebo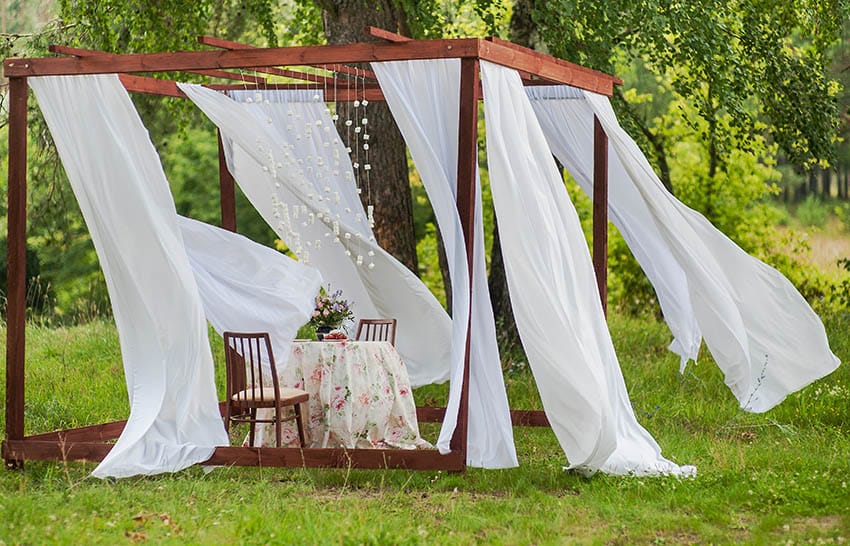 A pergola design is a long, functional type of gazebo that forms a shaded walkway or sitting area. A pergola is made up of a series of vertical post or pillars that support cross-beams and a sturdy open lattice. There is not real floor, or roof. Most pergolas incorporate vines or flowers to grow up the posts and around the rafters to provide a colorful, live shade. Another idea is to attach curtains or a sunshade across the top to provide more privacy or shade.
Types of Gazebo Materials
As a gazebo is meant to be an outdoor structure, it is usually made up of sturdy weather-resistant material. The most common types of gazebo materials are: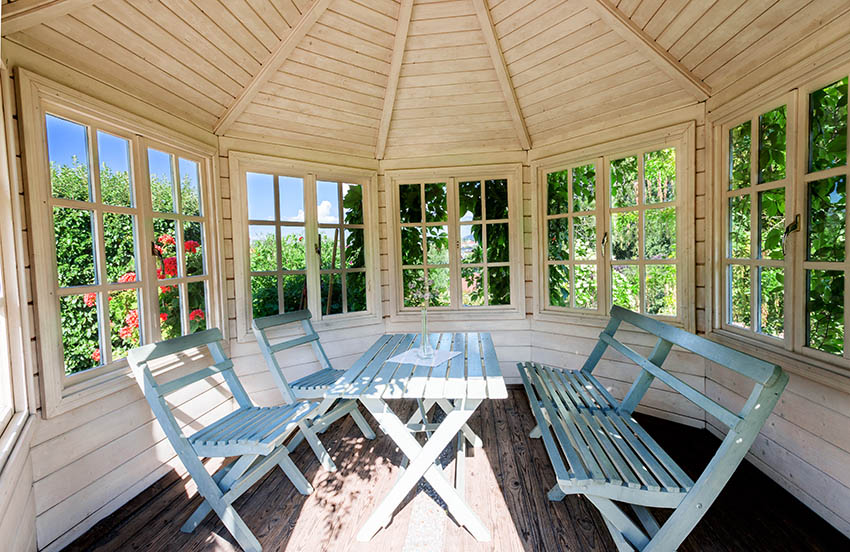 Wood. A wood gazebo has a natural beauty that fits nicely in a garden setting. Popular wood for gazebo's are hardwoods like cedar and redwood. Hardwoods have a natural moisture resistance and strength. Another, more exotic choice of wood would be bamboo. Known for its flexibility and durability, bamboo is comparable to hardwood in strength.
Metal. Usually, metal gazebos are made of either aluminum or steel. They can be painted in any color to match existing buildings and outdoor accessories. Steel can be shaped into distinct patterns for decorative panels, rails, and even roofing.
Vinyl. Vinyl can be embossed with texture to look like stone, brick or wood. It can also be painted to look like steel or other materials. Lightweight and long lasting.
Gazebo Ideas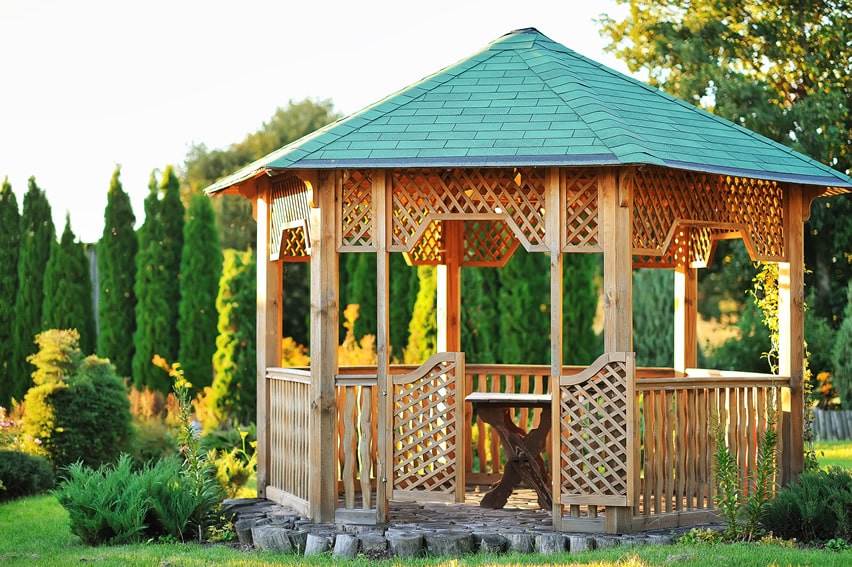 Surrounded by beautiful trees and shrubberies, this Pavilion gazebo stands out with its green shingles and gorgeous natural Teakwood structure. Another noticeable feature of this gazebo is its use of basic latticework for the transom and the small double-swing door. The best feature of this gazebo, however, is that instead of using raised flooring or wood decks, it makes use of salvaged cut logs, bleached to achieve its gray color. This results in a beautiful sturdy base which is both eco-friendly and economically friendly.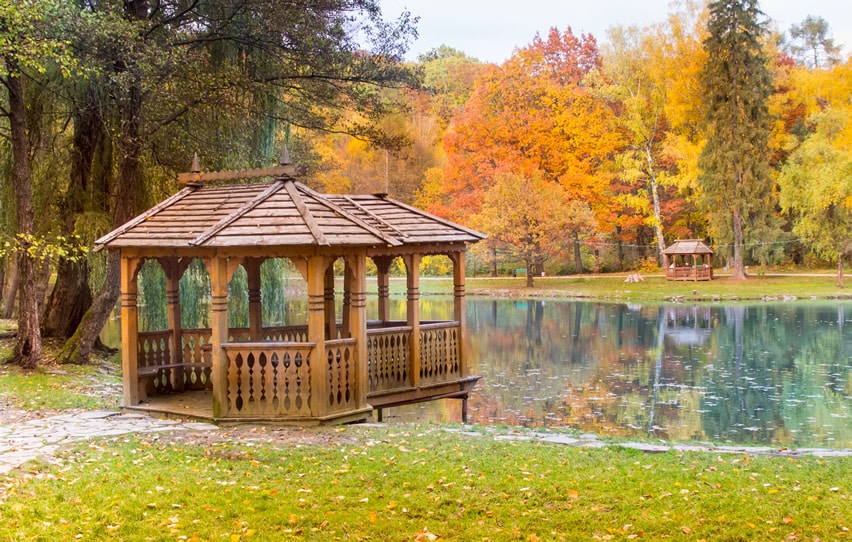 Good placement and location also helps in the overall appeal of the gazebo, and in this example, the location near the pond/lake makes for a romantic setting. As this Gazebo has stilts submerged in water, it uses Teak wood with weather-proofing treatment to help improve its resilience to moisture. The whole structure is built out of Teak wood, including its roofing, making it blend in with the rest of the surrounding trees.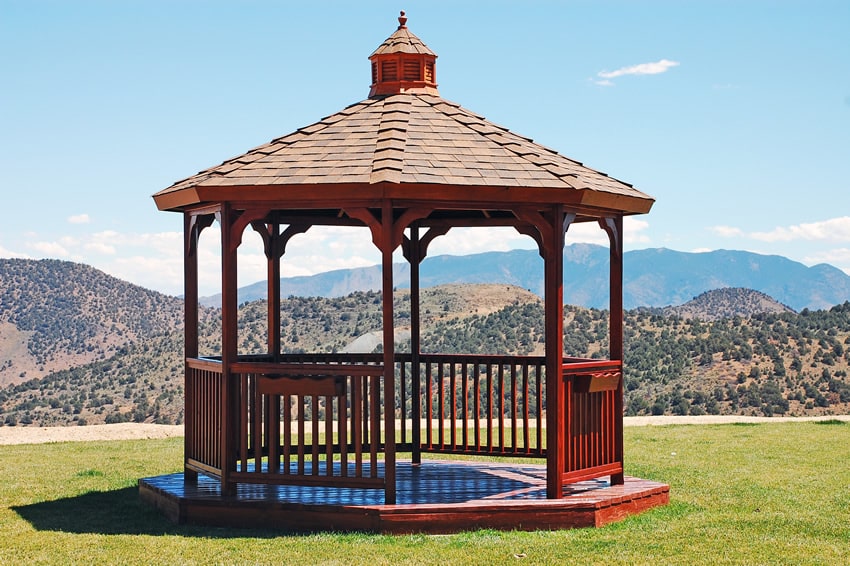 This pavilion gazebo design is place right in the middle of a grassy area, without much shrubberies and trees to surround it with. In exchange of its lack of natural shade, it rewards itself with clear unobstructed view of the hills and the mountains. It has a simple octagonal form, using redwood with a clear sealer, giving it a slightly glossy sheen. The floor decking also uses the same coated redwood to match the gazebo itself.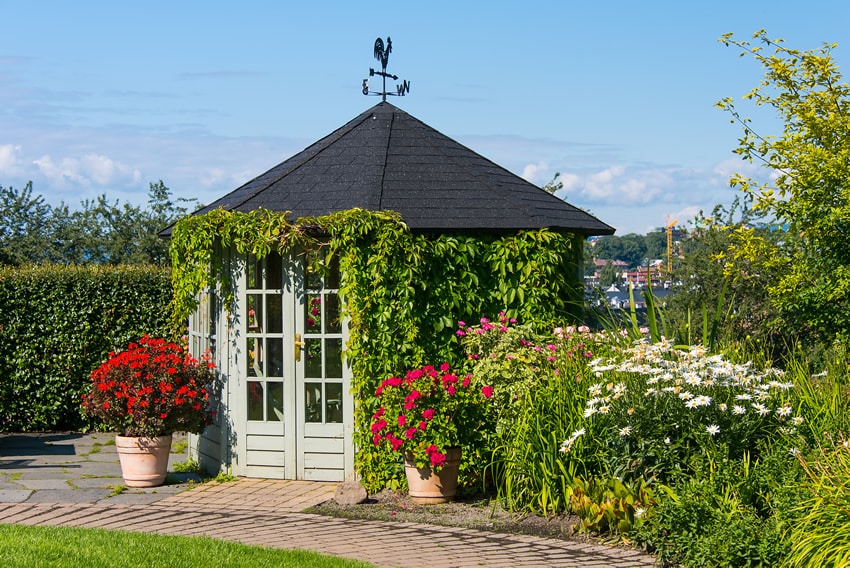 Surrounded by flowers and creeping vines, this small gazebo is like a little treasure in a secret garden. It is fully enclosed with light gray French doors with clear glass, and is roofed with asphalt shingles, making it look like a tiny house or a little greenhouse in the middle of the garden.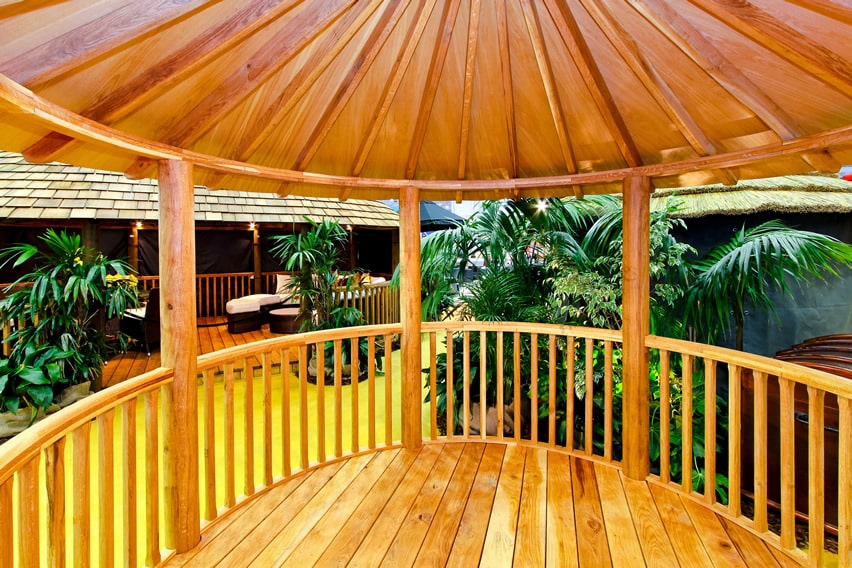 This is a circular elevated gazebo which uses weather-treated solid Cedar wood for its framing, roof framing and even flooring. This circular design matches well with the tropical garden and provides a good 360 degree view of the space. Nearby gazebos and huts can also be seen using wood shingles and straw roof, creating a variety of small shelters in the area.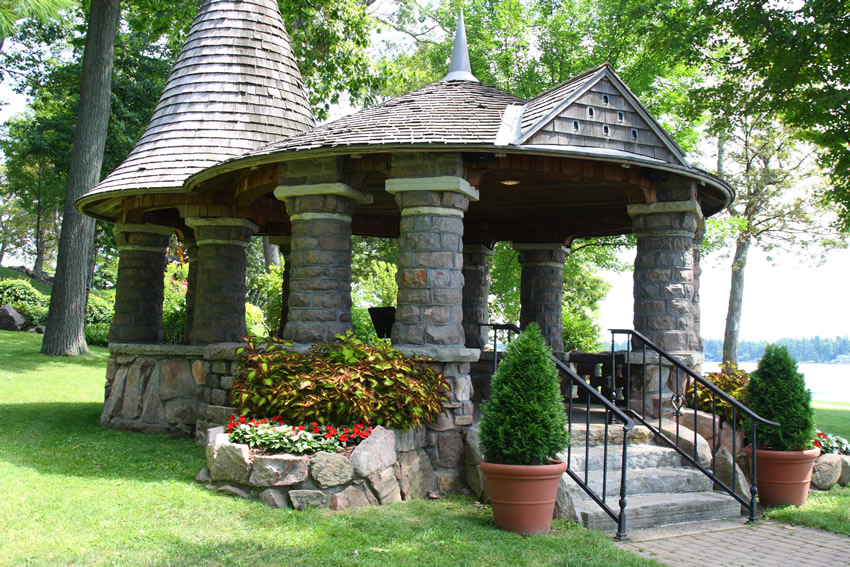 A very unique gazebo design which uses stone masonry floors and columns, creating a unique, castle-like structure. It has two adjacent roofs, both circular with concrete shingles, but one has a taller roof than the other. Sturdiness and weather-resistance will never be an issue in this gazebo as its whole structure is made of masonry and large stones. Built-in the gazebo design is a small pocket garden as well, and stone stairs with iron hand railings.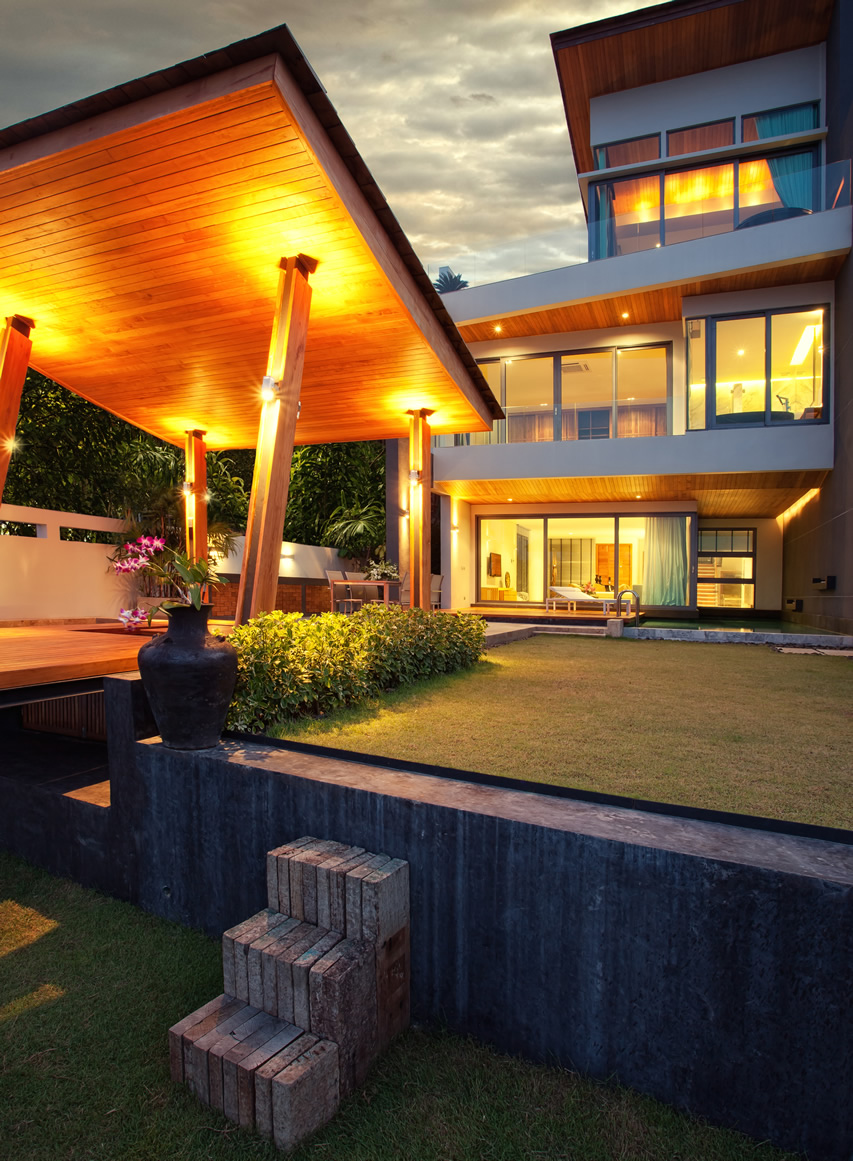 This modern gazebo is a perfect match to the building's architectural design. Rectangular in shape, it has a high ceiling and supported by solid wood cedar columns. The ceiling uses horizontal teak wood slats while the floors are of PVC wood deck with built-in sitting areas.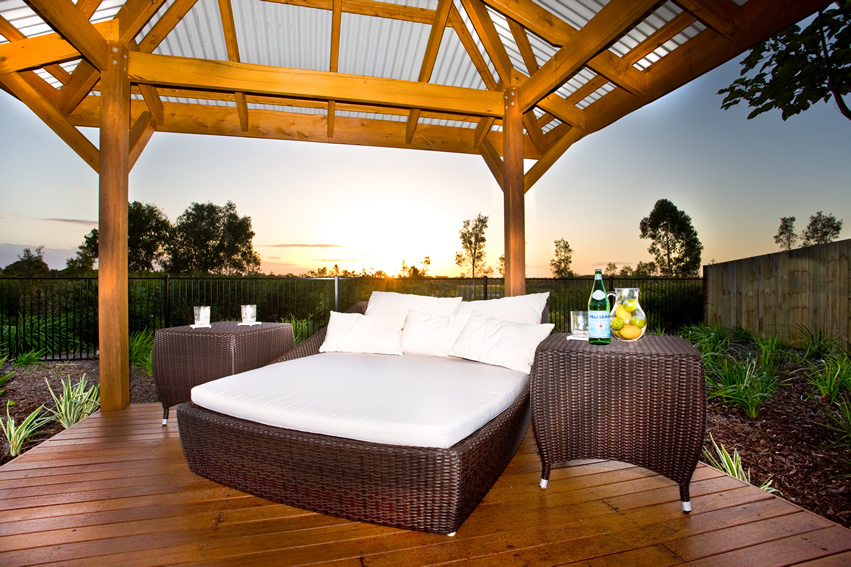 This simple rectangular gazebo is set in the backyard of the home, surrounded by the shrubs and rubble stones in the garden. The design does not have unnecessary ornamentation and keeps it basic with its all-wood structure, using treated Shorea (similar to Teak wood) as its main material. Floor, wooden columns and even the roof supports are all made out of shorea, while the roofing material keeps it practical and economical by using GI sheets.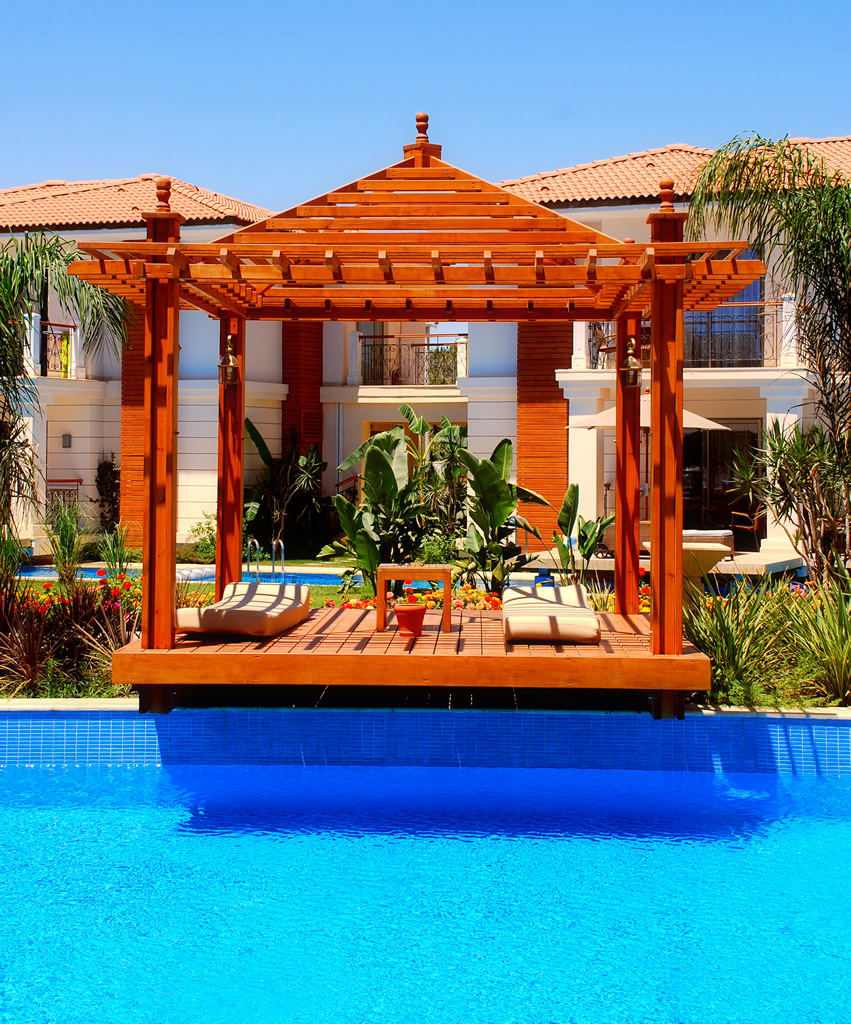 An Asian-inspired pool-side Gazebo with a water feature design which doesn't really help much with protecting you from the sun, but serves more as a gorgeous central accent of the pool area, where you can relax, lounge and sunbathe. The structure uses all-Acacia framing from its floors, the columns up to the roof framing which is devoid of actual roofing. It also has trellis-inspired eaves in which you could grow some vines in the future.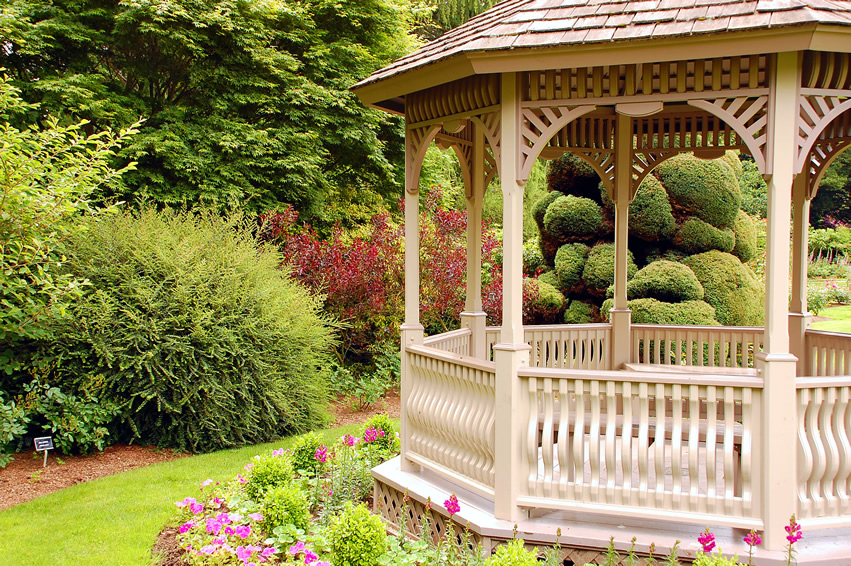 An English garden won't be complete without a little gazebo placed somewhere. This particular gazebo has a more intricate design than most of the previous gazebos, complete with railings, latticework, roofing and even built-in sitting area. Instead of the natural wood color, it opts to use wood painted with an off-white paint color, helping protect the wood and keeping it away from sun and moisture exposure. The white color also adds to its charm, making it a stand-out in the garden.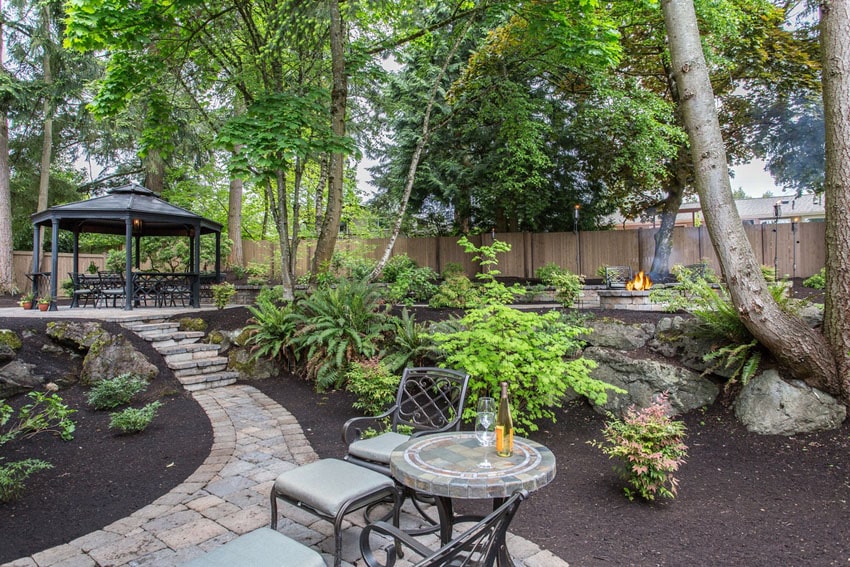 This inviting backyard patio features a stone walkway leading to a metal gazebo and a fire pit design with stone bench seating. An outdoor dining table under the canopy provides a place to entertain with friends and family and provide shelter from sun and rain.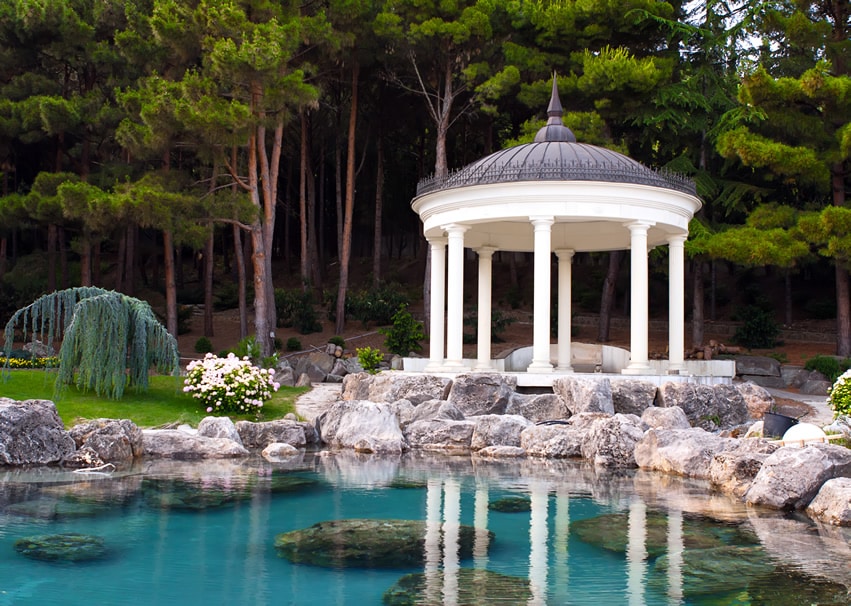 This is a gorgeous example of rotunda gazebo. It has a wonderful setting, surrounded by trees and overlooking a man-made pond with large quarries of stone, and is also a gorgeous structure by itself. It has a white-painted concrete base, and has eight ionic columns supporting the dome structure with wrought iron railing ornamentation.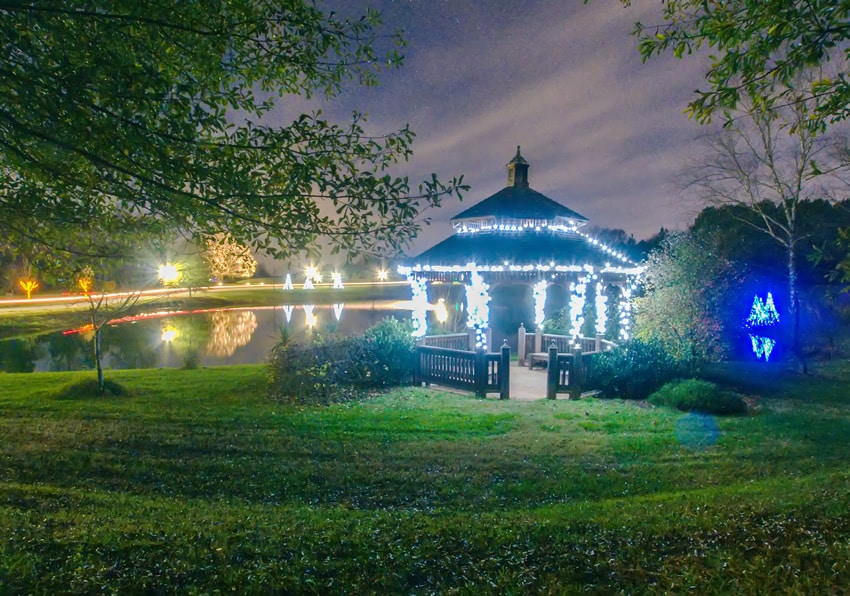 Gazebo designs that include strings of lights can look dramatic at night and provide an inviting atmosphere for entertaining and romance. A pagoda gazebo placed near the lake makes for a great place to relax and rest during the day as well. Made of solid treated Teak wood for maximum weather-resistance, the structure feature a unique pagoda-like roofing, making it stand-out. It also has solid teak railings and benches inside the gazebo, and Christmas lights to set the mood.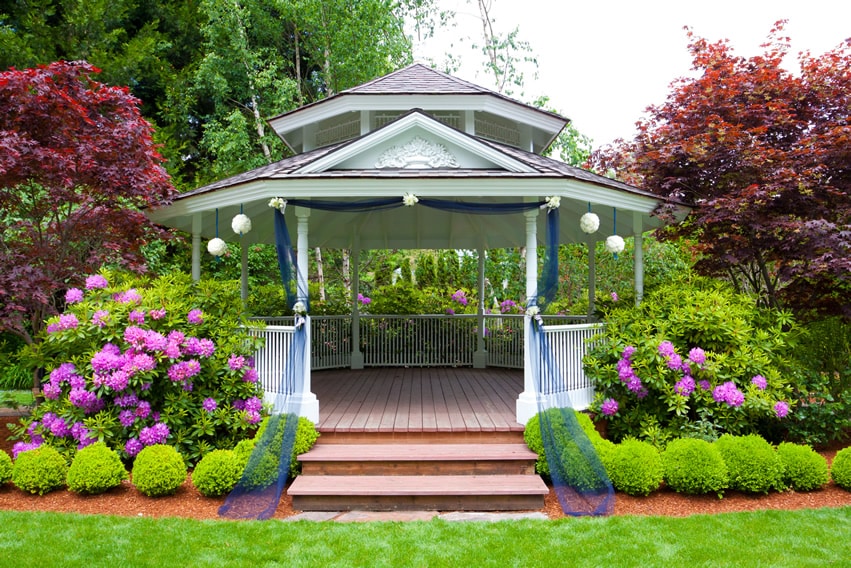 This Victorian gazebo combines a variety of colors and finishes to create its look and is surrounded by well-manicured shrubs and flowers. The base of the structure uses treated redwood, while the turned columns, railings and roof frames are all white-painted wood. It has double octagon roof and uses some additional ornamental touches like carved patterns and railings on the double-roof.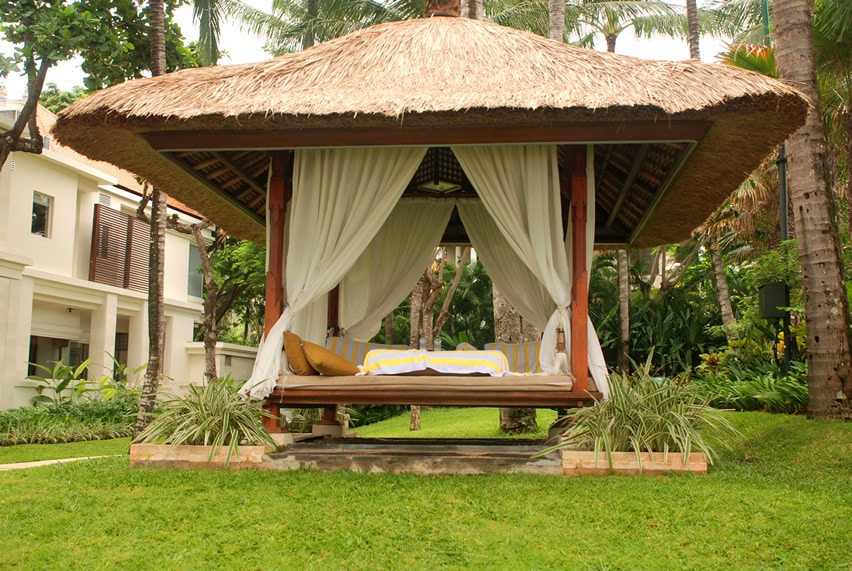 This gazebo is perfect for its Tropical setting as it has a design inspired by tropical architecture and makes use of indigenous materials. It is a simple elevated square structure with solid Teak columns and floors supporting an expansive straw roof, which is open in all sides, allowing fresh air to circulate in the gazebo, making it a perfect place to relax and cool-off.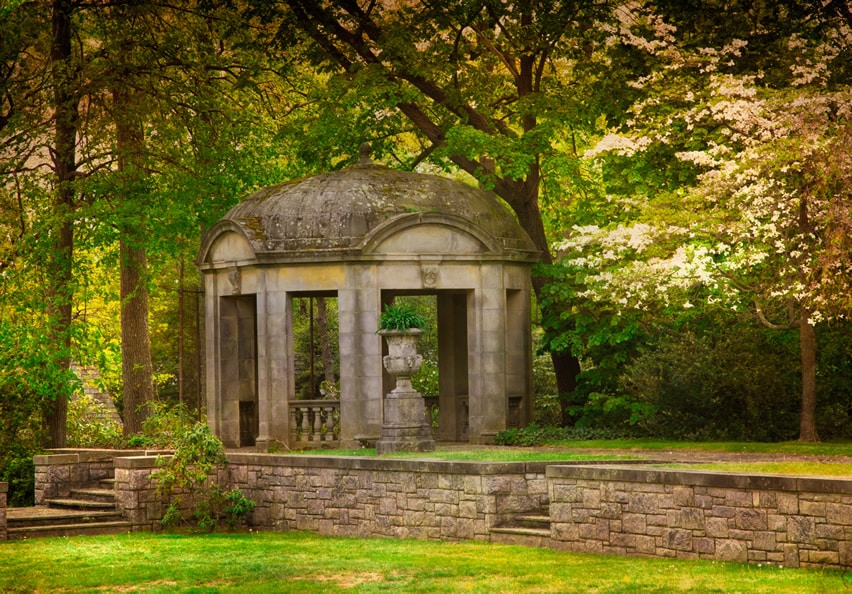 A rotundas gazebo which probably draws its inspiration from classical architecture. Situated in a park surrounded by trees and grass makes it a perfect place to relax. Materials used are also very practical for an outdoor structure, using concrete from its floors up to its domed roof, ensuring longevity despite heavy use and harsh weather conditions. The raw concrete also adds to the mysterious appeal of this gazebo.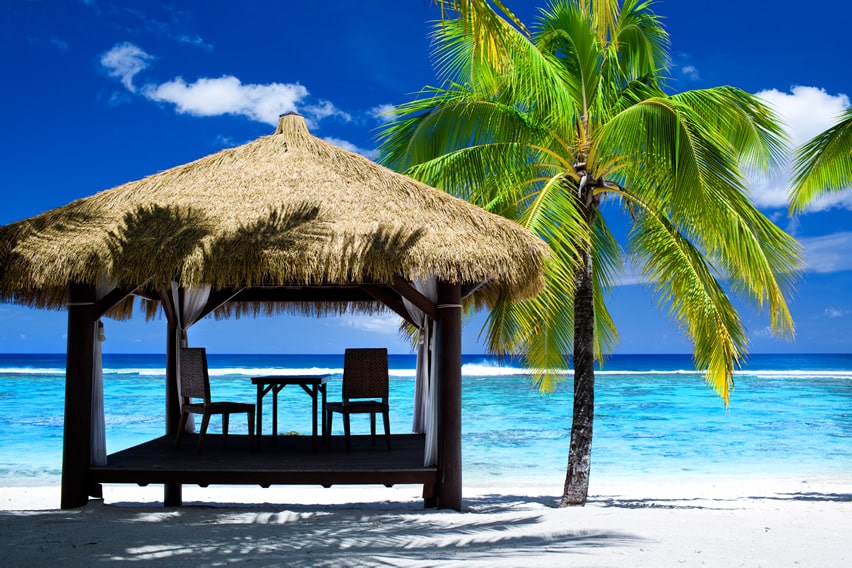 Beach-side palapa cottages are very popular especially if you want a time-out from the harsh rays of the sun. The structure is supported by solid columns of wood, and has a raised flooring to separate it from the hot sand. The wood is painted in a dark brown color and uses roof made from nipa/coconut leaves. The design is simple, practical and sustainable, and most of all, it is perfect for its location as metal would just corrode from the salty air.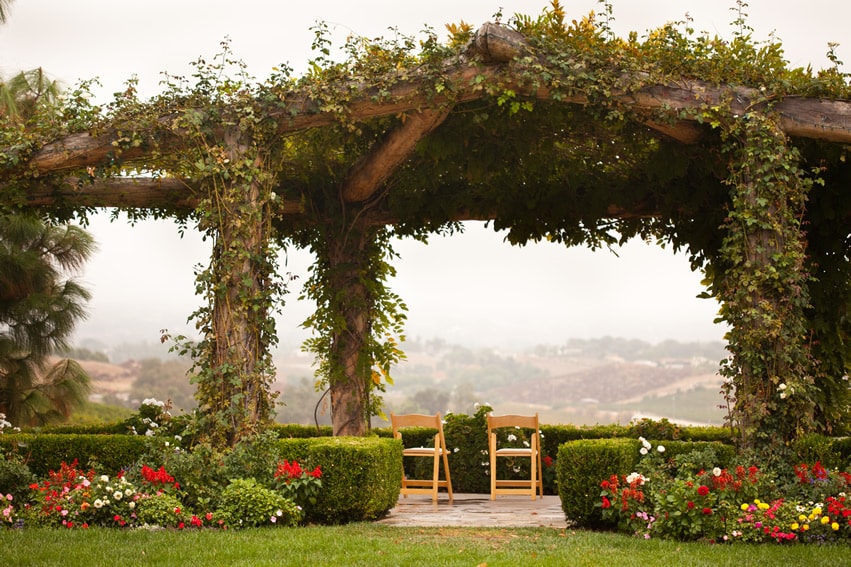 A pergola type of gazebo which blends itself with its surroundings. It uses solid trunks of wood for the structure, and allows creeping vines to crawl its way up to the "wooden roof" framing, creating a roof out of vines which provides a shaded walkway. The structure itself adds to the visuals of the garden, and is technically part of the garden in itself. For more ideas like this, see our gallery of pergola pictures.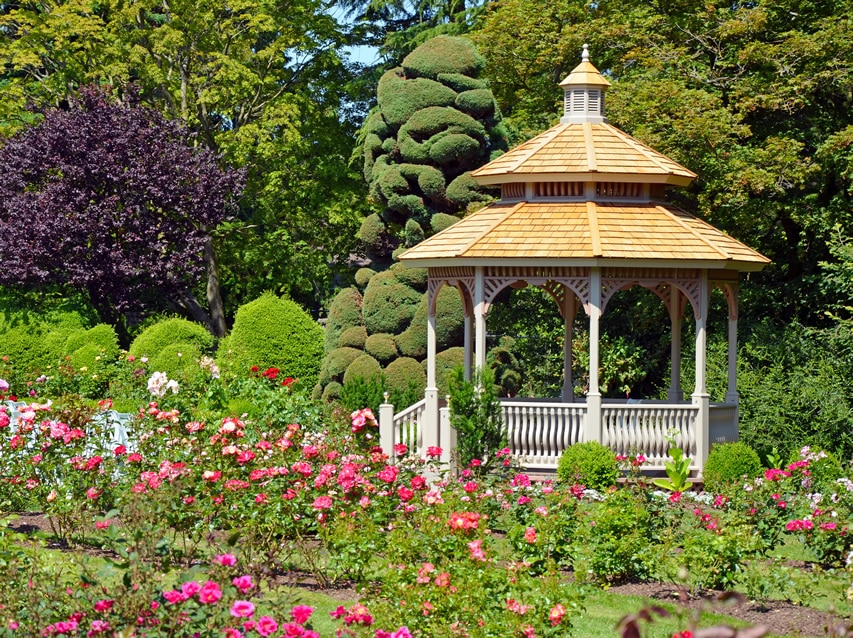 This little gazebo serves as a little escape from the sun surrounded by beautiful manicured shrubberies and flowers. Its framing is made out of wood and painted in white using epoxy paint for longevity and has a triple roof design with wooden shingles. The sides of the gazebo has half railings, providing a bit of privacy as you sit and relax inside without affecting the natural ventilation.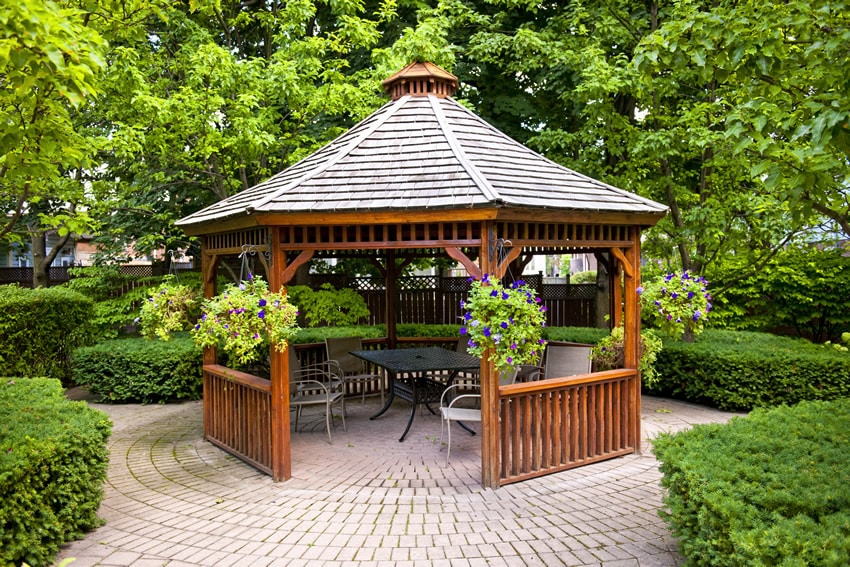 Placed in the middle of manicured shrubs and brick pavement, this gazebo is the centerpiece of the garden. It is made out of solid Acacia and uses a clear coating to help protect it from moisture and heat. It has half railing for privacy and makes use of the pavement as its flooring. The roof follows the octagonal shape of the structure and slightly curves inwards to meet the small double roof.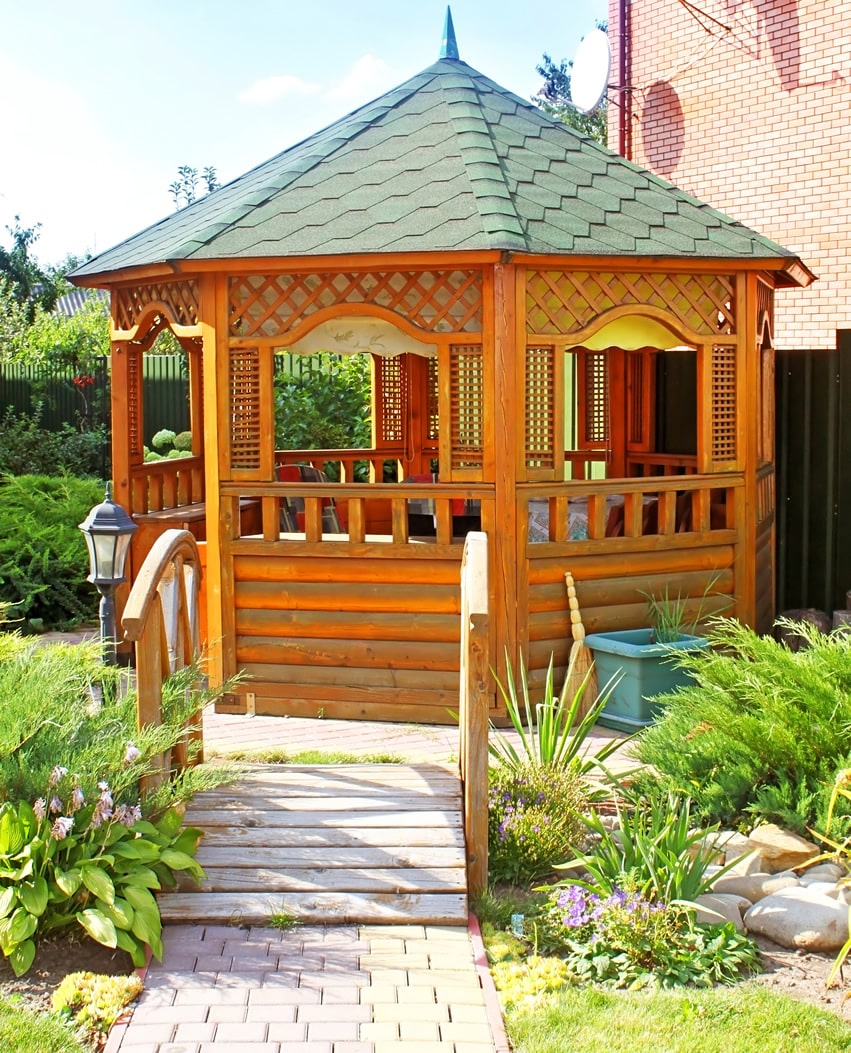 This small octagonal gazebo is placed right in the backyard of a home surrounded by the backyard garden. Its structure is made out of solid Teak, with closed half railings to provide more privacy , using large cut pieces of bamboo. It also features faux wooden windows for added design and has a unique green hexagonal tiles for the roof and topped with a spire.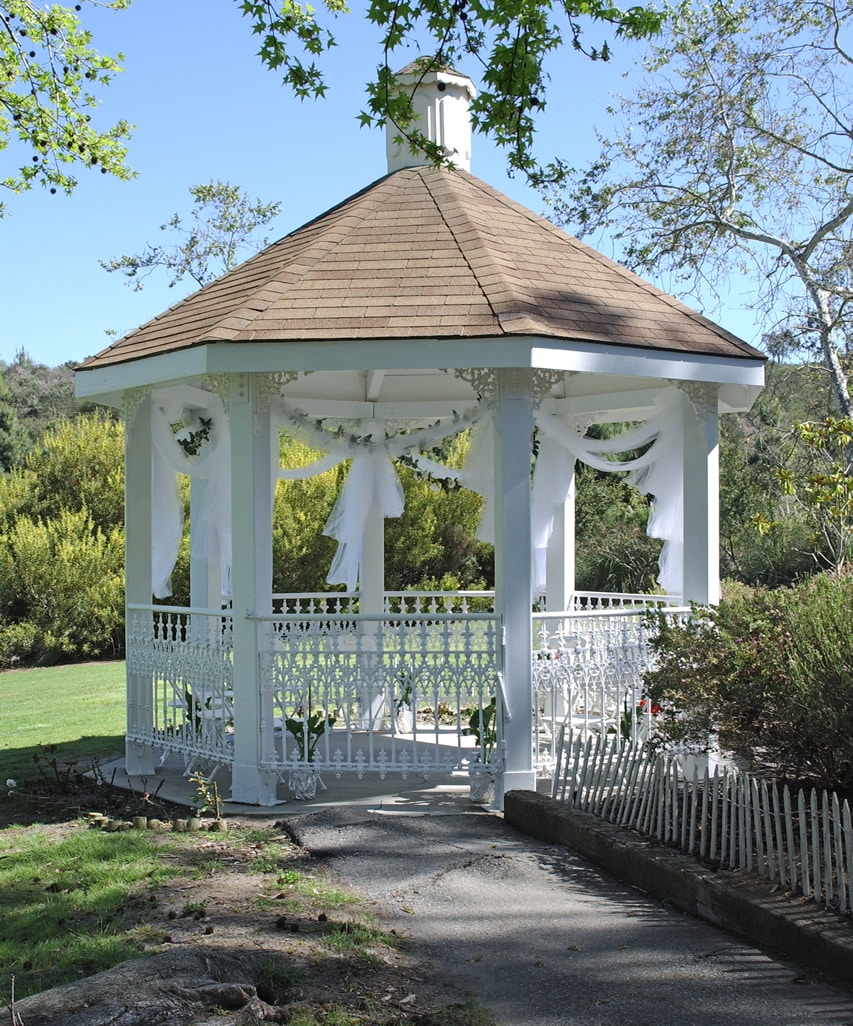 Another octagonal gazebo, but instead of wood, this uses metal as the main material. It has square tubular metal for its main support columns as well as the roof framing, and uses wrought iron railings . These are all painted in white to protect it from the harsh weather conditions and is topped with asphalt roof tiles.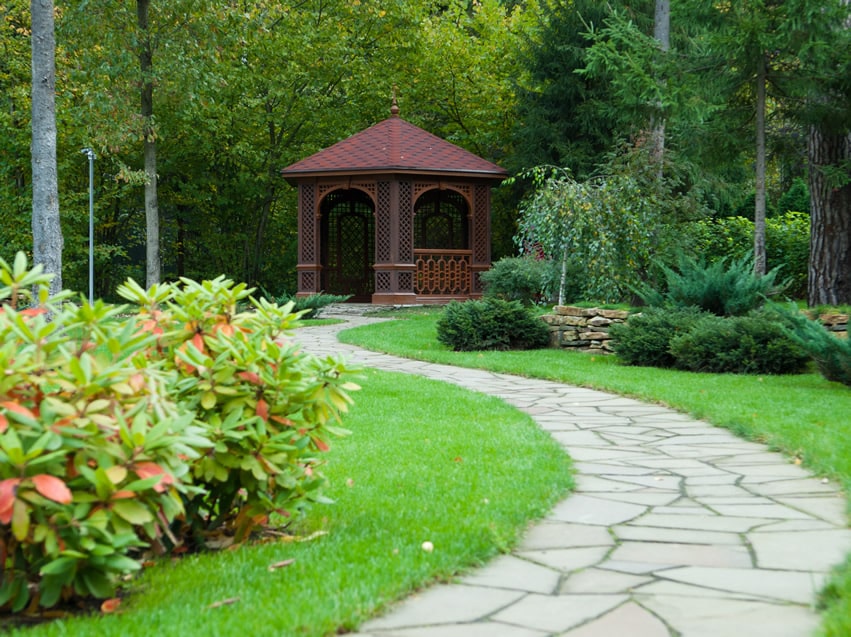 A pathway of stone leads to this wonderful gazebo surrounded by trees. Despite the sufficient amount of shade it gets from the trees surrounding it, it still has a roof with an ornamental golden spire on top. Framing is all-wood with a simple latticework design and teak wood half railings with gothic-inspired design.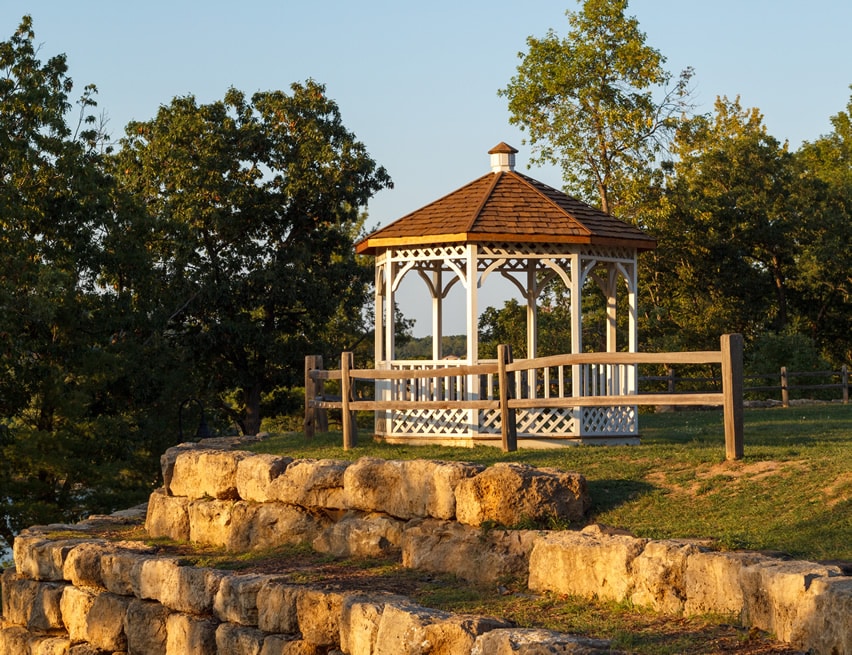 A tiny wooden gazebo overlooking the river / lake, this place serves as a good area to watch the surroundings while keeping away from the sun. It has a simple structure – white-painted wood framing and wooden roof shingles and a little raised flooring with teak wood planks. The open railings gives a sense of privacy without hindering the flow of air into the structure.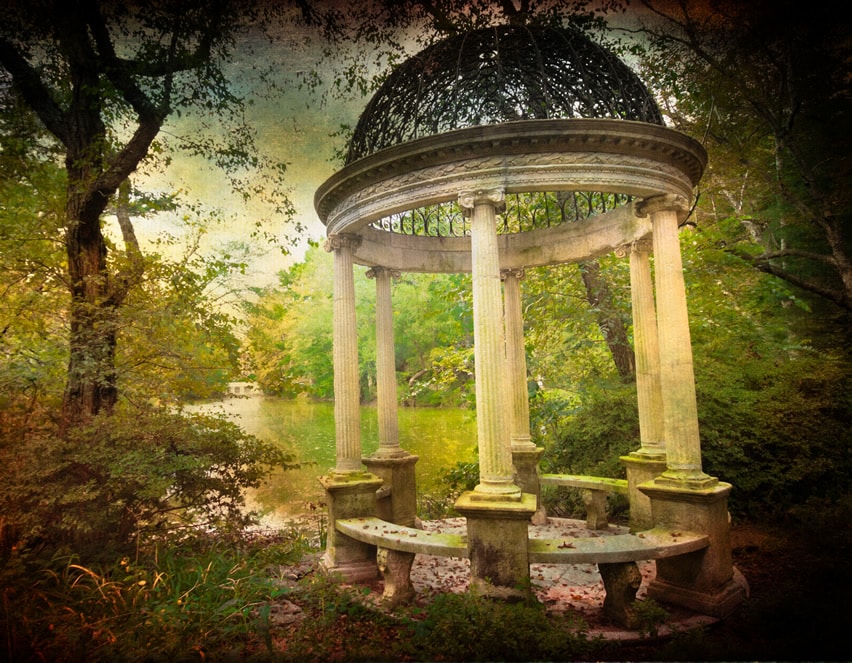 This rotunda gazebo is definitely design out of classical inspiration, using concrete ionic columns for its main structural support. The column's base is elevated, and a built-in concrete bench serves as its sitting area. The dome of the gazebo is made out of black wrought-iron, and would look even more perfect once the vines creeps up the columns and covers the dome with leaves.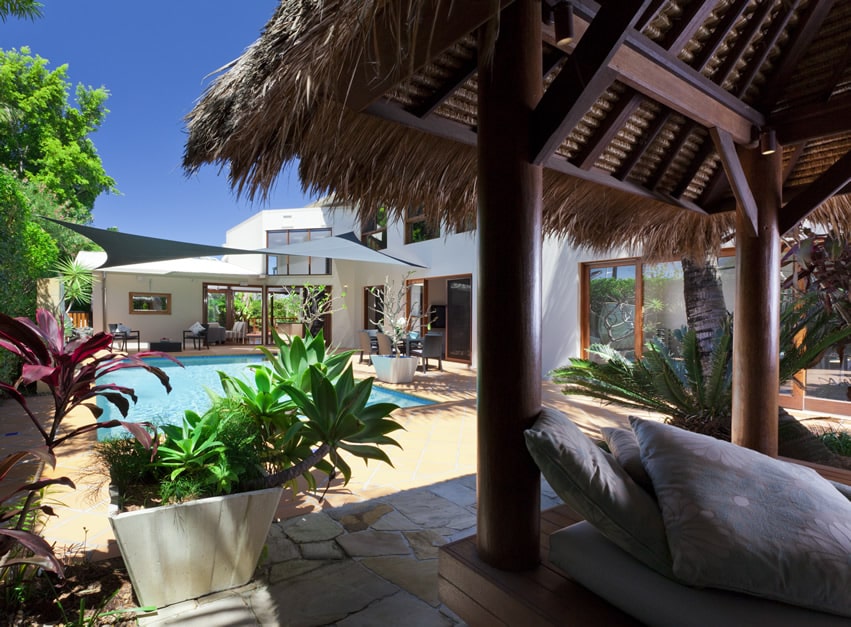 A fun tropical style get-away from the sun, this pool side gazebo is the perfect type to use for your own relaxation area. It features a raised Teak wood floors with solid wood columns and supports, and features a light-weight thatched roof. It is open and has no railings, making it a great place to hang out after a swim. Patio design ideas with swimming pools can be enhanced by providing a shady gazebo to relax out of the sun.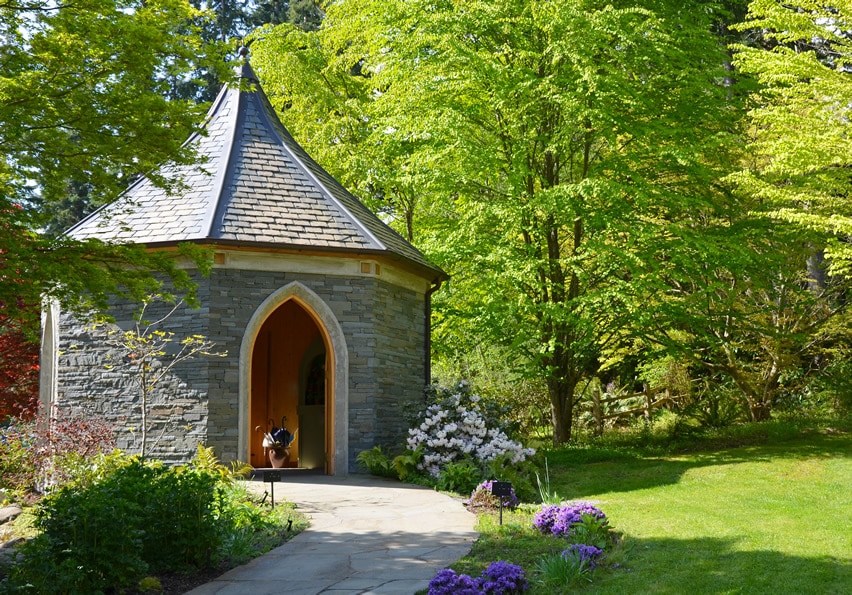 This gazebo draws inspiration from Middle-Eastern architecture evident in its door arch and the colors used inside the gazebo. It is fairly large inside and could be little living quarter as well. Its exterior walls are clad with slate tiles and features a tiled hexagonal roof topped with a spire.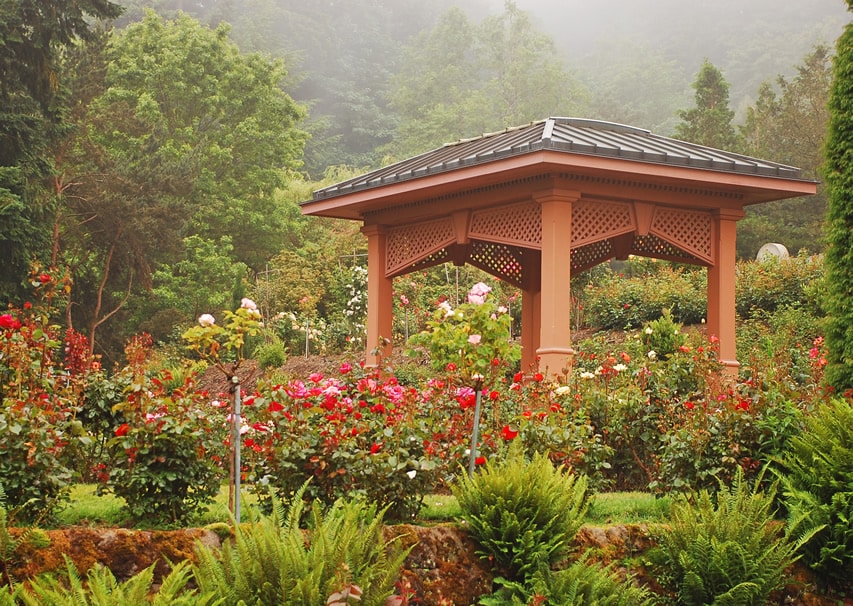 A gazebo which adapts a simple square structure and open on all sides. It uses wooden frames and latticed transom and is painted a uniform red brown color. The roof is a gable roof with flat top and is painted in a dark blue color. The whole structure, with its red color also resembles traditional Japanese arches.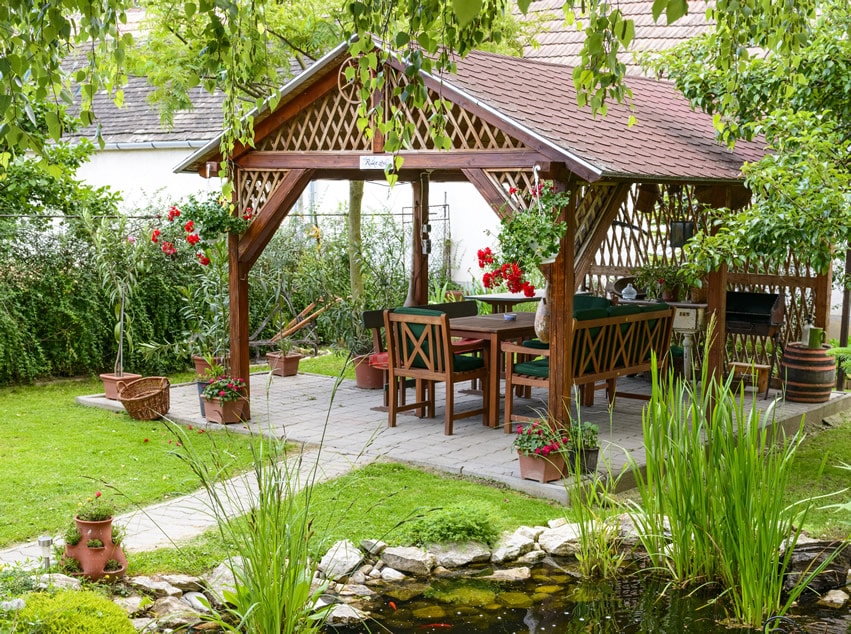 Framed with red cedar and standing on concrete pavers, this gazebo serves as a good sun shade for the outdoor sitting area. The structure is a simple, with wooden framing, open on all sides and a gabled roof. Supports for the roof and the beams are ornamented with crisscrossed bamboo, while its roof uses fish scale patterned tiles.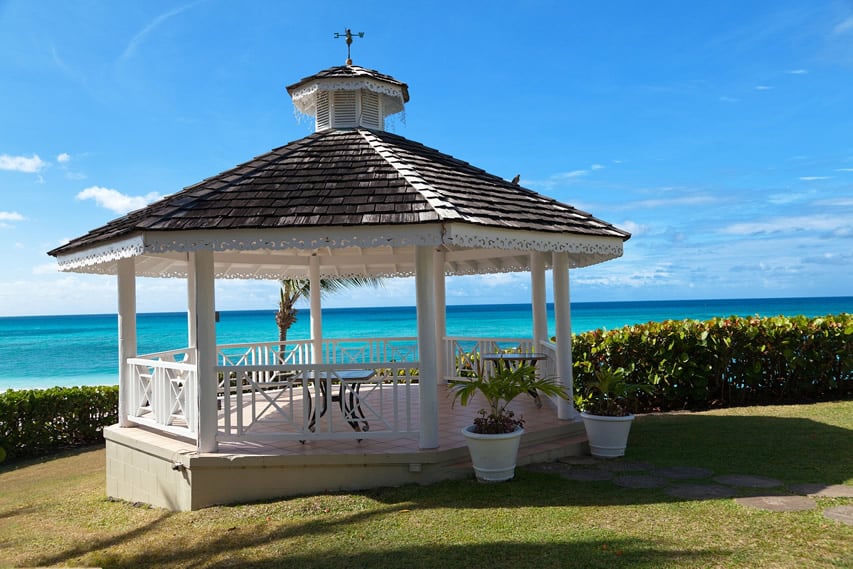 A gazebo with a great view of the ocean which features a sturdy solid concrete base with tile flooring and white-painted wood framing and railings. It has an octagonal-shaped double roof with black roof shingles which stands-out well from its white frames.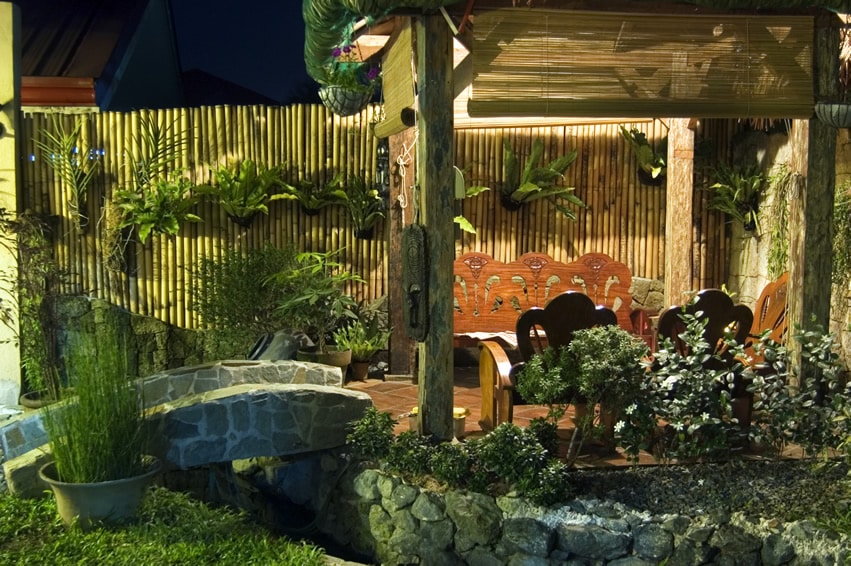 This simple backyard gazebo has a simple structure, using basic raw timber frames and supports and a thatched roof using dried coconut leaves. A netting covers the thatched roof to keep it from peeling off the frame in case of strong winds. It also has roll-up bamboo shades for added privacy.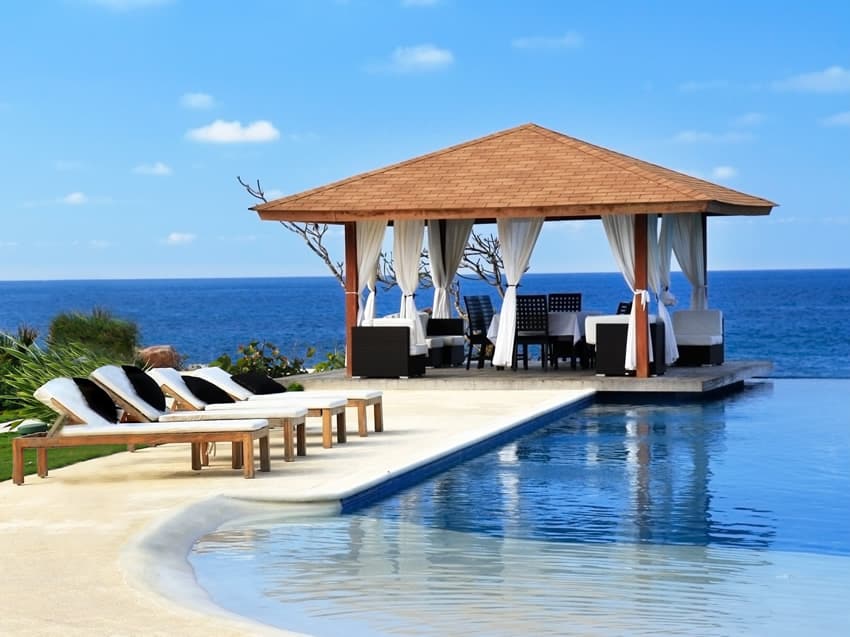 This "floating" gazebo which cantilevers over the luxury swimming pool with infinity edge uses a slightly elevated wooden flooring and makes use of square tubular metal framing painted in a red orange color. It has no railings & open on all sides, making it easily accessible, hand has a hipped roof with red roof tiles. Gazebo designs are often created to be used for many purposes. Whether its for a special event, wedding ceremony, or ocean view lunch a gazebo can serve many different purposes.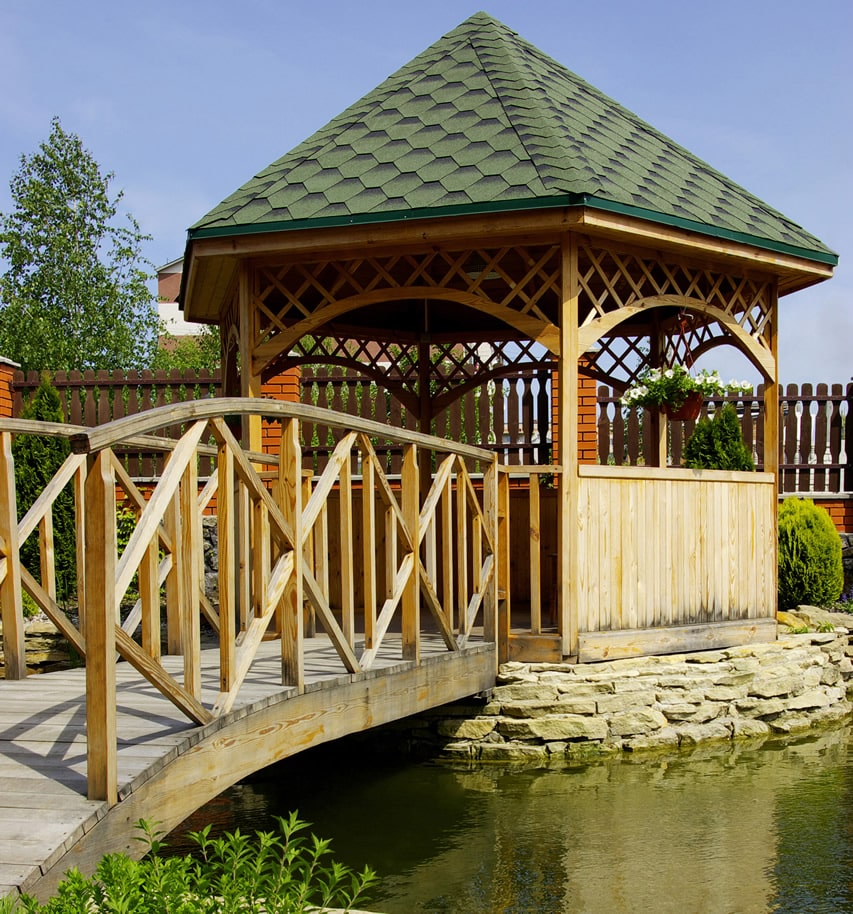 This unique gazebo directly connects to the small arch bridge of the the backyard's small pond. The structure is hexagonal in shape out of Native White Oak with a fully-enclosed wooden half railing. The roof framing also uses the same material and supports the roof with green hexagonal tiles.
Gazebo Design Types Infographic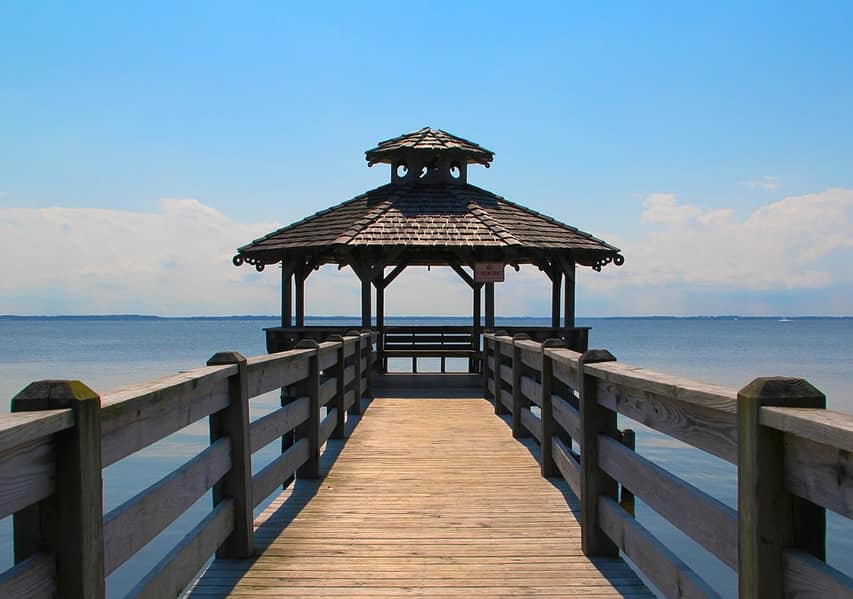 There is something magical about gazebo designs that sit over the water. This gazebo stands on longs stilts as its base stands on the sea floor, giving it a superb view of the ocean. Its framing uses bleached Cedar to achieve that gray color, and has a hexagonal double roof with black roof shingles. See this page for more wood deck ideas to enhance your home.