Here we share our gallery of the types of balcony structures including design styles, different materials used in construction, balcony railings, and parts of the balcony.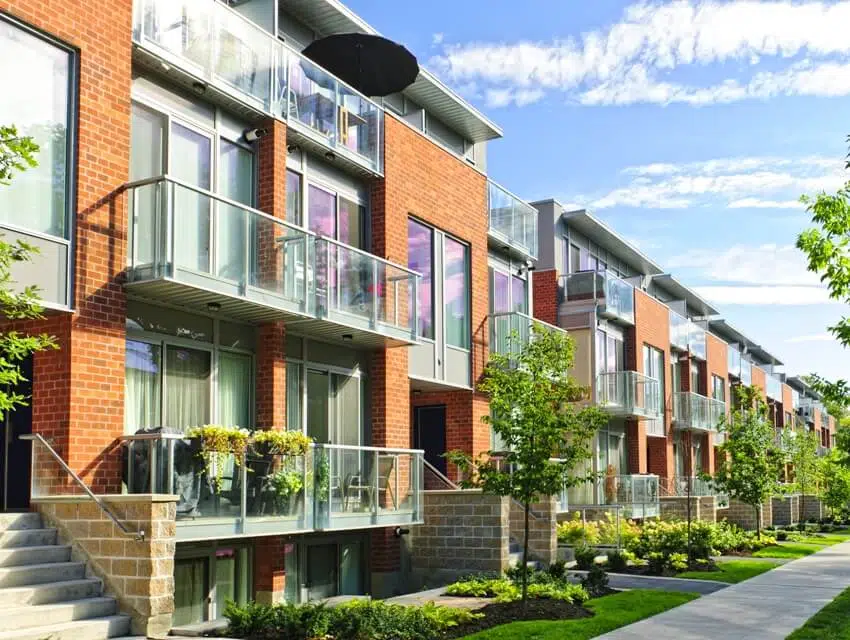 If there's one construction hack that could immediately add on to the overall aesthetics of a home or building, for that matter; it would be the extra feature of having a balcony. A balcony can increase your home's real estate value as well while you're at it.
Balconies offer so much more than just the added aesthetic value. They can also be great as extended locations for gathering with friends and family and other entertainment functions such as relaxing, watching the view, or enjoying weekend barbecues.
Here are some of the things you to consider about the different types of balconies available.
Cantilever Balcony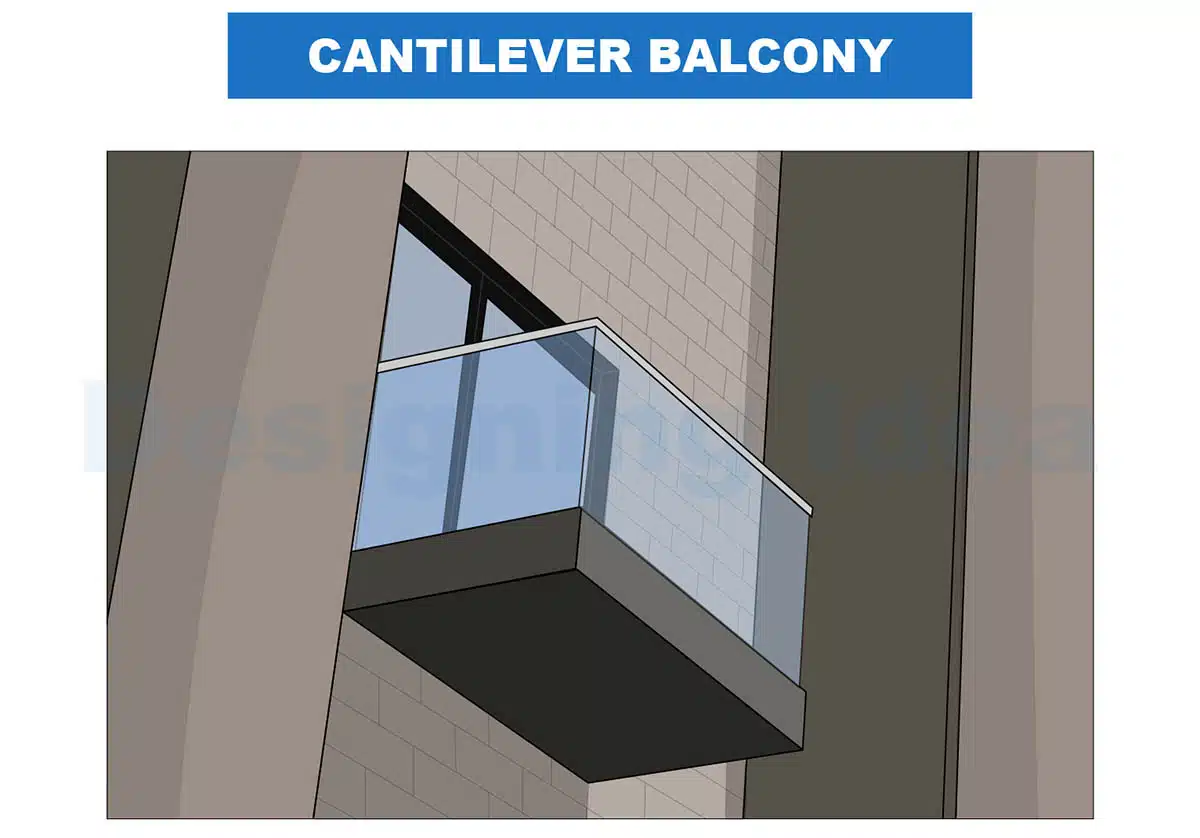 A cantilever balcony is constructed to protrude right from the face of the building. This is oftentimes done without any additional support, only because there isn't one needed. This is because a cantilever balcony is fixed to the mainframe of the building. It got its name because the weight of the balcony is "cantilevered" off of the wall.
This type of balcony has a larger point load imposed on the building and therefore it needs prior planning and permitting. Without careful professional evaluation, they cannot be added as they require adequate internal support to maintain their integrity.
Most cantilever balconies are made from either steel or concrete. However, with the innovations in modern design and construction, other materials are being explored as well.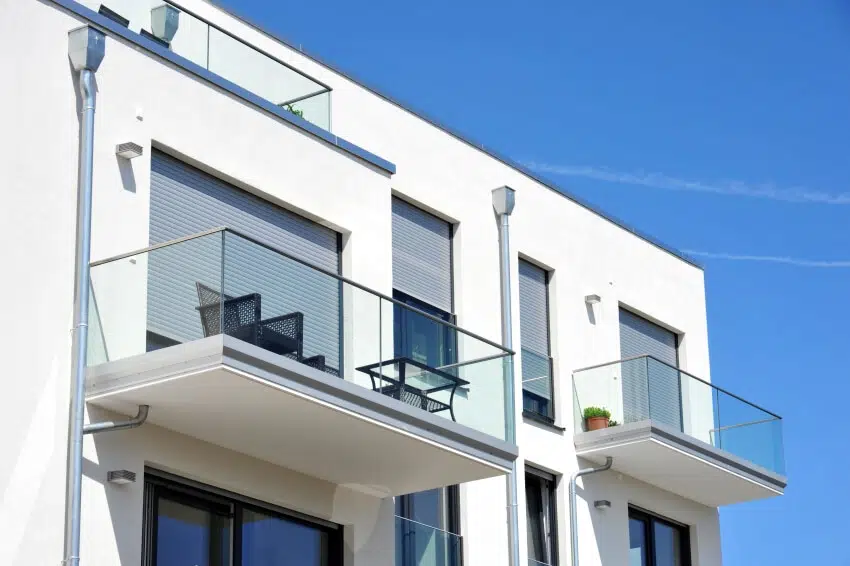 One major thing that needs to be considered when building a cantilever balcony is its depth. A rule of thumb observed here is that the smaller the depth considered, the more limited the allowed movement will turn out to be.
Stacked Balcony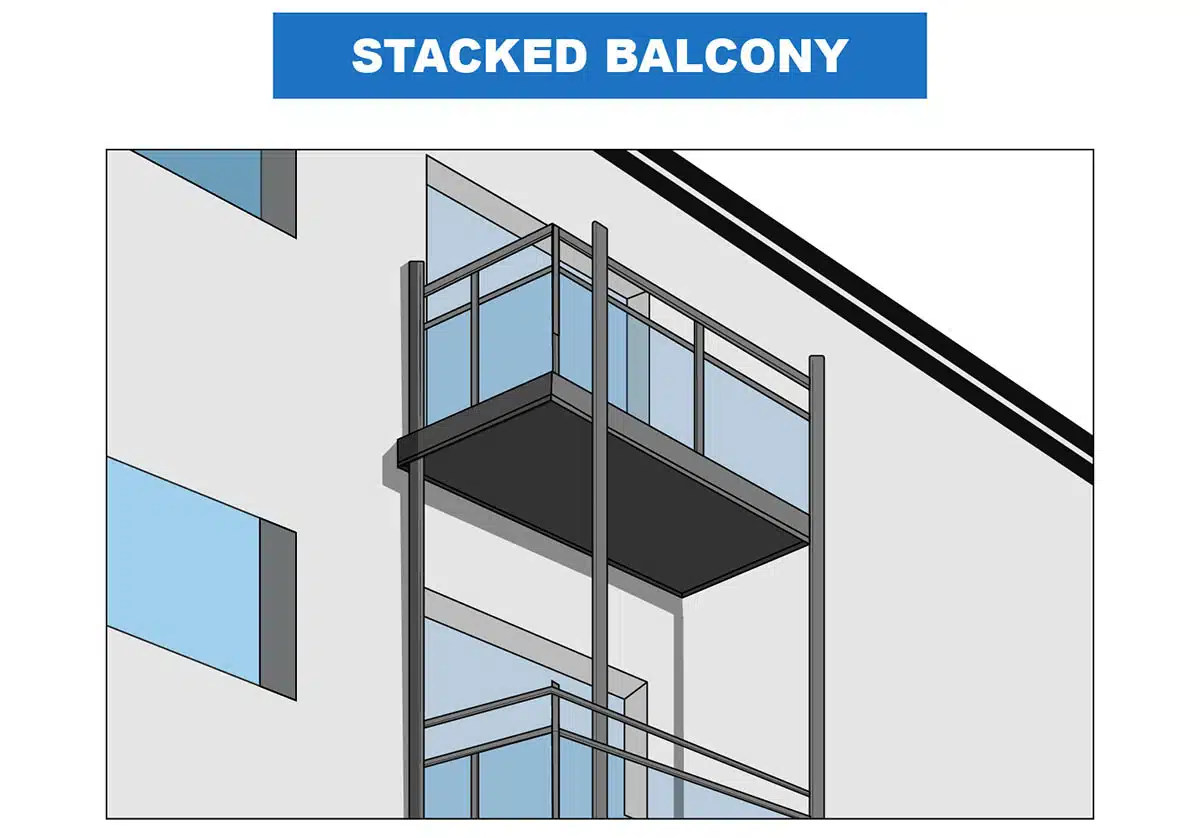 A stacked balcony is one of the most common types of balcony you will see around you and even all over the country. The reason why this balcony type is so ubiquitous is because its mechanism and design can be impressively simple.
This type of balcony imposes a very minimal load on the building structure and is oftentimes not connected to the building itself. How they're supported is with pillars, columns, or vertical posts.
The concrete pads are oftentimes erected on the ground where the weight of the balconies is supported. Balconies. We used it in plural form as there's usually more than just one balcony involved.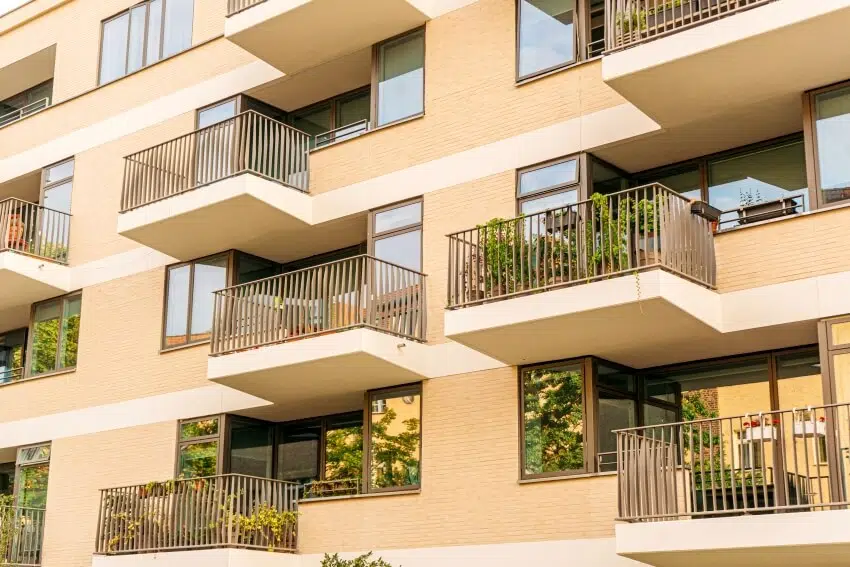 These balconies are oftentimes stacked right on top of each other. The sizes of these pillars may vary but they are oftentimes influenced by the number of balconies, along with the size and weight of these said balconies.
Hung Balcony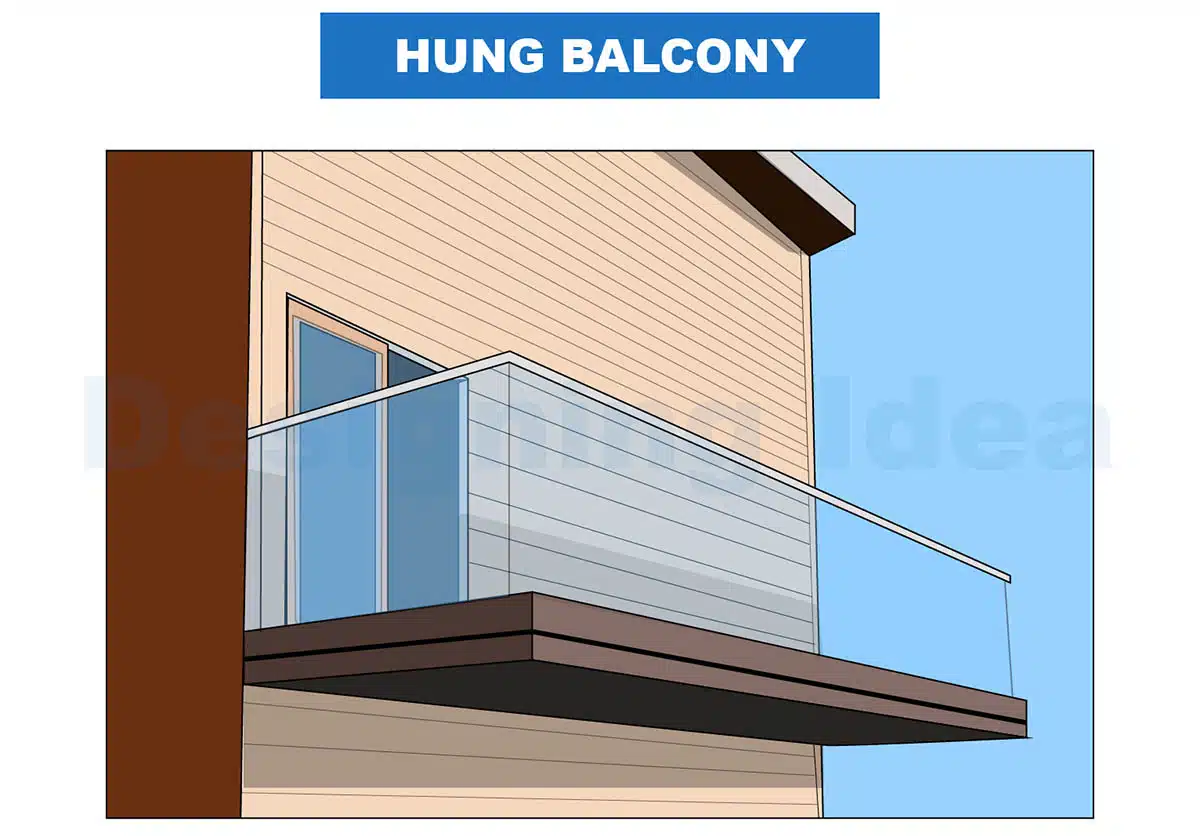 The hung balcony is a type of structure that is oftentimes a combination of cables and stainless steel. They usually "hang" off of the side of either a home or building structure; hence, the name.
It usually sits perpendicularly to the side of the building it's attached to while steel cable fixes connected to the edges attach them to the main structure.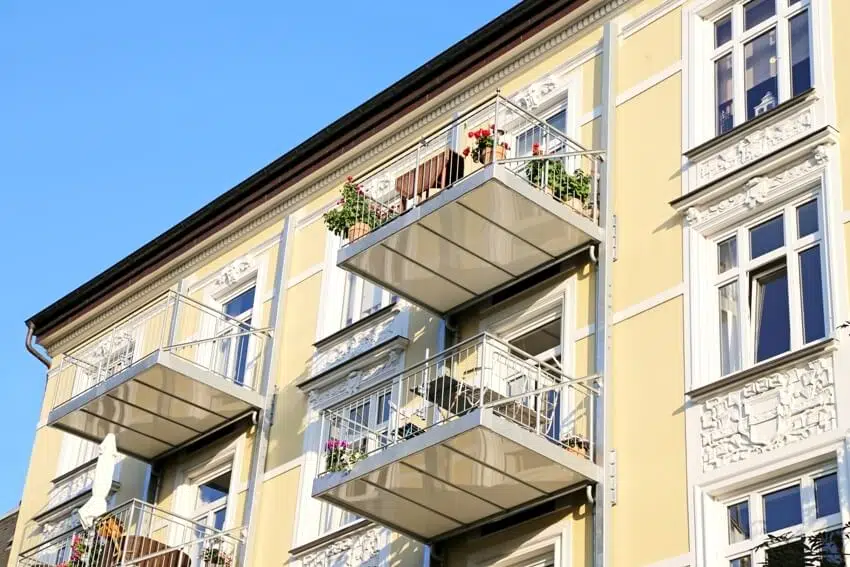 Large plates are also securely connected to the structure at a 45 degree angle. This is actually a minimalist design. It isn't as commonly seen compared to the rest of the other balcony types out there but it's a great option if you're putting up a balcony as an add-on that wasn't part of the original building plan.
False Balcony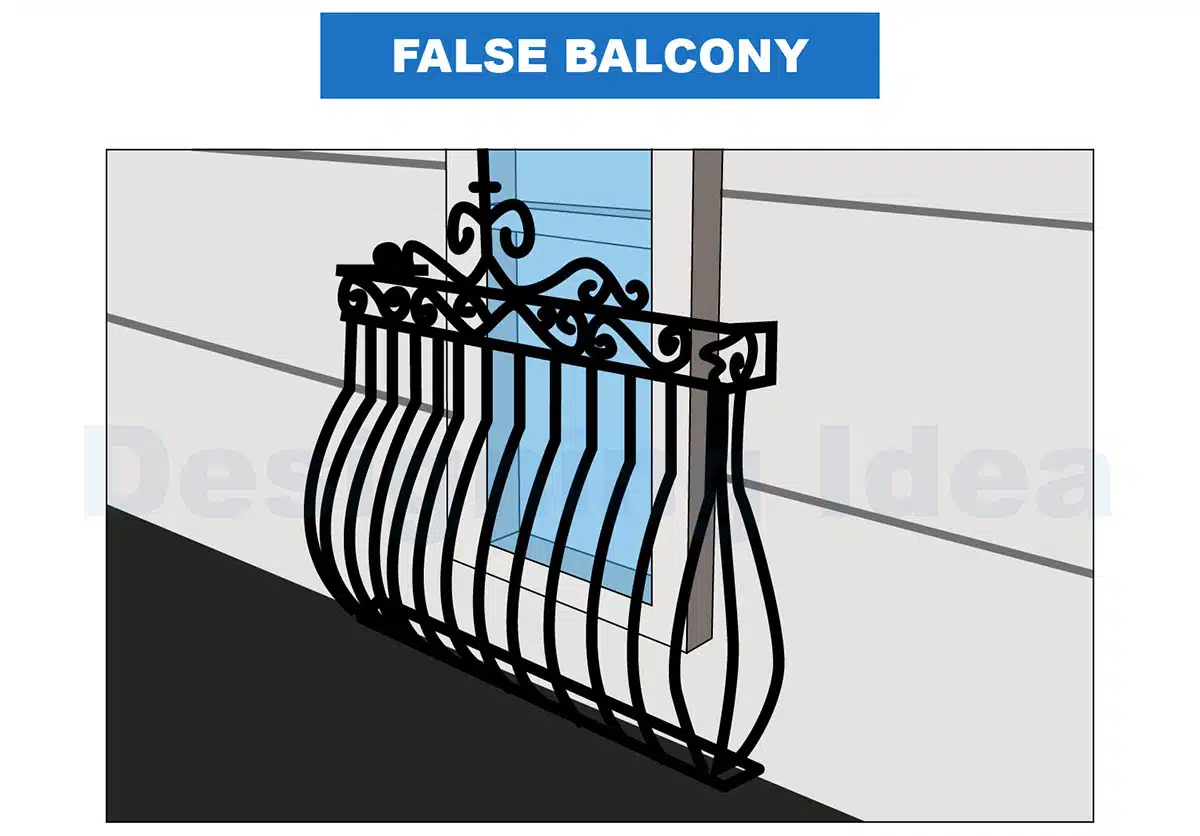 A false balcony can go with various monikers or nicknames but it is more commonly loosely interchanged with a Juliet balcony type. In line with its name, a false balcony isn't actually a real balcony where you can put out furniture, walk around in, or even entertain in.
When you look at it from the outside of the building, it does have the look of a balcony but it doesn't really have that much space from the inside aside from probably a few pots of plants to display.
in terms of design, a false balcony has a railing, a protrusion from the side of the building, and the appearance of an actual balcony. However, it doesn't function quite the same from the inside of the house.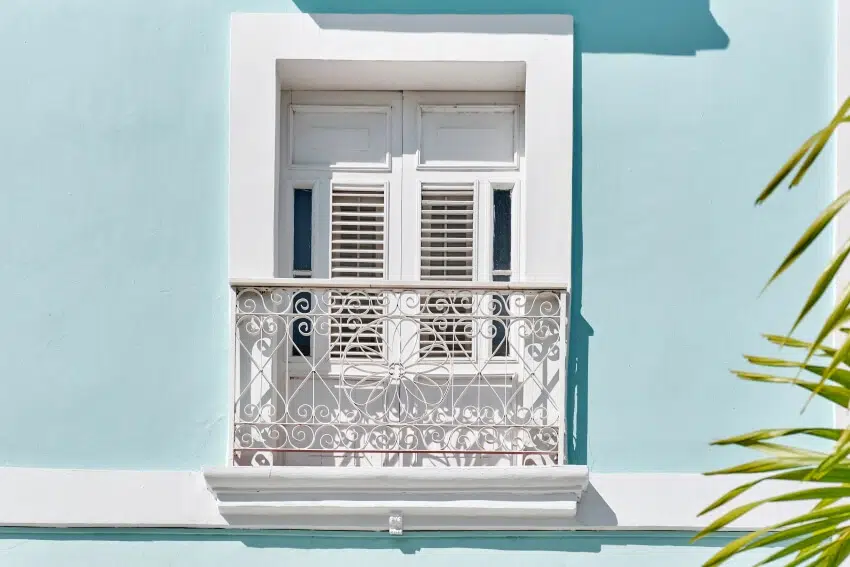 False balconies can usually be found in condos and apartment buildings where space and real estate are scarce.
Mezzanine Balcony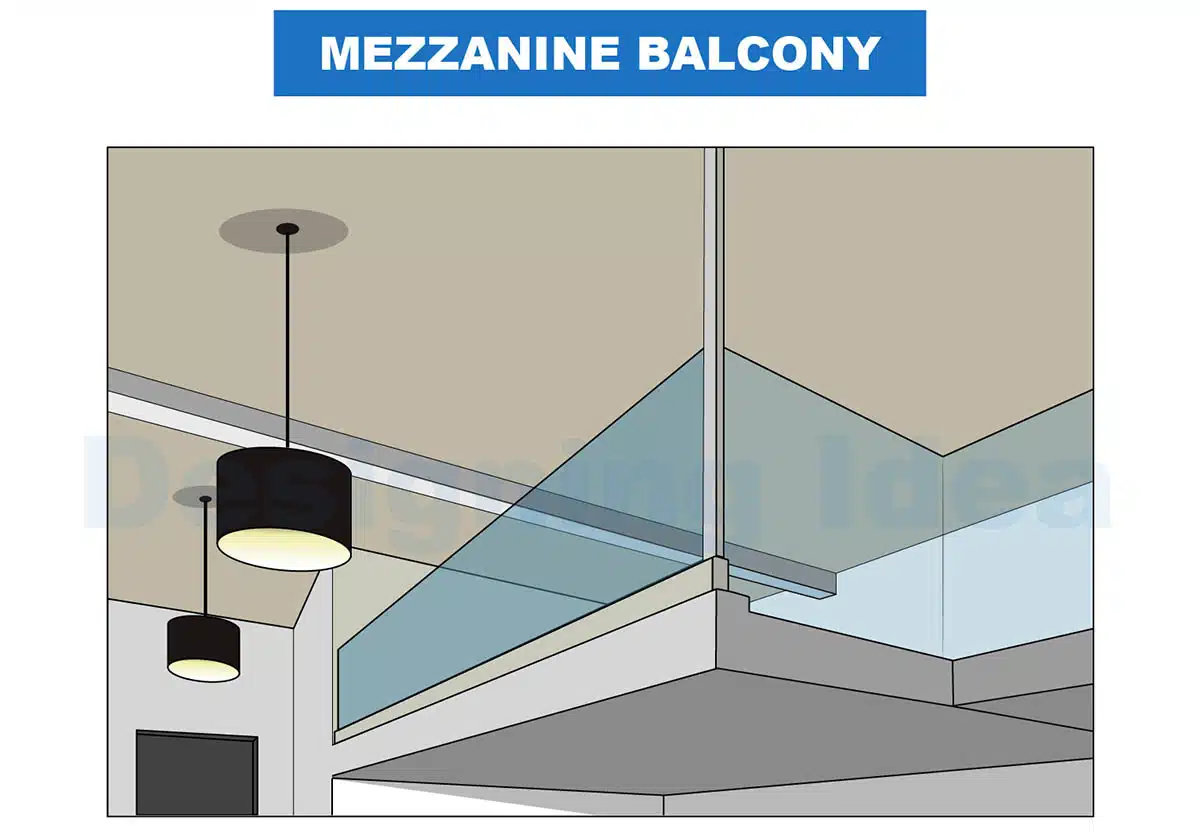 A mezzanine balcony is unique compared to the other types of balconies out there because of the main fact that it is built on the inside of the house instead of on the outside. What this provides is some extra space for you to sit on while still being completely aware of the view.
You have the option to build either a small deck or a large one. It's completely up to you as it all depends on the kind of utility you have in mind for the mezzanine balcony.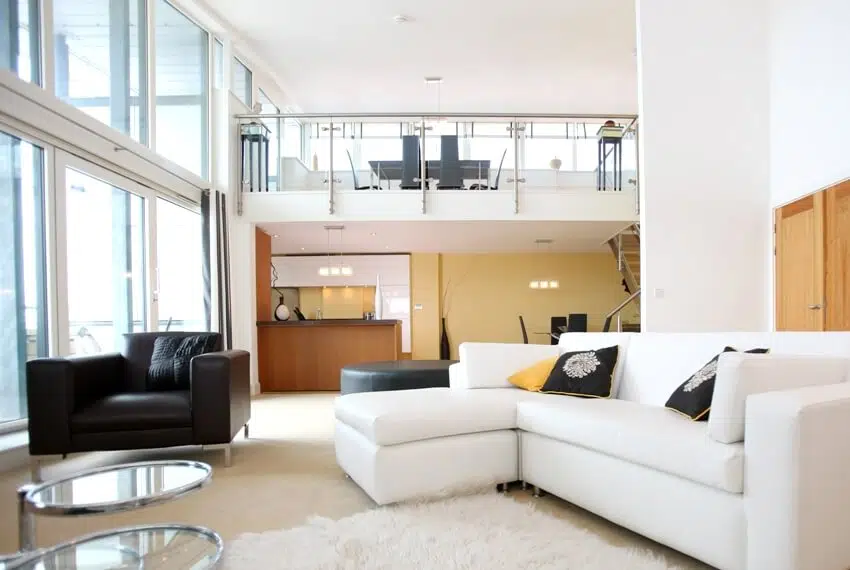 As always, it is equipped with railings for the added measure of safety and security. See our gallery of beautiful wood deck design ideas here.
Loggia Balcony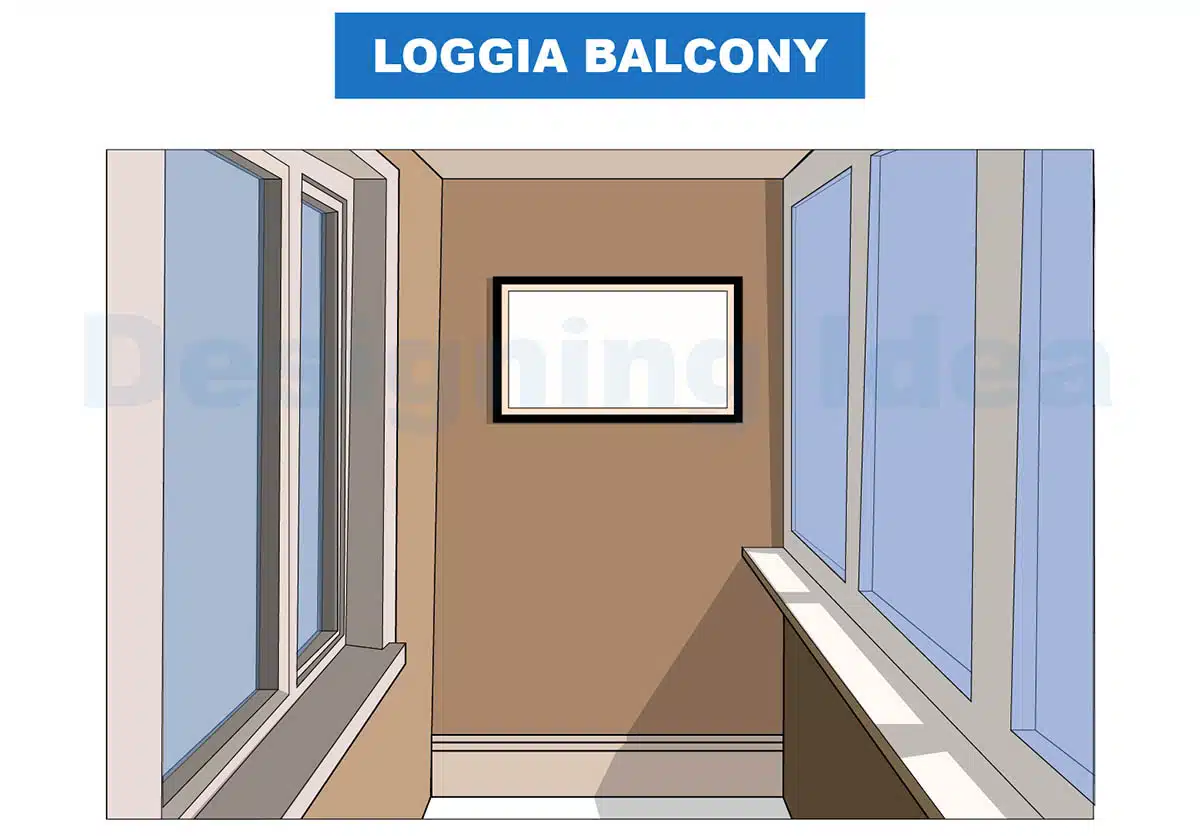 A loggia balcony is also another type of unique balcony. It stands out from the rest because it's the only one that comes with a canopy roof. It is built on a structure that protrudes. This makes a Loggia balcony clearly visible from the side of the home or of the building but again, its main difference is that it is roofed.
One of the main advantages of a Loggia balcony is that it's suitable for entertaining and for putting furniture out. The roof provides an extra layer of protection against the elements such as extreme heat from the sun, rain, or snow.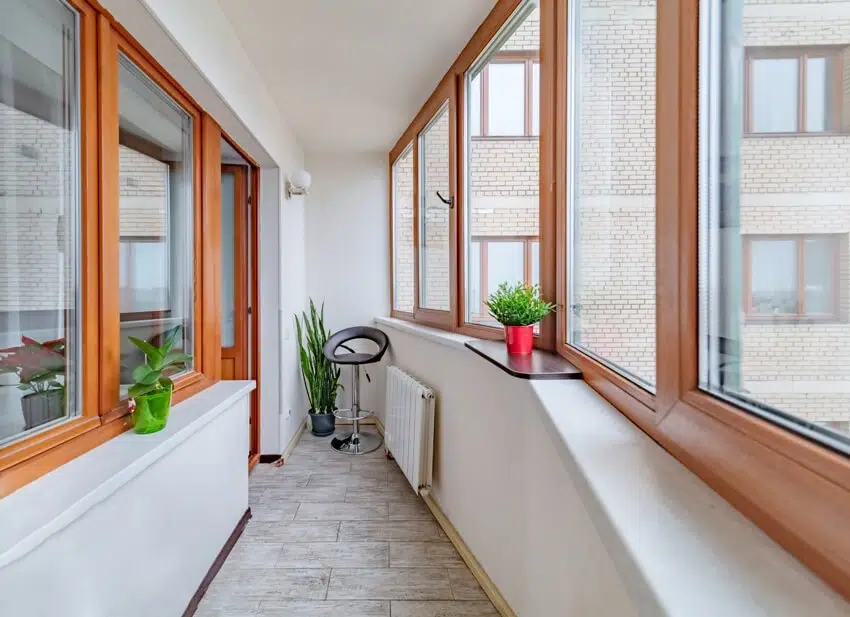 A loggia balcony can make for very comfortable and relaxed seating. It's something that you're really bound to enjoy especially if you happen to love having people over all the time in your home.
Juliet Balcony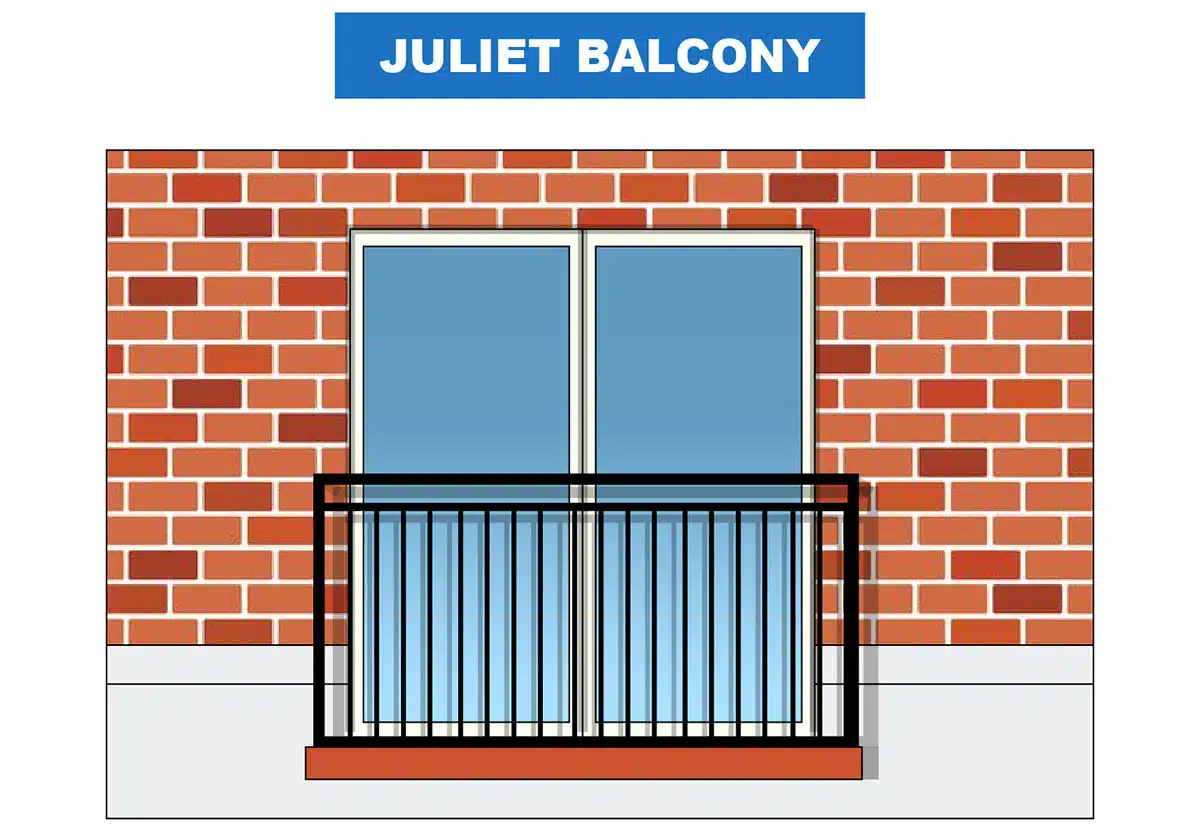 Although a Juliet balcony is oftentimes loosely interchangeably used with a false balcony, they can be similar but not quite the same. A false balcony is somehow a separate structure altogether, supported by pillars, but juxtaposed directly to the side of the building to appear like a connected part of a whole. But this isn't quite how a Juliet balcony is.
A Juliet balcony, on the other hand, is a smaller version of a loggia. It isn't a protrusion from a higher floor, unlike most balconies. Instead, it's part of the actual higher floor.
Its name was derived from William Shakespeare's Romeo and Juliet. If you can recall the literary masterpiece, Romeo used to court Juliet from her balcony.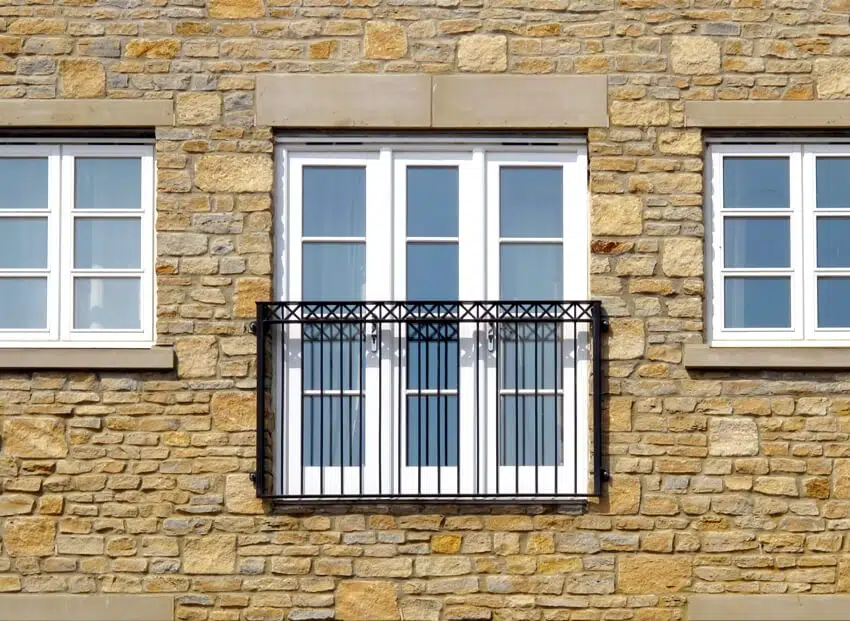 A Juliet balcony is also equipped with vertical rails and absolutely no horizontal ones. It has been said that this is meant to prevent little children from being able to readily climb on it.
Faux Balconies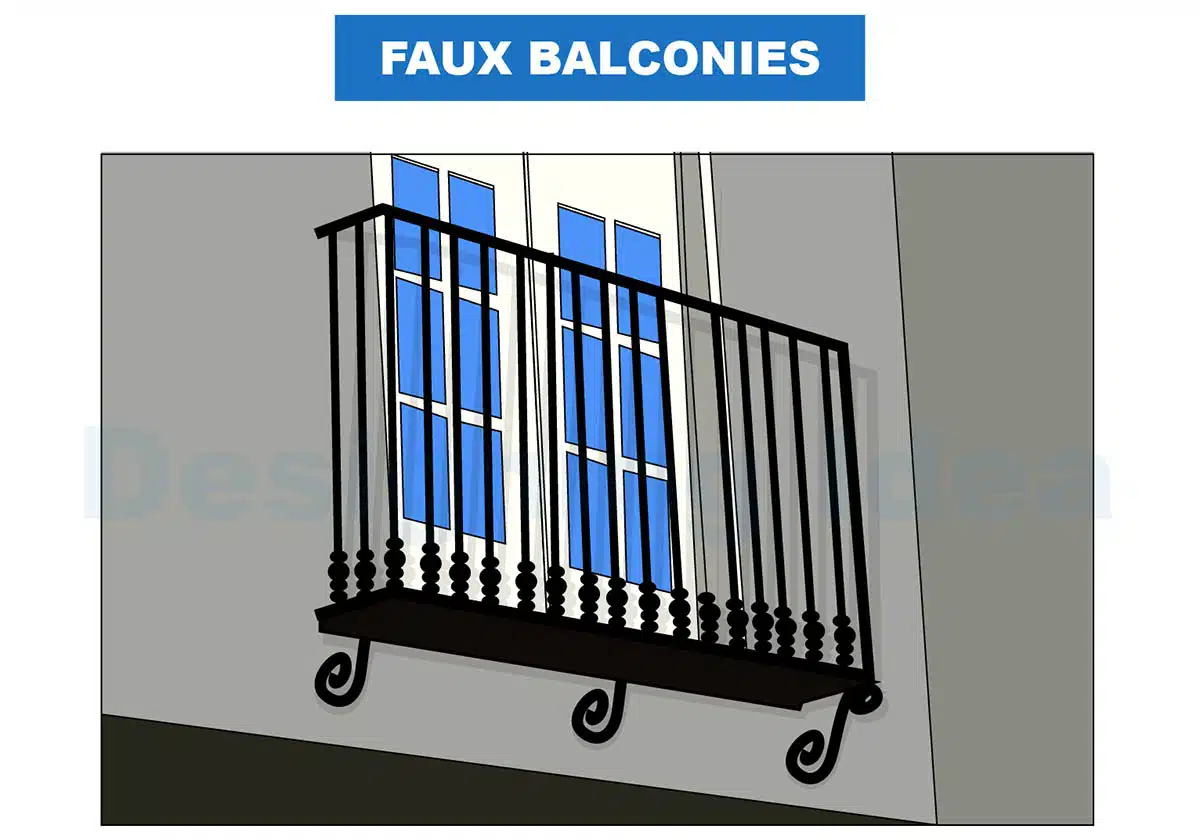 Faux is just French for "fake". So technically speaking, faux balconies and fake balconies should be one and the same. In terms of appearance, a faux balcony can end up looking like the real deal.
It is also oftentimes made from materials that make up a real balcony. When it comes to the actual functions, a faux balcony can't quite function the same way as how real balconies can.
A faux balcony is considered as an architectural cheat or a construction hack. It can give your home the appearance of having a balcony without any substantial or heavy costs alongside it. This can turn out to boost the real estate value of your property at the end of the day.
A faux balcony can be made out of some kind of treated steel or even aluminum. And although they can't technically be used as a proper balconet, per se; they can still provide you with some extra level of attention via the guardrail.
As a faux balcony is oftentimes paired with a French window or door, it's excellent for ensuring that you don't accidentally fall out of an open one.
Parts Of A Balcony
Balcony walls
These walls usually surround your balcony. They are oftentimes a great place for you to hang flowers and other plants in as well as other forms of decorations that you may have in mind. Check out more decoration ideas in our gallery of flower box ideas.
Balcony railing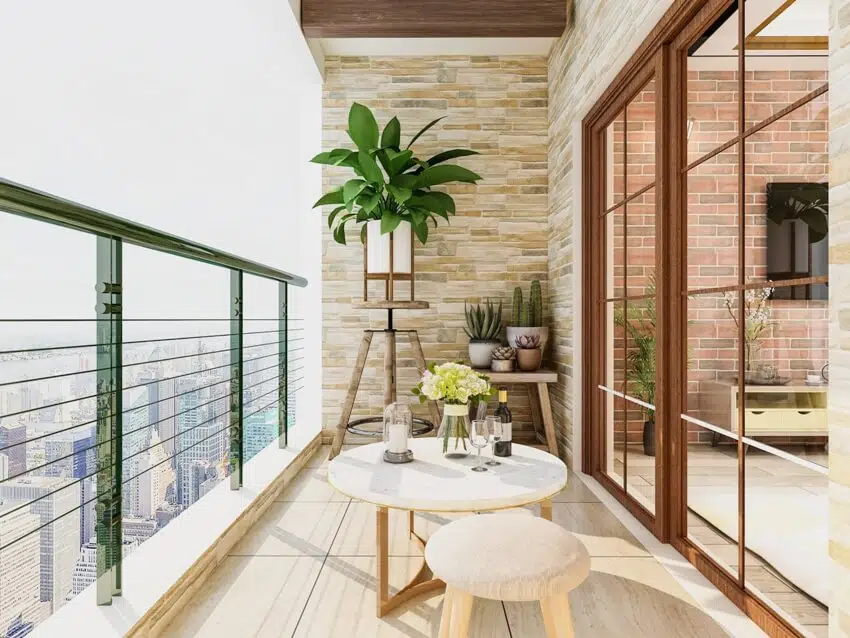 This part of the balcony actually supports the top rail of a balcony. It has is a barrier that's fence-like when it comes to its appearance. They are oftentimes found attached to your home's walls with the use of pillars, posts, or supporting columns.
Flooring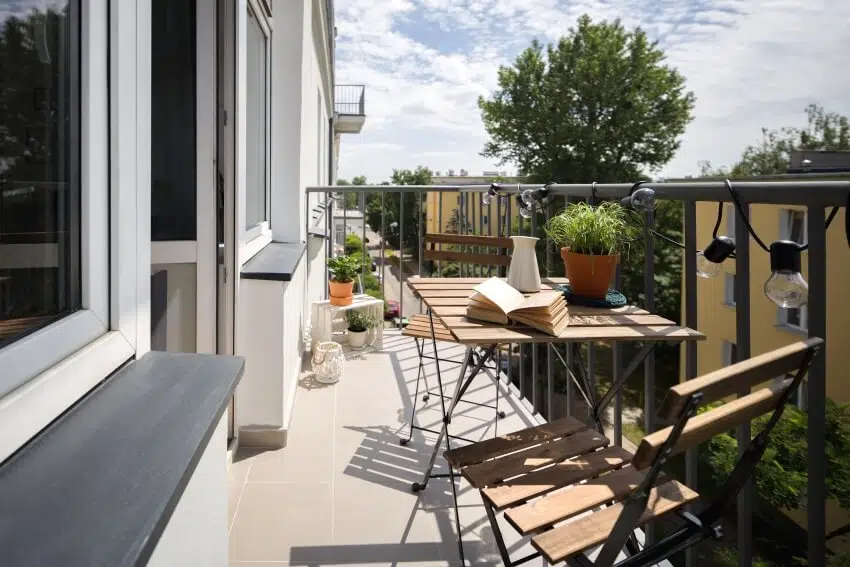 Flooring options for balconies can be pretty simple. They can either be made out of a plain concrete slab, decking tiles, natural stone, or literally anything that can be used as flooring material for the home.
Balustrades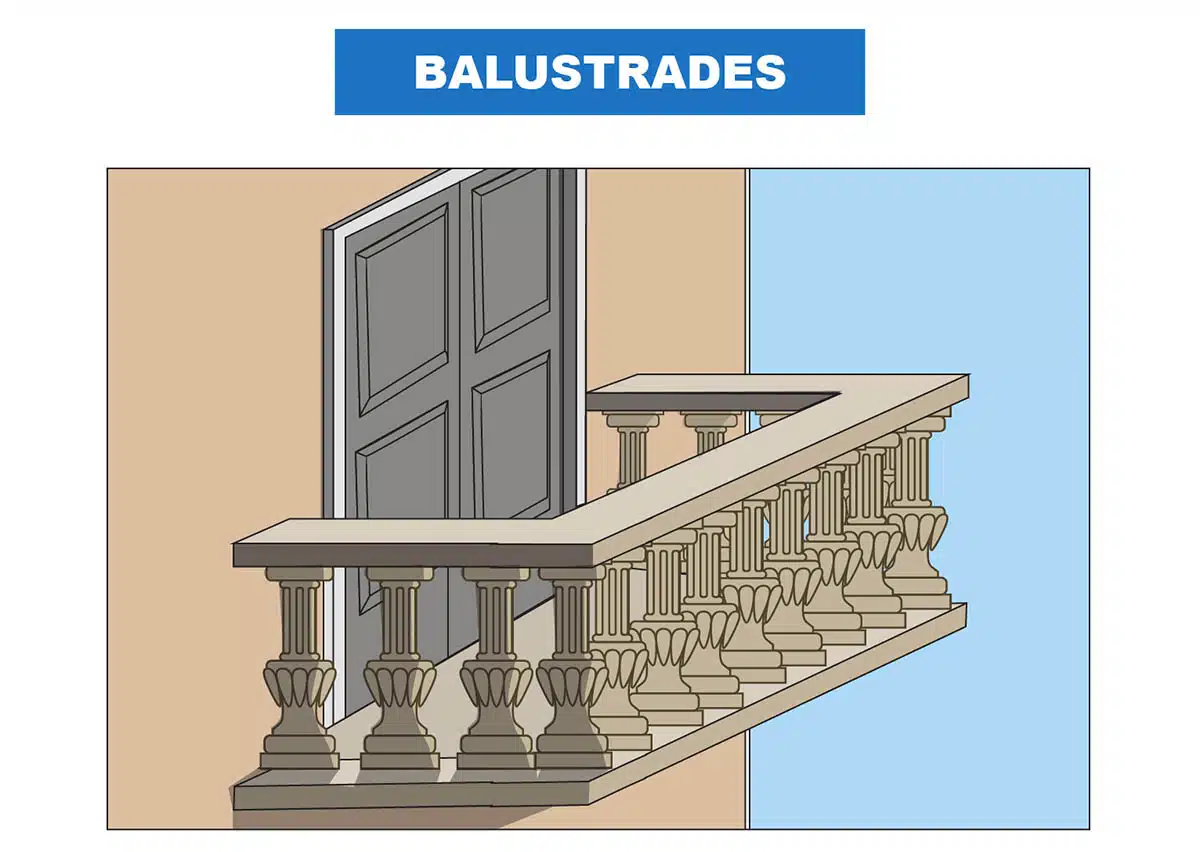 The balustrades are the upright support on a balcony fence or wall. They can be short and ornamental. They can either be enclosed by walls, extend to the floor, be sloping in design, or have an airier and more open design.
Balustrades can also at times work as space dividers in the event that you have a balcony with a much bigger space and you want to section it off so you can use the space for efficiently.
Types Of Balcony Materials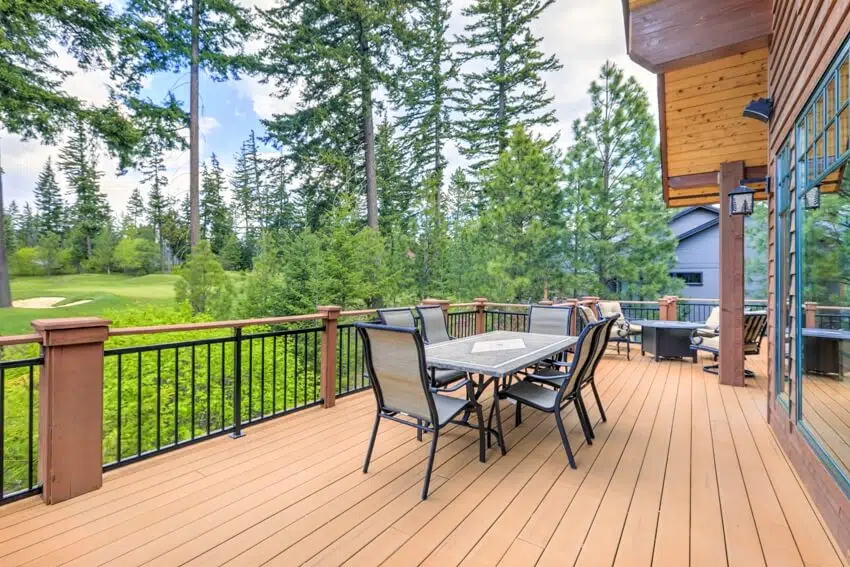 Wood
Wood is a great material to make a balcony out of. It has a natural texture that can make a balcony feel warm and cozy because of the natural textures that it can bring in.
When picking out a wood material for your balcony, one thing to pay attention to is the Janka hardness rating. The higher the Janka rating, the denser and less porous the wood actually is.
Denser woods will mean that you have a material that's not only durable but also relatively weatherproof. You also need to remember that you need the wood to have enough structural integrity to support the extra weight brought in by your flooring for the balcony, if you're ever thinking of adding one on.
Make sure that you go for pressure-treated wood. Not only is this bound to stand up well against the elements, it is also bang for buck value for your money as it would mean that your wooden balcony will last you for about 15 years or so.
Steel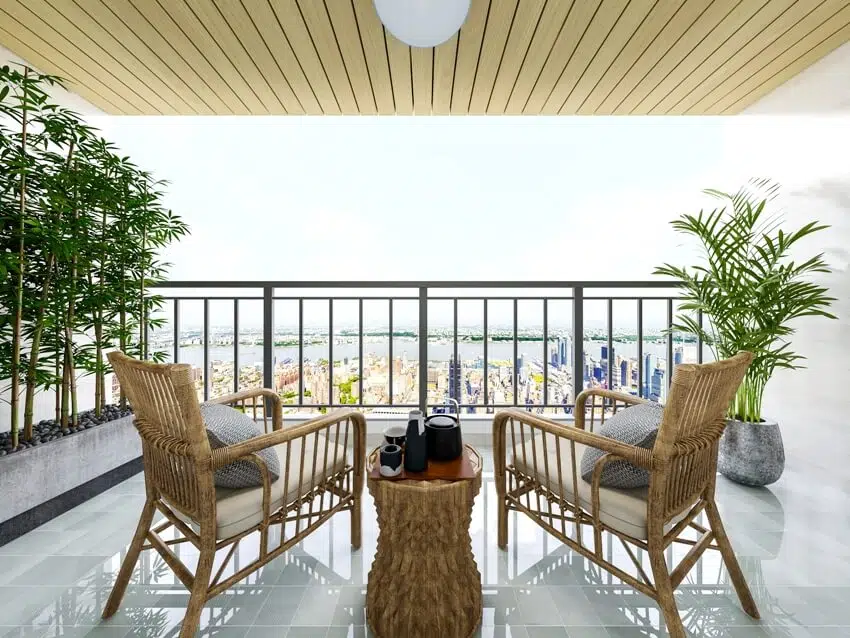 Steel is an exceptionally durable material and a balcony made out of one is bound to withstand harsh conditions from strong winds, heat, snow and rain, and a myriad of other challenges that nature can throw at it. It will not suffer from deterioration nor will it undermine the integrity of your balcony structure.
Steel also requires little to no maintenance. It definitely requires more attention compared to wood or glass. They're not prone to rot and dust buildup and with the proper priming, can be easily made rust-proof. It is the least expensive material to use for a balcony construction and has a much longer life span.
Steel is more environmentally sustainable. Not only is it friendlier to birds (unlike glass), it is also recyclable, minimizing waste.
This material is also creatively versatile. You aren't fixed on any particular design or aesthetic. You can easily come up with a design and a finish that's in line with your building's design in order to come up with a balcony that truly stands out.
Aluminum
Using aluminum as a material for your balcony railings directly translates to low maintenance costs and guaranteed durability as well. This material isn't prone to corrosion and rust.
It can hold up extremely well against the elements and will not warp, shrink, twist, or splinter when exposed to extreme weather conditions.
Maintenance is also nothing more than getting it hosed down every once in a while, and the occasional application of a powder coating for added protection.
Although slightly more expensive compared to other railing materials, aluminum is known to last you for a lifetime under the proper care.
It can be installed easily. Some aluminum railings even come pre-made in a kit that you can install yourself. If you feel confident that you have the basic handyman skills, there's no need for you to hire out a professional for this at all.
Like mentioned above, it's slightly more expensive compared to other materials but it's still relatively cheaper compared to steel or wrought iron.
So although you are spending a little bit more upfront, when you consider other costs such as maintenance, replacements, installation and average life span; you're still saving a lot of money if you go ahead and opt for aluminum railings for your balcony.
Concrete
Concrete balconies are thicker so this means that you will need to need to meet the NHBC standards, which includes a 150mm splashback. However, it could come out looking extremely aesthetic.
It's low maintenance and easy to clean and will usually require getting it hosed down every once in a while, or repainting it when the original paint starts to wear off.
Types Of Balcony Railings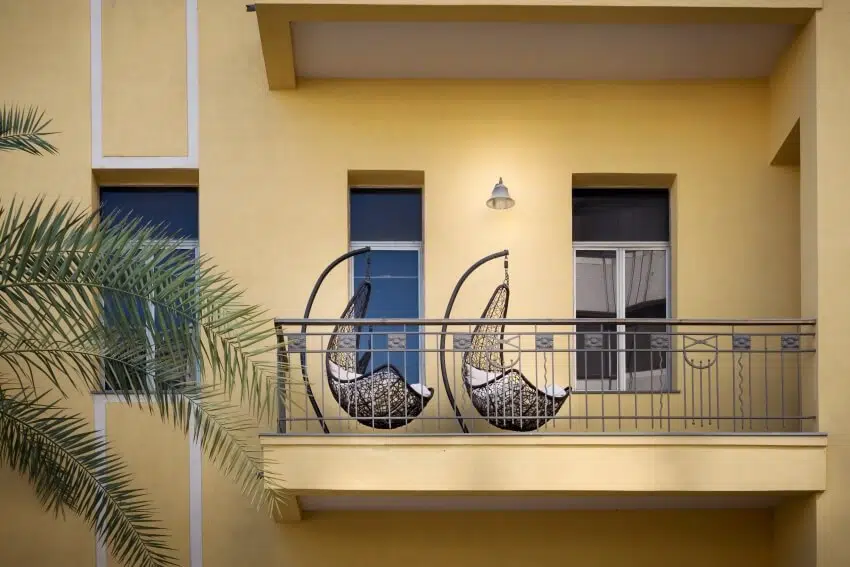 The secret to a great looking balcony really is in the railings. If you want to convert an otherwise mundane looking balcony into something more visually pleasing, you can totally transform the look with well-chosen balcony railings.
They also provide a definitive frame to your balcony while at the same time, take care of ensuring security and safety for it. They have been an essential part of balcony construction for as long as we can remember and with good reason.
A balcony without railings is hardly a balcony, after all. Here are the different types of balcony railings for you to get acquainted with.
Steel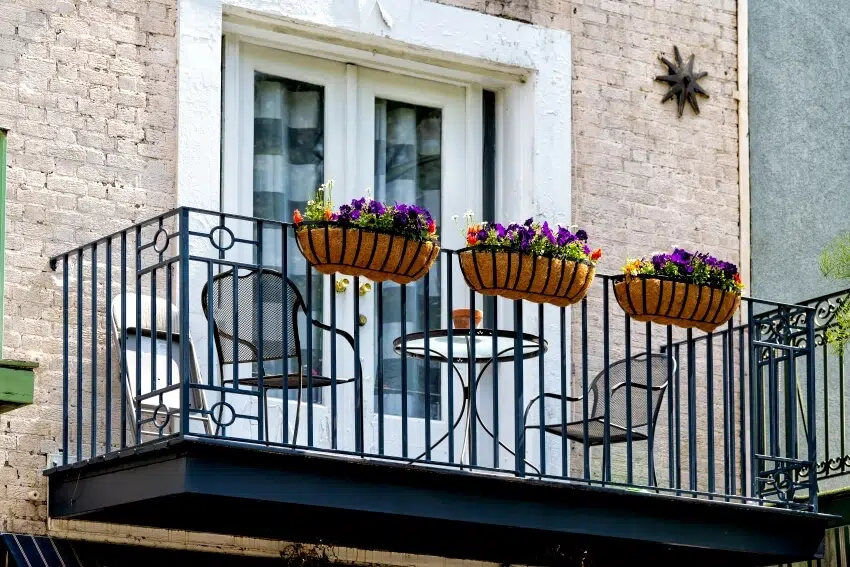 Steel is one of the most commonly used materials for balcony railings. They are durable and are expected to last for quite a long while.
They are also customizable and can be used cohesively with other materials that you may have in mind such as glass, concrete, or wood. With the proper priming and care, steel can be made rust and corrosion proof as well.
Wood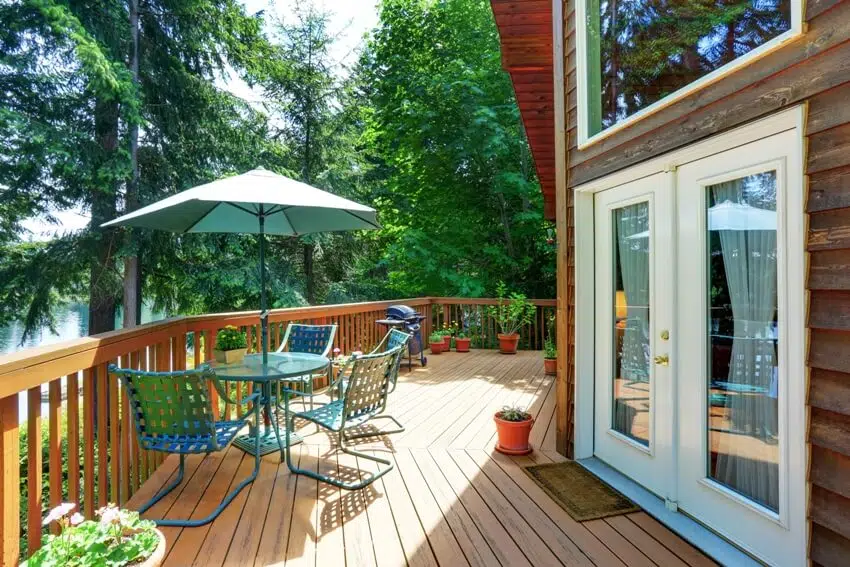 Wood is another commonly used material for balcony railings. With wood, you can come up with a wide plethora of designs and aesthetics and you can even easily mix and match with various types of woods as well as materials for your balcony railings. Wood is also one of the most affordable materials to be used for balcony railing.
It does, however, come with a major downside. Wood looks great and all that but it is prone to rot and other issues when exposed to the elements, as balconies are oftentimes installed outside of the house and doesn't enjoy the same protection as interior attachments.
It needs to be sealed once or twice a year and needs to be religiously maintained in order for its appearance to retain its original look.
Some hardwoods are also known to be scare and expensive and exotic woods and the like are oftentimes imported from other countries. See more stunning deck railing ideas here.
Glass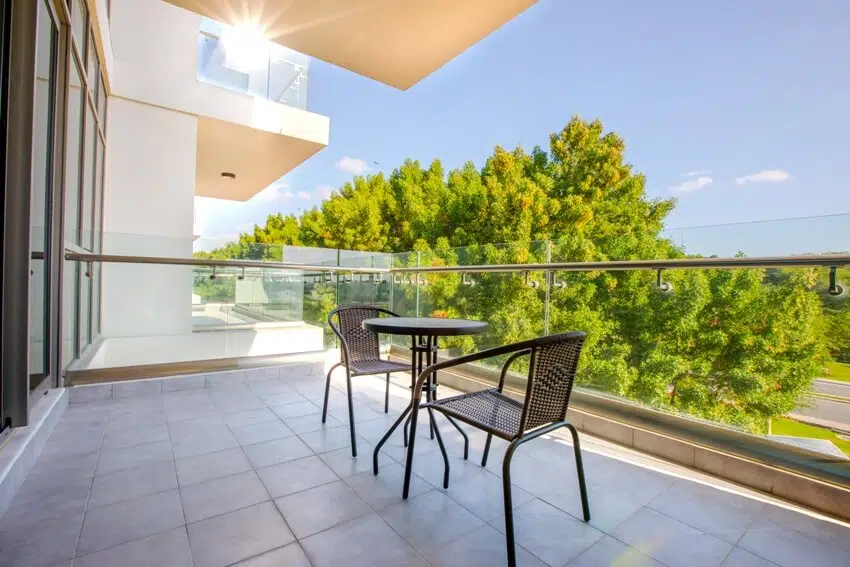 When it comes to sweeping views and a look of brightness and airiness, glass comes unmatched as a choice for balcony railings. Not only do they offer the best views as they don't close your balcony in, they can also be perfect when paired with a home that has a modern or contemporary design.
It is best to opt for tempered glass when shopping around for balcony railings. This ensures safety for when the glass breaks in the event of an earthquake, strong winds, or other nature-related challenges.
Glass is slightly more expensive compared to the rest of the other materials listed here but when you take into account the views that it can provide for your balcony, some people would deem it to be well worth the added price.
Aluminum
Aluminum railings are incredibly strong. This is made so much more impressive by the fact that it also happens to be incredibly lightweight. It is definitely considered as a great fit for your outdoor balcony railing needs at the end of the day.
Another thing that makes aluminum stands out is the fact that it's naturally rust and corrosion resistant. They are known to outlast even the harshest weather conditions and can stand up well against any other outdoor-related elements that might be thrown at it.
Aluminum is also a material that's made more popular by the fact that it requires very minimal upkeep. Aluminum is a stylish material that naturally enhances the look of a balcony.
It is easily customizable and, in some cases, can even come in pre-made kits that you can opt to go ahead and install yourself; saving you even more money when it comes to the installation costs. This, of course, should come with a disclaimer that you need to have some level of construction skills to get this done right.
Aluminum railings for your balcony can also come in different finishes from polished, to soft mattes, hard mattes, or even satin. So whatever look or vibe you have in mind, there's bound to be an aluminum finish that can easily match that.
Cast Iron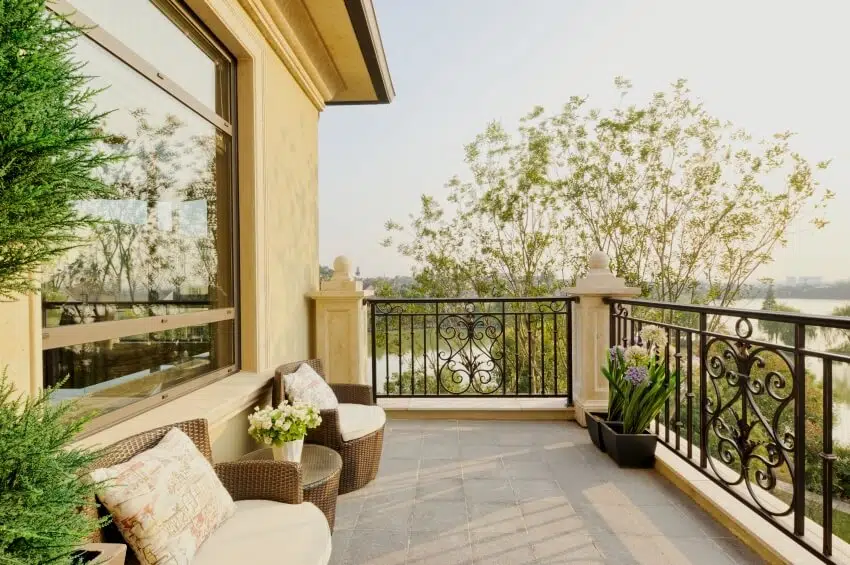 Cast iron is a material that can make your balcony railings look extra elegant and stylish. In terms of strength and durability, this material is superb and comes highly recommended. If maintained well, cast iron has been known to stand the test of time and can even last for a lifetime.
The downside to this is that cast iron is still a type of metal. What this means is that it can be prone to rust and corrosion. It's not exempt from it at all but with the proper maintenance such as getting it primed, powder brushed, or having the annual checkup and maintenance, it can be quite easy to maintain its original look and condition at the end of the day.
Cast iron is also known to be the most expensive railing material you can opt for in your balcony. However, it can be well worth the price especially if what you're after is an understated look of sophistication and elegance in the home.
For more related content, visit our guide on different types of porches.