Here's our outdoor fireplace dimensions guide including firebox sizes, how big it should be, distance from the house, and how a fireplace is measured.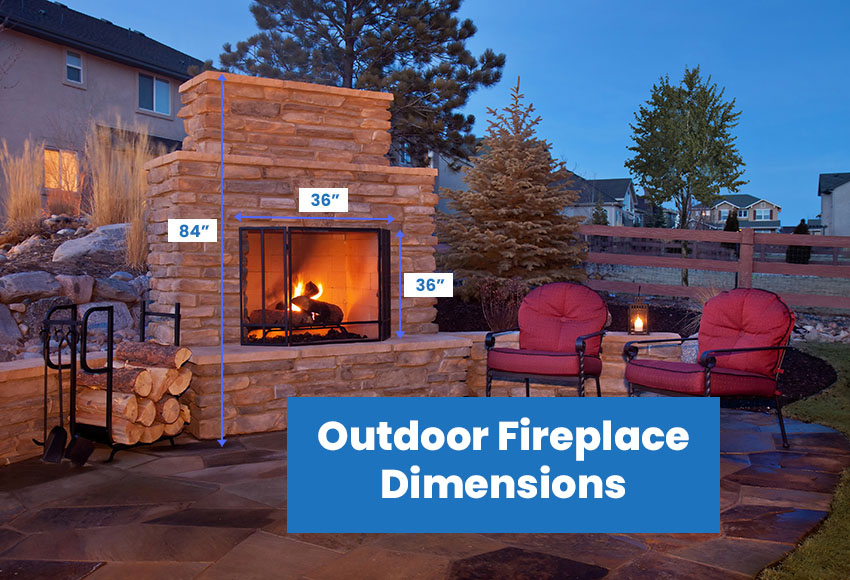 Installing an outdoor fireplace will add a warm and welcoming atmosphere to any home and yard, especially if one lives in states with colder nights and climates.
Planning to build an outdoor fireplace will require you to consider and look at options like where to construct your fireplace or the safety measures mandated to construct it.
Still, when all these factors are decided and dealt with, the outdoor fireplace will be a beautiful statement place and focal point of your gorgeous outdoor living area.
Typical Outdoor Fireplace Dimensions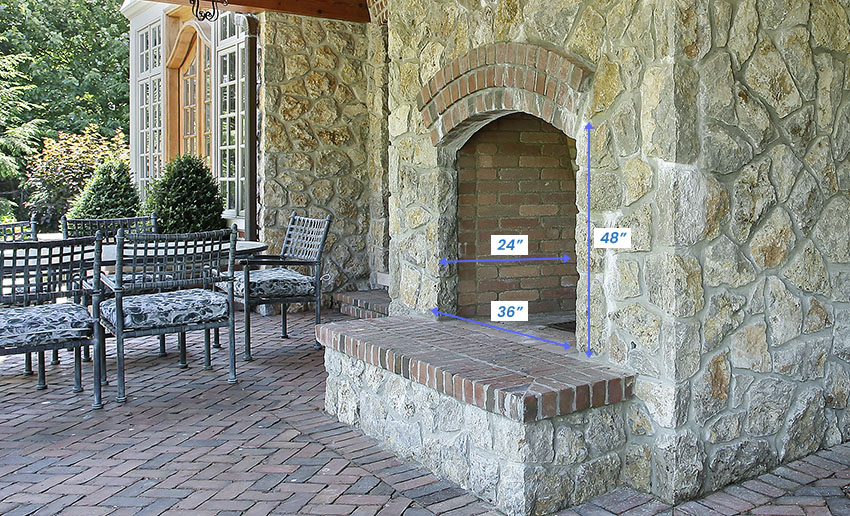 An outdoor fireplace can be as small as 4 by 3 by 2 feet (height, width, depth), but a larger one that is constructed with a mantel and hearth, wood storage boxes and seating can measure 15 by 15 by 4 feet (height, width, depth).
Outdoor Fireplace Firebox Dimensions
There are a number of factors that would affect how big your outdoor fireplace ideas should be, such as the scale of your yard or whether you are planning to install a wood or a gas fired outdoor fireplace.
In general, wood burning fireplaces are broader and taller than gas fireplaces because they need a chimney built, to go with the firebox.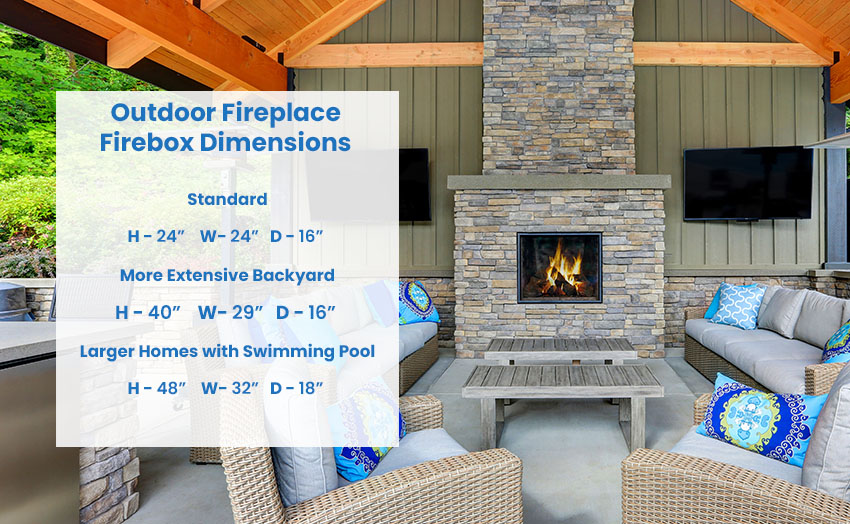 The measurements for the outdoor fireplace firebox will come with the standard 24 by 24 by 16 inches or 61 by 61 by 41 centimeters. That is for the height, the width, and the depth.
There are bigger fireplaces for more extensive patios or backyard with a height of 40 inches or 102 centimeters, 29 inches or 74 centimeters in width, and a firebox depth of 16 inches or 41 centimeters.
There are even larger ones for larger homes with swimming pools to match. This firebox usually has a height of 48 inches or 122 centimeters, a width of 32 inches or 81 centimeters, and a firebox depth of 18 inches or 46 centimeters.
Outdoor Corner Fireplace Dimensions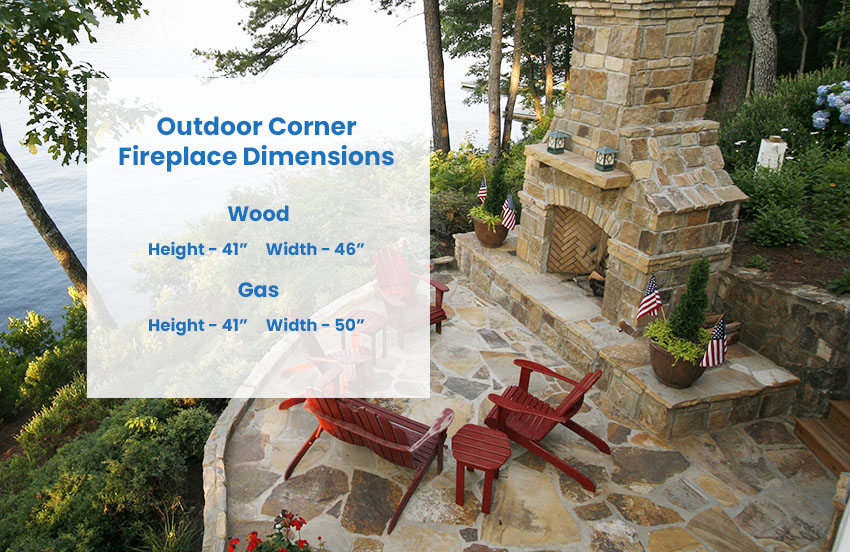 If you lack room but still want a fireplace that would not overpower your smaller yard, a corner outdoor fireplace will be perfect. Like your typical outdoor fireplace, the choice will fall between a wood burning or a gas fired outdoor fireplace.
For outdoor corner places, they can go as big as 41 inches or 104 centimeters for the length, with a width of 46 inches or 117 centimeters. This is for the more oversized wood burning corner outdoor fireplaces.
If you want a gas-burning corner outdoor fireplace, the measurements will be smaller. More or less, it will have a dimension of 41 inches or 104 centimeters for the height with a width of 50 inches or 127 centimeters.
You can go for a more traditional brick outdoor fireplace or a more modern fireplace with accent wall, a sleek angular build and cleaner surface without embellishments.
How Big Should An Outdoor Fireplace Be?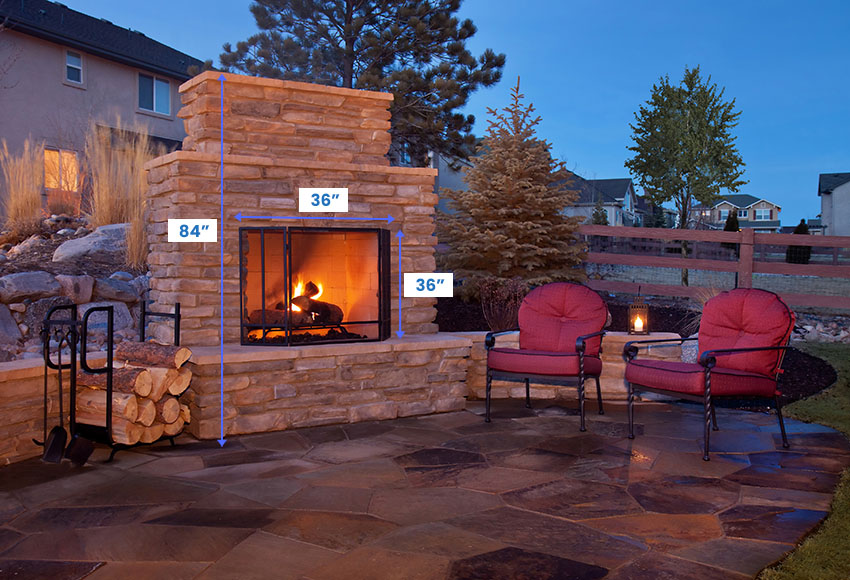 Deciding for an outdoor fireplace will depend on what you want to have and your specifics, so there is no rule or standard to size just as long as it meets all safety standards.
How you want to use the fireplace will also matter because if you're going to have the ability to cook in the space, a more extensive depth is in order. However, if you merely crave the ambiance and warmth is your only purpose, you can opt for smaller ones.
Typically, an outdoor fireplace will measure 36 inches or 91 centimeters wide and 36 inches or 91 centimeters in depth. This will have a chimney that can go up to 84 inches or 213 centimeters high.
It will be up to you to tweak the dimensions to fit your needs, and working closely with a contractor or architect will help keep everything looking proportionate to your outdoor space.
How Much Space Do You Need Around A Fireplace?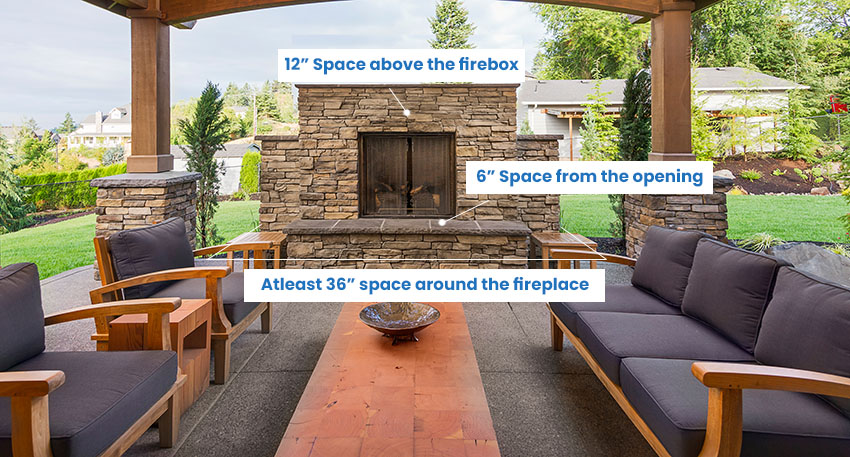 Before building your dream outdoor fireplace, it is integral to take note of some crucial dimensions given by the National Fire Code to ensure that you are making the fireplace in accordance with it.
The first requirement is that all combustible materials of your fireplace should be 6 inches or 15 centimeters or over from the opening of your firebox.
As for the space, the space around a fireplace both indoors and outdoors should at least have 36 inches or 91 centimeters. Any closer than this size might pose the risk of fire from embers flying off the flames and it might potentially land on your pieces of furniture or even on people enjoying the heat from the flame.
Aside from that, decorations like the greenery on the fireplace itself should be kept at a safe distance. No hanging foliage like plants or wreaths should extend so much that they will reach the firebox. Ensure that at least 12 inches or 30 centimeters of space above the firebox.
Adding mantels and brackets, and corbels will require additional clearance area. Anything sticking out by 1.5 inches or 4 centimeters should be adjusted for more clearance space. Read more about mantel height here.

How Is A Fireplace Measured?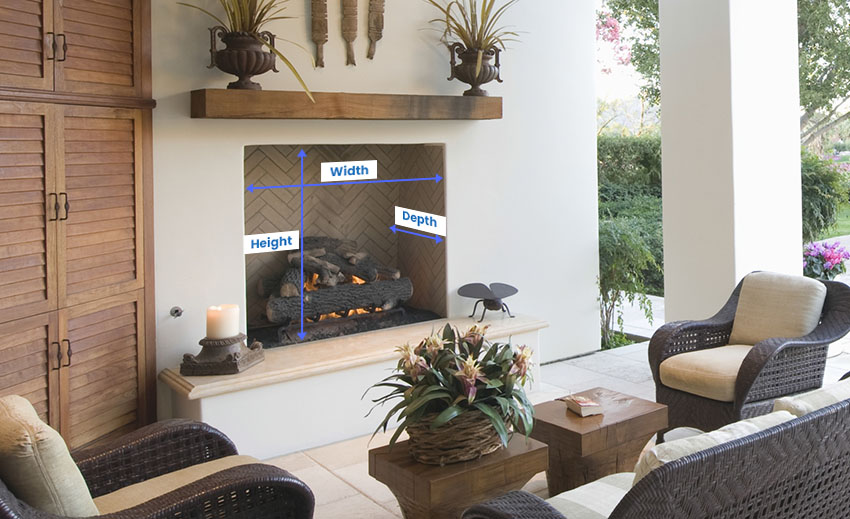 There are three measurements you need to count for when measuring for an indoor or outdoor fireplace accurately: the width, length, and depth of a fireplace.
Aside from accounting for the structural dimensions alone, you also need to measure the height, width, and depth of the fireplace opening or firebox.
First, you need to measure the height, which is done by taking a measuring tape and measuring up and down from the rear to the lintel.
The next point of measurement is the width. To measure for the width, take a measuring tape and measure from left to right, from the opening of the exterior or face to the rear in the interior.
The last is calculating the measure from front to back of the fireplace. It is essential to take this measurement from the center where it is most even, especially for a fireplace with varying depths.
How Far Does An Outdoor Fireplace Have To Be From The House?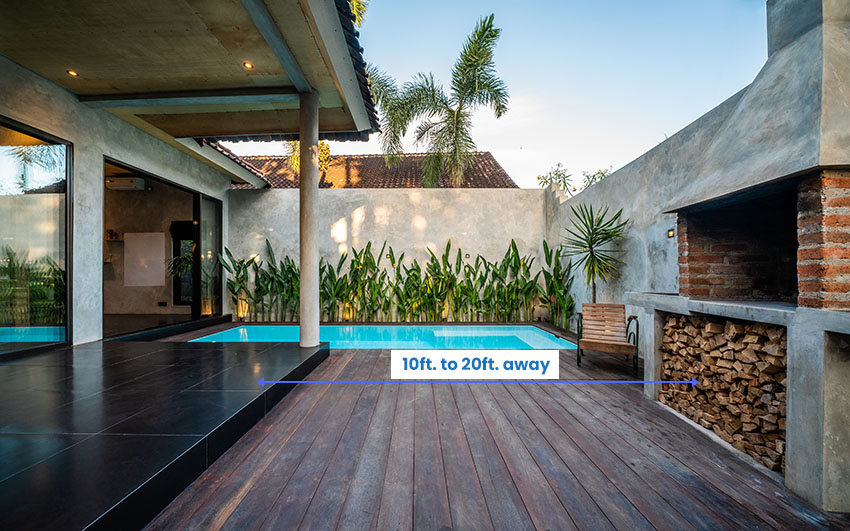 All outdoor fireplaces or even fire pits should be out of the way of your home to be safe to avoid big fires when a problem occurs.
This clearance space needs to be 10 feet or 120 inches at least to even upward of 20 feet or 240 inches of space for bigger homes and areas.
The clearance space is there to be safe from an open fire, especially outdoors, which can be dangerous. Aside from being away from your home, giving the same area space of 10 to 20 feet or 120 to 240 inches from all trees and shrubs should also be imposed.
Do I Need Fire Bricks In My Outdoor Fireplace?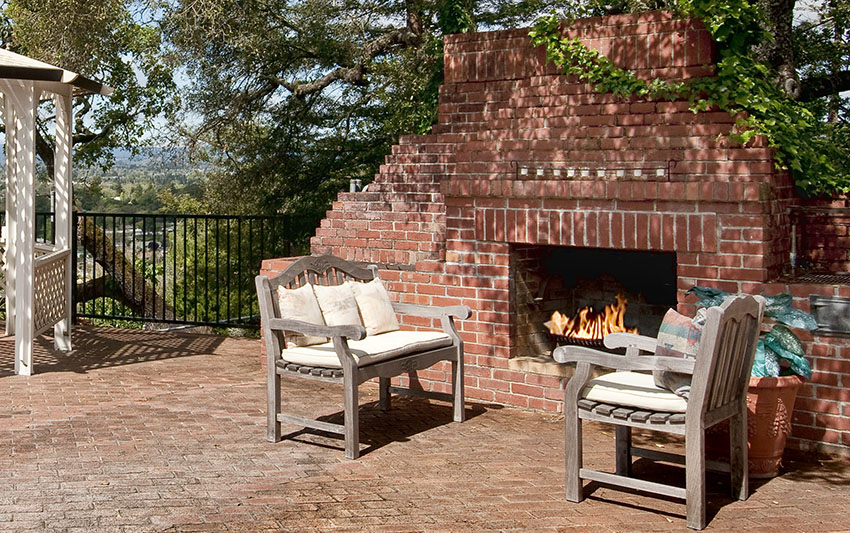 The answer to this question will be what you perceive in this explanation. Firebricks are generally more nonporous than a regular brick. It won't absorb as much water, which will then lessen the risk of exploding.
The explosion can be caused by too much steam developed inside the brick because of the water and because of the brick being heated on the open fire.
However, not all bricks are made the same, and some of them might be safe for fireplaces if pretreatment, like heating and drying out the brick, is done before the construction of the outdoor fireplace. However, this is not a long-term solution.
What Is The Minimum Depth Of A Standard Masonry Fireplace Firebox?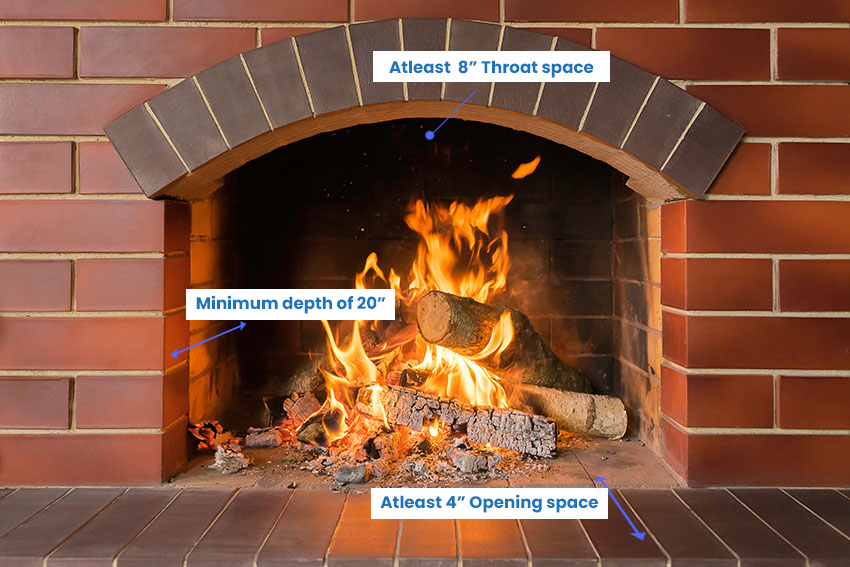 The minimum depth required for a masonry fireplace firebox is 20 inches or 51 centimeters. In addition, the throat should at least be 8 inches or 20 centimeters and over, while its opening will not be less than 4 inches or 10 centimeters.
On the other hand, the firebox's passageway, including the damper, smoke chamber, and the throat, should not be any less than the flue's cross-sectional area.
See more related content in our guide to indoor fireplace dimensions here.