Check out our laundry room island ideas including some popular designs, space recommendations, and tips on how to decorate your laundry room island.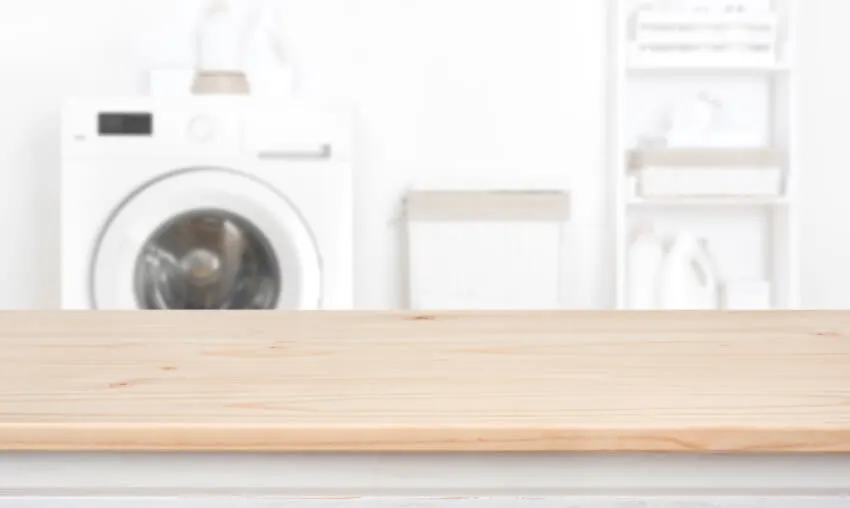 Laundry is never-ending, but it doesn't have to be a chore. Make your life easier with these ideas for laundry room islands that boost efficiency and make laundry day a little more pleasant.
To keep your clothes wrinkle-free, they should be hung up as soon as the dryer cycle ends. A clothes rod mounted on your kitchen island allows you to hang wrinkle-prone items the moment they exit the dryer, with no chance for creases to form.
Of course, if you don't get there in time, steaming clothes is faster and easier than ironing them. Designate space for a hook, bar, or hanger dedicated to holding clothes for steaming, and streamline your laundry process.
For multi-person households that combine laundry, equip your laundry room island with slide-out laundry bins that allow each member to sort their own laundry, removing one step from the process.
How To Design A Laundry Room Island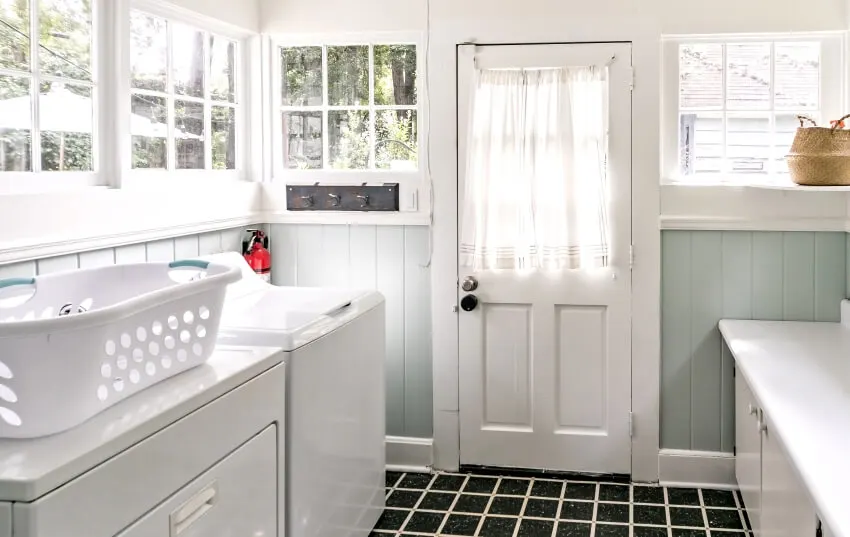 A carefully designed laundry room island will be both functional and attractive. Consider matching the colors and materials of the island to the countertops and cabinets that already exist in your laundry room.
When designing your laundry room island, consider the features that are most important to you. Be realistic about your laundry habits.
If you want to avoid ironing, prioritize the inclusion of a clothes rod or steaming station. If you've got a large household and are concerned about laundry piling up, perhaps a slide-out sorting basket is more functional for you than drawer space or cabinets underneath the laundry room island.
How Much Room For An Island In The Laundry Room
If you want to place an island in your laundry room, you're probably concerned about whether or not there is enough space.The minimum size of a laundry room should be at least 6 feet by 7 feet. However, that is so small you may need a stackable washer and dryer or small laundry center.
The minimum laundry room size for an island will depend on the size of your island. It should be at least 80 square feet in size or 8 feet by 10 feet.
The laundry room island should be at least 36 inches from the nearest wall, appliance, or cabinet in all directions.
This will give you enough space to walk around the island without banging into it. Read more about our guide to laundry room dimensions here.
Laundry Room Island Designs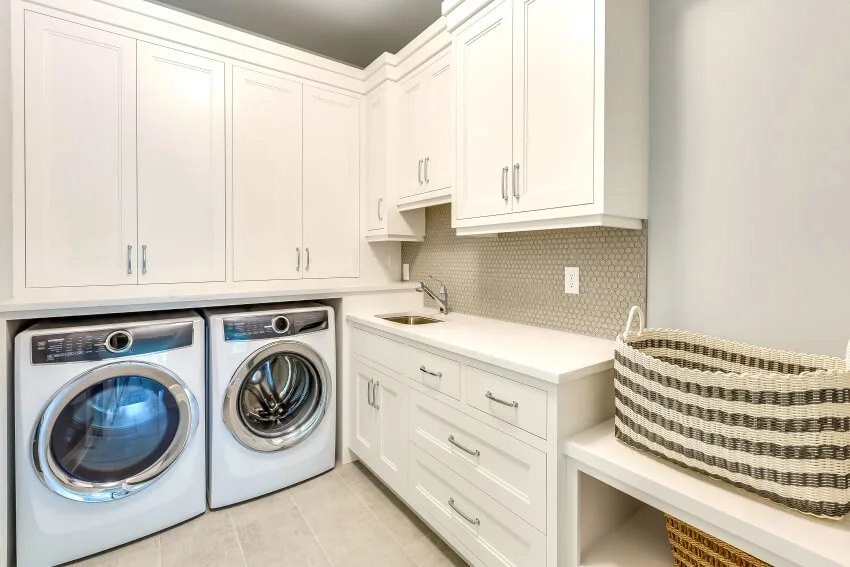 Laundry room island designs can be as simple or as elaborate as you like. Some designs favor open shelving with laundry baskets that can slide in and out, while other designs hide the contents of the island behind cabinet doors. A simple table can even serve as a laundry room island.
If you favor traditional design, eschew laundry room islands on wheels in favor of more solidly built, permanent islands made from wood. You can try adding a stylish butcher block laundry countertop with great results.

A modern design might be complemented by an island with a top of frosted glass. For a contemporary laundry room island, look at carts and wheeled laundry islands that incorporate metal.
Laundry Room Island Cabinet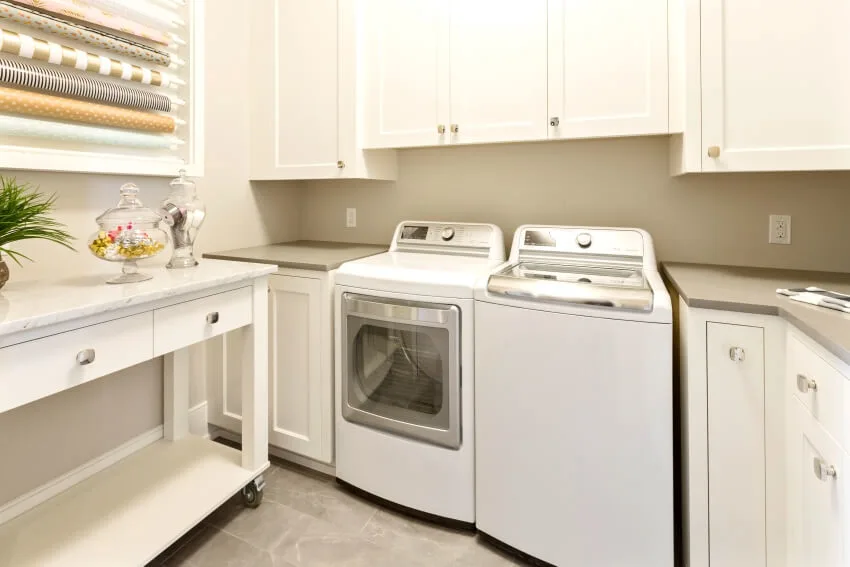 Laundry room islands can be made from cabinets with a countertop mounted on top. You will need to cover the frame of the cabinets with another material such as beadboard and add trim to make the island look cohesive. A fresh coat of paint brings all the elements together.
If you have colorful laundry appliances, matching the laundry room island cabinet to them creates a fresh and integrated look. Check out the best types of laundry room countertops for more related information.
Laundry Room Island With Ironing Board
Integrating your ironing board into your laundry room island is a space-saving choice that just makes sense. At a minimum, choose an ironing board that you can set up on top of the laundry room island.
Mounts that hold your iron and board when not in use can be attached to the side of the island for easy storage. Or, if you have room, consider mounting a folding ironing board onto the side of your island.
This will allow you to raise the ironing board when it's needed, and stow it away when you're done, seamlessly integrating your ironing chores with the rest of your laundry.
Laundry Island On Wheels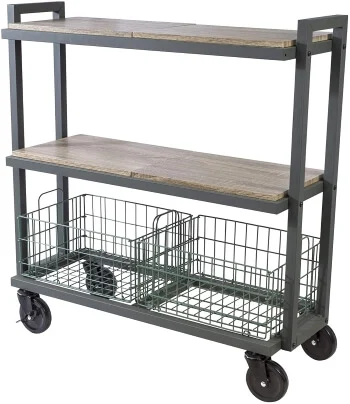 See this wheeled laundry island at Amazon [sponsored link]
If your space is limited, a laundry island on wheels might be just the solution to your problem. Tuck the island in the corner when it's not in use, and then pull it out to the center of the laundry room when it's time to fold.
Like kitchen island carts, many laundry islands have storage underneath the flat, top surface. If you don't have the budget or space to install cabinets in your laundry room, keep things tidy and organized by storing detergents, softeners, and dryer sheets on the bottom shelf of your laundry island on wheels.
If you don't have a laundry room, you can use a laundry island on wheels to set up a temporary laundry station in your bedroom, living room, or dining room. See our gallery of laundry room in kitchen ideas here.
DIY Laundry Room Island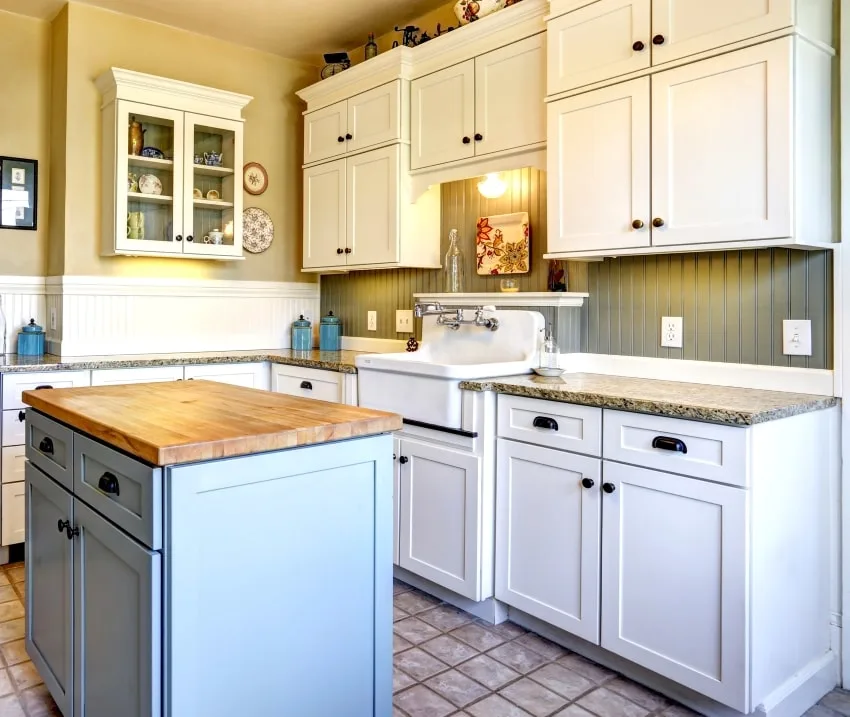 A DIY laundry room island could be as simple as a sheet of fiberboard laid across two sawhorses. If you're not sure how much you'd actually use a laundry room island, this can be a good way to try out a dedicated folding space without committing to a new piece of furniture.
The easiest way to DIY a laundry room island is to start with existing furniture. Desks, bookshelves, or even filing cabinets can be repurposed into a laundry room island.
Usually, the top will need to be removed or replaced to give a larger surface for folding. Traditional countertop materials can be used for this, or you can cover the top with foam and fabric to make an ironing surface.
If you're a more confident DIYer with some carpentry skills, you can use one of the many designs online and some purchased or reclaimed wood to whip up a laundry room island that meets your exact requirements.
Make sure to add some paint colors that go with your laundry room or use a contrasting color if you want your island to stand out.

Laundry Room Island Table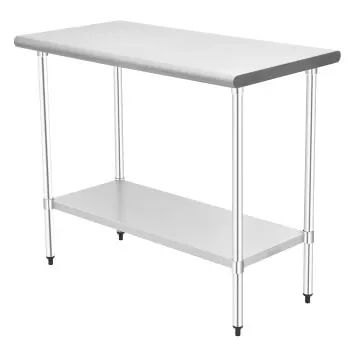 See this laundry island at Amazon [sponsored link]
An island is simply an extra surface that makes sorting and folding laundry easier and more convenient. While many laundry room islands have storage underneath, this isn't a requirement.
Laundry room island tables are ideal for smaller laundry rooms that might be overwhelmed by a large, solid island. The visual space between the legs of a laundry room island table prevents the room from feeling crowded.
If you choose a laundry room island table, you might consider whether there is room underneath for a clothes rod. An ironing board mount or steam station can easily be added to the side of a table, adding to the convenience.
Visit our laundry room essentials guide for more related content.