Gallery of laundry room in kitchen ideas including the pros and cons, how to convert closets, small layouts, how to hide a washer and dryer, and other important laundry room design tips.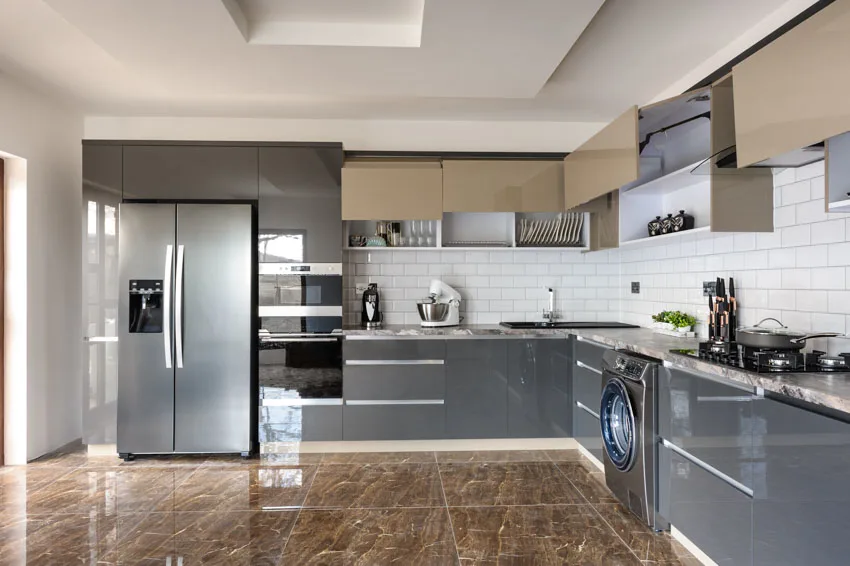 Do you know where your laundry room is located in your home? If not, you might want to check out the kitchen since that's one of the perfect places to integrate it into.
And yes, you can actually seamlessly fit a washer and dryer in your kitchen and it wouldn't even look out of place.
Kitchen Laundry Room Combo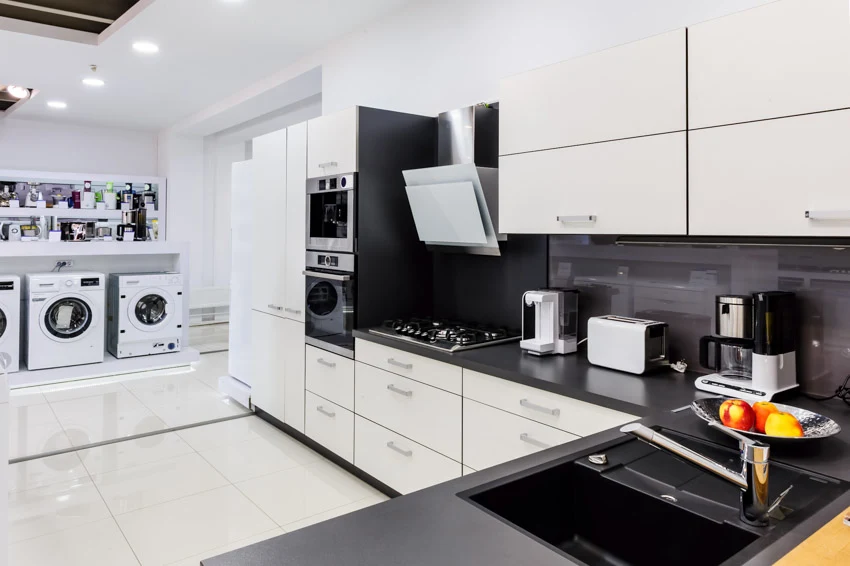 The kitchen is one of the best places to incorporate your laundry room into. If you have a limited budget and limited space, this could be a great option for you.
You can't just add another room in your home in a blink of an eye just for your laundry room. But you can combine two rooms into one multi-functional room and create a kitchen laundry room combo.
Advantages of A Kitchen Laundry Room Combo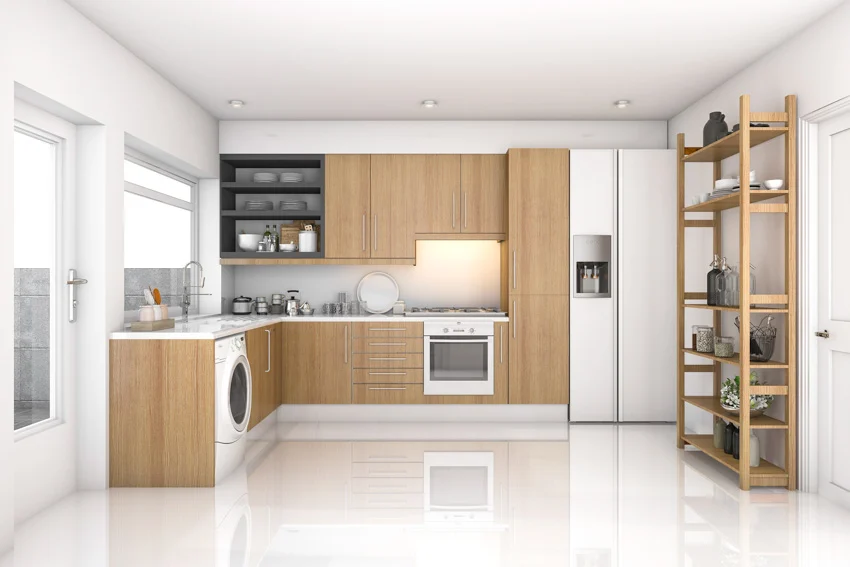 With all the different rooms and areas in your home, why choose your kitchen to incorporate the laundry room into?
Electrical and Plumbing Facilities: With both electrical and plumbing facilities already installed in the kitchen, you won't have to worry about having to deal with them from the start just to set up your laundry room.
With existing water and electrical lines, it will be an easy upgrade of installing the appliance into the allotted space.
Matching Foot Traffic: While the kitchen is a common area, it does not have the foot traffic that the living room and dining area have. It has, however, the same foot traffic as the laundry room. This makes it all the more compatible to be incorporated together.
Stackable Units: A laundry room can actually be shrunk into a corner primarily due to stackable appliances that can accomplish the task at hand.
The combination of kitchen and laundry room is a good choice for condos and other homes with limited space and the stackable units of washer and dryer make this possible.
Disadvantages of A Kitchen Laundry Room Combo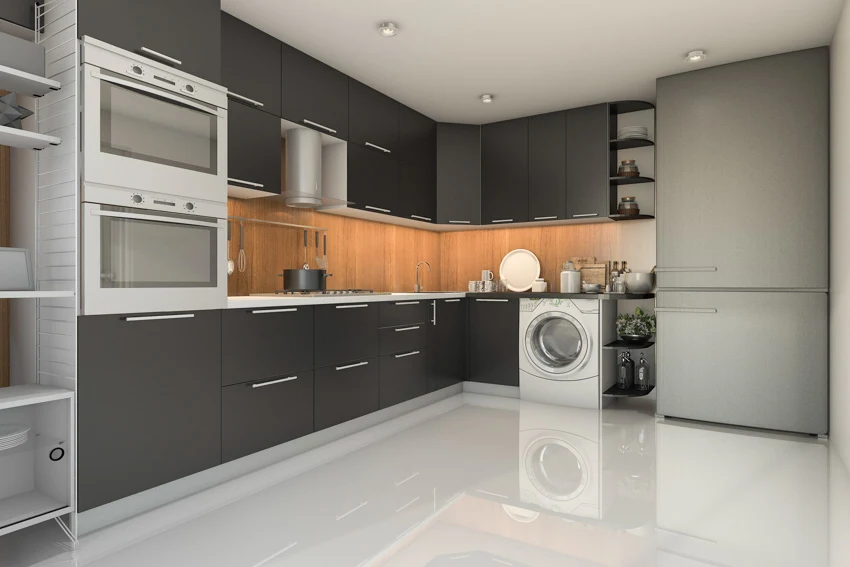 On the other side of the coin, there are some disadvantages that come with this combo. Combining two rooms and areas into one has its downsides, including:
Loss of Storage Space: Installing a washer and dryer in the kitchen means losing the precious storage space you could have used to keep cooking tools and small appliances.
And since the space is also limited for what is supposed to be a laundry room, you will not have enough room to fold the clean clothes after laundry, and using a kitchen island for it seems a bad idea.
Custom Needs: If you choose to combine the kitchen and the laundry room, you will need to dedicate space for the washer and dryer.
This means customizing cabinets so that you can fit the appliances into them and they would not look out of place. Renovating might be necessary if you plan to install a washer and dryer under the kitchen's countertops.
Results in Disorganized & Cluttered Kitchen: With two rooms combined in 1, two functions operate at the same time and it can definitely get messy. The kitchen in itself can be messy and adding laundry to the room's task can worsen that.
One thing you can do to somehow bring order to the room is to position the laundry area in the kitchen's wet area (where raw food prep and cooking happen). In this way, all noisy activities can be limited to one space.
Differing Vibes: The kitchen and laundry give off different vibes, with the former having a more positive vibe and the latter a more negative one.
The kitchen can always be associated with food and who doesn't want that? Meanwhile, the laundry room reminds everyone of a chore that needs doing, and let's face it, everyone doesn't want to do it.
Laundry Closet In Kitchen
Tucking in the laundry area inside the cabinets of the kitchen is one of the discreet ways to integrate both areas. Why hide the washer and dryer inside the closet?
1. No one really wants to be reminded of chores and tucking the appliances inside the closet will make this possible.
2. Keeping the appliances in the closet can keep the kitchen look clean and more organized.
3. Make the most of unused space in the kitchen closet. If you are ordering new units for this purpose, make sure you check the washer and dryer sizes carefully to get a proper fit.

There is one exception to the rule though and that is if your washer and dryer have attractive aesthetics you can display them. If you have a sleek and stylish washer and dryer with a design that somehow matches your kitchen, putting them out for display is a major plus.
Small Kitchen Design With Laundry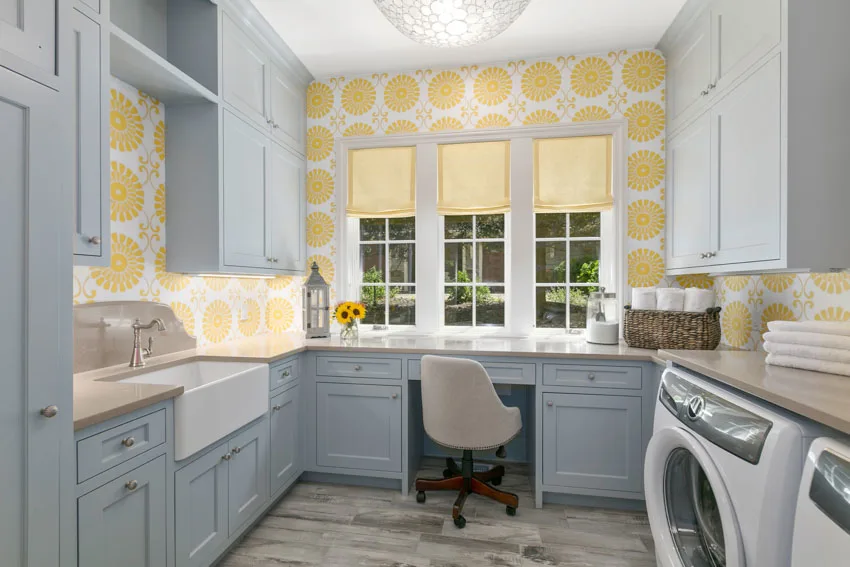 If you have a small kitchen and plans to incorporate a laundry area in it too, you have to be smart in designing it. Make sure to choose a space-saving appliance, along with the different laundry room essentials, so that you can squeeze it close in spaces in the kitchen.
You may also choose to stack them on top of each other, especially if the washer and dryer are separate. This strategy can definitely be a big space-saver but make sure first that the appliances are stackable in the first place.
Laundry Room Off Kitchen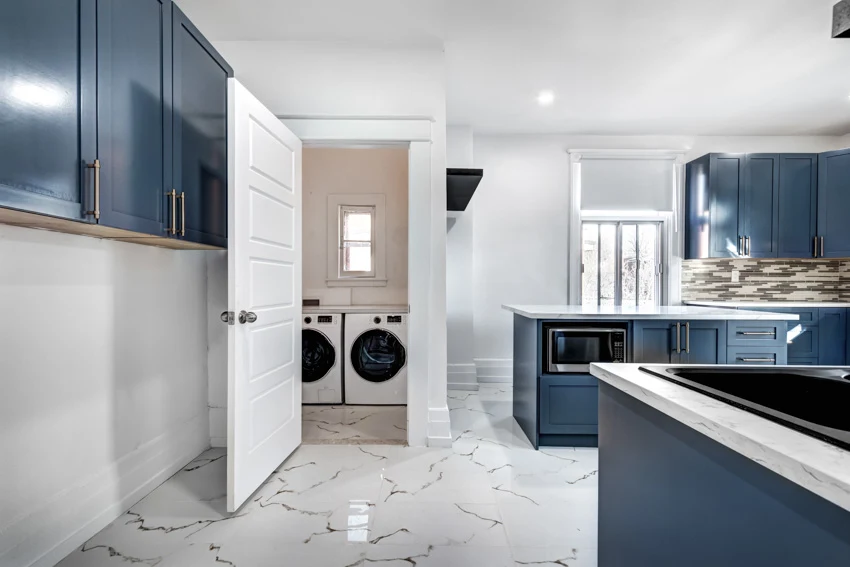 The laundry room can be positioned in different areas of the home and one of those locations is off the kitchen and in its very own room.
It can be placed together near the mudroom, powder room, and walk-in pantry. If you put the laundry room in the kitchen though, make sure it's far from areas you want to use for socializing and enjoying a quiet time.
The idea of putting the laundry room off the kitchen comes from the understanding that most of the chores are in the kitchen. It would make sense then that they're near each other so that multi-tasking is possible.
Kitchen Laundry Area Design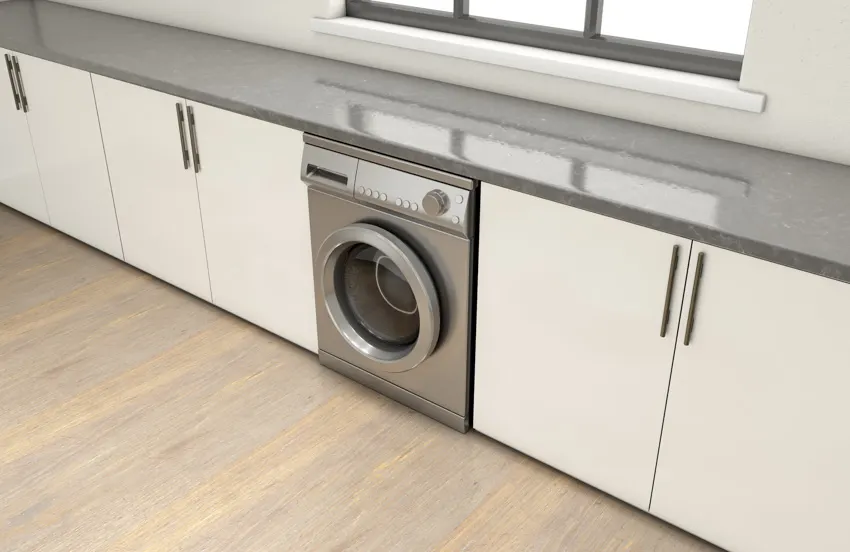 In designing your kitchen and laundry area, it is necessary to maximize both space and efficiency at the same time.
Here are some areas in the kitchen where the laundry area can be installed for convenience and possible multitasking:
• In a corner in the kitchen far from the fridge (high foot traffic)
• Unused space under the kitchen countertops (You can even use the countertops for folding clean clothes.)
• Close to the sink area (Wet area of the kitchen)
Hiding Laundry Room In Kitchen Tips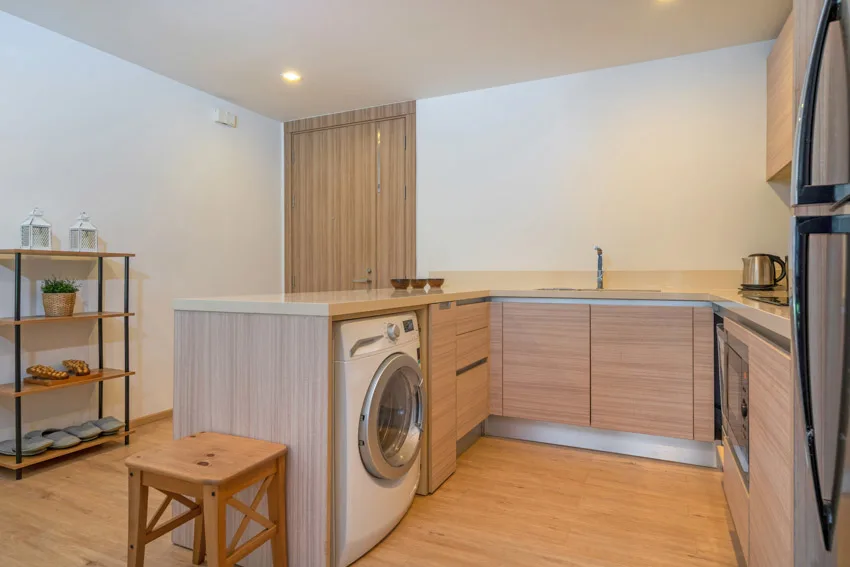 No one really loves being reminded of chores you hate doing. So when it comes to the laundry area in the kitchen, hiding it is a good option.
If you want to put your high-end washer and dryer on display with its sleek look, you can do so. If you looking for ways to hide it though, here are some excellent options to take into account.
1. Hide washer and dryer inside cabinet enclosures.
2. Hide the entire laundry area in the kitchen using a curtain. This can also help to keep dirty clothes in a hamper out of sight.

3. Use stylish types of sliding doors to hide the laundry appliances
4. If you have unused closet space, make use of it to hide your washer and dryer.

5. Make sure the laundry flooring is resistant to water and suitable for dealing with extra moisture or install a drain pan.
Best Place For Laundry Room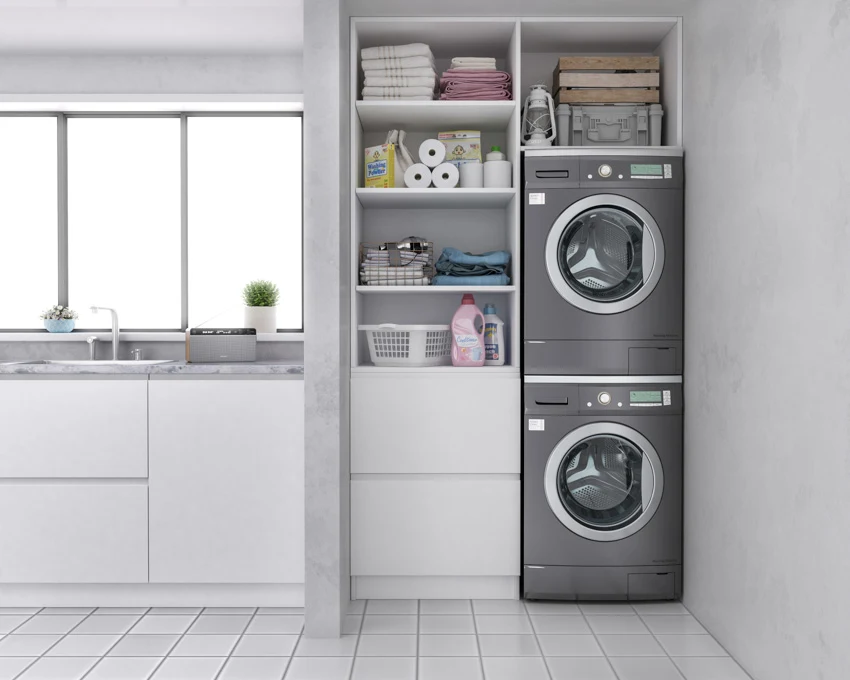 There is a variety of places in your home that a laundry room can conveniently be integrated. Besides the kitchen, these areas are considered the best for your laundry room.
Off the Kitchen – If you don't want the laundry room in your kitchen but want to have it near, you can install it off the kitchen. Having both rooms near each other can assist you in your effort to multitask and complete chores faster.
Basement – You can use your basement as a laundry room instead of wasting that space away. More than being out of the way, the basement is a great option because it has enough space for the task and you won't have to be quick with the chore and can have clothes lying around since guests don't typically visit basements in the first place.
In the Mudroom – Having the laundry room within your property's mudroom offers the convenience of putting dirty clothes in the washer right away instead of having them spend too much time in the hamper.
Since the mudroom is also out of the way but close enough to the common areas, it won't hinder activities in the home.

Bathroom – A laundry in the bathroom can be a great choice since the water hookups needed are already in place. Using a stackable washer and dryer unit can be a way to save on square footage for smaller bathroom layouts.
In the Garage – The garage is another spot ideal for a laundry room. Installing the washer and dryer will be easy and you won't have to worry about hiding them for aesthetics.
Whether your garage is finished or not, you can do your laundry in the garage if you lack the space and budget to create an entirely new room dedicated to it.
See more related content in our article about washer dryer in garage on this page.