Here we share several ways on how to put laundry in bathroom including some tips in converting laundry to bathroom, the best spot to put washer and dryer, and bathroom with laundry layout ideas.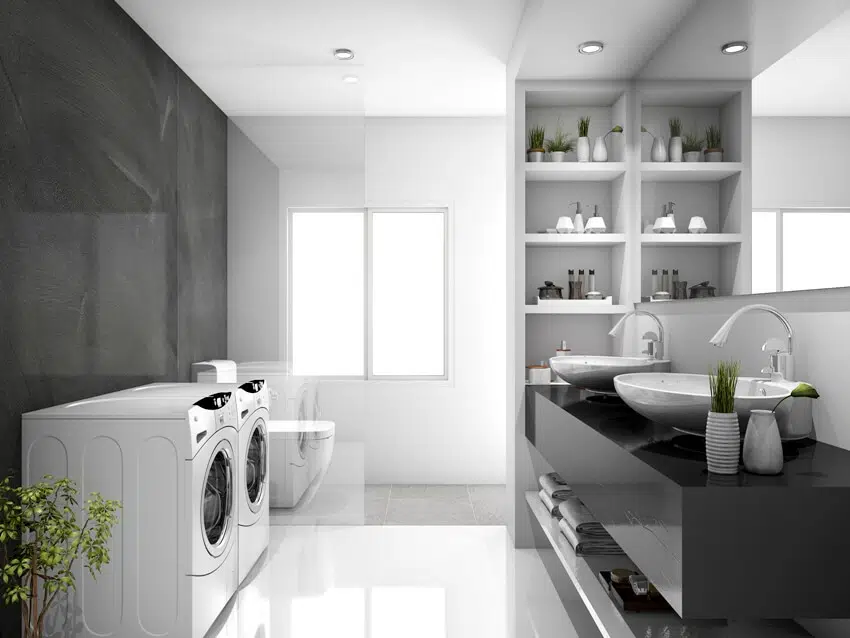 Most old houses have a separate bathroom and laundry area. The laundry area is in the basement or near the kitchen. Others have their laundry near the garage entrance and the bathroom has a toilet and shower.

Yet, houses that do not have a basement or a garage have to find space for their washer and dryer. One good option is the bathroom. Read more about basement laundry room ideas and washer dryer in garage ideas here.

Can I Put A Washer And Dryer In The Bathroom?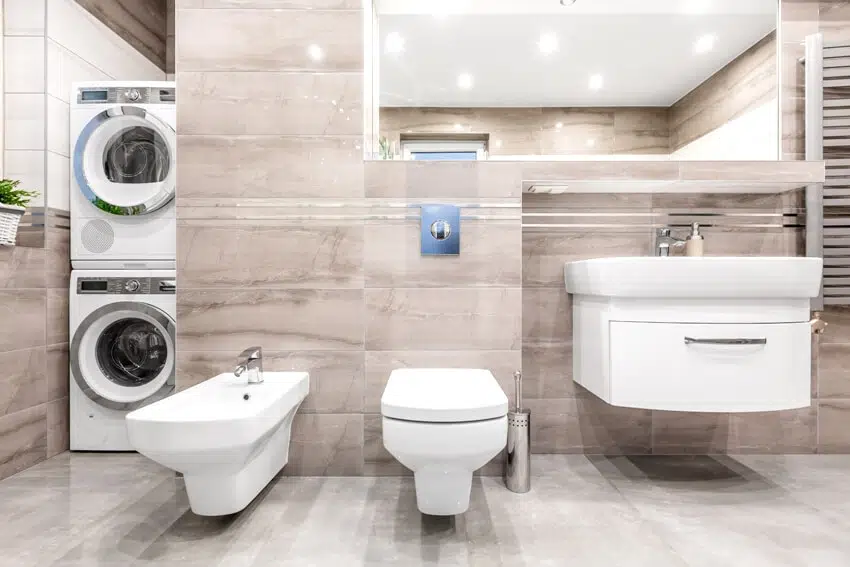 Resourceful people have found an extra use for the bathroom. They do not use it for personal hygiene only, but realized that they can use it for laundry as well.
However, is it safe to have my washer and dryer in the bathroom?
The answer is yes. Yet, there are things that you must do first to avoid some problems. Here are some ways to make sure that you can put your washer and dryer in the bathroom.
Check if the floor of the bathroom is water-resistant.
The flooring of the bathroom must be waterproof. A possible leak from the washer and dryer can damage the floor of the bathroom.
If the flooring is not water-resistant, install stone tiles first. This material would last long despite leaks.
Get the dimensions of the bathroom.
Make sure that there is space for the washer and dryer. There must be room for you to do your washing.
Check how to position your appliance.
If there is space, you can put them side by side. But, you can stack the dryer on top of the washer to save space.
Install the dryer ductwork.
If you have a gas dryer, install a gas line. Place a water line for your washing machine.
Try closing and opening the bathroom door.

Do this after placing the washer and dryer. If you cannot, remove other bathroom furniture.
Place a covering for the washer and dryer.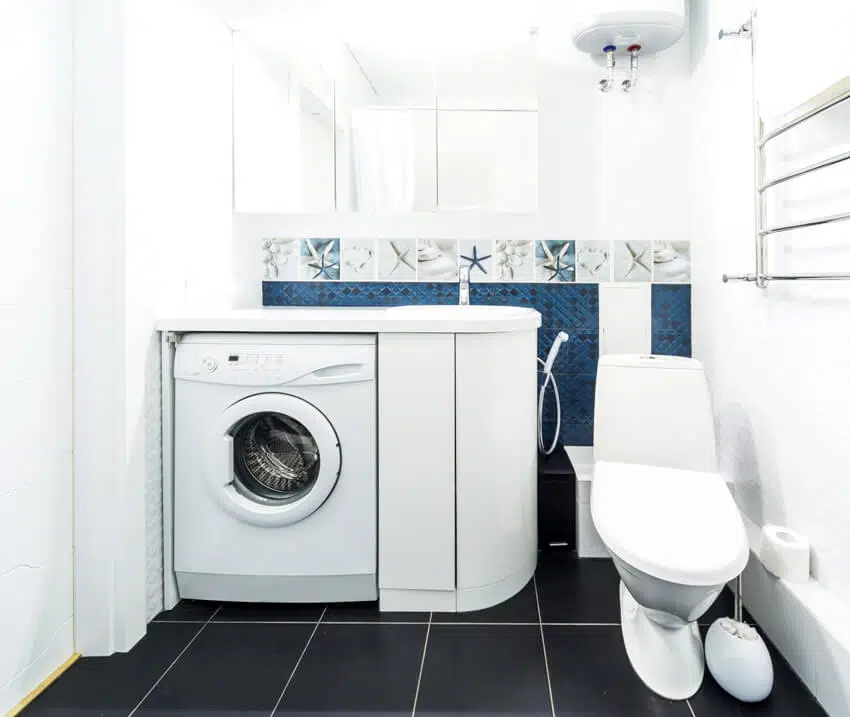 Use a piece of board. It can double as a space where you can fold clothes.
Be careful with water and electricity. They can be a dangerous combination. Here are some precautionary measures when you put your dryer and washer in the bathroom.
Place the sockets and outlets away from the washer.
They must not be wet. Cover them after using the washer and dryer.
The bathroom outlets must have ground fault circuit interrupters.
It shuts down electricity when something is wrong with your washer and dryer. It helps prevent accidents.
Give attention to exposed and frayed wirings of your washer and dryer. Repair them immediately.
Where Do You Put Washing Machines In The Bathroom?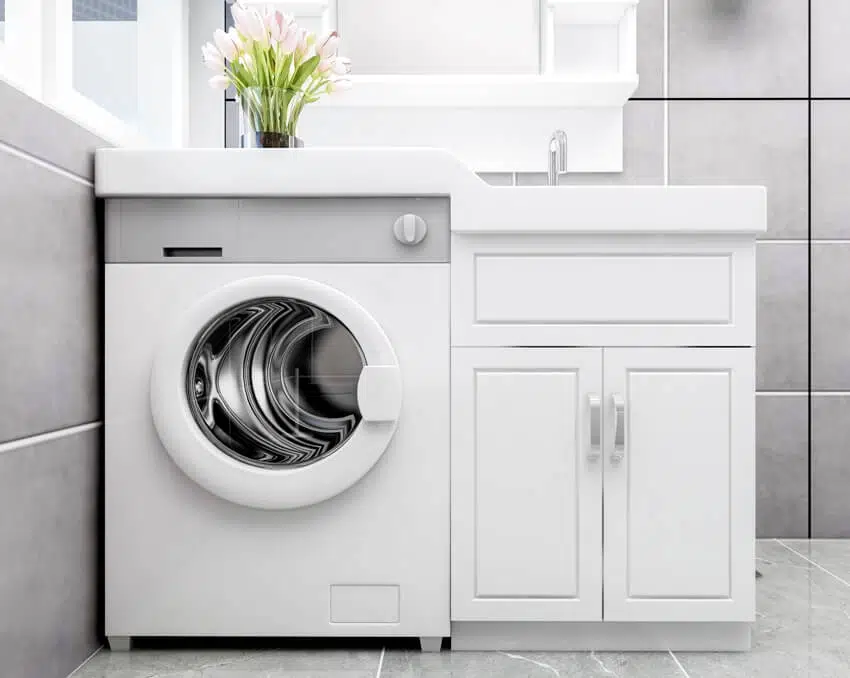 Where is the best place in the bathroom to put your washer and dryer? Here are the ideal places in the bathroom to place your cabinet.
Side-by-side
If you have space, you can place the washer and dryer side by side against a wall. Make sure that they are a distance away from the shower.
You do not want your appliances getting wet. Cover outlets and plugs for safety.
Below a hanging cabinet
Most bathrooms have hanging cabinets. They contain medicines, first aid kits, toiletries, and beauty products. Others store folded towels on hanging cabinets.
Place your washer and dryer below them. You can place them side-by-side or stack them.
Under the sink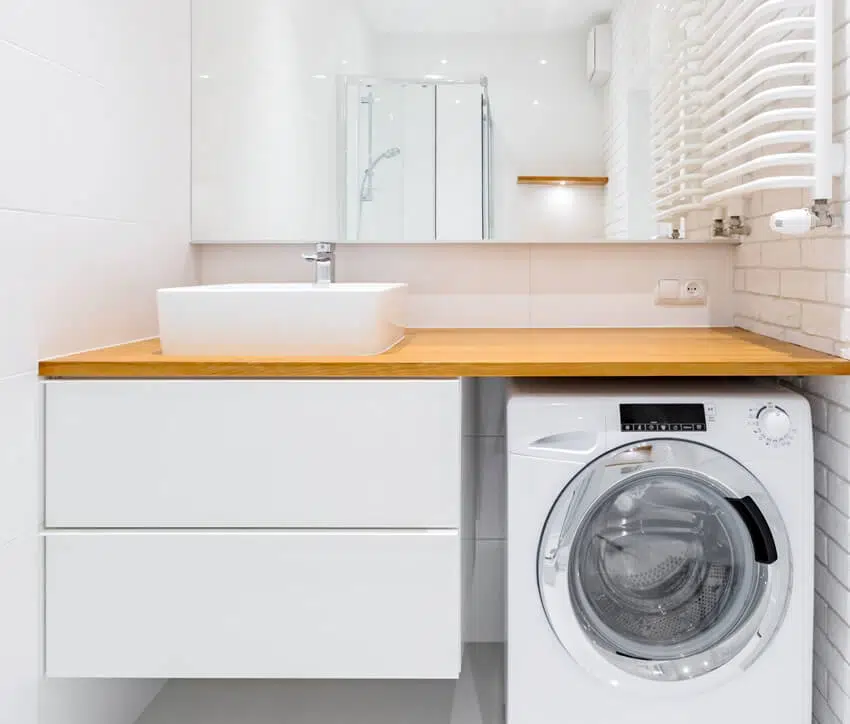 If the sink area is spacious, use the space under it for your front-loading washer and dryer. You can put your appliances below one side and a cabinet below another.
Under a bench
If your bathroom has a bench for folding clothes, place the appliances under it. You can sort out clothes and fold them on the bench.
On a corner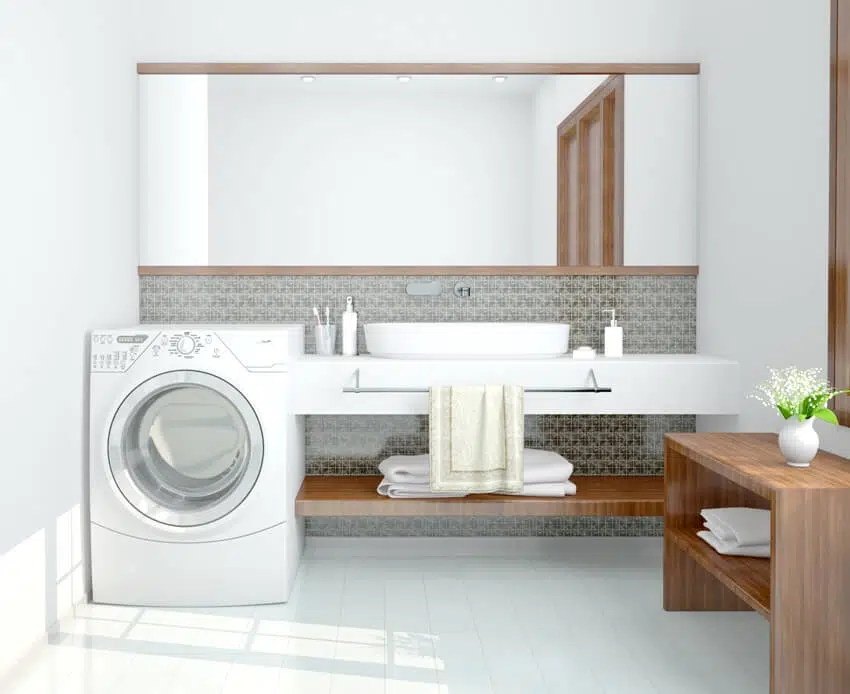 Bathroom corners are ideal places for a washer and dryer. If bathroom furniture stands on a corner, remove it. Place the washer and dryer in their place.
You can install cabinets above and beside your washer and dryer for more storage space.
Hidden behind a curtain or cabinet door

You do not want to display an old and mismatched washer and dryer. You can install a shower curtain on one side of the bathroom. Place the washer and dryer behind the curtain.
How To Convert Laundry Room To Bathroom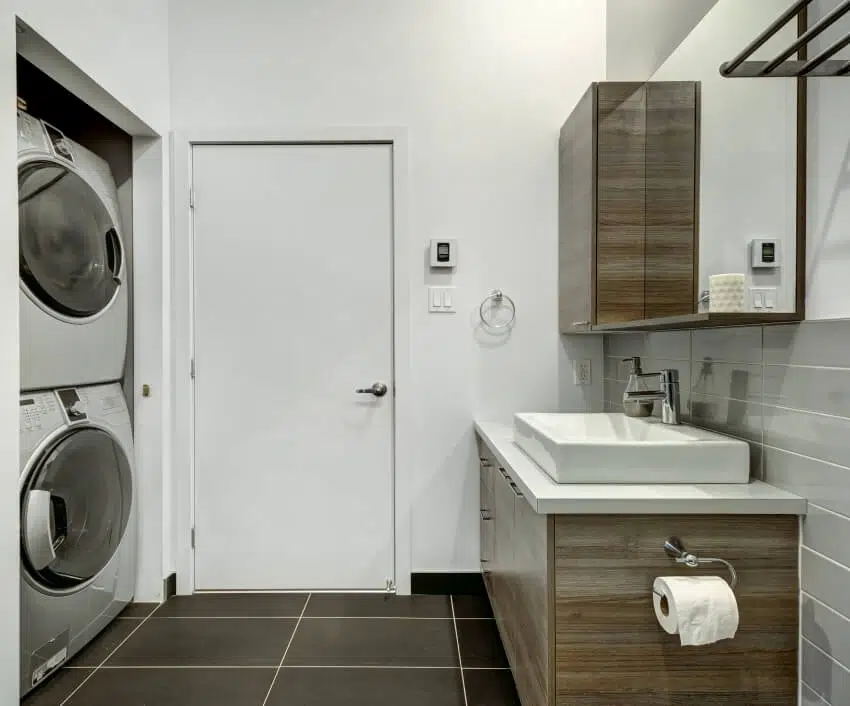 Do you want to add another bathroom to your home? Why not convert your laundry area into a bathroom?
You can place your washer and dryer in your new bathroom anyway. Adding another bathroom can add value to your house if you decide to sell in the future.
Here are things to consider when converting your laundry room to a bathroom:
DIY or Hire Professionals?
A good background in plumbing will allow you to convert the laundry room into a bathroom on your own. If you do not know anything about plumbing, hire a professional to do the work.
Make a plan for the bathroom before you start work. You need to do this even if you do it yourself or hire a professional.
Or show in your plan where you want the toilet, shower or tub, and sink. If you want to have a vanity cabinet, towel racks, and storage areas mark in your plan where you want them.
Plumbing
The laundry room has plumbing. Yet, you have to make some changes. You must have a hot and cold water source pipe and discharge pipe.
You must extend them for the sink, shower, and toilet. These fixtures also need discharge pipes. Hire a plumber and electrician for the task.
Waterproofing
You need to waterproof the walls behind the shower and the flooring as well. The materials you use will depend on the kind of flooring you have. See our guide to laundry room flooring here.
Other considerations
Install toilets near drains to the septic tanks. You only need cold water for toilet use. Put up drain lines and vent lines before adding supply lines.
Have more lighting. Hire an electrician to do the job.
Bathroom With Laundry Layouts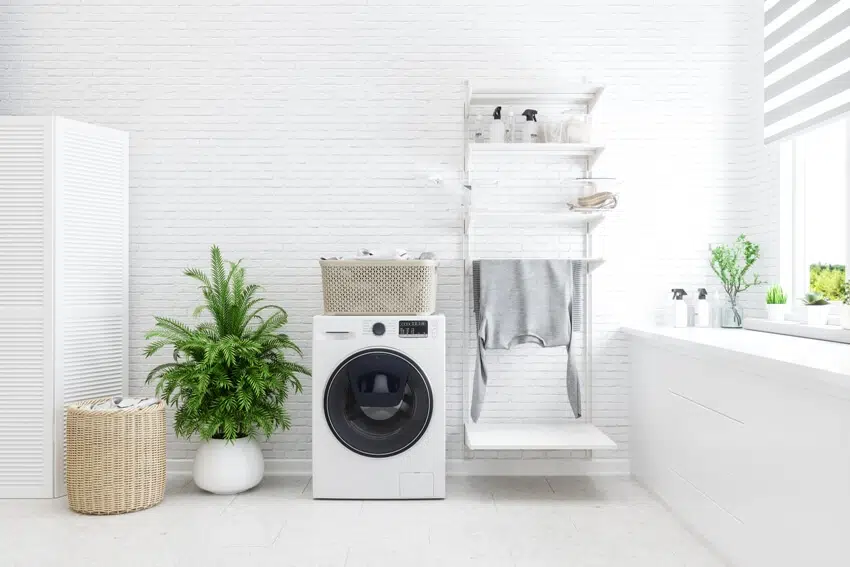 If you are planning to have a bathroom with laundry, here are some layouts to consider.
• For a bathroom with a small space, tuck in the laundry outside the shower.
• Place the laundry behind closed doors. You can also install a bench and place the laundry below it.
• Place the appliance under the sink and washer for a seamless look.
• Position your laundry below a hanging vanity cabinet.
Try integrating your washer and dryer with the bathroom and enjoy the convenience and save space.
For more related ideas visit our list of the best laundry room paint colors here.