Here we share steps on how to convert a laundry room to a bathroom including basic design steps, cost and tips when converting a laundry room to a bathroom.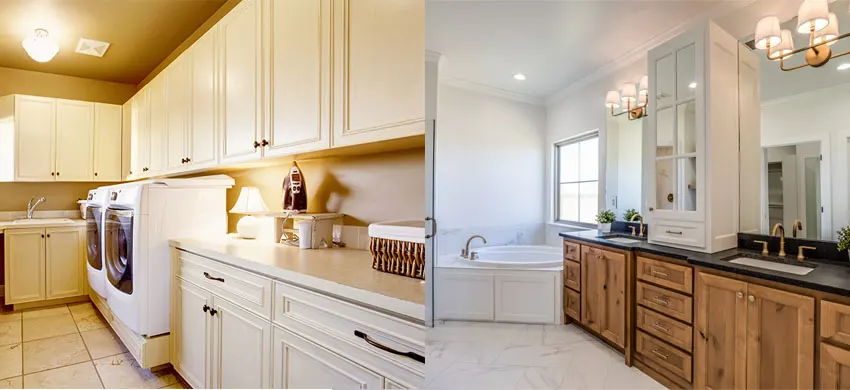 The possible options for renovation or space conversion are only bound by your creativity and construction standards. Converting a laundry room into a bathroom is a practical idea that can help you if you desire another bathroom but do not have anywhere to construct it.
Several homeowners might get discouraged by the extent of effort required to convert a laundry room into a bathroom. Nonetheless, you must handle a room conversion in the same way as you would a full renovation. To accomplish this vision, a great amount of time, budget, and preparation would be required.
We have prepared some useful details to assist you in deciding if a laundry room transformation is the best solution for you. But that is if you are eager to undertake the challenge.
We'll talk about how to convert your laundry room into a bathroom, how much it costs, and some important factors to consider.
How to Convert a Laundry Room to a Bathroom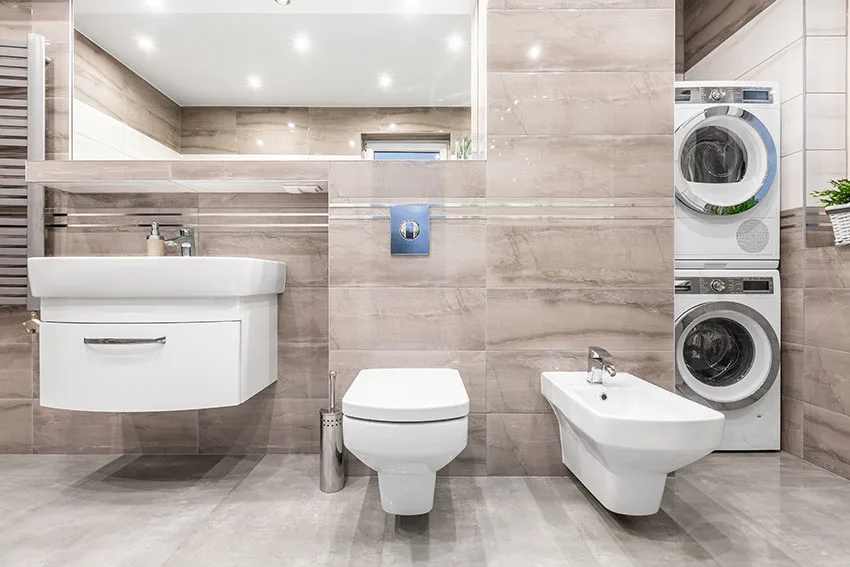 Here are several basic steps for converting a laundry room to a bathroom.
Replace or Remove Things to Maximize and Clear Out the Space
Simply eliminating some objects from the space prevents the need to buy completely new ones, saving money and time. Make sure to remove all the things in your laundry room that are not needed for a functional bathroom. In this way, you can maximize your bathroom space.
You can also invest in higher-quality things than you had previously because they will be on display more frequently once this conversion is finished. However, do not feel forced to make excessive modifications if it goes beyond your finances.
If you wish to construct new shelves and cabinets for a laundry-room-to-bathroom transition, you must know that this is not always necessary. This is because the majority of the objects needed in your bathroom already are available in your existing laundry room.
Install Some Lights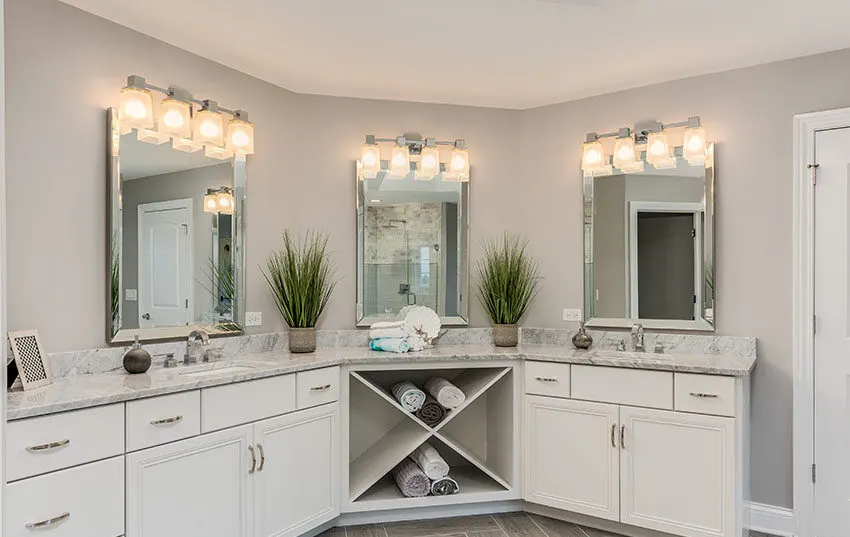 One of the most critical aspects to take into account when transitioning your laundry room into a bathroom is lighting. If you are going to remove all of your current light fixtures and therefore do not add extra lights, the illumination in the space will not be sufficient.
This would not be a problem though if you have other major bathrooms in your house. Meanwhile, if you intend to use this converted bathroom every day or use it with others who may not like the lack of lighting, you will need to add several lighting fixtures.
But, if your current laundry room already has enough light fixtures, then all you have to do is reposition them to ensure that the toilet, shower, and sink areas are all sufficiently illuminated.
Place Modern Block Windows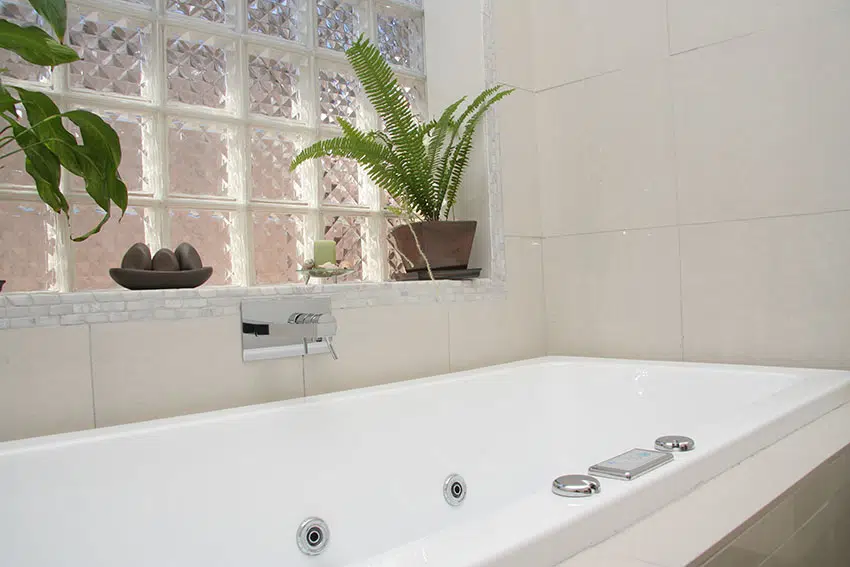 Think about putting in modern glass block windows instead of ordinary ones here to allow more light in and improve sight. Nonetheless, if your laundry room lacks a window and you prefer to ensure that the space receives adequate ventilation after this conversion, consider installing a compact exhaust fan. Do not fret as it is inexpensive and simple to install.
Apply Proper Ventilation
If your laundry room is currently located on an exterior wall within your home, then it should have an adequately sized window when converting that area into a bathroom. Homeowners are more likely to spend time in the bathroom than in the laundry room. Hence, sufficient ventilation is a must.
Mold becomes more of an issue in bathrooms owing to their wet environments, so you must account for more ventilation than it was before. Bathrooms, after all, are more prone to mold and algae growth than laundry rooms since they are in persistent contact with water.
Determine the Placement & Layout For Your Bathing Area, Sink, and Toilet
You will have to drill holes for additional water lines and drainage pipes; nevertheless, some of these features might currently operate in your laundry space. But if there are not enough water lines for the bathroom you are planning to build, then make sure to do this step.
Place your bathing area (whether you are using a bathtub or shower) in the most visible place so that it will be the first thing you see whenever you open the bathroom door.
Bathtubs are now regarded as both aesthetic and useful, so use the bath as a focal point. Alternatively, place the toilet in an unobtrusive location while considering water pipe management,'
When determining where to place your bathroom fixtures, the best advice is to consider how they will be utilized and in what arrangement. With this in mind, we would normally recommend placing the sink or vanity near the entrance, as it is frequently the last point in most bathroom practices.
The toilet and other fixtures can then be moved quite far into the bathroom. This not only gives you more isolation, but it also saves you from having to walk over puddles created by individuals getting out of the shower or bathtub.
Tips for Converting a Laundry Room to a Bathroom
The very first task in figuring out how to turn your laundry room into a bathroom is to redesign the space. Make a ground layout of the room and carefully think about where you will put your sink, toilet, and bathtub or shower. Go to our guide to bathroom layouts here.
Aside from that, consider your cabinet and storage area as well. Take into account if you'll install a huge vanity with shelves and cabinet space underneath your sink, or whether you'll install an over-the-commode wet bar.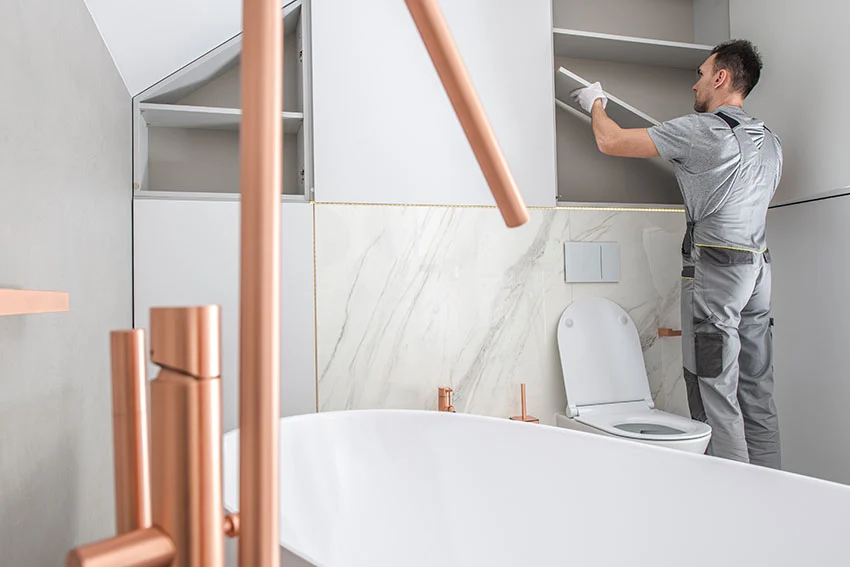 After planning the design of your bathroom, try to look for fixtures that will complement both the décor you're going for and the area allocated.
Take the dryer and washer out of the room. Employ the services of your plumber and electrician to make the necessary changes. Afterward, you may either hire contractors to place your fixtures or do it yourself.
In a bathroom, effective waterproofing is critical. According to professionals, you can install liquid or sheet barriers behind your shower sidewalls to guarantee that it is waterproof, specifically if it is a tiled installation.
Furthermore, if you are replacing the subfloor of your bathroom throughout your remodeling, you will have to thoroughly waterproof it – how you perform this will differ based on the type of floor you select, hence study the manufacturer's directions for the flooring you pick before you set it up.
Convert Laundry Room to Bathroom Cost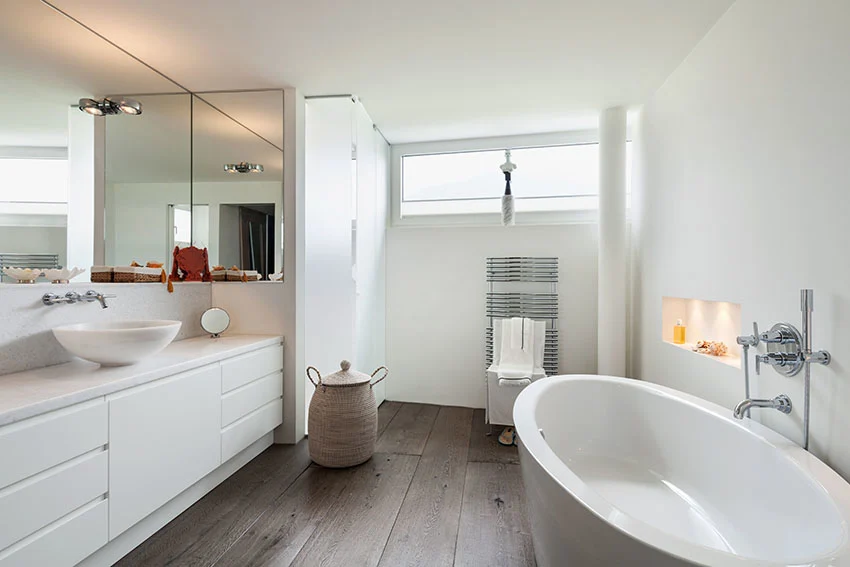 The cost of converting your laundry room to a bathroom is primarily determined by the amenities incorporated in your new bathroom. It might be approximately around $5,000 to $15,000.
A conventional bathroom will cost you roughly $5,000, and anything more exquisite with heated floors and fancy tiling will cost you close to or more than that.
Laundry to Bathroom Renovation Considerations
Separate outlets for washing machines and dryers are available in laundry rooms, but you will not need them in your new bathroom. It is recommended to speak with a qualified electrician about replacing these outlets with regular GFCI outlets in your bathroom.
Keep in mind that outlets and switches must be kept at a proper distance from your shower or bathtub.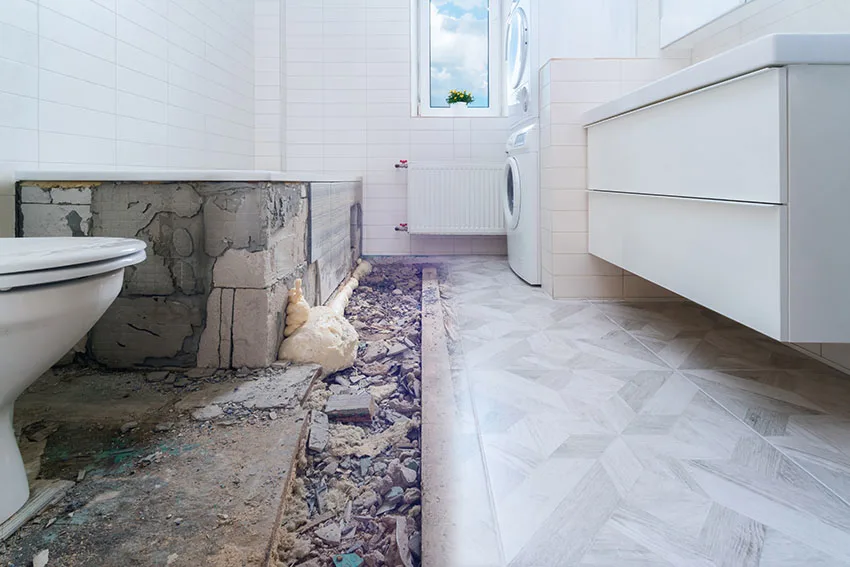 If you are converting a laundry room into a bathroom, you will need to update the plumbing. A hot and cold supply pipe, as well as a discharge pipe, would have been required for your previous washer.
These source pipes will be required in your new bathroom, but you will need to lengthen them to supply your sink, bathtub or shower, and toilet.
If you have enough experience in plumbing, you may be able to complete such activities on your own. Nevertheless, specifically, if you'll be changing the electrical configuration of the area, it is best to seek the advice of a licensed plumber before starting.
Your electrician and plumber can also tell you if you need a construction permit for your operation in your local municipality. If you do, make sure to plan everything out before you start your project.
See more related content in our article about bathroom remodel ideas here.