Here we share the different types of bathtubs including their standard dimensions, lifespan, and tips on choosing the best bathtub material for your bathroom.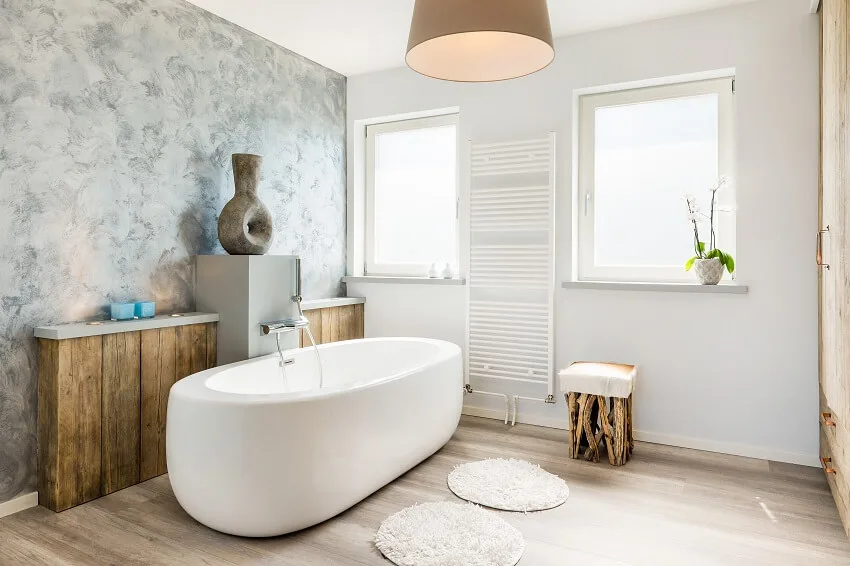 For countless homeowners, meditating while reading a book and having a pleasant bath is an unparalleled delight, particularly during the cold winter season. Bathtubs do more than just bathe us; they also relax us and provide unrivaled luxury.
Although most people prefer showers over fancy baths, including at least one bathroom with a good-sized bathtub is still desirable. This is specifically true if you have children. However, not every type of bathtub is suitable for every user or household.
In this article, we will discuss the different types of bathtubs and all the categories under them. Hence, you will find the right ones that will fit your bathroom design as well as your personal needs and preferences.
Freestanding Bathtubs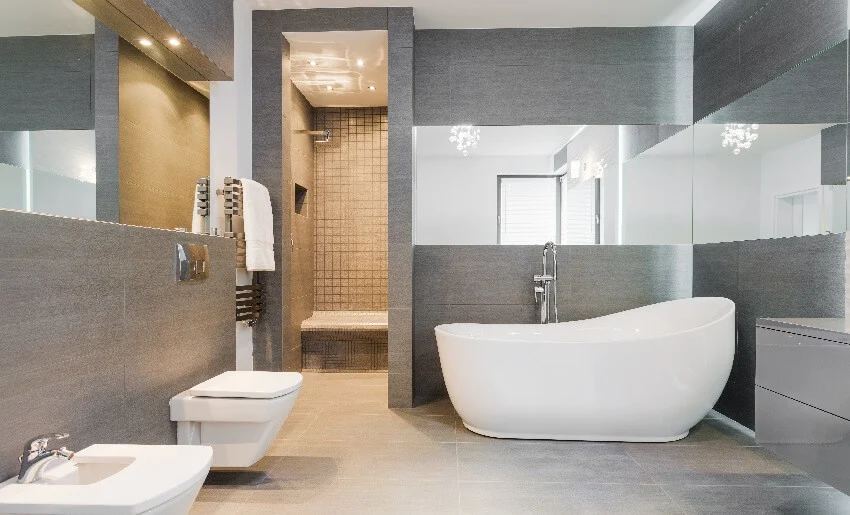 Excluding the floor, freestanding bathtubs are not attached to any walls or other surfaces. These bathtubs frequently contain the traditional clawfoot tub, but modern freestanding tubs are also available.
To handle the bathtub and the buffer area around it, freestanding bathtubs necessitate a large-sized bathroom. It is conceivable to place a freestanding bathtub in a three-sided alcove. However, this makes cleaning under and around the bathtub more difficult.
Freestanding tubs are generally more expensive than alcove and drop-in bathtubs. Hence, you will need a home befitting a tub. The uncovered plumbing is one of the drawbacks of freestanding tubs. You may buy customized plumbing pieces that highlight, instead of concealing, uncovered plumbing.
These are the various types of freestanding bathtubs:
Modern Tub With Solid Base
A freestanding modern bathtub with a solid base is available in a multitude of materials, ranging from composite elements like cast iron to more naturalistic and polished materials like stone resin.
Stone resin, a resin-based acrylic polymer compound, provides a lightweight yet extremely sturdy bathtub material that can be applied to any bathroom space, regardless of how tiny or large it is.
Modern tubs with solid bases provide a bathroom with a very extravagant and minimalist appearance. It takes less maintenance because the surface does not discolor or retain moisture. Scratches can be easily polished away, but cracks might be more difficult to repair.
The surface is highly resistant to mold and mildew growth, which is a significant attribute. Plus, the base is extremely stable. Read more about stone resin tubs here.

Slipper Style Tub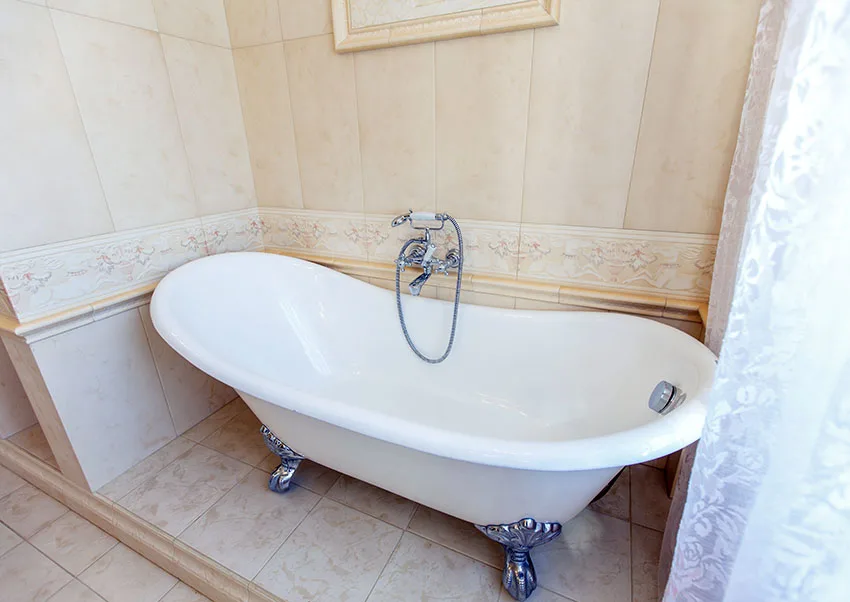 Slipper-style tubs are renowned for the comfy reclining angle you take the instant you sit down, rising at each end so you can lounge as you bathe. The border of the slipper-style tub can serve as an armrest contingent on its design and size.
The slipper tub's sloped structure was developed in the late nineteenth century throughout the Victorian period. The very first slipper bathtubs were composed of enamel-covered steel, porcelain, and copper.
These materials are quite weighty and hard to move. While cool to the touch at first, materials such as steel are excellent conductors of heat once warmed up.

Slipper-style bathtubs are now constructed from a range of materials, including cast iron and lightweight acrylic. These tubs are available in two configurations: single- and double-slipper.
Bathtubs with a single slipper design rise at one end, enabling you to extend and use the elevated side for lumbar support. The angle of elevation varies according to the layout and length of the bathtub. Single-slipper baths can either look ancient or distinctively modern.
Double-slipper bathtubs, on the other hand, are elevated at both sides, allowing you to rest on each side. These tubs could fit two people depending on their size.
Double-slipper tubs combine elegance and functionality, with eye-pleasing designs that are ideal for lounging and adding charm to your bathroom. These bathtubs are compatible with freestanding, wall-mount, and deck-mount faucets.
Clawfoot Tub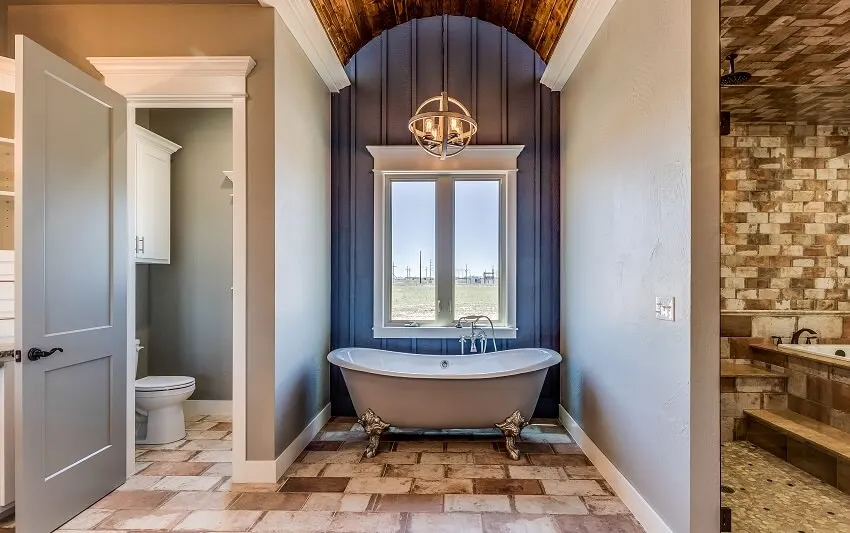 A clawfoot bathtub is exactly what the name implies – a freestanding bathtub supported by four feet. These bathtubs, however, are much more than just a bathtub with feet! These vintage tubs are timeless: they will never go out of fashion.
The tub is defined by an evident nostalgic appearance in every way. From the elaborate clawed feet to the beautiful sloped curvatures of the tub's deep and lofty walls. A clawfoot tub, just like a standard standalone tub, is best positioned with lots of open areas around it for ease of maintenance and accessibility.
A clawfoot tub is usually pretty large. Thus, you have to make sure that the tub you choose will fit through all doorways, passageways, and stairways into the bathroom.
Consider allowing at least 3 to 6 inches of space on every side. All bathtubs are weighty, but clawfoot tubs, particularly cast-iron variants, are extremely so.
Garden Tub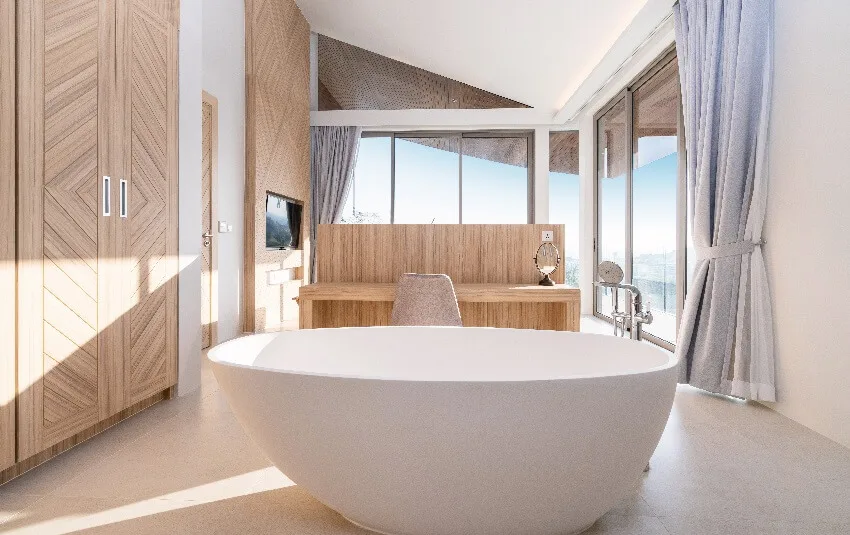 A garden tub is yet another type of freestanding bathtub, sometimes classified as a soaking tub or whirlpool bathtub. Garden bathtubs, on the other hand, are larger and deeper than conventional bathtubs. You can fully immerse your entire body in warm water in garden tubs because they have greater room and water levels.
Homeowners can also buy garden bathtubs with different types of shower heads. These jetted bathtubs pump the water to keep it warm and can provide a soothing and therapeutic sensation for profound relaxation.
A garden-style warm bathtub has all of the features of a normal tub, including a center drain, faucet, spout, and detachable shower kit.
You may even get customized hardware to match the look of your bathroom décor. The key distinction between a garden bathtub and a standard corner bathtub is its placement in the bathroom layout, as well as its greater depth and width.
Drop-In Tub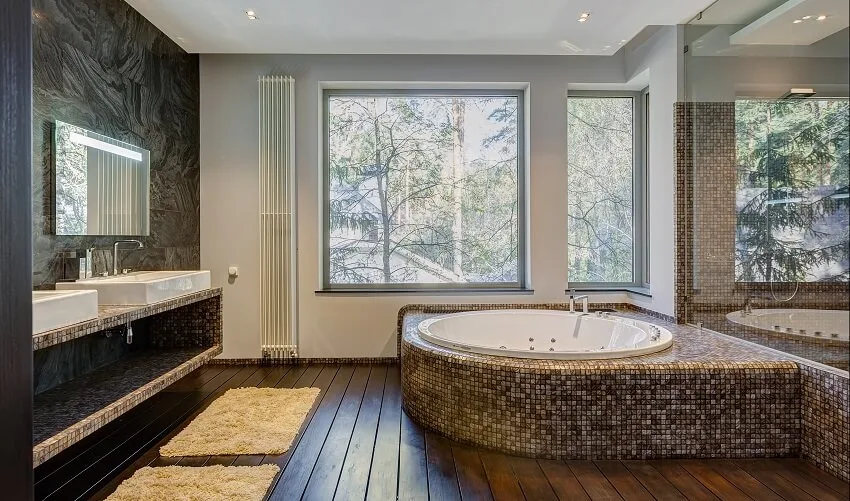 A drop-in bathtub is a structure that is designed to fit into a pre-constructed deck. The interior of this bathtub is finished, but the exterior is still not as it is embedded under the deck. This one-of-a-kind bathtub necessitates the construction of a deck or peninsula that protrudes into the room by a contractor.
Afterward, the bathtub is placed in the framework. Drop-in bathtubs have their rim. Such bathtubs can be situated in an alcove, but they are most commonly found in a more open space. As a result, drop-ins typically demand more floor area than alcoves and are more expensive.
Drop-in bathtubs provide a more finished and long-lasting aspect to your bathroom. The bathtub's tiled sides give additional storage space for soap, shampoo containers, scented candles, or publications.
Standard Built-In Tub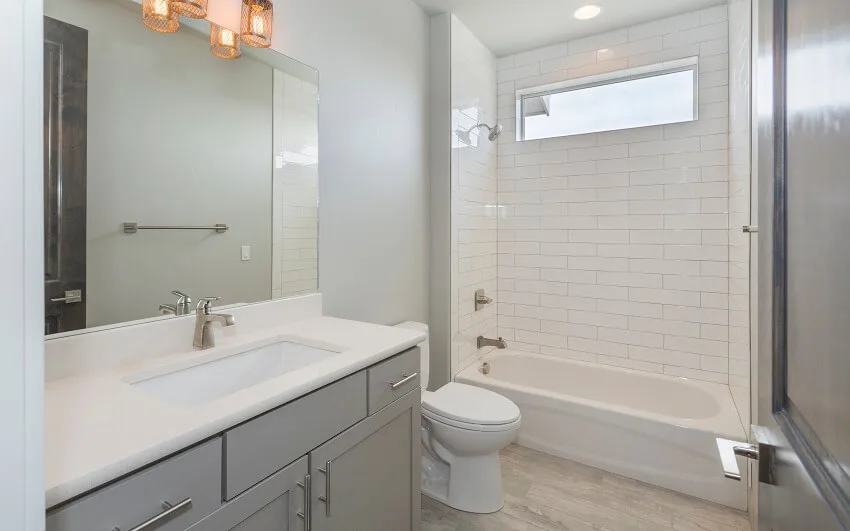 A standard built-in tub is normally finished on the upper section and unfinished on at least two sides. The sides are fitted against walls or inside a pre-built bathtub shell. The finished built-in tub's layout is determined by the construction of the bathroom area it must integrate into, which is typically a corner or an alcove.
Since standard built-in tubs have more regulated plumbing specifications, they could be more inexpensive. The only factor that can increase the cost of a built-in tub is the type of finish you select. If space is limited, a built-in tub would be the best choice as most bathrooms are engineered to fit this type of bathtub.
Built-in tubs are simpler to wipe and clean since they have straight lines and no deep areas for debris to accumulate. It also has a large deck where you may store bathing supplies, toiletries, and spare towels.
Step Up Drop-In Tub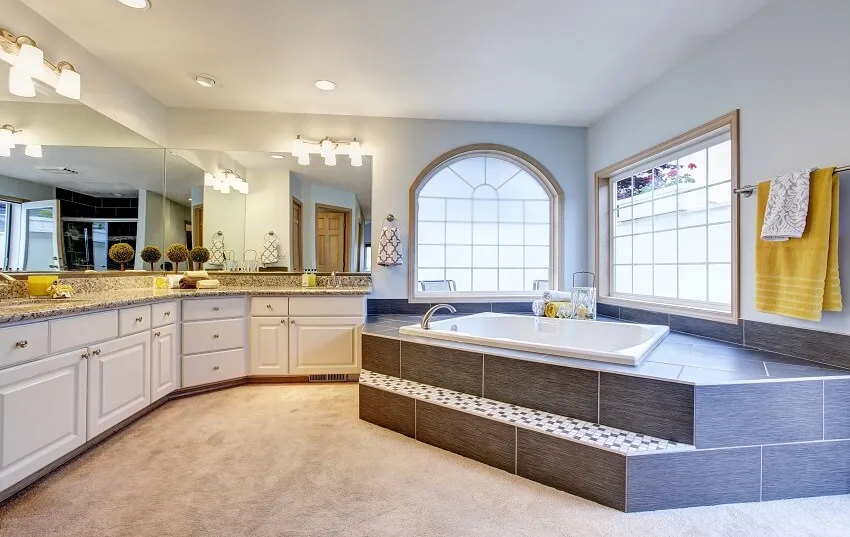 A step-up drop-in tub's sides are installed against walls or within a pre-built bathtub enclosure. The only difference between a step-up drop-in bathtub and a standard bathtub is that it features a one-step stair that you must first ascend before hopping into the tub.
The incorporation of the stair is beneficial for storing your bathroom slippers and other things that you need while bathing.
Undermount Tub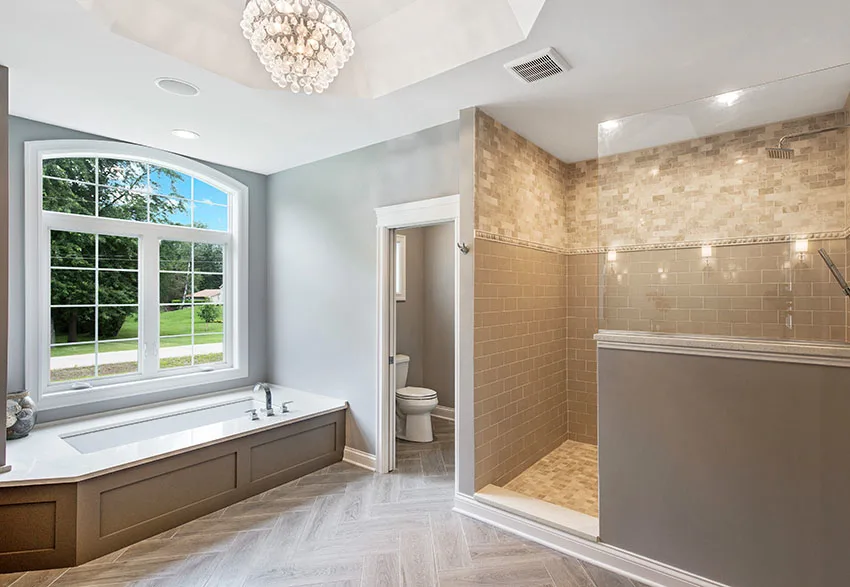 Undermount tub designs are similar to platform and drop-in bathtub types. The distinction is that its rim is flat and covered, as opposed to the drop-in style tub's rim style.
Tile and stone are common materials used to conceal the rim of undermount bathtubs. The bathtub is built into the flooring structure and sits on top of a supporting deck.
An undermount tub can be used as a drop-in tub, however, a drop-in tub cannot always be used as an undermount.
Undermount tubs are distinguished by the presence of feet or a level basin that settles on the floor. The basin is the only visible element of the tub. Undermount tubs are popular because of their sleek appearance.
Alcove Tubs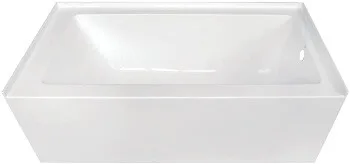 See this alcove tub at Amazon [sponsored link]
An alcove bathtub is not so much of a type of bathtub as it is the construction approach for which it is employed. The name pertains to the bathtub being mounted into a recessed section in your bathroom.
This implies that they are frequently fitted with three linking walls or a pocket alcove in your bathroom, along with some contemporary designs only having two interior walls or a huge window to eliminate the restricted condition of this installation process.
The addition of a shower curtain or sliding door is extremely common since this installation process creates an open space that does not give much seclusion.
However, the alcove tub design is an efficient bathtub type that merges beauty with practicality. This type of bathtub is frequently designed with versatility in mind, with a shower head located at the upper end.
The alcove tub design is popular in numerous homes nowadays since it is ideal for compact spaces, smaller residences, and apartments.
There are two kinds of alcove tubs. The following difference, however, is not a technical variation. Their difference is due to the size and complexity of the alcove. There are two types of alcove bathtubs: simple alcove tubs and intricate luxury alcove tubs.
Tub and Shower Combo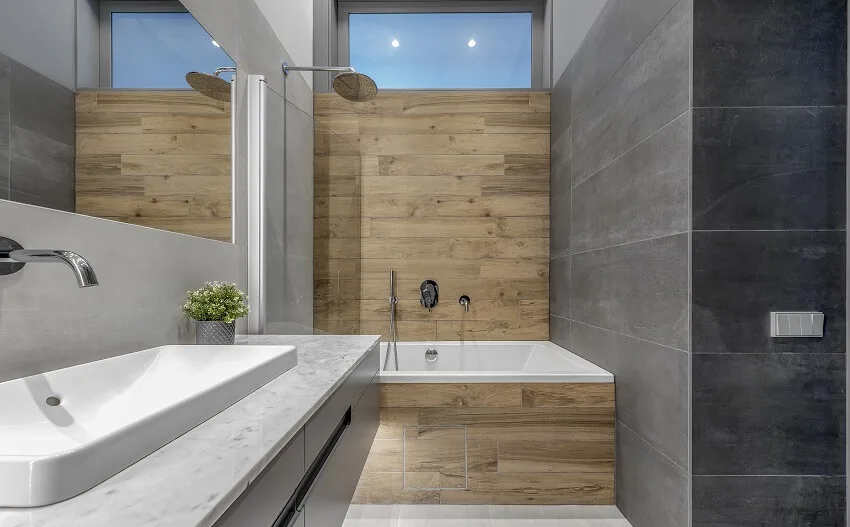 A space-saving tub-shower combo is indeed a great option. These 2-in-1 units maximize your limited space by combining the advantages of a shower and a bathtub in a compressed design, which is especially beneficial in a child or guests' bathroom.
If you do not have the space or budget for an individual bathtub and a shower, this hybrid model would be a good alternative for increasing the market value of your house because it accommodates residents who desire either solution. Tub and shower combos are supplied as prefabricated systems or as customized layouts.
Prefabricated units, which are often built of fiberglass or acrylic, generally cost from extremely affordable to expensive, with options such as tile-look walls, fashionable colors, and with shelves. Even though prefabricated units have fewer design ideas, you can customize the unit with the fittings you want.
A sliding door is normally mounted on a rail along the border of the bathtub, which could necessitate the assistance of a specialist.
Customizable tub-shower units are available in any size, design, or material, as well as with distinctive fittings and functionalities. A bathtub in this configuration is often covered with some kind of deck, covered with a shower surround, and incorporates plumbing connections.
Corner Bathtub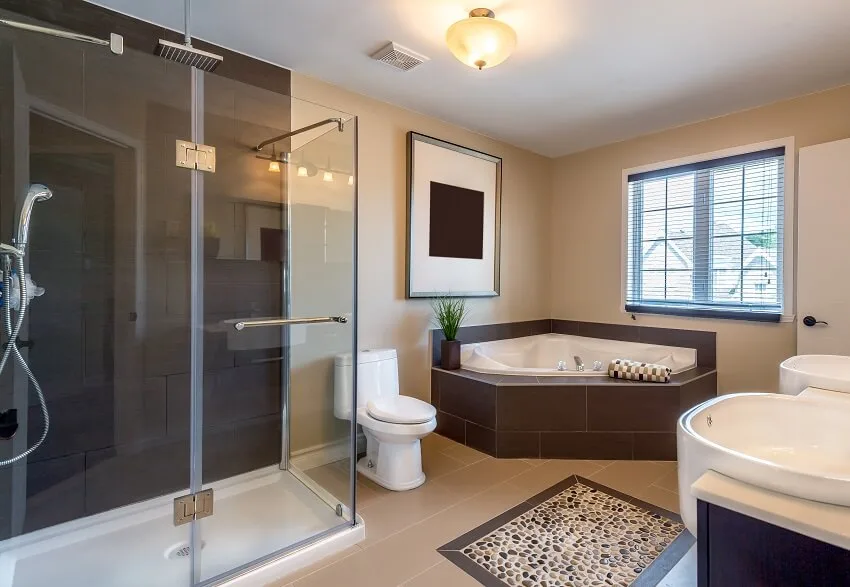 A corner tub is another type of bathtub that is designed to nestle into a corner. Corner bathtubs are typically three or five-sided, but they are obtainable in a variety of designs, dimensions, and layouts.
Corner tubs, which are highly valued for their adaptability, make the most of their great spot within a bathroom for optimal efficiency.
A corner bathtub can be built on an elevated platform or in a triangle shape. Because of the interconnectedness of corner space, this type of bathtub requires simply two walls.
Walk-In Tub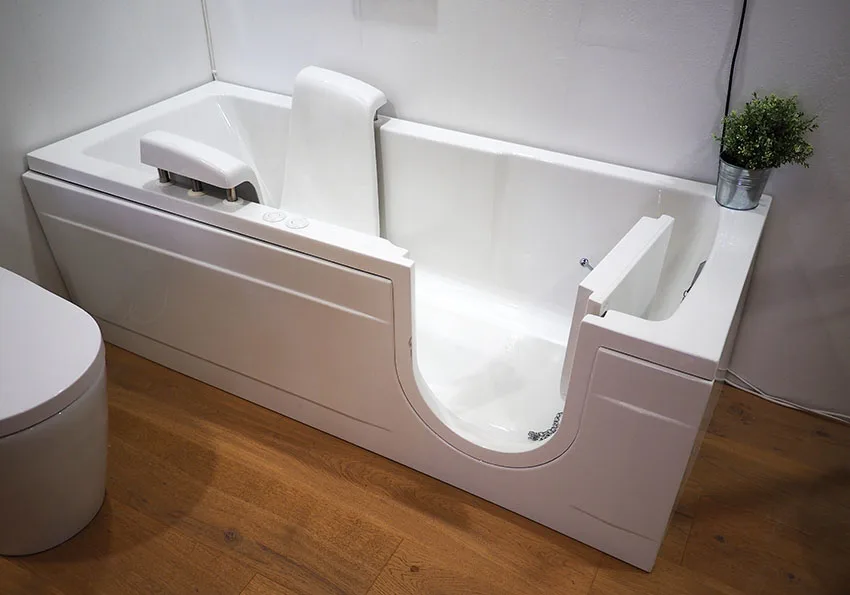 A walk-in tub is a type of tub with a waterproof door that enables you to step into the bathtub over a lower threshold to enhance safety while bathing. The door closes, the tub gets loaded with water, and the occupant walks out safely after emptying the tub.
Although numerous versions are taller than they are wide, there are a variety of types and combinations obtainable to accommodate the needs of virtually every user and housing scenario.
For instance, walk-in tubs are available for quick movement from a wheelchair to the bathtub seat; commonly referred to as slide-through tubs. In this variation, practically the whole front of the bathtub opens to provide the required width.
Walk-in tubs have a greater water depth than standard tubs since you will not be needing to step over a high wall. A regular bathtub normally has a depth of 13 to 14 inches, whereas walk-in tubs can have a depth of approximately 30 to 40 inches for a luxurious immersing experience while safely seated.
Some walk-in tub designs include numerous amenities in a single bathtub. Instead of buying add-on handrails, anti-scald controls, and non-slip carpeting, a walk-in tub includes all of these elements and more in one unit. This can minimize the amount of work needed in your bathroom for renovation as well as the time needed to accomplish the adjustments.
Jacuzzi Tub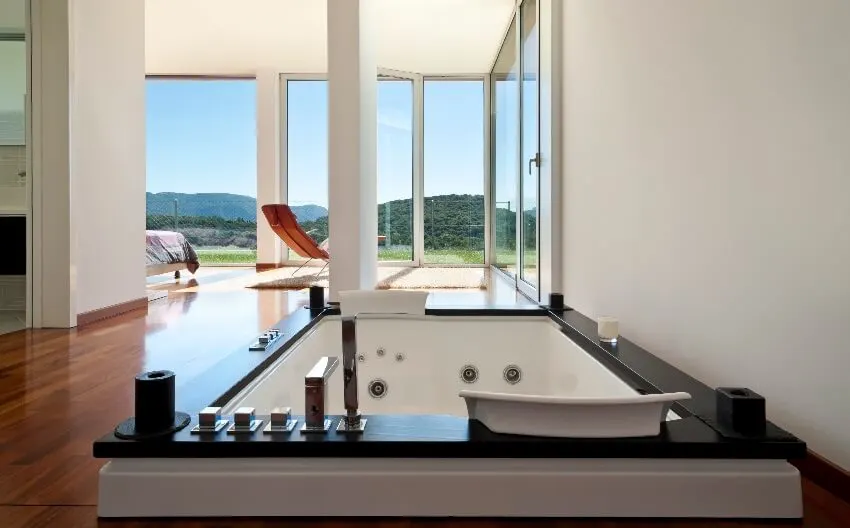 A jacuzzi tub is a huge hot tub filled with water that is used for hydrotherapy, relaxation, or personal satisfaction. Some even have intense jets for massaging. Hot tubs are also referred to as "spas," or by the trademark called Jacuzzi.
A jacuzzi tub, unlike a standard bathtub, is intended to be employed by more than one individual at a moment. There are even a lot of models supporting four or more individuals. Jacuzzis are commonly found at high-end resorts and spas.
Aside from that, you can get a jacuzzi tub for your own residence if you want to relax right away. Depending on the dimensions of your jacuzzi, you can place it in your bathroom, or more commonly, in your backyard.
Jacuzzi is a well-known brand that invented the world's first embedded jet whirlpool bathtub. More than ten years later, the company built enormous, indoor jetted bathtubs that can fit many individuals.
Those struggling from arthritis and joint discomfort are not the only ones who adore jacuzzi tubs. It is safe to assume that everyone enjoys a relaxing dip in a classic Jacuzzi jetted tub.
Japanese Style Tub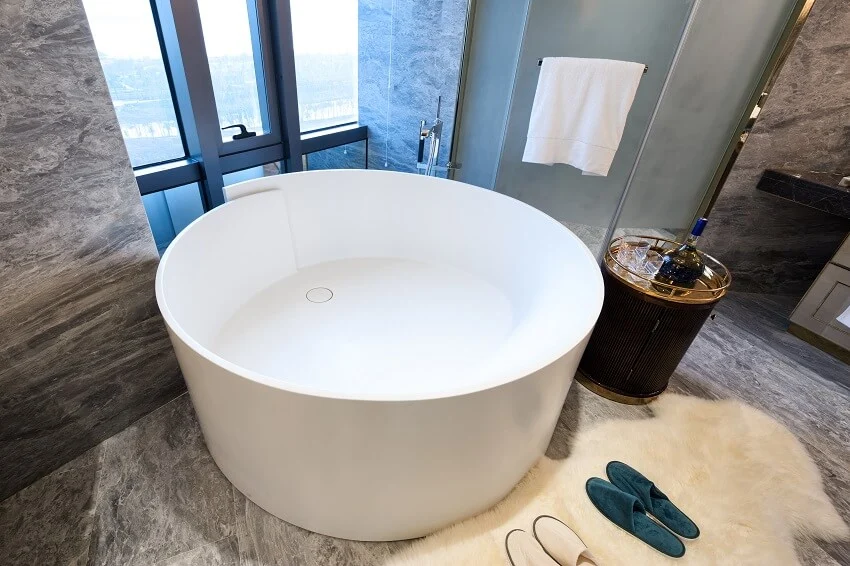 Traditional Japanese-style bathtubs are ideal if you are looking for an immersing tub with a distinct charm. Because of their distinguishing aesthetic, compact footprint, and therapeutic characteristics, these bathtubs are becoming increasingly trendy in modern bathrooms.
Japanese soaking bathtubs are perfect for small bathrooms. They will also consume less water than a similarly sized regular bathtub.
The Japanese-style bathtub is not a new thing. This type of bathtub has been utilized for generations in Japan as an interior extension of soaking in the country's many thermal baths.
This bathtub style has always been important in Japanese culture for cleansing and purifying both the body and the spirit, and this practice is progressively gaining popularity in the Western.
These Japanese-style tubs feature built-in seats. They are much deeper than a standard American-style bathtub as it is about 27 inches in depth. Hence, you can sit straight and the water rises to your chin, indicating that it is a genuinely deep immersing tub. Hinoki wood is usually used to make these bathtubs.
Such deep immersing bathtubs can also be constructed of various materials, such as acrylic, fiberglass, stainless steel, and copper. These bathtubs are available in an inset, undermount, recessed, or freestanding configurations. You will be able to access the bathtub comfortably thanks to the steps leading up to the top.
Since faucets can be put anywhere, plumbing doesn't need to be moved for setup. Several manufacturers include jets for a more soothing bath. In contrast, some include integrated heaters that consistently increase the temperature of the water, allowing you to soak for as long as you like without the water getting cold.
Types Of Bathtub Materials
Bathtubs are available in a wide range of styles. Fiberglass, acrylic, and ceramic are examples of low-cost materials. These materials are rather porous, absorbing moisture, leading to extra maintenance and cleaning for you.
On the other hand, materials such as stone resin, cast iron, and copper are significantly stronger and non-porous. They also have the enhanced advantage of having consistent heat retention, which adds to the delight of your bathing.
Here are the descriptions of the most popular bathtub materials:
Porcelain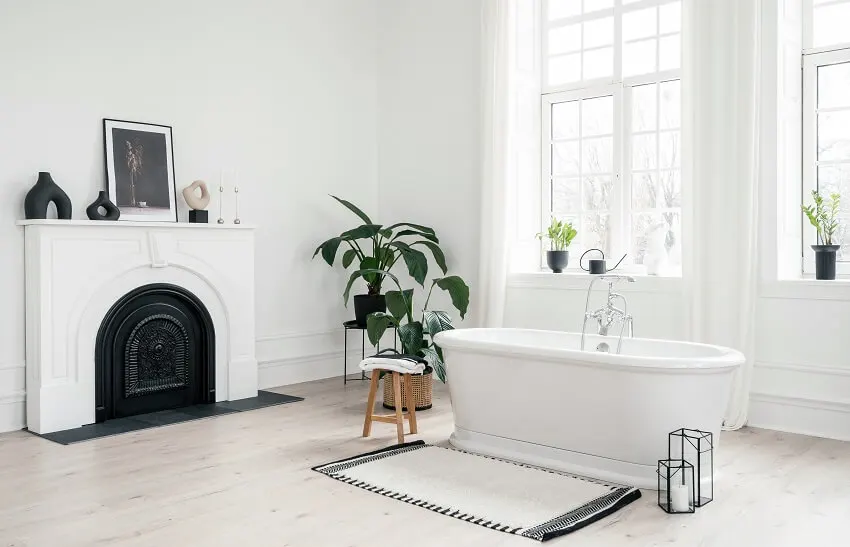 Porcelain tubs are generally formed of cast iron or pressed steel, which is subsequently covered with a layer of porcelain enamel—a compound created by combining crushed glass to a flat surface by heating it at extremely hot temperatures, generally around 750 °C to 850°C until it melts and solidifies into a durable covering.
Porcelain bathtubs have a very wonderful gloss and appearance, and their surfaces are quite smooth, giving them an ancient and elegant look.
The coating on porcelain bathtubs is naturally scratch-resistant, and cleaning is quite simple. A basic detergent or baking soda with heated water can normally remove any difficult-to-remove stains in a porcelain bathtub.
However, porcelain bathtubs are rather slippery due to their gloss and luster, and their surfaces might be a stumbling danger. Porcelain also does not retain warmth that efficiently, resulting in less heat retention in your bathwater.
Longevity can also be a challenging subject. While porcelain is resistant to scratches, it cannot withstand any forceful impacts.
Fiberglass
Fiberglass is a type of strengthened plastic that is produced into layers and then shaped into the design of a bathtub before being covered with a layer of gel-coat resin. Fiberglass bathtubs are ideal for individuals on a restricted budget because they are quite inexpensive.
They are also quick to move around your house, particularly your bathroom. Aside from that, you can easily install it due to the lightweight properties of the material used. Plus, any damages can be readily fixed.
On the contrary, fiberglass is also one of the most fragile materials available. Because it is porous, it contains moisture frequently and is prone to cracking.
The color and texture might also degrade with time as a result of the use of standard cleaning products. Moreover, this material also has a tendency to bend when not taken care of properly, causing it to distort and feel wobbly.
Acrylic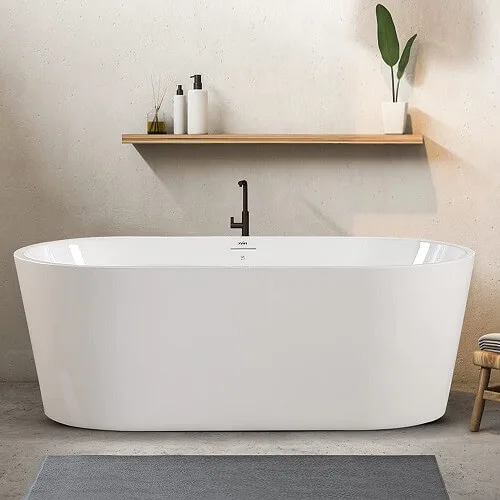 See this acrylic bathtub at Amazon [sponsored link]
Acrylic collects a solid layer of compounded materials including petrochemical products, stabilizers, resins, fillers, and proper color. Afterward, they will be heated and molded into the structure of a bathtub, which is then supported with fiberglass.
Furthermore, unlike regular fiberglass, acrylic is a non-porous substance that will not retain any excess water. Furthermore, it will preserve heat from the temperature of your water while repelling mildew and common bathroom grime.
Unfortunately, like fiberglass, acrylic tubs will bend over time, making them less solid to stand on. Furthermore, the finish can be susceptible to scratching, but not to the extent of fiberglass.
Plus, this bathtub material can be a costly option. Check out our acrylic vs fiberglass tub comparison guide for more related information.
Ceramic
Ceramic tubs are made by bringing together a big amount of ceramic tiles, which are simply clay that has been fired to hot temperatures until it solidifies.
Since it is incredibly simple to shape and position in your bathroom, this material has by far the largest choices for bathtub size, shape, and general appearance. It is also affordably priced.
Nonetheless, you must constantly maintain and change the grout that holds the tiles in position, otherwise, it will degrade and shatter over time. Furthermore, because of the composition of ceramic, in particular, your bathtub will feel unbalanced and 'wavy,' making it difficult to sit in or lie in.
Cast Iron
Molten iron is deposited straightforwardly into a bathtub molding in a cast iron bathtub before being smoothed out and finished with an enamel coating. Cast iron tubs are among the most durable and long-lasting tub materials on the market.
Due to the durability of the material utilized, it is indeed extremely resistant to scratches and cracking, requiring less attention in maintenance as well.
When it comes to cleaning, the majority, if not all, mold may be removed with just hot water and sodium bicarbonate (baking soda). Furthermore, cast iron bathtubs have strong heat retention, which means your bathtub will stay warm for longer.
On the other hand, keep in mind that weight is always associated with durability. Cast iron tubs are extremely heavy, possibly the heaviest bathtubs on the market today.
As a result, extra precautions must be taken for your home and the support system surrounding the bathtub before placement. Given the materials used and the additional labor required to support the area encompassing it, you are also dealing with a substantial price tag.
Stone Resin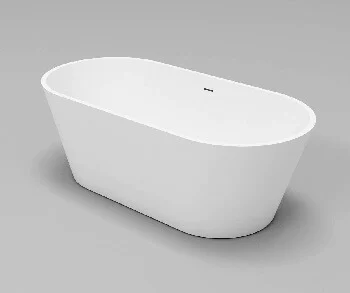 See this stone resin bathtub at Amazon [sponsored link]
Stone resin is simply a material intended to simulate natural stone's appearance. Its color does not degrade with frequent water exposure, as with most resins.
The material is non-porous as well, which means it will not absorb moisture. Instead, it efficiently maintains water heat. Stone resin has extended longevity, surviving for quite a long time without the need for frequent repair, and when it does need to be thrown, rest assured it is completely recyclable.
In addition, store resin is generally regarded as a more sophisticated bathtub material, not to mention that the substance itself is highly robust and capable of withstanding a great deal of usage. Maintenance is also quick and easy. Considering the price and quality, stone resin is arguably the ideal bathtub material overall.
Although it is more costly than acrylic or fiberglass, the stone resin can survive the wear and tear and will prevent you from a lot of trouble in the long run.
Cultured Marble
Cultured marble, which evokes the attractiveness of the ancient Roman material, is manufactured from crushed limestone and resin and coated with a layer of gel coating.
Like most marble, it maintains heat efficiently while preserving a simple, natural appearance. It also exists in a broad range of shapes, sizes, and colors, even though it is not totally scratch-resistant, the finish can be easily repaired with vehicle wax or other silica-based solutions.
Cultured marble is extremely heavy, and because of this, it is also costly. Cleaning is often a bit of a concern because cultured marble necessitates a lot of care and upkeep.
After each usage, you should clean your cultured marble bathtub with a combination of soap and refined vinegar while it is still moist. If proper maintenance is not performed, you might expect severe discoloration and mold growth over time.
Copper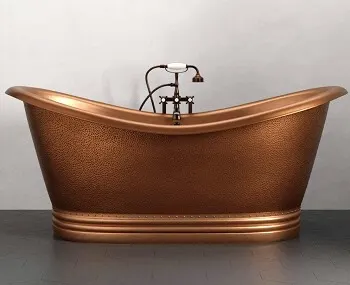 See this stone resin bathtub at Amazon [sponsored link]
Copper-made bathtubs are created by pounding several sheets of pure copper into the structure of a bathtub. It is slightly comparable to a cast iron bathtub, but with a more inviting appearance. A copper bathtub is both visually stunning and durable, as it is inherently impervious to scratches and other cracking that may develop.
Furthermore, for people who hate cleaning or upkeep, maintaining a copper bathtub is relatively easy and does not necessitate the use of any abrasive household cleaners. The majority of the advantages of a copper tub are artistic in nature.
This bathtub material, like cast iron, is also quite weighty. It is also more uncommon or difficult to find than most, making it one of the most expensive bathtubs on the marketplace.
Wood
A wood bathtub is typically a custom-built bathtub constructed from various types of wood. It exudes an artistically attractive aura with a genuine, earthy vibe to it.
In addition, because wood is easy to work with, wooden bathtubs may be any form or size depending on your preferences and do bring an impression of elegance to your bathing experience.
Nevertheless, if the wood is regularly in contact with water, it simply means that your bathtub would not last as long as practically all the other bathtubs on the marketplace.
Furthermore, certain considerations, like space and frame, must be created in your house to support a wooden bathtub. The cost of wood bathtubs is also a major reason why they are not popular.
Aside from the costly price of this bathtub, frequent care is required to preserve its longevity. Overuse will eventually wear off the resistant sealant, hastening the decaying phase, whereas underuse will dry out the wood, expediting the decomposing process. Ultimately, owning a wooden bathtub would be a burden.
What Bathtub Material Is The Easiest To Clean?
Acrylic bathtubs are the easiest to clean. Acrylic would be your best friend if you prefer a bathtub that looks completely fresh, prevents stains, and does not require deep cleaning tasks.
Acrylic bathtubs are the simplest to clean compared to other bathtub materials.
Because of its non-porous, stain-resistant exterior, acrylic bathtubs are uncomplicated to maintain. This structure makes cleanup with a non-abrasive cleaner a breeze—all you need to perform is wipe down the bathtub (no scouring required) to keep its shine, richness, and factory condition.
How Do I Choose Bathtub Material?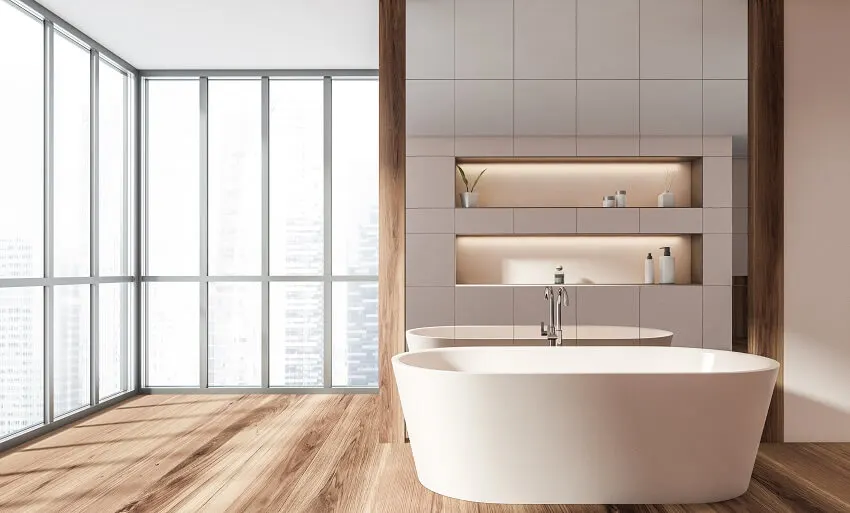 The following are the factors you have to consider when choosing a bathtub material:
Retention of Heat – Several bathtub materials retain heat more effectively than others. If you prefer long, hot baths, heat retention could be essential to consider and recognize.
Resistance to Cracks, Stains, and Scratches – Certain bathtub materials can be resistant to one type of damage while being susceptible to another.
Porcelain-enameled steel bathtubs, for instance, fracture quickly but withstand stains and scratches excellently. Even though acrylic bathtubs are resistant to rusting and cracking, you might be unable to use multicolored shower gels or soaps since the surface stains rapidly.
Weight of the Material – The simplicity and construction cost will be influenced by the weight of the bathtub. Generally speaking, the lighter the materials, the easier and less expensive the installation. Certain bathtubs, such as cast iron tubs, are so weighty that the floor might have to be reinforced.
Bathtub Installation – The mass and versatility of the material used in your bathtub will affect how simple it is to install. In fact, the more difficult it is to install your bathtub, the higher the installation cost.
Bathtub Cleaning and Maintenance – All bathtubs need frequent maintenance, but certain materials are more demanding than others in terms of the equipment and chemicals used.
Bathtub Material Cost – Consider your acquisition's initial and long-term expenses. How much would it take to keep your bathtub in good condition? When will you have to renew it?
Do not forget to consider the fees not included in the original cost, including installation or strengthening your flooring if the bathtub is too weighty.
What Is The Best Material For A Bathtub?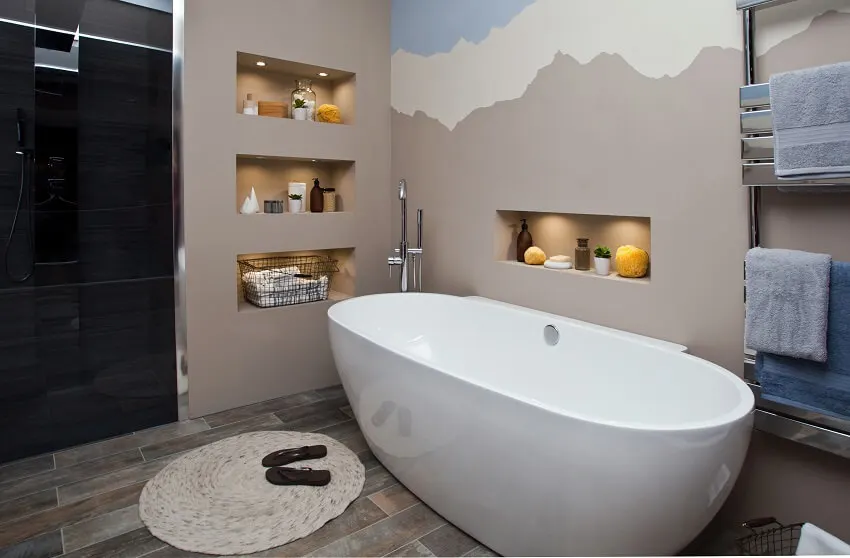 Stone resin is widely regarded as the best material for a bathtub. Its hue does not fade when exposed to water very frequently.
The material is also non-porous, which implies it does not retain moisture. Rather, it properly preserves the heat of the water. Stone resin has a prolonged lifespan, remaining for a long period without the necessity for periodic repair.
The material itself is extremely durable and can resist a considerable amount of wear and tear. Maintenance is simple and inexpensive as well. When it comes to pricing and quality, stone resin is potentially the best bathtub material.
What Are The Standard Bathtub Dimensions?
Bathtubs come in a variety of styles. Standard, freestanding, therapeutic, and walk-in tubs are among them. Conventional bathtubs come in two sizes: 60" in length and 30″ in width and 60″ in length by 32″ in width. Standard bathtub depths range from 15″ to 18″.
Long and soaking baths can be 72″ in length and 20″ to 24″ in depth. This depth is also common in freestanding bathtubs, notably claw-footed bathtubs.
Walk-in tubs are typically sized comparable to conventional bathtubs, making them ideal for remodeling projects. These are typically 30″ to 36″ in depth, with a seat constructed into one edge of the bathtub to fit people with particular requirements. Read more about bathtub dimensions size guide here.
What Size Of Bathtub Should I Get?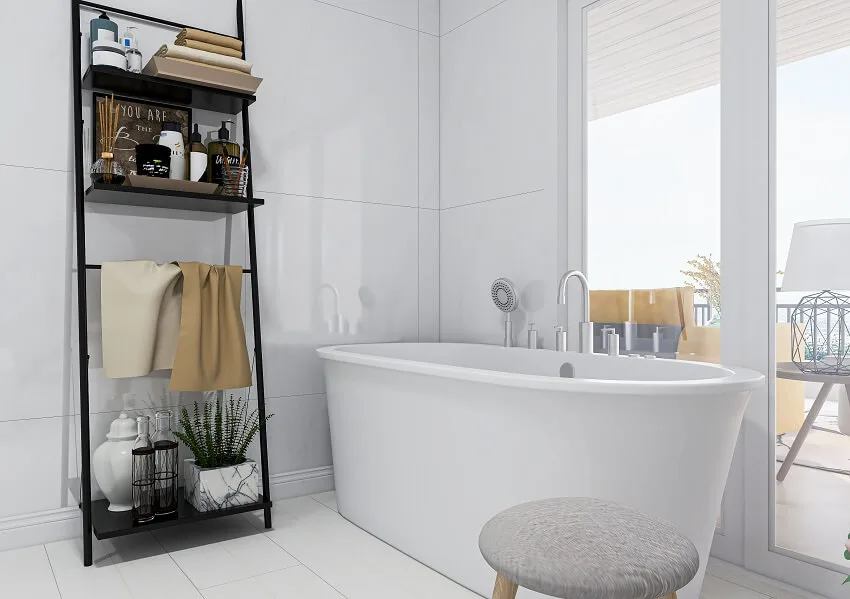 The optimal bathtub size is 60-inch long, 32-inch wide, and 18-inch deep. The bathrooms in the majority of residences are ideally sized to accommodate a standard bathtub, specifically alcove type, which is 60 inches long, 32 inches wide, and 18 inches deep.
This is the most ideal size of a bathtub, and it is generally recommended in most bathrooms. However, if you have household members that are more than average in size and height, you are free to go beyond these bathtub sizes.
How Long Do Bathtubs Last?
This is a broad question with many different responses. The material of the bathtub determines it and how effectively it was constructed. At 100 years old, vintage bathtubs can be found in ancient homes in excellent condition.
The majority of these are enameled cast iron or porcelain. Contemporary fiberglass and acrylic bathtubs do not last as long as heavier steel and porcelain bathtubs.
It is more likely for a bathtub's plumbing systems to break before the main basin degrades. This includes the drain, valve, stopper, and jets if you have a jacuzzi tub. Verify the warranty while buying a new bathtub. This will give you an idea of how long the manufacturer believes the tub will last.
Can Bathtubs Be Repaired?
Repairs can be performed on a range of bathtub types. Most porcelain bathtubs and those made of cultured marble, acrylic, and fiberglass fall into this category.
Fittings might undergo damage during the shipment and assembly processes. You can chip or break it by unintentionally dropping a pointy or weighty item into the bathtub or on the edge.
If you are unwilling to return the bathtub or the warranty has ended, a fixture in usable quality can be fixed without sending it back to the manufacturer. Minor chips and dents are frequently repairable, making replacing the entire bathtub more cost-effective than replacing it.
Bathtub repairs can be completed by a qualified professional with the materials and skills to smooth and correctly fix the problem.
They will properly add a moisture barrier that will integrate with the remainder of the surface area so that the repair is not visible. Optionally, you can buy a replacement or patch kit as a do-it-yourself task.
Can Bathtubs Be Repainted?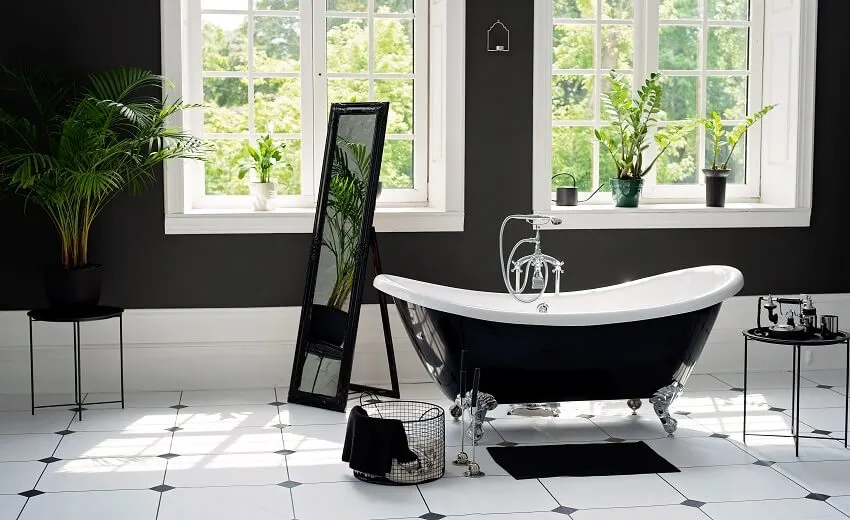 A specialized kit designated for bathtubs and tiles can be used to repaint the finish and color of a ceramic, porcelain, or acrylic bathtub. However, when your bathtub will be regularly exposed to hot water, standard inside paint selections would crack and peel.
What Type Of Paint To Use On Bathtub
It is strongly advised to use epoxy-type paint because it is extremely durable, heat-resistant, and moisture-resistant. In addition, epoxy paint has the benefit of drying quickly and once dried making the tub surfaces much easier to clean.

A bathtub painting set will normally comprise an epoxy-based system that, when cured, will have excellent adhesion and incredible longevity. A one-quart package would be sufficient to cover the entire bathtub.
Can Bathtubs Be Reglazed?
A bathtub, in general, cannot be reglazed because glazing is a procedure that necessitates firing clay, a component in porcelain, to an extremely hot temperature in a kiln. Porcelain bathtub styles, on the other hand, can be resurfaced with a high-gloss substance that looks and feels exactly like the original glaze.
Cleaning the bathtub surface completely with a professionally formulated two-step cleanser to eliminate soapy residue, mineral deposits, and grease is a widely known bathtub reglazing procedure.
Following that, all cracks and chips are fixed. A bonding agent is used, accompanied by a durable finish coat, which is usually acrylic. This can be a low-cost approach to refurbishing an old bathtub.
Visit our guide on how to choose a bathtub for more related content.