Here we share a variety of toilet tank decor ideas such as adding shelves, artwork, plants decorations, and tips on how to decorate the top of your toilet tank.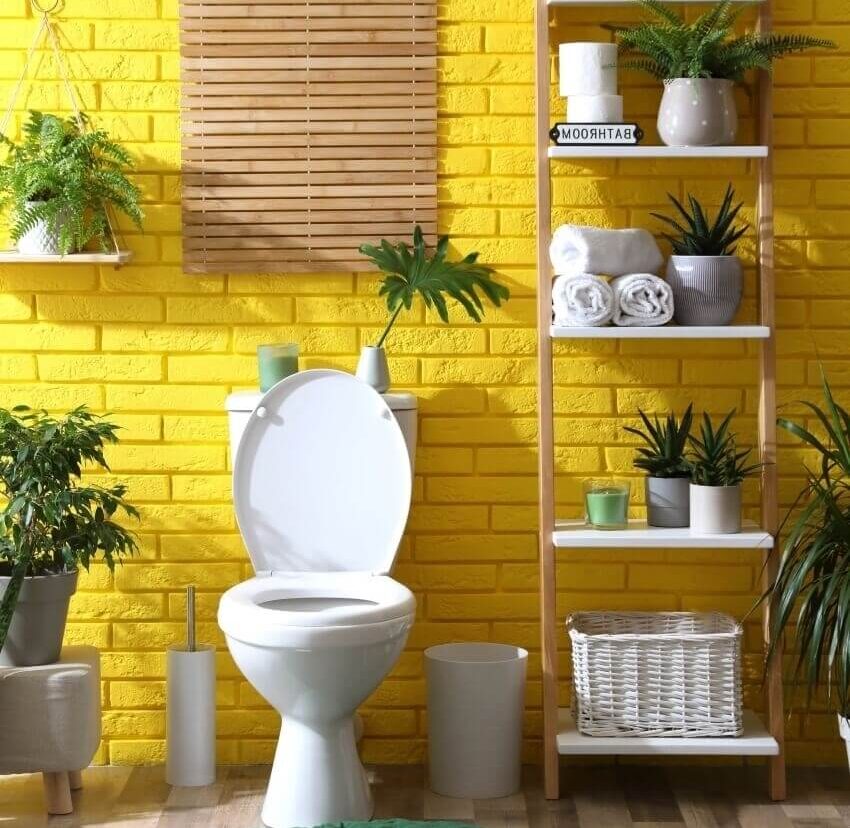 The toilet is a private area you need to be comfortable in but it doesn't mean that you can't make it an inviting space. While the toilet tank seems to be all about its functional capacity, there are many things you can do to spruce it up.
The trick is to make the most out of the space in the toilet and fill it up with decorating elements. And the space you can deal with includes the toilet tank itself, its top, and the wall and space above the toilet.
Decorating A Toilet Tank Top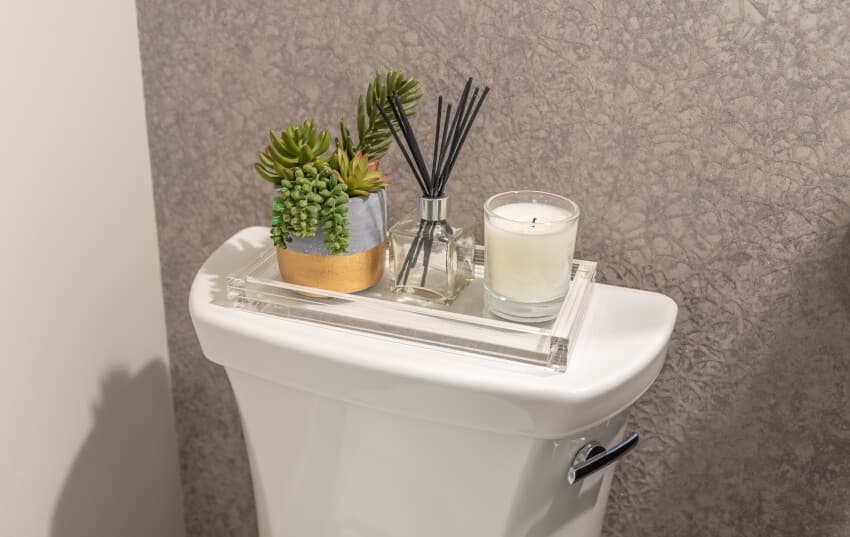 When decorating your toilet tank top, there are many creative avenues you can transform it into more than just a comfortable personal space. You will need to choose one that will not only add value to your bathroom but also improve either the toilet's functionality or aesthetics.
Shelving And Additional Storage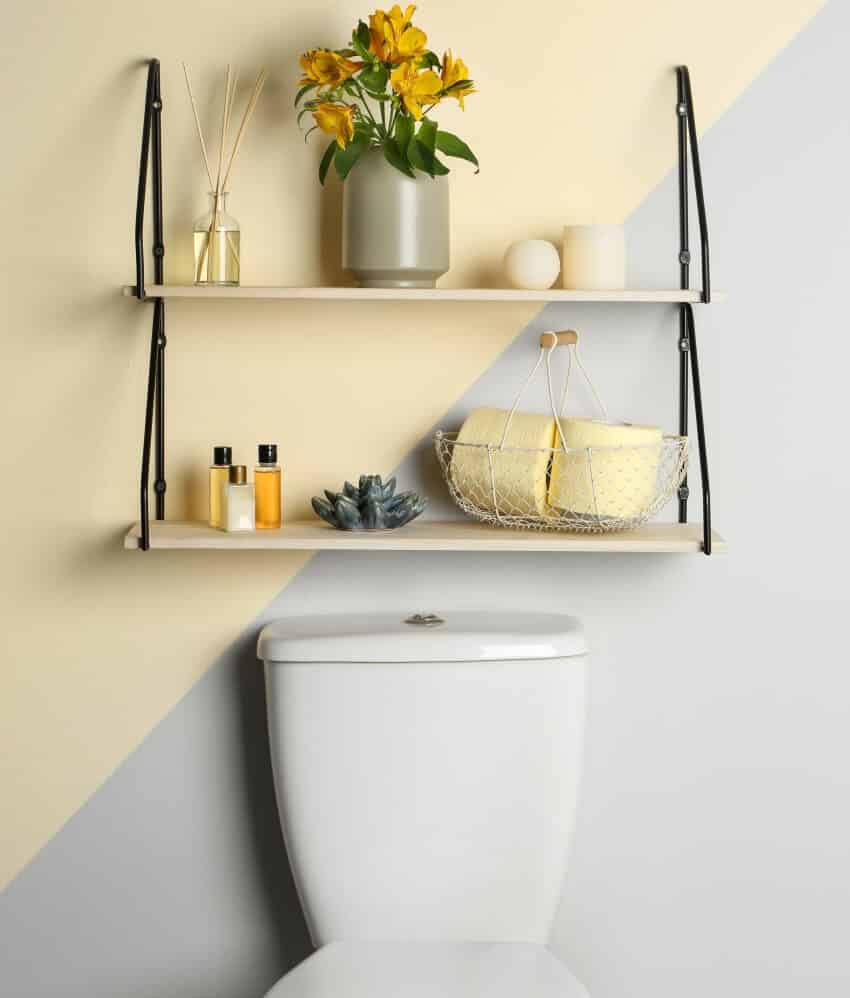 Whether you have a small bathroom or a luxuriously spacious one, storage is an important addition you can never disregard. The top of the tank can easily serve as additional storage since most bathrooms are lacking in this aspect.
The best thing about this is that you can stretch your creativity to turn this additional storage into additional aesthetics too.
Here are some of the ideas you can consider for storage.
• Over-the-toilet Tank Shelf
• Flowery Utility Storage Box
• Stained Wooden Tray
• Leaning Shelf and Organizer
• Baskets Above the Toilet (Wicker, Wire, and Wooden Baskets)
• Towel Rods Above the Toilet
• Metal Frame and Shelf
Artwork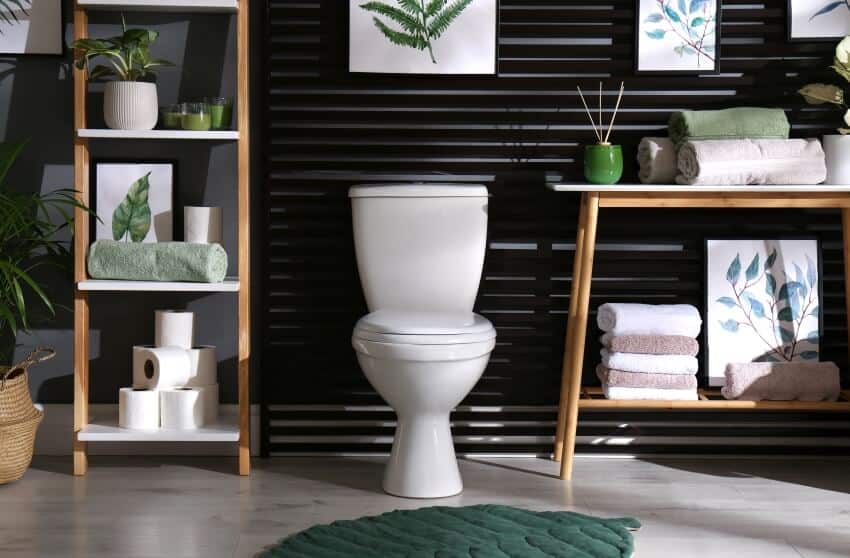 You can polish your bathroom with artwork and display it above your toilet. The artwork will bring color to your bathroom and add texture and personality to it. And no, you don't have to buy an expensive painting for this.
Here are some options you can display above your toilet:
• Holiday Decor (Change your decor based on the coming holiday!)
• Creative Decor (Greenery, Seasonal Flowers, Pebbles, Sunset Scene, etc.)
• Old Comic Book Strip
• Stunning Wall Mural
• Wall Treatments (Wallpaper, Wainscoting, or Tile)
Lush Plants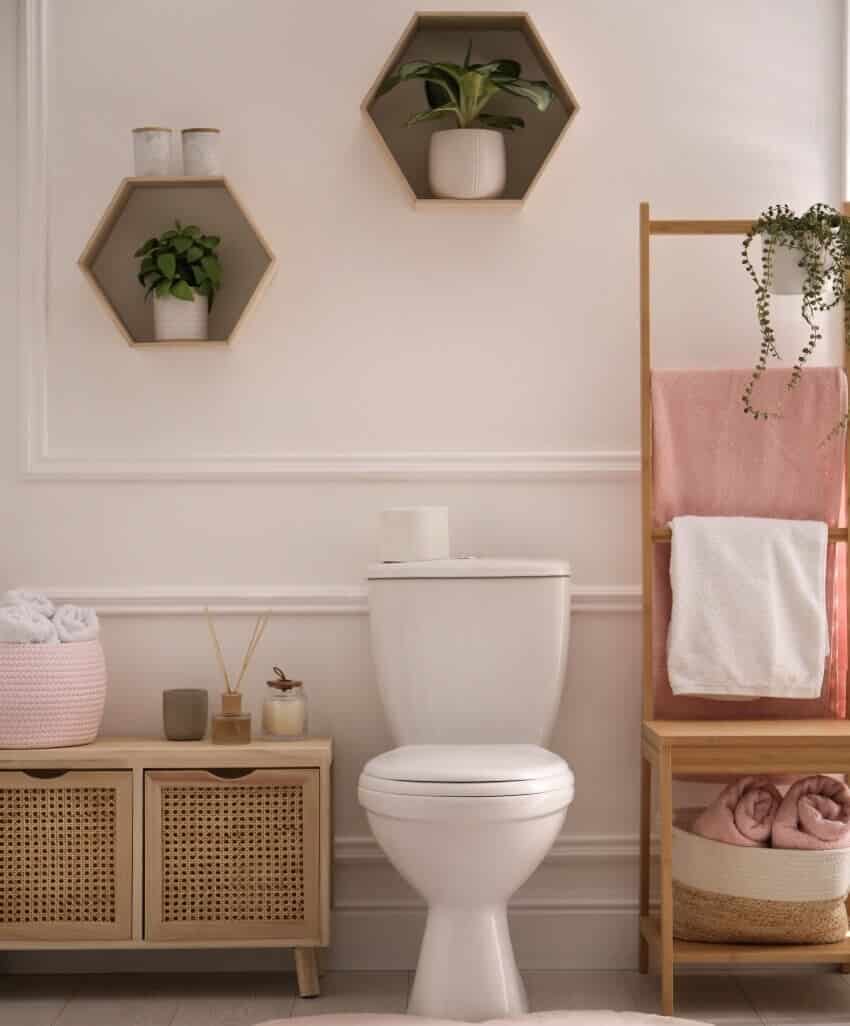 Display lush plants, like greenery and florals, above the toilet to add freshness to the bathroom. Whether you will choose a single pot plant or a group of plants, this element is a simple yet charming addition you can make the most of.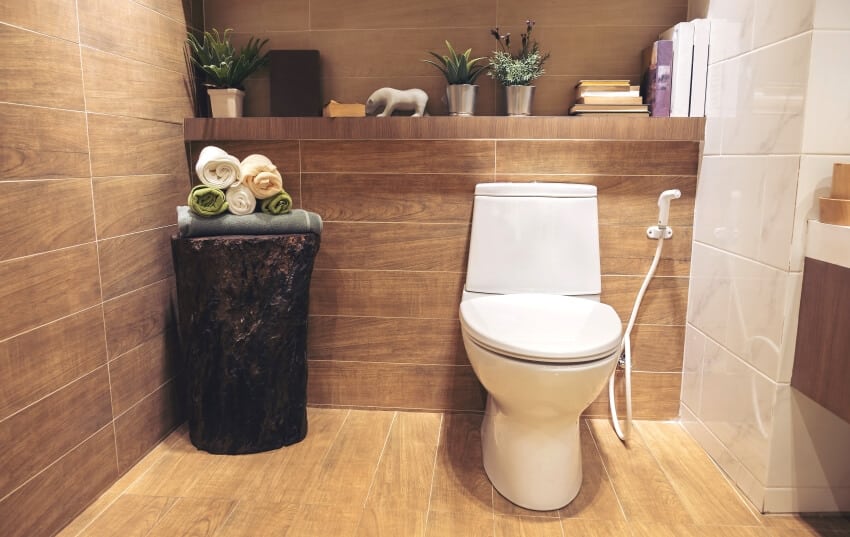 The pop of green provides extra texture to the bathroom, including the following:
• Succulent on A Wooden Tray
• Potted Plant
• Hanging Plant
• Wooden Planter and Diffuser
• Potter Plants on A Rainbow Planter
Little DIY Projects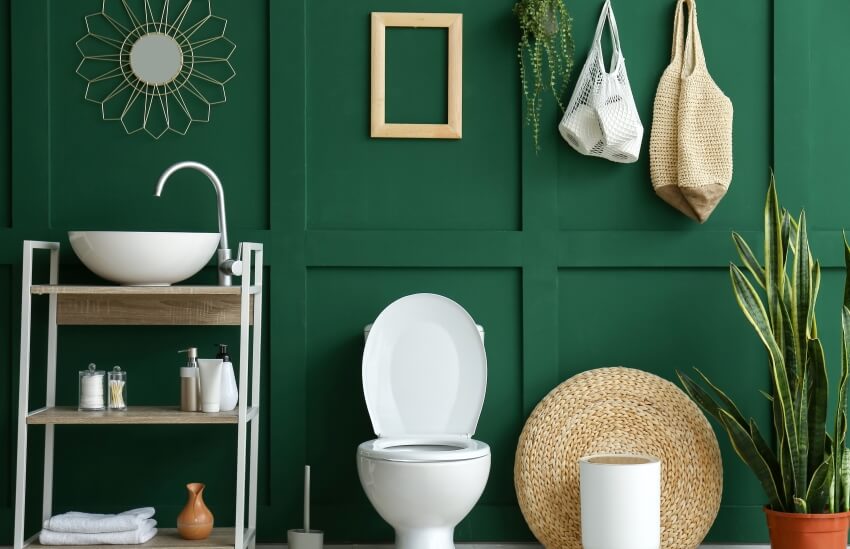 Are you into DIY-ing and a bit of art and crafts? If you are, this is the time to showcase your creativity by displaying your little DIY/arts and crafts projects on top of the toilet tank. Don't know what to do and display?
Here are some DIY decorating options to check out.
• Simplistic white decorative case with flowers
• Functional storage caddy with artificial flowers
• Decorative candles (Flameless LED votive candles or scented and colorful candles)
• Toilet tank lid runner
• Toilet paper holder (Sheep toilet paper holder and Rainbow toilet tissue cozy)
• Macrame storage container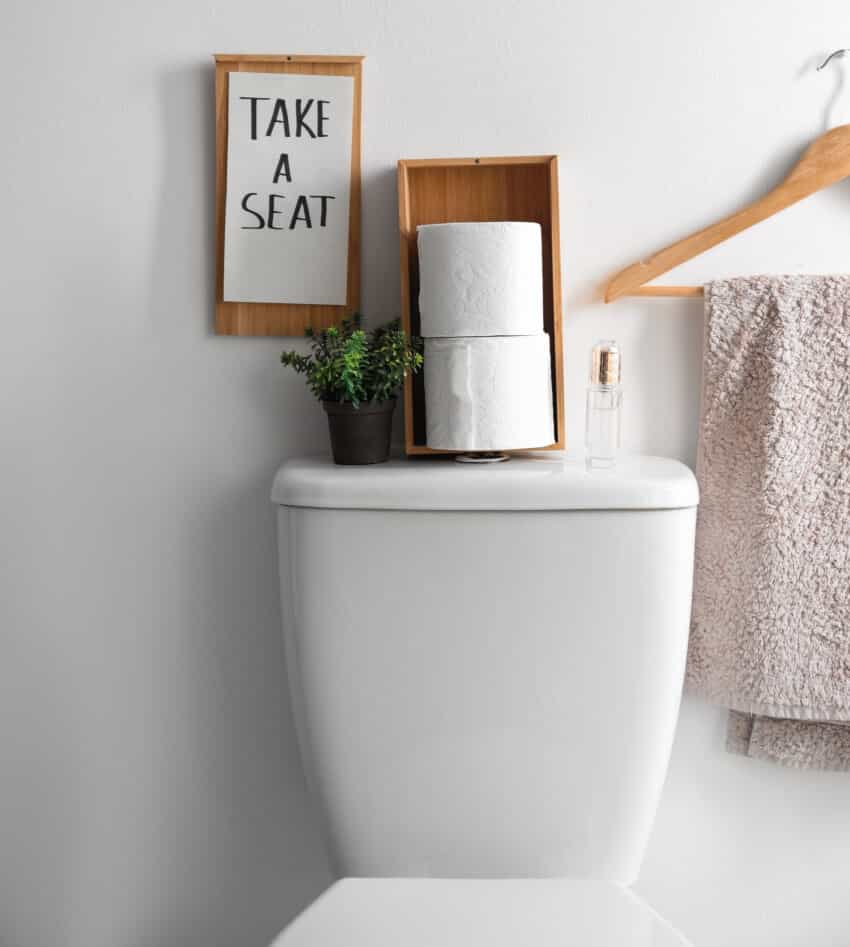 • DIY cork mat
• Waterproof decal painting or Stick-on decals
• Crocheted toilet lid cover
You can also use custom or DIY created types of toilet seats that can give your space a personal and unique touch.
Mirror Above The Toilet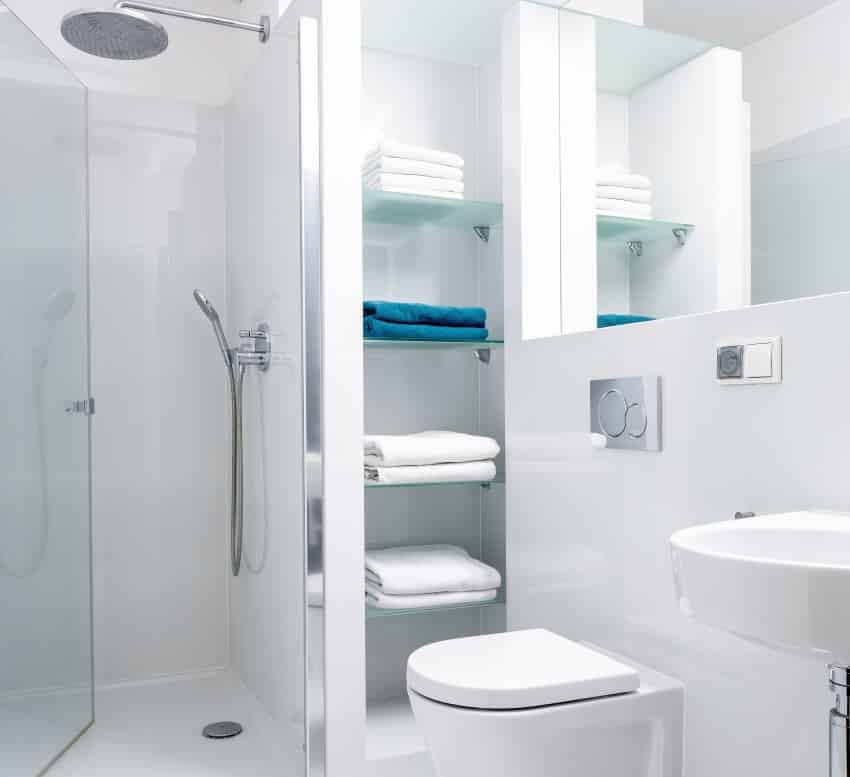 Mount a large mirror on the wall above the toilet. Adding a mirror above the toilet is incredibly functional since you can conveniently use this mirror while preparing in the bathroom before you start the morning.
In addition to that, it is also an element that can help a room appear more spacious than it really is, making it a perfect addition for smaller bathrooms.
Combination Of Different Elements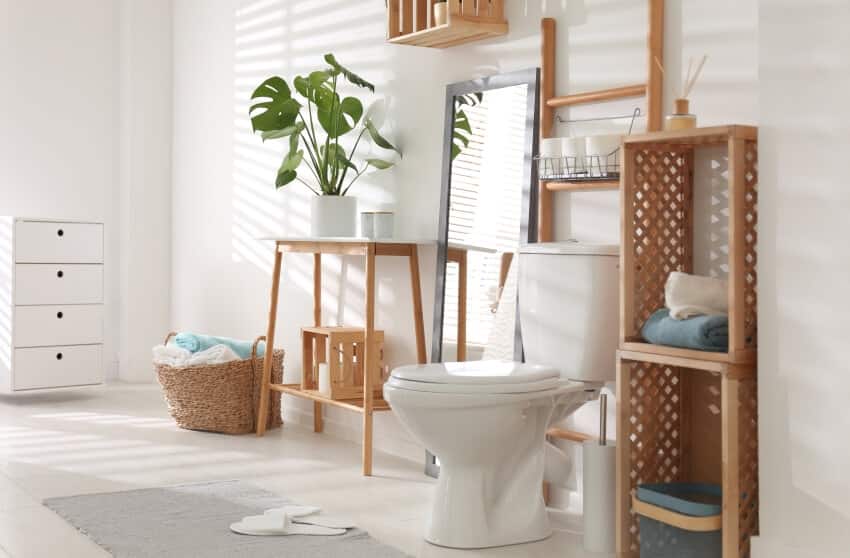 If you cannot decide which items to use on top of the tank, you can combine two or more elements in the mix. Simply make sure that all these elements can match each other and the vibe they offer won't clash.
Here are some combinations you might want to consider:
Wall Treatment + Shelf + Artwork + Greenery
Installing a shelf on top of the toilet opens up new space for you to add items into. You can also put on the shelf artworks and little potted plants. And complete the mix with stunning wallpaper to unite all of these elements together.
Basket + Greenery + Diffuser & Room Spray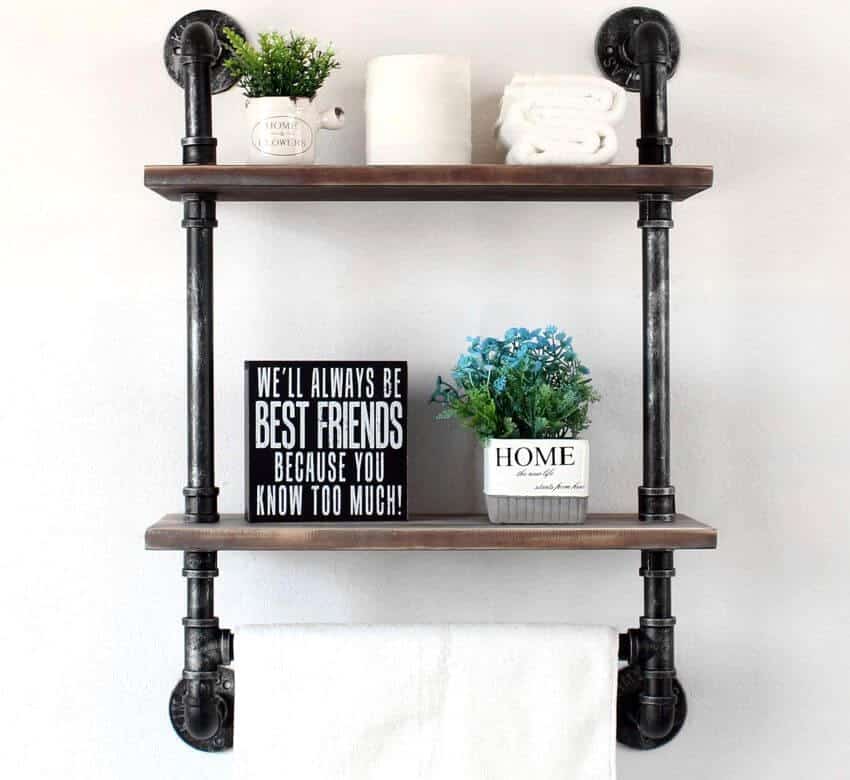 See this wall-mounted shelf at Amazon [sponsored link]
If you want something refreshing, this combo is the perfect choice to try out. The basket offers a natural look to the bathroom, reinforced by the freshness that comes from a potted plant. And the diffuser and room spray offers fresher air in the bathroom.
How Do You Decorate The Top Of A Toilet Tank?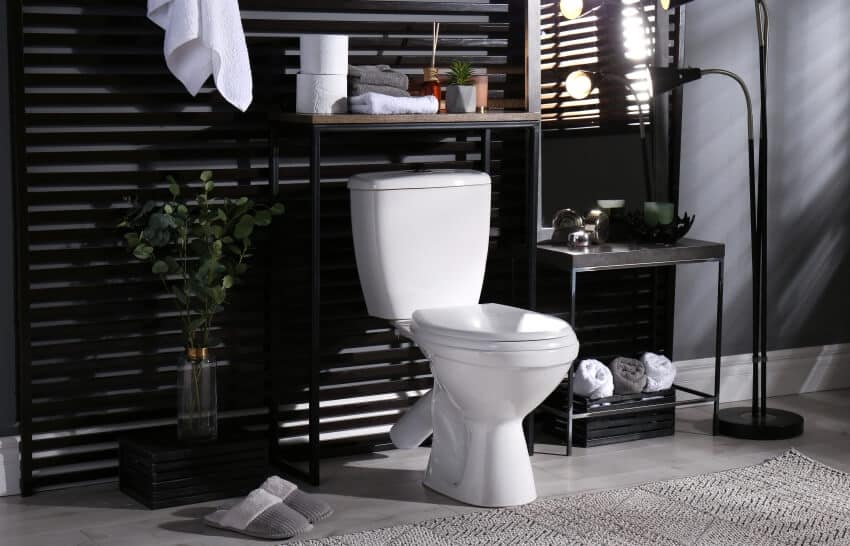 Some may spend less than 10 minutes in the bathroom while some spend hours in there. Whichever category you may be, your bathroom doesn't need to be clean and boring.
Decorating the top of a toilet tank is not that hard and you only need your imagination for it.
1. Check the empty and open space in the bathroom and measure the size of the top of your toilet tank you can use
2. Consider your budget and the vibe you want your bathroom to have
3. Choose the elements you want to install on top of your toilet tank (There are many ideas mentioned above that you can consider)
If you want more tips in decorating the top of your toilet tank, here are some you can follow:
• Make the most of the empty space available – add extra storage on top of your toilet tank with a nice looking tray and mount a shelf on the wall above the toilet.

• Keep your bathroom accessories minimal – while you can decorate your bathroom based on your preferences but make sure that it's not overwhelming so that the space won't feel crowded and too cluttered.
• Use potted plants and candles to create a comfortable and welcoming ambiance in the bathroom. Greenery like potted plants offer freshness to the room while scented candles provide warmth to the bathroom.
Decide the style you want your bathroom to have and stick with it as you decorate your toilet tank top and the entire bathroom in general.

Visit our decorating guides like decorating ideas for the space above kitchen cabinets for more related content.