In this ultimate guide to the types of end tables you'll see the different materials, costs, shapes, sizes, features, and popular end table designs.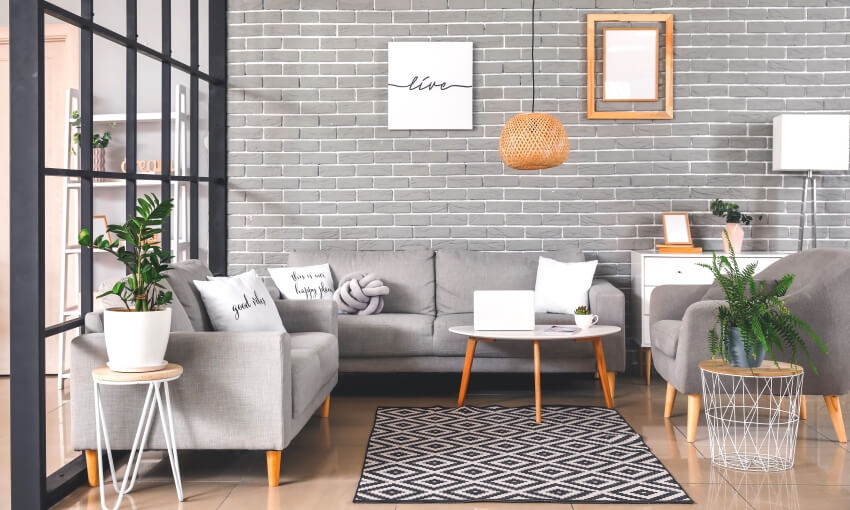 End tables are versatile and something worth investing in as they can enhance a room's interior design and functionality. As a matter of fact, it would be even fair to say that if you had to choose between a coffee table and an end table, an end table would be the smarter choice.
The reason why you should prefer an end table to a coffee table is because it is so much more convenient to go for one, or two, or even more. With end tables, you don't have to bend forward to grab your drinks or food which is usually the case with a coffee table.
With an end table, you can just swing your arm to the right or left without doing anything else with your body. When sitting at your sofa, using an end table instead of a coffee table allows you to opt for a comfy ottoman to prop up your legs for better relaxation. If you're on a recliner or if you have your feet up on a foot stool, an end table would also make so much more sense.
Read on down below to check out what the different types of end tables are and what categories they fall under. This will help you decide better before you purchase anything.
End Table Design Types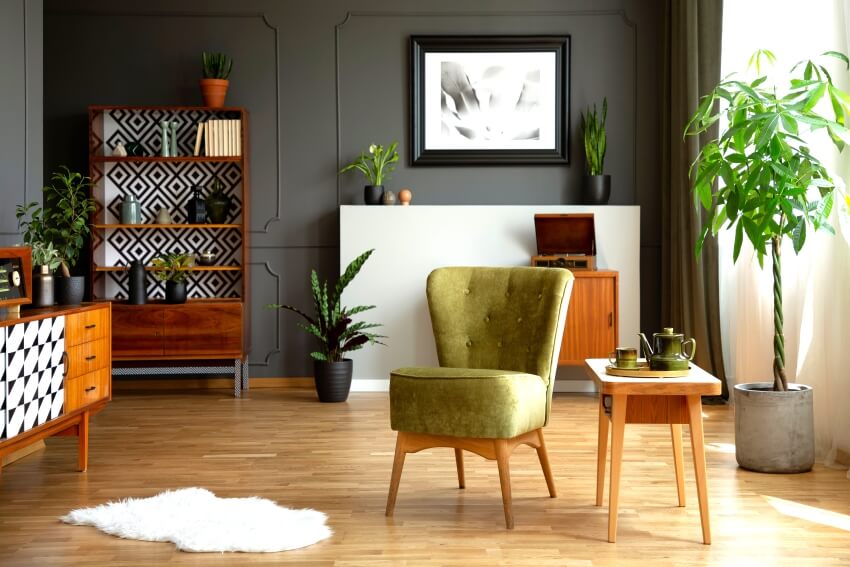 Start off your end table shopping by acquainting yourself with the different design types first. Before anything else, you first need to know exactly what you're looking for so that you can narrow the search down even further. Here are some of the most common end table design types to consider:
Drum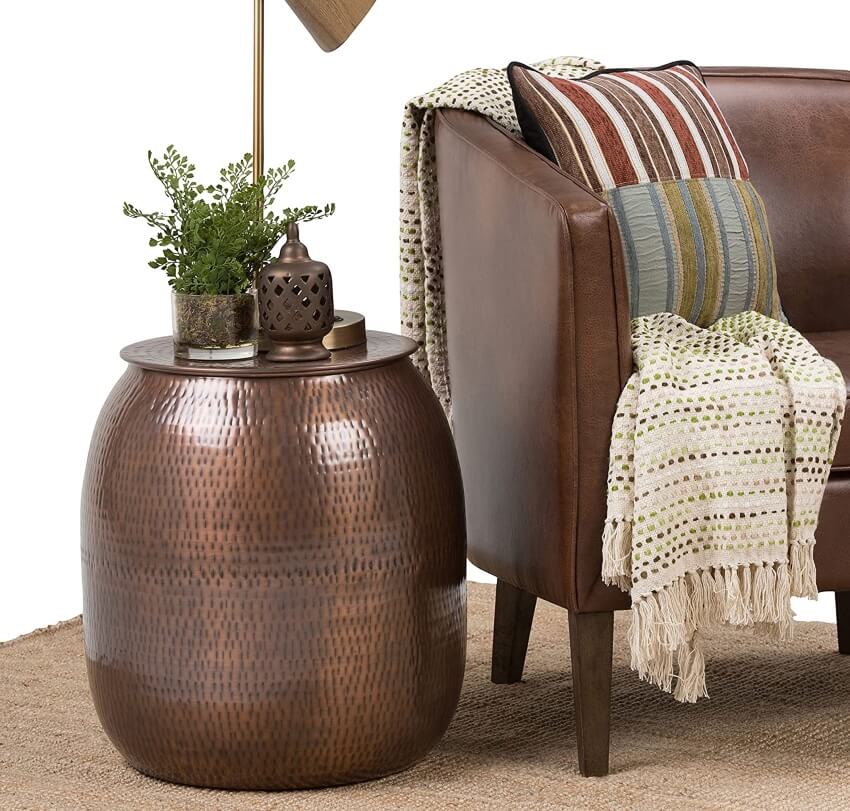 See this drum end table at Amazon [sponsored link]
Drum end tables are sturdy and modern. They're known to be very compact and solid. This can be attributed to their cylindrical silhouette.
If you happen to have a small space at home, drum end tables can definitely work to your advantage. These tables are usually made out of metal or wood but this doesn't necessarily mean that they're sectioned off to look plain or just downright heavy.
Even the most traditional drum end tables can be given a modern twist if you decorate them with carvings and other intricate designs of your choosing. Some metal drum end tables can come with markings that are hammered into the metal body and this is a great look for spaces that are going for the industrial aesthetic.
Drum end tables are great for adding texture and a minimalist feel to the room. They can also be paired really well with pared-down furniture pieces.
C-Style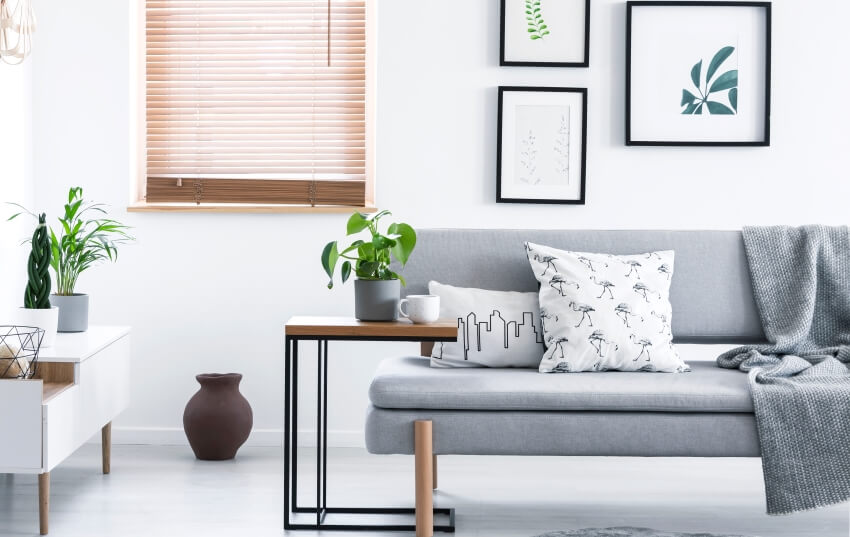 C-style end tables are a fairly recent addition to the end table design scene. Their design is quite simple yet at the same time also quite innovative.
C-style end tables usually come with a cantilever base. Metal is the go-to material when it comes to this end table design but it also isn't uncommon to see it in other materials such as wood. It gets its name from the C-shaped base and tabletop.
If you would like to create a contemporary look for your space, C-style end tables are great because their design is specifically created to suite modern aesthetics. Another great advantage of C-style end tables is that they're great for when you're sitting on the couch and you'd like to work on your laptop.
It can make for an excellent tool to place your laptop on because its bottom part can easily slide under your couch with no issues at all. You can also use this functionality for food and beverages.
Nesting Tables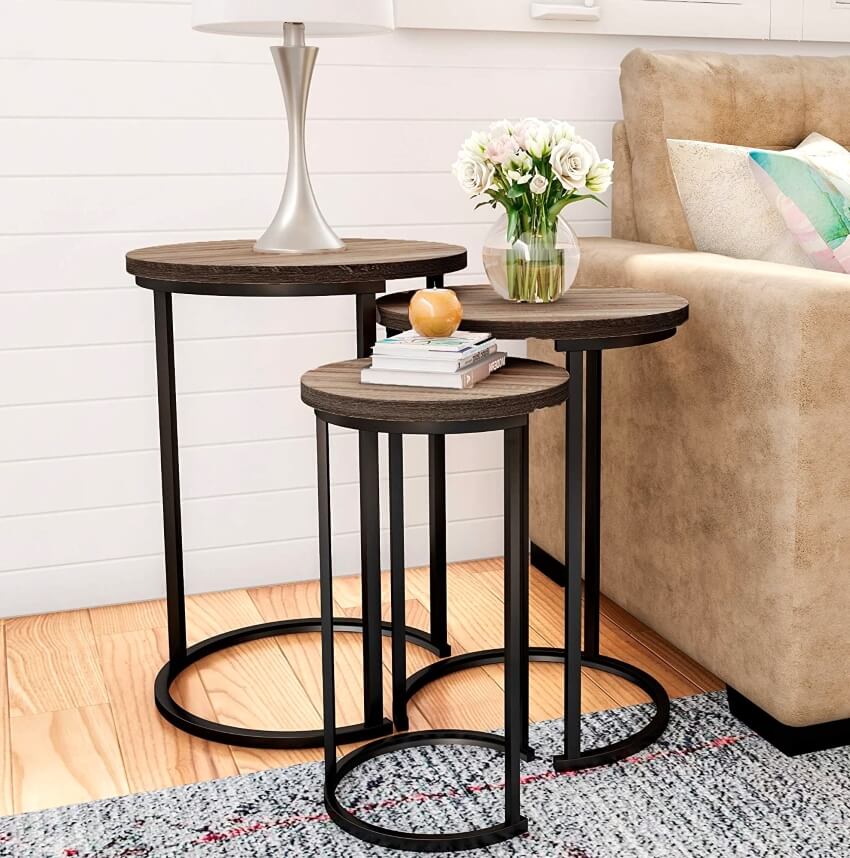 See this nesting tables at Amazon [sponsored link]
Nesting tables come in a variety of shapes and sizes but in general, they're rectangular or square-shaped. This is because these tables are designed to stack up neatly and easily. Opting for nesting tables comes with two main advantages.
First off, they're amazingly versatile. You get to enjoy the convenience of having two to three tables in one. If you want a bit of versatility in your space, you can decrease or increase your table space and the square footage they consume depending on what your needs are for the moment.
And second, because they neatly stack up beside or on top of each other, there isn't a need for you to consume a huge amount of space in the event you want to keep them in storage.
They're great solutions if you want to create a modern vibe in your home that marries form with function. Every end table can be decorated and embellished with trinkets, books, lighting fixtures, and other things you might want to incorporate in your aesthetic for the space.
Tray-Top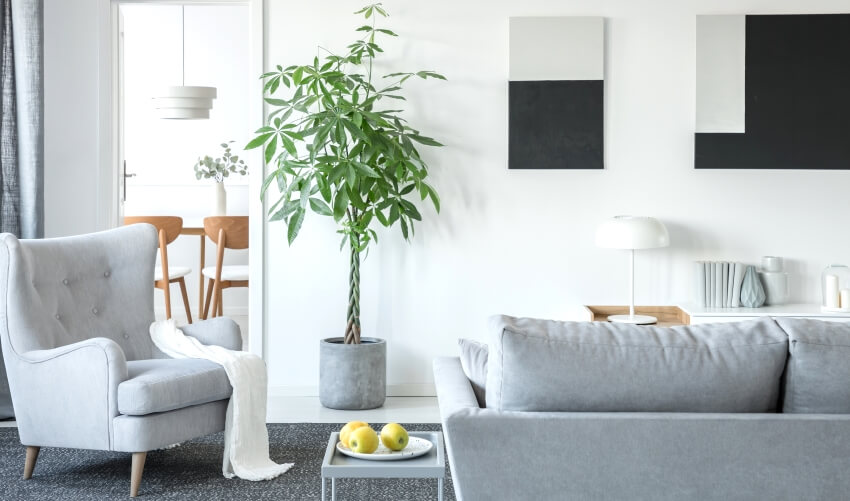 Tray-top end tables hail from way back in the 50s but they've come a long way from their cheap plastic-looking predecessors. These days, they have a more modern but stylish vibe to them enough for you to consider them as a permanent element in your sitting room décor.
The tray top end tables you see in the market these days are actually made out of high-grade materials and they can also come in a wide variety of shapes and designs from the traditional to the contemporary ones.
Some versions have elegant brushed metals or wood or even a combination of both. They can cone as C-shaped or rectangular, too. They're quite versatile which is why they are oftentimes the favorites of homeowners everywhere. Some of these tops can be removable so they offer more versatility in their functionality.
Floating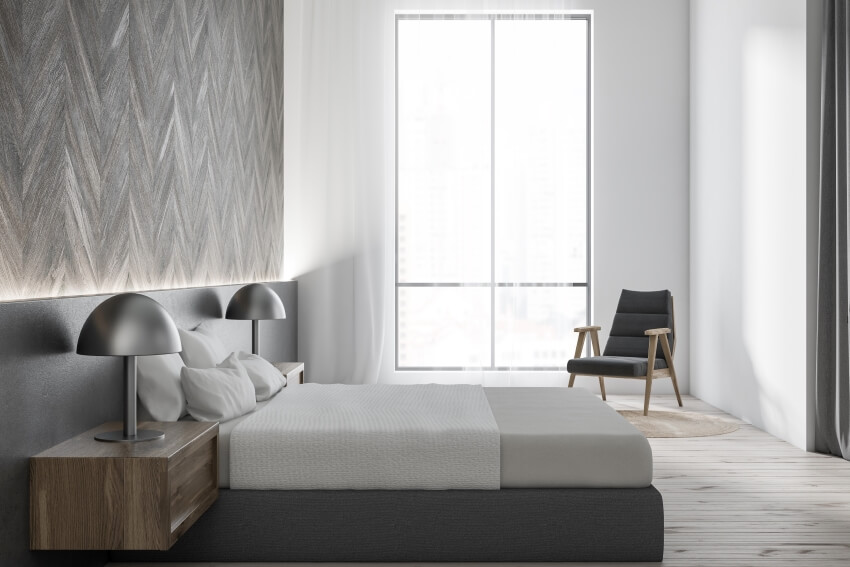 Floating end tables are innovative when you look at them from a use-of-space standpoint. This is because they don't really consume any amount of floor space.
They are usually securely fastened to the wall though which means that they do come with certain disadvantages: they can't be moved around unlike the other end table designs.
However, if you know for sure what your layout will be for your sitting room space and you're willing to stick to it, you'll have so much fun with your floating end tables and all of the extra space they can provide you.
Trunk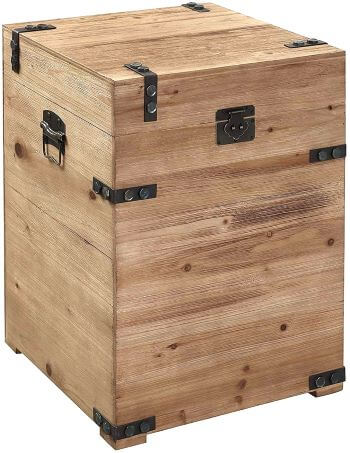 See this trunk end table at Amazon [sponsored link]
If you're the type of person who likes checking out antique furniture market sales and garage sales, it wouldn't be uncommon to chance upon a trunk end table. They have an old world and classic charm that very few other end table designs can replicate.
If you want to go for something a little offbeat and mismatched for your furniture and space design, a trunk end table just might be the perfect missing element for that. You can make a fun and easy upcycling project out of an old trunk end table to not only save money but to also further personalize your furniture piece.
Aside from being an obvious standout, trunk end tables come with other advantages. The inside of it can be used as additional storage space.
If you happen to be living in the metro, this certainly wouldn't hurt at all as storage space is always at a scarcity. This can help you further organize your space and ensure that it's kept clutter-free at all times.
Table Shapes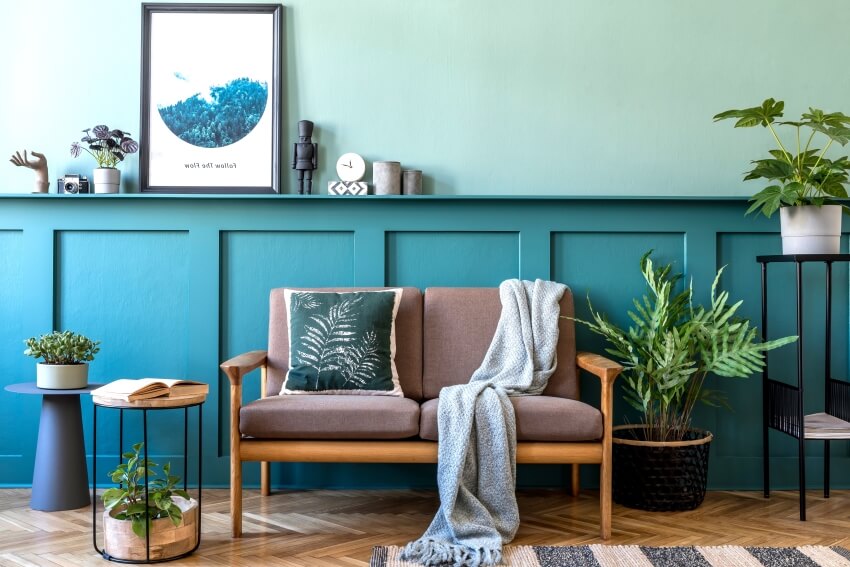 End tables can come in all sorts of shapes and sizes. They each have their own advantages and disadvantages. We've detailed everything down below to help you better decide on what you need and prefer the most for your sitting room layout. These are the different shapes end tables come with.
Rectangle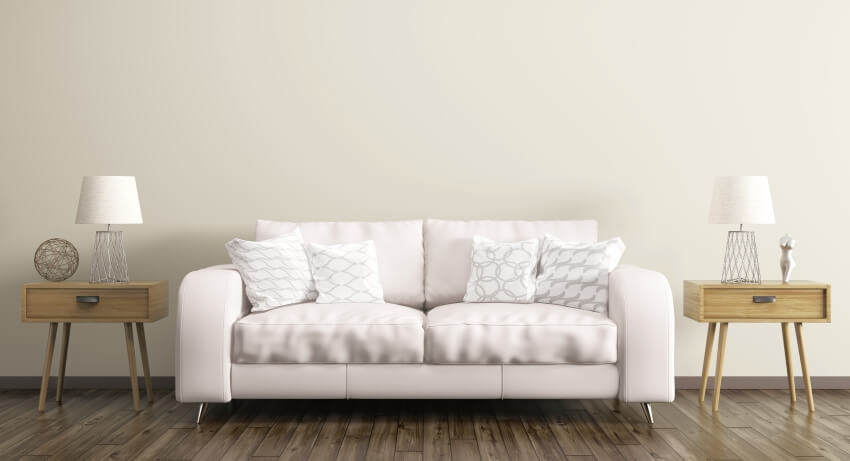 Rectangle end tables can work well in living spaces that have issues with space. If you have an area that is fairly compact or small, there isn't any need for you to worry. You can slide in a rectangle shaped end table and make it work for you.
One main advantage they have is that they can actually be designed to be slim or fairly narrow. This means that if you just happen to have a narrow nook somewhere, you can easily convert it into some type of tabletop space. You can put your food and beverages, or maybe even a small potted plant.
Because it has a fairly slim design, it is quite ideal to pair it along with a couch's armrest. Regular tables can make your living space look and feel crowded when shared. More than that, rectangle end tables can have multi-level shelves or even drawers which means you get to enjoy some extra storage as well.
Square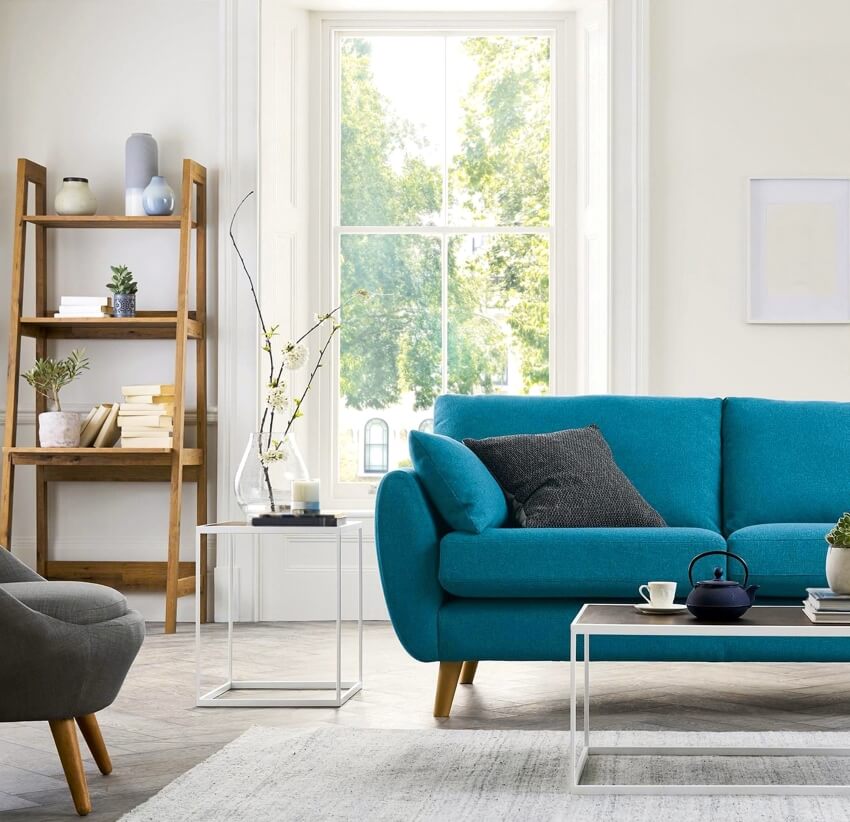 This is probably one of the common shapes for end tables everywhere. They're classic and quite popular because of how efficiently they use up space. The thing with the square end table is that it can fit quite easily in between other furniture pieces and can be cohesive with the designs of most sofas and chairs.
If you happen to be in a tight space and you feel like you don't have the luxury to include an end table, you'll be surprised to realize that there can be enough space for you to slide in a small square table somewhere with more than enough room to still move around.
A square table is basically a solid cube shaped piece of furniture or in some instances, can have an open space right under the tabletop. This makes it convenient for you to use that under-space as extra storage for small items such as books, remotes, and other small items in your living space.
Round or Oval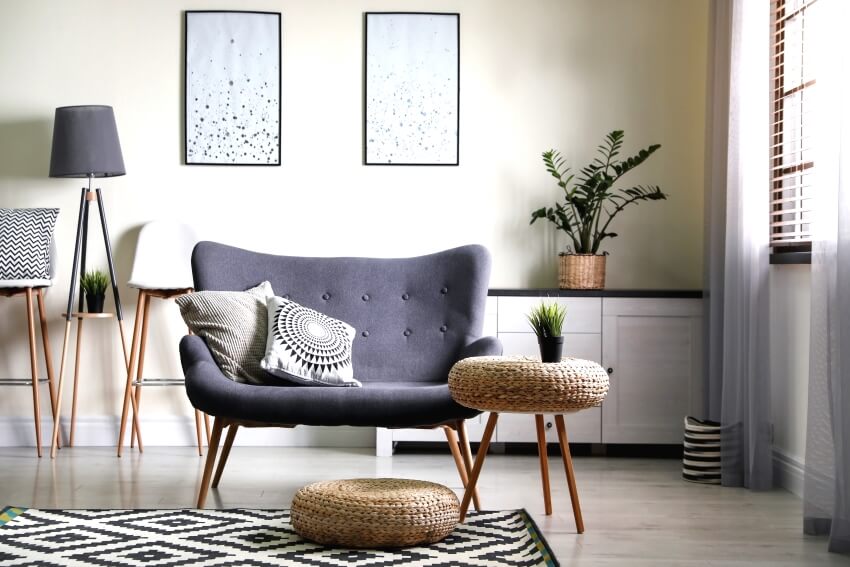 The round or oval end table is similar to the triangle-shaped end table wherein it can attract attention or easily be the focal point of the sitting room it's adorning. If you are looking for something that will either add softness to the space or break up the monotony of its décor, a round or oval end table will work marvelously for you.
However, you would also have to consider that round or oval end tables do come with certain downsides. For example, they may not be ideal if you're trying to utilize a corner space.
It's difficult to push a round or oval round table flush right up a couch side. You would need a few more liberties with your floor space or a bigger sitting room if you want to maximize round or oval end tables to their fullest potentials.
Triangle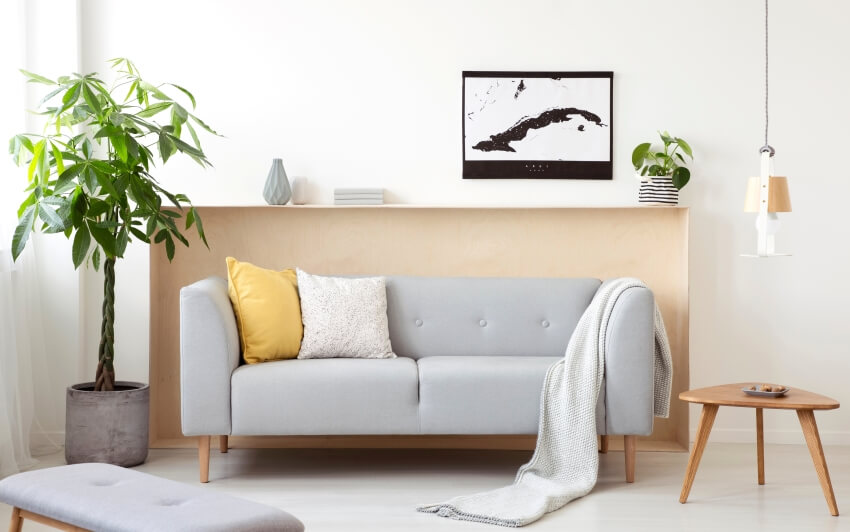 Triangular end tables are a bit unorthodox and eye-catching. This can actually be a good thing. The unique shape can add a level of sophistication as well as dimensionality to your sitting space.
Although you would probably initially think that a triangle-shaped end table is hard to fit into the conventional confines of a typical sitting room, this actually isn't that much of a problem. After all, this type of end table is really meant to stand out.
Triangle-shaped end tables look great in between armchairs, in a corner of the sitting room, or when put in between two other pieces of furniture in an L-formation. To be honest, you can place it anywhere you like depending on the specific aesthetic you're looking for.
Half-Circle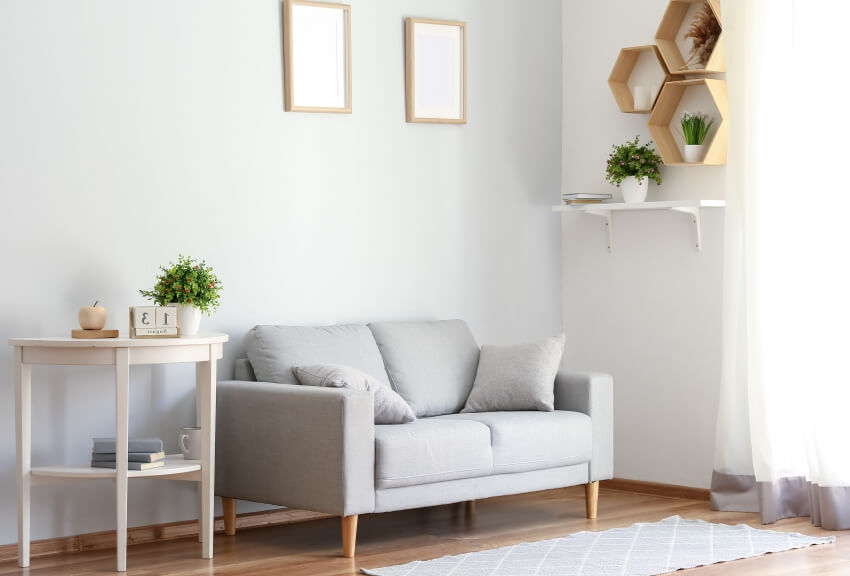 This is also called the half-moon end table. This type of end table usually comes with a tabletop shaped in the same name, and they oftentimes rest on either three or four legs.
This end table can come with modern variations such as having metal frames for a stronger and more solid support and it can even mirror the actual tabletop's half-circle shape.
Half-circle end tables are more convenient compared to full-on rounded end tables because they can be placed right next against the straight edge of the sofa or a wall.
If you want to keep taking advantage of the soft curved silhouette of a circle but don't want to deal with its downsides because of how inaccessible the shape is in a sitting room layout, this just may be the perfect solution for you.
They're also used as nesting tables at times. They look chic and artsy when two half circles are placed with their straight edges facing each other as this forms a somewhat asymmetric looking full circle.
Freeform
And of course, there are always the types that are unorthodox or not your typical shapes. This is where freeform end tables fall under. If you are looking for something that really stands out all across the board, has a certain sense of personality or uniqueness, then a freeform end table could definitely work for you.
One of the best materials to make freeform end tables out of is definitely wood. How the timber is processed is that instead of getting it cut and shaped into neat blocks, the natural shape of the wood is leveraged upon. Some freeform end tables are made from entire sections of tree trunks that have been cut horizontally, even.
The edge that's been cut is usually sanded down and varnished, fashioning a tabletop out of it. The end result is something beautiful and it's mainly because of its uniqueness. No two freeform end tables are entirely alike.
They're great for incorporating the element of the outdoors on the inside of your home. There are times wherein freeform end tables can come with extra materials such as steel, plastic polymers, stone and other synthetic materials.
Table Materials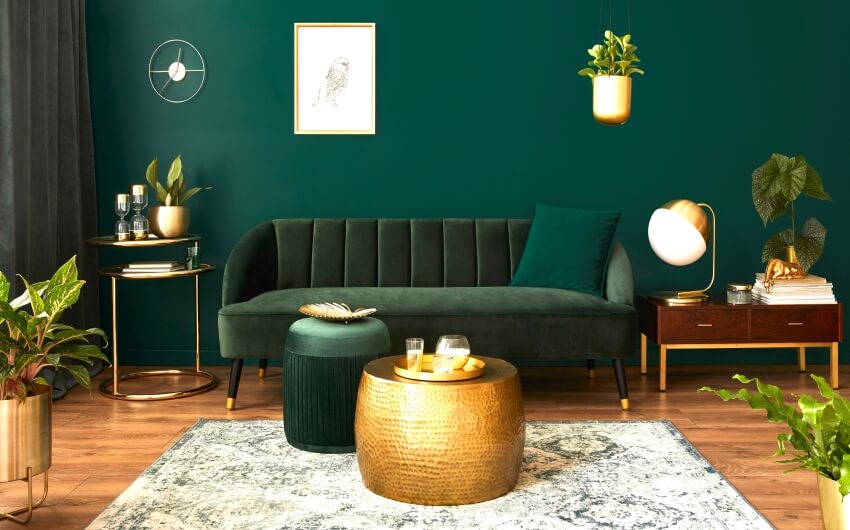 When shopping for your end tables, it's important for you to be critical when it comes to the materials they're actually made of. Materials matter not just when it comes to the actual durability of the end tables but also when it comes to the overall look they create.
There are a lot of materials that end tables can be made of but two of the most common ones are wood and metal. Still, we'll give you a detailed account of everything down below:
Wood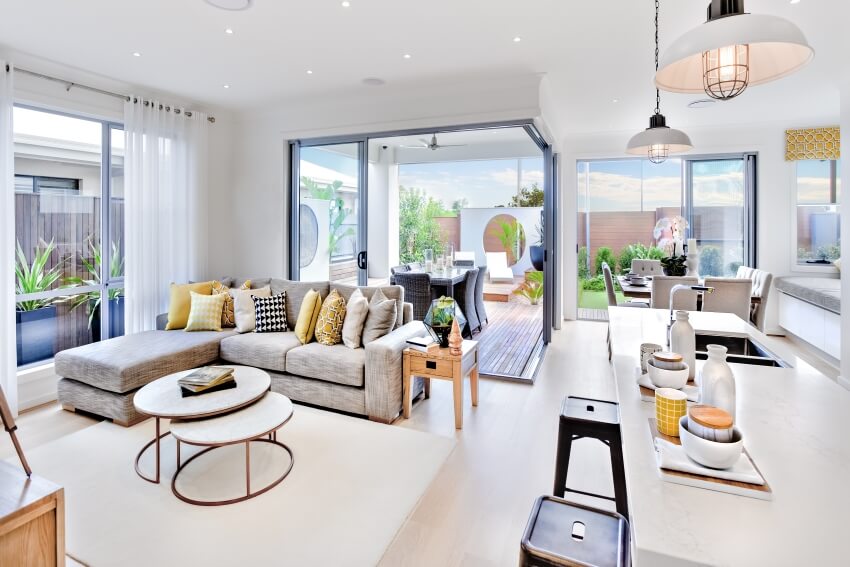 Wood is one of the most common materials that end tables are made of. They're highly durable, strong, and they are simply and naturally beautiful. They have excellent customization as they can be fashioned into literally anything you could possibly think of.
The most popular wood types for end tables are hardwoods such as mahogany, maple, and oak. For softwoods, pine is oftentimes the common favorite.
Most of today's wooden end tables though are mass produced. This is why they are oftentimes made out of wood boards and engineered plywood. And although wood end tables are typically used indoors, it's not unheard of to have them in the outdoors as well for as long as they're sealed to protect them from the harsh weather elements.
They look they bring can definitely add warmth and something natural or organic to the sitting room space they adorn. They're classic and can work with literally any type of décor you can possibly think of.
Metal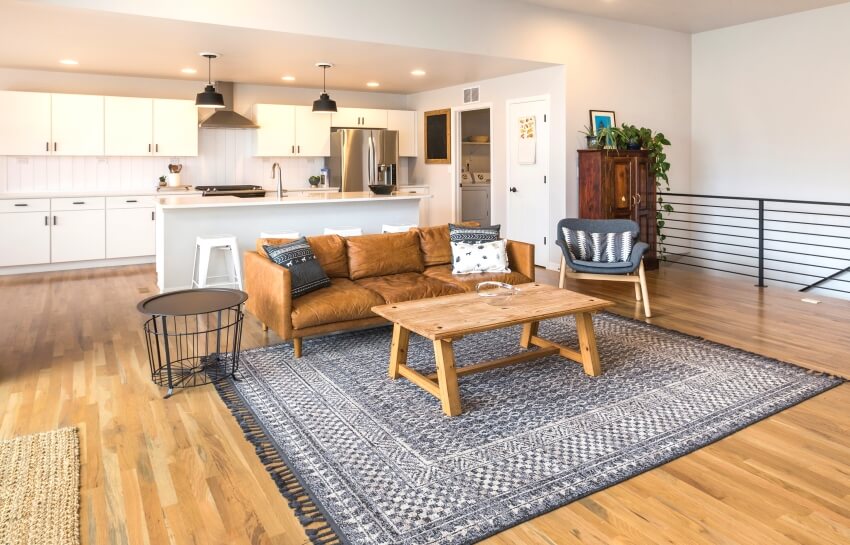 It goes without saying that metal is hands-down one of the sturdiest materials to make legs or support structures out of end tables. However, to be honest, they can be just as good being the main design feature of the end tables as well.
There is a common misconception that metal can look too hard, too flashy, or even too cold and dull for the sitting room but this actually isn't the case. When coated in certain sheen or high-end matte finishes and while leveraging muted palettes, metal can actually look very modern and elegant.
Glass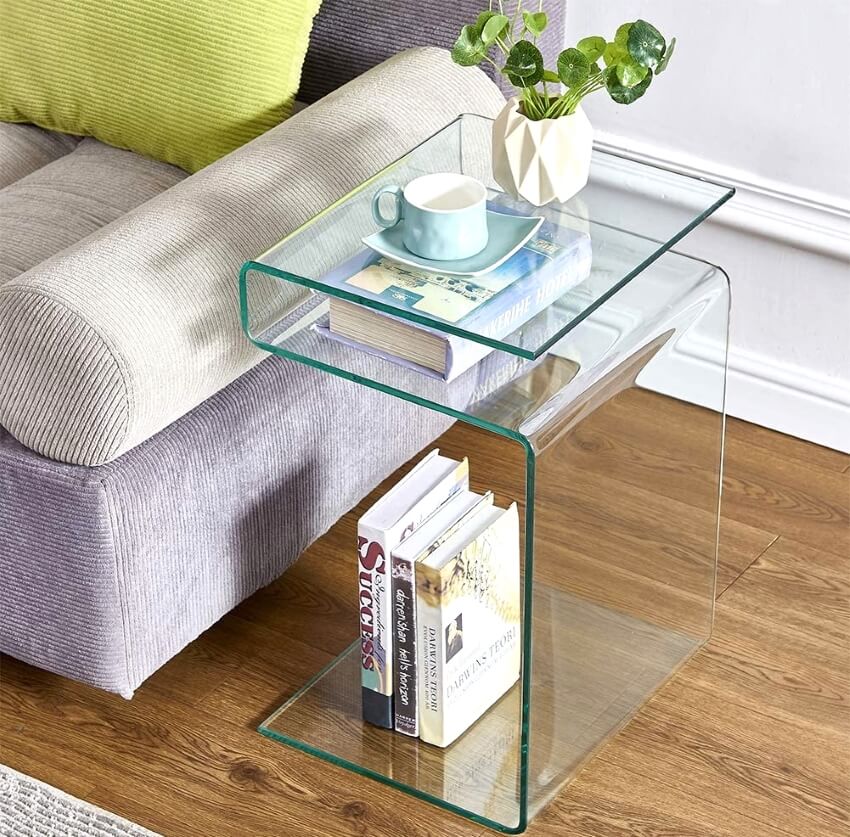 See this glass end table at Amazon [sponsored link]
If you want to go for an end table material that has a certain air of elegance or class, then one material you ought to consider would have to be glass. Glass end tables are decorative and functional accents at the same time.
They can be quite noticeable in the sitting room especially when they're paired along with modern aesthetics and other trendier looking furniture pieces. They look great with modular couches in particular.
Clear glass is a favorite obviously, as it's timeless and doesn't really clash with any color or design. However, new age design has also been delving into colored glass; which is unexpectedly striking and beautiful. Colored glass is definitely worth considering as well.
Colored glass can draw the eye and add spots of brilliance or brightness in the room. Another version of glass is mirrored glass, which creates a very high end look. Paired with certain wood elements, they can create the perfect modern and traditional contrast.
Acrylic Marble & Granite Top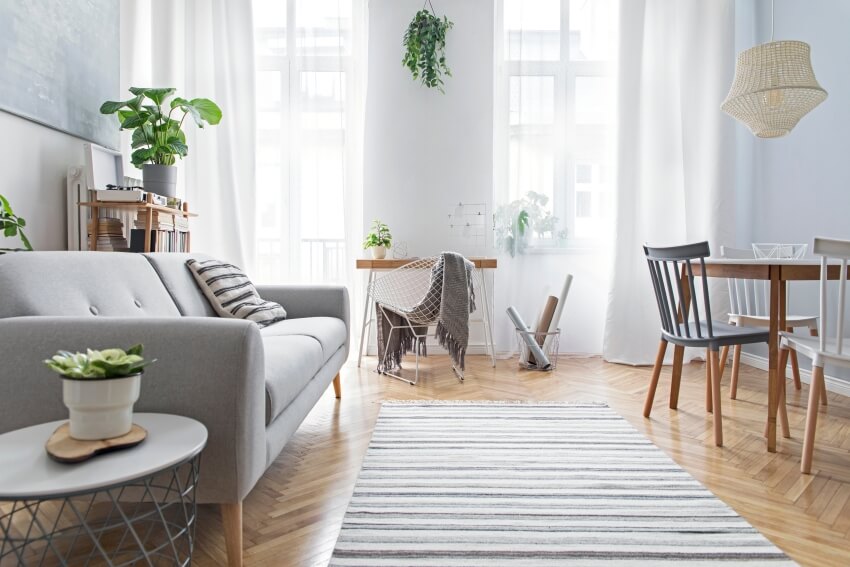 Stone end tables made out of high grade stones such as marble and granite may at first seem like an intimidating idea but hear us out.
The material cherished by countless civilizations throughout history for its beauty and sculptural qualities, marble is actually a product of seashells and other calcium-bearing minerals deposited in limestone during prehistoric changes in the earth's crust and metamorphosized by tremendous heat and pressure. – The Conservation of Ancient Marble, David Rinne
Yes, you're not mistaken. They can definitely be more on the expensive side and yes, they can turn out to be pretty heavy, even if they come in small sizes such as end tables but at the end of the day, they don't always have to be this solid and heavyweight lump of mass in your sitting room area.
What you can opt for instead is an end table that has stone elements incorporated in it. This can turn out to be a rather clever design and one that you will really be able to appreciate at the end of the day.
You get to achieve the look of expensive stone without causing a big dent in your budget for home renovations. This usually works best with Scandinavian designs that are minimalist and that have simple wooden or metal legs to support the stone top.
Rattan & Wicker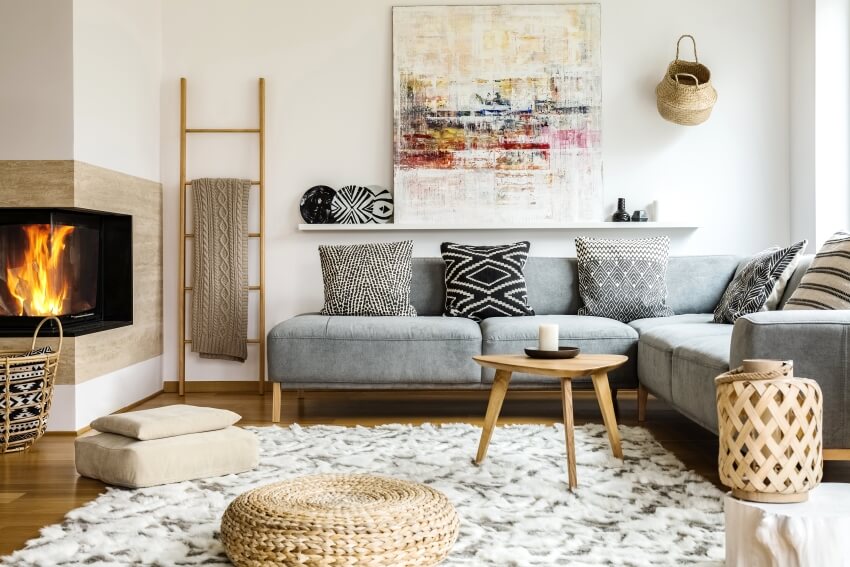 Rattan and wicker end tables are made out of natural grasses and other sustainably sourced natural and organic materials. If you are the type who prefers something eco-friendly and rustic for your furniture pieces at home, then rattan and wicker end tables just might work out for you.
One of the best things about rattan and wicker is that they're very lightweight. You can simply pick an end table up and move it around to whichever part of the sitting room you have a need for. There isn't any need for you to heave and struggle with their weight but there isn't any.
On top of that, they are also versatile because you can easily bring them outdoors when the weather's great. Rattan and wicker are naturally resistant to moisture and can hold well when placed or even left outside. Some wicker or rattan end tables are reinforced with an aluminum frame for added durability.
Concrete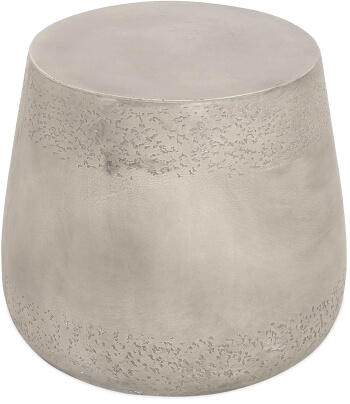 See this concrete end table at Amazon [sponsored link]
Concrete tables are impressively sturdy and durable. If you get them annually treated with a sealant, they are sure to last even if they are placed outdoors.
They can withstand the cold and hot harsh weather months. If you want an end table that can really soldier on with daily wear and tear, food and beverage spillages, weathering and UV exposure and the like, concrete is one of the best investments for end tables you could ever make.
Some of the downsides to getting concrete side tables though is that they can be susceptible to stains and scratches. And although they are known to be durable, some accidents can cause them to crack.
This is where your maintenance of the material comes in. Seal it annually to ensure that it will last you for decades to come.
Table Legs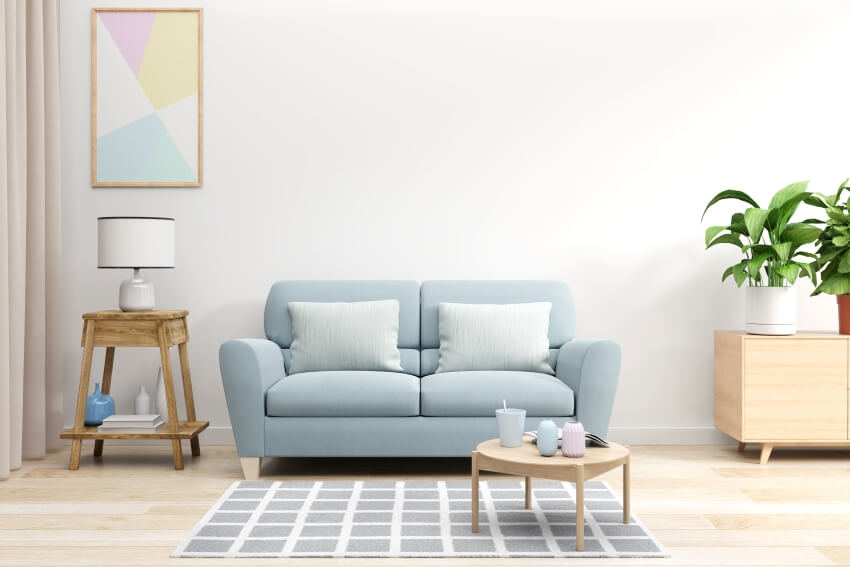 You'll be surprised to know that end tables also have varieties when it comes to their bases or legs. Here are some of the most common ones you'll find in the market today:
Four Legs
The end table with four legs is the most common and basic style of among all the end table leg designs. And there's a pretty good reason why this is the standard. After all, four legs as a base is very sturdy and stable.
End tables need to be stable and sturdy because they're typically placed beside couches which means that they're always in the way of foot traffic. It's very convenient to make sure that you'll have an end table with a base that doesn't topple over easily.
Three Legs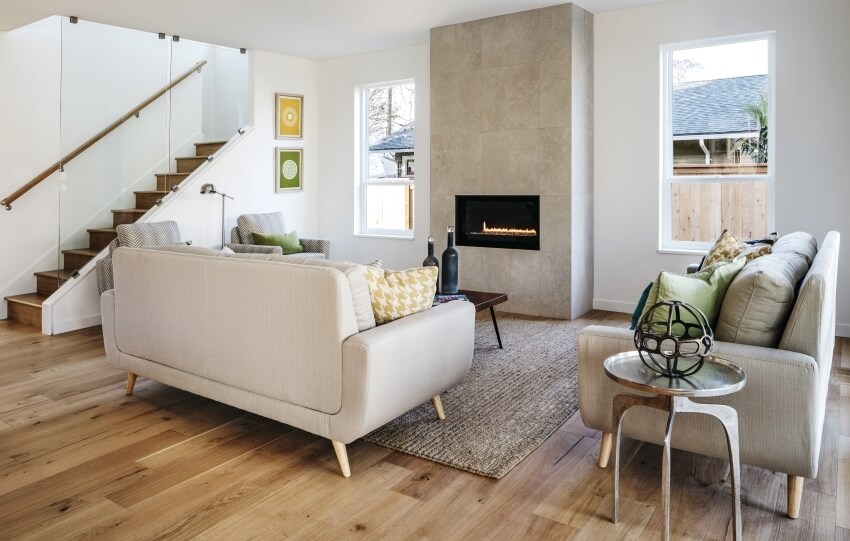 The three-legged table is also nicknamed as the tripod. If you have smaller end tables, the three-legged base isn't too bad in giving stability as well. They are designed to meet right in the center of the tabletop and then they spread out towards the floor.
What's so great about end tables that have three legs is that they don't spread out further than the surface area of the tabletop. This means that they don't get easily get tripped over or kicked when they come across your sitting room's foot traffic.
Flat Base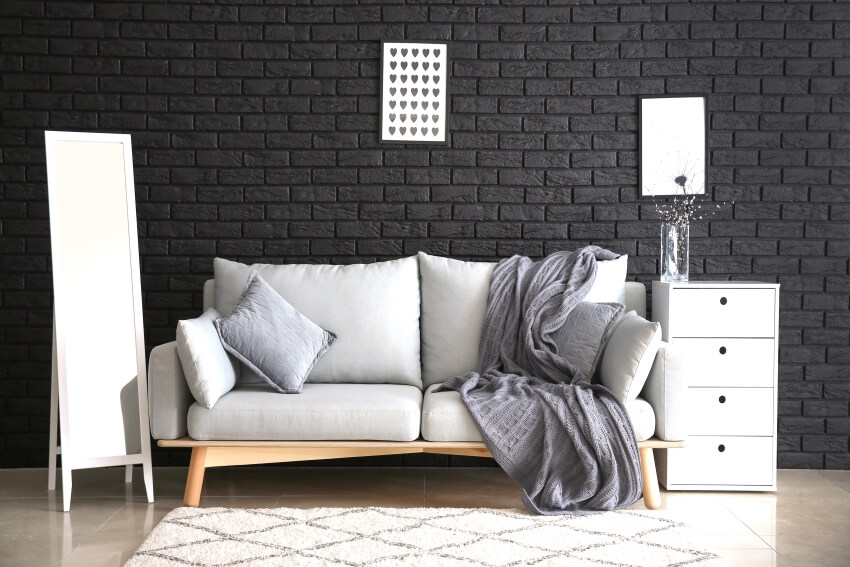 If what you're looking for in an end table is something that comes along with some built-in storage or some extra shelves, the flat base is definitely something you should look into.
End tables typically hold decorative items and books. These are items that have weight that can easily add up and become heavy really quickly.
What you need to make sure of is that your end table is stable enough to support all this weight. End tables with flat bases are made of metal while some are made out of wood and they can come in cubed or squared shapes, depending on the design.
Pedestal
End tables that have pedestal legs are comprised of having just one leg base that's situated at the very center of the end table. If you like the look of having just one post or one leg, the pedestal is definitely the one for you.
It has a thick metal or wood beam bearing the weight of the end table and providing its overall support. The thing about pedestal tables is that they look really classy. The base design is easily the focal point of the entire end table design.
Cross Legs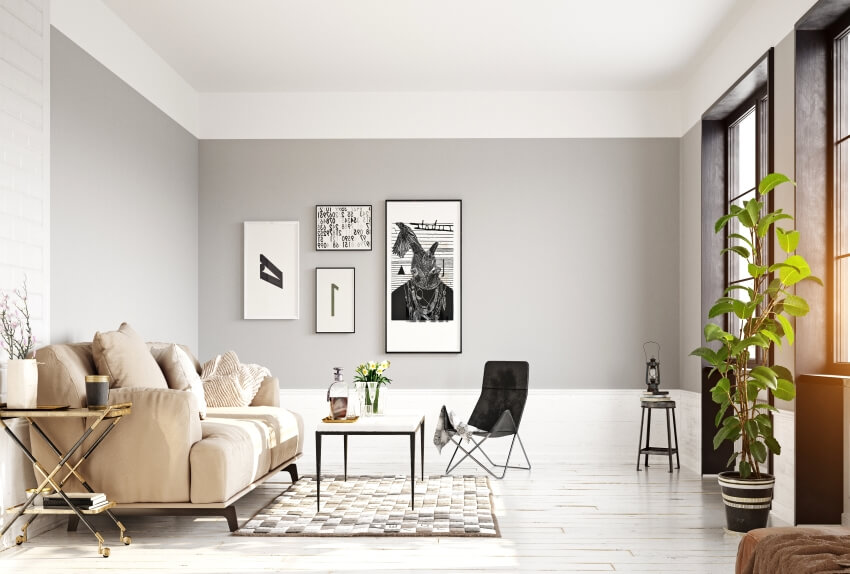 End tables that have cross legs as a base are highly aesthetic and can be reminiscent of the classic picnic tables you've grown up seeing or being accustomed to.
The kind of look cross legs bring in is something relaxed and casual. If this is the kind of aesthetic you're shooting for in your sitting room area, then the cross legs base is definitely the one for you.
Most cross legs come with the "X" shape with square or rectangular tabletops placed on top of them. But round end tables can also come with the double "X" legs. This can make the center of the table extra steady and can come up with an extra sophisticated design as well.
Basket
Basket base end tables are usually the products of DIY projects and upcycling. But these days, they can also be found in furniture stores or even department and grocery stores that offer small pieces of furniture on the side. They look industrial chic and minimalist.
They can also be quite lightweight and they're nice to have as an add-on. The main appeal of basket based end tables is that the tabletop is usually removable which means that you can use the hollow part of the basket as extra storage space for books and other ornamental materials.
Barrel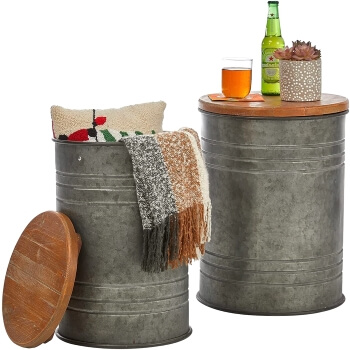 See this barrel end table at Amazon [sponsored link]
A barrel base on an end table is sure to be a conversation starter. It's sturdy and has a rustic feel to it as it is reminiscent of its previous lifetime wherein it was used as a wine barrel of sorts. It adds in so much personality and substance to an otherwise small piece of furniture that no one will really talk about that much in your sitting room area.
These table bases are usually unique and one-of-a-kind and more importantly, they don't cost that much money. They have a rugged and down-to-earth charm and if this is the aesthetic you're going for, then you should definitely get a barrel based end table checked out, even if it's just to relieve your curiosity.
Table Features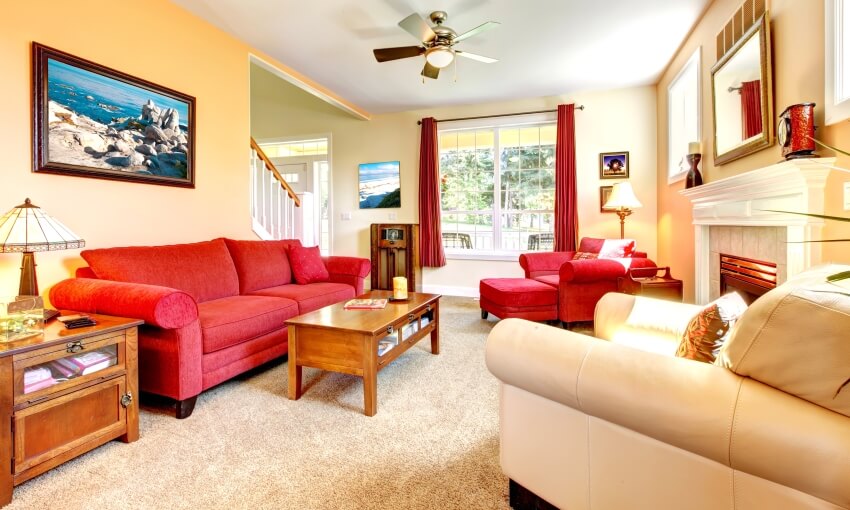 As with all the other things related to furniture pieces in the home, you need to make sure that you take a look at what features your end tables have to offer out to you. From some extra storage on the side, to shelving for display, to having a top tray and so on, the options are endless.
Make it a point to consider what things you actually need and base your features off of that. Here are some of the most common features for end tables and what they can do for you.
Drawers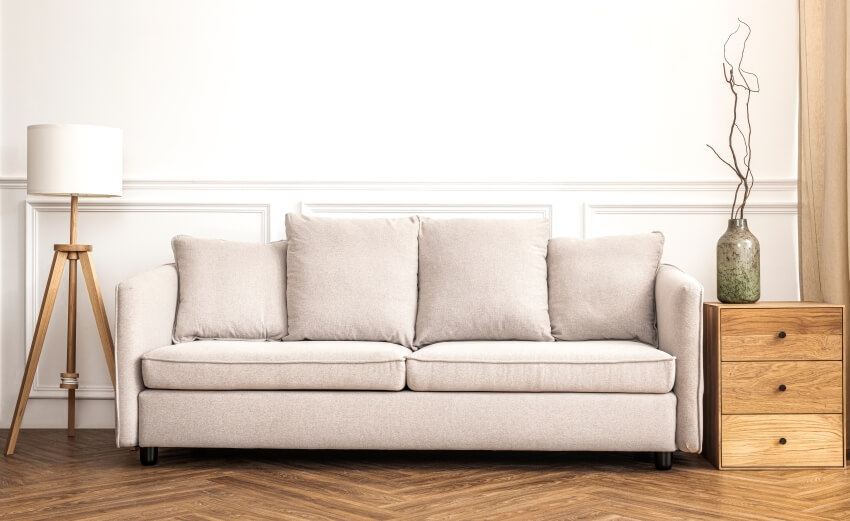 When you have end tables that are equipped with drawers, you basically have a sliding compartment that can be used for some extra storage. It's a great extra functionality to keep your smaller items in that you might not necessarily have on display. You can have end tables with a single drawer or those with multiple ones all the way down to the bottom part of the table.
Shelving
Extra shelves on your great way also make for some excellent extra storage on your side tables. They're great for when you want to keep a few small items on store but still kind of want to keep them on display at the same time.
Shelving works for books and other ornamental pieces such as figurines and other commemorative plaques or fine pieces of china.
Top Tray
Top trays are perfect for when you want to have end tables that are built to really accommodate food and beverage items. End tables that have top trays are meant to for really entertaining. Some top trays are removable as well so if you have a need to use the just the flat tabletop, you may do so as well.
Mirror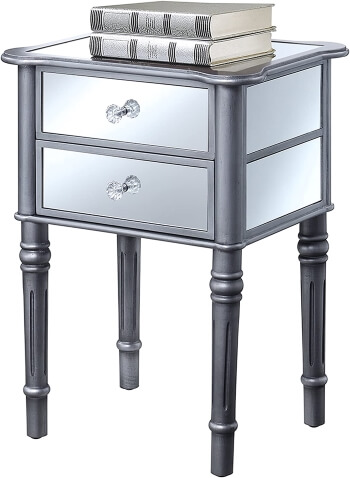 See this mirror end table at Amazon [sponsored link]
Mirrors are aesthetic and bring in a certain air of elegance and class. Having mirrors as an add-on feature for your end tables provide the obvious function of a reflective surface and do wonders when it comes to making the sitting room space look and feel so much bigger.
If you want to add in an expensive look to the space without breaking the bank, mirrors are a great feature to add to your end tables at home.
Charging Station
Given that we are in the digital age, charging stations can really do wonders when it comes to convenience and practicality. When you have end tables that have built-in charging stations, you would not have to get up off the couch to charge your phones or any other devices.
This can be a great feature to have in your guest bedroom or sitting room not just for you but for your other guests at home as well. You can entertain for longer hours while catering to everybody's digital needs.
Storage Cabinet
No one will ever say no to some extra storage. Having end tables that also double as storage cabinets is every homeowner's dream.
This is a particularly valuable extra feature or function to have if you happen to be living in the metro where extra floor and storage space is at an all-time scarcity and challenge. This is where you can store extra books, pillows, or literally anything you can possibly need in your sitting room space.
Adjustable Height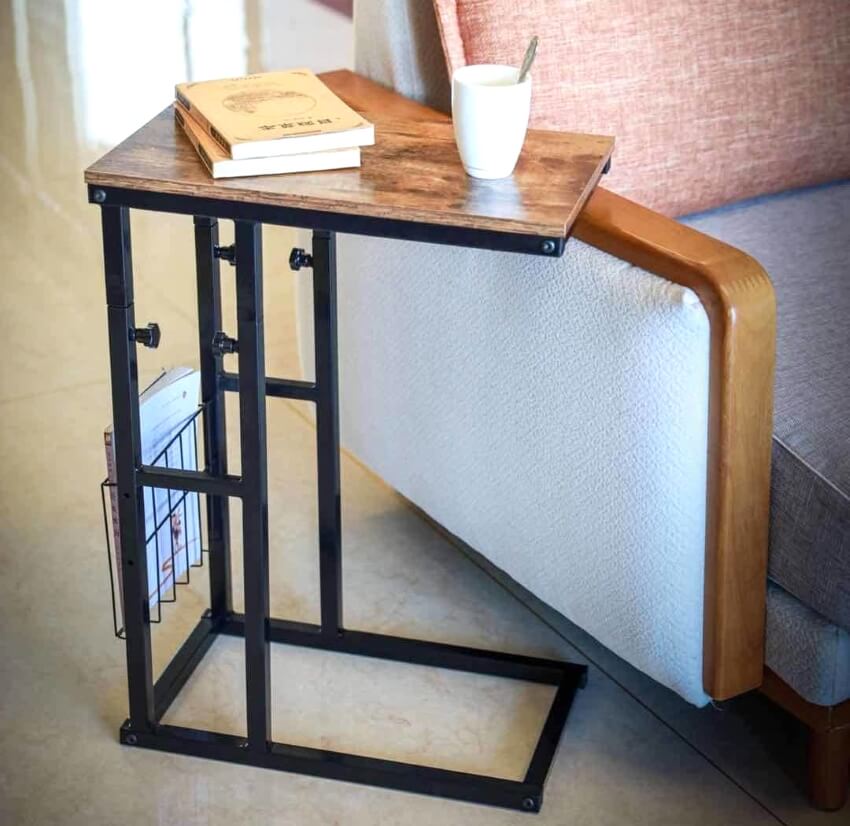 See this adjustable height end table at Amazon [sponsored link]
Opting for end tables that have adjustable heights can be multi-functional. It can function as a piece of furniture to put small items and other food and beverages on. Being able to adjust the height of your end tables means that they can also double over as cocktail tables when the need arises.
An adjustable height end table will also be able to easily match any couch of any height which makes redesigning your sitting space a breeze for you as you don't have to overhaul all of your furniture pieces.
Caster Wheels
Caster wheels added in to your end tables are great when it comes to mobility. This can be a great way for you to move your furniture pieces around without struggling too much.
There are times wherein heavy furniture pieces need to be rearranged because you need some extra moving space, or you want to just change the overall layout of your sitting room area, and so on. You can easily push them in any direction you want without ever hurting your floors or yourself as they will smoothly move through your floors.
Built-In Lighting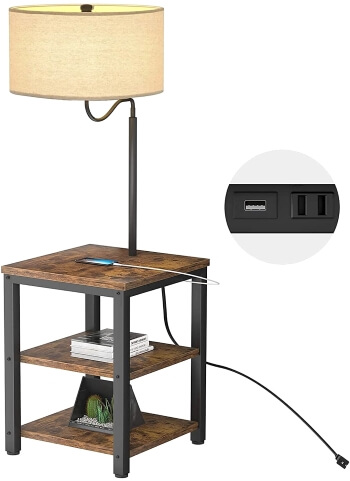 See this end table at Amazon [sponsored link]
Mood lighting, LED lights, or any other lights you might want to include in your end tables could be really convenient especially if you have a small floor area and don't really have the luxury to put in extra lamps.
Most lighting fixtures need to be laid out by a skilled electrician but built-in lighting that's oftentimes rechargeable or battery operated or even solar don't need that amount of prep work. You can add and remove as you please.
Outlets
Outlets are essential and there are instances wherein they aren't always available in our walls. Although it requires a bit of electrical savvy for the manufacturing of such end tables equipped with outlets, having them can turn out to be a really great convenience especially when you think about the amount of appliances people would usually have in the home.
You don't have to move to another room in the house just to stay connected or for you and your guests to stay plugged in. The sitting room has a huge requirement for electrical needs such from the television, to modems and routers, to lighting fixtures, charging stations, and so on and so forth.
Cup Holders
Drinks in the sitting room are one of the main causes of spillages, staining your sofas, couches, and carpets in that area of the house. One feature to make your end tables work double time to minimize this would be to have end tables that are equipped with cup holders.
Imagine sitting on your couch, watching the television, and you never have to bend forward to put your drinks on the table in front of you. You can simply swing your arm over to the side and your cups or glasses and then securely set in place.
Magazine Racks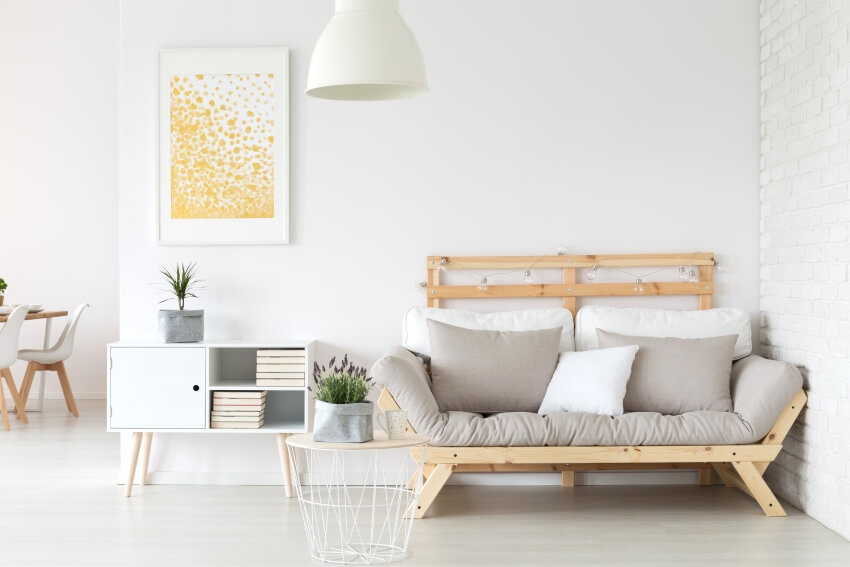 Although a bit old-timey, going with end tables that are equipped with magazine racks have a certain appeal. This type of extra function added to your end tables could drastically help you cut down on clutter. This can minimize the disruption of your visual aspects in the sitting room area.
Drop Leaf
Getting an end table with a drop-leaf feature is for the purpose of saving space specifically when that end table is not in use.
End tables are great to equip with the drop leaf feature because there are so many small items to keep in storage in the sitting room. This is the room in the house that is usually the most cluttered so having this extra function can really turn out to make all of the difference in the world.
Table Cost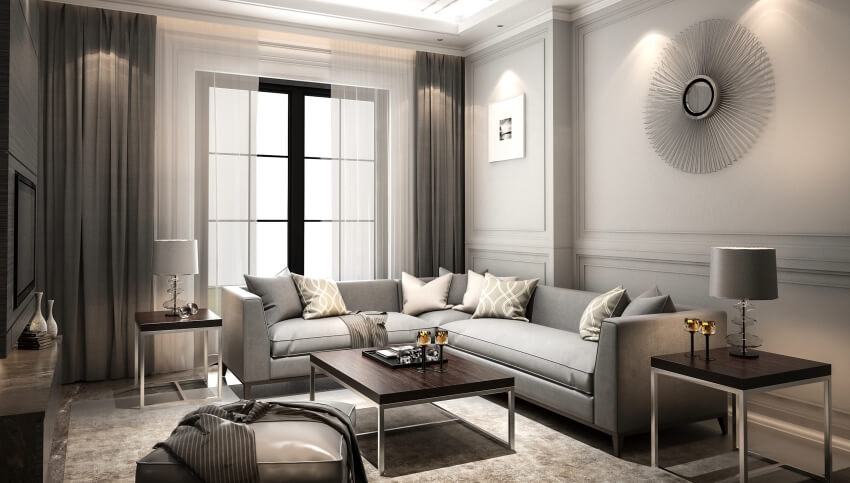 If you're curious how much an end table costs on average, a good range to consider as a general rule of thumb would be at around $200 to $400 per piece. There are instances of course wherein you will be able to shop for something cheaper. It really all depends on the quality and make of the end table of your choice.
If you purchase it from vintage furniture stores or from garage sales, you can definitely keep it at less than $100 per piece. You even have the option to haggle it down, depending on how the conversation with the seller goes.
On the higher end though, designer end tables could go well beyond the $300 to $400 range. The good thing is that because of the wide range of styles and types available in the market right now, you're definitely bound to find something that specifically fits your needs, preferences, as well as your budget.
Table Sizes
If you want to have an idea about what the standard sizes of regular end tables are, they would usually come at heights of 18 to 24 inches. This technically means that on average, a good range is for them to be at around 1.5 to 2 feet off of the ground.
The end table width, on the other hand, range from around 16 to 22 inches, depending on the type of end table you actually opt to purchase.
Table Height
Depending on what the actual height if your preferred end table will be, for most living rooms, they are said to be at around 25 to 30 inches tall these days although the old standard use to be at 18 to 24 inches. This is due to the fact that most sofas have a height of 25 inches or so.
The rules vary all across the board when it comes to how the end tables relate to the height of the couch. Some are saying that end tables need to be lower than the couch. This means that the standard measurement of 18 to 24 inches technically makes sense.
There are some homeowners though that would say that they want their end tables slightly higher than the couch. In the end of it all, it all boils down to what your specific preferences are.
Should Tables Be Higher Or Lower Than Couch?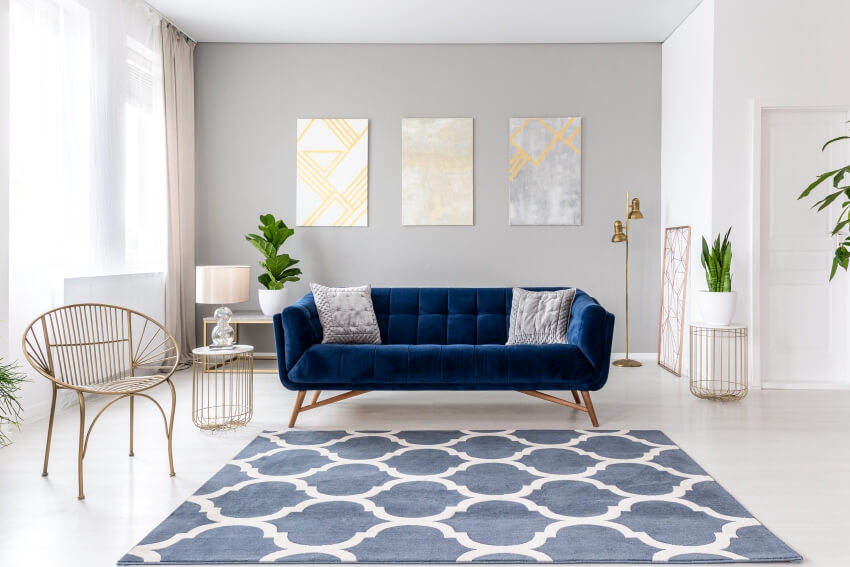 There isn't really an absolute rule when it comes to this. No one can be the absolute authority for sure in saying if the end tables should be higher or lower than the couch. Can your end table be higher than your sofa?
YES. Sofas have so many varieties that the heights really are bound to vary a lot depending on either you have high backed sofas with lower arms or whether you have sofas that have no arms at all. So technically speaking, this is a really hard rule to equate.
On the flip side, can your end table be lower than your couch or sofa? The answer is also YES. As a matter of fact, end tables are typically lower than the sofas although the rule isn't exactly absolute. There are no exceptions when it comes to this rule. Anything goes and it all depends on you and what you want to create for your sitting room.
How Close Should Table Be To Couch?
To answer this question more efficiently, it would be smart to envision how your end tables would look like in the first place. Typically, as the name suggests, your end table should be at either ends of your sofa or couch.
Once you've had a pretty good idea of how they're supposed to look like, the next thing to consider would be the distance of your end table to your actual couch's arms, or their very edge. An end table should be 4 inches or so away from your sofa.
Placing them with such a distance observed will ensure that everything you need or put on your end table will literally just be an arm's length away.
What Kind Of Table Should You Get?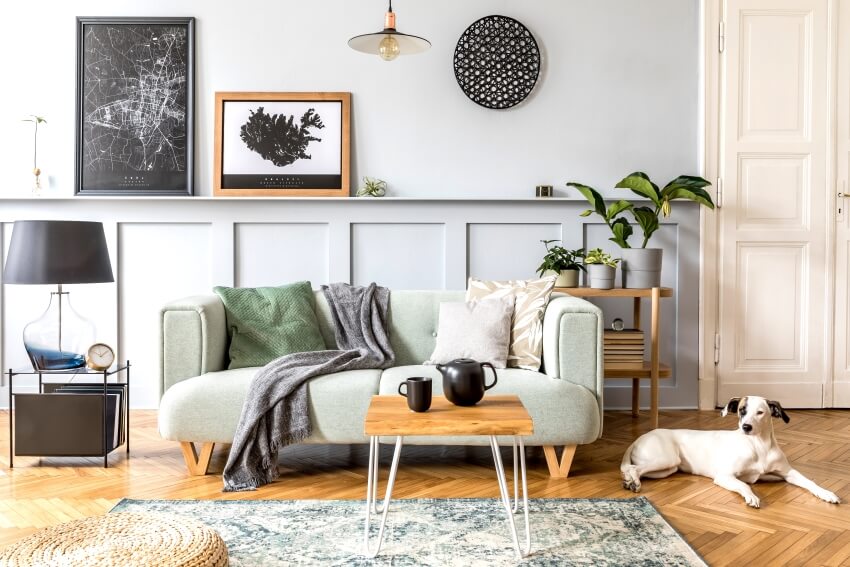 Knowing what type of end table you should get would mean that you would also need to consider what would be perfect for you and for your needs. You first need to start off with your personal style. At least in theory, you ought to know right off the bat what particular style you'd like to go with. Take an online style quiz.
They're usually free and will give you a rundown of what your general style preferences are. If you want to have a little bit of everything, that wouldn't be wrong as well. Anything goes in the world of interior design. If it's something you like and enjoy, then there really isn't anything wrong about it.
You have to think about whether you'd like to go for something modern or contemporary, farmhouse style, mid-century modern, or even transitional. Once you've decided on the style, the next thing to consider would be choosing the right size.
Whip out your measure tape before you actually decide on an end table piece. This will save you the hassle of getting something that wouldn't fit perfectly into the space you're creating in the first place.
Next thing to think about would be the features you would like to include. There are so many features that this can be a bit overwhelming. The best thing to do would be for you to consider what you actually need in your sitting room area.
Are you the type who has a lot of remotes? Are you the type who tends to hoard books? Are you minimalist and you don't really having a lot of visual clutter in your space?
Do you also use your end tables as coffee tables? All of these things factor in so make sure that you go ahead and consider them accordingly before you proceed with making a decision.
How Many Tables Do You Need?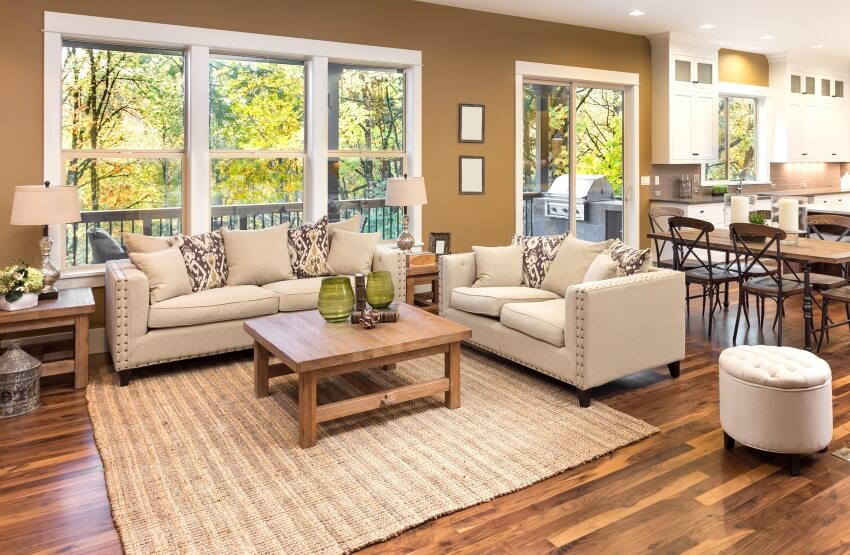 Here's the thing, end tables aren't just for decoration. They have main practical purposes. If you need to know for sure how many end tables you would have a need for in your living room, here's the main rule.
The number of end tables you need in your living room would depend on the placement of your furniture spaces. Most living rooms come with one or two end tables, usually on both ends of the sofa. If there are individual seats, there's usually an end table in between them.
End tables aren't always necessary. With the onset of the minimalist trend, it's not uncommon to see sitting room setups that don't have end tables at all. Some would opt for the use of free-standing lamps as embellishments.
So technically speaking, there isn't any need to go for one but should you decide to have a need for them, you have your options laid out as well.
One End Table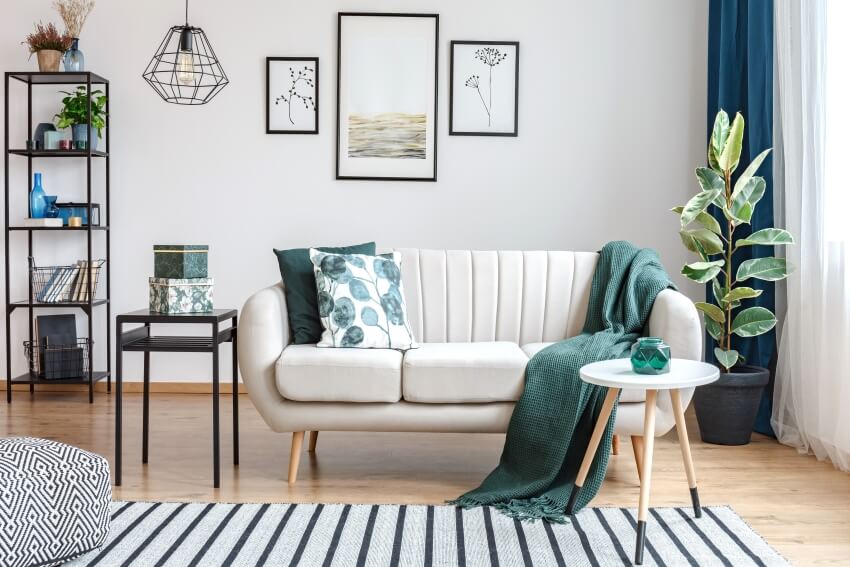 This layout is usually designed to just hold a small lamp on the table. This is typically spaced in between a loveseat and a sofa. This can bring these two furniture pieces together.
Two End Tables
This one is for the purpose of symmetry. Two end tables are perfect when it comes to creating symmetry in the living room. They go well with two table lamps that match as well.
Symmetrical balance gives a visual sense of order and balance and this can work well for homeowners that want a feeling of zen to the space.
Three Or More End Tables
If you happen to have a really large living room that has a lot of seating, you definitely shouldn't be afraid to add more end tables for your needs. You can opt for three or more end tables if you happen to have two couches or more.
For as long as your end tables have styles and designs that are cohesive and can bring the entire room design together, then the sky really is the limit.
You can opt for styles and sizes that don't draw that much attention if you prefer minimalism or you can go with something more avant garde if you want to inject a little more fun into the room.
Get them all matched up if you want a more sensible and balanced design. If you want to go with something a bit more carefree, go with those that have different sizes and designs.
Do Tables Have To Match?
The answer to this is no. There is no need for you to match your end tables perfectly at all. You can be creative and free flowing when it comes to the end tables you opt to go for. You can pick pieces that may not be identical but complement each other as well as the rest of the room.
Visit our guide on the best wood for table tops for more related content.