Our ping pong table dimensions guide features the standard measurements for full size, regulation, small, and folded sizes.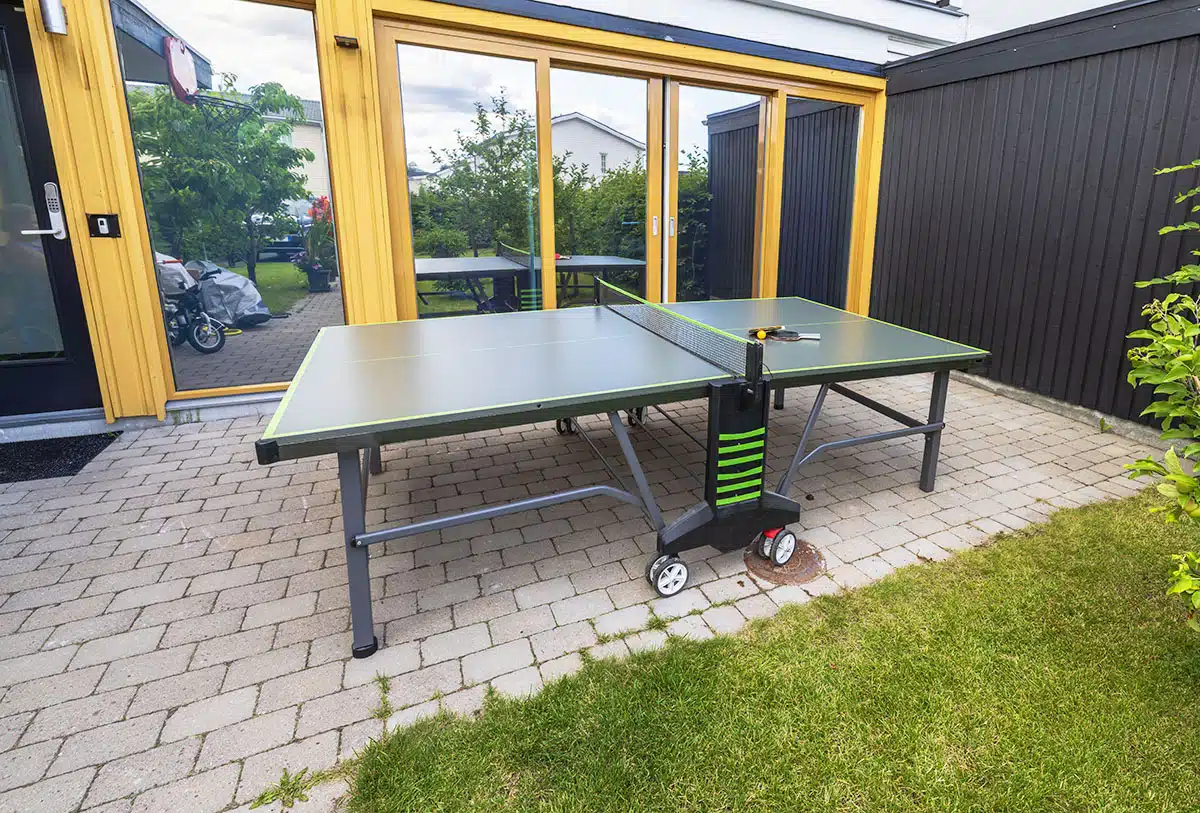 With more than 300 million people enjoying table tennis, it is unsurprising that many homeowners, families, individuals, and organizations are looking to incorporate David Foster's 19th-century parlor game into their lives. The game is no longer just a fun way to while the time. Ping pong is now a mainstay in many cardiac rehabilitation therapy programs.
Many homes now feature a ping pong table. And many more want to do the same. Thankfully, setting up a game table in the home is not complicated. One only needs to determine available space and compare it to the product dimensions.
This article focuses on the dimensions of different ping pong tables to help aspiring table tennis players decide the best setup for their respective homes or establishments.

Standard Ping Pong Table Size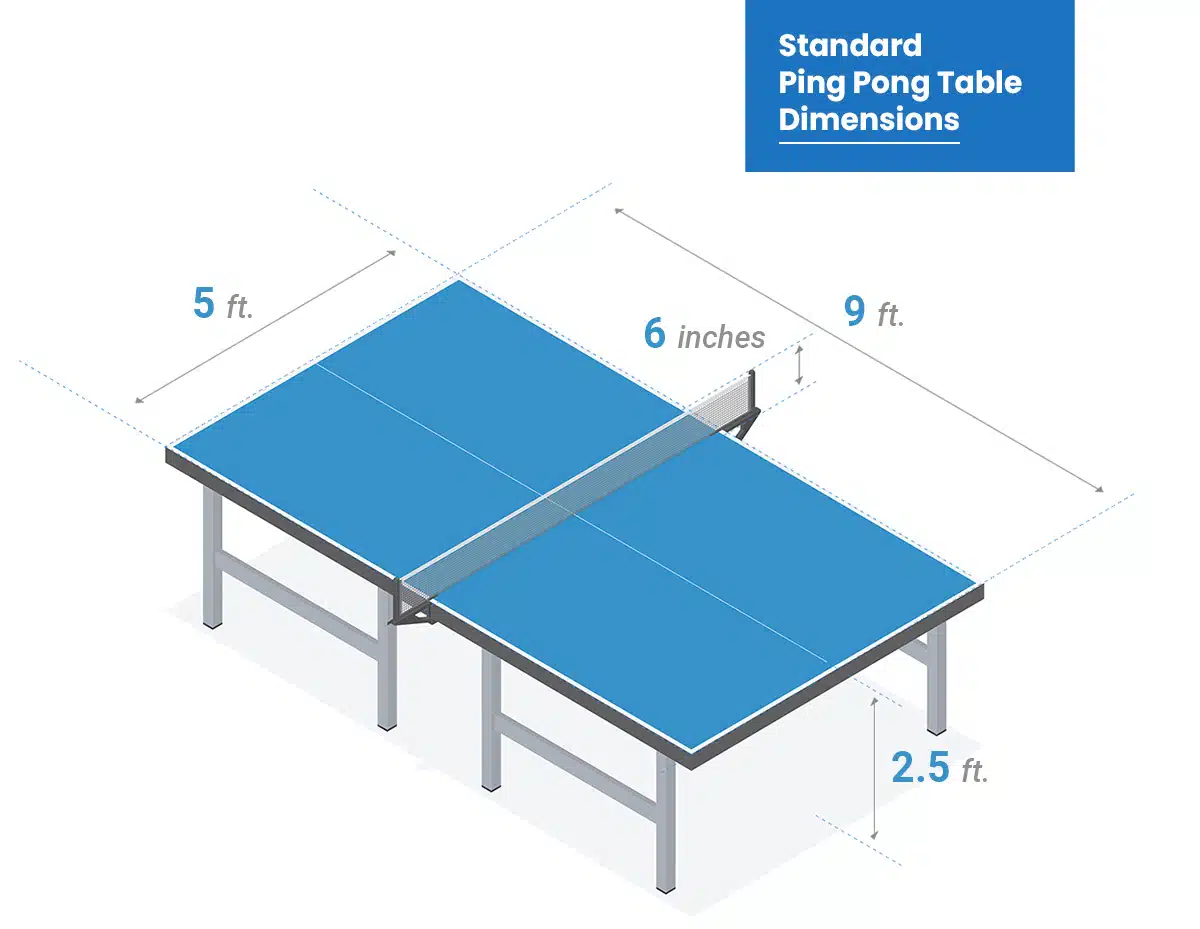 Homeowners who want to set up table tennis in their respective properties must prepare a room large enough to accommodate a standard ping pong table.
A ping pong table measures 274 centimeters or 9 feet from one end to another, describing the equipment's longitude or the distance between the edges where players position on opposing sides. Meanwhile, its cross-section or breadth is 152.5 centimeters, equivalent to 5 feet.
Height of a Table
These tables have legs supporting and raising the platform above the floor. The table's playing surface must be 76 centimeters or about 2.5 feet from the surface.
A net divides the playing surface and its upper edge must be 15.25 centimeters from the playing surface, or about 6 inches. The table net must also extend about the same distance from both sides.
These table dimensions suggest that a room should have at least 3.35 meters in breadth or about 11 feet. An aspiring table tennis player must have space long enough for a 5.8-meter or 19-foot playing area.
It is worth noting that these room sizes are the bare minimum. Most ping pong players have rooms that are three to four times larger than these specs.
Full Size Dimensions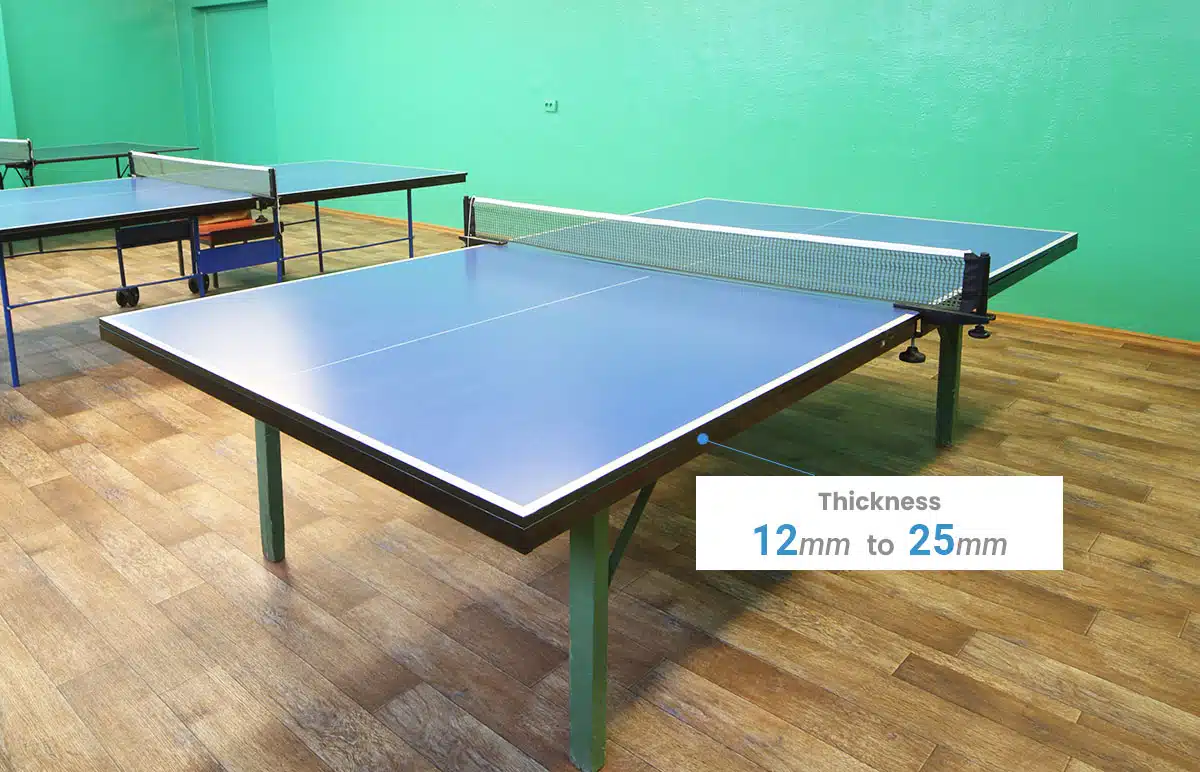 Some individuals think that a full-size ping pong table is different from a standard version. They are incorrect. Their physical characteristics (or measurements) are identical. Hence, a full size and standard size table tennis playing equipment have similar heights, lengths, and widths.
It is worth noting that full size or standard tables have various playing surface thickness. Most players use a table at least .47 inches or 12 millimeters thick, but not to exceed .98 inches or 25 millimeters.
Seasoned table tennis players opt for a thicker playing surface (as close to .98″ or 25 millimeters as possible). This selection matters in ensuring ball bounce consistency.
Whether local or international, full size tables are common in competitions. The table dimensions are universal among players globally. The measurements have become synonymous with the game, making a full size table a worthy piece of equipment for aspiring players.
One can set a full size table in a home garage, provided they move the mid-sized car into the driveway. These tables are not bulky either. People can tilt and prop the tables onto their sides against a wall, allowing them to reclaim space.
Regulation Ping Pong Game Dimensions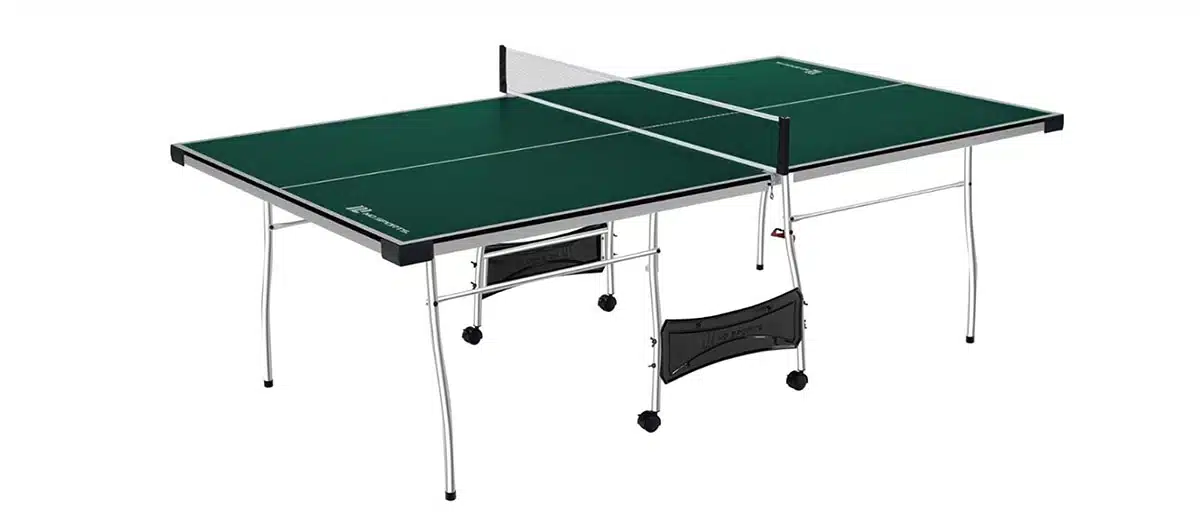 See this table at Amazon [sponsored link]
A regulation ping pong table provides a 5-foot wide or 152.5-centimeter by 9-foot long or 274 centimeters.
Each side has a playing surface measuring 4.5 feet long or 137.2 centimeters for each half. Hence, a regulation-size ping pong table has identical width, length, and height as standard or full-size table tennis furniture.
Regulation tables only vary from standard or full-sized versions by the other rules specific to a tournament. For example, a table tennis competition in China might have different rules from Argentina or South Africa.
Most full-sized or standard tables can feature any material, including steel, ceramic, glass, concrete, and other substrates. Some might have intricate designs and patterns.
Regulation competitive tables are different. The playing surface must not allow the ball to bounce higher or lower than 230 centimeters (about 9 inches) when the table tennis player drops it at about 11.81 inches or 300 millimeters.
The playing surface requirements of regulation ping pong tables must also be non-reflective or dull. Its color must be dark, not light, to form a contrast to the white ball during events.
Regulation tables also feature a perimeter line in white, known as side lines. These lines must not be wider than 20 millimeters. In table tennis matches involving tournaments of four players (two on each team), the regulation table must also feature a 3-millimeter-thick centerline. This feature marks the playing quadrants for each player.
Most table tennis competitions allocate ample space for players. However, some venues might have limitations. The good news is the smallest room one can play regulation table tennis must only measure at least 551 inches or 14 meters long. Its breadth should be at least 276 inches or 7 meters.
On the other hand, Paralympics and other table tennis competitions involving players on wheelchairs must have a minimum space of 8 by 6 meters or 315 by 236 inches. It should be sufficient to allow maximum wheelchair movement without removing the fun from the game.
¾ Table Surface Dimensions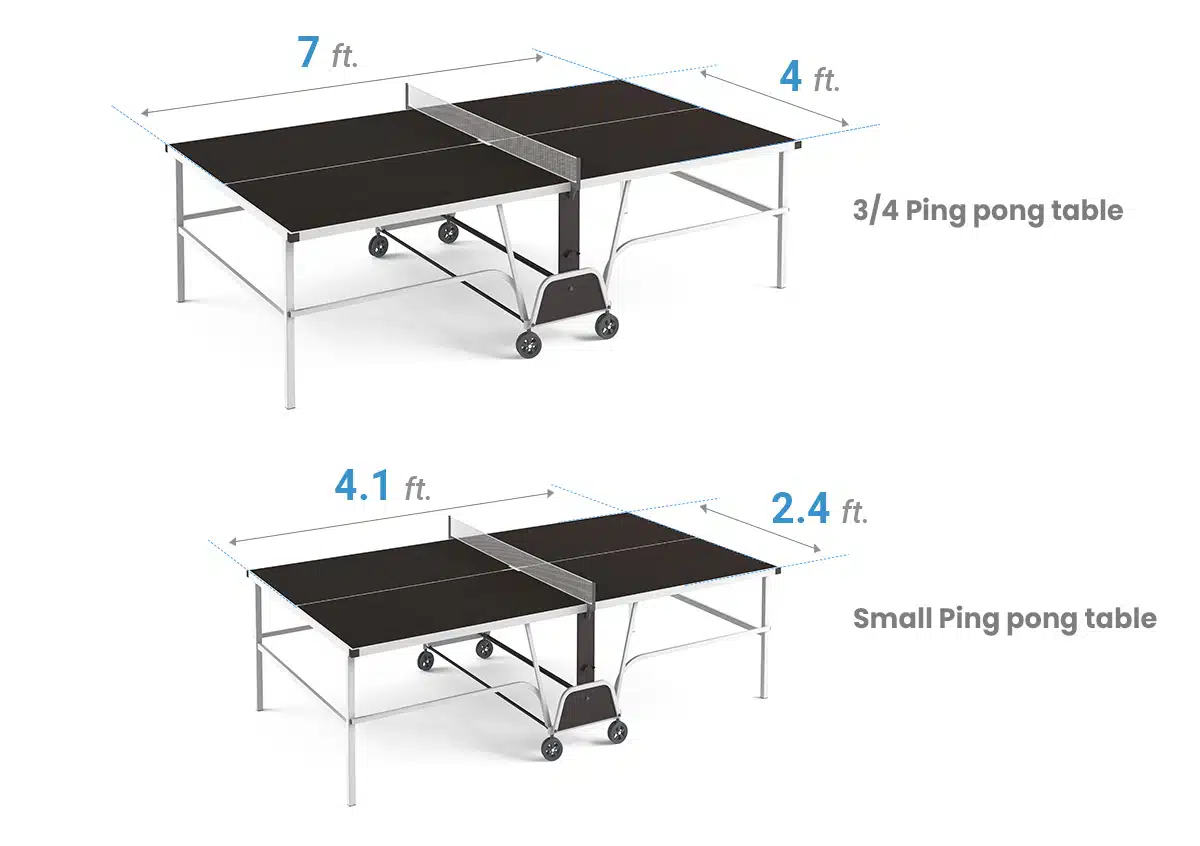 Homeowners with limited space can opt for a ¾ ping pong table. This table tennis furniture is 75% smaller than a full size, standard, or regulation table.
The table's long side is 213 centimeters or 7 feet, allowing teenagers to make efficient strikes. The furniture's breadth is 122 centimeters or 4 feet, which is sufficient for the average wingspan of an older child. Height remains standard.
A ¾ ping pong table depth is perfect for those who don't have the luxury of space in the home. It is also ideal for individuals who enjoy playing the game more on a social level instead of competition.
This table tennis furniture should fit nicely in a garage, although some families put it in a dedicated gaming room. Some place the table in the living room. It is compact and easy to store, allowing homeowners to reclaim space any time they need to while enabling other members to hold a friendly match.
Small Dimensions
Families living in tight spaces can still enjoy a game, provided they pick a mini table. If ¾ tables are 75% smaller than standard, a small or mini table tennis furniture is only half the regulation or full-size table.
A small ping pong table is only 1250 millimeters or 4.1 feet on its longest side. Kids can run between playing halves without much effort. The table's breadth at 720 millimeters or 2.4 feet also approximates the average wingspan of kids. Watching them play side to side, running after a ball, should be fun.
However, this table is lower by .39″ or 10 millimeters than a full-size or ¾ table.
Young players will love a mini table as a starter equipment. The only downside to this table tennis furniture is the inconsistency of ball attacks.
Folded Dimensions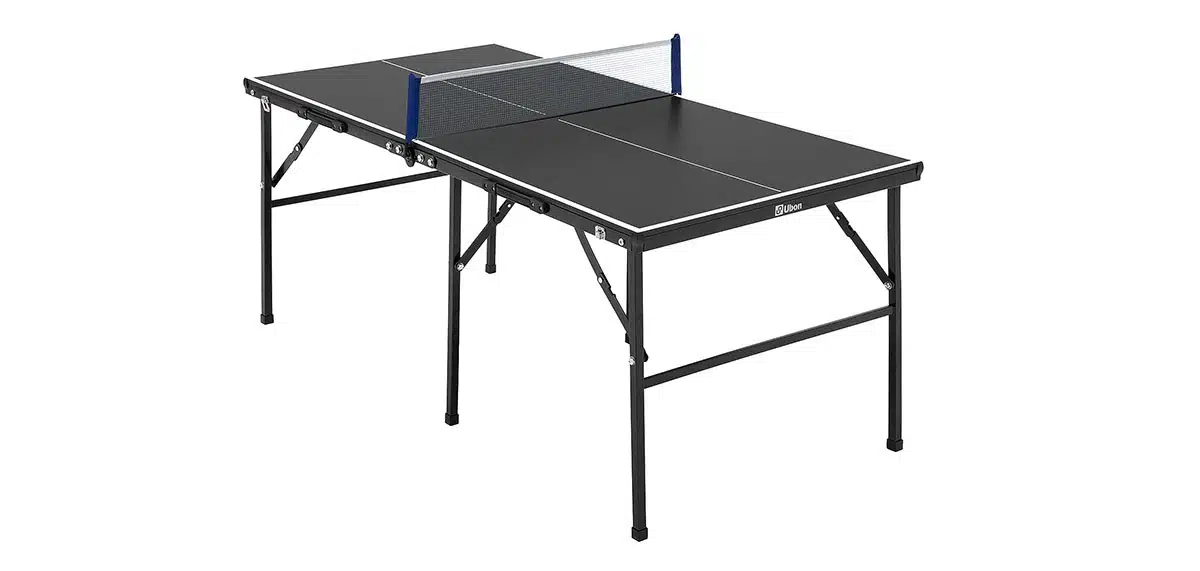 See this table at Amazon [sponsored link]
Some ping pong tables have a folding design, allowing homeowners, aspiring players, and organizations to store these furniture pieces more efficiently. Folding the table in two creates 61 inches or 155 centimeter tall segments.
The above product measures 60.2″ in length by 30.1″ wide and 34″ high fully open. When broken down for storage, the model folds to 30.1″ by 30.1″, weighing 41.8 lbs, and is 3.35″ thick. You will also need to account for storage of the net, paddles and balls.
Visit our pool table dimensions guide for more related content.