Here's our types of desks guide including the different design options, materials, features, sizes, and important details you should know about buying an office desk.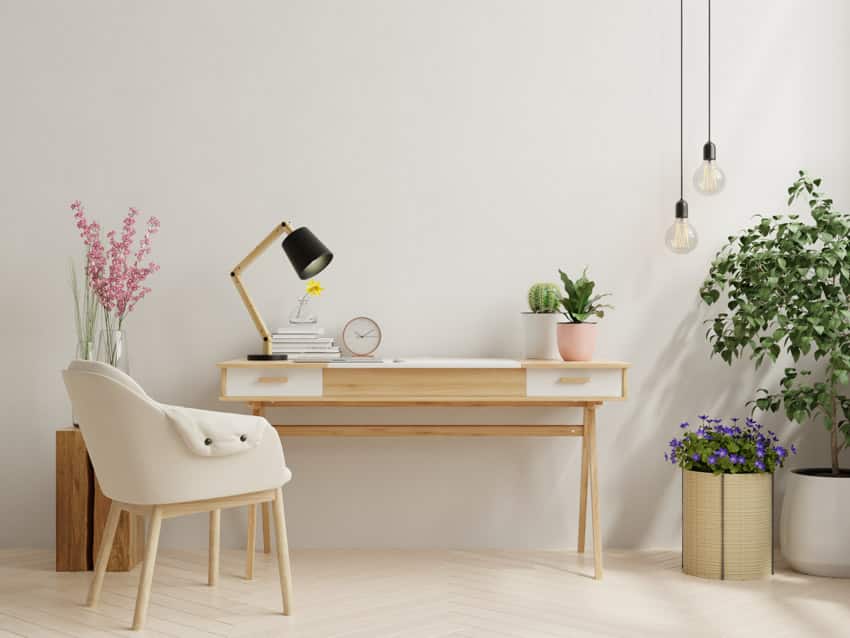 Traditionally, desks are originally designed for writing and storing documents and other paperwork. Desks, on the other hand, can offer a plethora of functions, as you will discover after reading this article.
In fact, they are some of the most ideal pieces of furniture for both work and games as well as for both office and home. A pretty good desk can be the focal point of any room designated for a particular activity whether it is a creative outlet, school-related task, a type of office work, or simply an entertainment activity.
Desk structure is divided into several categories, ranging from traditional, luxurious wood models to high-tech, minimalist, and modern steel and glass layouts.
Each type of desk focuses on a particular usage. Each style, material, and finish adds a distinct touch to the space in which it is located. Hence, selecting the right model entails weighing both appearance and function. Let us now discuss all the types of desks.
Computer Desk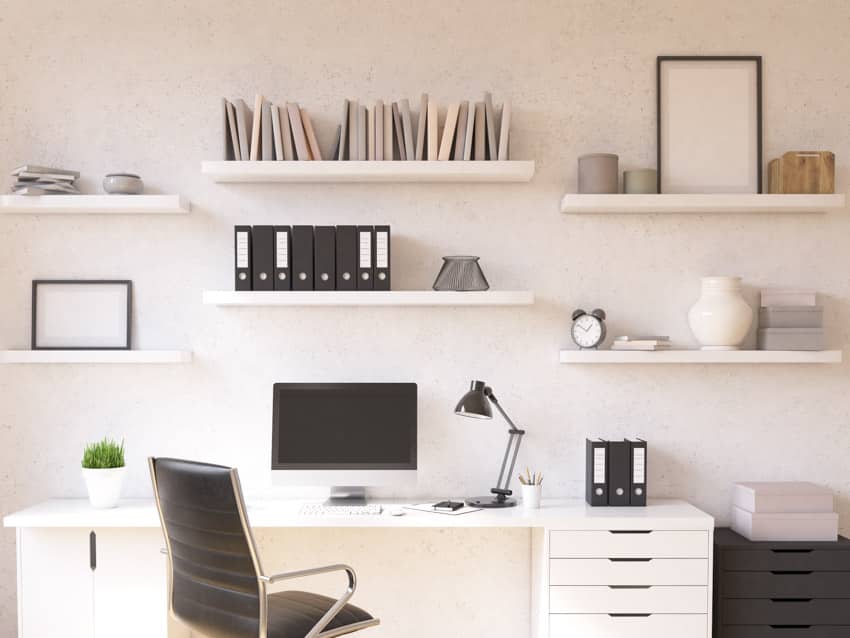 Computer desks are by far the most convenient and functional of all household office desks in a contemporary interior workplace.
These desk types have enough room for a computer system and monitor along with storage for any computer extras, connectors, and external devices you might need for your work.
Just like a writing desk, a computer desk is purely designed for reliability and convenience, but with additional space for hardware elements.
A specific surface designed for the keyboard and large storage space for the CPU are some of its important features.
Having said so, an increasing number of users are abandoning large desktop computers in favor of laptops and tablets, which have more than enough computational power to handle all things digitally.
Since lots of people do not need the standard computer desk features like a keyboard tray and a CPU storage component, this might make the computer desk outdated.
Nonetheless, you could still obtain a computer desk for your home for some other necessary purposes.
Writing Desk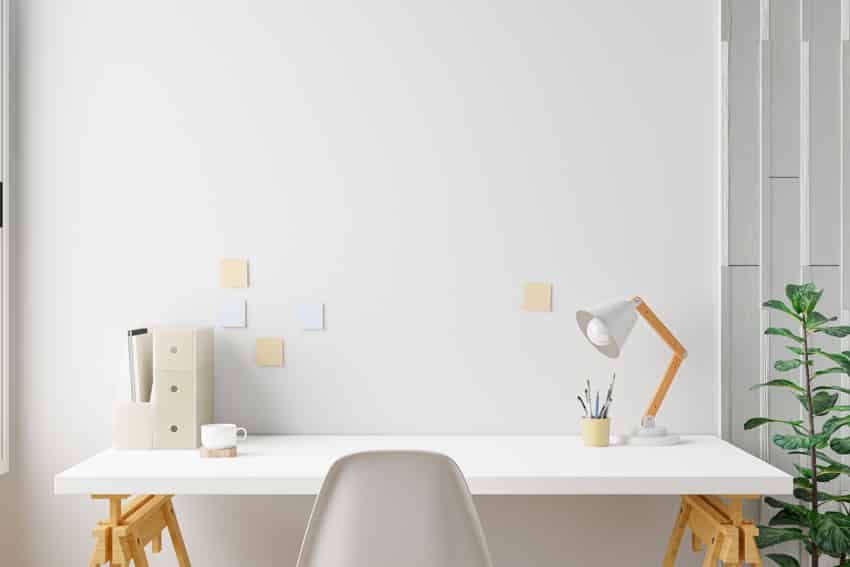 Writing desks are normally open, understated desks with little storage space and a sizable desktop. Writing desks are ideal for positioning against a wall or in the center of a home workspace.
For office work, this layout is best suitable for a laptop than a desktop computer. The straightforward, traditionalist aesthetic works well in almost any setting.
You could contend that any surface, including a dining table or any furniture, can serve as a writing desk. However, let us be honest – a writing desk offers a more stabilized and convenient working atmosphere for writing a letter or even a book.
It is also adaptable and can be utilized for other hobbies, such as working on art projects and crafts. It can also serve as the focal point of your workstation.
A writing desk, with its smooth surface, provides a fundamental and disturbance-free space for writing several notes and typing on your computer. The dimensions of writing desks vary, but the majority of them are about 24 inches in depth and 36 inches in width.
The styles vary as well, from stylish modern to rustic wood. Moreover, most writing desks have slim types of table legs since they are not designed to hold a lot of huge objects.
Executive Desk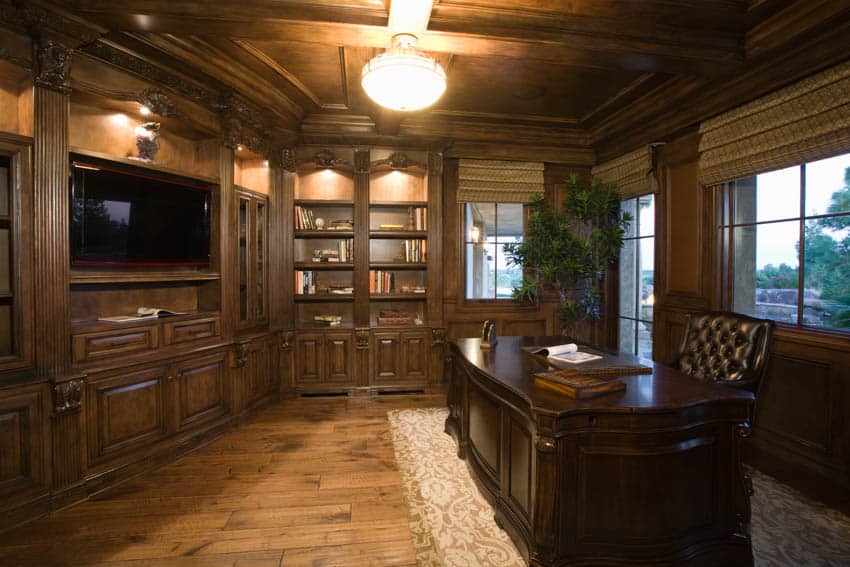 The executive desk reigns supreme when talking about the world of home offices. With plenty of drawer capacity and surface zone as well as a large footprint, these carved wood desks exude a hint of grandeur and ageless appeal that distinguishes them from other desk styles.
Executive desks are classified into three types: L-shaped desks, U-shaped desks, and open plan desks. The L-shaped desk is ideal for use in edges and huge spaces. It is linked by a perpendicular wing known as the bridge.
Furthermore, it has plenty of surface space for performing multiple tasks at once and storing different office strategies.
An L-shaped desk has the benefit of providing adequate space for your home or office interior. It can hold publications, picture frames, and even small plants.
Aside from that, it offers additional file cabinets in which you can keep and organize your documents. You could even incorporate a keyboard tray to create room for other items like pen holders.
Nevertheless, the U-shaped desk is comparable to the L-shaped desk in that its bridge links two desks to establish a wrap-around layout. It is designed to be used in huge areas and has sufficient space for household or office equipment.
The U-shaped desk's layout also allows you to keep your belongings within arm's reach, which increases your productivity.
Open-plan desks, on the other hand, are rows of desks with no dividers. Unlike the other two types of desks, this is made up of a single desk with no associated furniture.
However, it has gained popularity in the business world since many business owners genuinely think that an open-plan desk configuration promotes team spirit and improves cooperation among staff members.
Standing Desk (Adjustable Height)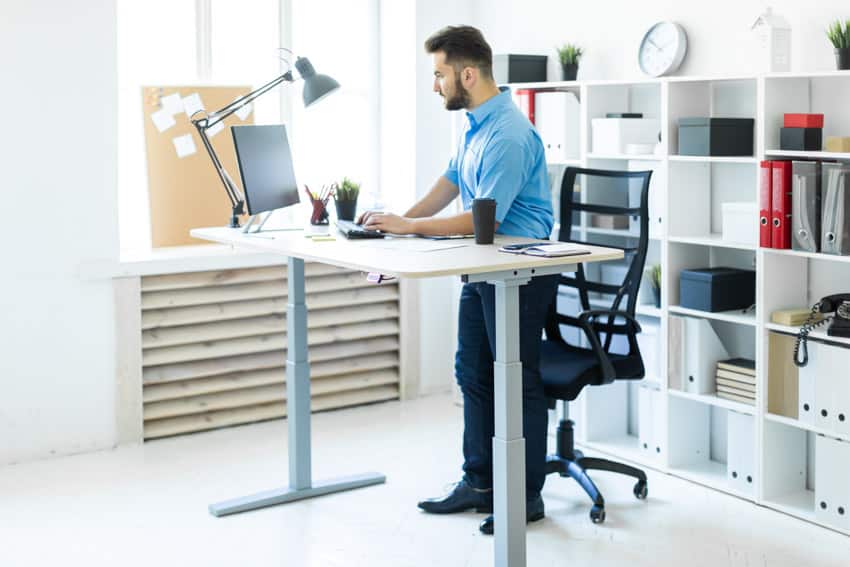 In the past few years, there has been a lot of talk about how undesirable it is to sit for long durations. As a result of the potential health benefits of working part-time at a standing desk with adjustable height, the popularity of this type of desk has grown.
This is nearly identical to a treadmill desk in that it requires an individual to keep standing while working or drafting. The standing desk is one of the most appropriate alternatives to sitting for extended periods at work.
This does not, meanwhile, imply that you can only use this desk while standing.
You might also sit while using this desk because standing for a long time does not appear to be beneficial for health; therefore, having an office chair nearby is still recommended.
For height adjustment, you can choose between manual and electric standing desks. This adjustable desk allows a person to find the ideal height so that he or she does not have to slouch.
However, you will be surprised at how many other outstanding features standing desks have. Certain models include a sit/stand notification, which alerts users whenever it is time to sit or stand. Some have an LED display that displays the actual height of the desk.
A standing desk converter is a prevalent variant of this desk. It is simple to install on your current desk and could be adjusted to allow you to work either in a standing or sitting position.
Credenza Desk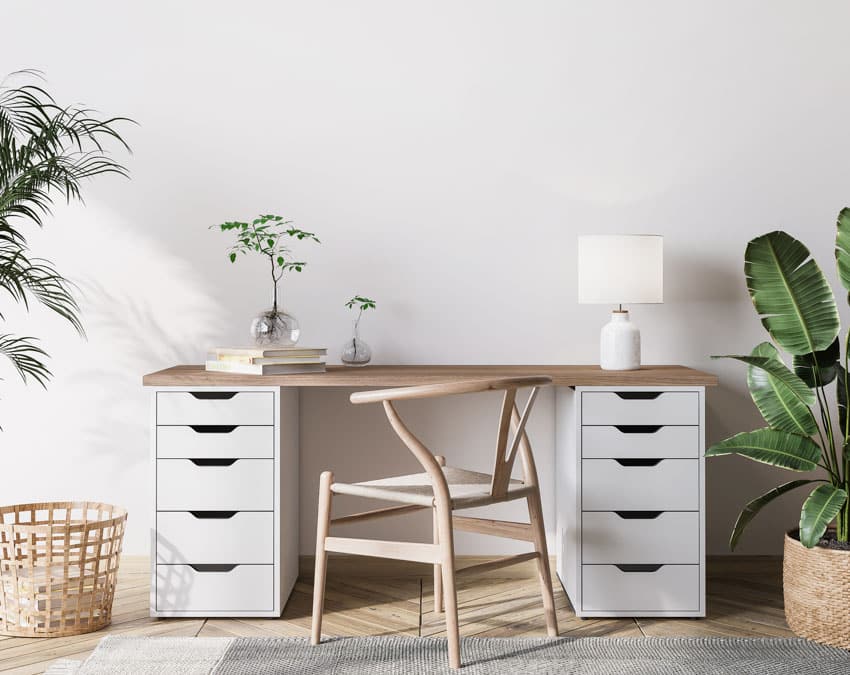 Credenza desks, as the appellation suggests, merge a desk with a cabinet-filled credenza. This is a piece of furniture that is typically designated for dining or living rooms, and it is appreciated for both its style and functionality.
This is an advanced type of desk that is frequently placed against a wall. In a standard office, it functions as a backup surface to another desk.
When integrated with a desk, you get the advantages of both pieces of furniture, as long as you have enough room for one. Credenza desks typically have several drawers for storing paperwork, pens, and other office supplies.
Furthermore, just like conventional desks, this type of desk has adequate knee space and legroom.
Built-In Desk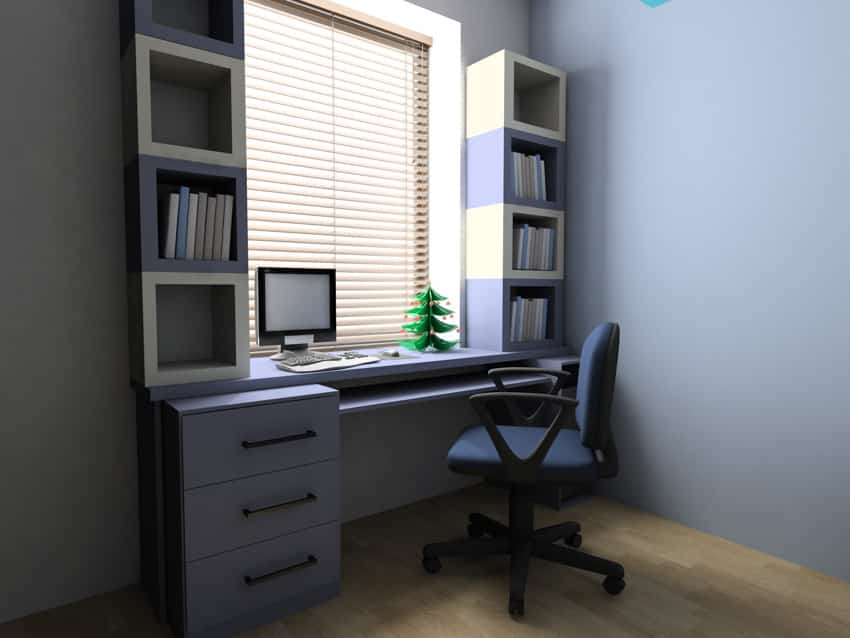 A built-in desk is normally attached permanently to your wall. It can be placed in most types of rooms in a house. It is more than just a dorm room accessory; it is an aesthetically elegant and remarkably functional addition to any modern house.
A built-in desk, which is both beautiful and functional, reduces clutter in small spaces while also adding a touch of modern chic to larger homes.
Depending on your needs, various built-in desk designs can include a multitude of drawers, racks, and top-space compartments as well as increased storage units and hidden shelving holes for all that excess documents.
The variety of built-in desks showcased in today's top design recommendations are intended to keep you working in unrivaled comfort and serenity.
Furthermore, with every conceivable material obtainable, from marble to refurbished wood, you can be confident that your desk will seamlessly blend with the interior of your home year after year.
Corner Desk (L-Shaped)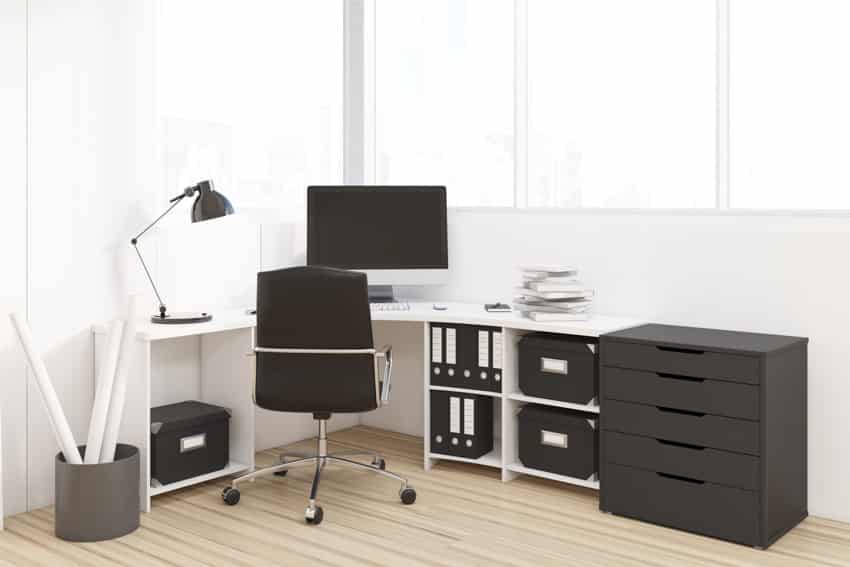 A corner desk, as the appellation implies, is intended to be placed in a corner.
Numerous users prefer these L-shaped desks because they provide an expansive working environment in which an individual can easily position a few computer screens and memos on both sides without having to extend too far.
Indeed, corner desks could be a practical solution to space issues in their most condensed form or a grand suite of surface area in their more intricate forms.
Depending on the dimensions you want, they can provide more desktop space in a narrower area or a huge L-shaped spread. Another great feature of a corner desk is its ability to provide additional legroom.
Secretary Desk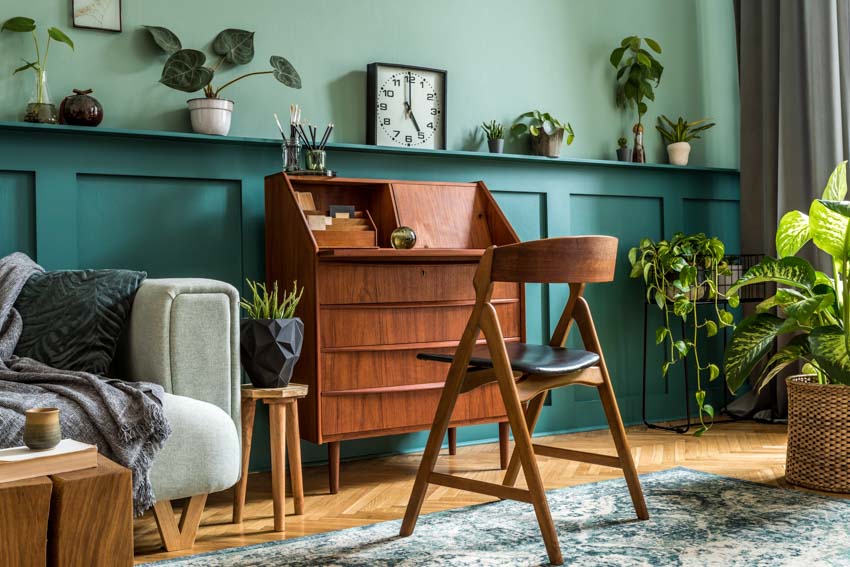 This is a desk with a movable desktop surface that is topped by a shelving unit that is normally closed with doors or drawers.
Typically, the whole desk is a solitary, tall, and heavy piece of ornamental furniture. Secretary desks were primarily designed for individuals who preferred an exquisite desk but did not have the space for a structured roll-top model.
If you need a desk to keep a lot of documents as well as other office supplies, a secretary desk is a way to go. The secretary desk has undergone several transformations over the years.
The conventional secretary desk resembles a hybrid of a desk and a dresser. It has compartments, cubby holes, and drawers hidden behind a board that opens to reveal a desktop.
In comparison to their previous versions, advanced secretary desks are narrower and more compact. Numerous models include hidden cubbies and drop-down covers in the front.
However, the appearance of covers in the front renders secretary desks unsuitable for the use or storage of desktop computers and printers. Smaller ones, on the other hand, might have enough room for a laptop and a mouse.
Kitchen Desk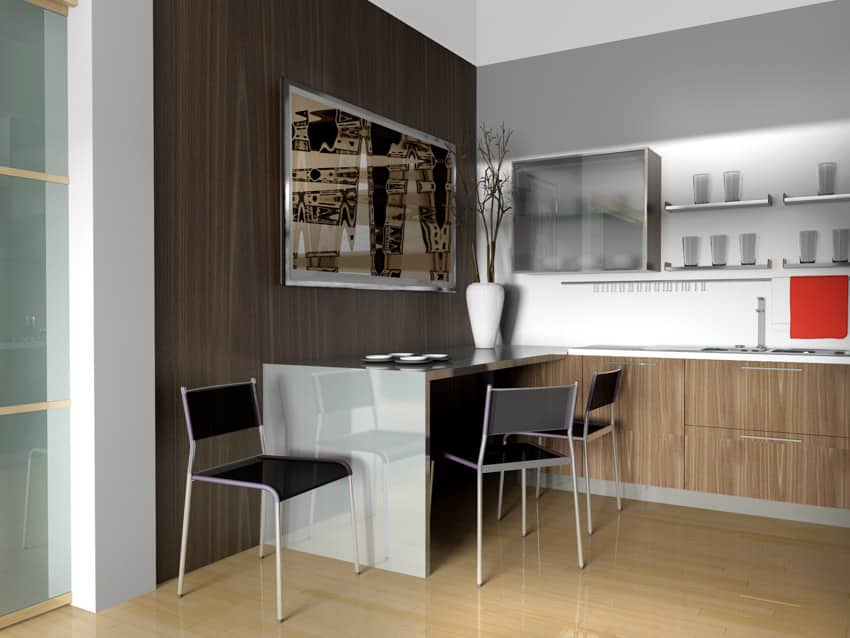 A kitchen desk is a small designated space where you can work or pay bills. This type of desk does not occupy too much space. It is usually found in a kitchen, as the name suggests. Inside a home, storage is something that you can never have enough of.
While most homeowners plan for storage for objects such as dishes, towels, and other kitchen materials they do not often consider miscellaneous items. The good thing is a kitchen desk is an excellent spot to hold letters, billing information, and a computer.
Most finances and bills are now handled digitally. This signifies that the times of sitting down and writing things down are numbered. However, this does not entail that a kitchen desk is absolutely pointless.
Numerous people are converting their kitchen desks into specialized charging stations for their home's gadgets. At the end of the night, it can be a useful place to assemble the kids' smartphones and tablets. See our gallery of kitchen office nook ideas for more designs.

Floating Desk (Wall Mounted)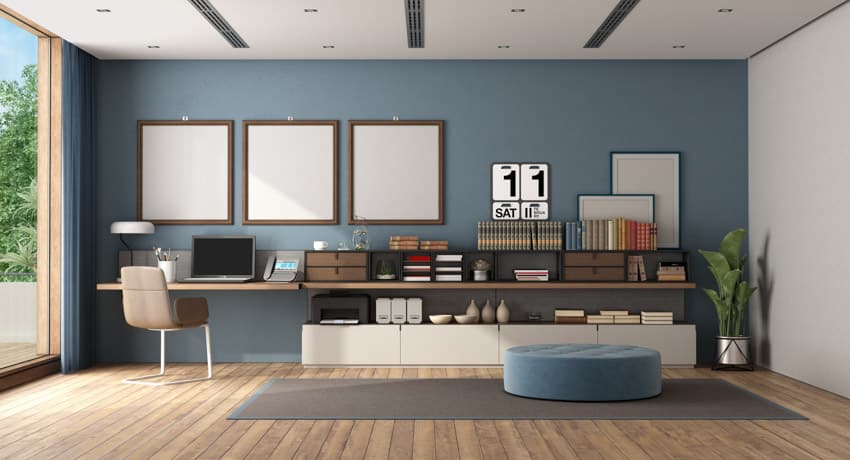 A floating desk is intended to be used and installed in small spaces such as bedrooms or living rooms. It does not have any legs as it is attached or fitted to the wall. It is also known as an on-wall desk.
Furthermore, it can provide you with the room you need to write or type on your computer. Whenever you are finished working, you can fold it up and store it.
In addition, since this type of desk is directly mounted to a wall, you can maximize all the usable floor space. These desks are frequently mounted with shelving and cubby holes to enjoy the benefits of the vertical frame.
Workstation Desk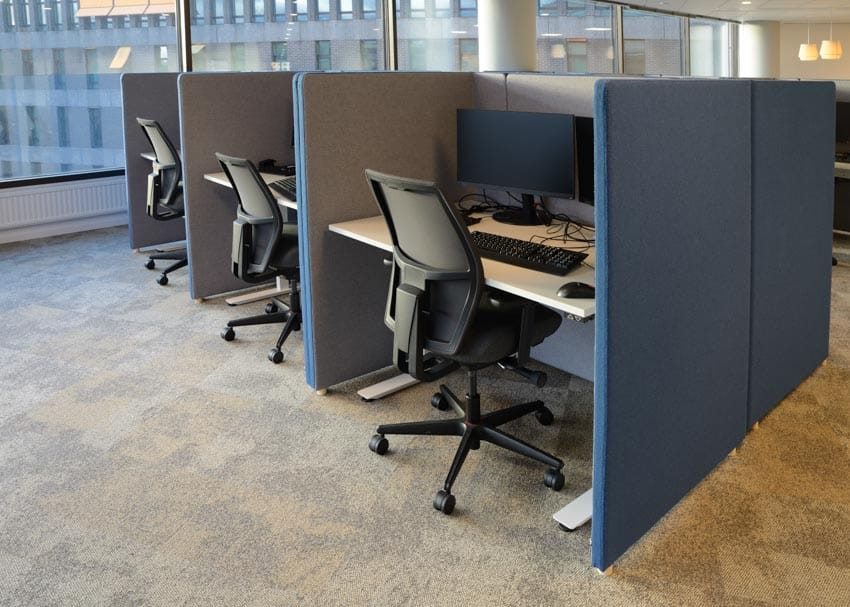 Workstation desks seem to be comparable to writing desks, and they are frequently confused. Workstation desks, generally speaking, are designed for a particular type of work including typing or calling customers.
They frequently have built-in sides or screens, and they provide some personal space for the individual sitting at them.
In an open-plan office, a workstation desk is a great pick since it allows those people working to focus without being distracted by those sitting around them.
A workstation desk typically has one computer terminal, but there might be space for some small items including an in-tray, a pen pot, and so on.
Double Workstation Desk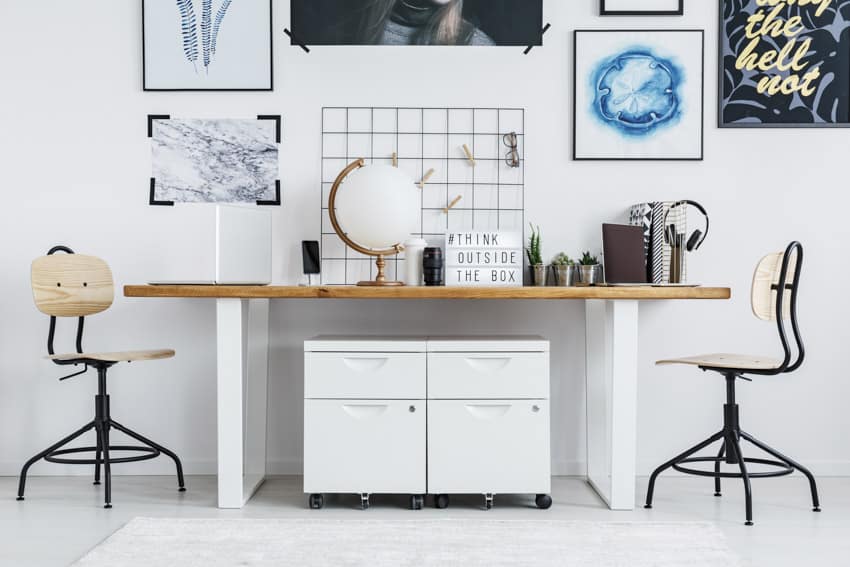 If you want to optimize the space in your home office, a double workstation desk or 2-person desk would be the ideal solution. A decent home office desk for two must be durable, functional, and have a great deal of storage to fulfill the storage requirements of a busy office.
Furthermore, there must be sufficient horizontal space on the top of the double workstation desk to accommodate several individuals.
Double workstation desks enable you to work alongside a co-worker. That makes the process easier for you and for the individual who works with you.
When two individuals work in your office or need to collaborate with co-workers, you should consider purchasing double workstation desks.
Roll-Top Desk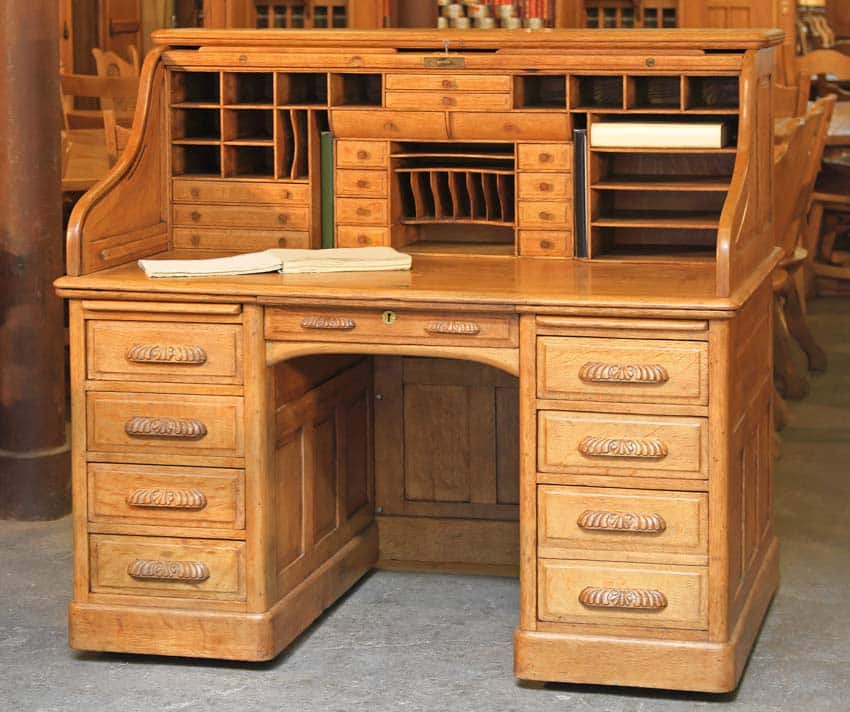 Decades ago, some of our parents probably had beautiful antique roll-top desks in their living rooms that they had completely remodeled after purchasing them at an antique shop.
You do not, nevertheless, have to buy a vintage one; you can still buy them brand new nowadays at some furniture stores.
A roll-top desk has a hood that slides down over the work surface to keep all contents safe. While it is not the most convenient desk, particularly for computing, it can be a lovely addition to any office, living room, or main bedroom.
Gaming Desk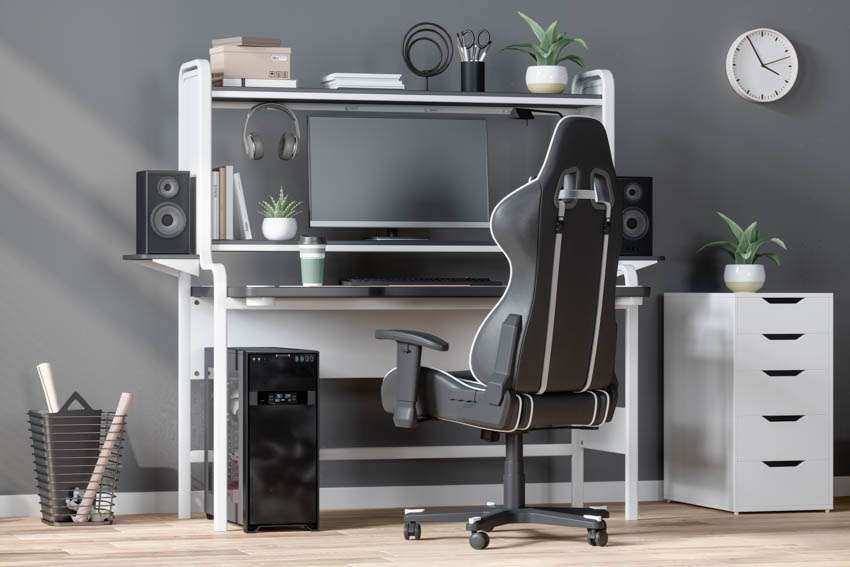 A gaming desk has been ergonomically engineered to make gaming as easy as possible. Such desks provide all of the space required for multiple screens.
This type of desk allows gamers to quickly shift from one keyboard to another. Furthermore, it allows players to feel extremely relaxed for long durations while being fully engaged in the next virtual gaming task.
What distinguishes a gaming desk is that each one has its own peculiarities that make it ideally suited for specialized gaming necessities. There are desks, for instance, where the whole surface top is one sizable mouse pad.
You can literally move your mouse across any area of the working surface and it will function as a smooth-working mouse pad.
Other positive peculiarities include zones for hiding cables and storing snacks during lengthy gaming sessions. Aside from that, there are glass-made desks and desks with fastened cushions for maximum comfort and elegant design.
There is a myriad of designs to choose from based on your gaming requirements. Certain gaming desks are L-shaped to accommodate whatever you desire in terms of gaming. Others are intended to be placed above your lap while sitting in your favorite chair.
Several gaming desks are made of tinted windows to add a unique charm to your gaming environment. Almost every gamer's way of life can be accommodated by a design. Your desks will rely heavily on your exact needs.
Lap Desk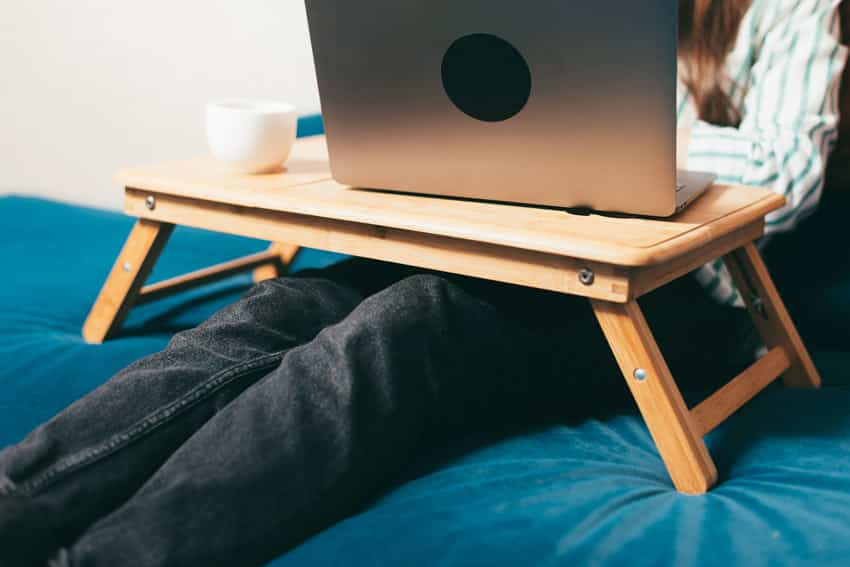 If you enjoy working on the sofa or in bed, a lap desk would be ideal for you. A lap desk provides a sturdy surface and height that allows you to work from your living room sofa, bed, or any other location in your home office.
The lap desk's height is customizable, thus you will not strain your neck or back while working. Several lap desks include a drawer for storing other office supplies. The majority of modern lap desks now entail features such as padding and ventilation.
If you want to keep your phone or tablet close to you while working, a lap desk with storage space would be a great idea.
Trestle Desk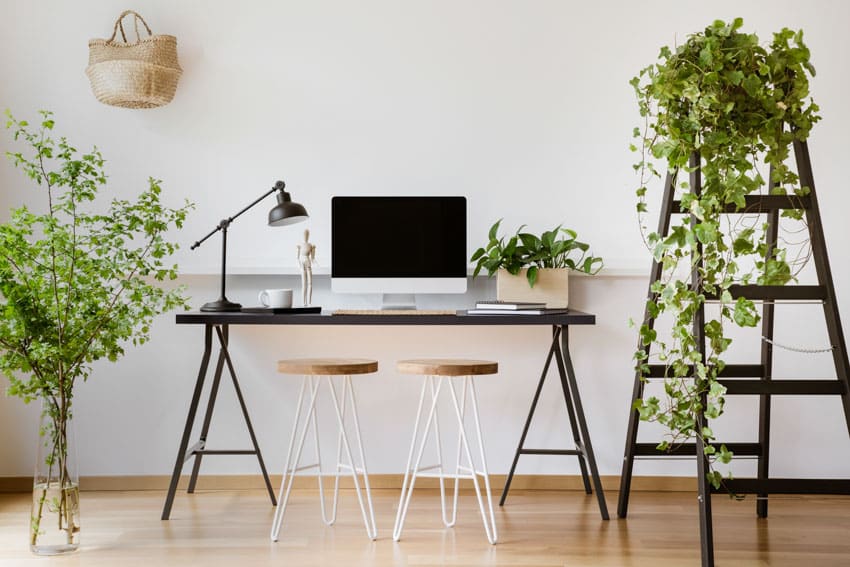 The trestle desk is a more advanced and compact version of a conventional writing desk. It has a large work surface as well as a modern, lightweight, and space-saving design.
Its interesting, popular, and futuristic appearance has made it an absolute favorite in millions of European families.
Moreover, the trestle desk is made of a plank of wood supported by two trestles. This form of desk is suitable for small homes because it is portable and functional. For storage, it is frequently matched with a short, moving filing cabinet.
Treadmill Desk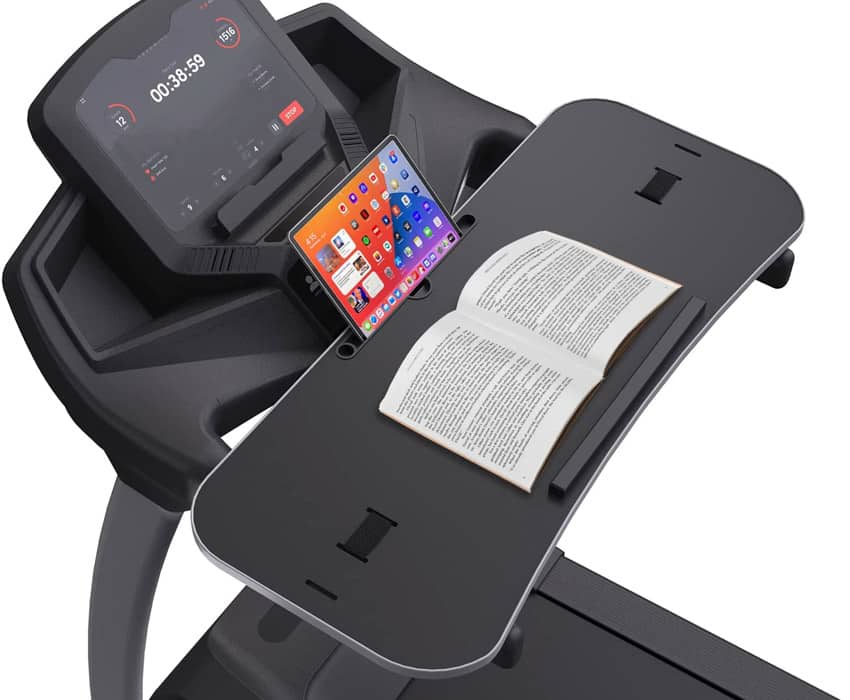 See this treadmill desk at Amazon [sponsored link]
Some people misinterpret treadmill desks as a passing craze that will be phased out over time. However, with so many health-conscious individuals these days, it is tough to anticipate that the treadmill desk will soon be abandoned.
A treadmill desk, as the name implies, is an integration of a treadmill and a desk. This type of desk is typically a height-adjustable standing type.
The treadmill, on the other hand, is located beneath the desk. This configuration or arrangement allows you to exercise while also working on your computer, whether it is sending out emails or creating written documents.
Nevertheless, there is no doubt that a treadmill desk can help you spend less time sitting at work. Research findings have shown that using a treadmill desk on a constant schedule can boost your productivity and concentration while working.
Carrel Desk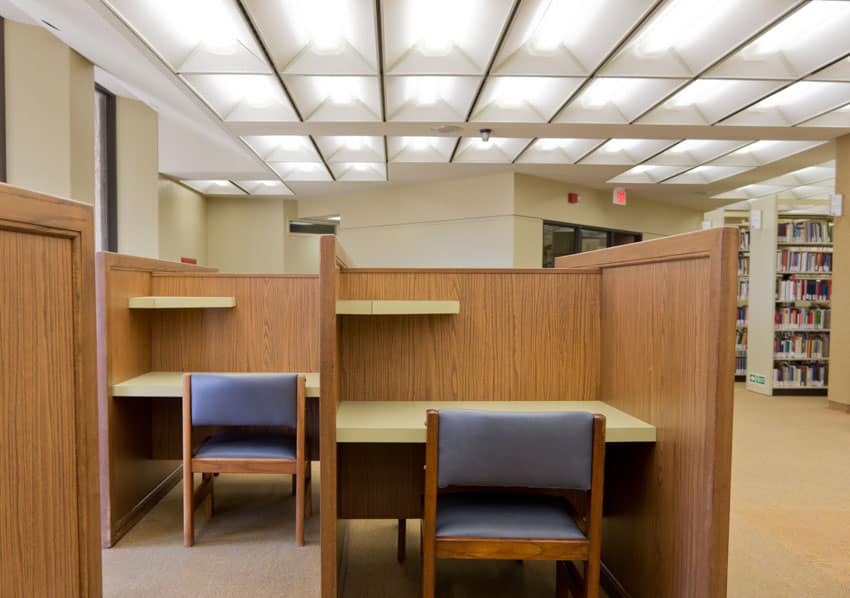 Carrel desks are particularly popular in university libraries. The chair is sometimes combined with the carrel desk. They might also include a shelf, built-in lighting, power outlets, or Ethernet ports.
Carrel desks, unlike cubicle desks, typically lack file drawers and other amenities. They are intended to stand alone or in groups, with or without closely associated sides or walls.
The term carrel can also pertain to a small secluded "study room" in academic libraries and on college campuses.
The room might have a lockable door to which the user is only allowed to enter upon request. Carriers typically include a desk, shelving, and a lamp.
Peninsula Desk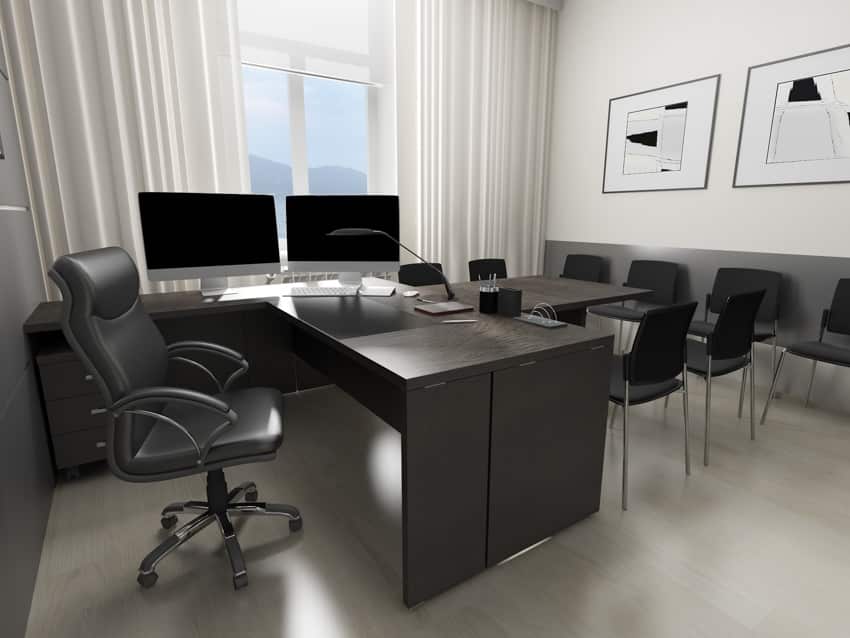 Peninsula desks are ideal for those who require a conference space at their desk. Unlike a bow front desk, which creates a proper meeting space for attendees, a peninsula desk provides a more relaxed meeting space with less restriction between you and a client or staff member.
Furthermore, peninsulas are typically added to a plain desk to form an L-shape desk, or incorporated into another L-shape desk to form a U-shape desk.
There are numerous alternatives for adding your peninsula meeting space with personalized laminate desks, and it can all be done smoothly where the peninsula component complements your desk wonderfully along with other furniture in your workplace.
Murphy Desk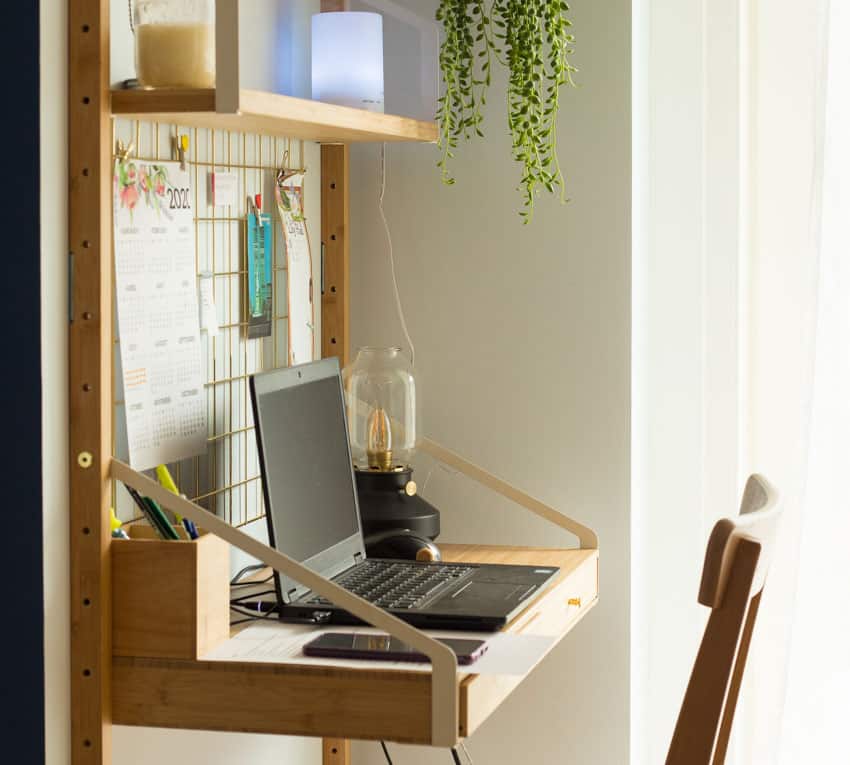 When not in use, a Murphy desk is a pull-down or fold-down desk that could be folded away. This provides you with all of the advantages of having a specialized workstation without taking up significant space in your home. Some Murphy desks can turn into a bookshelf when they are folded.
This folding desk is best suited for anyone who works from home. It usually has a vast work surface as well as built-in storage for publications, directories, and other materials that you might need while working.
Whenever you are done for the day, you can easily fold the desk up against your wall to store everything orderly and give you further space in your room.
Circular Desk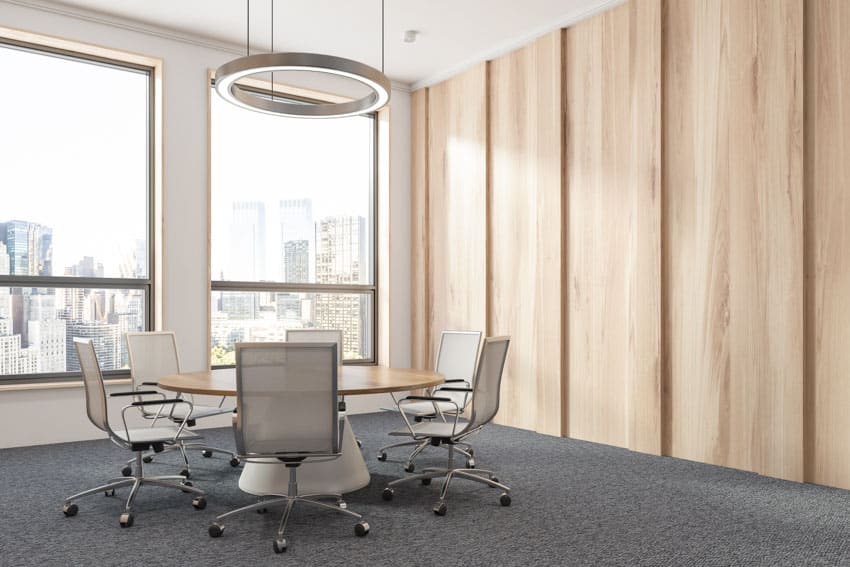 A stylish collection of circular or round desks in various dimensions and finishing touches, with or without cord management, to help deliver a solution for a variety of settings.
Every circular desk serves a variety of purposes. It allows the user to work both independently and in teams, but in a more relaxed setting than a workstation or huge meeting table.
Ladder Desk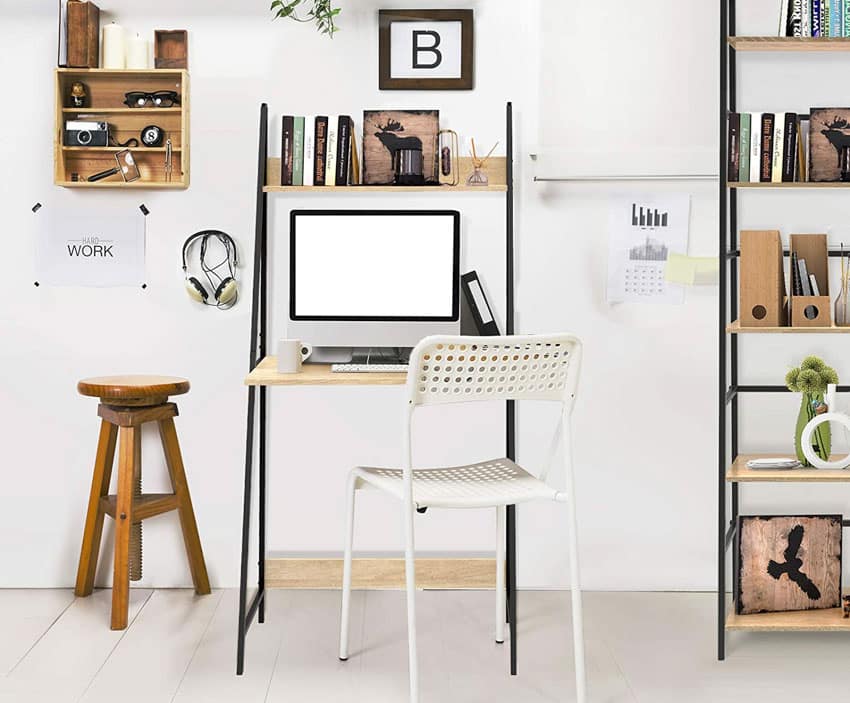 See this ladder desk at Amazon [sponsored link]
A ladder desk is a useful type of desk that is formed like a ladder, has plenty of accessible storage, and utilizes the height of your room rather than the thickness or depth. They are ideal for small spaces such as homes or offices.
Aside from that, a ladder desk resembles a ladder bookcase. It has a huge space for writing or using a computer. There is enough room for a laptop and a keyboard. On top of the desk, you can also keep documents, a writing pad, and a pen holder.
Lectern Desk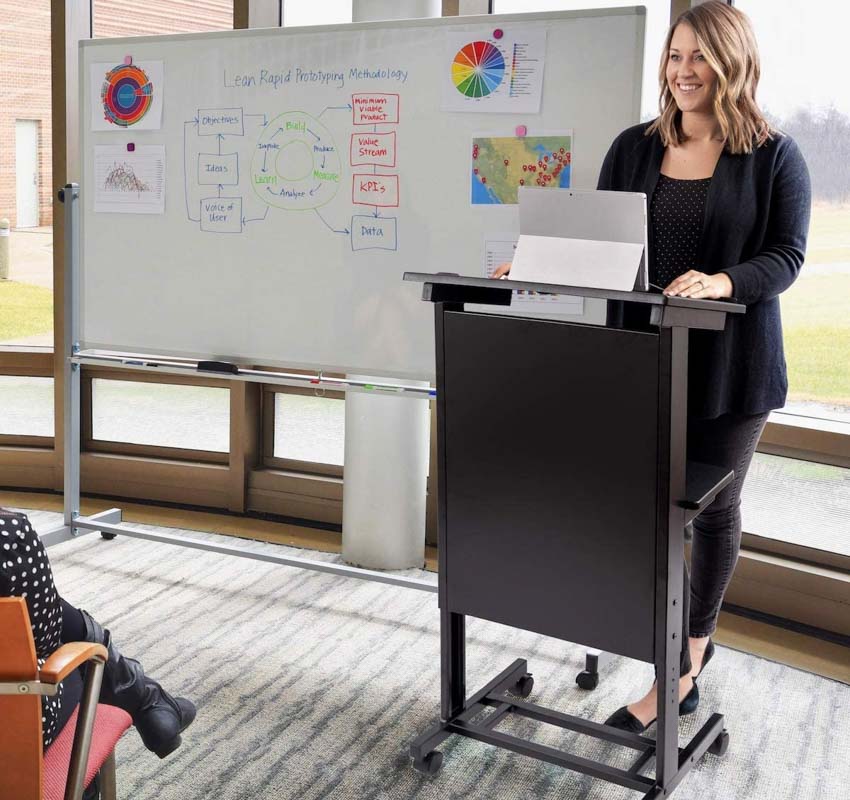 See this lectern desk at Amazon [sponsored link]
Unlike some of the other types of desks aforementioned, the lectern desk is not frequently seen in homes or offices. It is a specially designed desk for individuals who are delivering a public speech or demonstration.
This is a narrow, raised desk that can be used to hold manuscripts or outlines while the participant is standing in front of a crowd. A laptop or display mount is frequently included in a lectern desk nowadays.
Aside from its compact design, mobility is one of the greatest features of a lectern desk. Several models can be folded and stored in a case for convenient transportation and handling, while others have collapsible legs.
Lecterns with specific carrying bags are also available. Furthermore, lecterns have easily accessible shelves for storing presenters' belongings such as reference points, publications, and laptops.
Partners Desk (Kneehole Desk)
A partners' desk is a classic style of desk, consisting of a large wooden platform desk designed and engineered for two individuals to work while facing each other.
A profound top, two pairs of drawers, one at each end of the pedestal, and the lack of a modesty panel are the distinguishing attributes of a partner's desk.
The majority of partners' desks are made of top-quality woods like oak, mahogany, or walnut. Normally, they are finished with tooled leather additives on top and brass fittings all over.
Desk Materials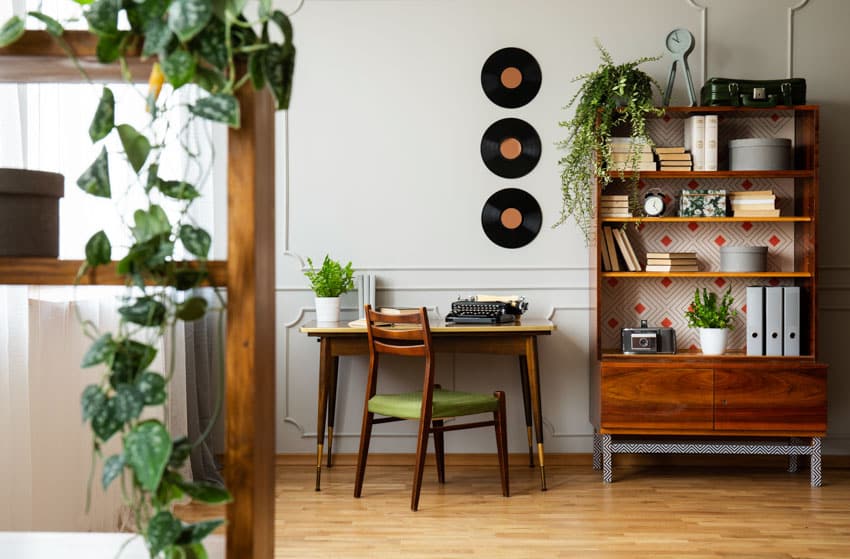 Your desk should be able to withstand a reasonable quantity of weight and it should also complement the overall aesthetic of your home office.
We have taken into account all of the important factors, including performance features, visual appeal, and usability of each type of wood used in desks.
Oak: You simply cannot beat oak. It is a persistent classic for a variety of reasons. First and foremost, oak is a tough and long-lasting material. This is critical for a piece of furniture that will support the weight of your office supplies.
Furthermore, oak works well with screws, nails, and cutting power tools, which is extremely important if you are planning to conduct a do-it-yourself project with it soon. However, we must say that oak is in the middle of the price spectrum.
There are less costly options as well as more expensive lumber. Luckily, you cannot go wrong with oak when it comes to dependability and aesthetic value.
Walnut: Walnut is well-known for its beautiful grain, color, extreme hardness, and pattern. The creamy brown to chocolate brown tones that distinguish species such as American Black Walnut may look good in a darker, sleeker home office setting.
The exceptional decorative presence of this hardwood is combined with excellent performance characteristics, implying that your desk will be able to withstand a lot of use over a long duration.
Keep in mind that walnut, due to its lavish, ornamental appearance and scarcity, demands a very expensive price.
Cherry: Cherry, with its smooth grain and white to reddish-brown sapwood, (sometimes creamy pink), can be found in a variety of office settings.
Cherry is a woodworker's ideal type of wood as well. It is extremely easy to work with by hand and machine tools, and it has superb bonding, nailing, screwing, and refinishing properties.
Maple: Maple is another excellent option for a desk. It has a winning combination of properties: it is both durable and attractive.
The wood's creamy white sapwood and subtle pinkish-brown undertone make it an appealing and modern option.
Unfortunately, maple can be a little difficult to work with. Extra care must be taken when cutting it with machine or hand tools.
Best Type Of Wood For Desks
In terms of durability, maple would be the best type of wood for a desk. It is almost unbreakable and will last for decades. However, the drawback is it is hard to maintain and remodel.
Hence, if you want a type of wood that is easy to work with and inexpensive, it would be safe to choose oak. However, it would not last as long as maple.
Desktop Materials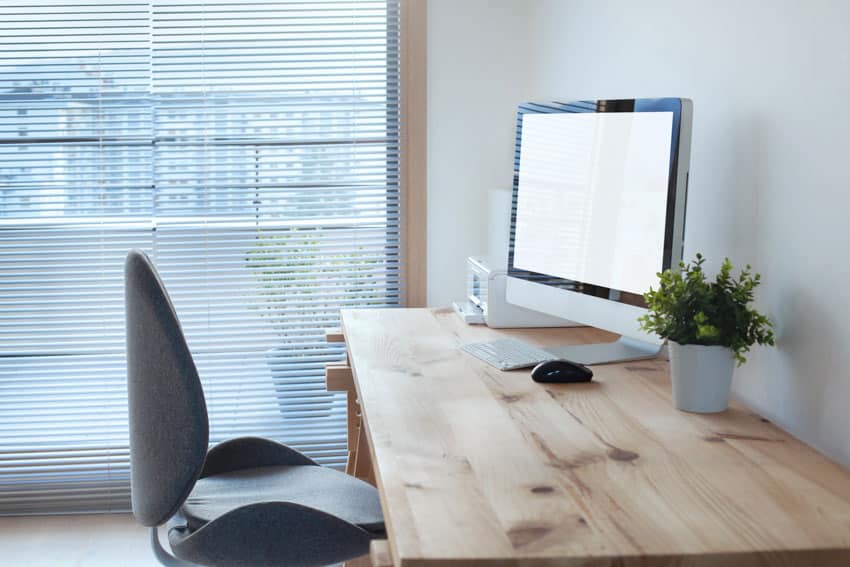 The desktop is where you will directly make a persistent contact with the desk and where you will engage with the furniture the most.
The desktop material has the biggest influence on how the desk appears and feels when in use.
Wood: The most conventional type of desktop is made of wood. These are frequently found on top of all-wood desks, although they can also be found installed on steel frames.
Glass: Any desk with glass surfaces will seem strikingly modern. Glass, when combined with wood or steel design, increases visual space and enlivens the entire piece of furniture.
Glass desktops come in a variety of sizes and combinations, and are frequently detachable for cleaning, repair, or relocation.
Metal: A metal desktop is the epitome of functional design. It is another trendy material that is typically combined with a modern design desk such as glass because it resists stains and scratches while keeping cool to the touch.
Metal desktops may be combined with classic wood-constructed desks for a high-contrast design.
Laminate: On top of the wood construction, laminate surfaces cover it with a protective covering. This coating is often made of plastic and is intended to keep the desk stain and warp-resistant.
These are not the most elegant desktops, but they give functionality, variety, and inner peace knowing that your surface is resistant to various elements.
Best Material For Desktop
However, in terms of being easy to work with, wood might be the best desktop material option.
In terms of visual appeal and ease of cleaning, glass and laminate would be the best materials for a desktop. Even so, in the end, it will still depend on your needs and preferences.
Desk Features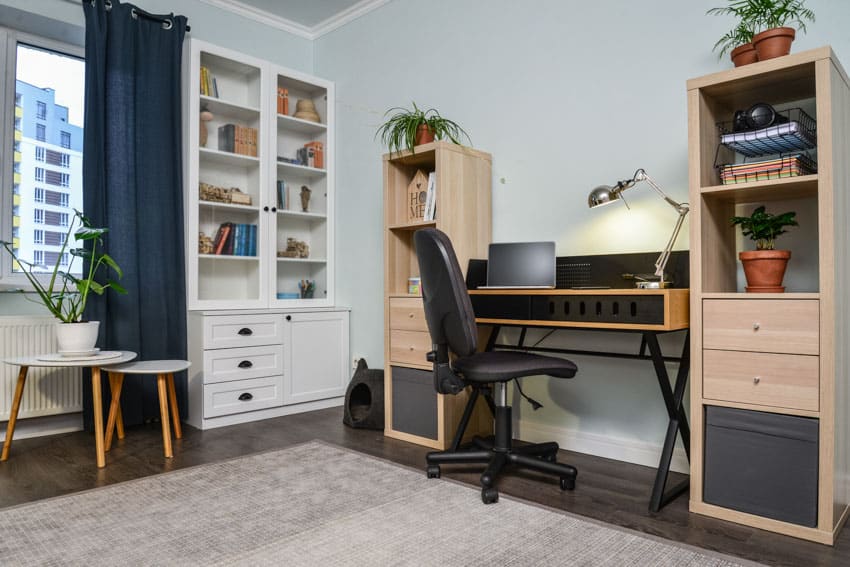 Desk with Storage: If your desk is designed for computer use, it will most likely include a tall, narrow storage compartment on the bottom.
This enables you to place your CPU upright in the desk hollow instead of on the floor, where it might obstruct legroom or get pushed.
In certain situations, the CPU storage compartment includes a door that shuts like a cabinet in front but is open in the rear to allow for ventilation; you do not want to totally confine electronic equipment because they might overheat.
This storage area is usually reserved for CPUs on most desktops. However, some people store other items in it, such as their bags and briefcases, especially if they are using laptops only, which do not need CPUs to function.
Desk with Drawers: You may have shelves or drawers that stretch nearly to the floor on either side of your legroom space. To cover the contents of the shelves, a cabinet door might be installed at the front.
Most writing desks have a small central drawer for pens, pencils, and other small items. Determine what you need to use and store in that area when selecting a desk. You must have enough necessary items in the drawers or shelves to easily reach whatever you will need regularly.
Desk with Hutch (Back Panel): A hutch is a piece of furniture that sits on top of a desk and provides storage above the desk and above the monitor.
These can be of any shape and size. Incorporating a hutch raises the price of a desk significantly since it is essentially adding an extra piece of furniture to complete a set. It also multiplies the amount of storage space you have.
You may put anything that you want on a hutch such as books, documents, program disks, and any other office materials.
A hutch can be attached to the desk, resting on the desk without being attached, or freestanding around the desk. When buying a desk with a hutch, be certain that the hutch is sturdy and durable enough to stay in position.
Desks That Look Like Furniture: When not in use, some desks, commonly referred to as wall desks, resemble a display shelf, but when the wooden piece is pulled out, it transforms into a wall-mounted desk.
There are desks that appear to be other types of furniture styles yet are actually desks. It might be a great option as well.
Height Adjustable: There are some desk variations that allow you to work while standing in front of your conventional desk.
However, several desks allow you to raise and lower them depending on your preference. Desks with this feature would be a great option, especially if both adults and children are the ones who will use them.
Roll Down Hoods: There are desks available with hoods that can be rolled down over the desktop surface to cover all the items on it.
Monitor Stands: If your desk is too low and making your back hurt, you can consider placing a monitor stand to elevate your monitor or laptop and level it with your eyes.
Portable: Some desks have rolling castors or slides that make them easier to move about the office space. Desks with rolling wheels need specific types of office flooring such as wood or laminate to operate properly.
Ergonomics: You may have a flat tray on your desk that you can slide in and out of. Well, this is where you will put your keyboard and mouse.
For ergonomic reasons, it is lower than the top of the desk. Typing on a keyboard that is aligned with your stomach is usually more ergonomic for your arms as well as your wrists.
Foldable: Several desks can be folded to optimize your room's overall space. Foldable desks are quite ideal for small home offices and bedrooms. They can be folded once you are done working or studying.
Desk Sizes
Generally, desks are around 30 inches tall, which is the most ideal height. Typically, the width varies from 48 to 72 inches.
These are the most usual measurements, although this design of a desk may differ from these estimations in some cases. See our guide to desk sizes on this page.

How Do I Choose A Good Desk?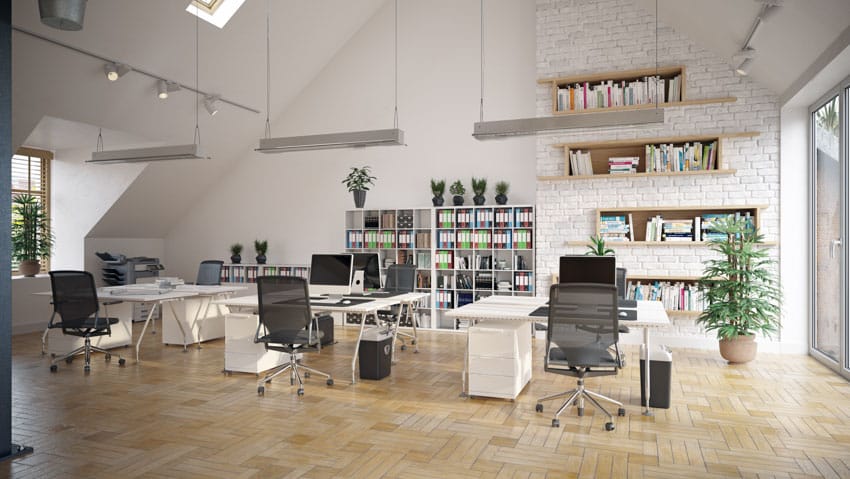 Choose a computer desk that is specifically built for computer use. If you use a personal computer, make sure the desk has room or a compartment for the CPU below.
For electrical connections, look for desks with built-in wiring openings or channels as this provides a secure way to keep those cords organized. Plus, make sure that the materials used are durable and the desk legs are stable.
What Do You Call A Desk that Opens Up?
A secretary desk, also known as an escritoire, is a type of desk that must be opened up first before it can be used.
It consists of a base of large drawers topped by a desk with a movable desktop surface, which is covered by a bookcase. It is normally closed with a pair of doors, sometimes constructed of glass.
What Are The Small Desks Called?
Lap, bedside, and Bargueño desks are some of the smallest types of desks.
What Is A Two-Person Desk Called?
A Double workstation desk is the most popular term for a two-person desk.
What Is A Pedenza?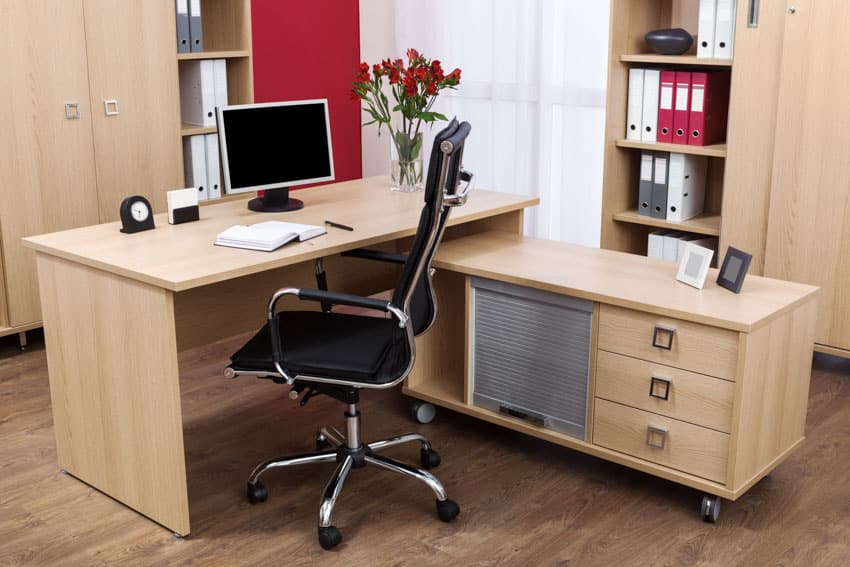 A Pedenza is a type of desk extension that is frequently used as side storage in conjunction with a desk. It usually has two drawers, one filer with centralized locking, and a shelf with a lockable sliding door.
Executive Desk Vs Computer Desk
Executive desks are designed for workers who perform multiple tasks at once. They are frequently found in offices more than in houses.
Executive desks are normally made up of a single working surface in the center of the office. However, there are also executive desks that are available in L-shape and U-shape, which are designed for individuals that require extra room.
Computer desks are normally found in houses more than in offices. They are particularly designed to accommodate one monitor, CPU, and additional shelves for several office supplies. They are normally smaller than executive desks.
Computer Desk Vs Writing Desk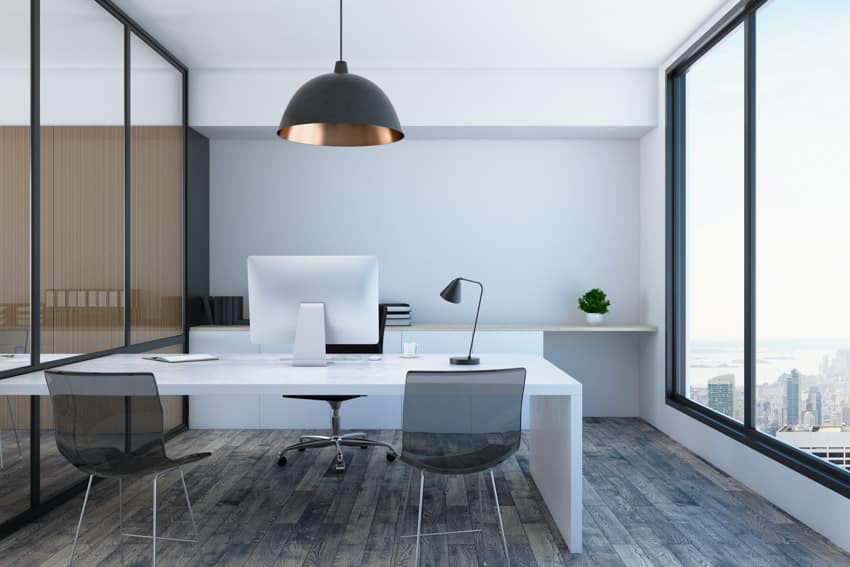 Computer desks offer more storage capacity than writing desks. They can also hold a computer monitor as they are far sturdier.
Writing desks are primarily for studying and writing purposes. It does not have a designated space for CPUs. However, you can use a laptop conveniently on a writing desk.
See more related content in our article about setting up a home office for remote work on this page.