Here we share the different types of pianos including their styles, costs, sizes, type of wood they're made from, and the best type of piano to learn on.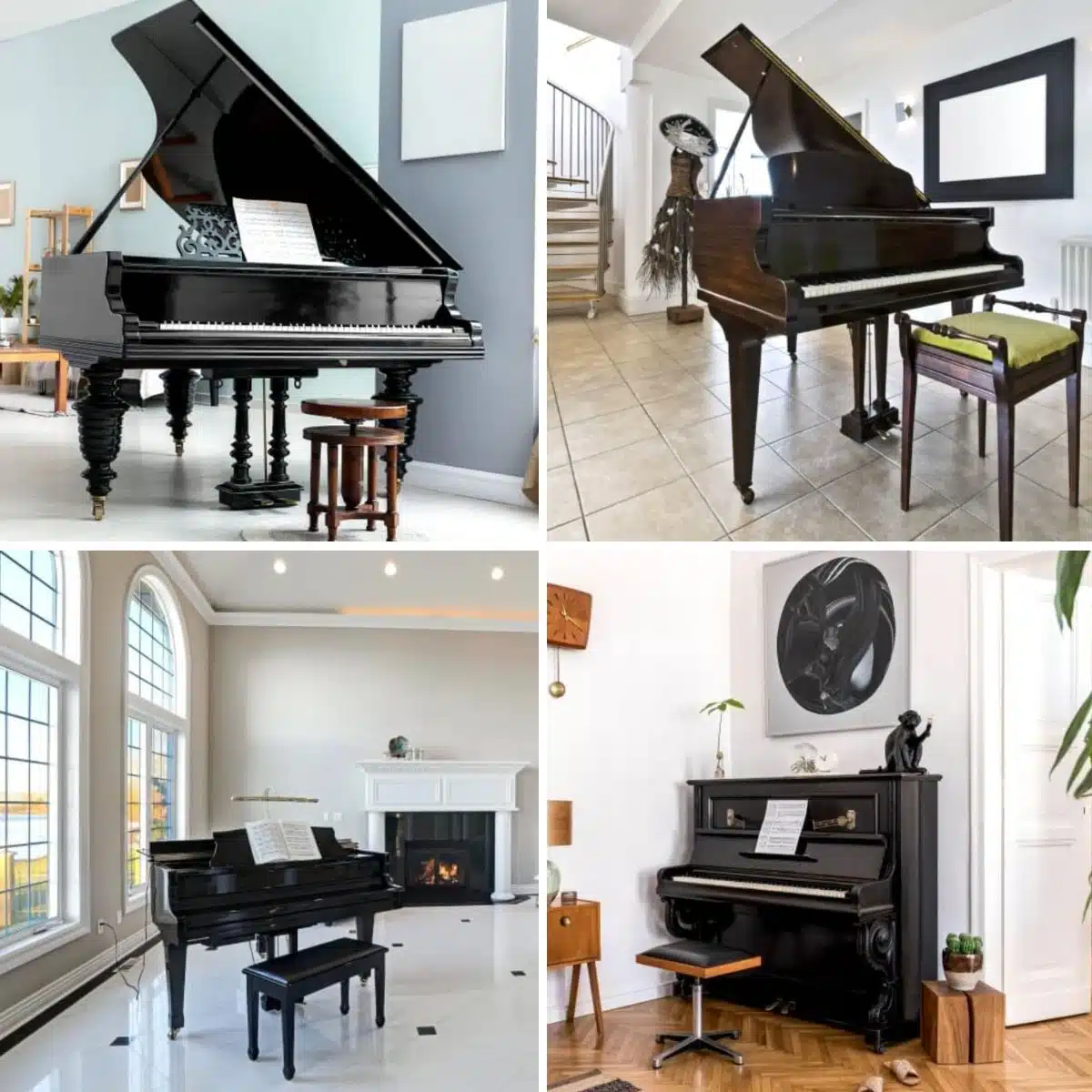 Music has long been acknowledged for its positive benefits. The piano, in fact, has provided an unrivaled avenue for individuals wanting an escape, creative engagement, or merely fun and amusement. More evidence of the benefits of piano playing has emerged in previous years, relating music to a healthy heart, a positive mind, and a happy life.
Playing the piano has numerous health benefits that will enhance all aspects of your life. For almost two centuries, the piano has been a wonderful addition in the home, drawing families and friends together through the power of music. Hence, it is recommended to have a piano in your home.
However, what are the different types of pianos? What is the most ideal type of piano that you can incorporate into your house? Let us talk about that in this article.
Quicklook: Different Types of Pianos
• Upright
• Spinet
• Console
• Studio
• Grand
• Digital
• Player
Upright Pianos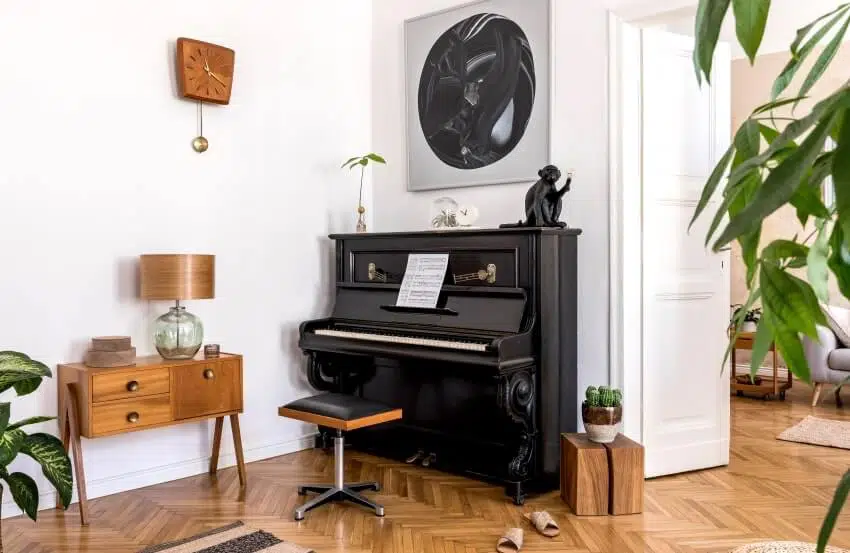 An upright piano is one of the most popular types of pianos you can find for sale. In the United States, they are often found in churches.
An upright piano, as opposed to its bigger contemporary, the grand piano, can be more easily accommodated in an individual's home or workplace. They are not exactly small, but they are simply not as huge or as broad as grand pianos.
Moreover, an upright piano can be easily positioned adjacent to the wall. This enables you to place the piano in a room's nook. Such pianos are not that advisable to be used in live stage shows because the pianist will both have trouble viewing or being viewed by the audience.
In this situation, the pianist would be looking at a wall or the keyboard. Upright pianos are commonly employed in homes, schools, and churches to offer different musical activities.
Additionally, an upright piano has vertical strings and mechanisms, as opposed to a grand piano's horizontal strings and mechanism. Thus, the piano performs substantially different than a grand piano, and it feels radically dissimilar whenever you play it.
If you are likely to be playing on an upright type without having to experience playing on a grand one, you could be surprised by the disparity. Yes, you can play both in the same way, but an upright piano will have a different feel once you touch the keys.
Upright pianos are manufactured in a wide range of styles and sizes. Some are extremely small, while others are extremely tall.
Most individuals like to purchase upright pianos that are somewhat in the middle of the sizes accessible. Such pianos are less costly than grand pianos. But still, they are considered expensive.
Spinet Piano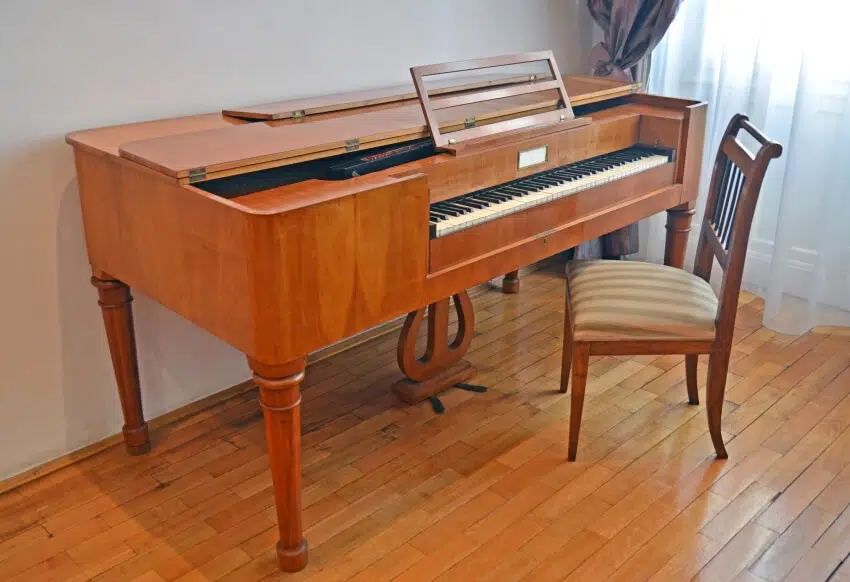 A spinet piano is under the category of an upright piano, and it is the most compact version. Spinet pianos are ideal for individuals who want to have a piano in their house but do not have extra space. These pianos are frequently acquired by individuals who reside in apartments or other places where the room is limited.
Furthermore, a spinet piano's modest size does not make it any less stunning than some other types of piano. Even though some may consider these pianos to be something like a toy, you must be aware that these are also genuine musical instruments.
Indeed, spinet pianos are intricate and beautiful pianos that are capable of delivering nuanced music. Whether you buy this piano to practice your skills or to give it as a gift for your youngster, it will undoubtedly come in very handy. It is less costly than several other pianos, thus it is something that most people can afford.
Some individuals like to educate their youngsters on how to perform the piano on the smallest possible instrument. The spinet piano would be an excellent option in this scenario.
Furthermore, this piano is sufficiently big that it will not be cumbersome for a kid to handle, and newbies will find it easy to master the keys. It also adds that this type of piano can be easily placed into a variety of room sizes, making it a perfect choice for anyone who wants to have access to a piano directly in their bedroom.
This spinet piano's keyboard is like a smaller version of an adult piano. There are spinet pianos that are more suited to mature hands, but if you want to instruct a kid, this size would be great. You may easily use this as an education material, and it could be a joyful learning opportunity for the kid.
Console Pianos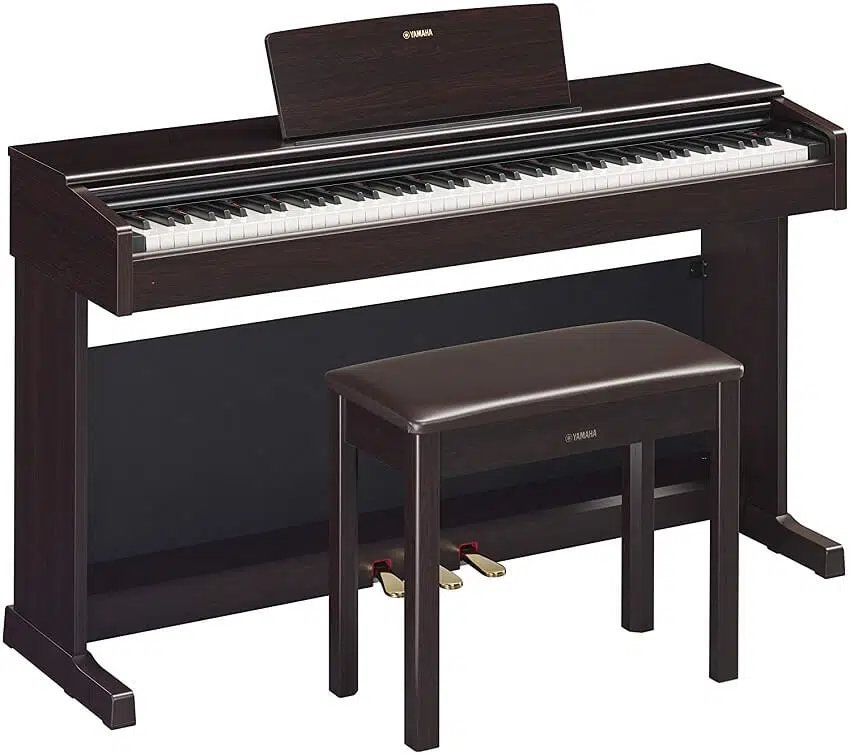 See this console piano at Amazon [sponsored link]
A console piano is also one of the most popular variations of upright pianos manufactured. They appear to be exactly the appropriate size for individuals to have a good time with, but not too big that they interfere in the way.
A console piano can be an electronic model. But if you prefer an acoustic console piano, you would be able to locate a wide selection of them.
This type of piano is effective in terms of making exquisite music and it will, without a doubt, make an excellent learning instrument. Individuals who wish to learn to play the piano frequently acquire console pianos.
They are not too overwhelming, and amateurs will have no trouble adjusting to the size of this piano. It is also a high-quality instrument, which means it will come in handy once you have advanced as a pianist.
In general, you should be able to find a reasonably priced electronic console piano. Electronic models will be substantially less costly than acoustic versions. Acoustic instruments will always be more expensive, but you can pick whatever matches your exact needs.
A console piano is a fantastic choice if you desire to obtain a captivating piano that will look delightful in your house. This can readily fit into most people's family rooms or bedrooms. You may place it alongside a wall and use it to play music whenever the opportunity inspires you.
Studio Pianos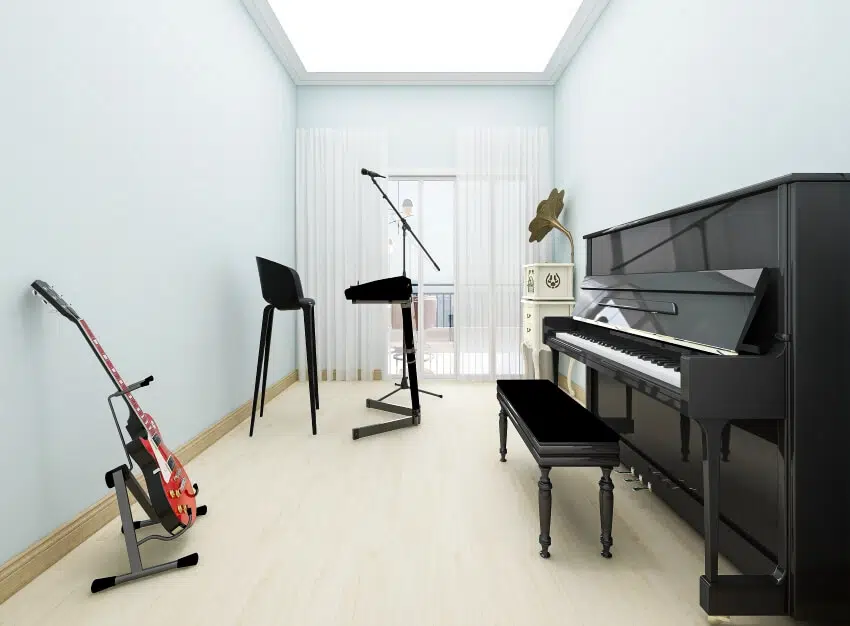 A studio pianos is a type of upright piano that has a hammer on string action that is different from grand pianos, which have a horizontal string action.
Studio pianos are moderately large, with standard heights ranging from 43 inches to 47 inches. Hence, they are more typically encountered in studio setups than in private homes.
Several people prefer buying studio pianos for their houses since they have gotten familiar with their size and quality. Experienced musicians who are accustomed to upright pianos would probably like studio pianos better.
Musical composition is the most typical application for studio pianos. When musicians are attempting to come up with tunes or experimenting with various musical concepts, they frequently use a studio piano.
They are ideal for supporting musically skilled persons in their artistic journey. If you wish to be able to compose your own music at home, having one would be really advantageous.
Aside from that, you can pick between acoustic studio pianos and electronic studio pianos, as with several other kinds of pianos. An electronic model will be significantly less expensive.
Thus, it has evolved to be the most prevalent today. Electronic studio pianos are quite affordable, so you may get one for your studio or household without having to invest too much of your hard-earned funds.
Grand Pianos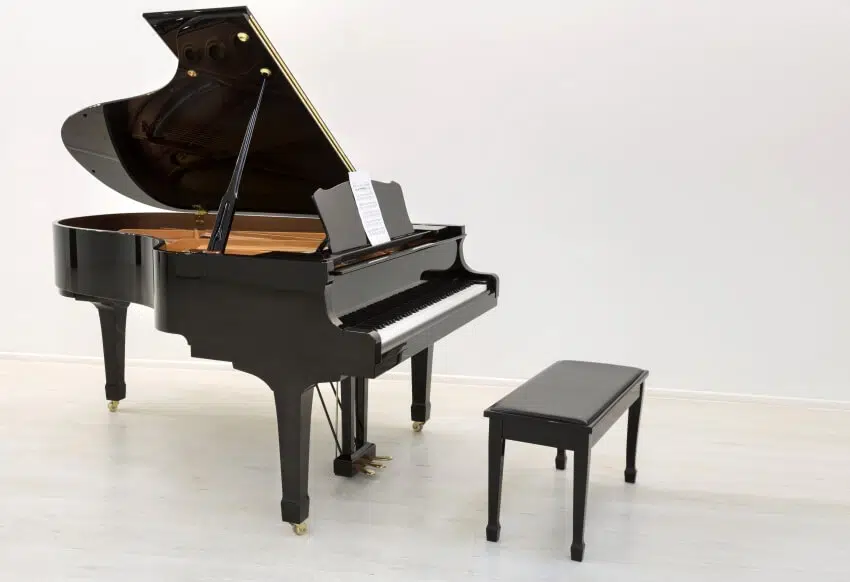 Those individuals who own an authentic grand piano have a remarkable privilege. Many individuals save for years to obtain this kind of piano. Such instruments are exquisitely constructed, and their cost reflects that.
This is unquestionably a premium product, but it is one that a pianist will find useful. These beautiful pianos are ideal for musical shows and music composition, thus any dedicated musician will appreciate having one.
A grand piano is, as you would imagine, pretty massive. This is not going to be a manageable option for many individuals because it will occupy a lot of room. The cost of this kind of piano might also be excessively high for many individuals. If you are an easygoing pianist, this beautiful, superbly made piano may not be for you.
However, a grand piano has some benefits over an upright version. When you are using a grand piano, for example, you can use the dual escapement system to press keys in a quick sequence.
Because that system is not integrated into an upright piano, some musical styles are conceivable on this piano that might not be achievable on upright pianos. This is one of the numerous factors why people who love pianos prefer to purchase a grand piano above any other type.
Furthermore, experienced musicians or anyone with a strong enthusiasm for playing the piano will be the most prospective customers of this piece. The sound produced by a beautifully built grand piano is undoubtedly outstanding.
It is capable of producing some of the most expressive melodies, therefore for many, the high price will be justified. A grand piano is carefully handcrafted and is simply breathtaking.
Lastly, the stunning appearance of a grand piano contributes to its elegance. It is indeed a spectacular sight, which is why you will see these types of pianos used by professional performers at major performances. Your reasons for desiring one may be more gradual, but if you are a passionate piano enthusiast, you will no doubt enjoy buying one.
Baby Grand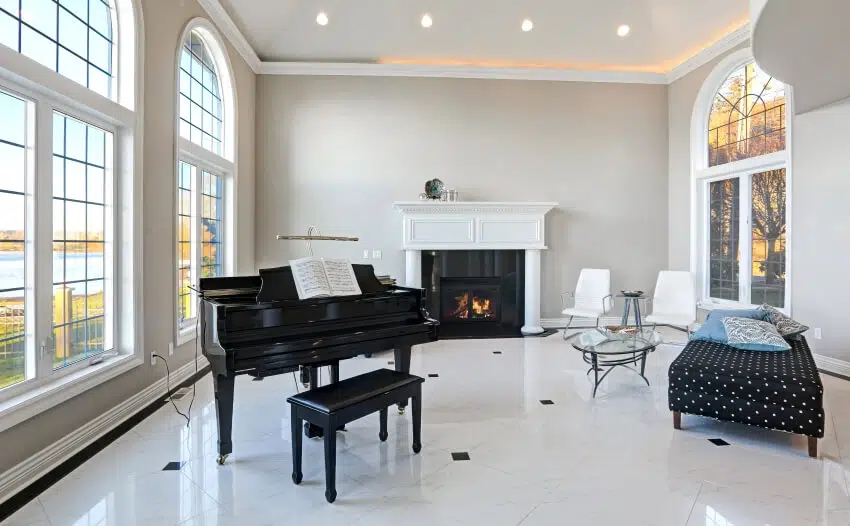 Obviously, baby grand pianos are the most compact type under the grand piano category. These are the grand pianos that are commonly found in private residences. Most homeowners would find it difficult to put a larger grand piano anyplace in their home because they occupy a lot of space.
Baby grand pianos are still quite large, but they may be accommodated in a designated music studio or even in a bedroom. You can fit it in your house without causing yourself unnecessary stress. Apparently, these pianos have grown in popularity among those who do not even show interest in playing the piano.
Several individuals end up buying lovely baby grand pianos and displaying them as ornamental objects. They truly exude class and luxury, hence it stands to reason that people would love keeping them in their households. They are, however, quite expensive, so this is not a piano that every aficionado would buy.
If you wish to figure out how to play the piano as well as desire something that will end up making your home appear even better-looking, this piano type would be a fantastic choice. With such a wonderful instrument at your command, you can easily learn how to play the piano properly.
Nonetheless, some people may be put off by the expense of these instruments, but you can conserve funds by purchasing an electronic baby grand piano. Most electronic baby grand pianos on the marketplace still appear lovely and sound fantastic.
Ultimately, buying an acoustic baby grand piano might be challenging. Because they are not normally obtainable at every local music store, you'll have to go to a specialized outlet to purchase one.
Electronic baby grand pianos are increasingly widespread, and you should have no trouble finding one. If you are a novice musician, the electronic version will be the most practical selection for you.
Parlor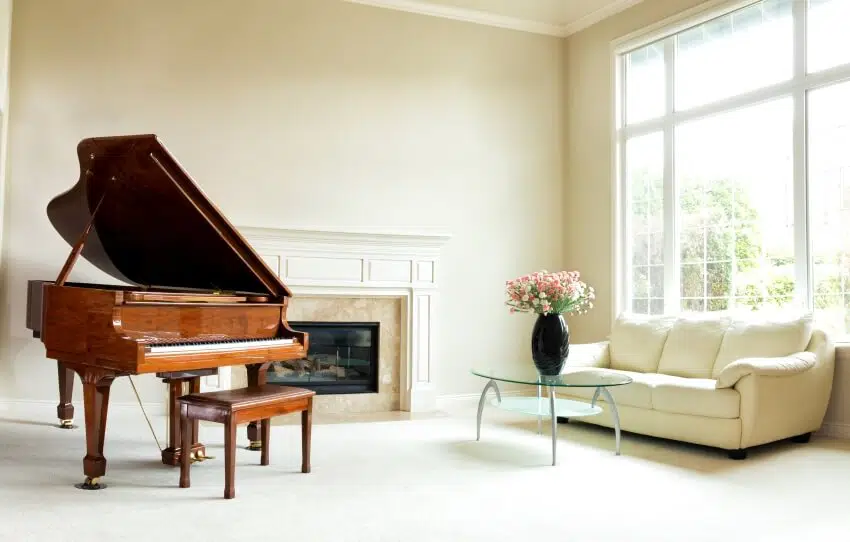 Parlor grand pianos are typically 7 feet to 7 feet and 6 inches in length. Hence, they can be hard to fit into any room in your house. These are more popular among professional musicians and are occasionally used as tour items for musical performances.
The name "parlor grand" comes from the fact that these pianos were once employed in parlors. Parlor grand pianos are not frequent nowadays. Their size makes it challenging to discover a place for them, but they are undeniably beautiful.
If you want a large grand piano to use in your music studio, this could be the right option. It will undoubtedly be striking, and you will appreciate how beautiful the music sounds.
Concert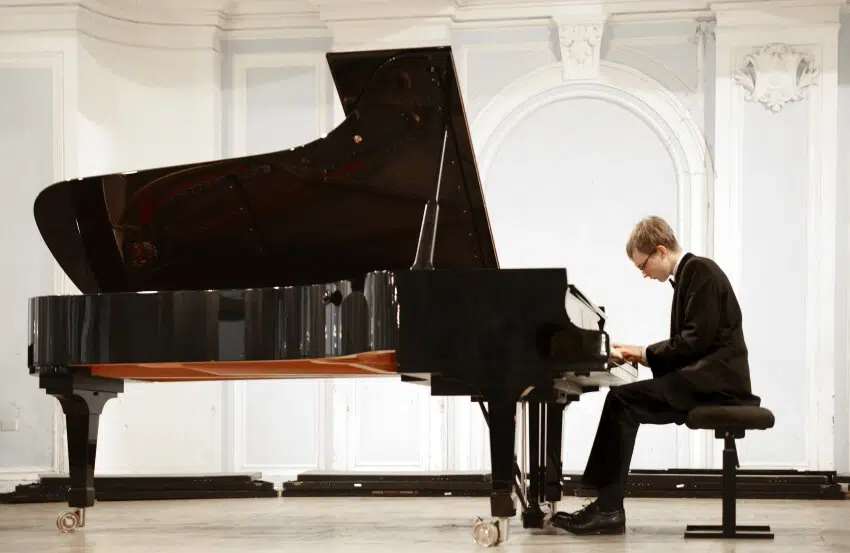 The concert grand piano is the biggest grand piano available. Such massive pianos can measure up to 9 feet in length. Several exceedingly extravagant concert grand pianos measure 10 feet or even larger in height. The most popular concert grand pianos will be roughly 9 feet tall.
Aside from that, concert grand pianos are most commonly used for classical events. Notable musicians frequently use grand pianos on touring, as indicated in the grand piano part.
Concert grand pianos are ideal for this application since they are visually stunning and can create powerful, expressive tones. It is always a treat to see a visiting performer with an outstanding concert grand piano.
Digital Pianos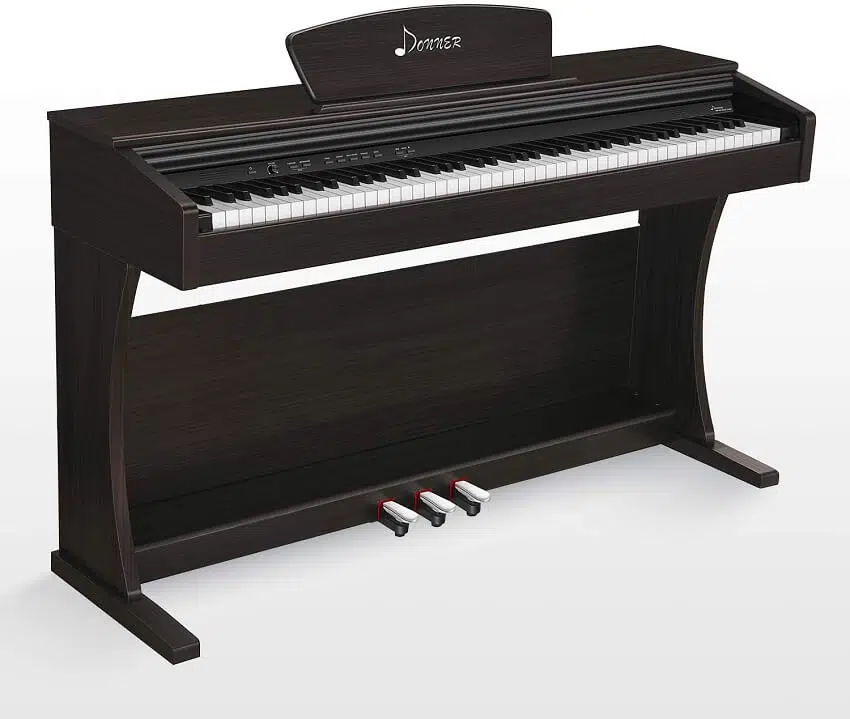 See this digital piano at Amazon [sponsored link]
Even though many individuals do not recognize digital pianos to be genuine pianos, they do play an important part in the piano industry. They function differently from a standard piano; however, they can produce a comparable sound.
Others consider digital pianos to be keyboards, yet they do reproduce the sensation and sounds of real pianos. In previous years, digital pianos have evolved significantly, and this piano is indeed an excellent representation of a high-class digital musical instrument.
You will truly feel like you are hitting a classic piano when using a smart digital piano. It does a good job of simulating the impression of hitting the keys.
They created the keys on this piano to be weighted to make it feel as authentic as conceivable. While it differs from a classic piano, it is significantly more inexpensive, making it an excellent choice for many people, particularly amateurs.
The development of pianos like this one facilitates every musical aspirant's accessibility to pianos. Due to the digital piano's availability, lots of people are capable of playing the piano.
Producers continue to produce extremely efficient digital pianos to pass this instrument along to coming generations. It is more available to everyone, and it is an excellent instrument for educating children on how to play the piano.
Furthermore, certain digital pianos are even compatible with smart gadgets. This gives you accessibility to the piano's functionalities and enables you to conveniently adjust the configurations.
You can also capture your music sessions and listen to them later to see how well you are progressing. There are benefits to possessing a digital piano that you cannot get with classical ones like a grand piano.
Hybrid Digital Pianos
A hybrid piano combines acoustic systems with digital sound output, making it the ideal blend of an acoustic piano and an electronic keyboard. Hybrid pianos offer authentic hammering action and pedaling resistance, yet they generate music with high-end recording and speakers.
Aside from that, digital hybrids include a built-in acoustic piano soundboard, which amplifies the music in the same way that a standard acoustic piano does. Furthermore, digital hybrid pianos use high-quality speakers to transmit recorded sound.
Player Piano
A player piano is an automatic-playing or self-performing piano with a mechanical or electromechanical system that controls the piano operation.
Play pianos use preset music recorded on a perforated sheet or, in uncommon cases, metallic reels, with more contemporary integrations using MIDI.
Piano Cost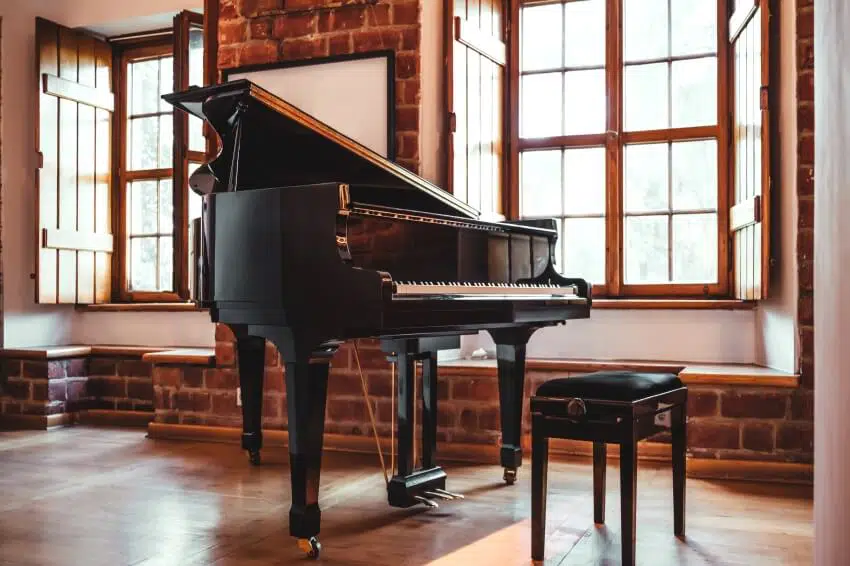 Each type of piano differs in cost. Below are the average prices of each type of piano:
• Upright Piano – around $3,000 (low-end) to $25,000 (high-end)
• Grand Piano – around $7,000 (entry-level) to $190,000 (high-end)
• Spinet Piano – around $300 to $2000
• Console Piano – around $3,000 to $9,000
• Studio Piano – around $4,000 to $7,500
• Digital Piano – around $200 (entry-level) to $7,000 (with advanced musical features)
• Hybrid Piano – $6,000 to $17,000
• Player PIano – $200 to $2,000
Piano Sizes
• The upright piano is very tall, with a height ranging from 50 to 60 inches and a width of around 58 inches.
• Spinets are the tiniest of the uprights. Their peak height is approximately 38 inches, and their width is roughly 58 inches.
• Console pianos are marginally larger than spinets, averaging from 40 to 43 inches in length and 58 inches in width.
• The height of a baby grand piano ranges from 4 feet and 11 inches to 5 feet and 6 inches.
• A medium grand is roughly 5 feet and 7 inches, which is taller than a baby grand.
• The height of the parlor grand piano ranges from 5 feet and 9 inches to 6 feet and 1 inch.
Read our piano dimensions guide for more detailed information.
Grand Piano Sizes
Grand pianos are classified into seven different sizes. While the words "grand" and "baby" grand piano are commonly used, they are technically the same version of a grand piano that only differs in size.
Here are the various grand piano sizes:
The height of the piano, which extends from 4.5 to 9 feet, differentiates these different types of grand pianos.
• Petite grand piano – 4 feet and 5 inches to 5 feet and 11 inches
• Baby grand piano – 5 feet to 5.5 feet
• Medium grand piano – 5 feet and 6 inches to 5 feet and 8 inches
• Professional grand piano: 5 feet and 9 inches to 6 feet and 2 inches
• Parlor grand piano – 6 feet and 3 inches to 6 feet and 10 inches
• Semi-concert grand piano – 6 feet and 11 inches to 7 feet and 8 inches
• Concert grand piano: 8 feet and 11 inches to 9 feet
What Type of Instrument Is a Piano?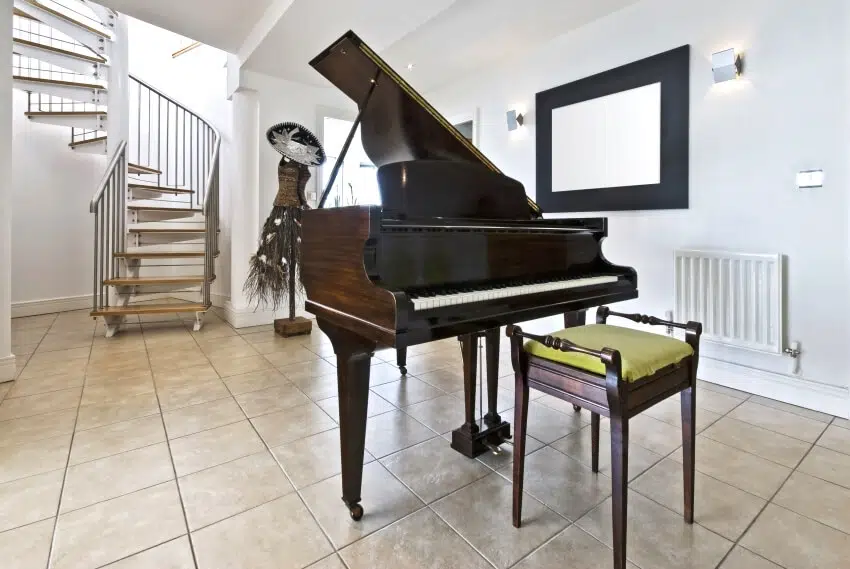 You may be wondering whether a piano is under the percussion or stringed category. Technically, there are strings within a piano, as well as a long row of equally rounded felt-covered hammers.
The piano is classified as a chordophone in the formal system of musical instrument classification. It has strings extended between two points, comparable to a harp or lyre. Sound is produced when the strings vibrate.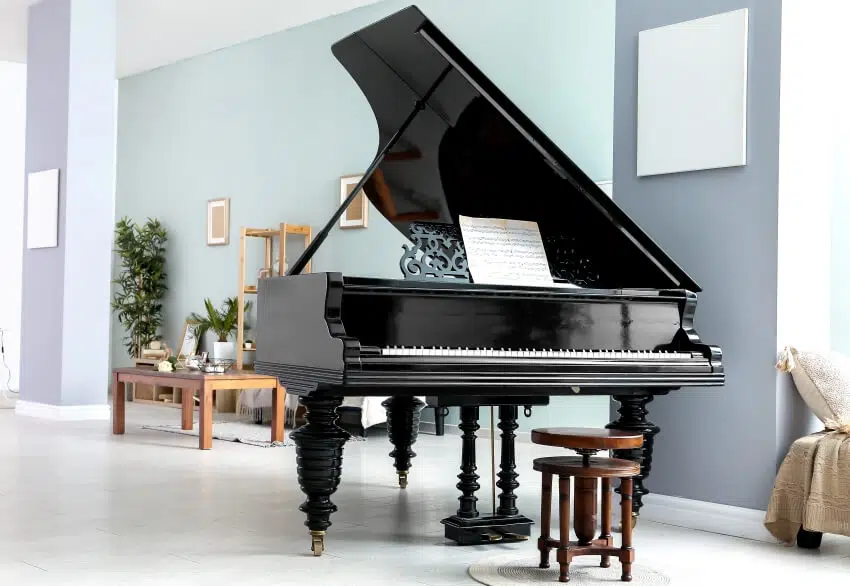 Nevertheless, on a piano, those vibrations are caused by hammers striking the strings instead of plucking or dragging a bow over them. Therefore, the piano is classified as a percussion instrument. Anyhow, the piano is now widely regarded as being under the percussion and stringed category.
What Type of Wood Is a Piano Made From?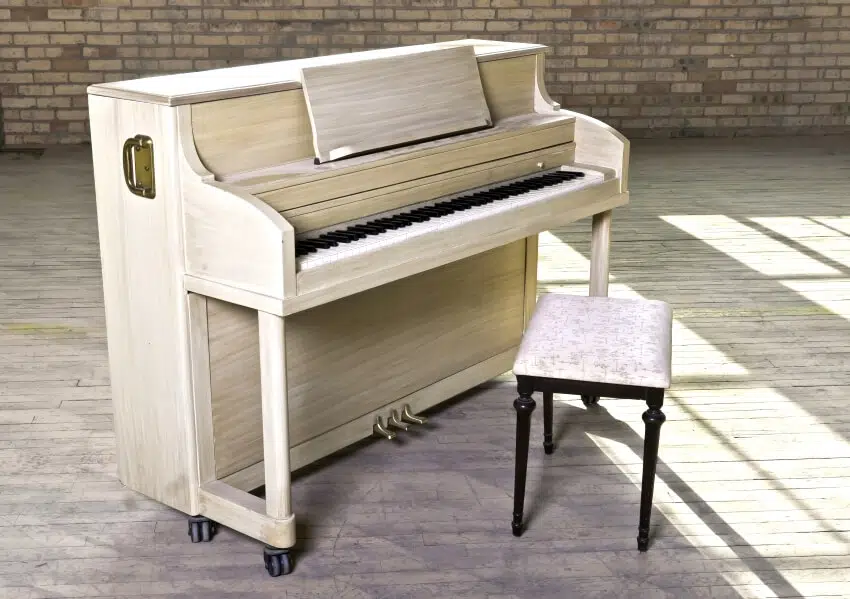 The soundboards of most high-quality pianos are made mostly of spruce. Then there are hardwoods as well. These are typically utilized for the body and framework of the piano since they are durable, polished, and do not degrade the sound quality.
Maple, mahogany, rosewoods, Brazil timbers, and ebony woods are a few examples. See the types of wood grain patterns for more ideas.
Best Type of Piano to Learn On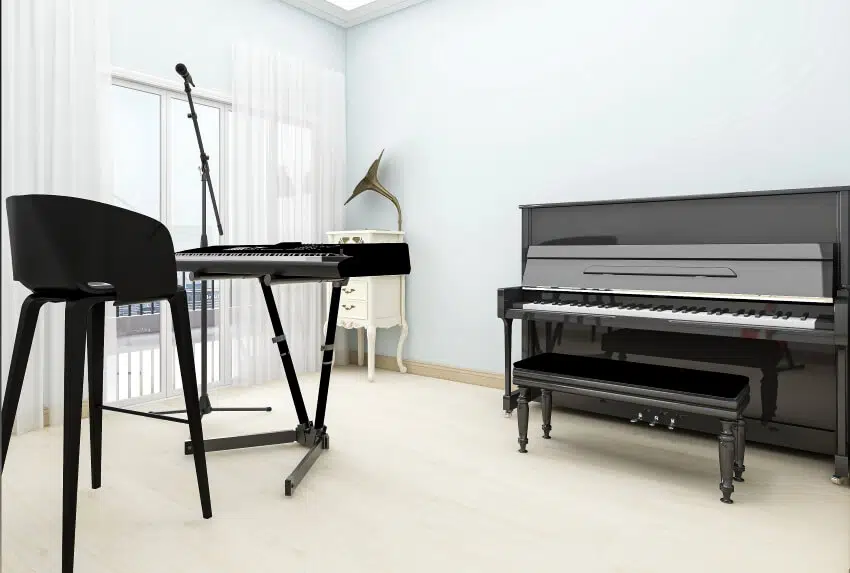 If money is not an issue for you, then the best type of piano to learn and practice on is the console or petite grand acoustic type. Learning the feel and being accustomed to the sound of these types of piano would certainly make it easier to learn the piano.

However, if you have a limited budget, it is also a great idea to learn piano using a digital model. You just have to make sure that you are choosing a digital or electronic piano that comes with additional advanced musical features.
Visit our piano bench dimensions guide for more related content.