In this article we explore grand piano in living room positioning including where to place, how much room you need, and popular piano sizes.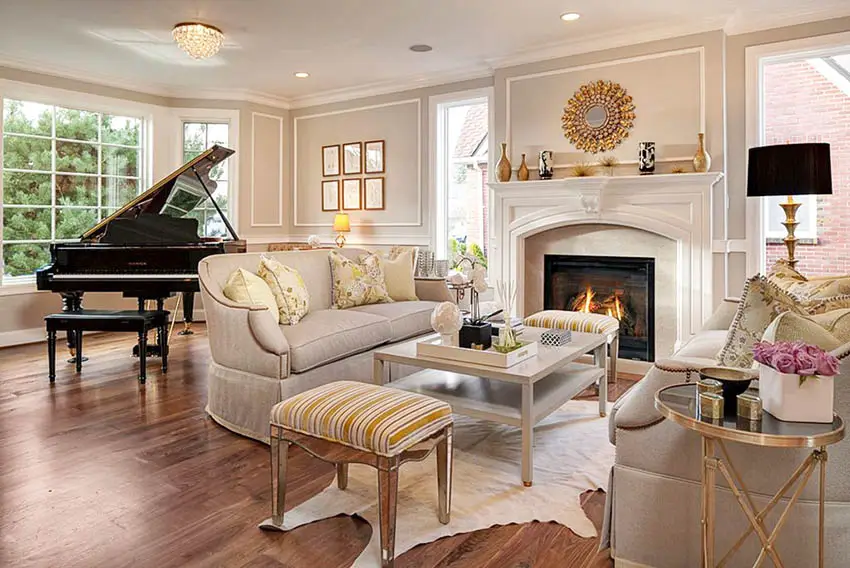 Italian harpsichord maker, Bartolomeo Cristofori, designed and built the first piano in the early 1700s. Because of the piano's large size, it took on the name grand piano and represents the truest form of acoustic pianos.
Today, there are several grand piano size classifications and endless styles. From prestigious grand piano manufacturers to less expensive versions, purchasing one means figuring out where to put a grand piano in your living room. Read this informative guide to understand how you can arrange your living room to allow a grand piano to be a grand centerpiece.
How Do You Place a Grand Piano in a Living Room?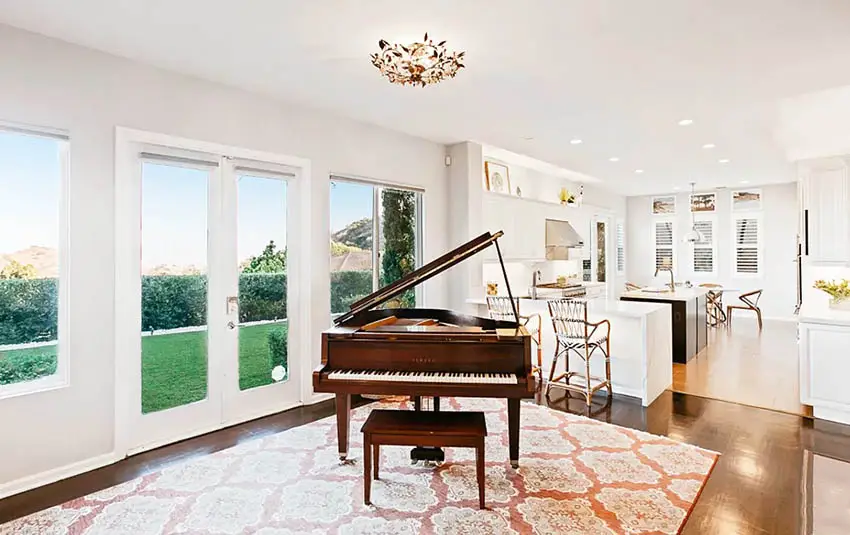 There are several important factors when placing a grand piano in a living room. An investment in a grand piano means placement that preserves the piano's integrity, protects it from damage, and allows it to sound the best. When looking at your living room, consider the following requirements for a piano.
• A grand piano needs to be out of the line of direct sunlight to prevent the finish from fading or the soundboard drying out and cracking.
• Keep the grand away from a window, fireplaces, or heating and cooling air ducts. The unstable temperature and humidity changes will cause the wood to contract and expand, causing damage.
• It's best to arrange the grand piano so the straight edge sits against a wall allowing the bass side, low-frequency sounds, to reflect against the wall out to the first part of the room. This lets the treble or higher frequencies where the lid is open to reach the middle of the room and further.
While it's engaging to the audience to have the player facing them, keep the above preservation principles in mind for placement in your living room.
How Much Room Do You Need for a Grand Piano?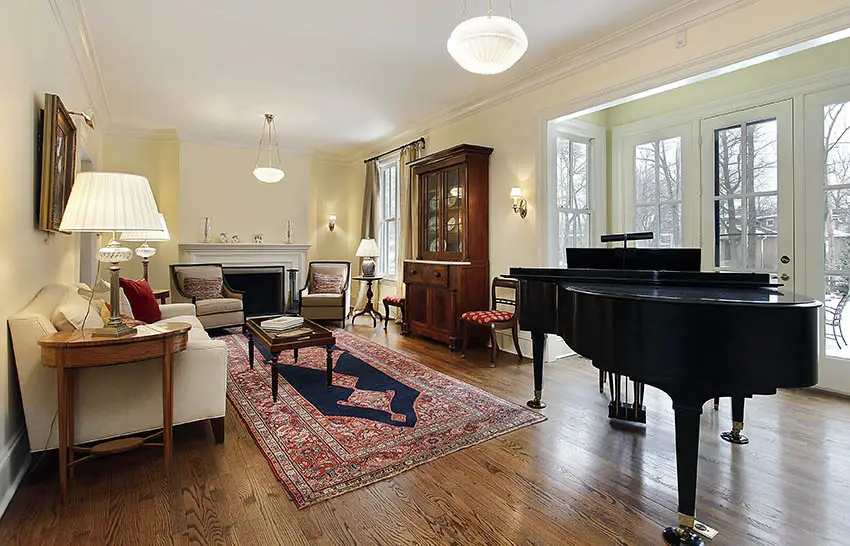 The next factor to consider is how much room you have for a grand piano. The dimensions of your living room, existing furniture, and the length of the grand piano all have to be measured and placed accordingly. The following are common industry lengths for different-sized grand pianos.
Grand Piano Sizes (all heights are with the top open)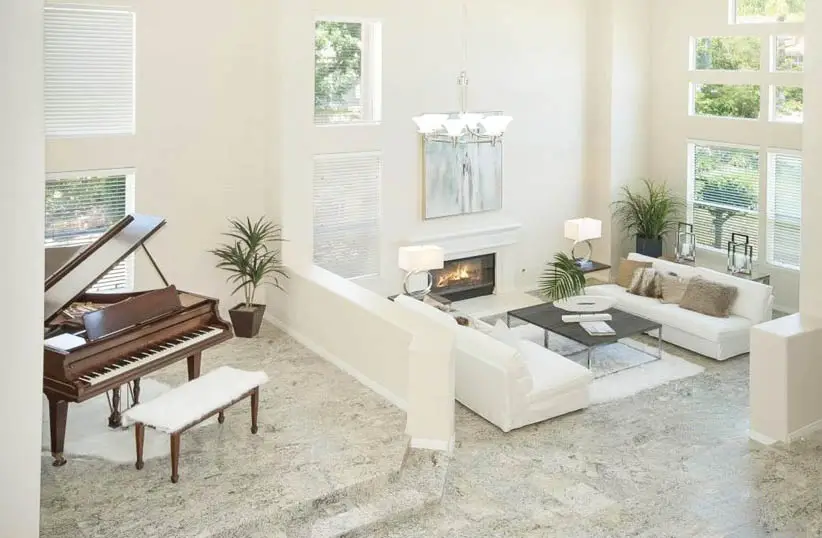 Elegant living room design with piano
• Petite Grand Piano – This piano is the smallest grand, yet still offers an impressive sound. Petite grands are made 4' 5" to 4' 10" in length and no longer than 4' 11". They average 4' 5" to 4' 10' in height and are also called miniature grand pianos.
• Baby Grand Piano – Baby grands are 4' 11" to 5' 1″ in length and 4' 11" to 5' to 6" in height. It's the most popular piano for pianists for its tone and affordability.
• Medium Grand Piano – Medium grand pianos are 5' 2″ to 5 '8″ long and 5' 7" high. The increased length of the soundboard and strings create a beautiful tone.
• Full Grand Piano – This larger grand averages 5' 9″ to 6' 2″ in length and 5' 9″ to 6' 1″ high. This grand is known as the living room piano, used in many homes.
• Recital Grand Piano – These pianos are meant for concert halls and run 6' 3″ to 6' 9″ long with a height anywhere from 5' 2" to 6' 7".
• Semi-Concert Grand Piano – A Semi-Concert grand reaches anywhere from 6' 10" to almost 9′ long.
• Concert Grand Piano – The largest grand piano, it includes any piano over 8' 10" long and 9' high.
The average width of a grand piano is five feet, so when choosing a piano, you must measure your living room and the spot you want to place the grand piano for it to fit. Be sure to leave two to three feet of space for the piano bench.
Baby Grand Piano in Living Room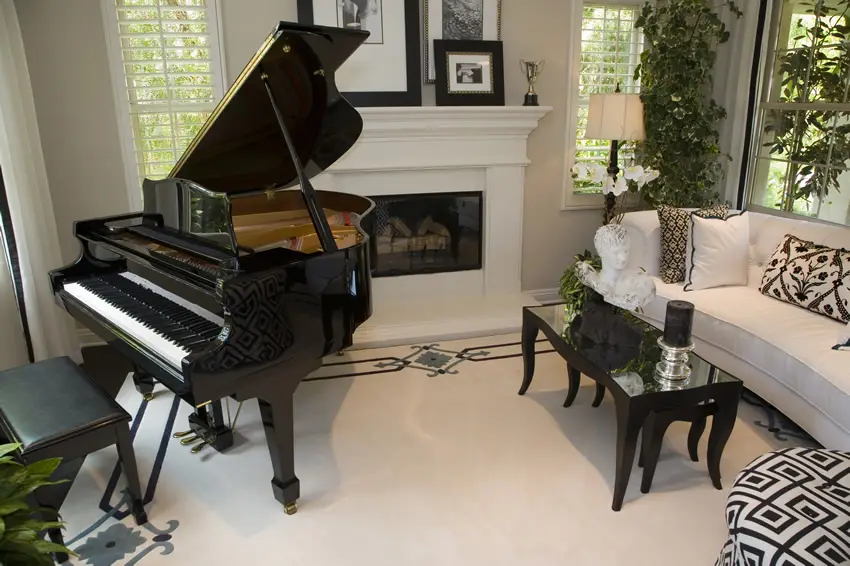 A baby grand is more affordable and has a squared-off shape by its dimensions, making it easier to fit in a living room without compromising the quality of the sound or tone.
How Much Room Do You Need for a Baby Grand Piano?
You can plan on a space that is 5-foot square for a baby grand piano. It's also important to consider the room you need for the bench. Provide an extra three feet for the bench to slide in and out for comfortable seating.
It helps to draw out a plan of your living room with the baby grand in its spot. Then rearrange the furniture around the piano placement.
How Do You Decorate a Room With a Piano?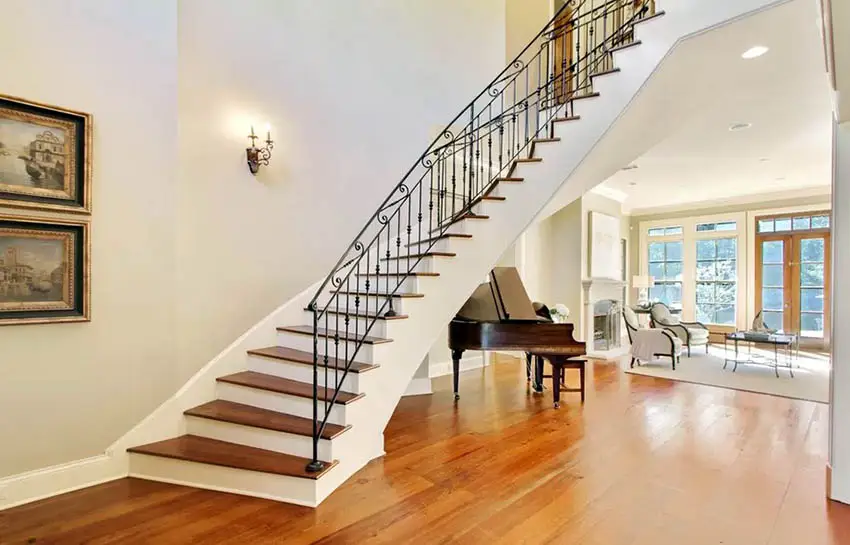 A grand piano under the stairs design in the living room
A grand piano in a living room looks perfectly placed in an alcove with can lighting or a corner with bookshelves. Alternatively, use it as a focal point with its satin finish and artistic curves.
The best type of flooring for sound quality is a living room with wood flooring. Wall to wall carpet will soften the sound of the piano significantly. By using area rugs you can decorate the room with the accents you want while still protecting the flooring from scrapes and scratches.
Definitely, be sure to have comfortable seating for guests. This makes the room much more efficient for entertaining. The beauty of a grand piano goes with any style décor, whether classical, contemporary, minimalist, Bohemian, country, or more.