Here we share some of our best living room paint colors for a stylish design.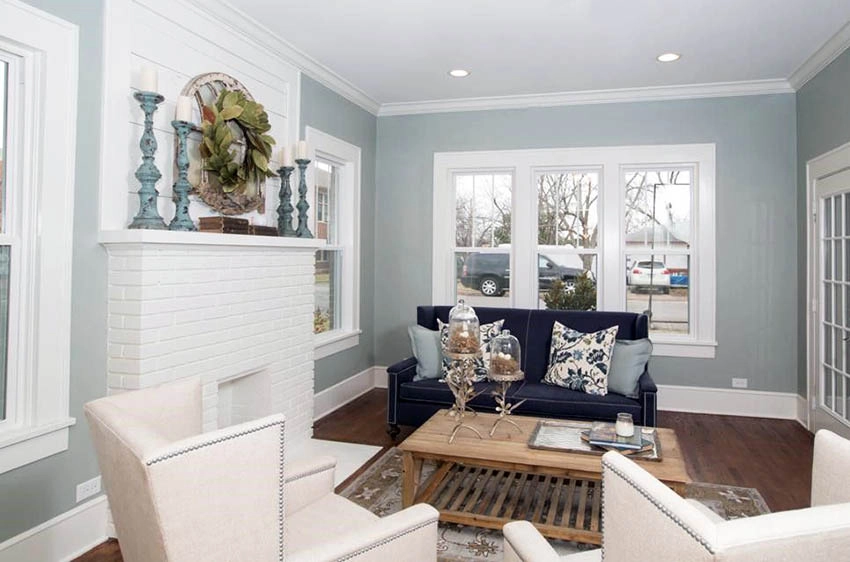 For a long time, oatmeal was the color of choice for a living room. Oatmeal walls, oatmeal furnishings, oatmeal rugs. We fell in love with the neutrals and things got a little boring.
Color is one of the best, fastest, and easiest ways to update your living room and give it a real sense of personality, and of course, good design.
Below we share a variety of living room paint ideas to help you find the color that matches your personal sense of style.
Light Green Living Room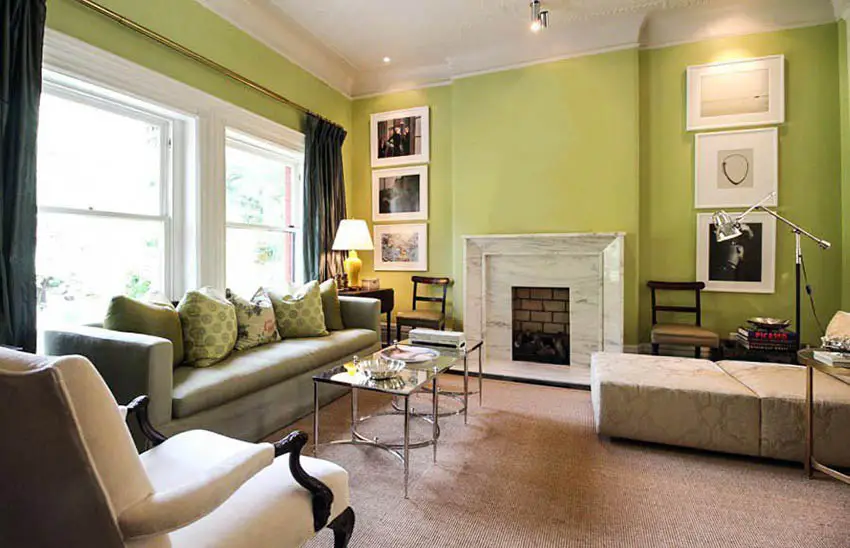 Lately brightly painted living rooms have become popular due to their uplifting color palette and emphasis on showcasing your own personal style. One way to get this right is by going with a light green color palette. Try pairing it with pinks, whites of off white shades for an attractive design.
Pink & White Living Room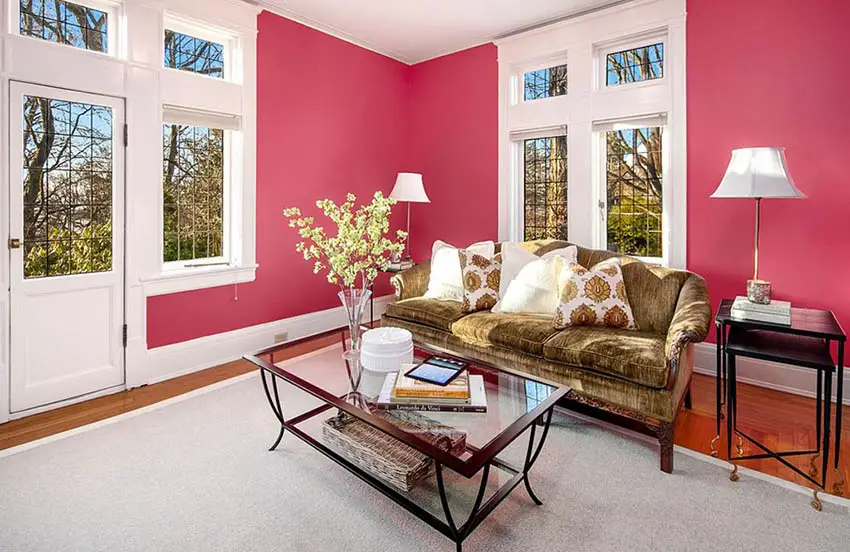 For a fun, eclectic, world-traveler vibe, pair your mid-century antiques and finds from your travels with pink and white. For the more ambitious try combining pink with turquoise, and navy. This bold color combination is bright, fun, and plays off of the masculine and feminine.
A vintage turquoise sofa, a pop of bright pink on an ottoman or some throw pillows, and an occasional chair reupholstered with a wool rug with navy details set the stage for your navy, turquoise, and pink scheme.
Fill in more color with potted plants, an interesting area rug, and rich wood furnishings to balance out the space. Keep the curtains light and airy, something whispy and white that lets the natural light flood into the space.
Light Blue Living Room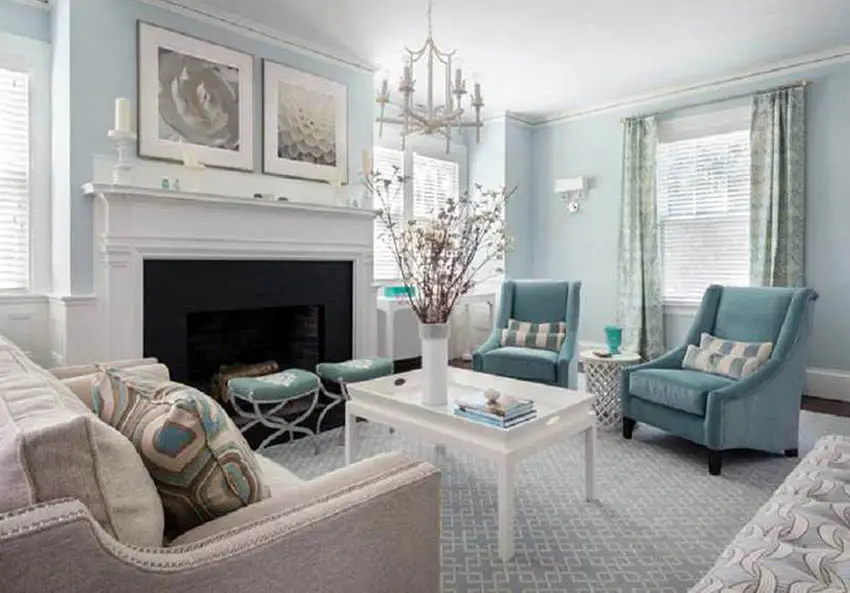 For a traditional cottage style a powder blue combined with white is a timeless choice that always pleases.
The living room paint colors above features a light blue paint for the walls with white wainscoting and a white fireplace with mantel. A brighter color blue is brought in through the use of two arm chairs and decor pieces.
If your style is more Manhattan sophisticate, consider black, white, and robin's egg blue. You typically see a bright color paired with the stark contrast of black and white but using a soft blue gives black and white an elegant update.
Paint your walls a soft, robin's egg blue and use black and white geometric upholstery on your furnishings to get this stunning and unique look. Accent furniture made of brushed steel or pewter lend and understated polish to the overall look.
Black or rich, deep brown stains on your wood furnishings add some weight and keep the combination from feeling too airy. Be sure to include some blue accents, they can be a little more bold or understated, think throw pillows, glass accessories, or artwork.
To ground the look, use a black and white flat pile area rug, don't be afraid to go more black than white and make sure the pattern compliments the patterns on your upholstery.
Navy and White Living Room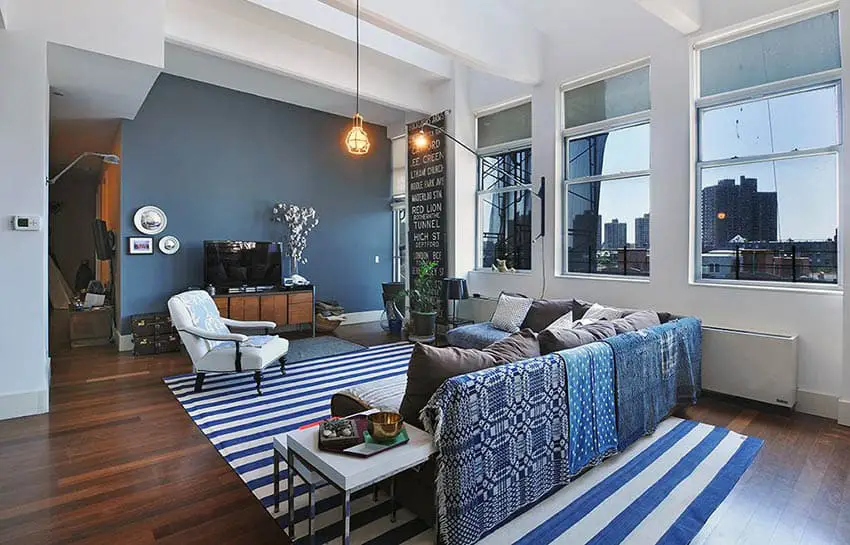 Transitional spaces would benefit greatly from a Navy, white and Brown combination. Rich, dark Navy walls are an unexpected way to make your space feel cozy.
Use rich brown wood in your flooring or furnishings. Read more about matching wood floors with paint colors here.
However, when using brown keep them light, think framed sofas and chairs, not heavy, bulky case goods that will overwhelm your space.
For upholstery, keep it neutral, cream backgrounds with interesting prints in greige with small pops of toned down reds and blues.
Lighten it up with a soft striped rug in grey and white or use a worn antique Persian rug to bring a sense of antiquity to your space. This is a room that begs you to grab a mug of tea, plop down in your favorite chair, and get lost in the world of your favorite book.
Keep a basket full of cozy blankets near the main seating area and make sure to scatter small side tables about the space for handy places to land your mugs and plates of snacks. This color combination is comfortable, casual, and plays well with modern and traditional furnishings.
Cream & Gold Living Room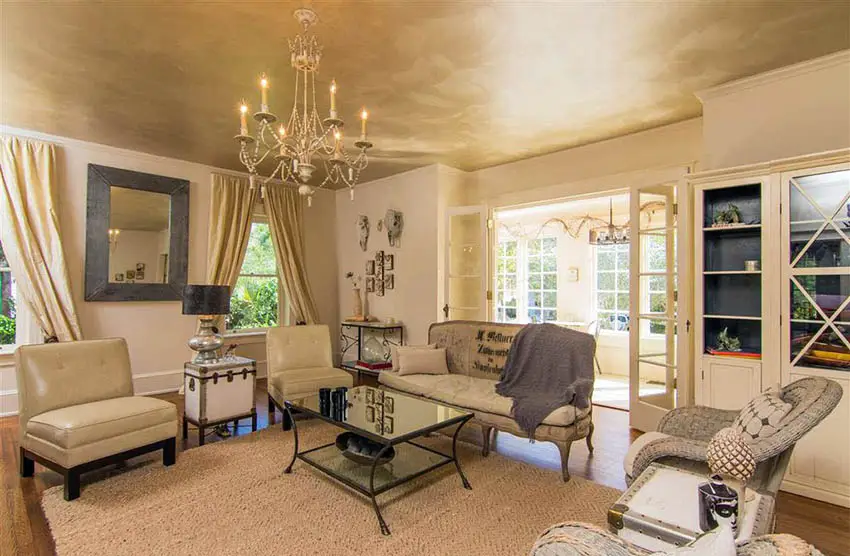 We see a lot of gold popping up everywhere these days, from design showrooms to big box stores, gold is everywhere. It is a color that can go with just about anything but it looks especially amazing with the warm, inviting tones.
The look can get heavy and dated if not done with a light hand. Keep your large scale upholstered piece neutral, shades of almond and cream look great here. For extra flair pair gold with burnt orange, the pumpkin spice of colors or accent with burnt orange to get a touch of the color.
Throw pillows, draperies, and your occasional chair or settee get the burn orange treatment. Go with patterns or the lovely striations of a vintage bark cloth.
Bring the gold in with a brushed gold frame coffee table. Also, look for throw pillows that have a touch of gold in the fabric, a little goes a long way.
This is the time to use that fabulous neutral colored flokati rug that you've had your eye on. Drape a chunky knit blanket across your armchair to complete the inviting feel.
Gray Living Room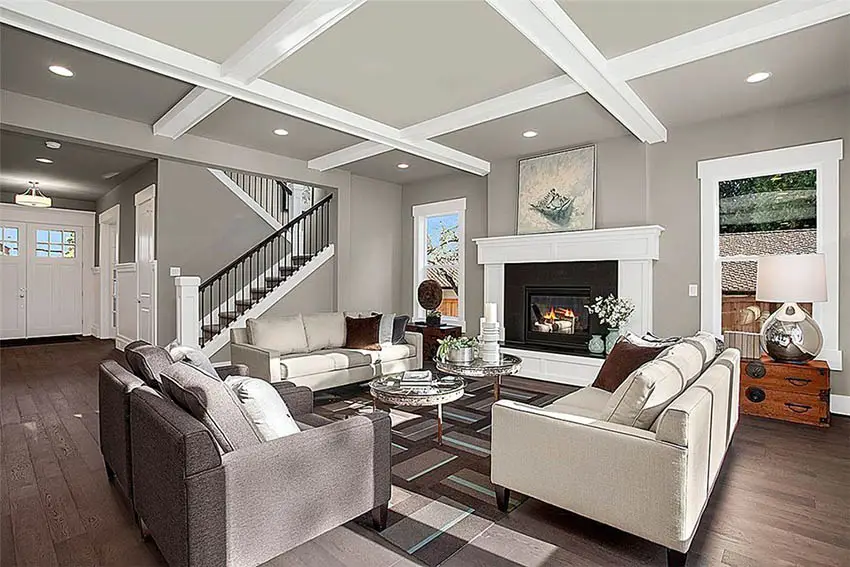 Gray is a color often featured in contemporary living room designs for its stylish and sophisticated look. However, it can do equally well when paired with white molding and trim to create a more traditional feel.
Since gray is a neutral color it can successfully be paired with a variety of accents with great results. Some popular combinations include pairing gray with a touch of green, blue, black, pink and brown.
Brown Living Room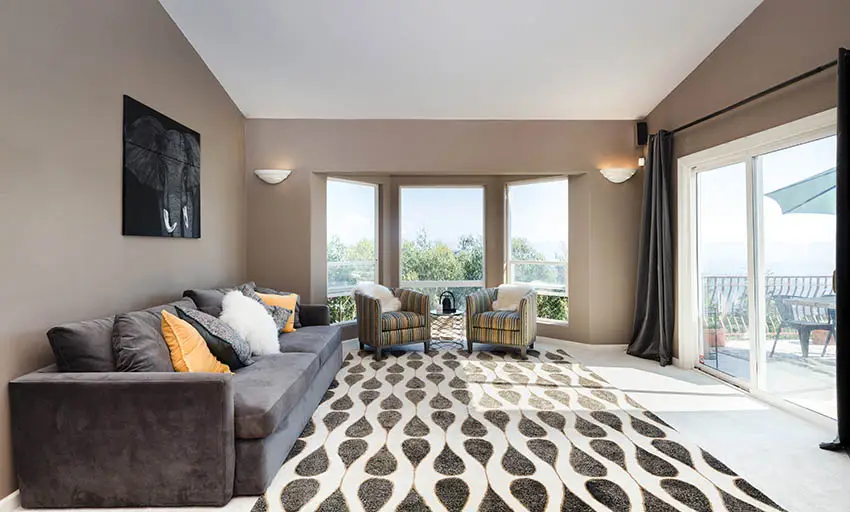 Brown is a versatile color for the living room and can match a variety of styles. Shades of brown can be used for a rustic charm, traditional or contemporary design depending on your furnishings and decor.
While brown has been a popular color it can become dull if not paired with other colors to brighten up the space. Complimentary colors to use with brown are blue, pastels, yellow, green and purple, just to name a few.
Tan & Blue Accent Living Room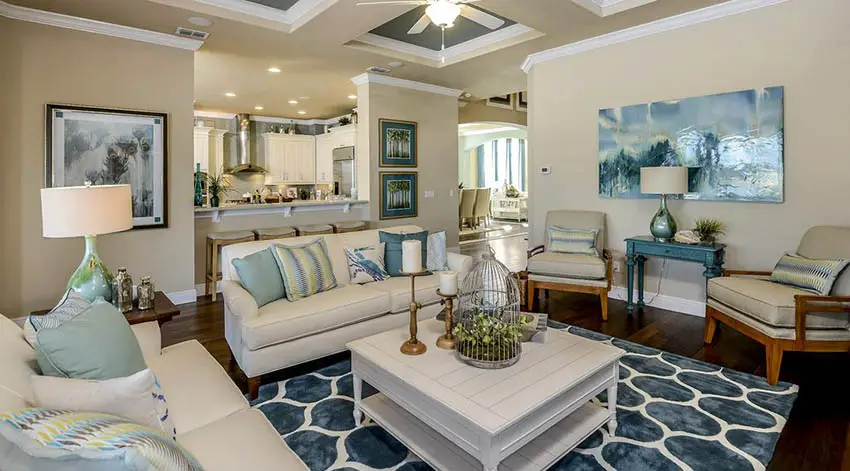 Think beyond neutral, invite deep dark blues and bright pinks and greens into your space. Accent with gold and pewter. Color is a great way to update your space, especially if you take yourself back to your elementary art class and the color wheel.
Grab a color wheel and find your favorite color, then find what colors contrast or compliment it and you will find a color combination that works for you.
From emerald and black to peacock, gold, and grey, you will find a color combo for you living room paint colors that adds sophistication, fun, and the elements of good design to your space.