Find out the different types of blinds for living room including options for insulation, controlled privacy, floor-to-ceiling windows, and contemporary interiors.
Window blinds offer a versatile solution for controlling natural light, cross-air ventilation, privacy, and sound, factors that can affect a room's comfort level. Get to know the different types of blinds for living rooms with each of their features.
Living rooms are social spaces but are multifaceted in function that varies from household to household; as such, a versatile space needs adaptable elements to achieve a desired level of comfort. Windows are a significant factor affecting a room, and window blinds provide the versatility needed to address the particular needs of building occupants.
Choosing Blinds for the Living Room Considerations:
| | |
| --- | --- |
| • Style | • Child Safety |
| • Color | • Light Control & Black Out |
| • Functionality | • Pet Safety |
| • Privacy Requirements | • Room Suitability |
| • Material | • Price & Budget |
| • Durability | • Energy Efficiency |
| • Ease to Clean | • Motorization |
Window blind products are one of the most popular window treatments both in the U.S. and European markets, seeing a growth of 5.06% from 2023 to 2030 for the U.S. key companies for window blinds and shades. Meanwhile, European blinds have a relative growth of 4.80%.
Note: While most blinds in the market use standard dimensions, each company will have its own measuring guidelines, especially when it comes to the measurements based on the inside and outside mount. In some cases, blinds need to be cut due to being longer by a few millimeters.
Types of Living Room Blinds According to Material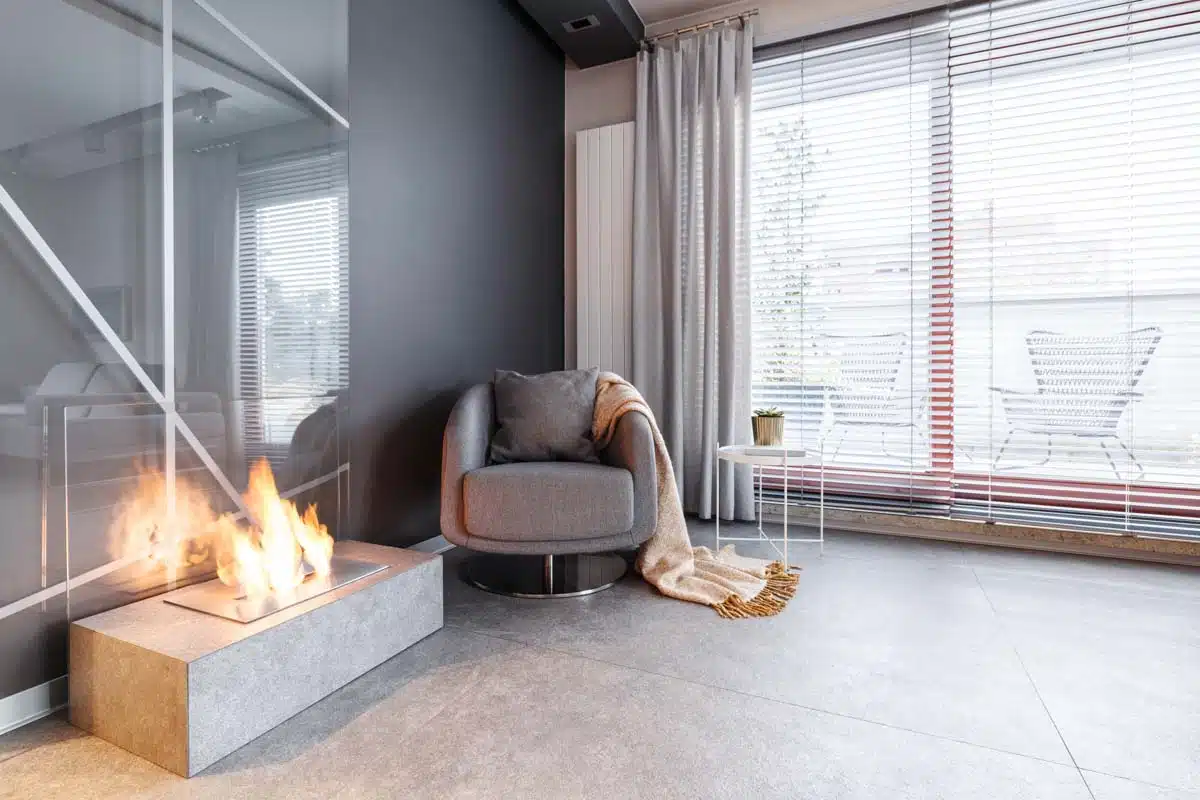 Synthetic Wood or Timber: Synthetic wood or timber blinds are made to mimic the look of wood either for its color or texture, as there are synthetic wood blinds that come with one solid color (usually white) and then have embossed texture to recreate the feel of the wood surface. The blades of faux wood are usually wider, usually having 50mm or 64mm dimensions.
Aluminum Blinds: These typically come with sleek and thin louvers with 25mm to 50mm blades. Aluminum blinds are made with an inexpensive material, but their malleability makes slats easily damaged, such as dents or buckling.
The upside is that aluminum is easy to install due to its lightweight material, which is an advantage for narrow and long windows as it does not accumulate much weight allowing a smooth tugging or lifting of louvers.
Metal Blinds: A more durable option than vinyl, metal blinds can last a lifetime with proper material treatment and quality material built. The cost-effective solution for providing window treatments for a large area or having a good number of windows. Metal blinds treated with corrosion-resistant alloys won't rust in living rooms near the sea.
Real Wooden Blinds: Cedar, maple, ash wood, basswood, poplar, cherry, alder, hibachi, and oak are popular wood slats that make wooden blinds which are sustainable wood species that are grown, manufactured, and shipped with environmental considerations.
While it costs significantly higher than the other window blind materials, real or authentic wooden blinds are unmatched with it comes to durability and aesthetic quality. They are great for traditional living rooms but also work well with more contemporary-styled homes.
Leather Blinds: While uncommon to find leather blinds in living rooms, leather blinds can add sophistication to a room, especially when opting for vertical leather blinds. Aside from the luxurious feel of leather, these window coverings provide excellent soundproofing capabilities along with insulation properties.
Since it has a fabric-like quality, it adds a warm and softening feel to a living room. Rooms with Mid-century or eclectic styles can benefit from leather window blinds. Embossed leather blind patterns, as well as textures, are also available in the market.
Bamboo Blinds: Bamboo blinds are known for their durability and strength. Bamboo is a resilient material that can withstand daily use and exposure to sunlight. However, it's important to note that the lifespan of bamboo blinds can vary depending on the quality of the materials and construction. Treated bamboo louvers are likely to last longer.
Fabric Blinds: While fabric blinds can easily stain or accumulate mold, the soft material offers a softer and more familiar quality that benefits a living room that aims to have a homey atmosphere. Roman blinds usually use fabric panels. The typical price of fabric blinds per window can range from $50 to $100. Customized versions for blinds with fabrics can cost around $100 to $200 per window.
Best for Insulation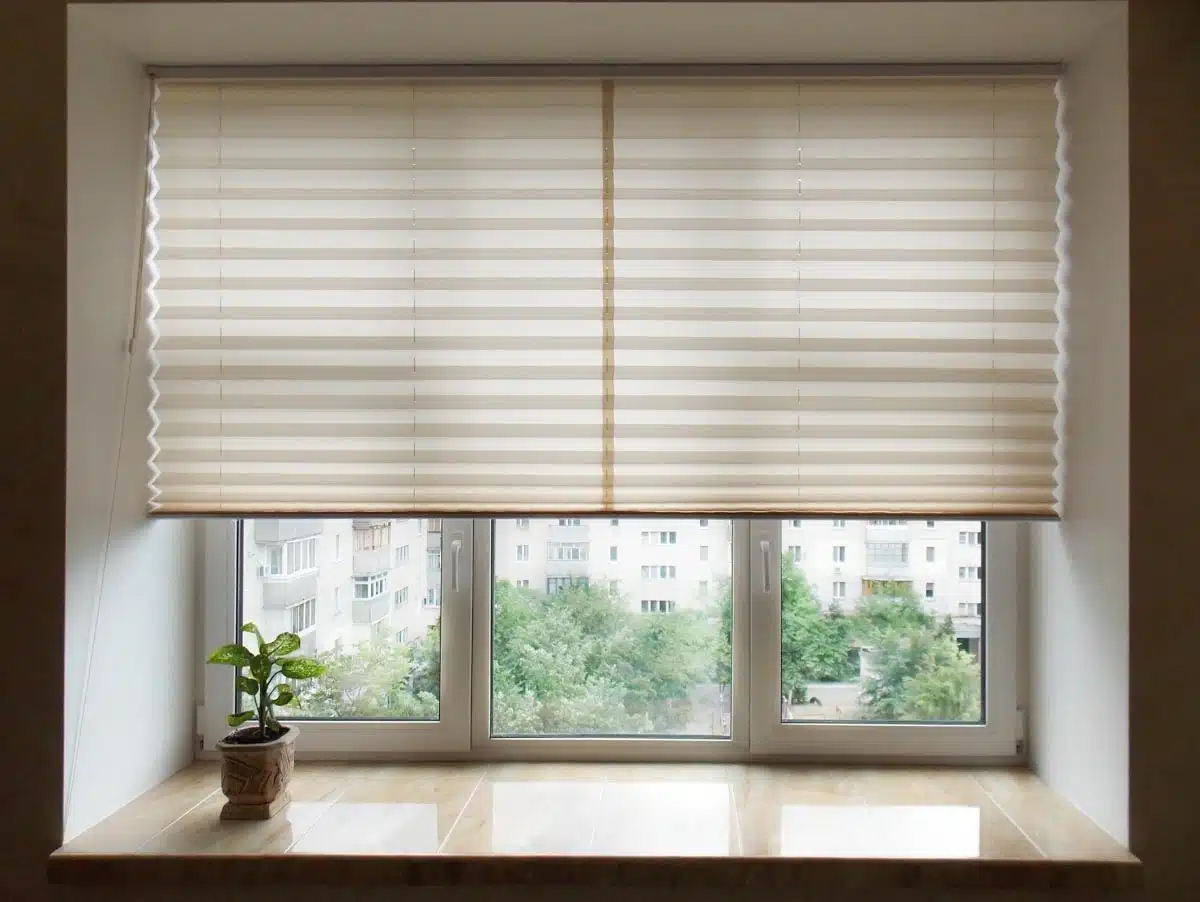 Cellular or Honeycomb Blinds: When seen from its sectional view, expanded honeycomb blinds have a cell-like structure resembling a series of honeycombs that run along the fabric.
Honeycomb blinds are a window covering used to control the amount of light entering a room. – Adventures With How Things Work, 2021
These closely-spaced air pockets provide insulation as air is a poor conductor of heat, thus, reducing the amount of heat from escaping the interior. Honeycomb blinds also function well during hot weather, as the heat outside is hindered by the air pockets.
Cellular window blinds can also provide a level of soundproofing due to the added barrier. The honeycomb blinds can come with a single, double or triple cell structure providing different levels of sound and temperature barriers.
Features:
• Cordless
• Energy-saving benefits (Read more about energy efficient window covering tips for the indoors at Energy.gov)

• Minimalist
• Lightweight- Easy to lift
Common Sizes:
Length of Drop:
• 24 inches (61 cm) to 96 inches (244 cm) or more
• 36 inches (91 cm)
• 48 inches (122 cm)
• 60 inches (152 cm)
• 72 inches (183 cm)
Width:
• 18 inches (46 cm) to 120 inches (305 cm)
• 24 inches (61 cm)
• 36 inches (91 cm)
• 48 inches (122 cm)
• 60 inches (152 cm)
• 72 inches (183 cm)
Best for Controlled Privacy, Light, and Ventilation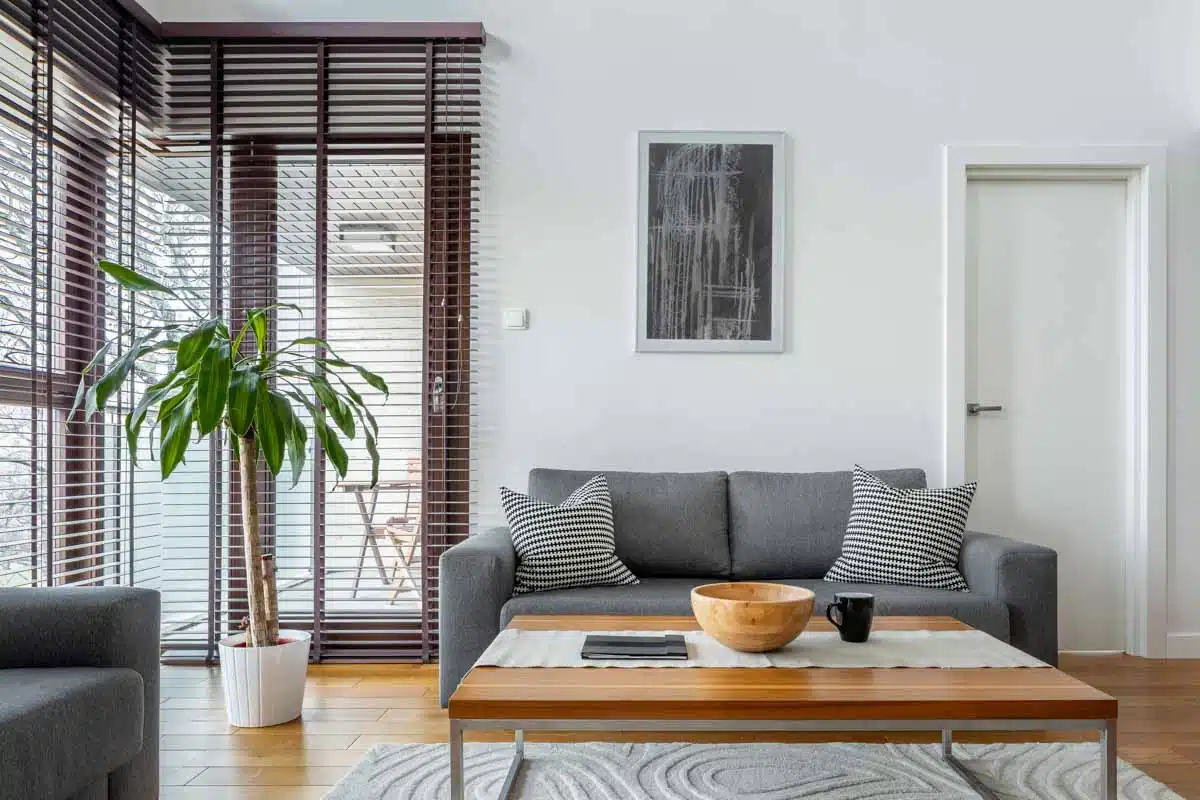 Venetian Blinds: Among the types of blinds, Venetian blinds offer the most flexibility when it comes to natural light and ventilation control. The blinds comprise a series of rigid horizontal slats usually made from wood, aluminum, or PVC, structured to be tilted up to 90 degrees which is fully open, allowing maximum light and ventilation.
Venetian blinds also provide controlled privacy allowing a peek or view of the outdoors with an obscured view of the indoors. At the same time, a level of light and ventilation is allowed to seep through the living room.
This versatility of Venetian blinds makes it a popular option for almost any type of room and makes it a cost-effective solution for homes located along streets where privacy is an issue.
Traditionally, Venetian blinds were made of real wood, but modern materials such as faux wood, aluminum, or plastic materials further extend the flexibility of the window covering.
Features:
• Cut to Size Availability
• Wide Range of Designs
• Control and Flexibility
• Wide Price Range
Common Sizes:
Length/Drop:
• 48 inches (122 cm)
• 60 inches (152 cm)
• 72 inches (183 cm)
• 84 inches (213 cm)
Width:
• 23 inches (58 cm)
• 27 inches (69 cm)
• 29 inches (74 cm)
• 31 inches (79 cm)
• 35 inches (89 cm)
• 46 inches (117 cm)
• 47 inches (119 cm)
• 48 inches (122 cm)
• 52 inches (132 cm)
• 71 inches (180 cm)
Best for Floor-to-Ceiling Windows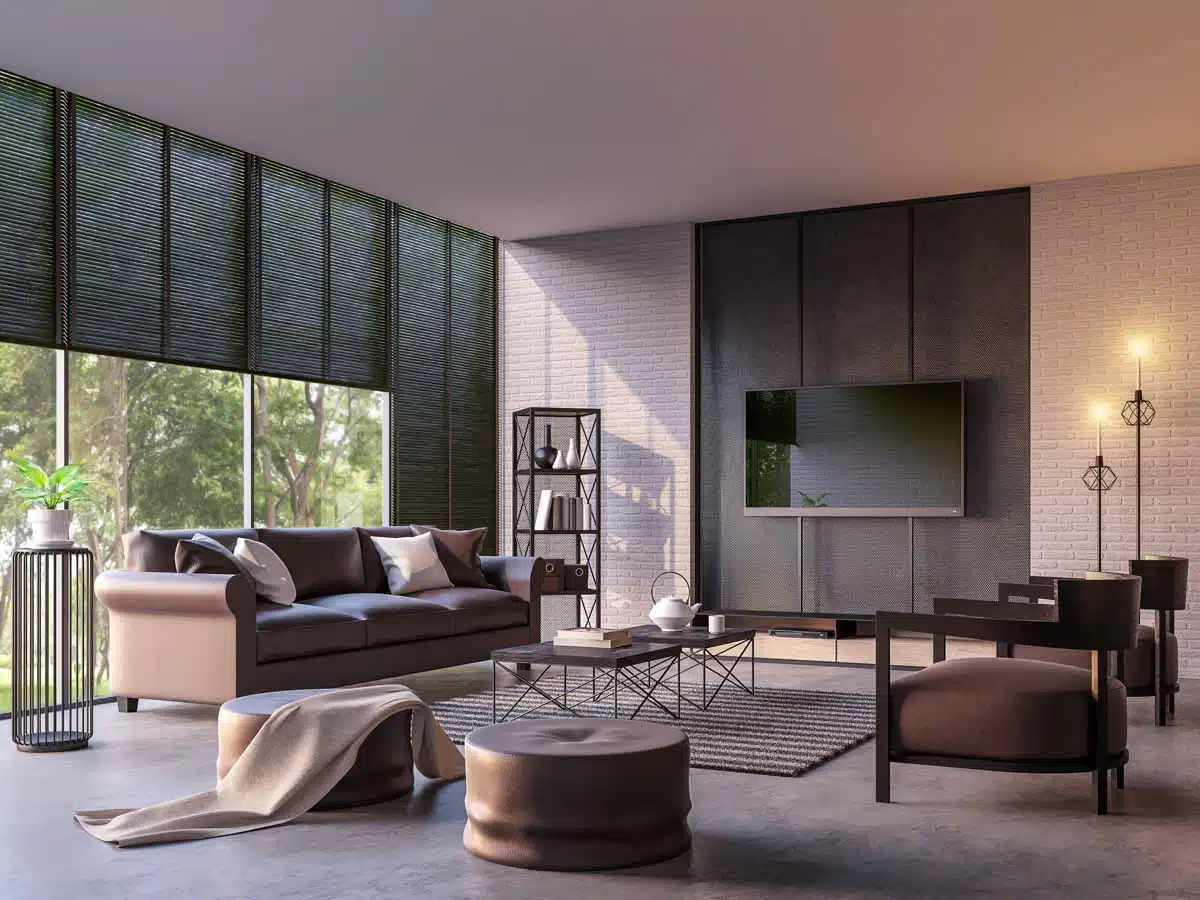 Vertical Blinds: For floor to ceiling window treatments, the expansive area to be covered with a series of horizontal blinds will require an amount of pulling. This continuous tugging when raising the slats can be an inconvenience, given the height of the windows, and can cause the blinds to fall due to the exerted pressure.
It may also take time to open and close the horizontal slats. Vertical blinds offer a more seamless mechanism allowing to open and close blinds with less effort as the blinds slide on the sides instead of the upward or downward motion.
Vertical blinds also provide a minimalistic look due to the long continuous vertical rhythm provided by the louvers. These slats are typically made from a rigid plastic material such as PVC due to their longer span, as it needs a stable and strong structure to maintain a vertical position.
The series of vertical slats are held by a chain that is pulled on the far left or right. Sometimes called vertical Venetian blinds, this type of blinds can also have a dramatic opening and closing when it parts on the middle when opening or closing the louvers. Vertical motorized blinds are also available for easier operation.
Features:
• Modern-looking
• Wide-window Coverage
• Control and Flexibility
Standard Sizes:
24″ x 72″ to 72″ by 72″
Best for Contemporary Interiors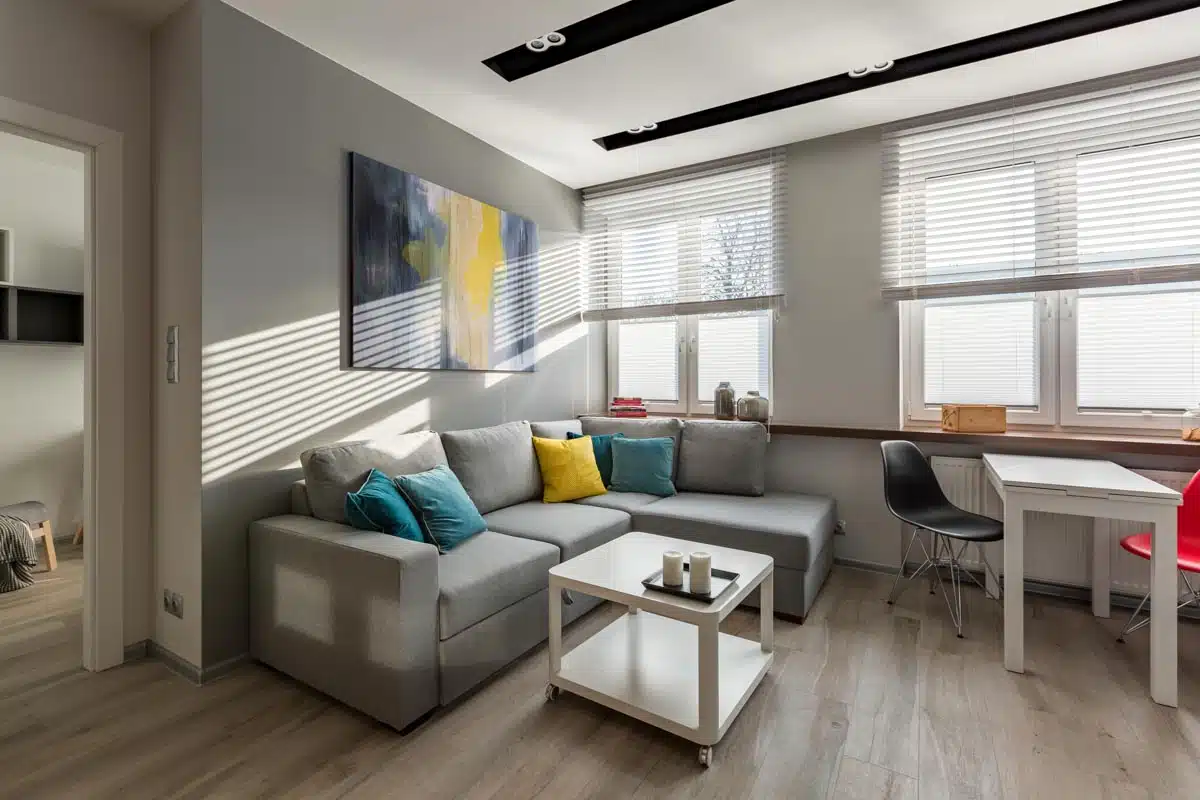 Panel Blinds: A variation of vertical blinds, panel blinds are an integration of the vertical blinds and curtains, which creates a wider louver, thus the term panel that hangs down from the blind rail. Due to its clean and streamlined structure, the window treatment is great for a modern and contemporary living room. It is also easier to clean and maintain due to a smaller number of laths.
Panel blinds can be an elegant window cover for panoramic or other larger windows. The vertical blinds, when closed, leave a seamless look against the walls and, when opened, provide a frame-like structure for the large windows giving them more volume.
Like any type of window blinds, panel blinds provide a level of privacy, light, ventilation, and temperature control depending on the material used.
Features:
• Energy Efficient
• Wide Coverage
• Easy Operation
• Easy Maintenance
• Control and Flexibility
Common Length/Drop:
• 60 inches (152 cm) to 120 inches (305 cm) or more
• 72 inches (183 cm)
• 84 inches (213 cm)
• 96 inches (244 cm)
Width:
• 18 inches (46 cm) to 36 inches (91 cm) per panel
• 48 inches (122 cm) or even wider
Best for Keeping Away Allergens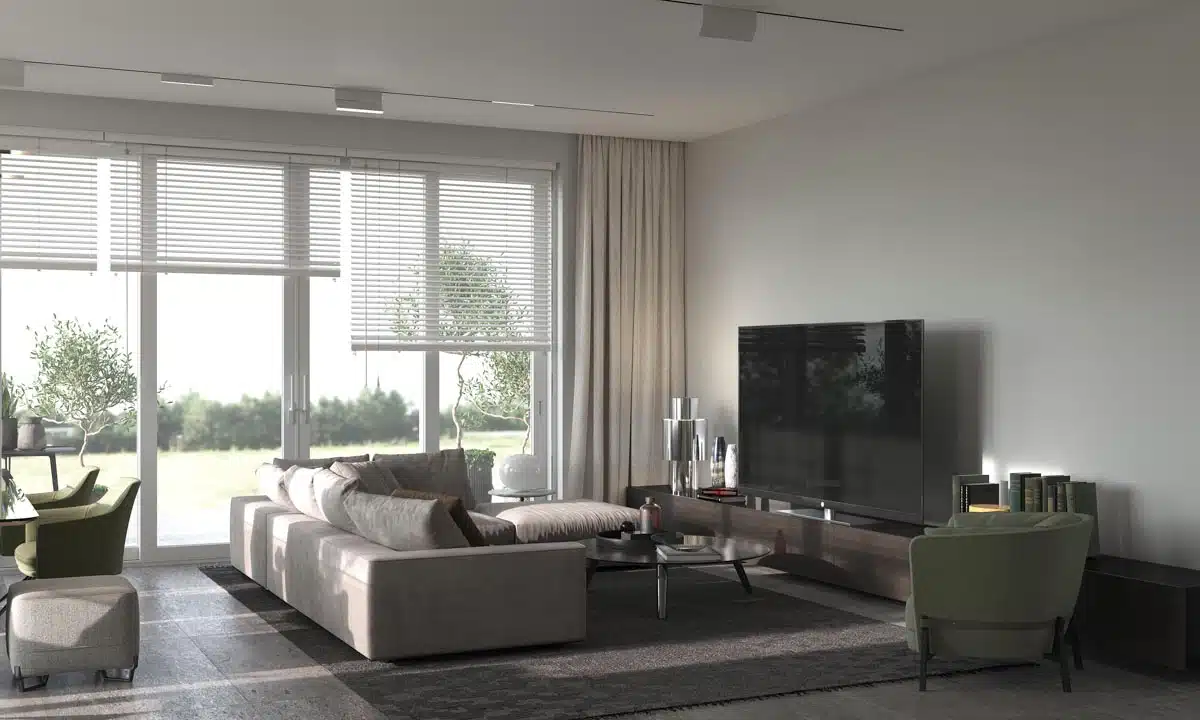 Sheer and Voile Roller Blinds: The transparent panels of sheer and voile roller blinds can provide the most natural light possible while still providing a level of privacy. The term "voile" simply means a fine semitransparent fabric of cotton, wool, or silk.
Not to be confused with roller shades, roller blinds have a different construction where a solid sheet rolls down and up using a spring or chain mechanism, while roller shades will have a roller tube where the fabric rolls up and down when operated.
Sheer blinds, also known as sheer shades or layered blinds, combine the functionality of blinds and the softness of curtains. They feature sheer fabric panels that alternate with opaque or semi-opaque fabric panels, allowing for adjustable light control and privacy.
The thin transparent material is an excellent window cover to prevent allergens such as pollen or dust from entering the living room while still providing privacy. Light and air can still go through the material but can filter through the amount of light and air passing through.
Sheer and voile roller blinds are great solutions for living room windows along a private patio or that open in a backyard or garden, as it doesn't need to have a significant amount of privacy. Moreover, it can still allow a view of the outdoors while hindering allergens, dust, and other harmful air contaminants.
Features:
• UV Protection
• Diffuses Light
• Control and Flexibility
Best for Homes with Pets or Young Children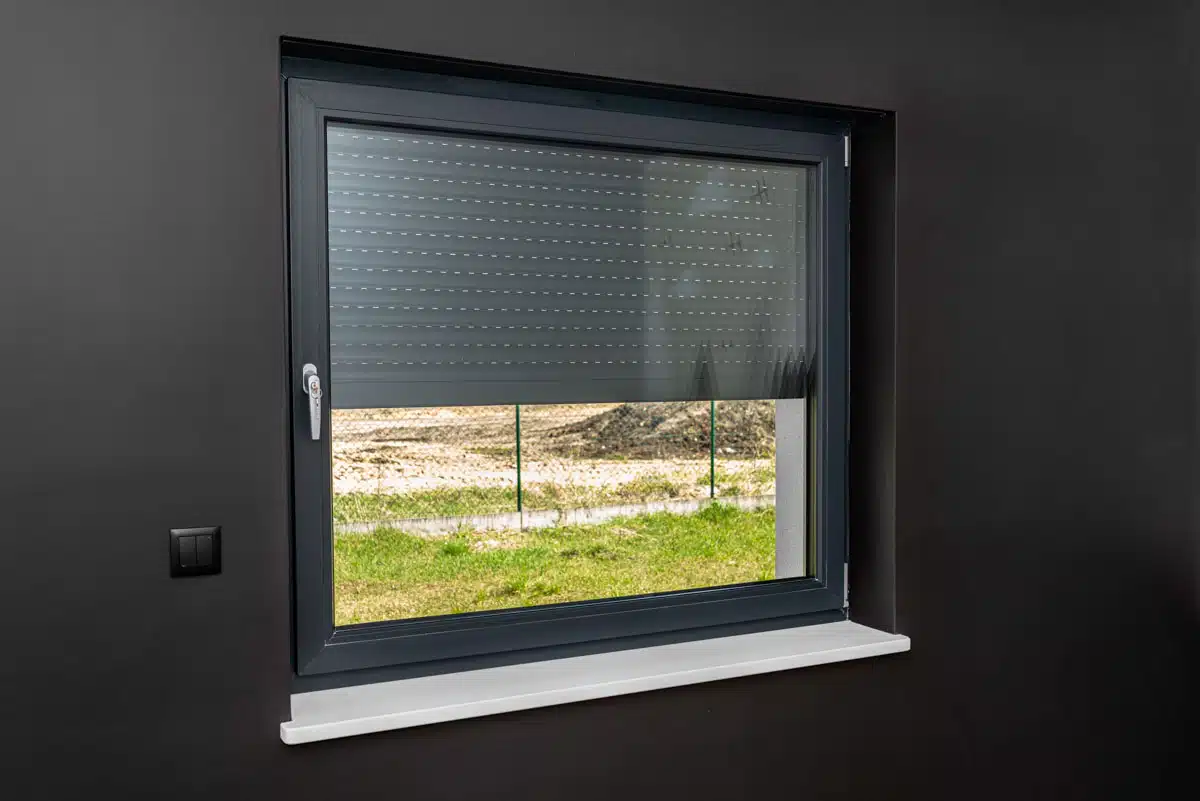 Integral Blinds: The integral blinds are installed between the window panes that have double or triple glazing, and despite being sandwiched between the glass panels, the blinds are easily closed or opened using either electric or magnetic operation.
The fitted integral blinds are suitable for patio windows and doors, conservatories, or any expansive windows. They are especially great for glass doors as the blinds do not flap or get in the way when the doors are used.
Integral blinds are perfect for living rooms with expansive windows or patio windows and doors. The fitted blinds and cordless structure of this type of blinds make it safe for homes with young children as well as pets.
Features:
• Built-in Structure
• Easy Maintenance
• Safe for Young Children
• Safe for Pets
Best for Narrow and Tall Windows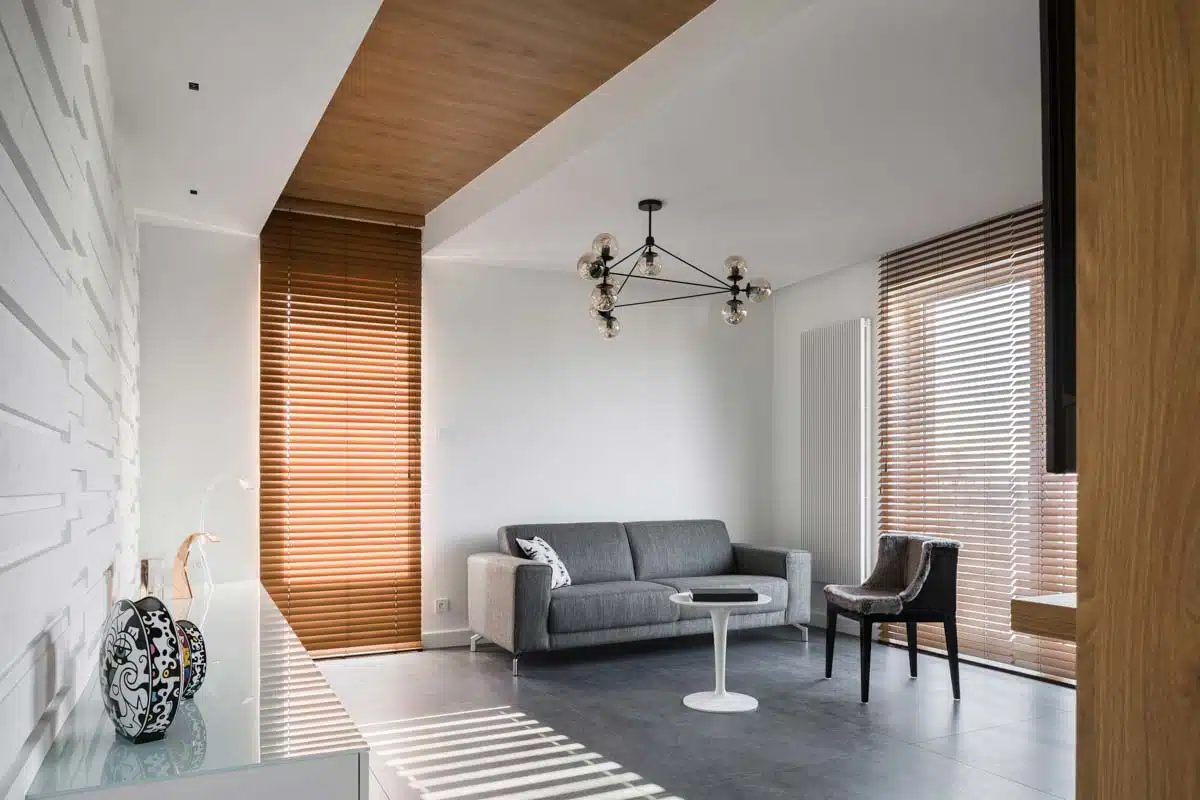 Mini Blinds: A variation of the regular Venetian blinds is about half smaller than the regular Venetian blinds. The slimmer slat is typically 1 inch wide, making the blinds great for narrow and tall windows or tight spaces in a living room.
The lightweight and slimmer profile also makes it a great option for apartments. The mini blinds usually cost less than the standard blinds due to less material used and less sizing. While mini blinds provide good light, air, and privacy control, they can become cheap-looking.
Common Widths:
• 24 inches
• 36 inches
• 48 inches
• 60 inches
Common Heights:
• 36 inches
• 48 inches
• 60 inches
• 72 inches
Standard Thickness:
• 15mm
• 25mm
Best for Small Windows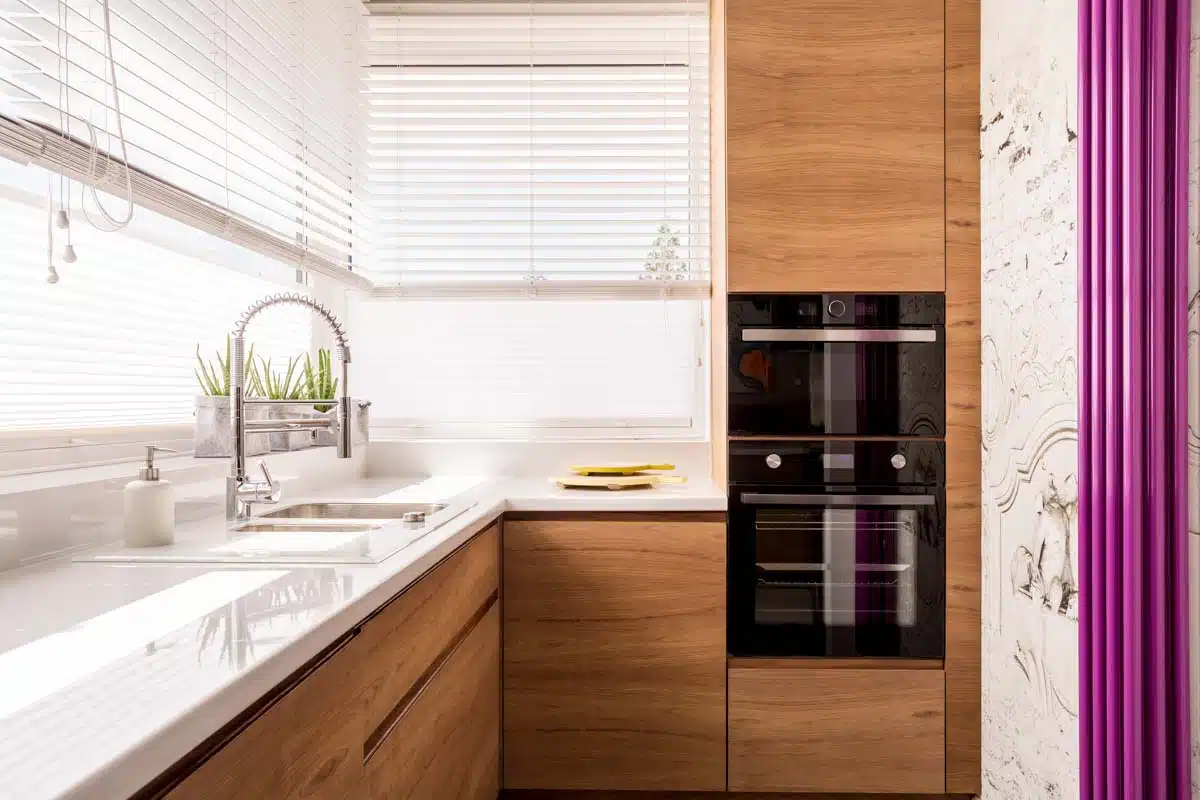 Micro Blinds: A smaller version of the mini blinds, the micro blinds have even narrower slats, ½ inch in width. The narrow slats allow blinds to fit on windows with small frames allowing the blinds to flush into the opening against the wall surface, preventing the slats from protruding.
Did we cover all of your questions and information regarding the appearance of different window coverings? Share your experience using any of these products in the comment section with other readers. See more related content in our article about the best alternatives to blinds, such as drapes, shutters and curtain panels on this page.