Here we share the best alternatives to blinds that you can use for your windows and incorporate into your home interior, including transitional shades, tie-up curtains, Roman shades, roller shades, sliding panels, shutters, and more!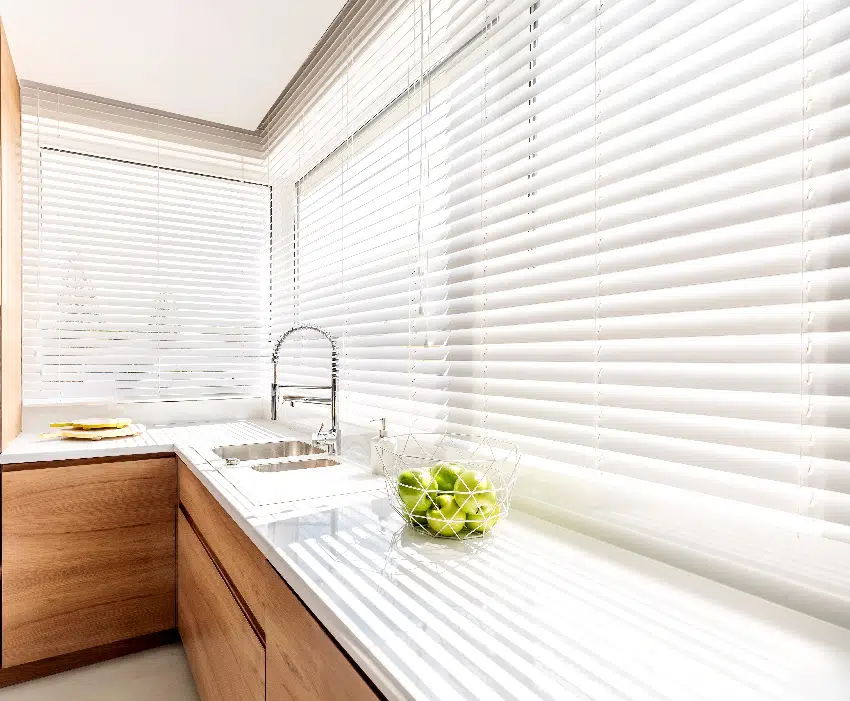 Blinds used as window treatments have been around in as early as the 18th century but despite their age, they continue to endure in this modern age. With industrialization, though, the original wooden slats have eventually been replaced with more synthetic materials such as plastic, vinyl, and other composite materials because they are slimmer, lighter, and easier to procure.
We get it. Your window treatments aren't just there for their functionality. You want to ensure it's a focal part of your interior décor too. Here are some interesting alternatives to blinds that you can use and incorporate into your home:

What Can You Use Instead Of Blinds?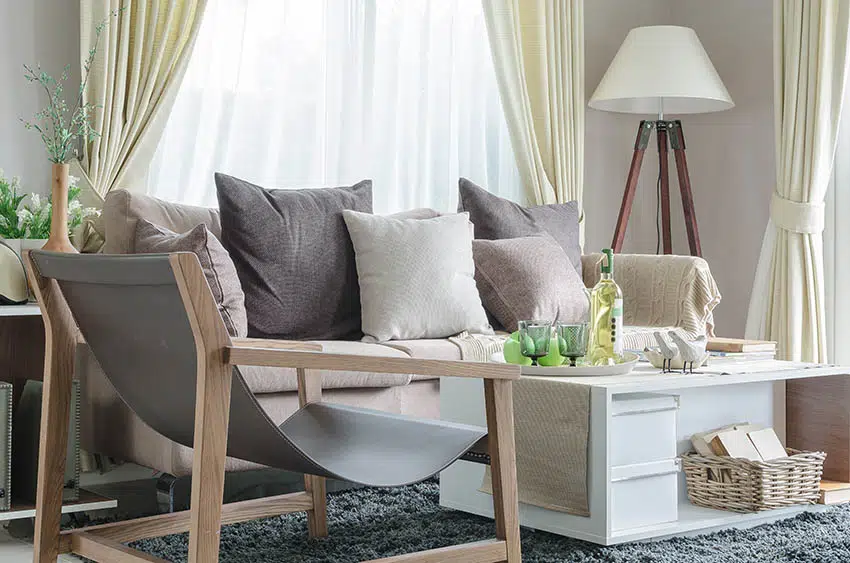 There are so many other things to consider if you really want to consider all of your alternatives instead of just opting for blinds. Here are a few more alternative to blinds you should look into.
Tie-Up Curtains
These are also called drapes or draperies. They are technically opened by pulling your curtain panels up from the bottom instead of to the side, like your typical curtains.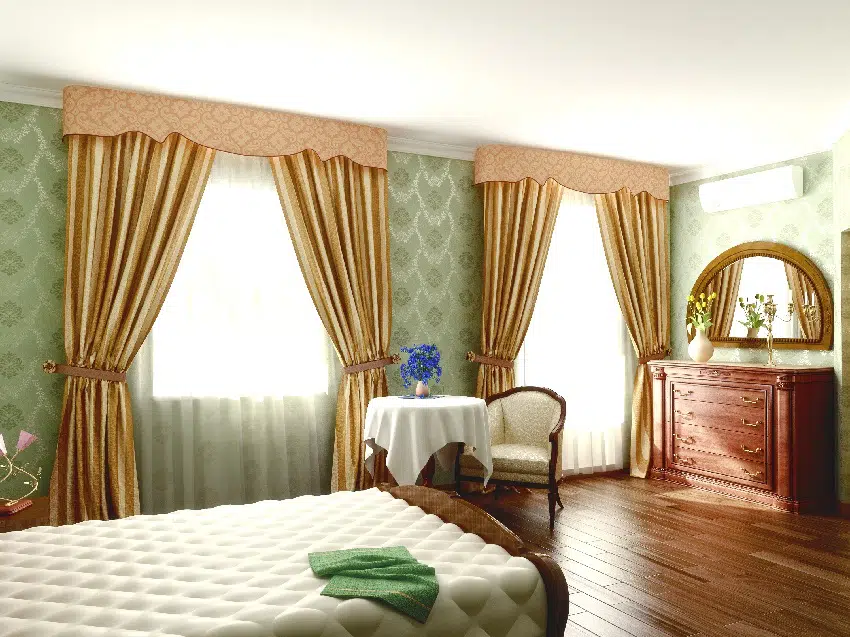 There can be cords, ribbons, strings, clips, tapes, or extra curtain material fashioned into a strap, attached to the actual curtains to help raise or lower the panels. Tie up curtains are soft and graceful in movements, especially when they fall from the rod. Learn more about blinds vs curtains differences here.
Bands that are spaced across the panel can create a scallop design that can be adjusted in terms of lengths. This can add more drama and design to a room.
Transitional Shades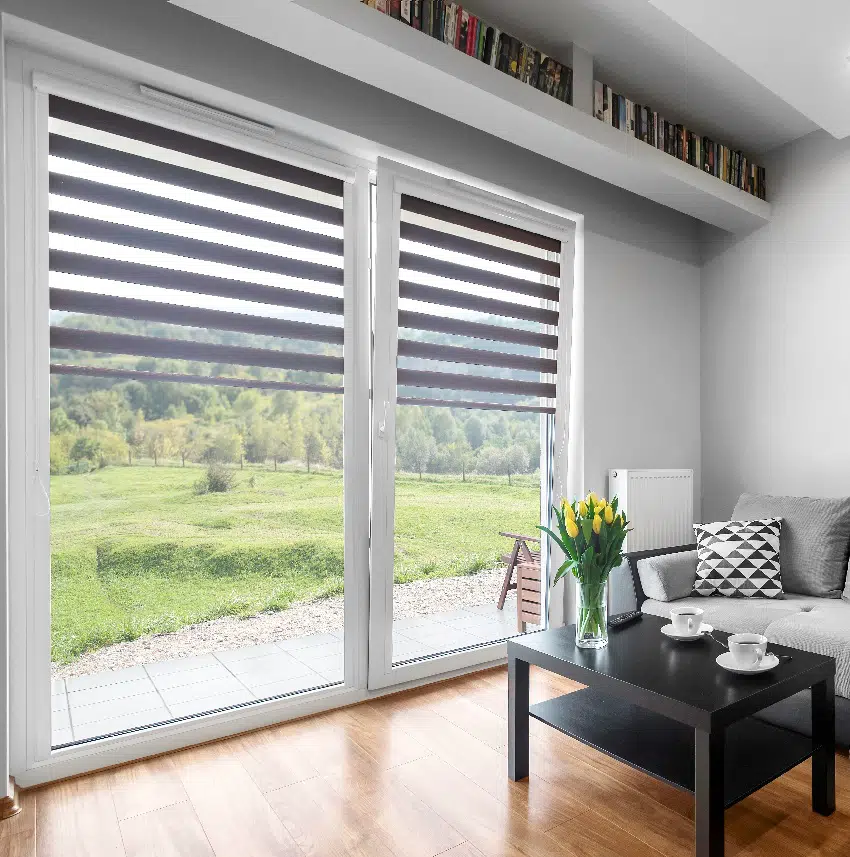 Transitional shades are types of roller shades that are also aptly nicknamed as banded shades or zebra shades mainly because of their appearance.

If you want to create a bold statement but at the same time, you don't want to ruin your minimalist or sleek interior design; then transitional shades are for you. They're basically roller shades but they offer more by way of design because the front and back layers of fabric that they come with can have sheer or opaque stripes.
These shades have two layers of fabric panels in between something opaque or sheer in the material. This is patterned out uniformly, creating a zebra or banded stripe pattern.
This is a subtle way to let light into the room without the arresting glare. As they have the same functionality as with roller shades, they can also be raised and lowered, be it partially or entirely, to control light and control the view in general. See more types of window shades here.
The horizontal stripes they come with are useful design-wise because they can make any small windows larger than the actual size and at the same time provide more depth and sense of dimensionality if you happen to be working with larger windows.
Roman Shades
Roman shades. This is another popular alternative to your good old window blinds. If you're the type of homeowner who wants a little bit of warmth and perhaps a touch of luxury in his window treatments, then you might want to check out what Roman shades are all about.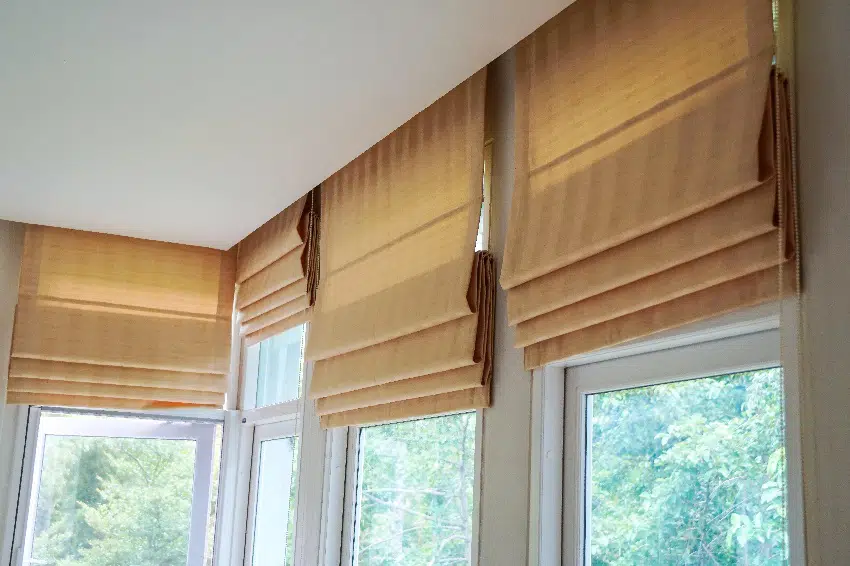 They are often used for more traditional settings. This is because they're simple and usually monochromatic.
If the space that you're working with is minimal and doesn't really have a lot of legroom for space-eating elements, the roman shades can be your solution. Because it's usually monochromatic or usual, you can work it around your décor.
The only downside to Roman shades though is that installation requires precision and professional treatment. A minor measurement error or installation mishap can make your Roman shades crooked.
If you can't guarantee professional fitting for your window treatments, don't opt for Roman shades as it will turn out to be a waste of money. If you can commit to it though, you're in for quite a treat.
Roller Shades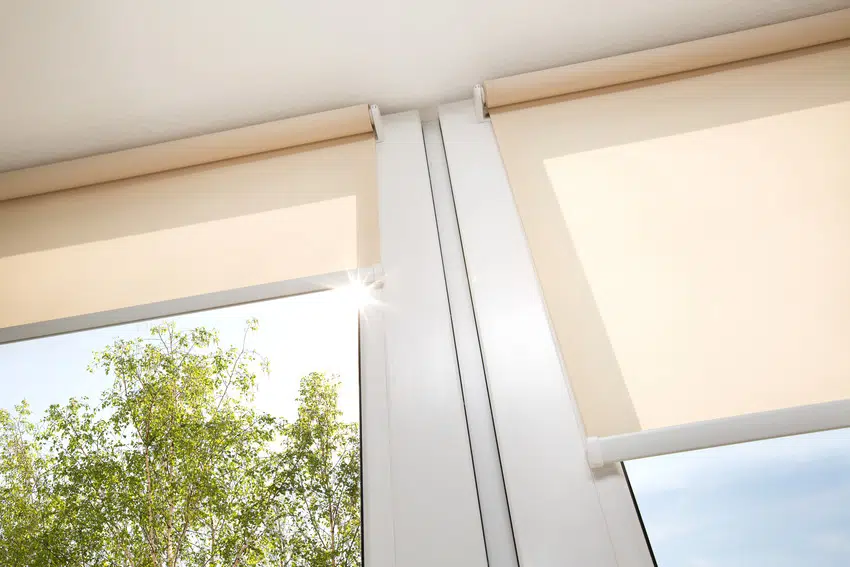 Roller shades is one of the popular options for an alternative to blinds. These window treatments are sleek and minimalist and more than that, they can pair perfectly with modern design. They're quite practical to be used for large windows.
Roller shades are perfect for when you have a window in the home where the view itself is the star and you don't want the window treatment to get in the way.
They basically hide behind valances or headrails when they are rolled up and they completely disappear, leaving you to enjoy the view. They can also be quite versatile in controlling light. Some can come in sheer while others offer complete blackout – anything up to your preference.
Sliding Panels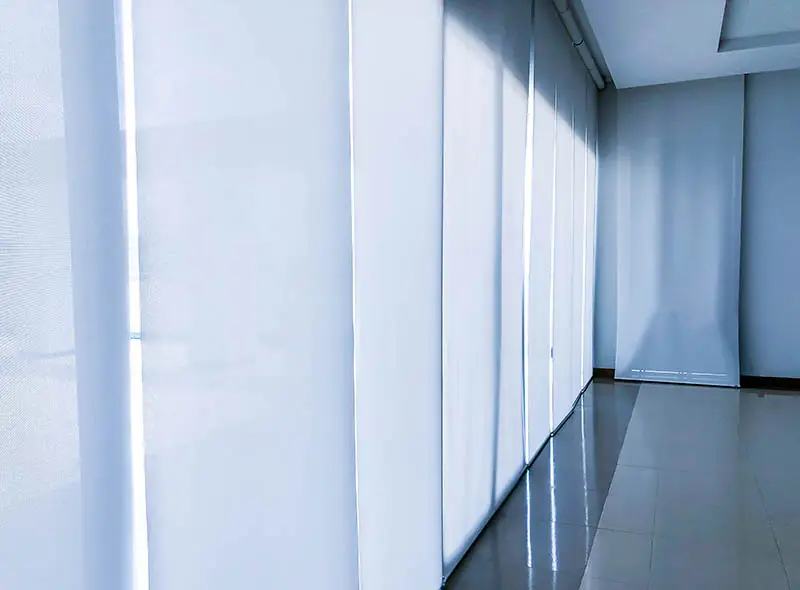 Large picture-frame type windows may sound like every homeowner's dream but when you get to the point where you have to decide on its window treatments, you'll soon realize that it actually isn't all that easy.
Still, this is no reason to waste a perfectly good view because there are always solutions to your window treatment needs. As an effective alternative to blinds you can opt for sliding glass panels.
They offer great solutions for large windows and even doors in your home. They're simple and clean in appearance and the cool part is that they glide quietly on wheel carrier tracks.
Aside from being used as a window or sliding door treatment, if you need some division in the room, it can be mounted on the ceiling, too.
Cellular Shades
You could say that cellular shades are kind of similar to the roller shades in some ways but it's just that they provide a little bit more texture and that's a plus on aesthetics. Cellular shades have a honeycomb weave that's quite unique to them.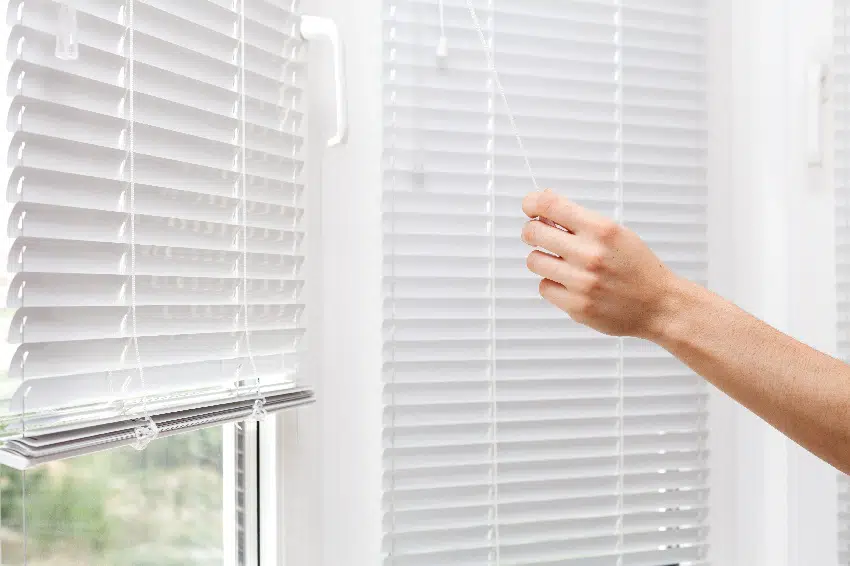 The main upside to these window treatments is that the insulation they provide is excellent and if you go for these, you'll be saving up a lot of money on your energy costs.
For usage, they can come motorized and operation is impressively quiet. They beautifully bring aesthetics and technology together and it can easily give your space that modern and hi-tech feel to it.
Bamboo Shades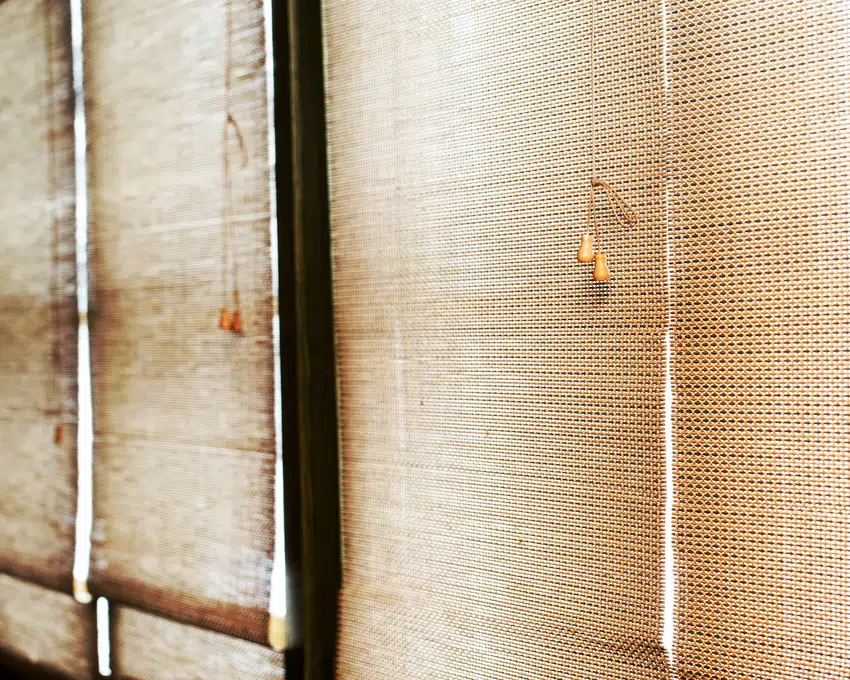 These shades are made from all natural materials because they're entirely from the bamboo plant. There are variations to it though where it may be woven in with other grass-like materials such as rattan, jute, reeds and other grasses.
The colors can be classic, or they can come dyed. Treated bamboo can withstand a lot of rain so if you're planning on adding this on a patio door or window that has a tendency to get wet, bamboo shades can definitely take the hit.
Not only are these more sustainable and environmentally friendly, they can also come in cordless designs. There are times wherein cords can get stuck and derail the operation of mechanical shades and this can be a hassle.
Bamboo shades can come in pull-ring functions that provide cordless lift and doesn't "catch" like how traditional cords do.
Window Film
This window treatment refers to a thin laminate installed both outside and inside the glass window. This is also quite popularly used in cars, boats, and even other buildings other than the home.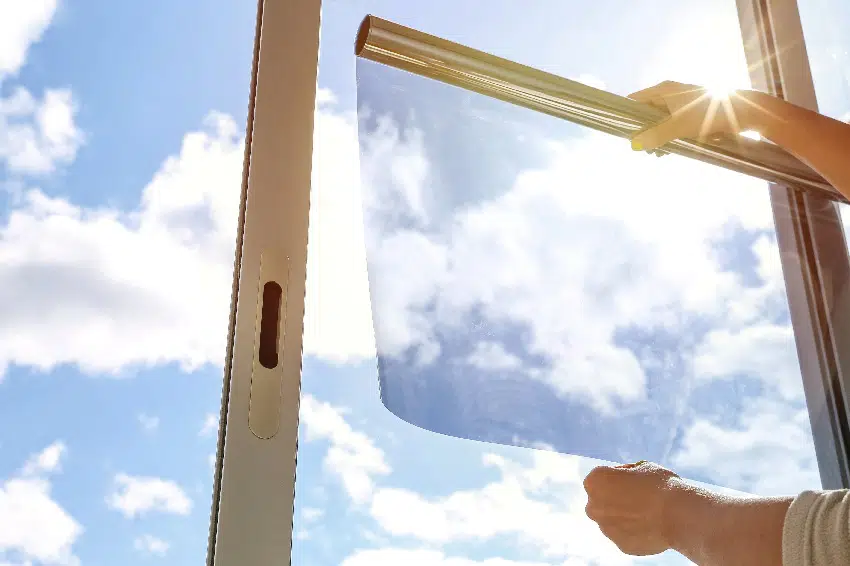 It can open up your window space as there isn't nothing on there besides the glass surface itself. This is great for windows that have glare issues as it can reduce glare by up to as much as 90%.
Window film can be quite relaxing on the eyes and if you're working with a particularly large window, this can be a cost effective window treatment option that requires little to no maintenance at all. You just need to clean the class as you normally would.
Frosted Glass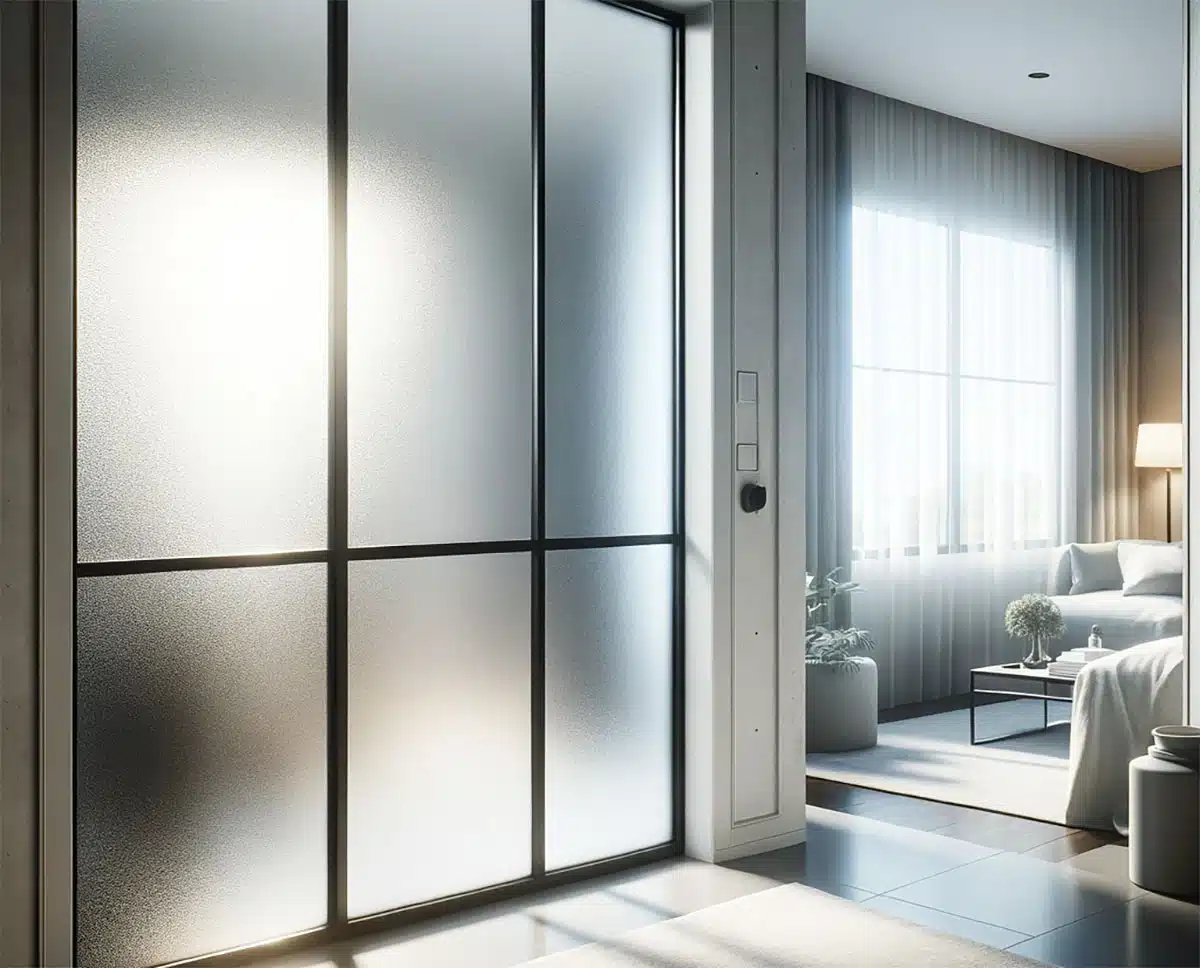 If you want to go for diffused lighting and a little bit of privacy while you're at it, then you might want to consider frosted glass for your windows. They are usually glass windows that have been sandblasted or glass etched to attain their opaque and decorative look.
They can cost about $300 more than regular glass windows but the privacy they offer is topnotch and you couldn't see from the outside in even if you cupped your hands and looked through the glass.
Privacy Screen
This is usually one-way and has a reflective finish. It gives your window glass a one-way mirror type of feel.
What this means is that during the day, people on the outside part of your window will not be able to look in. However, you on the other hand, who's looking from the inside out, can see perfectly through the glass.
Like the window film and the frosted glass, this also requires very little maintenance as it sticks to the glass surface itself.
Shutters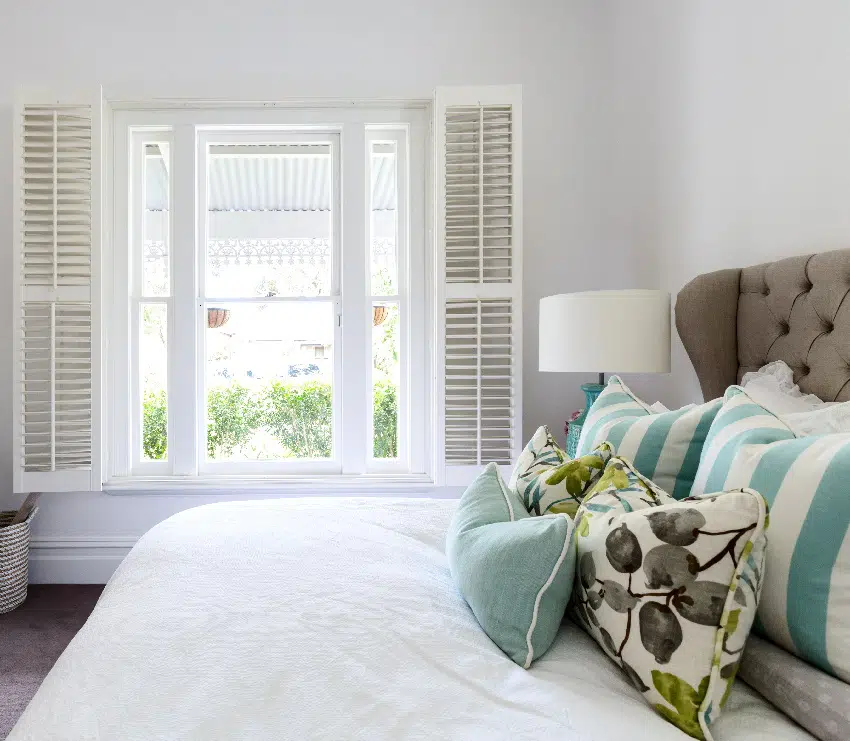 If you're looking for something solid and clean, you might want to check out exterior shutters. They're basically frames of vertical stiles paired with horizontal rails.
In between, you can have either glass, or panels, or even slats within the frame, which makes it pretty customizable in terms of design. Read more about the differences between shutters vs blinds here.
Why Replace Blinds With Alternatives?
Blinds on the windows were a staple in post-war interior décor. They're easy to install and became quite affordable, which made them the best options for larger windows or windows that aren't traditionally sized.
The downside to blinds though, is that they need to be cleaned often. It's quite labor-intensive. The slats tend to collect dust and other things, and without constant cleanup, it will end up ruining your space.
Also, since the common materials used for modern blinds are either plastic or aluminum that are manufactured in very thin slats; they aren't durable.
They can get easily damaged so there's a pretty good chance they won't last you for years. The cords can also be a hazard among children and on top of that, they aren't very efficient in keeping the heat in so you're going to rack up a tab on your energy costs.
Thankfully, there are a lot of alternatives that you can go for in terms of window treatments. Blinds, no matter how convenient they may be, are not cure-alls to your window decorating needs.
Need more alternatives to blinds and window covering ideas? Visit our types of window blinds guide page.