Here's our blinds vs curtains guide with the differences, cost and pros & cons.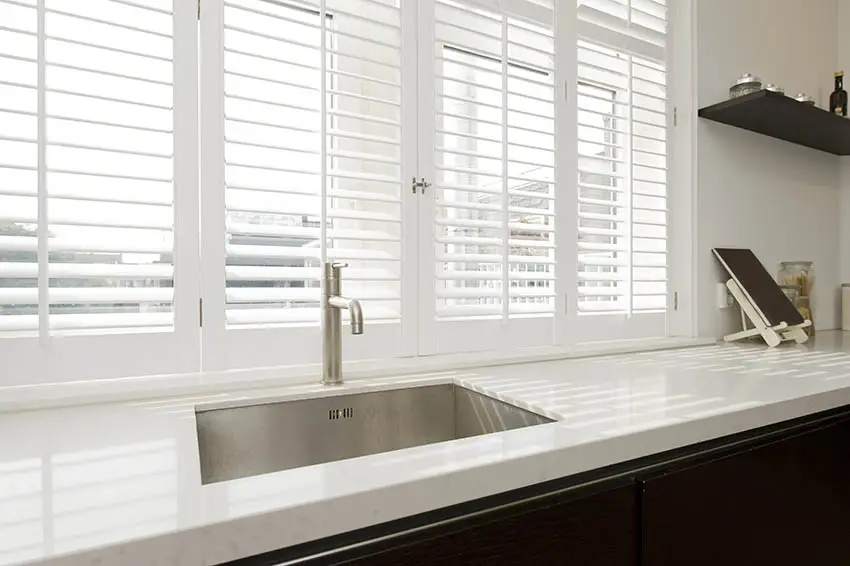 Blinds and curtains are types of window treatment which would look great in every home; knowing which one suits your requirement for a particular room or an area of your home can be a bit of a challenge if you are not familiar of the different benefits each of these window treatments have.
Difference Between Blinds and Curtains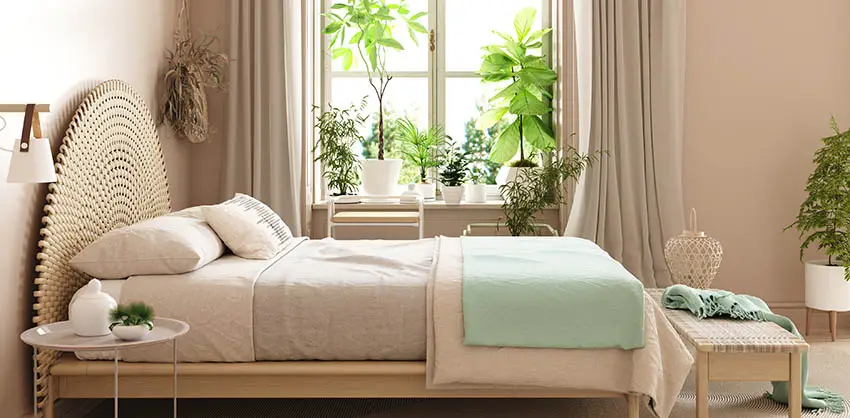 Understanding the differences between the types of blinds and curtains will help determine the right window treatment that will complement the windows of each rooms in your home.
The main difference between blinds and curtains are primarily with how they look. Curtains are made from different fabrics, while blinds are constructed of horizontal or vertical slats.
Curtains have more design possibilities, are more energy efficient and are very effective in blocking light; although curtains can be more expensive and are harder to clean.
Blinds on the other hand are typically less expensive, have more light control and are easier to clean; blinds tend to be less energy efficient and don't have as many design options.
Here are some factors which you should consider when selecting which window treatment will work best for your home:
Size and Function of the Room
It is very important to determine the size and function of the room in which you want to have window coverings installed. The right window covering will have to compliment the space and add a touch of warmth and texture to the room.
Large living room, dining room and even bedrooms would look great when installed with a full-length curtain for a more formal and warmer look. Smaller bedrooms or other smaller areas of the house with windows are often better fitted with blinds.
Light Control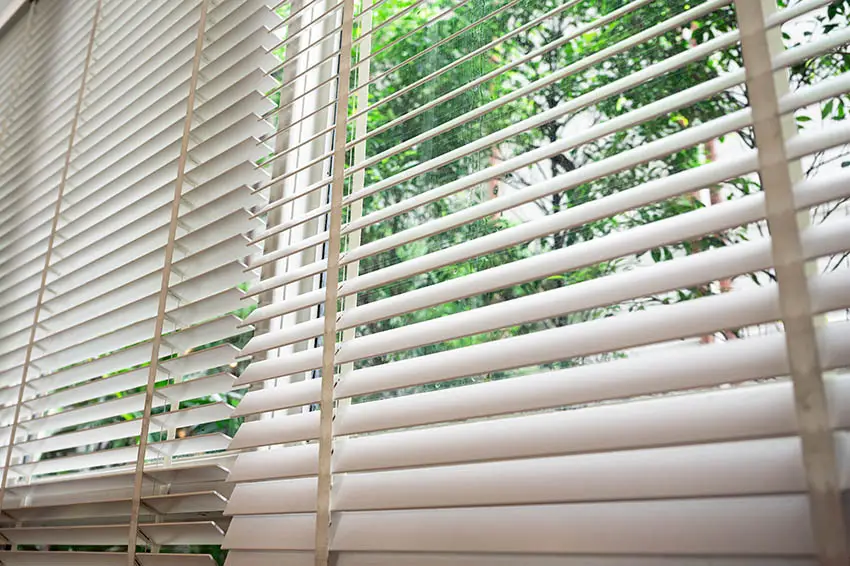 Blinds offer more light control options because blinds have vertical or horizontal slats which can be operated in order to control the light.
For Venetian blinds, by pulling the lift cord you can raise or lower the blinds, for vertical blinds you can move it from one side to the other and you can also rotate and adjust the slats in order to control the amount of light entering the room.
Curtains on the other hand, can filter the natural sunlight coming through the window by using light or sheer curtains and it can also block out natural light completely by using heavier fabrics such as velvet curtains.
Location
It is always good to take into consideration the placement of furniture where there is a window. A desk or a sofa under the window would be more aesthetically appealing if you will choose to install blinds as your window treatment for the said window.
For bathroom and kitchen, blinds are more appropriate since they are resistant to moisture and are easier to clean.
Curtains are best to use in the living, dining room and bedroom since there are various types of window curtains to choose from, curtains provide much privacy and curtains are easier to change and remove.
Size and Type of Window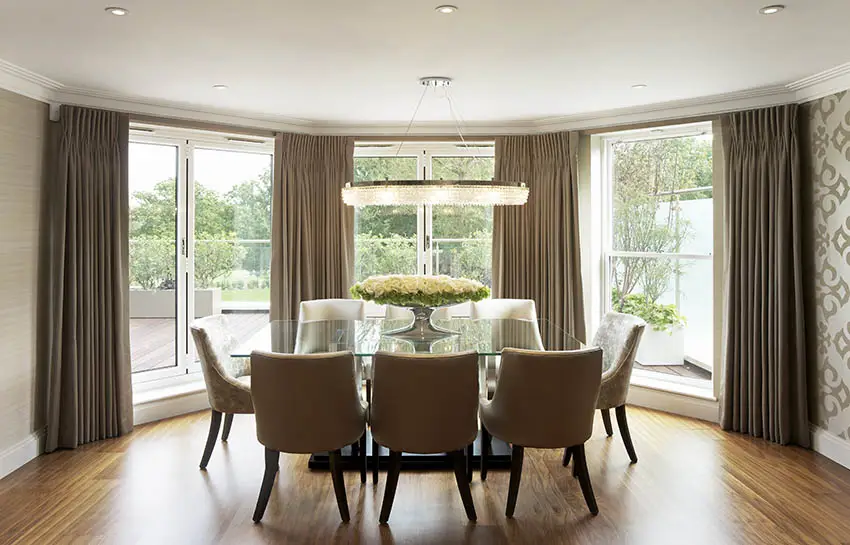 As much as possible, windows should have the same height. Curtain rods should be placed higher than the top of the window and possibly extend out on the wall to create an illusion of a larger window. Curtains are suitable for bay windows.
Roman blinds should be installed above the glass window. Double hung windows and French doors would look great on both blinds and curtains.
Window Covering Design
Both curtains and blinds have a variety of colors, designs, and can even feature different patterns – even roller blinds, since they can be made of printed fabrics.
Curtains have a softer effect and adds elegance, style, and texture to the room. On the other hand, blinds can make the room seem larger and they are sleek, which can easily give any room a minimalist, modern look. Blinds can work well with industrial and coastal interior styles.
Cost Differences Between Curtains and Blinds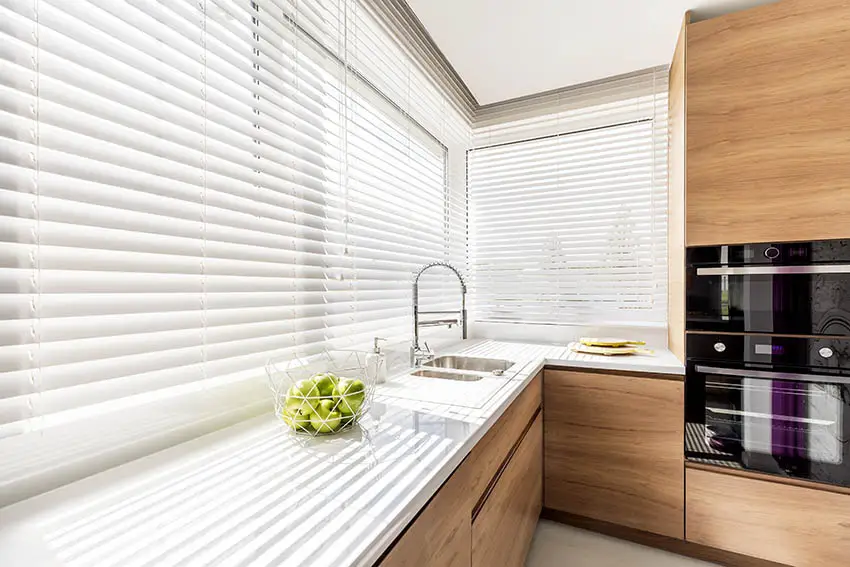 The cost of curtains as well as blinds vary based on the quality, materials, and the way these window covers are made – whether ready-to-hang or custom fit.
Custom made curtains cost between $250 and $2,500 depending on the materials to be used, style of curtain and the size of the window.
Costs of Curtains Based on Different Materials
Nylon – $10 to $50
Acrylic and Polyester – $10 to $75
Voile – $20 to $100
Cotton, Chiffon and Chenille – $20 to $150
Lace – $20 to $300
Bamboo and Linen – $25 to $300
Wool – $30 to $500
Velvet – $50 to $750
Silk – $100 to $1,500
Curtain Costs Based on Curtain Styles
Pencil pleats – $10 to $750
Pinch pleats and Eyelet – $10 to $1,000
Wave Header – $20 to $1,500
Anti-Ligature – $50 to $500
Flat and Hobbled Roman – $50 to $1,500
Cost of the Curtain Based on Rod Types
Swing arm, Continental and Tension rod – $5 to $150
Single curtain rod – $5 to $300
Double curtain rod – $10 to $350
Traverse – $25 to $300
Labor cost for installing curtains usually costs $15 to $150 per window when installed by professionals while other installers charge $35 to $100 per hour.
Cost of blinds per window for different materials
Vinyl $11 to $120
Metal $15 to $40
Plastic $20-$50
Aluminum $20 to $70
Synthetic $25 to $50
PVC $30 to $60
Bamboo $30 to $80
Faux wood $30 to $95
Wood $30 to $215
Fabric $50 to $100
Leather $75 to $100
Cost of blinds per window for different type/style
Roller $10 to $140
Venetian $11 to $215
Cordless $12 to $135
Solar $30 to $120
Vertical $50 to $115
Pleated $50 to $125
Roman $50 to $130
Panel $120 to $300
Installation of blinds for a standard window usually costs $10 to $20 by a professional for a standard window. To replace old blinds by a professional, charges can be between $10 to $25 plus the cost of the new blind.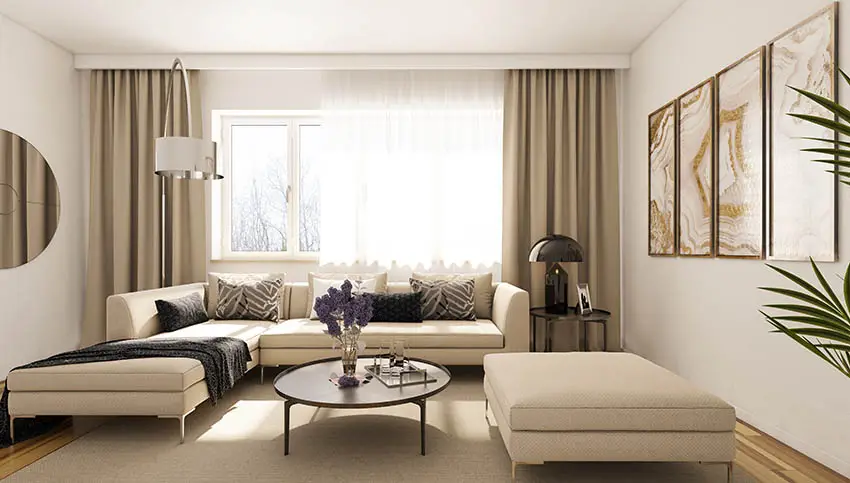 Curtain Energy Efficiency Difference from Blinds
Both blinds and curtains help maintain heat and enable you to control indoor temperature while providing privacy and compliments your interior design style.
Curtains made with heavier fabric and making use thermal material such as an acrylic foam inserted between the layers of fabric can reduce heat loss by up to 37 percent during extreme cold weather making it more energy efficient.
However, thicker blinds can provide approximately 14 percent heat loss reduction especially with using a pleated type blind also known as honeycombed blinds; their honeycombed shaped grid of air pockets formed by two special layers of fabric offer more insulation.
Blinds are more efficient to be a natural barrier to heat than to the winter cold; yet still allow filtered or indirect light to pass through.
Blackout Curtains vs Blinds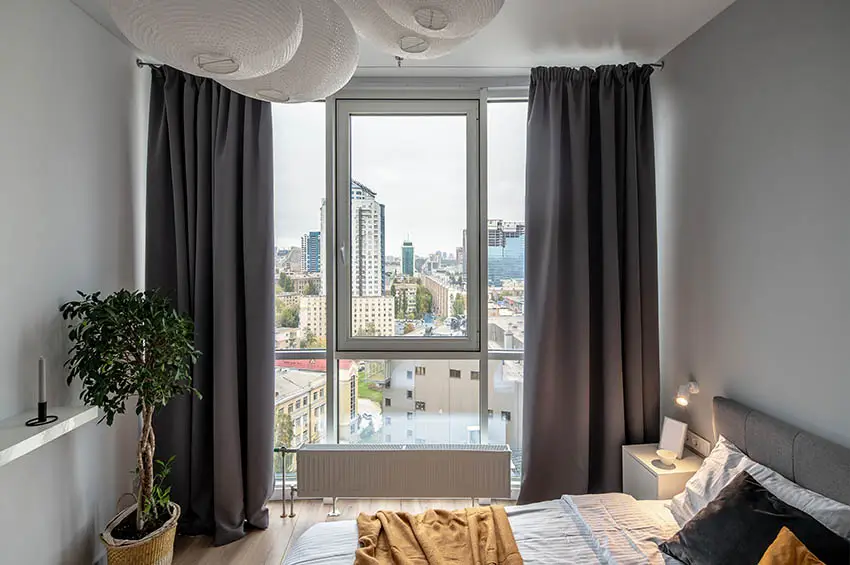 Blackout curtains and blinds are best for rooms which gets the most natural light and in areas which you prefer would have no amount of sunlight coming in at all.
These types of curtains are often used in media/movie room, bedrooms, and dark rooms for photographers. These blackout window covers also shields off lights coming from headlights, streetlights, and traffic lights.
Both of these window treatments are able to reduce energy costs, since a blackout curtain or a blackout blinds can lessen the amount of sunlight that is coming in the room.
It also helps protect furniture and floors from fading due to UV rays from sunlight. There are room darkening features found to be present in heavy blackout curtain fabrics; yet they appear lighter in weight than drapes. Visit this page to read more about drapes vs curtains.
Blackout blinds on the other hand, are made out of dense opaque fabric in order to block off all light around the corners.
Often times blackout blinds are used in nursery rooms, classrooms where projection screens are being used and installed as additional window treatments in hotel rooms since they can also reduce noise and provide both privacy and insulation.
Your design preference and requirements will be the deciding factor which window treatment will best create the perfect atmosphere and would look great when installed as a window cover. Your choice should be functional, provide privacy, and help you in getting a better sleep.
Which Are Better, Curtains Or Blinds?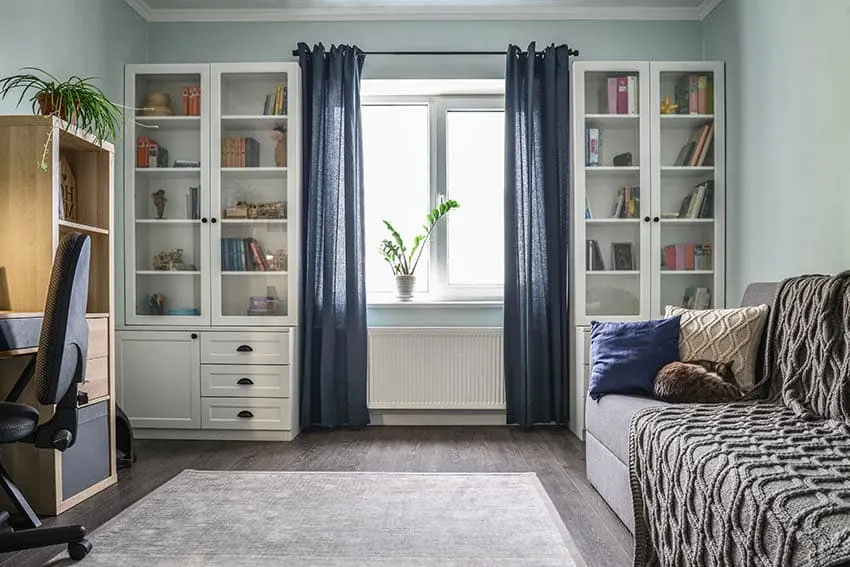 Depending on the needs of each room, each window covers have its own advantage and disadvantage – blinds are best for providing more protection and privacy, while curtains offer more design and styles as window treatments.
In areas where moisture is not an issue, such as in the living room, dining room and bedroom it's best to install curtains due to their variety of designs, insulation, and noise reduction qualities.
Whereas in rooms which are exposed to a high degrees of moisture such as kitchens and bathrooms where molds can easily grow, blinds will be the best window treatment to install because they are durable, easy to clean and have a high- level ability of filtering light coming into the room.
Do I Need Curtains If I Have Blinds?
Blinds have become a popular choice for a window treatment because they are highly functional, stylish, and versatile. Blinds are neat, easy to clean and works beautifully in any type of window.
Curtains are good enough to be used by themselves or by combining two types of curtains in order to create more aesthetic ambiance in a room.
Combining two types of window covers can actually maximize their benefits such as an increase in privacy, promote insulation, and create a more luxurious and elegant design style setting.
By pairing curtains and blinds, you have the advantage of flexible light control – having your blinds open while keeping the curtains closed and yet allowing light to filter through.
Although it seems like there is a lot of pros and cons to consider in choosing the perfect window cover for your home, the decision will always be a matter of personal preference.
After all, blinds will tend to be more affordable and provides flexibility in light control, while curtains add style and texture to the room.