Welcome to our guide to the couch fabric types and materials including upholstery pros & cons and how to choose the best fabric for your interior designs.
When shopping for a couch, the fabric you choose should be based on the couch's use, location in your home, room's color scheme, and whether children and pets live in the house.
Color and patterns are usually the first considerations. Still, choosing the type of couch material and should be decided on before the shopping begins.
This guide provides information about the different types of couch fabrics and their pros and cons so you can choose the perfect couch material for your new furniture.
Quicklook: Different Fabric Types For Couches
• Linen
• Cotton
• Wool
• Silk
• Leather
• Polyester
• Acrylic
• Nylon
• Vinyl
• Olefin
• Faux Leather
What is Fabric
Fabrics were manufactured thousands of years ago by felting, squeezing fibers together with liquid to form a flat tangled semblance of material. Future endeavors included knitting and interlacing yarn made from spun fibers such as wool.
Weaving was introduced shortly after using a loom, a frame to hang strands of yarn on to weave into crude material. These techniques are still in practice today, creating modern textiles that make up the unlimited array of options available for couches.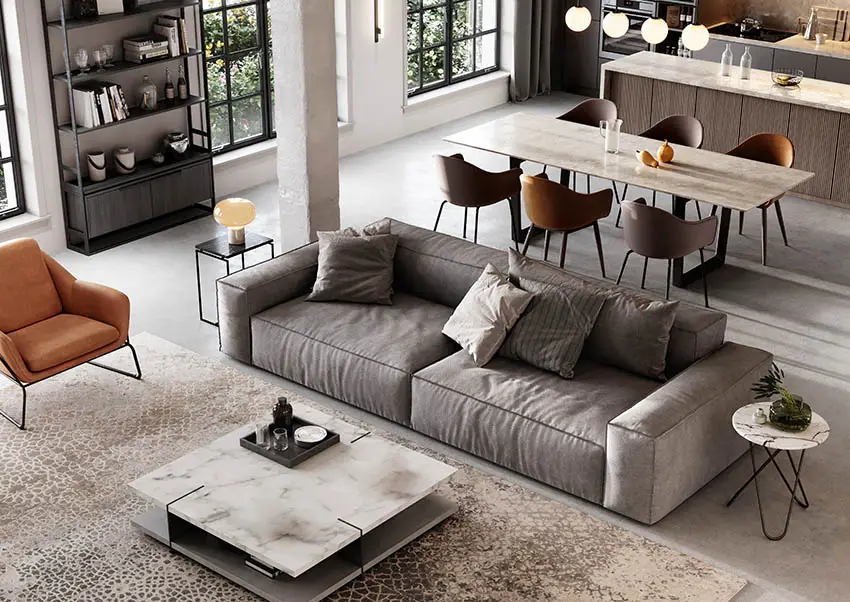 Different Couch Materials
There are countless material options for couches, all with different characteristics, feel, durability, style, and patterns.
Couches with coverings wear as time goes by from everyday use, children, pets, and stains. Furniture makers have embraced new materials and expanded their choices, adding synthetic materials such as vinyl, plastic, olefin, and faux leather.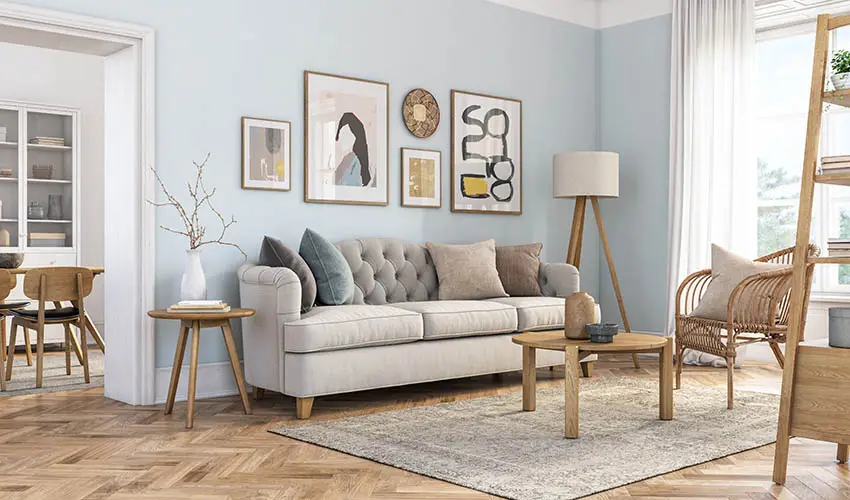 Each fabric is carefully chosen to work with the furniture design and purpose. Whether restoring an old couch or buying a new one, there's a material to match your personal décor preferences and provide a stylish, long-lasting couch. Read more about different furniture styles here.
Types Of Natural Sofa Fabrics (Pros & Cons)
Fabrics made from natural fibers are sourced from plants and animals. The following natural types come with both pros and cons.
Linen
Linen is a handsome material made from flax plants. It's among the most popular couch fabric types and very affordable, but it presents some concerns for high-traffic areas and durability.
Linen also wrinkles easily, making it difficult to iron out. It is very airy and breathes well, making it an excellent choice for sitting for long periods or during hot, humid weather.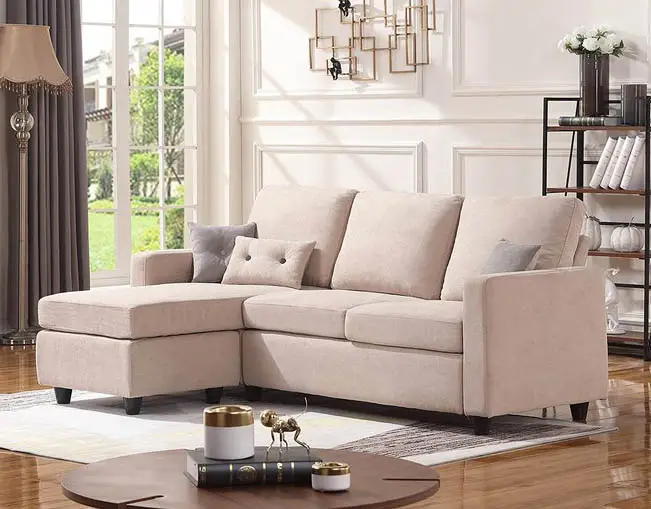 See this convertible linen couch with ottoman at Amazon
Pros of linen:
This natural fabric comes in original earthly colors such as beige and ecru gray
Linen is resistant to mildew and naturally antibacterial
Linen is smooth and soft, making it a comfortable option
It's a strong material
Linen is affordable
Linen does not develop pills or lint
It's resistant to fading
Linen is an eco-friendly material
Cons of linen:
Linen wrinkles easily
It also stains easily
Linen has to be professionally cleaned to prevent shrinkage
Linen does not hold up well to everyday use
Cotton
Cotton is a common couch material and the most popular upholstery fabric. It's natural, durable, and takes dye well, producing vibrant colors.
Cotton is also available in different thread counts to accommodate a customer's needs and budget. If cotton is combined with other fibers, it makes a more durable material for a family-friendly couch. Much of the corduroy made today is made of cotton or a blend of cotton and polyester.
Cotton's price, available patterns & colors, and durability make it a very attractive material for use with sectional sofas and couches.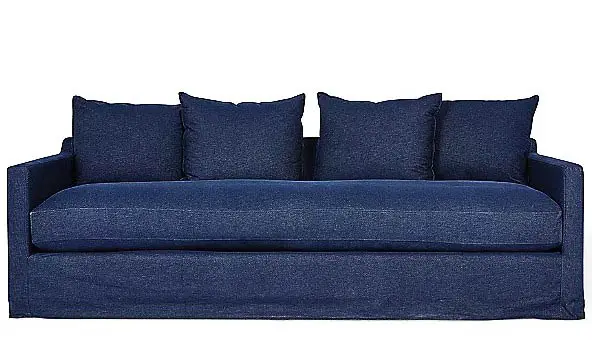 See this mid century modern cotton fabric couch at Lumens
Pros of cotton:
Cotton, as long as it's 100% cotton, is hypoallergenic
Cotton material takes all colored dyes and patterns
It's soft and not prone to pilling
Cotton is breathable and resistant to moisture build-up
It's durable
Cons of cotton:
Cotton wrinkles easily whether the material is wet or dry
Cotton absorbs liquids that spill easily and will stain or smell over time
Although cotton takes dyes well, it absorbs dye from clothing or other fabrics such as denim, jeans, and other clothing.
Wool
Wool is primarily made from sheep or Merino sheep fur. It's very durable, but at times, the material is scratchy, depending on how it was woven.
Wool blends are much softer. The wool combines natural and synthetic textiles such as cotton or polyester. Wool tends to be a heavy-feeling fabric and is well suited for couches in a cold climate or family cabin.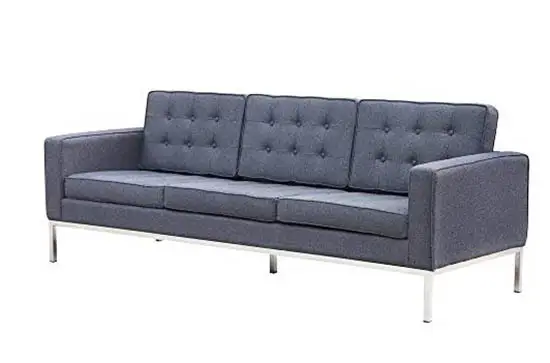 Pros of wool:

Wool is environmentally-friendly
No animals are killed to obtain the fur
It's fire and water-resistant
Wool is very durable
It doesn't fade
It's resistant to mold and mildew
Cons of wool:

Wool stains easily
Wool is heavy and may not be suited for a room with finer furniture
Wool is expensive
It fades if exposed to direct sunlight every day
Wool attracts moths and should be moth-proofed before use in upholstery
Silk
Silk is a soft and opulent fabric and creates a royal atmosphere for any formal living area in your home.
Silk is a smooth, delicate, organic, eco-friendly and one of the valuable fibres in textile industry. – Acceptability Of Silk Fabric Among Working Women Of Chandigarh City, Dr. Chhavi Rai, Dr. Divya Hiran, Dr. N.K.Dashora, Dr. Hemant Kothari
For a couch material, silk wears well but needs regular care. Any soiling must be cleaned by a professional, and a silk couch does not hold up to regular use, especially wear and rips caused by pets.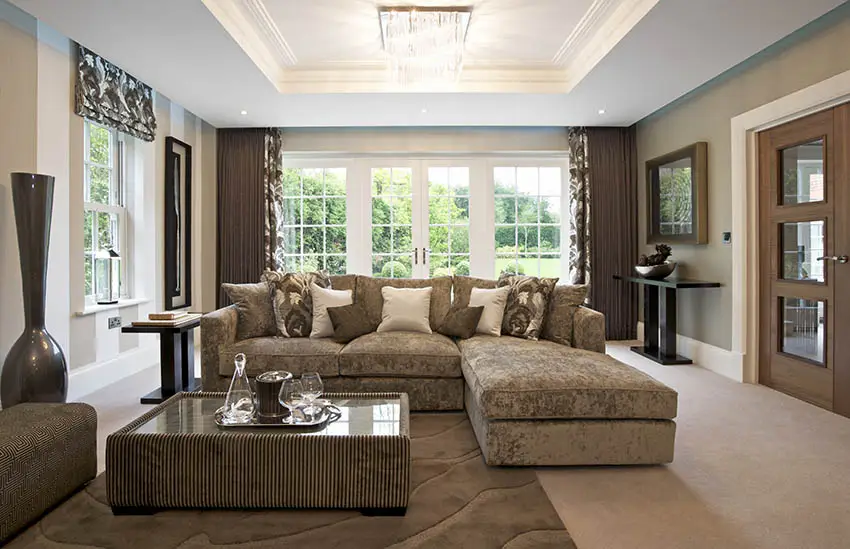 Pros of silk:

Silk has a delicate shine and softness
It maintains its shape and resists wrinkles
It's long-lasting
Silk comes in countless colors and patterns
Cons of silk:

Silk must be cleaned professionally
It will fade if exposed to the sun daily
Silk is the most expensive natural fabric
Silk is not meant for furniture often used by pets and children
Silk stains easily
Leather
Most couches are covered in natural leather and allow a rich-looking interior design. Leather stands up to a lot of use, and spills clean up with a quick wipe as leather does not absorb liquids.
Leather is among the popular types and comes in different grades, with genuine leather being the highest grade. Leather wears well and develops character over time, adding to its sophisticated appearance.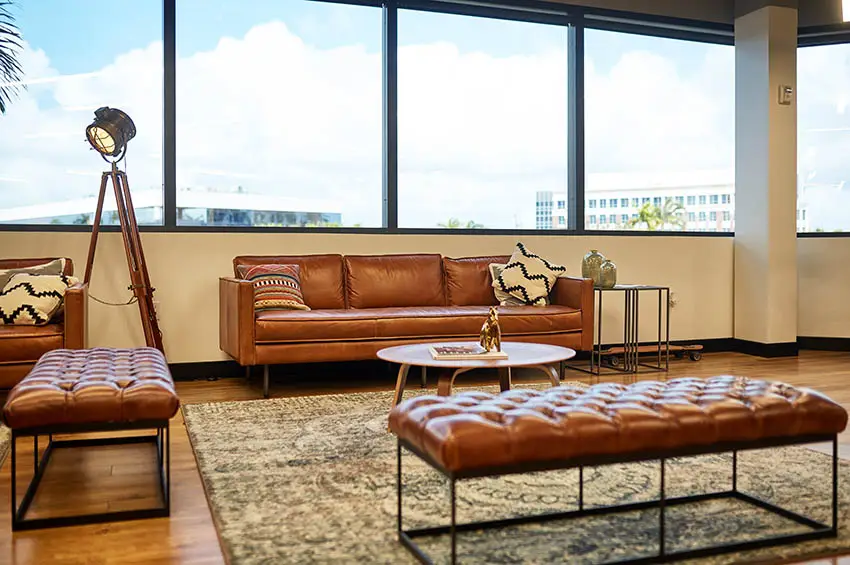 Pros of leather:

Very durable and long-lasting
Cleans up easily
It doesn't absorb liquids unless the liquid pools on the couch and is not cleaned up
Looks exuberant
It stands up well to ongoing use and is family-friendly
Cons of leather:

Sharp objects or animal claws will rip or tear leather
It will fade if exposed to sunlight every day
Leather can be expensive depending on the grade
Leather holds warmth and cold at times, making it uncomfortable when sitting or lying down
Couch Materials Made of Synthetic Fibers (Pros & Cons)
Synthetic types of couch materials and fabrics are made from petroleum products. These synthetic materials are made by molding the petroleum chemicals into strands and then woven into fabric.
Synthetic fabrics are typically combined with natural textiles for extra durability and made to resemble natural types. Acrylic material is similar to wool in appearance and feel, and polyester is densely woven and imitates suede.
Polyester
Polyester was introduced in the 1950s as a high-performance fabric often used with cotton and wool as complementary materials.
Polyester is a common microfiber fabric for furniture such as couches and is easy to take care of, resisting stains and cleaning up easily. It's frequently blended with nylon to create a durable and stain-resistant synthetic material.
Polyester holds up well to regular use and comes in numerous couch colors and patterns, looking expensive. At the same time, it's less costly than other similar-looking materials. Much of the velvet used in products today is made from polyester fabric.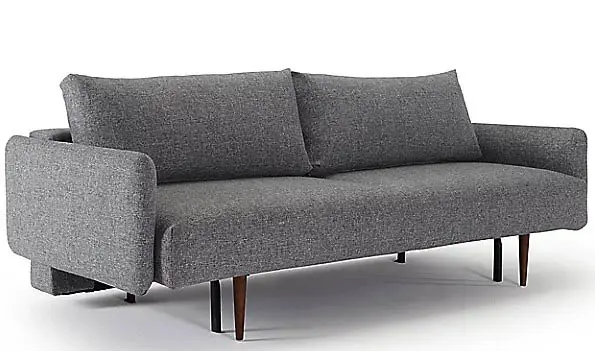 See this modern Frode polyester fabric sofa at Lumens
Pros of polyester:

Polyester is durable and resists fading, tears, and rips
It comes in numerous colors and designs
It looks very attractive on furniture and is long-lasting
It's soft and comfortable
Polyester is easy to clean and dries fast, avoiding moldy smells
It's wrinkle-resistant
Cons of polyester:

Polyester is very flammable
It can stretch over time and become loose
Polyester is prone to abrasion
Acrylic
Acrylic is one of the most used couch fabric types and feels like wool but doesn't stain easily, fade, or wrinkle, and is easy to clean.
Acrylic comes in numerous colors and patterns, and often, couches covered with acrylic come with vivid colors that look great for informal rooms or as a centerpiece in ultra-modern décor.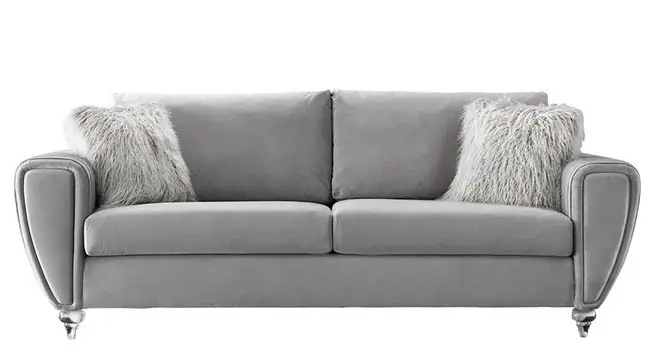 See this acrylic couch at Overstock
Pros of acrylic:

Acrylic is easy to clean and dries quickly
Resists wrinkling
Resists fading
Acrylic is soft and comes in many colors and patterns.
Acrylic is sun-safe and won't fade in sunlight
It can be used on outdoor furniture.
Cons of acrylic:

Acrylic will melt from high heat
The surface is subject to abrasion damage
Acrylic is subject to pilling
Many people are allergic to acrylic
Nylon
Nylon holds the reputation as one of the strongest (not the strongest – see below upholstery fabrics and is often added to other material blends to provide durability and resistance to fading.
It's strong and resists tears and wrinkling but will attract pet hair. Nylon is resistant to stains and is easy to clean.
Like other synthetic options for couches, nylon comes in numerous colors and patterns to match your décor. It was created to mimic silk and has a soft feel for upholstering a couch or other furniture.
As mentioned, nylon is often combined with polyester to create a durable microfiber material.
See this modular couch at Wayfair
Pros of nylon:

Nylon is exceptionally strong
It's abrasion-resistant
Wrinkle resistant
Nylon is not expensive
Nylon does not stretch or shrink
It remains crisp and fresh, whether wet or dry
Cons of nylon:

Nylon is not very breathable
It's highly susceptible to runs and tears
Nylon is not moisture-wicking
It's not good for the environment as most of the manufacturers use crude oil to make nylon.
Vinyl
Vinyl is among the excellent types and resembles its more expensive look-alike leather. Vinyl is glossier, resistant to damage and cracking, and comes in several raised patterns to mimic other materials.
While leather upholstery lasts approximately five years, vinyl has an average life-span of 10-20 years. Vinyl is a viable option if leather is too expensive.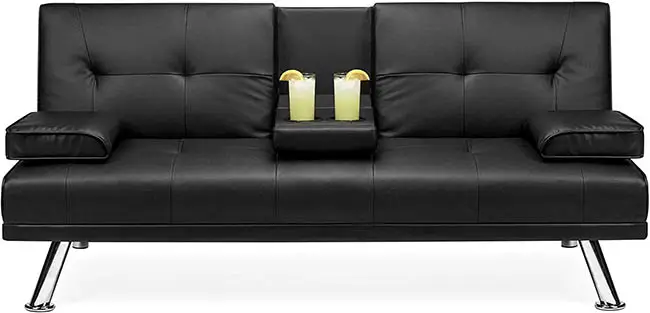 See this vinyl sleeper couch at Amazon
Pros of vinyl:

Vinyl is easy to clean
Vinyl is affordable and comes in many colors and patterns
It's resistant to tears and damage
It's soft and flexible
Vinyl is resilient against flames
Cons of vinyl:

If vinyl does rip or tear, it's difficult to repair
Some people don't like the synthetic feel of vinyl
It's non-absorbent and can make skin sweaty
Olefin
Next to nylon, olefin is the strongest and longest-lasting synthetic fabric for furniture and works well for couches that endure a lot of use.
It's often used for outdoor furniture since many Olefin couches come with UV fade resistance and are machine washable.
Olefin is made from plastic pellets melted and then pushed through a spinneret that looks like a showerhead. This creates long strings that are spun into yarn and then woven into the material.
This material does not absorb dye after manufacturing, so the dye is added during the melting process. Olefin resembles and feels similar to wool.
Olefin does not stain easily or fade and will not become damaged from abrasions. It makes a well-suited choice for furniture expected to receive a lot of use every day.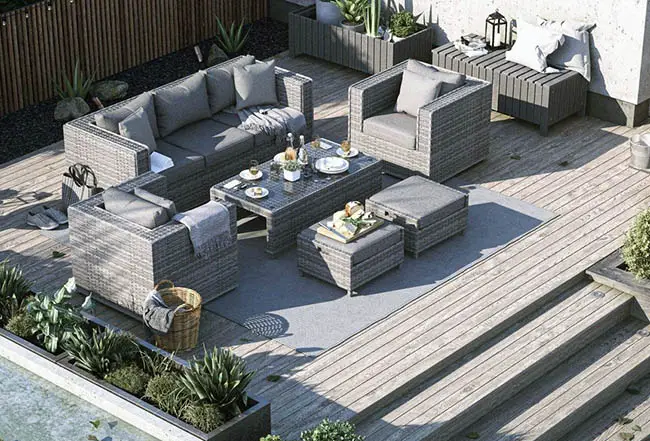 See this Olefin outdoor couch at Amazon
Pros of olefin:

Olefin does not easily tear or rip
It does not stain and is sunlight-safe
Olefin lasts a long time and is extremely strong
It makes a durable option for outside couches and furniture
It does not absorb water
Flame resistant
Cons of olefin:

Olefin will crease when folded
Will absorb oil stains, making the stains hard to remove
Olefin will become brittle and crack if the material is not infused with UV inhibitors
Faux Leather
Faux leather is often used instead of real leather as it looks like genuine leather. It's commonly found on couches and other home furniture.
This versatile material is stain-proof and water-proof, making it easy to clean. Faux leather will not fade or crack as easily as real leather and is a great alternative when a genuine leather couch is unaffordable.
Faux leather allows colors and hues to resemble leather that has already developed a patina from years of use. Patina is a much sought-after characteristic of many types of leather items.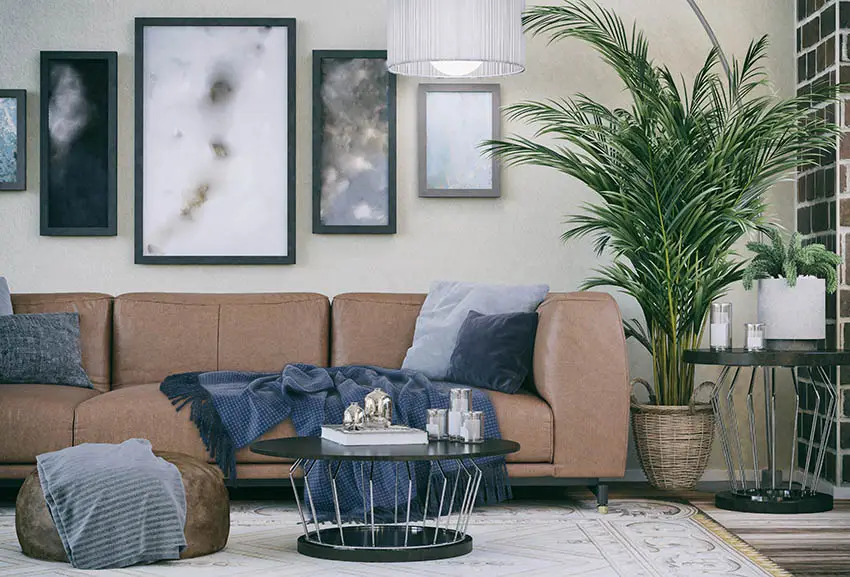 Pros of faux leather:

Faux leather is easy to clean and stain-proof
It holds up longer against fading than real leather when in direct sun every day
Faux leather is much less expensive than genuine leather
It presents a broad mixture and variety of colors and patterns
Cons of faux leather:

Faux leather is made from PVC and does not breathe well
PVC faux leather may leak harmful chemicals on users
Faux leather is not as durable as genuine leather
It does not last as long
---
We asked interior designer Danielle Porter, for her advice on this next topic and here is her advice.
How to Choose the Best Material For Your Couch
While the numbers will vary from survey to survey – on average, it's found that people will spend more than 2 hours a day sitting on their couch.
If you stopped and took a hard look at your own usage at home, with the Netflix binge sessions, morning news, and coffee, and for those that have kids, I'll be that you'd say it's a bit more than that. So, how do you select a fabric that will look great, hold up to the test of time and fit your aesthetic?
First, as mentioned, always look at your lifestyle and really assess how you use the space and where your couch is. Below are some questions to get you started:
Is your home in a warm or cold climate where the temperature/humidity of your home is dependent on the weather outside?
Where is the couch in your home? In your family living room? In your formal sitting space? Home office? Three-season patio? Your bedroom reading nook or library?
Is it an entertainment space – movies, TV shows, family gatherings?
Do you have kids and allow food and drinks on the couch?
Do you entertain frequently in this space? Think party guests with glasses of wine everywhere.
How much sun does this room get? Always need to think about those UV rays!
Is anyone going to come into this space with wet clothes? Think of a living room adjacent to a pool deck.
Answering some of these initial questions will help you determine the kind of durability you're looking for. Once you have a sense of what is important to you, it's time to review what options.
Below are a few common fabrics with some general key points. Remember to always do your research on a specific type before committing, as they aren't all made equal.
Leather
Pros: It's water resistant, easy to clean, and holds up over time.
Cons: Leather is prone to scratches and susceptible to cracks in humidity-fluid environments.
Cotton
Pros: It's breathable (great in warm climates!), soft, durable, and has lots of color options since it's easily dyed.
Cons: Cotton can stain easily – consider a stain-resistant treatment in any environment.
Linen
Pros: Linen is soft to the touch with a luxe look and is also breathable.
Cons: It can stain and wrinkle easily and is not ideal in high-traffic locations
Wool
Pros: Wool is durable (hello, high-traffic furniture), stain resistant, easy to clean, and soft to the touch. It also retains heat and is great for colder spaces.
Cons: Because it's so wonderful – it can be more costly, and also prone to pilling on the surface.
Suede
Pros: Natural and soft, suede has a luxury aspect as it is made from animal hides.
Cons: Difficult to clean, which isn't ideal as it stains relatively easily, and is often known for being hard to maintain.
Velvet
Pros: Aesthetically elegant – it's liquid-resistant and plush to the touch
Cons: Because it's plush – it can fall flat and
Keep in mind – if you have your heart set on a particular material that doesn't align with the needs of the space, there are some great synthetic options available!
Once you've identified your preferred type, it's time to confirm that it works with the furniture. Always consult with a professional here – different elasticities, finishes, or other factors may limit what fabrics can work on a piece.
From there – it's truly down to aesthetics and personal taste. Find something that fits you, fits the vibe of your space, and creates an experience that you'll want to live over and over again.
When in doubt – consult an interior designer; they'll be able to help lead you in the right direction!
---
The best couch material types will perform well, clean easily, and last long. But that doesn't always fit with the room's décor and design.
Polyester is not good in a room with natural décor and exquisite art pieces. Wool does not go well in a room that extrudes elegance and flair. It's essential to find the best mix of durability and the right couch fabric to complement the room's design theme.
Texture is also important. For a couch that gets used every day, a scratchy fabric will irritate the skin, and some synthetic materials do not breathe and may cause sweating. Other types are more conducive to comfort for family rooms, such as cotton and linen.
When choosing the best couch material, the most important factor is the couch's location in your home and its use.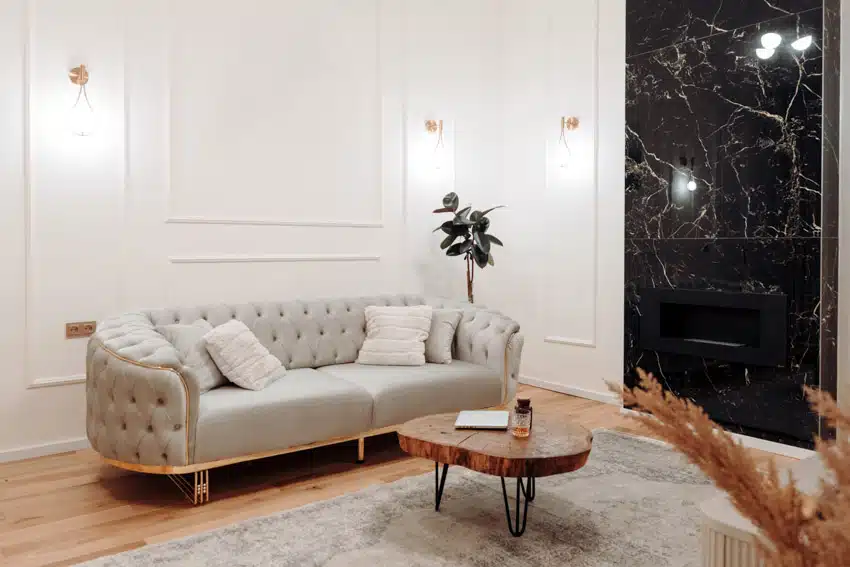 Which Upholstery is Most Durable For a Sofa or Couch?
Cotton or linen is our recommendation for two of the most durable fabrics for a couch or sofa.
Durability is important but not always necessary based on the couch and its use. But even luxurious silk fabrics should be long-lasting.
Fabric durability is measured by rubs. Rub testing is a method used to determine abrasion resistance and durability of the material.
A special machine rubs fabric vigorously, and once the fabric shows damage or rips, the test is over. The number of rubs passed over the fabric is its rub count rating.
Couch fabric types with a rub count of 10,000 or less are delicate and not suggested for use on furniture. Most home furniture materials have a rub count of 15,000 to 20,000 classified as general domestic use, but rub counts between 10,000 to 15,000 are for light domestic use.
General domestic use is the most common type of fabric used for homeowners. For couches that will endure pets and young children, a rub count of 25,000 to 30,000 constitutes heavy-duty fabrics, which are more appropriate.
The strongest materials have rub counts of 30,000 and are commonly used in theaters, restaurants, and public offices such as doctor's offices and dentists.
Fabrics with a rub count higher than 30,000 are used in heavy-use vehicles such as cars, trucks, boats, and machinery.
Which Fabric is Best for a Sofa or Couch?
The best fabric for a sofa or a couch is the best fabric for the couch's placement and intended use.
Keep in mind the types of fabrics, their durability, texture, breathability, color and pattern choices, and the room's interior design where the couch will be placed.
Rushing into purchasing a couch because of an appealing color or a printed or patterned fabric could result in disaster when the material does not withstand pets, children, and frequent use.
That said, cotton and linen fabrics stand out regarding durability and style. However, try to avoid loose weave fabrics as they can tend to snag.
For areas of high use, children or pets, a couch or sofa made from synthetic microfiber (polyester/nylon blend) can provide superior stain resistance.
Knowledge of fabrics and their qualities, including the pros and cons, allows a smart purchase you'll be happy with for many years.
What is your favorite couch fabric types? Please let us know below in the comments to share your favorite sofa fabric or add your questions. For more related content, visit our gallery of sofa styles here.