Here we share our leather vs fabric sofa guide including which is best for comfort, style, cost and durability.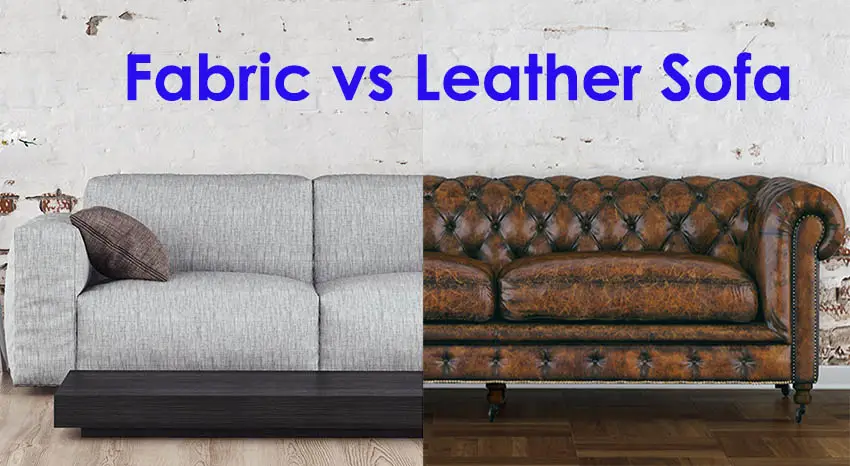 The sofa is where we come to relax at the end of a long day. Curling up with a loved one (be that partner, pet, or child) on a sofa is calming and restorative — as long as you're comfy.
One of the most popular furniture questions is which is better a leather or fabric sofa. Let's take a look at some of the pros and cons of each type.
Fabric vs Leather Sofa Comfort
Generally speaking, a fabric sofa will be more softer and stay warmer than a leather sofa.
Leather tends to take on the temperature of the air around it, making it hot and sticky in the height of summer and chilly when the temperature drops in winter.
If your home is well-insulated and has climate control, don't worry too much, but if not it could affect your ability to enjoy your furniture. A fabric couch doesn't have this issue.
Fabric couches are considered more comfortable by some because they don't have a 'breaking in' period.
Leather can feel stiff and unyielding when it first arrives but with repeated use, it becomes softer. As if we needed an excuse to spend more time on the couch!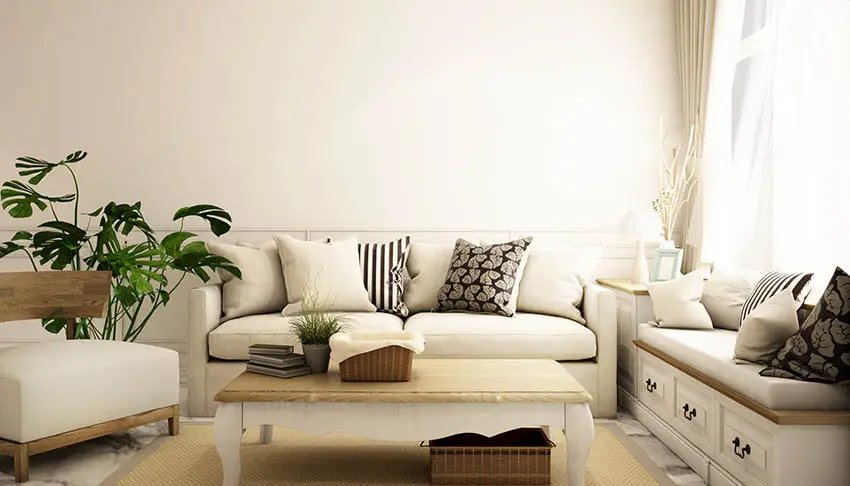 Fabric and Leather Sofa Styles
Fabric and leather sofas are available in every style. Traditional, modern, or contemporary, no matter which you best, you'll be able to find a sofa that looks great in your home.
Un-dyed leather has a timeless quality and acts as a 'style neutral' — a traditional style leather couch enhances any space it's in. Dyed leather supports modern and contemporary decor.
Trendy upholstery fabrics may be tempting, but run the risk of looking dated before the end of the sofa's useful life. Neutral fabric choices can feel boring and drab, especially in such a huge investment.
Consider jazzing up your fabric sofa with trendy accent pillows and throws that can be swapped out as trends change, giving you a versatile and functional piece of furniture. See our post on couch fabric types here.
Leather vs Fabric Sofa Cost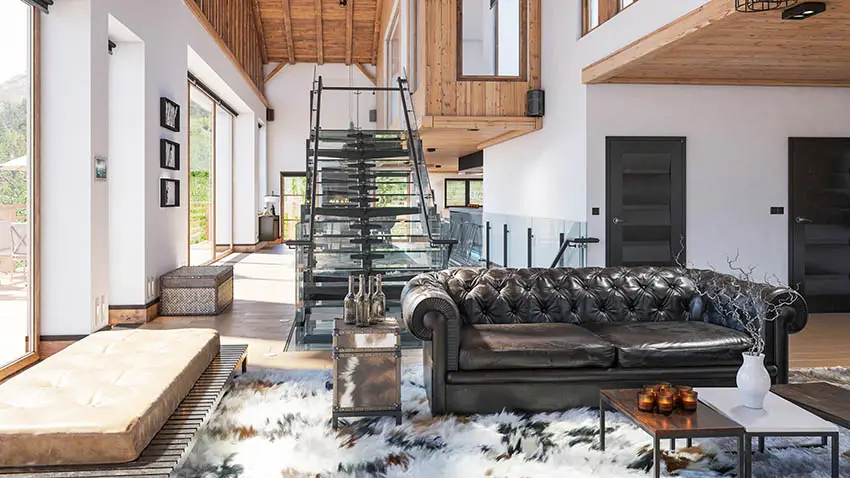 The price range of sofas is quite wide, from functional, low quality pieces, to high-end design. Fabric sofas usually start around $800 and top out at about $5,000. A leather sofa can be expected to cost at least $1,200. Prices range up to $7,000.
The biggest drivers of price are quality of construction and quality of material. Leather is considered a premium material, so it comes at a premium price.
High-quality leather furniture will always be more costly to purchase than a high-quality fabric sofa. If you're not dead set on a leather sofa, choosing fabric instead is a great way to stay within your budget.
However, the purchase price isn't the only cost to consider. It's important to consider your expected expenditures on maintenance and repair.
Leather prices seldom require professional cleaning, due to their natural stain-resistance. They do need to be protected from abrasion and can be scratched or scraped.
Fabric sofas are a different story. Regular steam cleaning will keep stains from settling into the fibers of your fabric sofa. Hiring a professional will likely cost at least $200.
You can rent steam cleaners for around $35 a day, or purchase one for around $200. Of course, these solutions require you to do the actual cleaning yourself, which may or may not be worth it depending on how highly you value your time. Expect to deep clean a fabric couch twice a year.
Sofa Durability & Care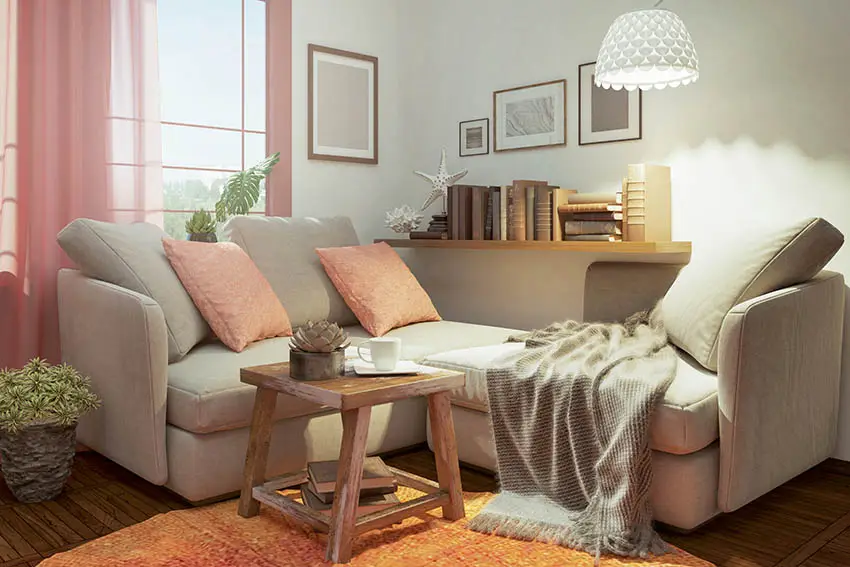 Whether you choose fabric or leather for your new sofa, caring for it properly will make your investment last as long as possible.
Treating your fabric sofa with a protective spray after purchase will give it baseline spill-resistance. Plan to do this every six months for maximum lifespan of the fabric.
You should vacuum a fabric couch at least monthly to keep the fabric looking fresh — more often if you suffer from allergies.
Stain resistance treatments applied to leather during the manufacturing process are built into the purchase price, rather than applied aftermarket.
The highest quality, softest leather is aniline, which is minimally protected from stains. Protected leather sofas, also known as 'semi-aniline or 'pigmented leather', sacrifice some degree of softness to gain stain resistance through added polymers.
To prevent leather from drying out and becoming sticky, it must be protected from heat. Sources of heat in your home could include direct sunlight, radiators or wall-mounted heaters, heat vents, or even an improperly placed space heater. While fabrics may fade in direct sunlight over time, they don't have the same susceptibility to heat damage.
Never forget that leather is skin. Just like human skin, cow skin has pores and natural oils. It's often called a 'semi-living' product. Heat causes those oils to come to the surface of that leather, giving you that sticky feeling against your skin.
Leather is highly-prized for its spill and stain resistance. Most debris can simply be wiped off with a damp, soft cloth.
Never soak your sofa in liquid — it shouldn't penetrate past the outer layer. For more intense cleaning, a 50/50 solution of white vinegar and water, massaged into the material with a microfiber cloth, will do the trick nicely.
Conditioning your leather sofa once a week will keep it supple and protected. Be mindful of over-conditioning, though — too much product can build up on the surface of the leather and give an unpleasant stickiness to the material.
How Long Do Leather Couches Last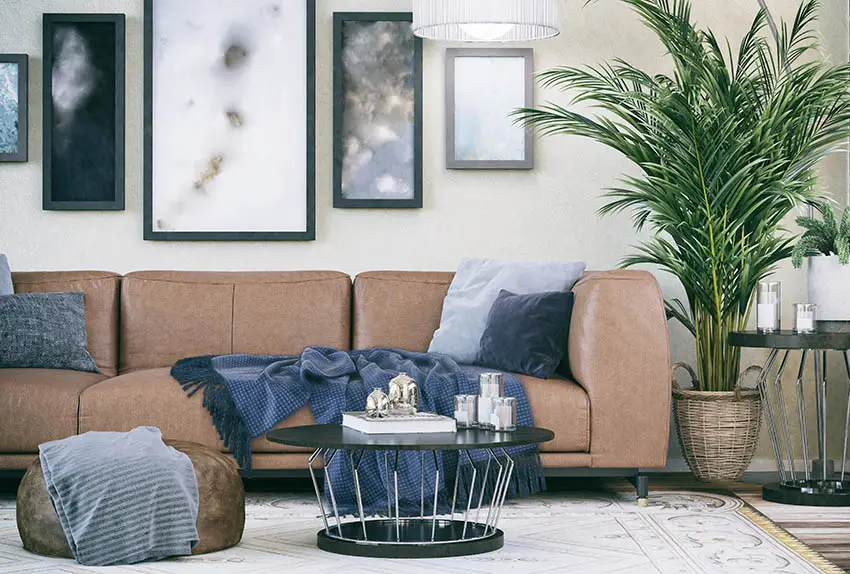 When properly cared for, leather couches can last for up to fifty years. They are practically impossible to rip. Their overall construction quality tends to be higher since the bones of the sofa need to last at least as long as it's skin.
Over time, a high-quality leather sofa will form a soft, inviting sheen, known as a patina. It's the only sofa covering material that gets better with age.
How Long Do Fabric Couches Last
Fabric couches have a maximum lifespan of about fifteen years, with low-quality products showing their wear and tear in as little as five to seven years.
Fabric just isn't as durable as leather, so over time the fibers will break down, leading to a saggy, droopy sofa.
Other Considerations (Allergies)
If you suffer from allergies to dust mites, pet dander, or pollen, a leather sofa has the added benefit of repelling these allergens. Allergy sufferers with fabric couches should vacuum them regularly.
For another related article visit this page about popular furniture styles.