Here's a stunning mountain cottage house plan with 3 car garage, covered patio and elevated deck.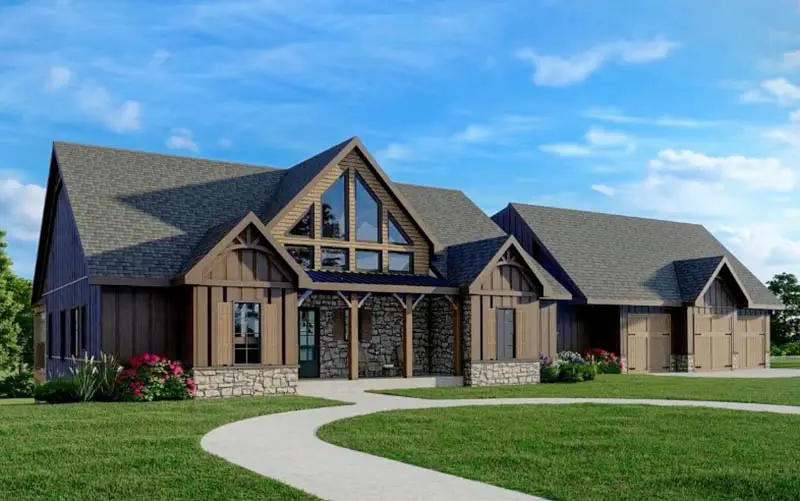 Where first impressions lasts, this amazing mountain cottage house exudes luxury comfort right from its stellar façade all throughout to its gorgeous interiors and expansive covered outdoor spaces. A home that's timeless and flexible, it's a worthwhile investment to be enjoyed for many generations.
Either planning to have it as your full-time home or your vacation getaway cottage, this stunning home is the perfect location to bring together family and friends.
You'll enjoy every inch of the sprawling 1,989 square feet of heated floors and a 3-car garage to match. Equally striking for its façade is the 700 square feet garage that even offers a bonus bedroom and living space just above the said level.
Picking the best bedroom can be a challenge in this lovely home, as the 6 gorgeous bedrooms have each of their unique features.
Though ultimately, you'll definitely want to dream away in the spacious master suite that has its own screened porch, walk-in closet, and ensuite full bathroom.
Continue to read on to know more about this remarkably designed property modeled from the comforts of the classic Mountain Cottage House.
Mountain Cottage House Floor Plan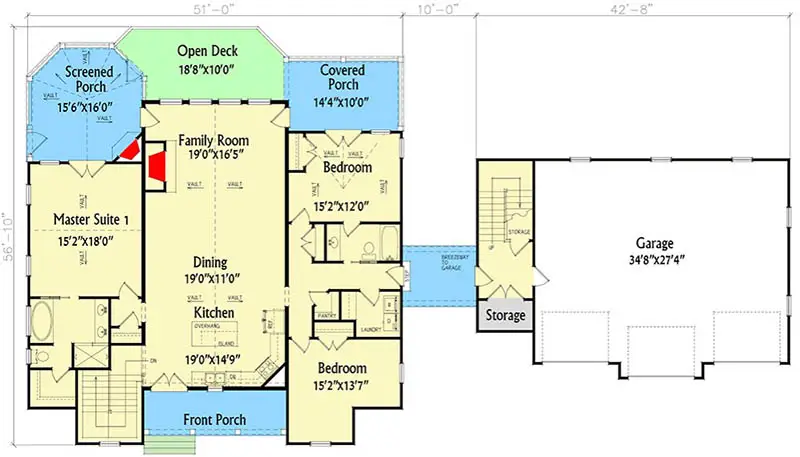 Mountain cottage house floor plan 92374MX – see this plan here.
Boasting with a grand communal space, it's the perfect setting where you can host unforgettable events with family and friends. While there's an open deck just beyond your family room opens up to a party deck or a romantic escape for an alfresco dinner for two.
Its grandeur starts from the kitchen and continues towards the family room, it's like having your own ballroom that opens to the breathtaking views of the outdoors.
But the best view comes from the kitchen counter where the ceiling-high windows are perfectly framed, just like the classic charm of the mountain cottage.
This Mountain Cottage House is also designed to provide privacy and utmost comfort, where the main floor houses three bedrooms each with its own unique feature.
Truly a dream bedroom, the large master suite is designed to impress with its own foyer that creates privacy and a transition space from the communal area. And beyond the foyer is the expansive bedroom area complete with an en suite bathroom and a spacious walk-in closet.
What's more, you get a large porch, screened for privacy and cozy up with an outdoor fireplace of your own.
The two remaining bedrooms are not a shrug-off as well. With its accessibility to the entryway, the bedroom near the kitchen offers a flexible space that can be converted to a home office or playroom.
Meantime, the bedroom along the family room is another expansive private oasis where it opens to its own covered porch. The said quintessential bedrooms have their own built-in wardrobes and are accessible to a common full bathroom and a laundry area.
One of the many luxury features of this Mountain Cottage house is its 3-car garage. With more than 700 square footage, it presents possibilities with the spacious space.
Plus, an extra bedroom and living space complete with kitchen, den, and full toilet and bath just above the garage makes it a reasonable investment even more.
The 3-car garage offers a provision for a living space annex where you can finish the lower level and add a spacious 1,990 additional square feet of living space.
You do have an option to get a 2-car garage with house plan 92375MX and get a drive-under garage with house plan 92367MX. Eliminate the garage with house plans 92352MX (1,989 sq. ft.), 92386MX (2,068 sq. ft.), and 92362MX (2,850 sq. ft.).
Mountain Cottage House Floor Plan 2nd Floor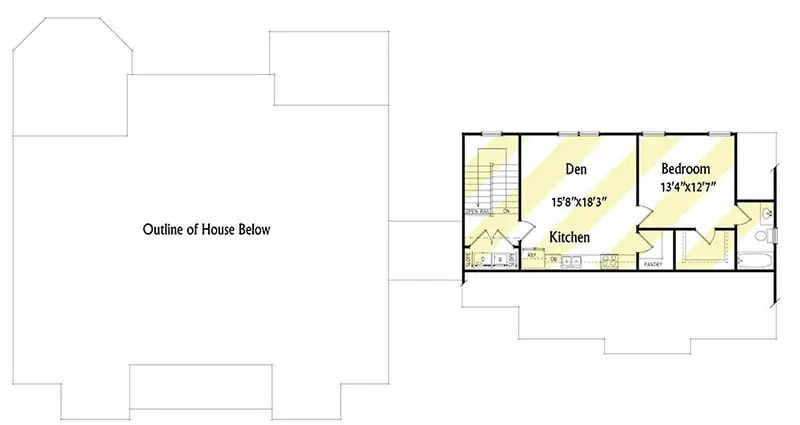 Give your kids some space! The second level is a cool place to hang out with spaciousness and flexibility as its main features. You've got a recreation room for the family that's perfect to house the gym equipment or the media hub.
Mountain Cottage Home Plan Lower Level & Garage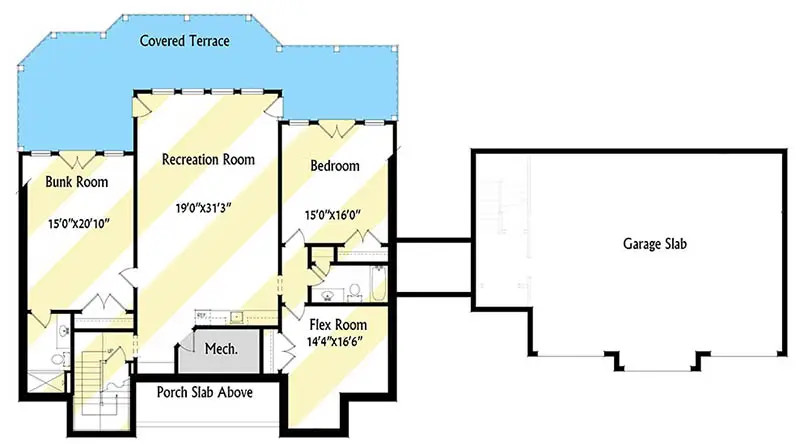 A flex room in the meantime offers flexibility as well but since it's separated from the bedroom areas, this space is suitable as a music room, study area, office, or any use you have in mind.
Mountain Style House Living Room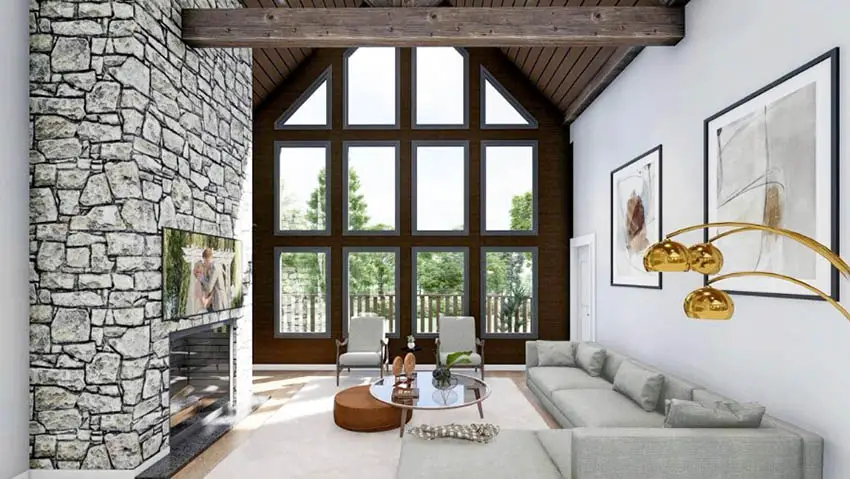 Let the picturesque views of the outdoors inspire you. This breathtaking wall of windows frames nature's beauty perfectly with its modern take of the classic cottage A-frame.
Combining the organic quality of natural materials and contemporary finesse, you'll enjoy a texture-rich home giving that homey feel in the air.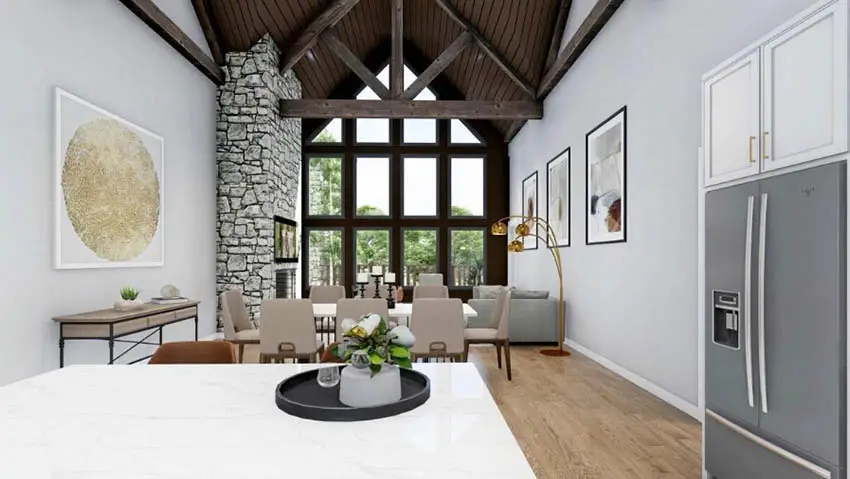 Whether you're preparing food, dining together, or lounging comfortably on your plush sofa seat, you get a stunning view of the outdoors while you get a well-lit space throughout the floor space.
Part of the rustic charm of mountain cottages are the gorgeous timber rafters. Coupled with a stone-clad fireplace and it's the perfect cozy setting for that Christmas holiday with the family.
Kitchen with High Vaulted Ceiling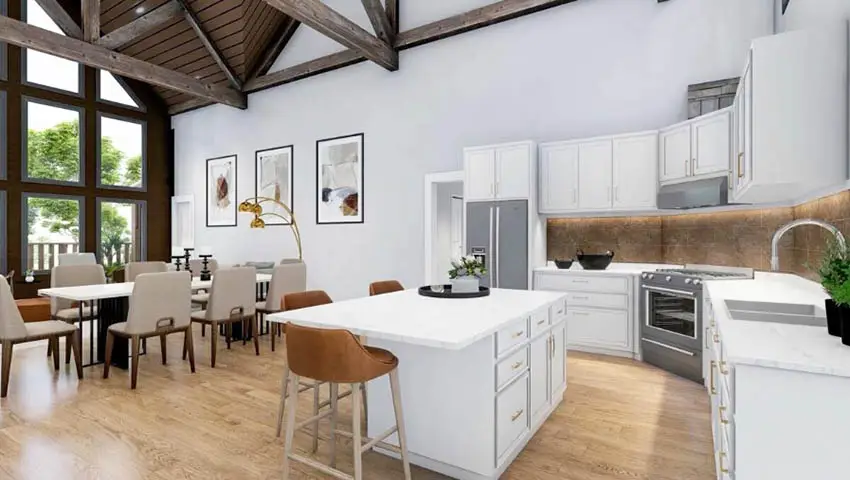 The heart of the home welcomes all. It is laid out for efficiency and comfort with plentiful storage and complete with all your kitchen needs. Even with kids around you'll never run out of space as the roomy kitchen allows multiple hands to prepare food comfortably around the counter.
It's hard not to notice those lovely wood floors that continuously warms up the space from the kitchen stretching out through the family room.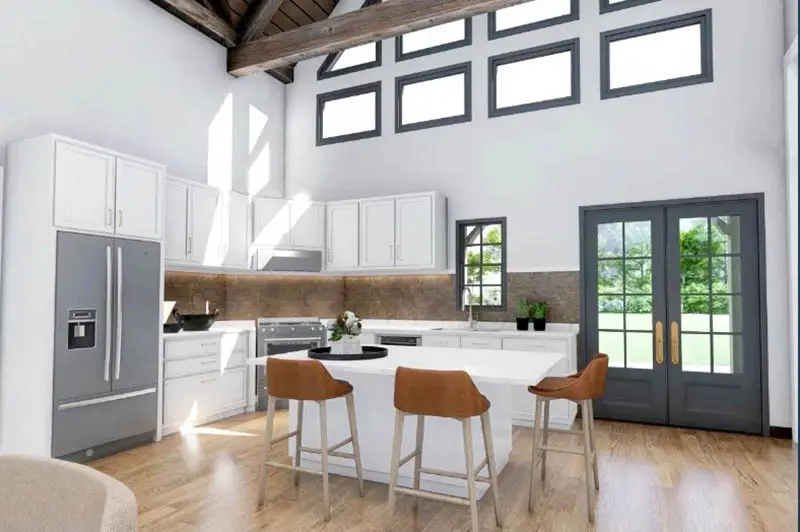 The hardworking kitchen deserves all the light it can get, and we're loving those simple cathedral-high windows that allow light to drench through the working area.
Master Bedroom Design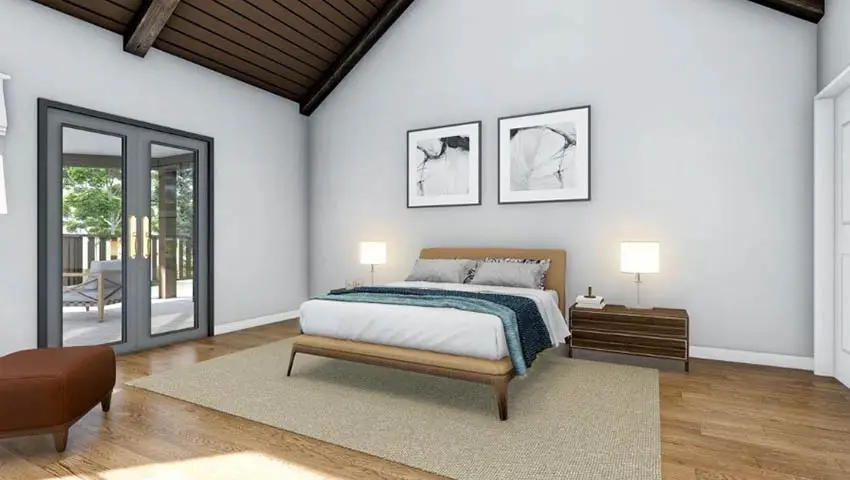 When you've got a spacious bedroom, home décor and furniture possibilities are endless. You can add wall art just above your headboard or add a lounge sofa to cozy up the space.
Like the vaulted ceiling and timber rafters, the rustic charm continues throughout the private spaces.
Master Bathroom Design Plan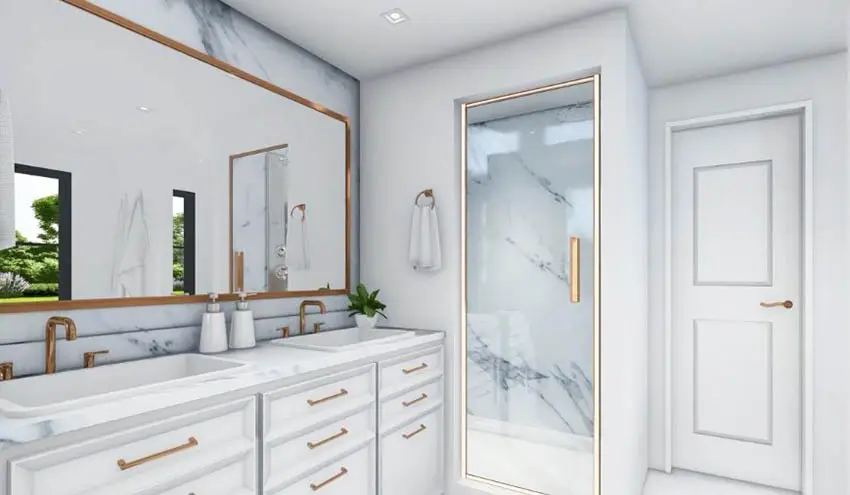 A relaxing stay at home isn't complete without a plunge in the tub, and that's what all the bathrooms in the property offer, a soothing soak in your private oasis!
The master bedroom also showcases a lovely vanity and a step-in shower for a relaxing steam-like experience as you bath.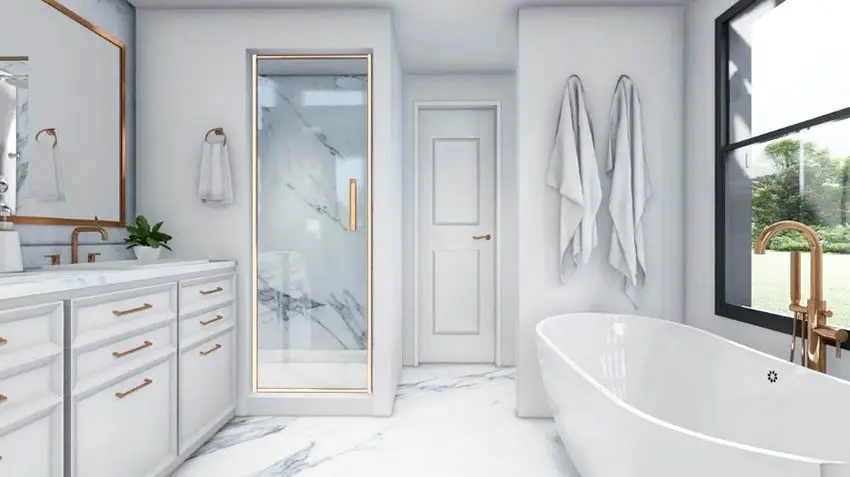 Like the classic mountain cottage that we love, the property is wrapped with covered patios and viewing decks to keep the property connected with its surroundings.
Front and Rear Elevation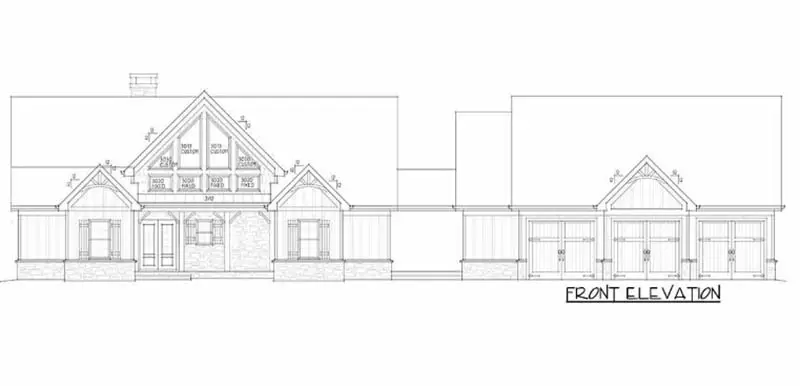 Home plan front elevation.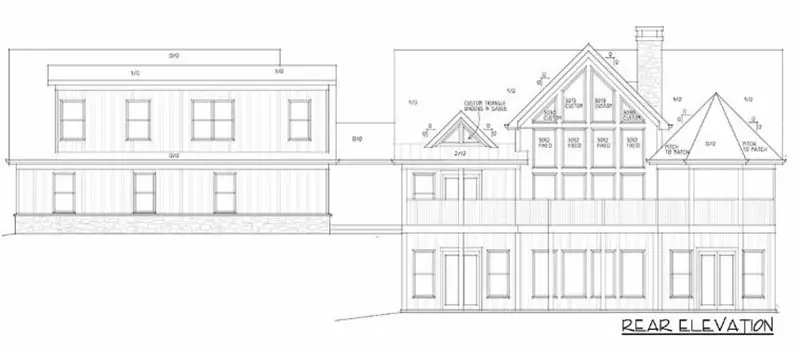 Home plan rear elevation.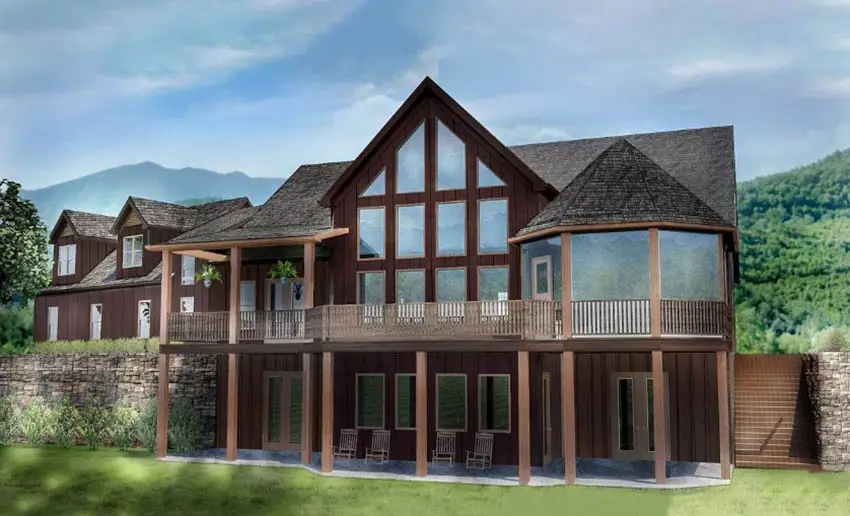 This mountain cottage house plan is the perfect option if you want to invest in a timeless piece of architecture. Spacious yet surprisingly cozy, thanks to its strategic planning and masterful use of natural materials.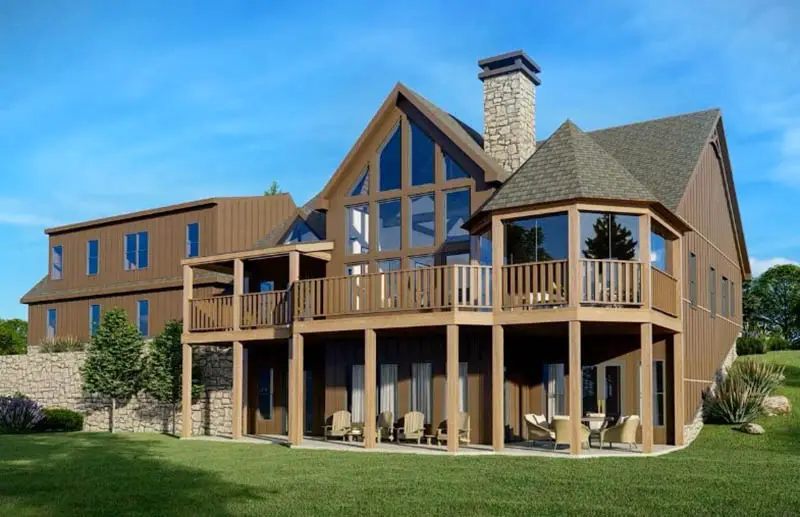 Mountain cottage home design with covered porch and elevated deck – Buy this plan here.
Even more impressive is the flexible spaces for family activities and expansive rooms that can be upgraded and transformed as your needs change in the coming years.