Here we share our tips on how to mix and match pillows on a sofa including the use of color, textures, size and patterns.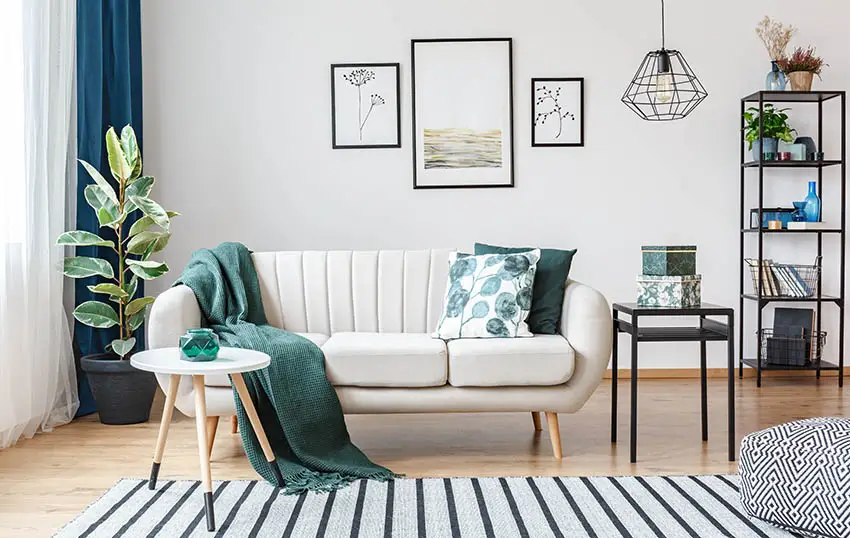 Since pillows come in a variety of styles, they are easy to incorporate in any setting or style you're aiming for. It's fun to decorate with these puffy decor pieces, but placing them to look natural to your interior is the best way to showcase your pillows.
With so many choices out there, how do you make your pillow ensemble appear uncontrived yet at the same time look well-put-together?
We've gathered the best rules to follow just like how the pros do it, so you can enjoy your pillow décor in no time.
The Power of Three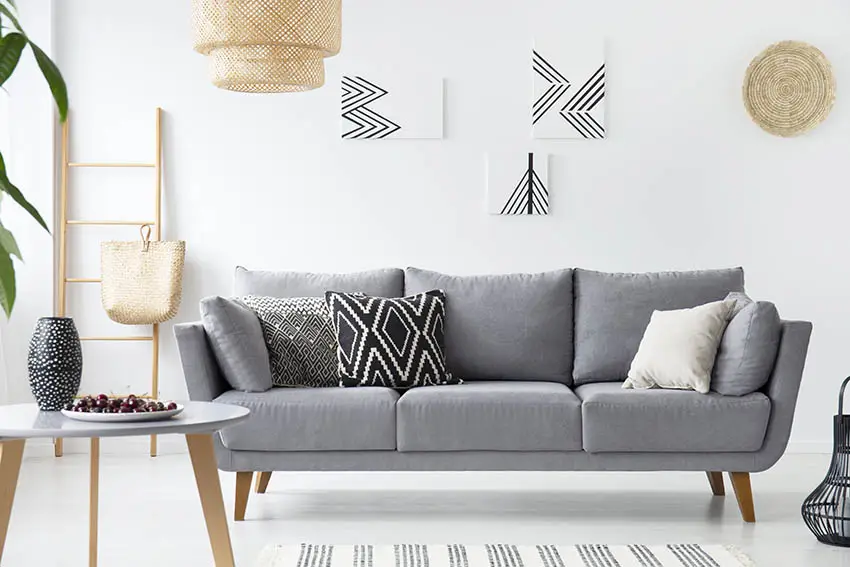 The rule of thirds is no stranger to designers. When selecting a color for a kitchen, for instance, the 60-30-10 rule is used, where 60% is covered for the floors and walls, 30% for your cabinets, and 10% is used for your décor or, accents.
For arranging your pillows, you can apply this rule not only when choosing your colors, but also for pattern and size as well.
Color
When your pillow arrangement doesn't look cohesive, the color is usually the culprit.
Unsure where to start? Get your color cue from your surrounding interior or an existing art piece in your home.
In this way, it ties to your room's existing color scheme, so even if you have a different pattern on your pillows, everything is still in harmony.
Your pillow's color scheme should include one main or base color that is usually neutral tones.
Then choose a secondary color that has the same energy as your dominant color. Your accent color that is your third color is typically a strong or vibrant hue that creates contrast with your main colors.
Mood Color Samples for the Three Color Scheme
Light and Airy: Beige + Peach + Salmon
Clean and Feminine : White + Blush + Crepe
Cool by the Sea : Aegean + Skyblue + Lavander
Pattern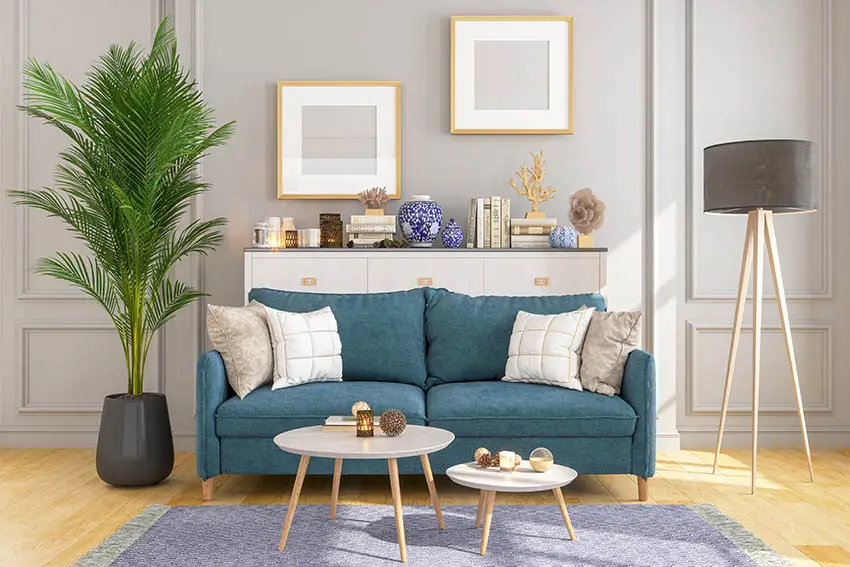 One major consideration when picking your pattern is the theme that you're going for. Say you want to go for a bohemian look, a retro pattern is a fitting choice, while a minimalistic style can have a few simple geometric patterns.
Don't forget to take cues from the existing geometry in your space. So, for instance, you have arches in your room's architecture, have one or two pillows with similar arched or semicircle patterns.
Although it doesn't mean you need an exact match with its geometry, it only means it should have a pattern that has the same rhythm as your room's design.
Pattern Versus Solid
The next concern for your pillow pattern is how to balance your solid colors with your prints.
How much pattern is too much? Mix and match by using a maximum of three patterns. When matching these patterns, make sure that they have at least one similar color from your three-color scheme to have a cohesive design.
Three-Pattern Design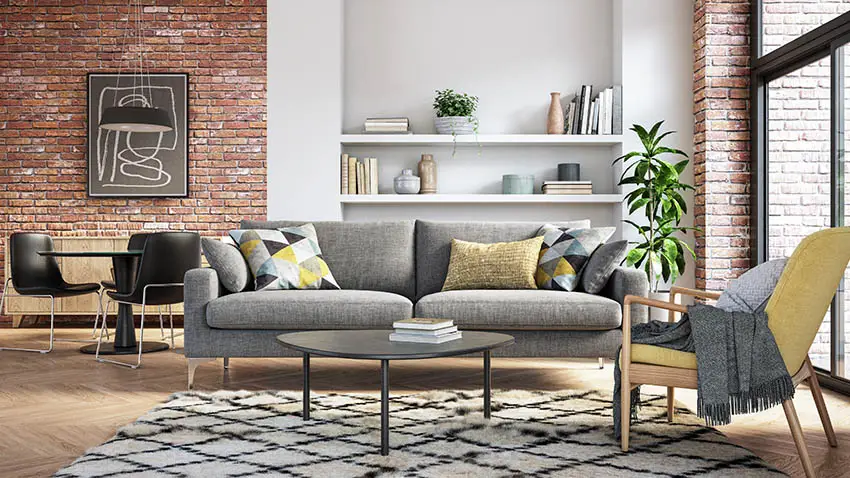 Choose one dominant or lead pattern that is usually the largest of the patterns and has all the three-color schemes.
For the secondary or supporting pattern, it's not necessarily similar to your primary pattern but it helps if it complements the dominant pattern. The secondary pattern usually comes with two similar colors from the three-color scheme and has mid-size prints.
Finally, you can choose a solid color to match with your patterned pillows and typically solid colors serve as a backdrop for the printed pillows, so you can add as much as half the number of solid pillows with your ensemble.
If you want to go for three patterns for your pillows choose the third pattern that has a subdued or mellow pattern that won't clash with your two other pillows. As an accent pillow, the third pattern should be the smallest among the three.
One striped + one geometric + one solid color
One floral + one large geometric pattern + one text printed
One Moroccan pattern + one small geometric pattern + one solid color
Read more about popular couch colors on this page.
Size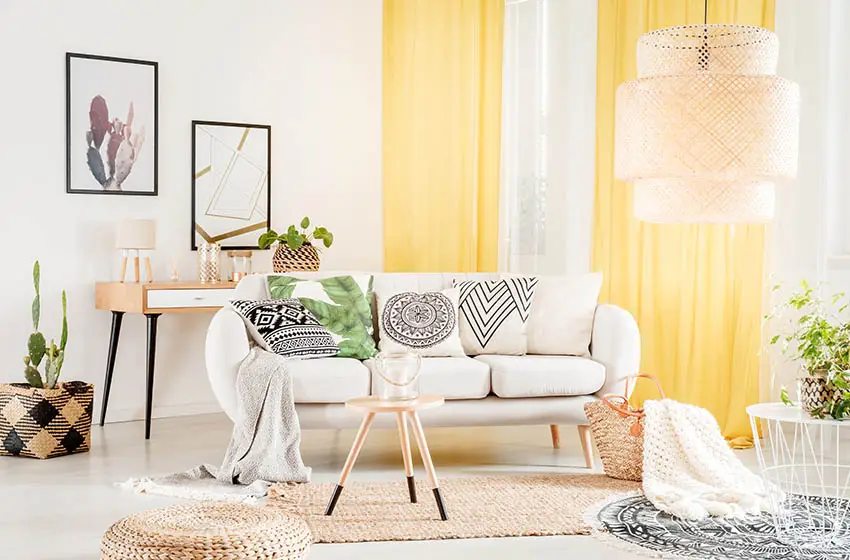 Your pillow sizes will add visual interest and depth to your sofa pillow arrangement, so you should arrange your pillows where the largest area at the back leaning against the sofa's inside back.
As a rule of thumb, start with 22- or 20-inch squares for larger sofas and an 18-inch square for standard ones.
Then as you go forward, the pillow sizes get smaller. Don't forget to place the largest pillows on the far corners of your sofa which serves as a comfortable resting area on the sofa ends. The large pillows on the corners will also frame the smaller pillows at the center of the ensemble.
Pillow Size Hierarchy Samples
Large Square Pillow followed by a smaller square pillow then adds a small bolster in front.
A large square pillow followed by a rectangle pillow followed by a round pillow in the middle front.
Bolster on both ends then have large square pillows on the back followed by smaller square pillows and at the center, the front is a round pillow.
Odd Numbers Look Modern
As far as aesthetics go, a modern look can be expressed best by utilizing odd numbers as a basis for patterns.
The uneven distribution of patterns gives a set of pillows a more artistic look. Also, it when comes to quantity, the least number of pillows is preferred but compensate by using larger pillows. The inverse of using more smaller pillows will only make things look messy.
Traditional Aesthetics and Even Numbers
At the end of the spectrum are even numbers. If orderliness is what you are going for then use even-numbered patterns. It's more balanced, symmetry is achieved and it makes items look orderly and clean.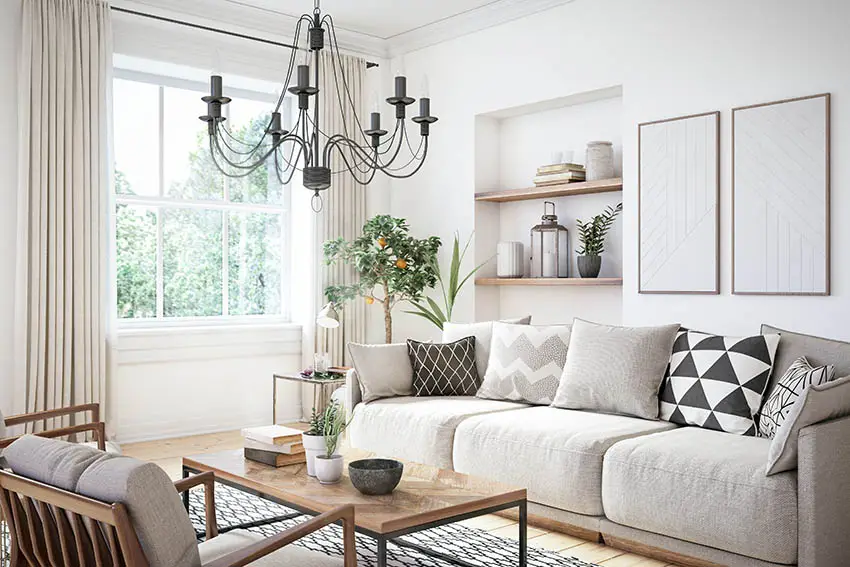 Fill
Apart from the exterior, the material that will go inside the throw pillow can determine the kind of experience. Synthetic fill is generally stiffer and cheaper but so will the way it feels. Meanwhile, a feather-and-down fill is softer and will be far more conforming to any pressing shape.
Mix and Textures
While colors and patterns take care of the overall look of a pillow's surface, how it feels to the touch is determined by the texture.
Finding the right combination of texture between pillows can give the best experience. It's also a good idea to match the pillows with the couch fabric for a cohesive feel. Keep this thought in mind when choosing from an array of textures to choose from the fuzzy, and the rough to the soft.
Conclusion
Shopping for your pillow ensemble is definitely exciting and not to mention a chance to showcase your own personality. But before getting to excited purchasing for your home decorating, be sure to have a game plan and learn the basics in designing sofa pillow arrangements.
Even pros follow certain guidelines before they're able to bend them. This saves you from going overboard especially if you're on a budget, though don't forget to have fun in your decorating venture.
For more related content visit our gallery of the types of pillows here.