When it comes to blind selection a popular question is what color of blinds should I choose? Here we share our design guide for choosing blinds for your interior design.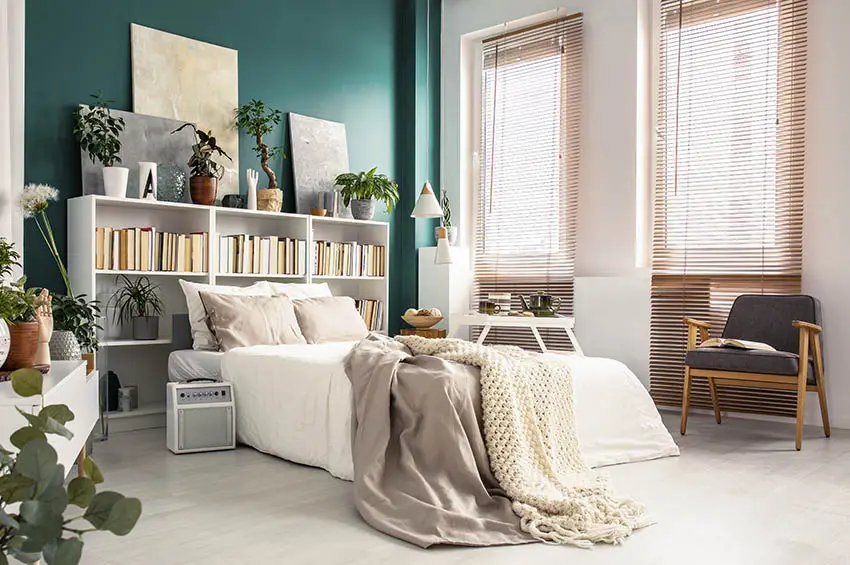 Like furniture and décor, window blinds are functional elements that add a decorative statement to your interior.
Window blinds win us over by controlling the degree of light and ventilation while providing our much-needed privacy. Blinds don't collect dust compared to draperies and curtains making them easier to clean and a healthier window treatment.
The color and types of blinds you choose plays a big part in your room's interior design.
What Color Blinds Should I Choose?
With a myriad of colors, styles, and brands to choose from your design options are limitless but this also entails careful selection especially when it comes choosing to the right color.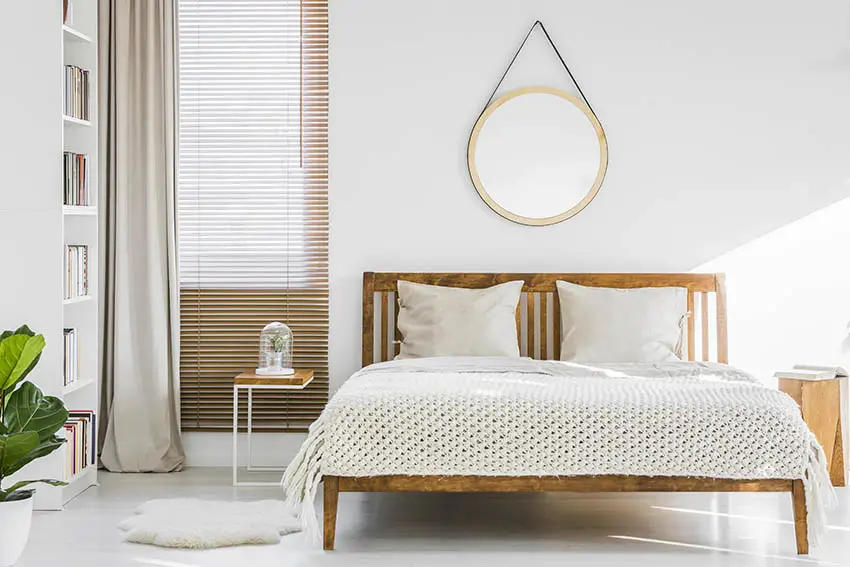 On the Safe Side – Neutrals
As a rule of thumb, neutrals such as white, cream, or beige are hues that tend to go along with many different colors in a room.
As it won't clash with your existing colors, they're also great when you may think to change your wall color or décor in your room in the future.
Going Light or Dark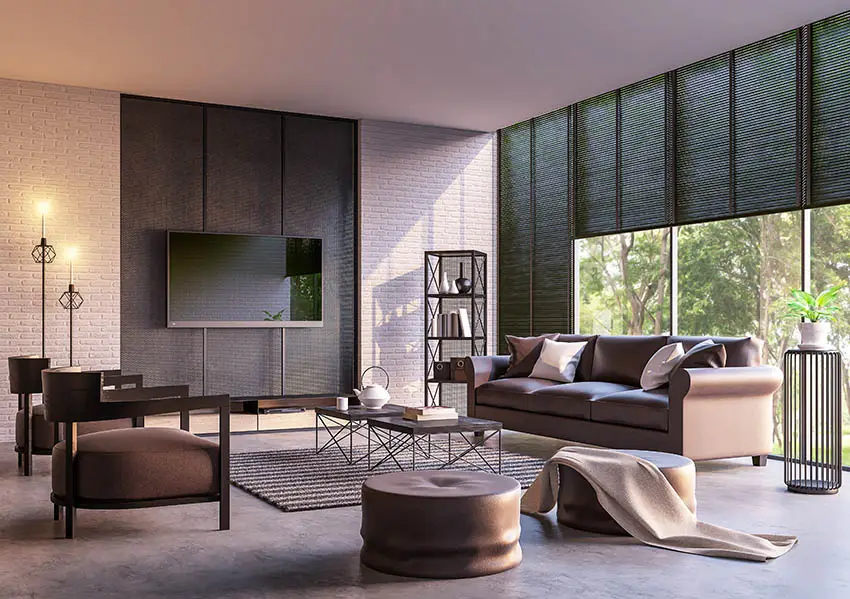 Color is effective in inducing emotions to space, with its ability to create a certain ambiance in a room. When you have a tightly spaced room, light-colored window blinds that are in white or beige hues open up the space.
Dark colors meanwhile create a cozy atmosphere and are great for bedroom areas and other spaces that need a relaxed and calming ambiance.
Warm Colors Versus Cool Colors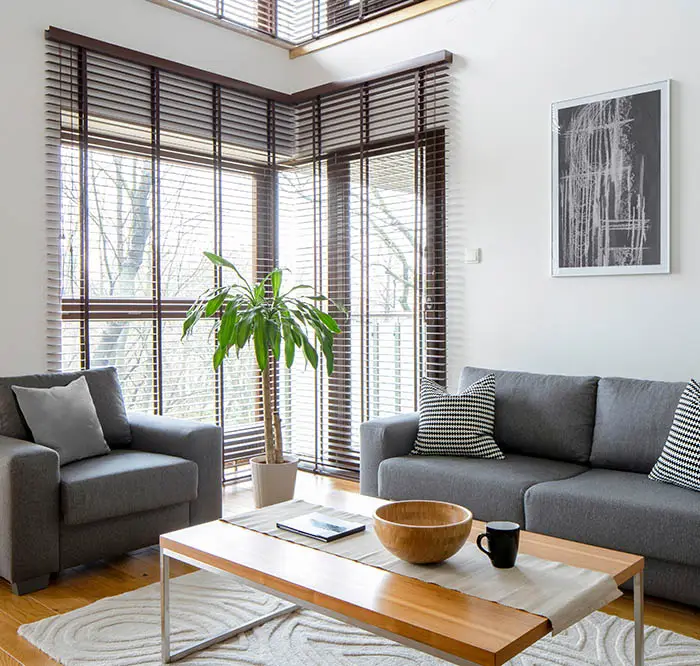 Warm colors such as brown and yellow create more energy and a homey feeling, making it a suitable option for the kitchen, bathroom, media room, or any space that you want to have an exciting vibe.
Cool colors, meanwhile, include a feeling of calmness such as lime, sky blue, lavender, or any color tone along the blue and green spectrum. These colors are great in bedrooms, living rooms, or bathrooms.
What Color Blinds Are Best For White Walls?
White is a universal color that tends to pair up with all other colors, but with so many choices it can be an overwhelming task to choose what best matches your white walls.
Highlight an Outdoor View – Colors of Wood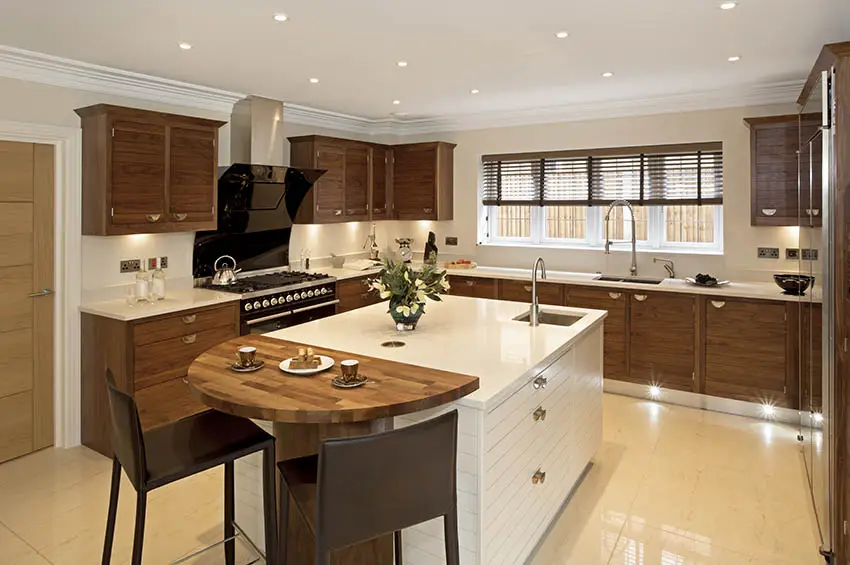 When horizontal slats are fully opened clear, you'll get a good view of the outdoors. With white walls, the eyes are drawn toward your colored blinds.
A black window frame with white walls is great with wood or brown textured blinds especially when you have a natural view to behold as it gives that vernacular quality to the look.
Create a Delectable Window Décor – Cheerful Hues
Kitchens are naturally full of life where people gather and enjoy everything about food and conversations. With bright and lively hues such as lime, avocado, or apricot hues you'll add cheerfulness to the heart of the home.
The beauty of having white walls is that you can use strong colors without creating an overbearing atmosphere.
Less is More – White on White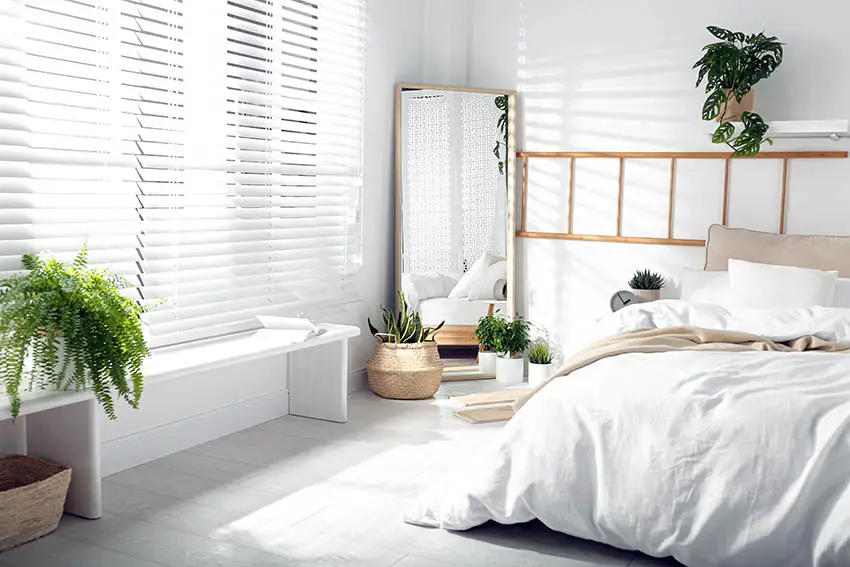 If minimalism is your style, then white window blinds with white window frames and white walls are the perfect combination to go for when you love the clean and uncluttered look.
Or, if you want to focus more on your furniture or décor, a pure white backdrop is your perfect canvass.
What Color Blinds for Grey Walls?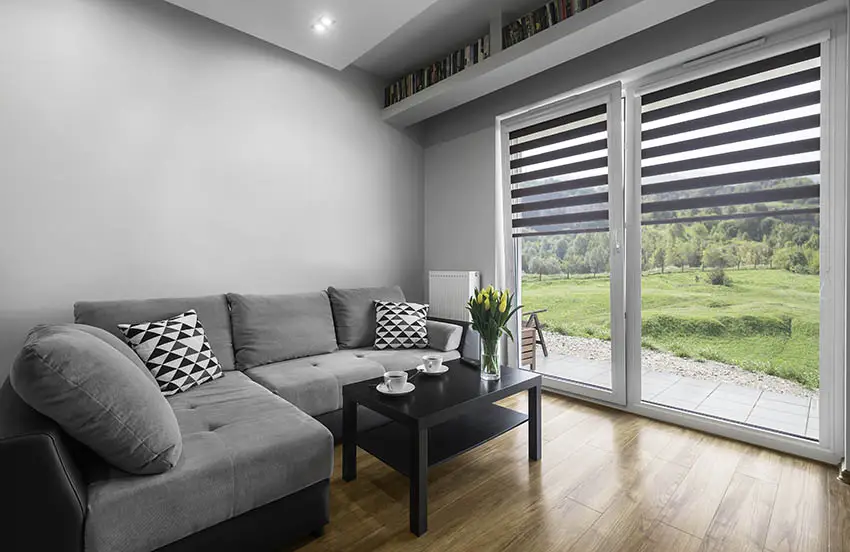 Gray walls can look sophisticated and timeless and when matched with a certain hue can create surprising environments. If you got this wall color then you should pat yourself on being brave in taking on a versatile yet challenging color hue.
Don't be dissuaded though as you can take advantage of the shade to create unique spaces with the right color for your blinds.
Bright Contrast – Since gray naturally recedes in the background, you have an opportunity to add bright and funky colors.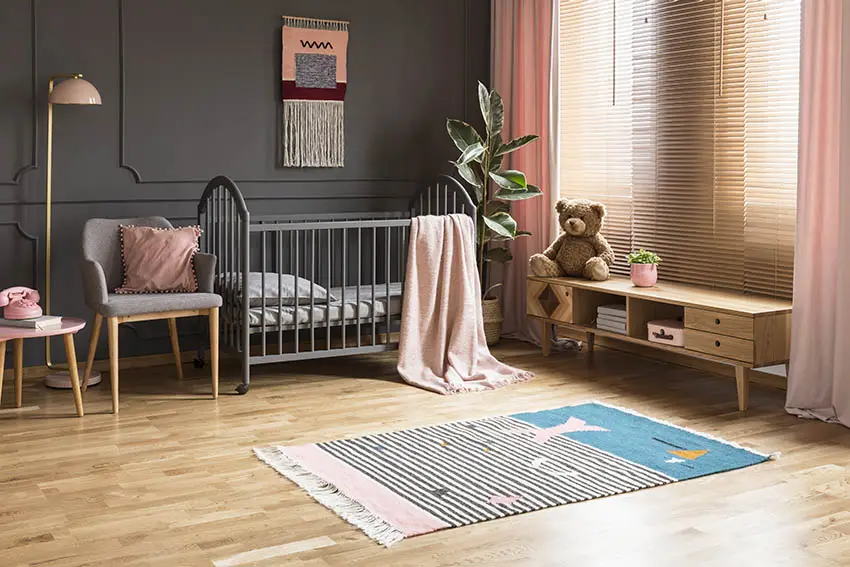 Pairing blinds with curtains can create a beautiful window covering design. This is especially effective for controlling light and color coordinating. Read more about curtains vs blinds here.
Midrange to Dark Gray – Yellow colors with orange or brown undertones for warmer tones and lemon yellow for a bright cool effect.
Light to Medium Gray – Orange blinds can add life to these muted tones.
Shades of Gray – While white on white works well, different shades of gray from your window blinds down to your flooring create an interesting monochromatic effect. As a rule of thumb though use either a darker or lighter shade from your existing gray wall.
Scandi- Inspired – Beige, tan, and any color along these shades matched with a light gray wall can look relaxed and whimsy in an interior and works great for living room or other rooms for relaxation.
Black or White – Black blinds spark a contemporary and casual look and will work perfectly with white window frames because of the degrees of contrast it takes from the wall and window the said window outline.
White, on the other hand, is a safe color to choose from and looks good on whatever style preference.
Should Blinds be Lighter or Darker than Walls?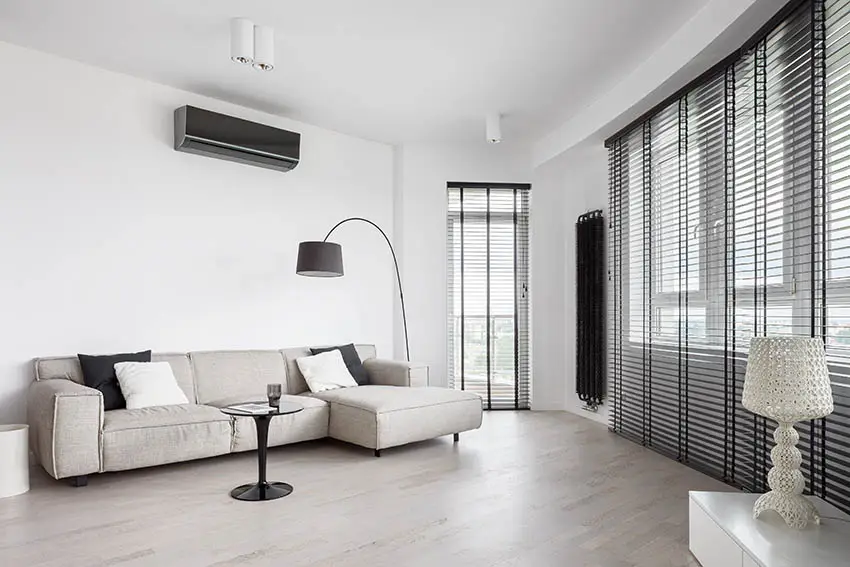 The short answer is yes when you aim for a monochromatic look and not necessarily when you are aiming for complementary colors. However, on the safe side, aim for a lighter or darker color for your blinds that's in contrast to your walls.
Contrast is a basic component to add visual interest into a particular space, and since windows allow light and views through space, it's an element that's hard to miss.
Monochromatic (Analogous) – For a Calming Effect
Your blinds should be at least one shade darker or lighter than your walls to create contrast, and that should have a similar tone or color family.
Complementary – For an Energizing Space
These are particularly hues that sit opposite in a color wheel, for instance, yellow versus blue or gray versus red.
What is the Best Color for Blinds?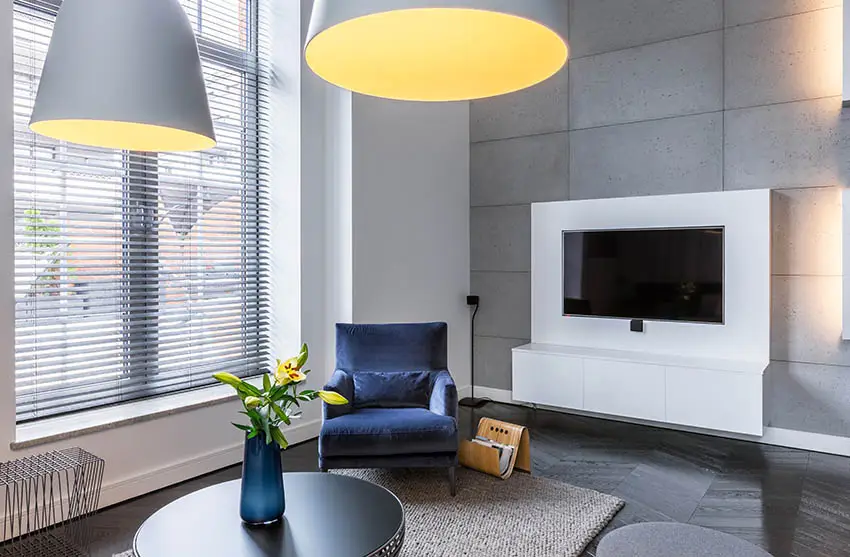 Choosing the best color for blinds depends heavily on factors such as the room's wall color, window frame color, views, furniture, and style you are aiming for.
Neutrals – Modern and Hygge. The most popular color for blinds is neutral and light colors such as beige, white or gray that go toward modern or Scandinavian styles.
We also see this combination of modern farmhouse styles as well and other revival styles.
Complementary – Urban Chic. Usually, you'll find these exciting combinations on small apartments where young homeowners are not afraid of color in a room.
For example, yellow color blinds matched with a teal-colored wall with white window trims. Or, a fuscia color blinds matched against a gray wall and white window trims.
Should my Blinds Match my Floor?
Blinds should not necessarily match your floors, but it's safe to go with blinds with a similar undertone to your floor color.
As floors are typically darker in hue to ground or anchor the whole look, select lighter tones when it comes to your blinds.
Should all Blinds in a House Match?
On the exterior view of your home, having cohesive color blinds looks better than having different colors on your windows, especially when looking on one side of your home.
However, you can still opt for different shades with the same color family.
Choosing Blinds Final Thoughts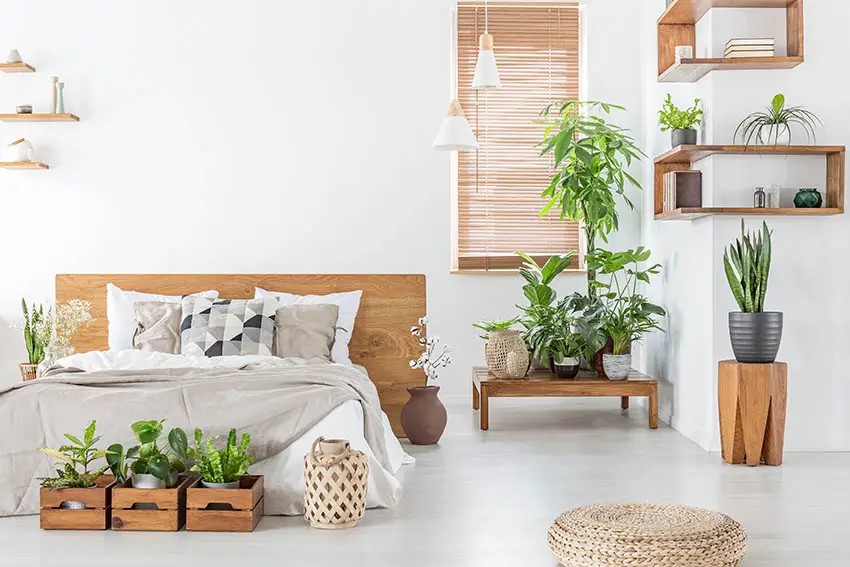 Finding the best color for your blinds can be a tricky business as you need to consider how well it goes with other elements of a room.
If you are unsure what color to go for or want to enjoy your blinds for a very long time, choose neutral colors for your windows.
It's also important to note that your room's function is also a factor when choosing colors. Kitchens, for instance, are great for vibrant hues such as lime green or yellow blinds, while office spaces, because of their formal nature will go well with black, white, or gray colors.
Also, don't ignore your window frames, as the color can significantly affect the overall look of your window treatments.
For more on this topic visit our comparison article of shutters vs blinds.