Check out our guide on how to decorate slanted walls including accents like exposed beams, wallpapers, storage & shelving, and more decor ideas for your bedroom slanted walls.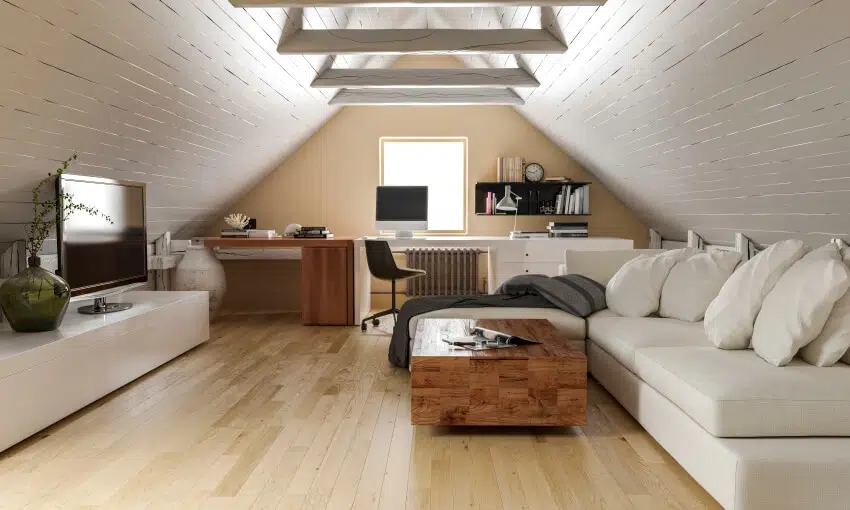 Slanted walls are often found in older homes where an attic was converted into a living space. Only attics framed with rafters provide the engineering to create a room as roof trusses do not handle a lot of weight nor make it easy to convert the area for use. Larger attics can provide space for several bedrooms and a bathroom or a large study or studio.
While turning an attic into a usable space is a great idea. The result gives way to slanted walls and ceilings that may pose difficult decisions about organization, decorating, and interior design.
Thanks to creative thinkers and ingenuity, there are quite a few options for decorating slanted walls a homeowner can utilize to create a beautiful space.
Slanted walls and ceilings already create a unique ambiance that homeowners can accentuate with design and décor. Read through this guide to learn about how to decorate bedrooms with slanted walls, what type of wall treatments work well, and how to hang artwork or photos on a slanted wall.
Slanted Wall Decor Ideas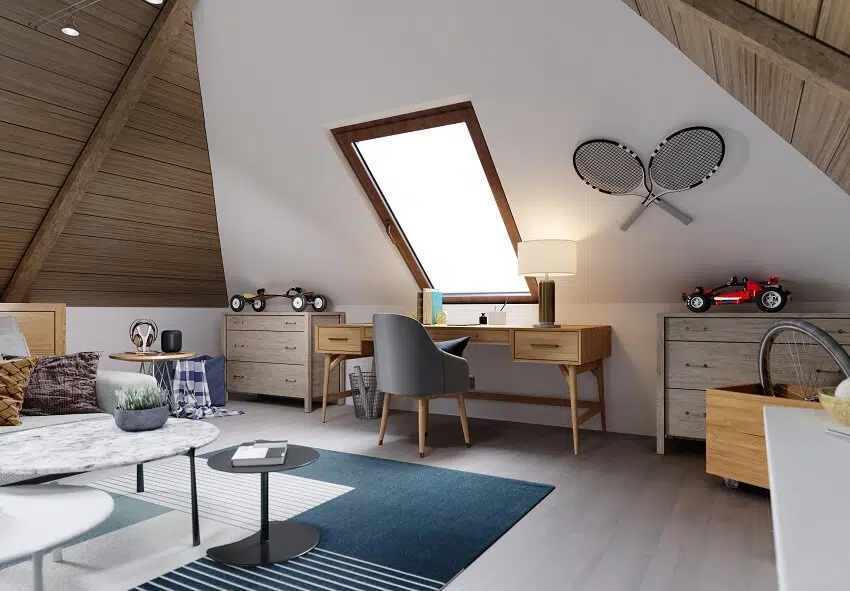 Slanted walls in attics may be accented by the roofline's exposed wooden beams or wood struts with insulation and sheetrock in between to finish the surface like a ceiling.
Exposed Beams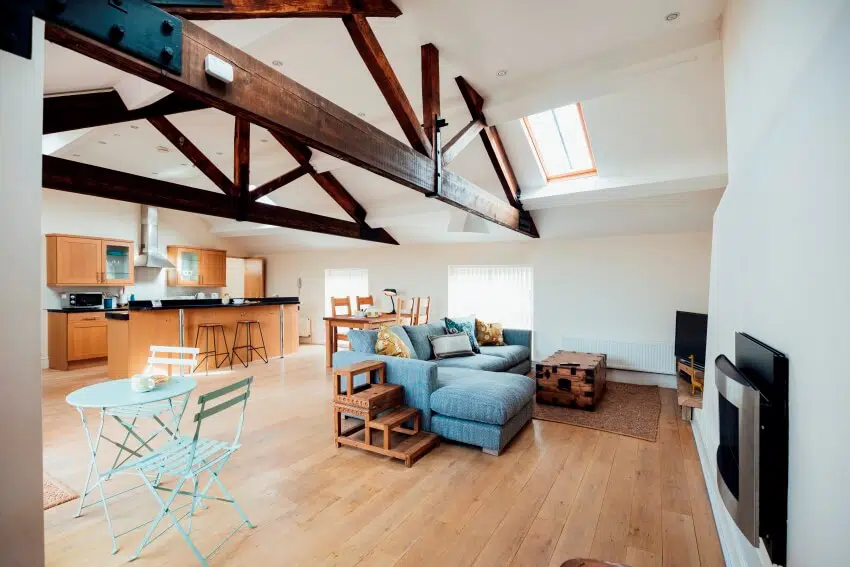 Leaving the beams exposed or adding chunky wood beams over plain wooden struts provides a visual texture to increase the feeling of height in the room.
Whatever degree of slant the ceiling has determines the angle of the wall and the height of the bottom where the wall straightens out. Wood beams can extend to meet the top of the slant or flow down all the way to the floor. See Faux wood beams here to get more ideas.
Wallpaper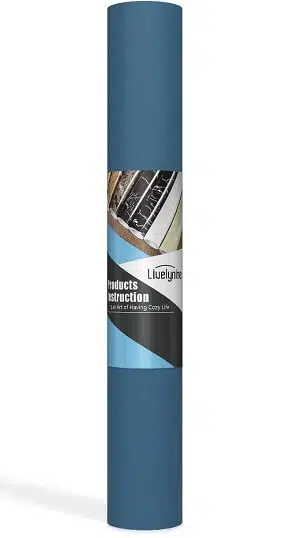 See this vinyl wallpaper at Amazon [sponsored link]
Although not thought of as in style, wallpaper has made a comeback. Wallpapering only the slanted part of the wall will add interest against solid-colored walls in other parts of the room.
Wallpaper with symmetrical patterns could be impossible to line up correctly, so it's best to choose a wallpaper with a free-form or natural pattern. Choose colors to either contrast or complement the existing wall color.
Peel and stick decals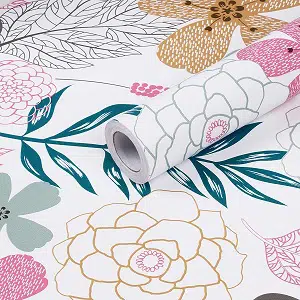 See this floral peel and stick wallpaper at Amazon [sponsored link]
An easy way to add design to slanted walls is through using peel-and-stick decals that are easily removable. The choices are endless. You can shop for decals that follow a theme in the room, such as a nautical look, floral, woodlands, or mountainous scenery.
Stencils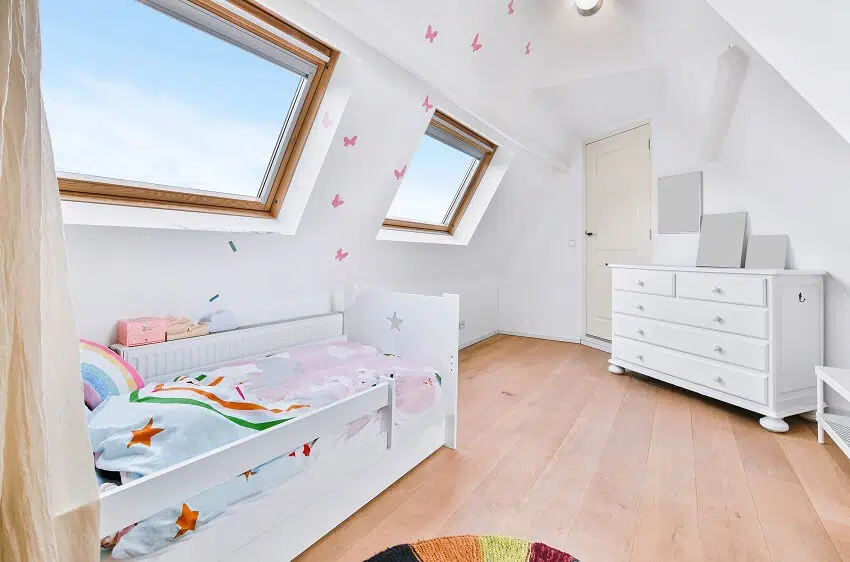 Stencils also work well by allowing homeowners to create their own design on a slanted wall, and if they choose to keep the design more uncomplicated, stripes or circles may allow for an eye-catching design without too much detail.
Wall Paint
If you prefer to have plain walls, painting a slanted wall allows the color to wrap around the entire room and create a warm and welcoming atmosphere.
Use the same color paint for all the walls and the ceiling and create a cohesive and continuous line to lessen the starkness of the slanted walls. Consider the number of angles and slanted walls in an area and choose one color with a darker or lighter shade to avoid too many colors creating a choppy look.
How to Decorate a Bedroom with Slanted Walls
Bedrooms give way to exciting design options when they have slanted walls. A full wall mural of a riverbed and trees, the ocean at sunrise, or whatever scenery you prefer creates a beautiful room centerpiece.
Mural
A large mural of their favorite cartoon characters or outer space with planets and stars makes for a fun accent for young children. If you have a budget to work with, one of the slanted walls could be fitted with windows or skylights to provide an abundance of natural light.
Window Seat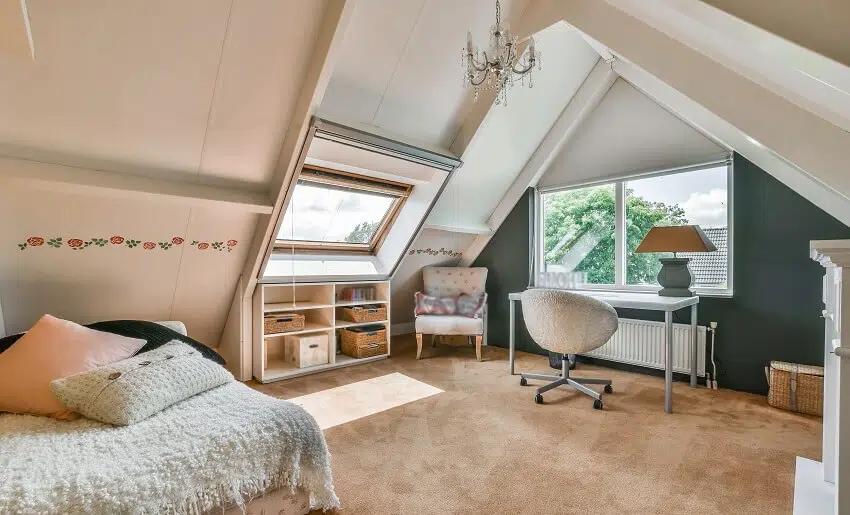 If the room has windows built into the slanted walls, a window seat or small desk makes a perfect reading spot or work area.
Storage & Shelving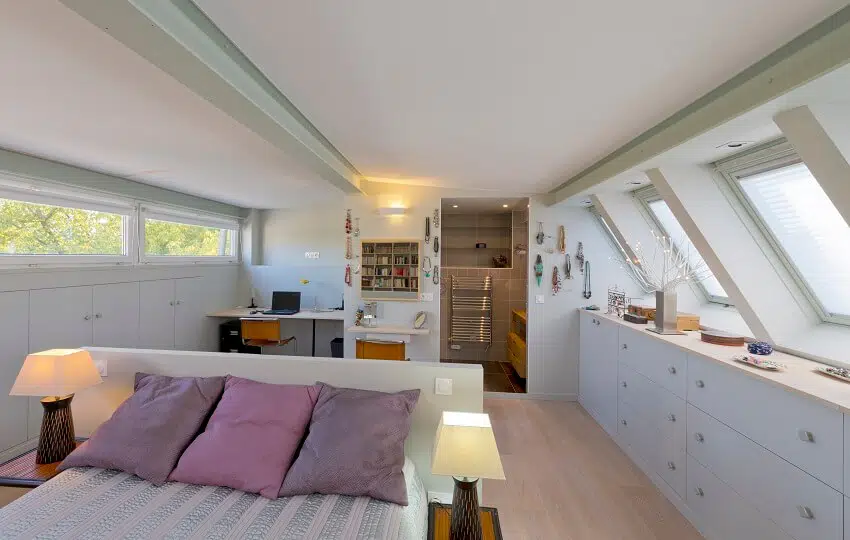 Some slanted walls in bedrooms have a low bottom, which would be too low for standing. A row of short bookshelves, cube storage, or shelves to display figurines or knick-knacks makes good use of the space. Read more about the types of bookcases here.

Sleeping nook
When there's more space at the bottom, a small pull-out sofa provides extra places for guests to sleep.
Television
A slanted wall bedroom can provide visually interesting spots to hang shelves where the wall straightens out or use the slant to mount a large-screen TV for movie nights and sleepovers.
Depending on the bedroom's use, the choices are as versatile as rooms without slanted walls and ceilings. Get more ideas for the right TV size for bedrooms here.

What Do You Hang on Walls That Are Slanted?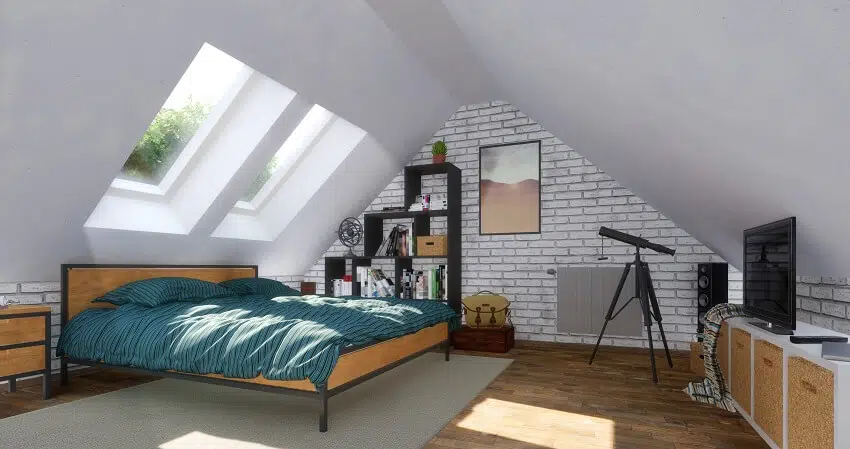 If decorating a teenager's bedroom and the bed is against the slanted wall, it makes a perfect solution for creating a faux canopy bed. The illusion appears as a canopy by mounting and draping silky sheer fabric or netting and lining it with fairy lights, making a magical spot for any teen girl.
For a young boy, hanging planets and stars with a small floor lamp to illuminate them at night provides a calming atmosphere for falling asleep. However, you will need the proper hardware for hanging anything with weight on it.
Artwork and framed posters can be hung on a slanted wall with the proper hardware to create a finished look and ensure the frames remain attached. Other ideas are to hang floating shelves or wall-mounted coat racks.
How Do You Hang a Picture On A Sloped Wall?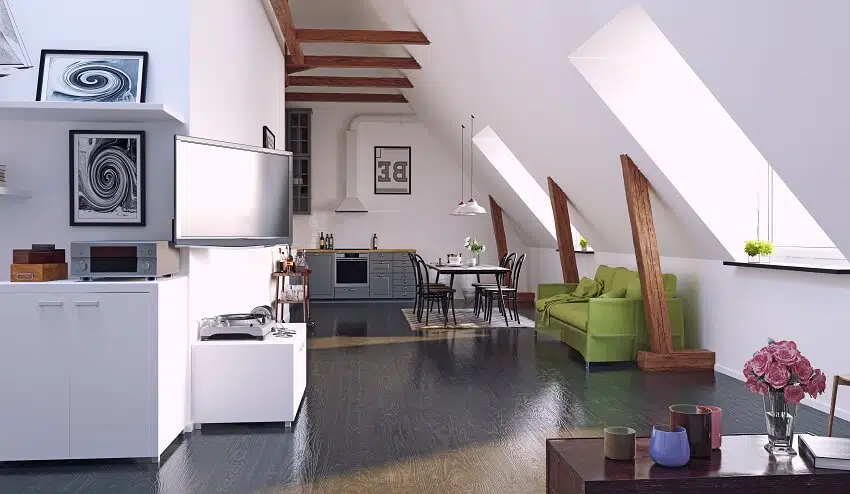 To hang a picture or artwork by mounting the piece flat against the slanted portion of the wall with an extreme angle would make for an awkward placement and be hard to view. But it is possible to hang items on slanted walls safely and securely without the items being flat against the wall.
Hooks and Fishing Line
This is more of a do-it-yourself solution but can be very effective and allow pictures or artwork to hang properly "from" the slanted wall instead of against it. Attach an eyelet hook to both sides of the top of the frame of artwork or photos. It's best to use closed eyelets.
Measure how far you want the picture to hang from the wall and the length between the wall and the eyelet hook. Next, measure the exact distance between the eyelets and mark this distance on the wall. Try to match the wall areas where there is a beam or you'll need to use a butterfly anchor.
Screw two more eyelets into the wall where you marked the distance, and once secure, use a strong fish line knotted in the eyelets attached to the wall and cut to length. Knot the fish line in the eyelets on the frame and let it hang.
Be sure to get a clear fishing line that will be almost invisible to give the painting or photos the appearance of floating freely. Do not use this mounting method over an area where someone sits or sleeps.
Gallery Rails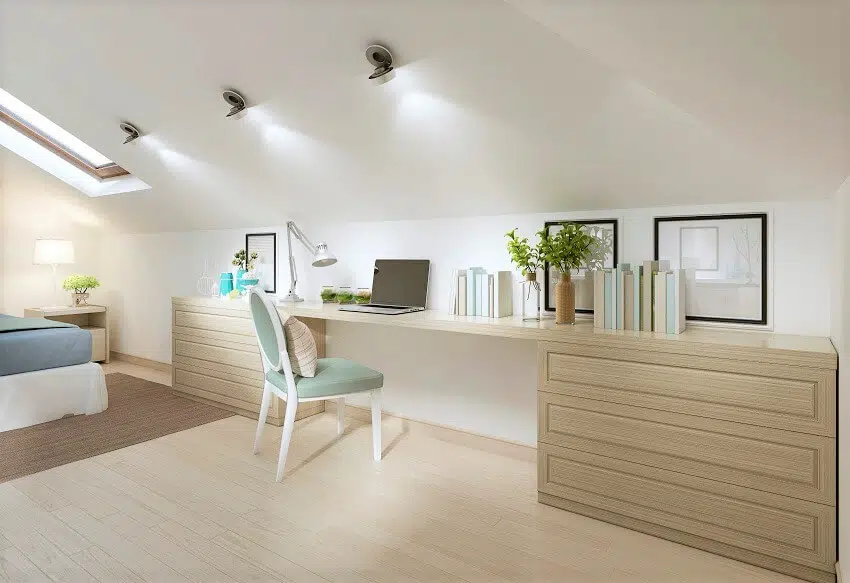 Gallery rails also allow hanging frames similar to the eyelets and fishing string but are more secure and sturdy. The rails come in kits and are made with various materials such as aluminum and have a track with a transparent cord hanging to attach artwork frames or other items that hang.
They can be adjusted to create a collage of pieces and have special stoppers at the end of each track to prevent the cord from slipping out. Gallery rails can be used on slanted walls, slanted ceilings or standard walls.
With gallery rails, pictures or artwork are easily switched out for a change in décor and depending on the size, gallery rails can hold anywhere from several ounces and up to 50 pounds or more.
Keyhole Brackets
Keyhole brackets are a secure method for hanging framed artwork or photos flat against a sloped wall. Each bracket comes with two screws to be attached to the four back corners of a frame. Proper wall anchors such as butterfly anchors are needed to keep the brackets in the sheetrock if there is not a beam to use.
It's best to use 1-inch drywall screws and let the head stick out about ¼ inch so it can fit in the keyhole bracket. The screw post slides into a narrow channel on the bracket and secures the frame. See more types of picture hangers here.

Earthquake or Museum Putty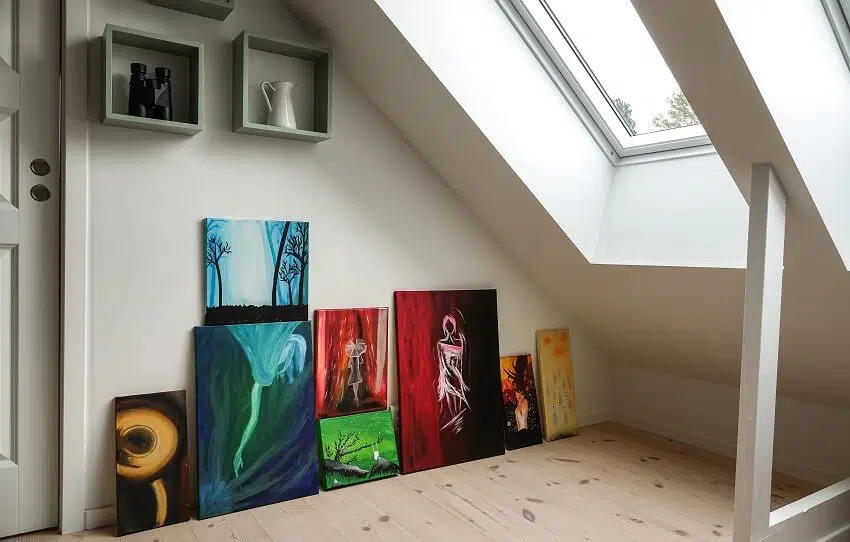 Earthquake or museum putty is a removable and reusable putty to adhere frames to walls, porcelain and pottery to shelves, and hold figurines from toppling over on tables and mantels. This putty is used in areas where earthquakes are frequent but is also a perfect alternative for attaching artwork or framed photos to slanted walls.
It provides a firm grip and will not damage walls. It's similar to clay and can be rolled into strips to attach to the back of frames. Be sure to test the putty with an empty frame without glass before actually hanging anything heavier.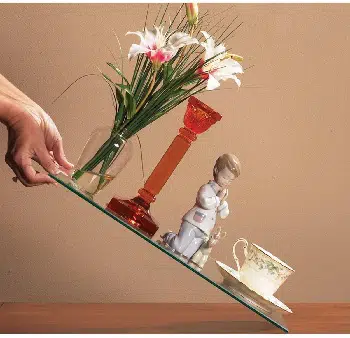 See this museum putty at Amazon [sponsored link]
There are many additional types of hardware to hang frames and other items on slanted walls allowing you to find the ones that work the best for your project.
Don't let slanted walls intimidate you when decorating your home. A little ingenuity and thinking outside the box will provide an easy palette to realize your décor vision.
Visit our attic bedroom ideas for more related content.