Here we share different types of double sided curtains including what they are, the types of fabrics, and tips on how to join two curtains & connect two panels together.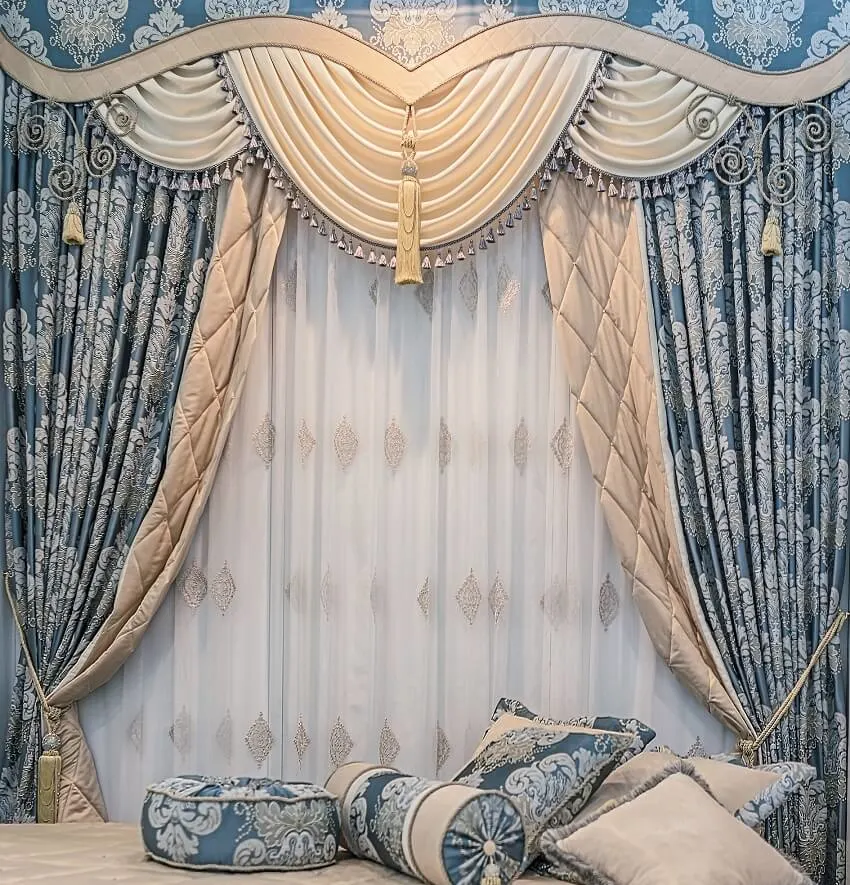 Who says you have to settle for just one curtain pattern? Double sided curtains give you the best of both worlds. Double sided curtains make it possible for you to mix and match, and more importantly, play around with colors, textures, and even prints without going overboard with the costs and the hassle.
It's as if you have two different types of curtains hanging from one rod. This is an appeal that isn't lost on interior decorators and enthusiastic home owners alike.
If you want to go with a specific color scheme but you also want a splash of color or pattern, fold a side of the curtain so that a little bit of the other side is showing and you instantly produce a design aesthetic that's both quirky and eclectic. It all depends on what your style preferences are.
What Does Double Panel Curtain Mean?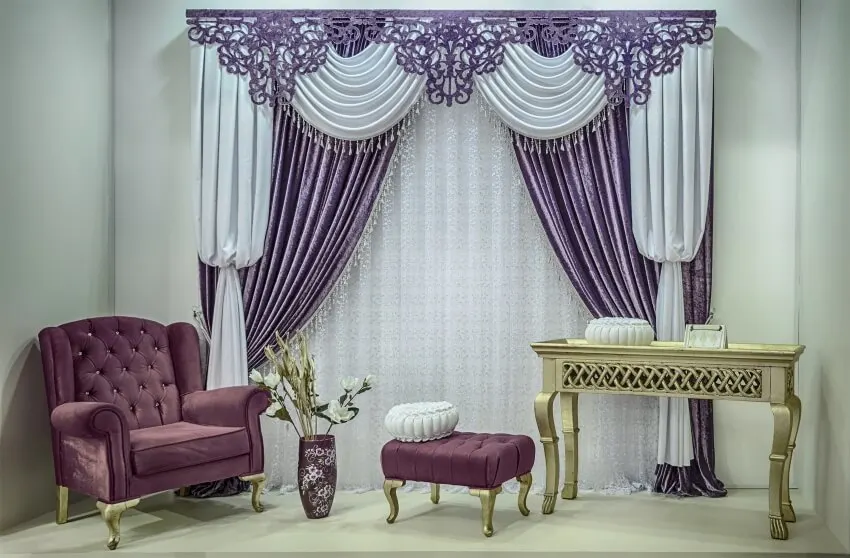 Double sided curtains can provide functional purpose to any room that you adorn them with. For a better understanding of what they actually are, they're basically curtains that are comprised of two layers. They're often used to provide accentuation to rooms.
They're usually made out of two canvases, oftentimes rectangular. These canvases are made out of different colors. They're sown together with opposite side showing. What this results to is a curtain that technically has two faces.
A double sided curtain can be hung from either one side to the other. They are oftentimes paired up with transparent, sheer, or similarly light curtains but they can also come in with other variations depending on what you would like to pair them with in the first place.
If you want a very decorative and upscale look without having to work too much on adding too many accessories, double sided curtains are the perfect solution.
Depending on the style of the room that you're applying the window treatments for, there can be so many options for you to choose from. You can go for bold, to subdued matte, to brilliant, or vibrantly patterned. It really all depends on what your tastes are and what kind of look you're like to achieve for the room.
Types of Reversible Curtains
Here's the different types of double sided curtains for better appreciation of their versatility and features.
Reverse-Pattern Drapery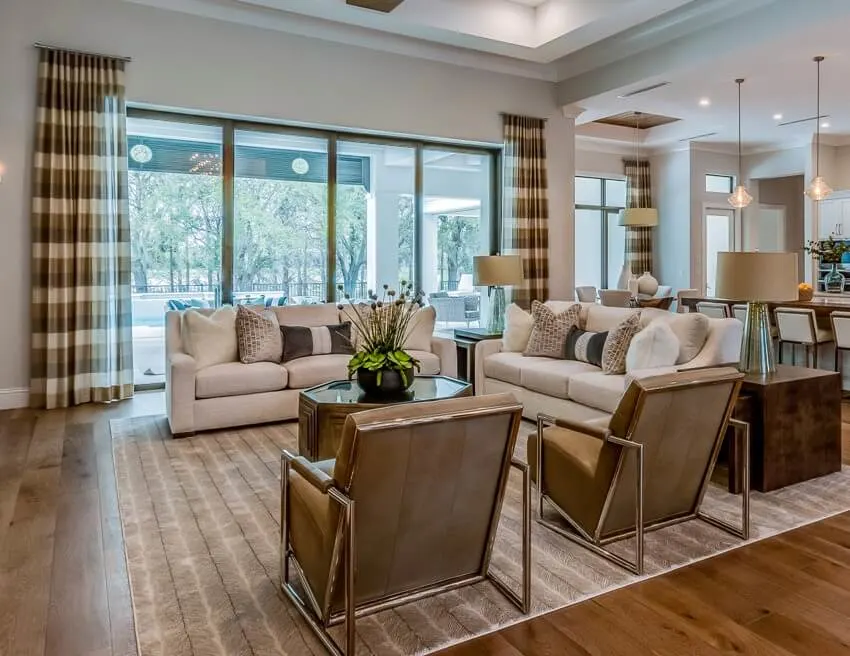 Double sided print curtains offer versatility and endless design options for the space you're redecorating or providing window treatments for. They can easily fit in with whatever curtain rod options you have available and will certainly have no issues fitting right in to those awkward corner spaces.
This is because the design in the curtain panels speak for themselves and can even make up for any layout issues or flaws you may have. The double sided prints can provide a cozy view both from the inside and outside of your home.
If you want to go for something sophisticated and somber, you can always go for a darker exterior color on one side and then pick out a lighter and more neutral color on the other. And the best part in this is that you can easily flip them over and switch which side you prefer based on what your mood is for the room at any given time.
Two-Patterned Shower Curtains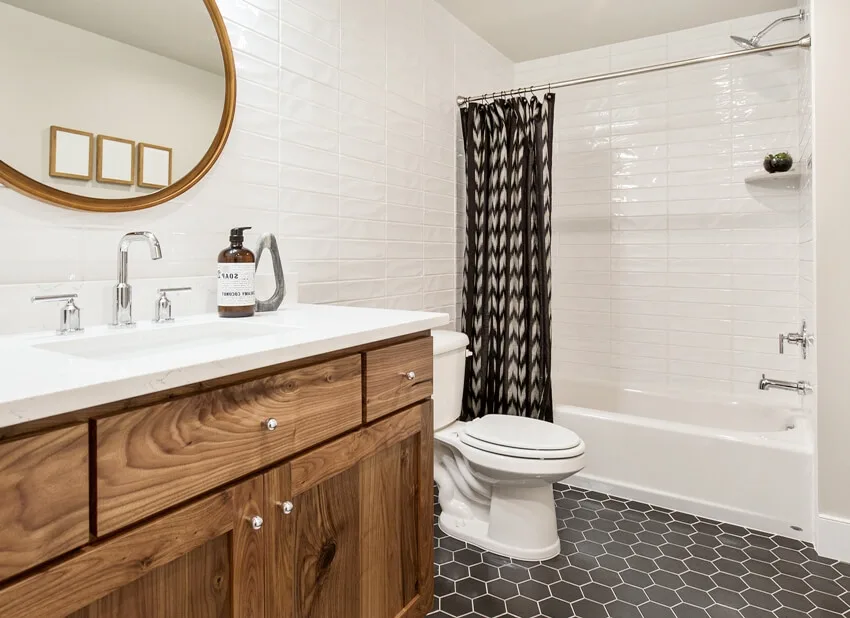 Double sided shower curtains can instantly make your shower area look expensive and chic for a fraction of the cost. You can pick out whatever lux material or print you decide to go with.
If you want to up the ante and provide an illusion of more vertical space, opt to hang your double sided shower curtains from the ceiling. This will dramatically add on to the visual height of the room and make your bathroom area feel and look so much larger than it actually is.
Aside from the visual component of looking thicker and more luxurious, double sided shower curtains have a practical side to them. They actually dry more efficiently and with less mold and mildew because the materials (which are oftentimes made out of fast drying ones), dry from both sides.
For most shower curtain materials, it's usually the front facing part of the fabric that's hydrophobic whereas the back-facing part isn't as efficient when dealing with water. With double sided curtains, both sides are hydrophobic which means water splashes just easily slide of, letting your shower curtains dry much faster. Check out more popular types of shower curtains here.
Reversible-Pattern Doorway Curtains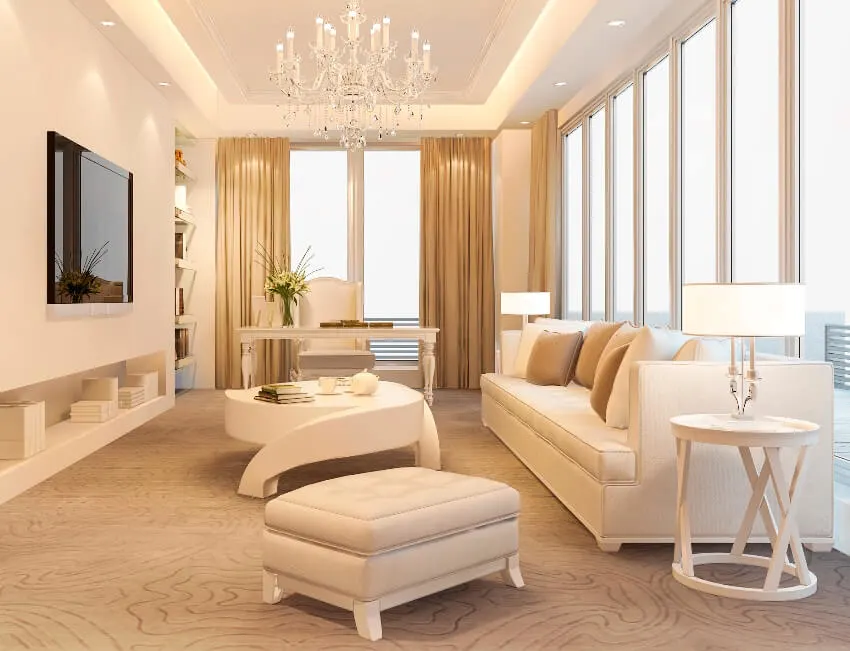 Getting double sided curtains hung in the doorway is not only aesthetic, it is also practical. Not only do they look great and can complement well with your doorway or entranceway décor, they are also great for climate controlling the home. Drafts are stopped right at the entrance.
This prevents outside air from getting inside your home and vice versa. In the cold and hot months, this works efficiently with either your home heating or air conditioning systems at home and helps you save up on a lot of energy bills month on month.
It's also a pretty great way to dampen the sound a little bit, which provides your home with an extra layer of privacy. Double sided curtains are normally thicker compared to regular curtains because they're comprised of two panels instead of just one so any sounds coming from inside the house won't be easily audible from the outside.
It also works pretty much the same way the other way around so in the event that you live in a busy street that gets a lot of traffic or outside noise, it won't become too overwhelming from inside the house. It also carries out the function of effectively screening dust, smoke, and other unwanted particles from entering the house.
Dual-Sided Room Divider Curtains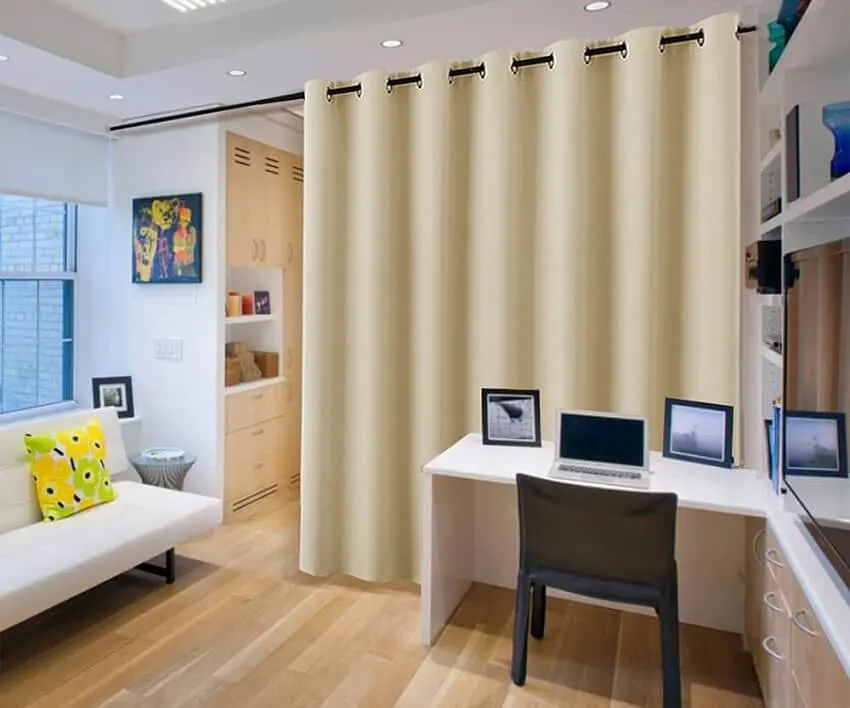 See this double sided curtain room divider at Amazon [Sponsored link]
Open layout homes are trendy right now but the main challenge out of this is having a clear distinction between the various areas in the home that are meant for specific functions or purposes.
One way for you to effectively divide the rooms or spaces in your home without necessarily breaking the bank is to get double sided curtains hung up. If you have a particularly large space that you need to mark out, double sided curtains can work as great room dividers because you don't have to stick to just one color or just one material.
You can customize each side to match up with the aesthetics of the space that it faces. It's cohesive, smart, and most importantly, cost effective.
Two-Textile Thermal Curtains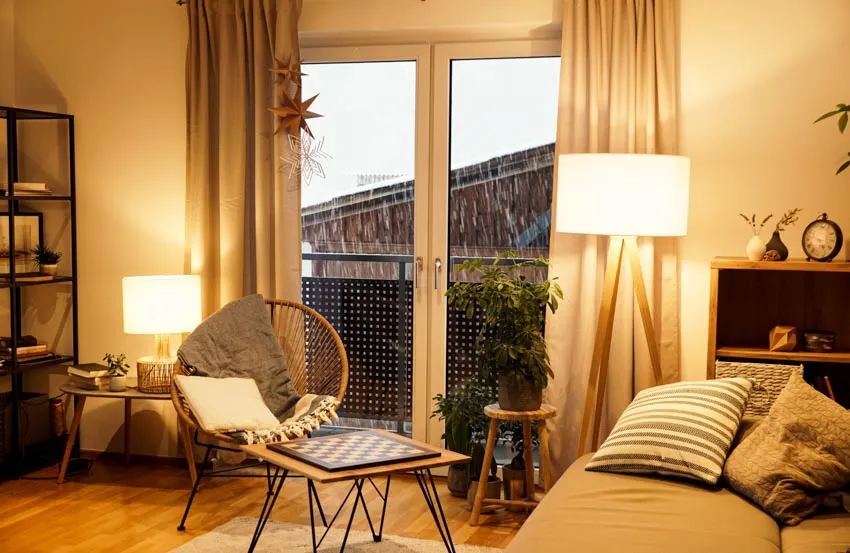 The first thing that people usually wonder about double sided thermal curtains is if they really do work and the answer that you need right off the bat is that yes, they most certainly do. Double sided thermal curtains effectively provide your spaces at home with a barrier between your interior and exterior environments.
During the hot summer days, they can easily block out and reduce the heat coming in from the windows as well as effectively reduce solar gain. They are also quite effective when it comes to sound proofing your home.
During the cold winter months, they work as effective insulation as well; maximizing your home's electric heating by blocking cold drafts from coming into the house and keeping the circulating hot air in. it could save you tons of money on your energy bills.
Statistically, it's been said that double sided thermal curtains in particular could reduce heat or cold air loss by up to as much as 33% compared to regular thermal curtains which are usually just around the 20-25% range when it comes to climate controlling your home.
Dual-Layered Blackout Curtains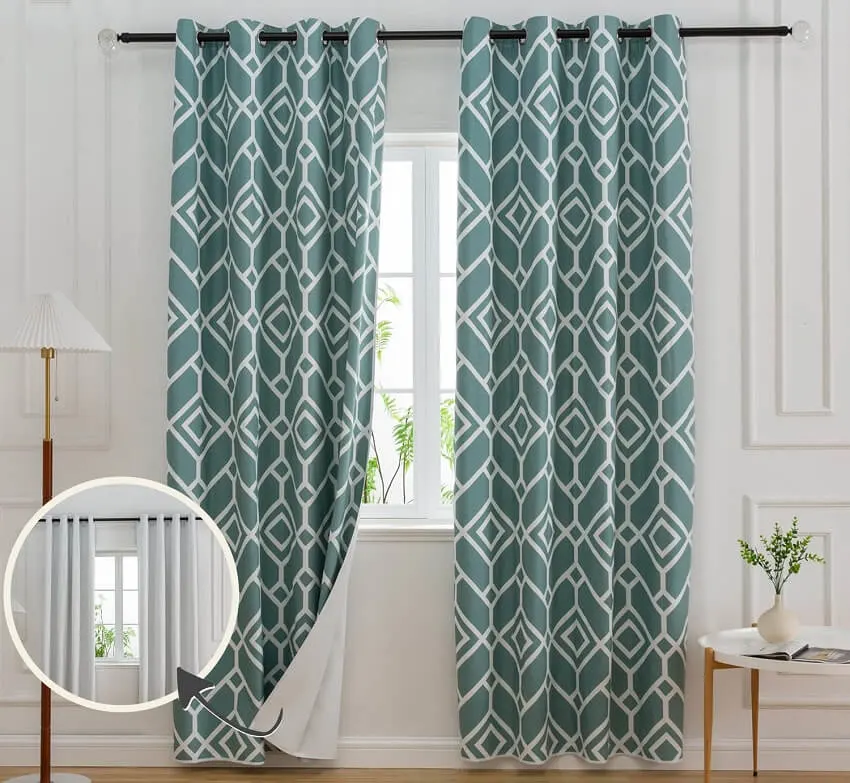 See this double sided blackout curtains at Amazon [Sponsored link]
Blackout curtains became popular back during the WWII era where buildings had to have them installed in the windows to ensure that they were invisible from German bomber planes. These days, blackout curtains are still around but not for the purpose you think. Although by and large, they're still mainly for filtering outside light out.
Double sided blackout curtains can keep the rooms in your house darker for longer, allowing you to block out the sun's glare or even streetlights or the headlamps of incoming cars and the like. It's the perfect solution to a sounder and more restful sleep.
Blackout curtains need to be really thick to be effective and this isn't something that regular fabrics can do. This is usually left off to thicker fabrics such as velvet and when it comes down to it, your selections could be limited. Check our guide on how to layer sheer and blackout curtains for more ideas.
This is why double sided curtains are the perfect solution to this. You can still have the variety in colors, styles, and textures you want without ever having to sacrifice the comforts of having blackout curtains that will filter out light, noise, and even provide some level of temperature control for your home.
Double Sided Curtain Fabric
The sky's the limit when it comes to your double sided curtain fabrics. They can be as standard, lightweight, or as heavyweight as you would like them to be depending on the form and function you're going for in a specific area in your home.
Consider what your needs are for each room as well as what look you're going for so that you can effectively pick out the fabrics you'd like to have for your double sided curtains. The best part in this is that you can mix and match. You certainly don't have to stick to just one type of fabric.
Polyester – This fabric can be used to almost any room in the house but is usually avoided in the dining rooms and in kitchens as it is a flammable fabric and it easily soaks up smells and odors.
Rayon – This is a fabric that mimics its more luxurious cousins: linen and silk but because of its synthetic nature, can still be quite affordable. It's soft to the touch yet very durable and works great in filtering light out. It's versatile enough to be used in any room in the house.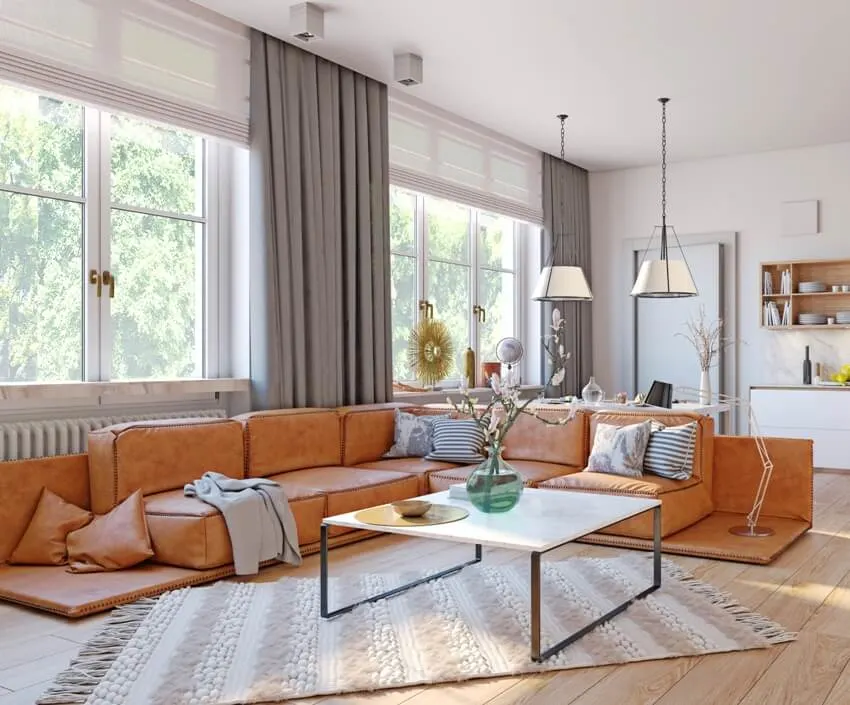 Cotton – Cotton curtains provide a modern solution to spaces in the home that you'd like to look and feel airy and bright. They're most recommended in living rooms, bedrooms, and dining rooms. They're thick, they're great at filtering light, and they provide solid coverage all throughout.
Linen – This fabric is quite similar to cotton because it's comprised of plant-based fibers but it's more luxurious and durable and understandably, comes with a much higher price tag. Linen is UV resistant which means that its colors won't fade over time and with sun exposure unlike cotton. It's also perfect to have in almost all the rooms in the home.
Silk – Silk is heavier than most curtain fabrics and can create a look that's very expensive and luxurious. It's perfect for formal décor in the living room and dining room. It's also great for dressing up your picturesque windows. Silk requires special handling though (dry cleaning) and can be quite susceptible to sun damage if you aren't careful with it.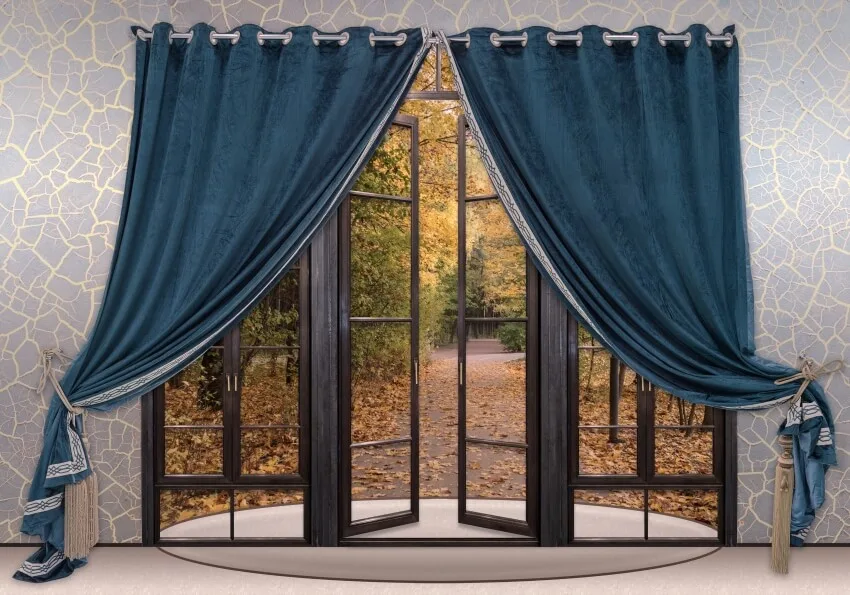 Velvet – If you're all about insulation, velvet is the way to go. It also looks quite posh and formal so it can work with any room in the house that you plan to dress up a bit. It's thick and makes for sophisticated designs. It's also hands down the most effective fabric you can get your hands on when it comes to blocking out lights and sounds.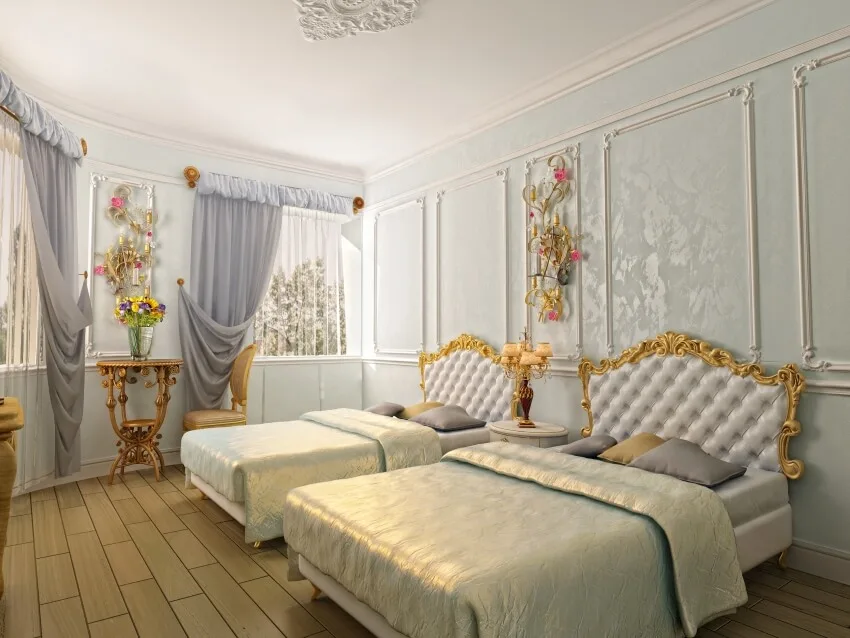 Voile – Voile is a very sheer and delicate fabric and it very closely resembles the cloudy and dreamy consistency of chiffon. It's great when layered with other thicker and more durable fabrics and can be perfect for double curtain setups as an inner layer.
It isn't as ideal for sound and light cancellation as the other fabrics but when double-layered with thicker ones, can work quite well with them.
Lace – This fabric is traditional and ornate and if you want a somewhat old world charm touch to your spaces at home, it can be the perfect candidate. Pair it up with colored fabrics to come up with a perfect double layered effect for your double curtains.
With the right touch and with the right type of combination, lace curtains can turn out to fit right in with whatever modern or contemporary décor you would like to come up with. It can be quite versatile and can be used for any room in the house and it's great for filtering light as well.
It isn't great for sound filtering and insulation because of its sheerness but when doubled up with a thicker fabric, it can turn out to be the perfect combination. It's quite versatile as lace pairs up with literally anything you can possibly think of. Take note though that lace may require special handling when it comes to its washing and maintenance.
Can You Join Two Curtains Together?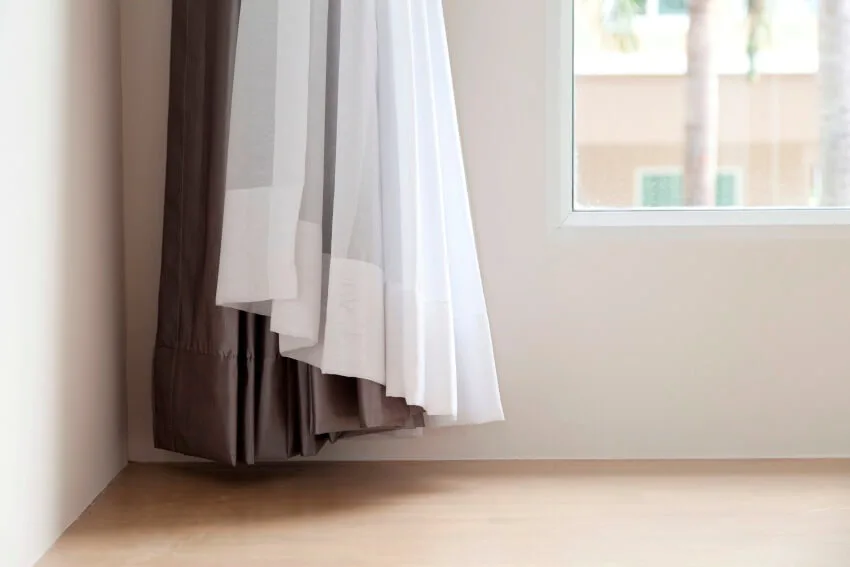 Yes you can. You can either get them together with the use of some Velcro or loop tape at the edges or you can opt for a more permanent solution such as getting them sewn together.
If you want to go down the temporary route, attach your hook and loop tape (or Velcro) in multiple places all throughout the edges of the curtains, where the two were supposed to meet. Make sure that when they do close out, they do so without a gap to make it appear more well put together and more seamless.
If you want a sewn together solution, all you need to do when you're sewing them together is to make sure that the two curtains are placed right on top of each other with the right sides put together. Pin the vertical edges together before you start sewing. If your curtain fabrics are fairly thin, this should be fairly easy to do.
However, if your curtain fabrics are thicker than usual, it might help if you clipped them together instead of pinning before sewing them together. If you're joining curtain panels that are patterned, make sure that you match them together so that there's still visual continuity in there even after you've joined the two panels together.
How Do You Connect Curtain Panels Together?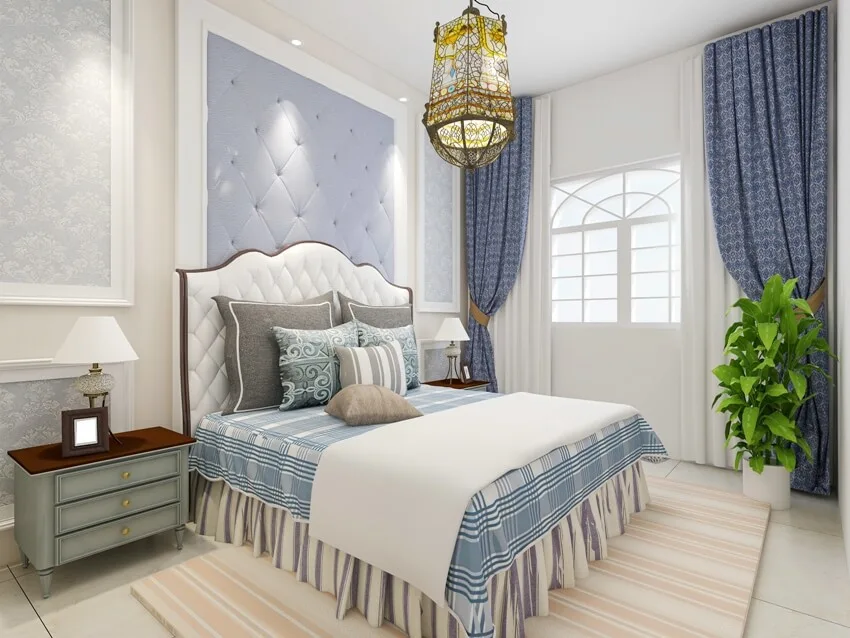 You can actually connect curtain panels together without sewing. You can get this done with the use of some bonding tape. Make sure that you measure the fabric to be laid out flat on a surface.
Take your time with this as rushing through this process could lead do asymmetrical curtain panels once they've been joined. Once fully flat on your surface, fold out the hem and iron them out neatly.
This will give you a visual marker of where your bonding tape should be. And speaking of bonding tape, measure it and cut it out as well. Do this for all of the edges of the curtain panels that you are planning to connect together.
Apply the bonding tape on the hems of the panels you are joining and iron them out. And just like that, you've already connected your curtain panels without ever having the need to touch a single piece of needle or thread.