Here's our guide to layered curtains including tips on how to layer and hang curtains, choosing curtain materials, and different layered curtain styles.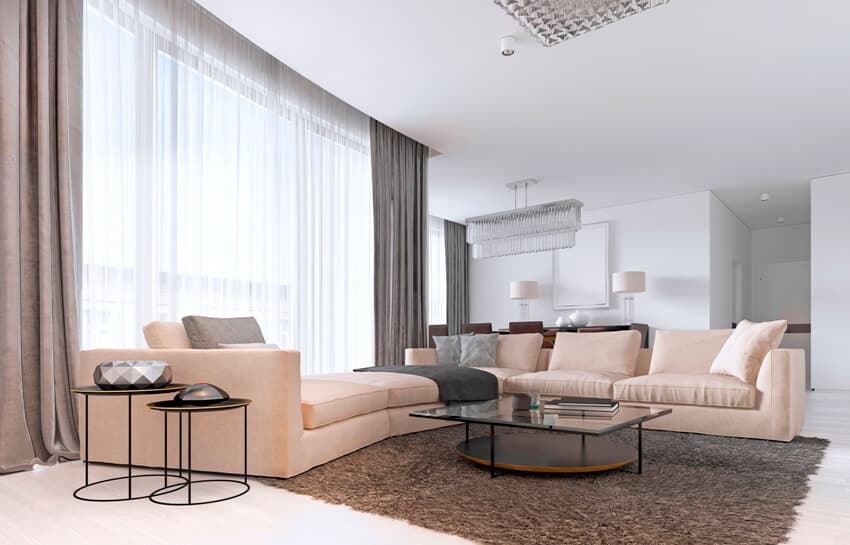 Curtains add beauty to a room. To give a room or space a luxurious ambiance and add beauty to it, use layered curtains. Using the right fabric and color combination is important. There is nothing more decorative than a layered curtain. The right color and fabric will have amazing results.
Layered curtains also serve as insulation and protection against prying eyes. Even if the sun is glaring outside, the light inside the room is softer and not as bright. Low-ceilinged spaces can feel and look high with layered curtains.
How to Layer Curtains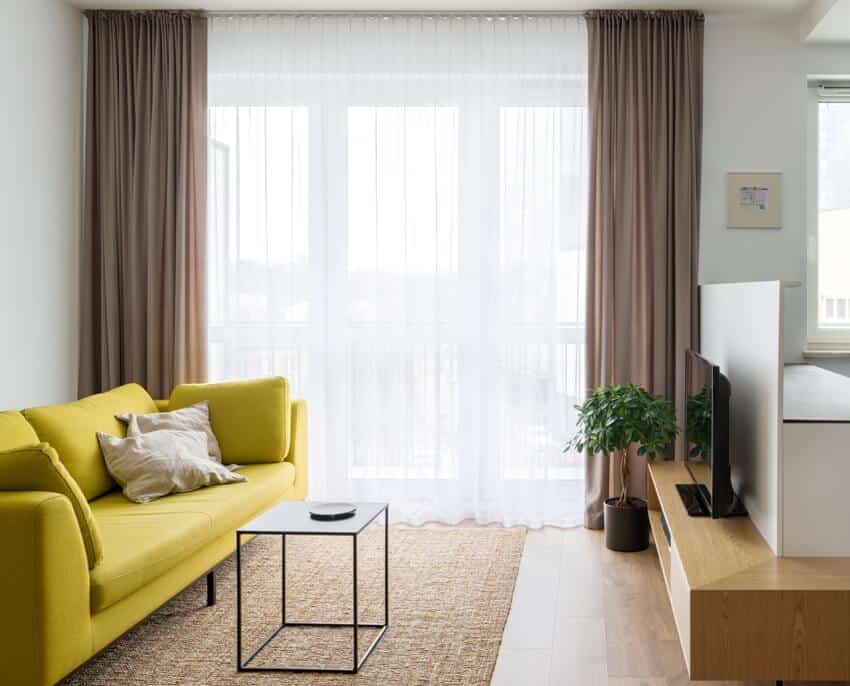 You can use a single-layered curtain. Yet, for a more appealing effect, using two or three layers is necessary. Layering curtains means using two or three types of fabrics for one curtain. One is a sheer curtain, the other one could be an opaque or black-out curtain, and voile.
While the sheer curtain allows sunlight to come in, the drape controls the amount of light and offers more privacy.
Hardware Needed for Layering Curtains

Before you can venture into layering curtains, you must have all the hardware needed including a curtain rod, curtain rod brackets, and mounting tools such as nails, stud finder, screws, screwdriver, level (or tape measure app), and tape measure. In addition, you'll want the two different types of curtains.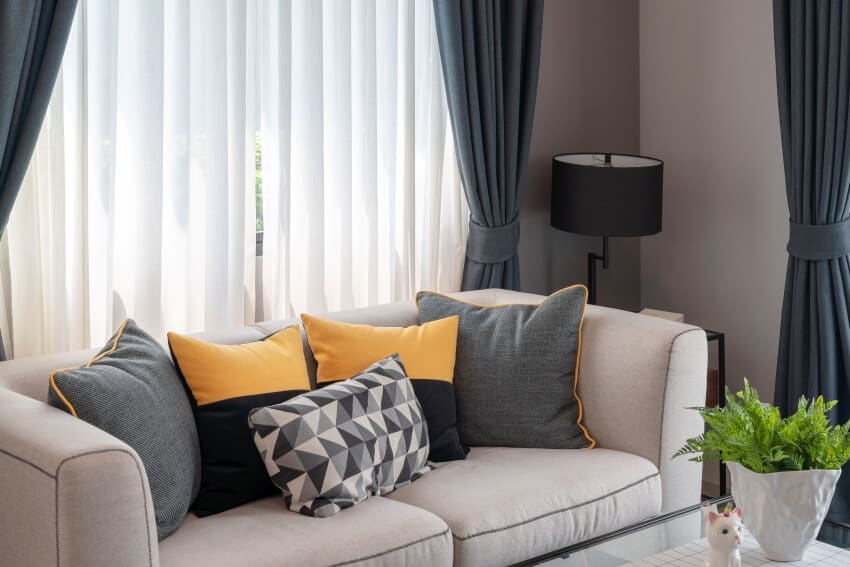 Once you have the tools needed, you must choose the right types of curtains to layer. You must have a curtain for the base layer and the outer layer.
For the base layer, use a sheer curtain or opaque curtain. The outer layer must be an opaque or black-out fabric.
It requires skill in mixing and matching colors to come up with an elegant and appealing layered curtain.
Here are three simple steps to follow when layering curtains.
1. Have all hardware at hand.
Before you start layering curtains, make sure that you have the rods and the brackets. Windows 30 inches wide or more might need reinforcement at the midpoint to prevent sagging. Strengthen the rods by installing a center bracket to provide support. Choose double curtain rods with the right measurement.
2. Layer the curtains.
Use one curtain as a base and the other as an outer layer using double curtain rods. The first layer is usually sheer with the second layer being an opaque curtain.
3. Place finials or knobs at the end of the rod.
Finials are contraptions placed at the end of the rod. It is designed to prevent curtains from slipping, as well as to serve as decoration.
How to layer curtains video:

Choosing Curtain Rods and Finials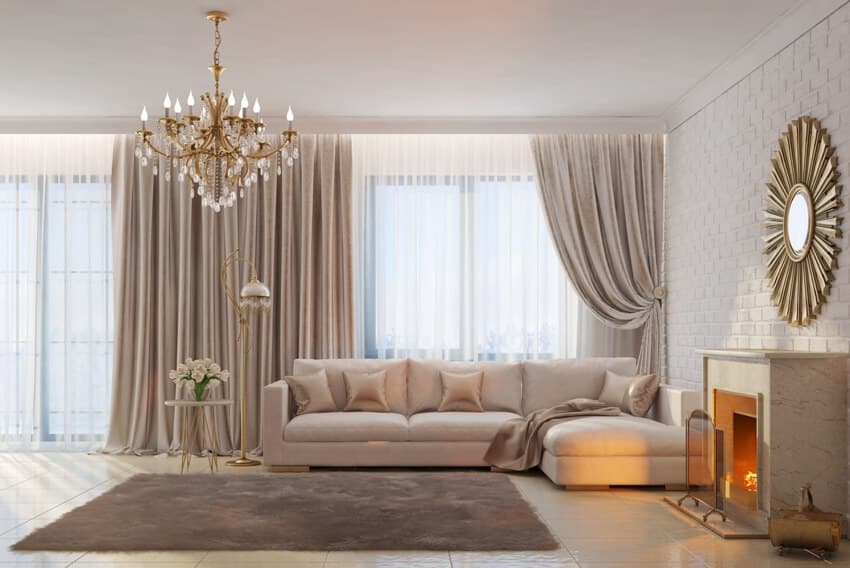 You will need something to hold the curtains above the window. This is a long and rounded piece of metal, wood, or plastic called rods. Wood and metal curtain rods can hold up curtains made of heavy fabrics. Plastic rods are suitable for light curtains such as shower curtains.
The length of curtain rods depends on the size of the window. Make sure that the rod is longer by three to six inches than the length of the top portion of the window from side to side. This will allow the curtains to fully cover the windows and ensure privacy.
Before shopping for curtain rods and finials, do your homework. Decide what type of curtain rod suits your purpose.
Choose curtain rods that fit the size of your windows and the weight of the curtains that you will hang. For small windows and narrow windows, the standard length of the rod to use is 24 to 48 inches. You can find small windows in the laundry room, bathroom of the guestroom, and other rooms where big windows are not necessary.
Picture windows and double windows hung side by side get curtain rods that are 48 to 84 inches long.
Dressing the glass doors of the patio, French doors, and picture windows with a width of more than 100 inches will require curtain rods that are 60 to 120 inches long.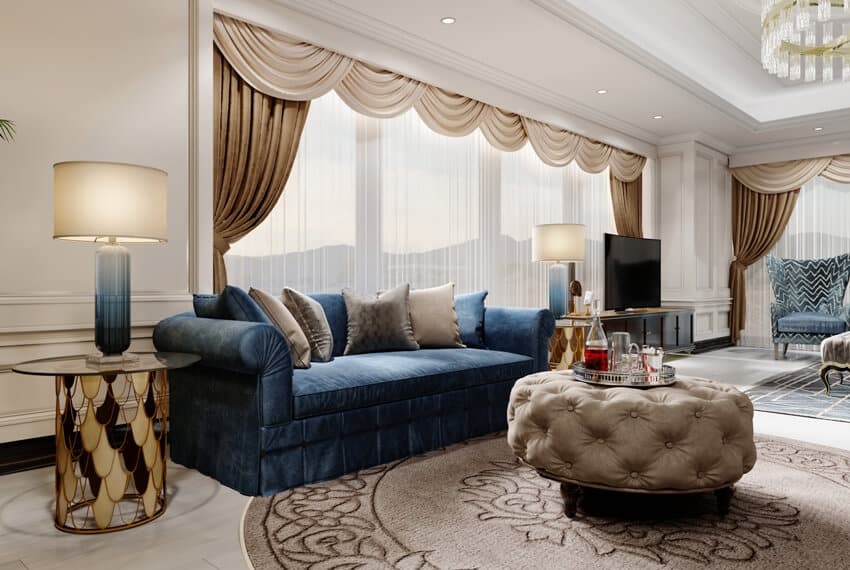 Huge residences with high ceilings and spacious interiors will require wider and heavier draperies. Curtain rods that are 120 to 170 inches long are a must. They also need a bracket to hold them up and prevent them from sagging.
When buying a curtain rod, always take note of the size or diameter you need. Rod sizes range from half an inch to three inches. Choose a size that can hold the weight of the curtains you want to install.
Small rods can be used for lightweight curtains. But, for heavy draperies, one with a bigger diameter is needed.
If you want layered curtains, double rods are the best to use. This will allow you to have a sheer curtain and a blackout curtain. For more light, you can move the blackout curtain without moving the sheer curtains because they have different rods.

When buying curtains rods, they usually come with the right brackets and fasteners. If you purchased only the rod, it is important to buy the right brackets and fasteners. If this hardware does not match perfectly, your layered curtains will not look as perfect as they should.
For layered curtains, the best rod to use is the double rod. The rods are separate and are placed on brackets that are mounted on the wall. It makes layering curtains easy. When layering curtains, a sheer or thin curtain is used as the base. The outer layer is made of an opaque curtain.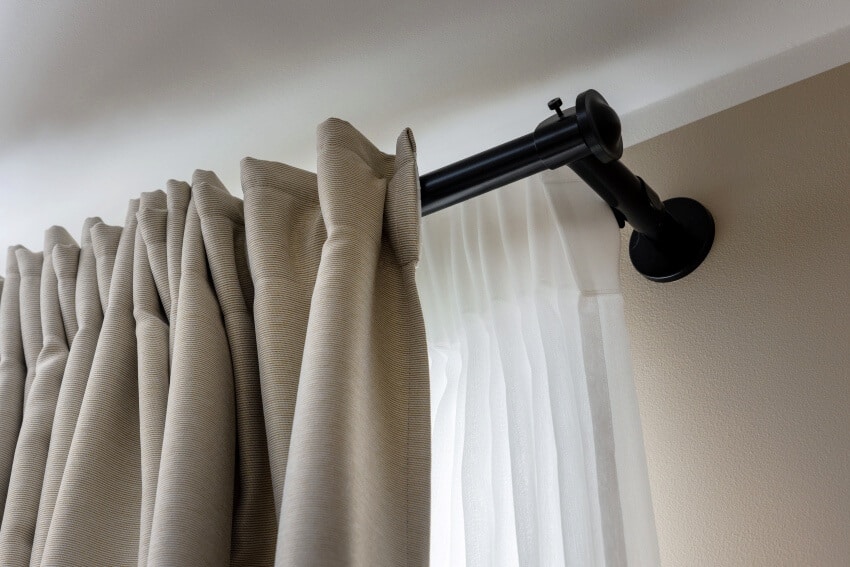 One rod will be used for the base layer. This rod can be thinner because sheer curtains are lightweight. A thicker rod is needed for the outer layer because drapes or blackout curtains are usually heavy.
Once you have determined the length and size of the rods that you will, you can now choose the curtain rod design. Make sure that your chosen design complements the style of the room that you are decorating.
Curtain rods are like jewelry. When taken alone, they seem to have no visible impact. But when they are considered together with the other room adornments, their impact is awesome.
If you are placing window treatments, the color of the curtain rod must suit the style of the room. When unsure what color to use, stick to black. You can't get wrong with it.
Other curtain rod colors are chosen to achieve a certain look for the room. Gold curtain rods make the room look glamorous while gray and silver are ideal for a Scandinavian-style home where the interior decoration tends to be simple, functional, light, and enhance the natural beauty of the room.
The next thing to have when dressing up the windows using layered curtains is the finials. Finials serve as décor and as a lock that keeps the curtains from slipping from the rod.
Buy finials that match the curtain rods. If you have a wooden rod, use wooden finials. If you have a gold curtain rod, use a gold finial. Glass finials are also available and they will match curtain rods that are gray or gun metal in color.
The style of the finials must also go with the style of the other decors of the room. Yet, you can use your judgment when it comes to your curtain treatments.
Choosing Curtain Tips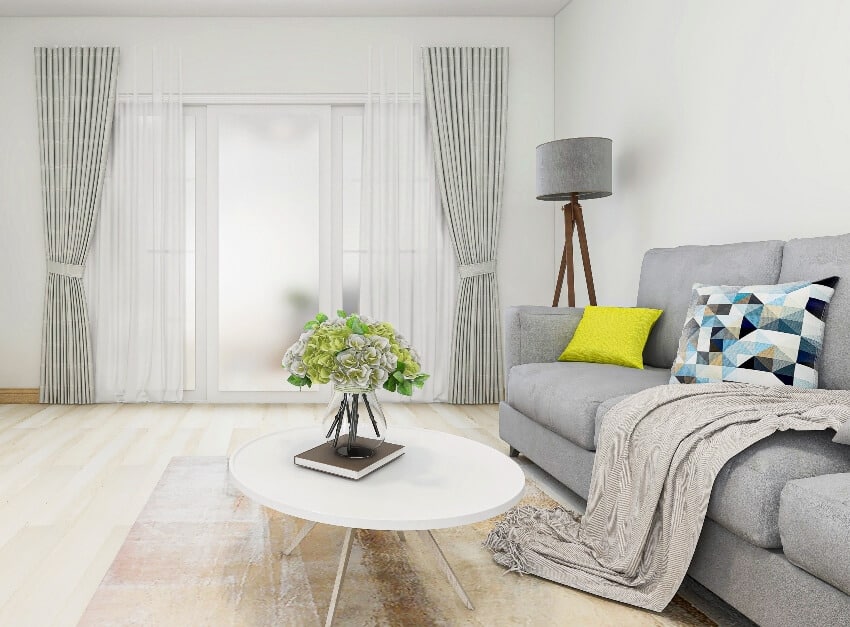 How do you choose materials for layered curtains? Here are some tips on dressing your windows:
1. Window treatments are generally referred to as curtains. However, one must distinguish curtains from drapes. Curtains are made of light and sheer materials. They are used as the base when installing layered curtains. People use them in the living room and other areas where one wants more sunlight to come through.
Drapes are made of thick and heavy-weight material and they are good for blocking sunlight. They are ideal for bedroom windows and home theaters. It can be used as a blackout material if you want to watch movies. It offers more privacy as well.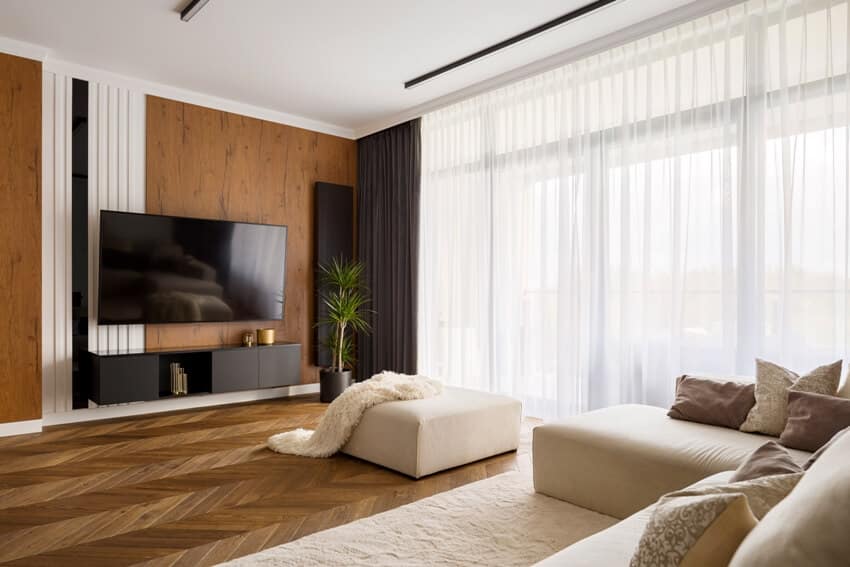 2. When picking curtain fabrics, consider the amount of light that can pass through them, the room décor, and the mood or tone that you want to create.
Sheer curtains are perfect for a simple room while pleated heavy drapes or curtains are best for traditional rooms. Remember that curtains can make a difference in the looks of a room when pleated or drawn. Select one that will always have a good effect.
3. Choose a curtain color and design that goes with the fixtures in the room.
Before embarking on hanging curtains in a room, take note of the color of the furnishings first. Pick a certain hue that complements or contrasts with the overall color scheme.
For example, if the living room furniture is light gray, find curtains that are in the shade of teal, green, or navy blue.
Rooms with cream walls will look amazing with yellow, white, soft blue, green, and brown curtains. Find more ideas on how to choose curtain color here.
4. When to use printed or solid colors for curtains.
Again, consider the overall color scheme. If the furniture and other decors are in solid color, make use of printed curtains. If the fixtures have a printed design, choose curtains with solid colors.
For modern rooms, fabrics with geometric patterns will look great. Traditional or modern classic rooms go will with floral-patterned curtains.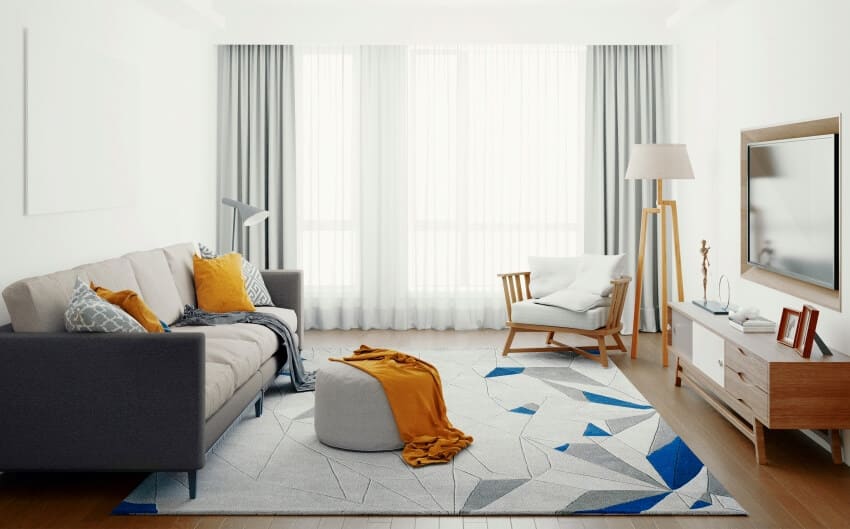 5. Use ideal length.
For layered curtains, floor-length ones are today's fashion. You can also opt for curtains that form a puddle on the floor. Long curtains can make a room look and feel like it has a high-ceiling. Yet, the length might make the curtains susceptible to dirt.
Small children can play with long curtains, such by hiding behind them, pulling them down, or swinging on them. So, if you have small kids, long curtains are not ideal. To be safe, use window dressing that only reaches the window sill.
6. Curtains must be wider than the window.
Measure the width of the curtain. It should be wider than the window. This can make the window look bigger. Even when the curtain is closed, enough light can still stream into the room. Opening the curtain will expose the glass and make the room a brighter place.
7. Use trims and accessories.
Adding matching trims and accessories will enhance the effect of the curtain in the room. You can place a valance or a cornice to add embellishment.
A valance is a short drapery placed at the top of the window. If you do not want to block the view from your window, you can dress it up in a beautiful valance. Valances come in various styles such as scalloped, soft dip, inverted box, and more.
On the other hand, cornices are made of stiff board. They are placed at the top of the window to hide curtain hardware.
While a valance has a soft look and feel, a cornice is hard and stiff.
Hanging Curtains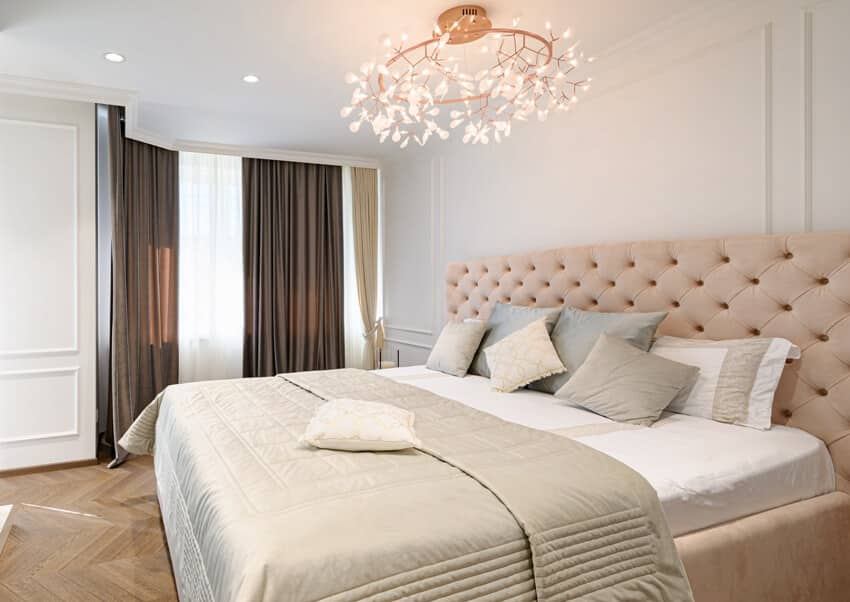 Curtains serve several functions and this is why you must learn to hang them. First, they protect you from the prying eyes of passers-by.
Glass windows can give a clear view of the interior of a room from the outside. By installing a curtain, you can block the view. See the different ways to hang sheer curtains here.
Second, it can prevent direct sunlight to penetrate the room. While living rooms may have an ample amount of sunlight, the bedroom needs a minimum of it.
A bedroom that is too bright can prevent you from having a restful sleep. It can also make the room feel too warm for your comfort.
Last, curtains add character, personality, and beauty to a space. The decors and window treatments in a home can reveal the owner's personality. Homes owned by warm and happy people usually have bright and colorful decors.
People who belong to the upper echelons of society usually have subdued yet sophisticated embellishments.
Curtains also make a difference between feminine and masculine rooms, a child's room, and a teenager's room.
Double Layered Curtains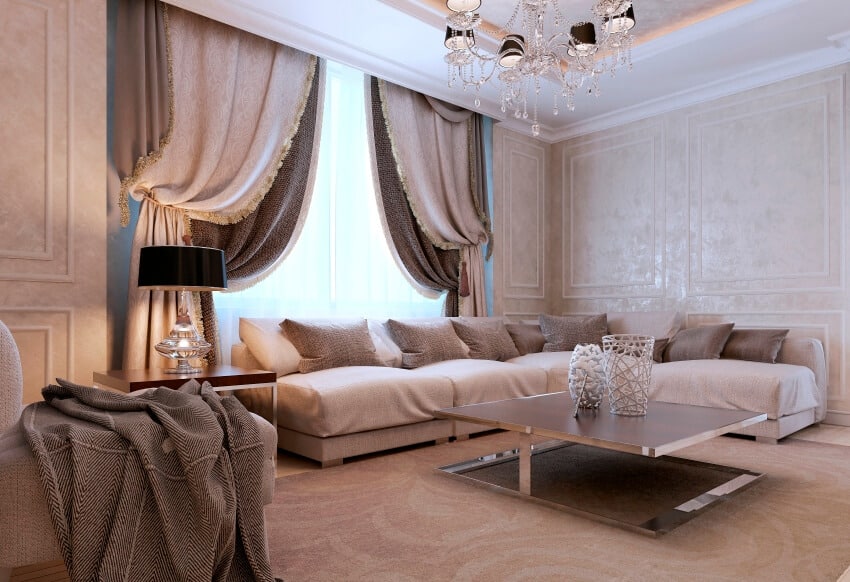 Layering curtains can give a room a stylish and glamorous look. A double-layered curtain adds privacy and allows more control over the amount of light that can get into a room. If you want a brighter room, you move to the side of the drapery, leaving behind the base or sheer curtain.
Because sheer curtains are thin, light can easily stream into the room. If you want to reduce the brightness, you can close the outer layer.
With a double-layered curtain, you can mix and match colors using your style. Your personality and taste will be seen in the way you layer the curtains.
Sheer Layered Curtains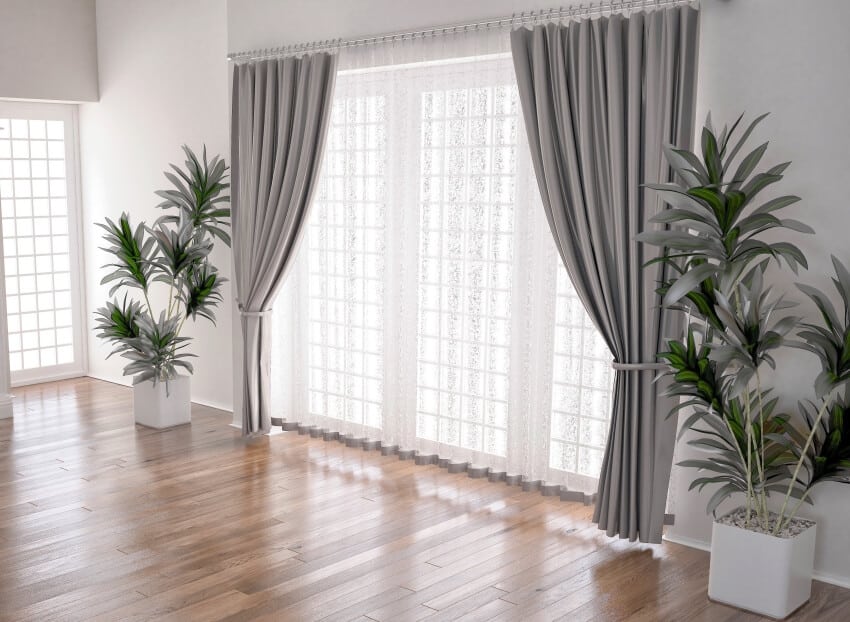 Sheered curtains can be layered with opaque or blackout curtains. The sheer curtains can serve as the base or as an outer layer.
When the sheer curtain is the base, it becomes visible when the blackout or opaque layer is open. It becomes the focus of the eyes.
Using a sheer curtain as a top layer means that it hangs over the blackout or opaque curtain. A perfect watch between the base layer and the top layer can give your window a unique look.
If the sheer layer is at the top of a blackout layer, the two panels must have a uniform heading for a neat look. Find out how to layer sheer and blackout curtains here.
This means that if the drapery has a pleated heading, the sheer top layer must also have a pleated heading. The heading style of the sheer base curtain may not conform to that of the outer layer.
Large windows may require several curtain panels. Curtain tiebacks will be necessary. Use the tiebacks to tie curtains in the middle panels. Gathering them to the sides may not be possible.
Layered Curtain Styles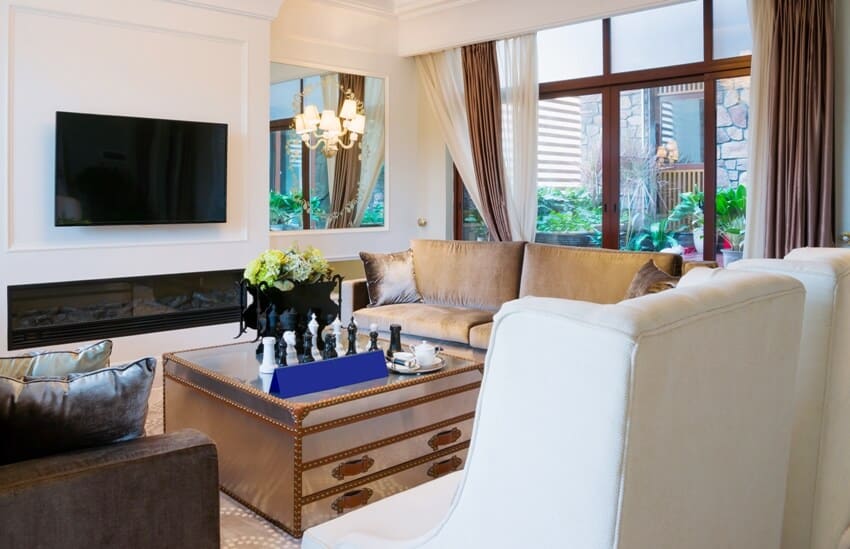 There are different styles of layered curtains. You can choose between curtain panels and drapes. Panel curtains cost less than drapes.
In terms of layers, you can have double layers or triple-layered curtains. You can achieve this by using curtain track systems. Use two-track systems for double layers and three-track systems for three layers.
Using a track system is ideal for bay windows or windows that are curved. You can hang the curtains easily and move them smoothly. The curtains can be drawn around fully.
There are also several styles of the curtain heading.
• Pencil pleat – has a cord that can be pulled to gather the curtain
• Box pleat – has tailored pleats
• Wave – has soft folds
• Single Pinch Pleat – has flat or softly rounded headings
• Eyelet – metal holes or eyelets threaded through the rod
• Dutch/French pleat – has double and triple pleats
Layered Curtains for Living Room
Layered curtains can lend a glamorous and stylish look to your living room. They also provide insulation. For the living room, you can use the following fabrics: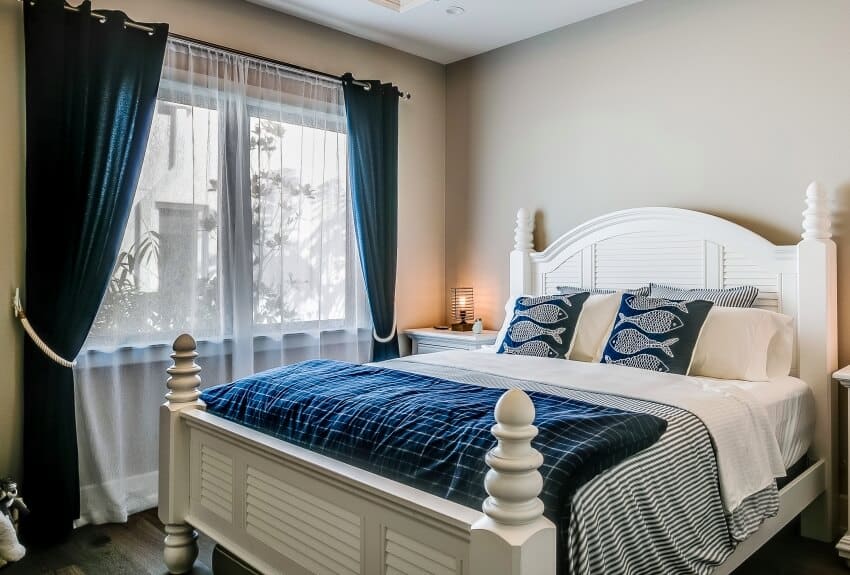 • Silk – makes the room look formal
They are sheer and allow light. For privacy, you can have silk lined.
• Cotton – versatile and easy to clean
Cotton can be had in various colors and prints.
• Linen – soft and thin
It is perfect for rooms with a casual setting.
• Velvet – heavy and luxurious
It is used for formal rooms.
• Sheers – allows plenty of light but is not ideal for privacy
Living room curtains must be double the size of the windows. They must be long enough to touch the floor or longer to form a puddle.
When it comes to hanging the curtain, you can opt for the traditional or modern style. The traditional way means placing the hardware a few inches above the window. The contemporary style means hanging the curtain next to the ceiling.
Give the rooms in your house an elegant look by hanging layered curtains. With the right hardware, transforming the looks of your home is quite easy.
For more related articles like this, read our guide to the different types of side panel curtains.