Welcome to our picture windows design guide including what it is, options, cost, sizes and differences when compared to other window types.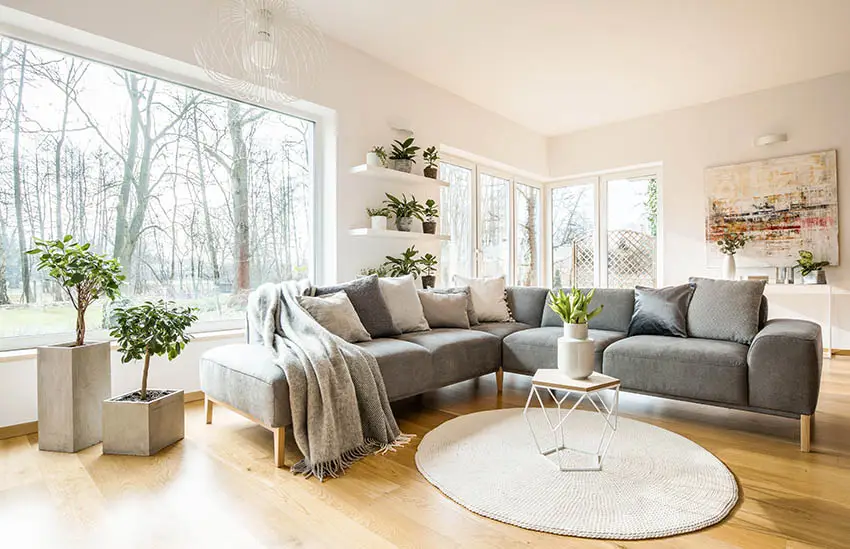 Picture windows are large, fixed pane windows that are simply square or rectangular in shape and can usually never be opened.
These windows are known to offer clear and unobstructed views of the outdoors, and that is why they are highly used in luxurious hotels, mansions, and resorts.
Defining utmost beauty and minimalism, a picture window is used to create a perfect focal for the backdrop of the scenic panorama from your interior space.
What is a Picture Window?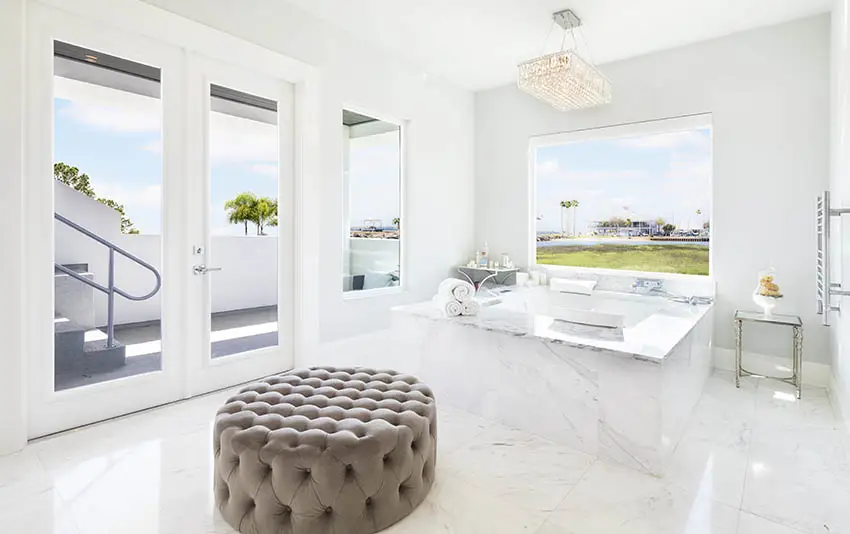 Picture windows are generally inoperable and fixed; hence they provide no ventilation or airflow benefits in a room.
So, if you are looking to increase the natural daylighting in your home while not letting the air in – choosing a picture window would be a great option for you.
These windows are also known to be extremely energy-efficient since the shutter remains closed at all times and there is least activity around the frames that leads to little or no heat exchange and leakage between the outdoors and indoors.
In the long run, these windows also help in saving bucks by practically cutting down on the running energy costs of the building.
Picture Window Options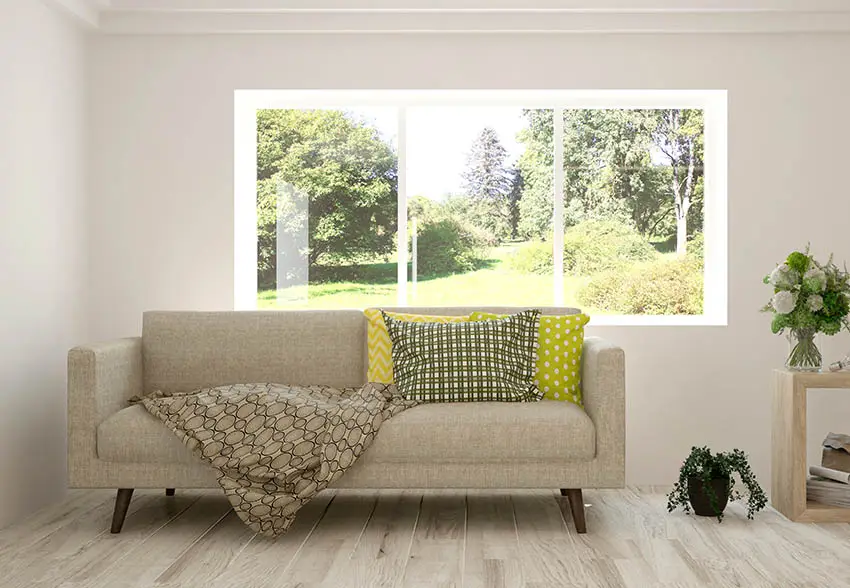 There is a wide array of picture window options to choose from. You could either use a sole window shutter or simply integrate a picture window with several operable and fixed windows – depending on the style and function of the space.
For example, during the renovation of an older building, you can replace the older windows with new, modernized picture windows.
In some cases, homeowners like to incorporate several types of fixed and operable windows on the edges of the picture window to get the best of both worlds.
However, when choosing a picture window for your home, it is important to consider the size, shape, and the materials of the window. You can also find ample colors and styles to choose from.
First and foremost, glass is one of the most essential materials in a picture window. Choosing from single, double, or triple-paned windows that could either be low-E or argon-filled, depending on the energy-efficiency can very well help figure out the requirements.
Another point to note is the framing of the window. Depending on the external or the internal application of the window widths, there are various types to choose from the catalog.
However, make sure that the more you customize the window, the more expensive it can cost. Now, let's discuss a few picture window options that you could choose from.
Picture Window with Side Windows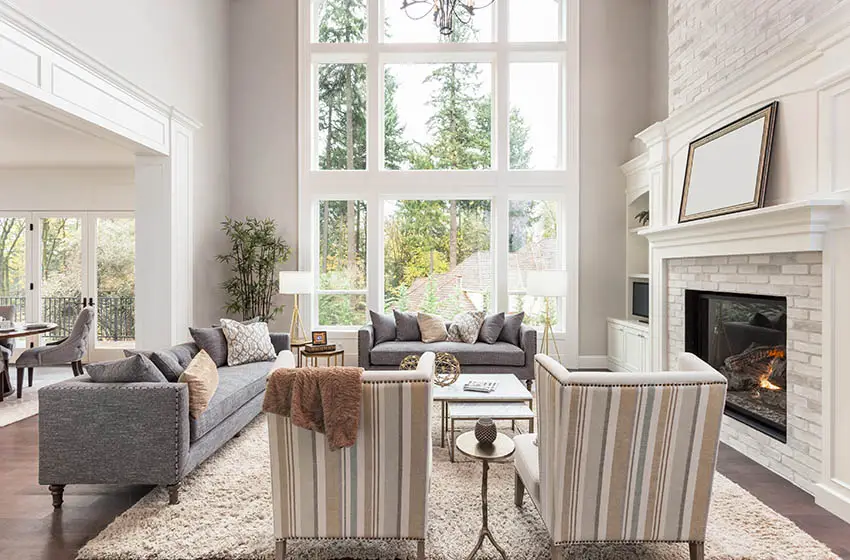 One of the most functional ways to incorporate a picture window is by combining it with few other windows.
Picture windows can be beautifully combined with either a few other fixed windows or some operable windows that generally surround the main picture window.
You can place some double-hung windows or a traditional window to achieve both the functions – ventilation as well as aesthetics.
One of the most common ways to incorporate the window is through placing a large picture window in the center surrounded by various other smaller-sized windows.
Also, this is one of the most common ways of using the picture window by the homeowners across the world.
Picture Windows That Open
In some cases, you are quite likely to have a picture window that can be easily operated.
So, if you are looking to let the fresh air in while still maintaining the privacy and preserving remarkable views of the outdoors – it is best suited to choose an operable picture window.
Even though it is comparatively difficult to find this window, you can still customize it according to your needs.
Picture Window with Grids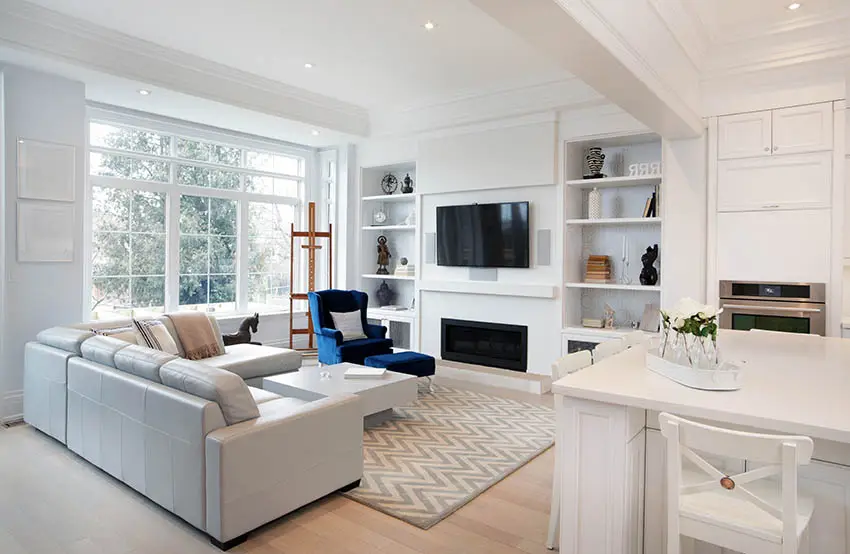 A picture window with grids appears more traditional and transitional in homes. So, if the interior design style in your home allows that typical style, choosing a picture window with grids would be one of the best possible options.
For this particular style, a large, framed picture window is equipped with grid panes on both the sides.
However, in this window type, a material for the frame needs to be considered – whether you choose from wood and metal or a composite one.
Moreover, the shape and size can largely vary depending on the function and size of your room.
Custom Picture Windows
One of the most expensive options, customized picture windows largely depends on your personal preference for the room.
If your room is humongous and large, it is better to purchase a customized option that works cohesively with your room. Else, in the case of very small rooms, you can size down your picture window to help it fit into the wall.
Additionally, you can also customize the window on the basis of functionality – just in case, if you prefer to let in some fresh air – you can order a customized picture window that is equipped with operable windows on both sides.
Custom picture windows are mainly ruled by unique requirements such as shape, sizes, colors, and specific materials. So, it is quite common to make a custom window purchase for your home keeping in mind the personal preference and interior design style.
Picture Window Sizes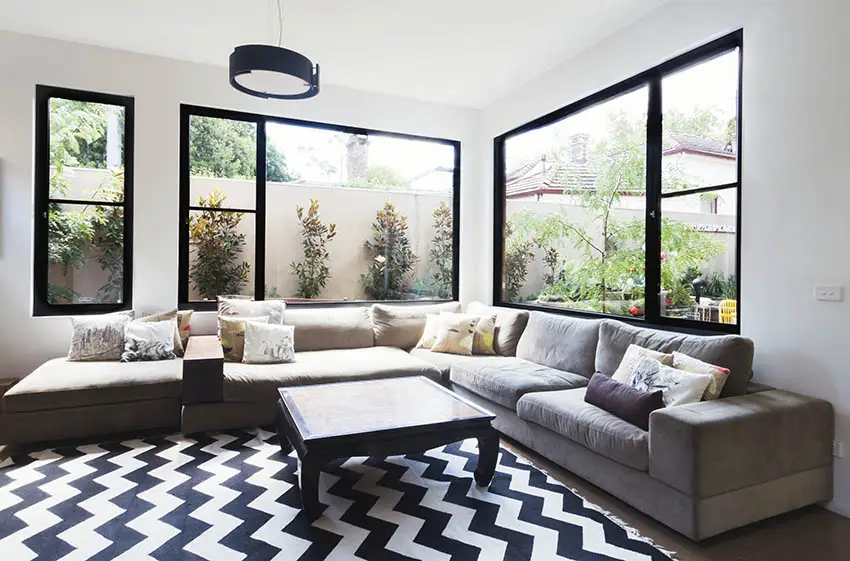 Picture windows come in a variety of shapes and sizes. Depending on the exterior look you are aiming to achieve, whether it is modern, contemporary, or traditional – it is important to consider the sizes of your window to best make use of aesthetics and functionality.
A picture window could be as tiny as the size of a small window or as huge to clad a double-heighted space in your home.
Also depending upon the shapes – you are quite likely to choose from a square or a rectangular picture window. In some cases, a round window is possible too. Let's discuss the standard window sizes in particular.
Small Picture Window
As the name suggests, a small picture window mainly is a good fit for smaller areas and rooms with shorter heights.
A small window in general can vary in size from 2 feet to 3 feet in height and width. Thus, this nominal size is a great fit to be used in bathrooms (with tinted glass), smaller bedrooms, laundry rooms, and kitchens. These windows are comparatively lesser expensive than larger-sized windows.
Large Picture Window
On the other hand, a large picture window varies in size from about 4 or 5 feet to 8 or 9 feet in width and height.
These picture windows are generally used in homes with double-heighted living and family rooms, in some cases, it is used to add a feeling of grandeur in the foyers.
Mainly highlighting a modern design style, these windows are comparatively way more expensive as compared to the small-sized picture windows.
Also, depending on the frame finish, various glass typologies can be used (double or triple-paned in highly recommended). These windows are without a doubt more aesthetically appealing.
Picture Window Replacement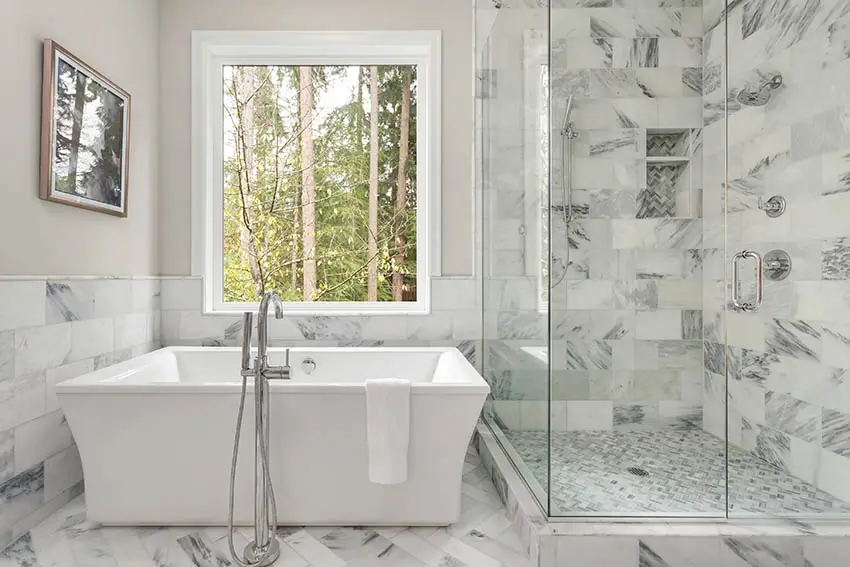 Are you bored of the traditional style window in your home? Do you crave a modern look on the exteriors of your home? Well, you can absolutely replace those old-fashioned windows with new picture windows.
When replacing the existing windows, it is important to note that the frame is meant to remain untouched while the shutter and the glass (or specific materials) of the windows are updated. However, in the case of very old buildings, these frames are updated as well.
Another note to keep in mind is that you must carefully measure the sizes of the rough openings of the windows so as to avoid any confusion later.
When hiring a contractor to replace a picture window, the time it takes varies from about 45 minutes to one hour per window. Windows on the ground floor are easier to install and can take less time.
What Can I Use to Replace a Picture Window?
A replacement window is used to update the existing windows. In the case of a new installed window, a nailing fin is used to secure the rim through the rough opening of the wall.
However, in a picture replacement window, this nailing fin is missing. A metal fastener is used that runs through the window assembly and secured to the existing window frame – thus, making it much easier to install the replaced picture window.
Depending on the requirement – the sash of the window is updated whether it is wood, glass, or metal.
Picture Window Cost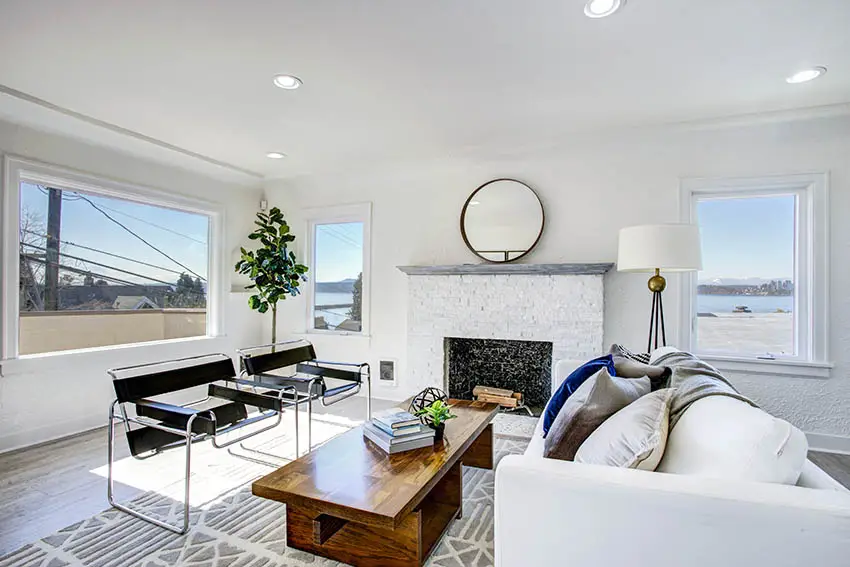 Before choosing a window for a home, it is important to consider the costs incurred along with it.
Depending upon the size, shape, location, and the material of the picture window – the price may vary big scale.
Let's break down the costs to analyze the overall window prices. Picture windows in general may cost from $245 to $850 depending on the size.
Some of the incurred major costs are material costs and installation costs. However, on the bigger picture, these windows are considered to be expensive.
Large Picture Window Price
It is a given that large picture windows are comparatively more expensive than small picture windows.
On an average, a 6 by 4 feet picture window with a wooden frame and energy efficiency glass costs around $500 to $1,200 with an attached additional fee for the installation ($1,000 is the national average).
Whereas a vinyl window with plain glass and a standard frame will cost around $400 for the installation.
Costs for a small 2-feet wide picture window costs around $50 whereas a 4-feet window cost starts from $100.
On the other hand, a window 6 to 8-feet costs varies between $500 to $600 which apparently increases due to the heavyweight of the glass and the size of the material frame.
Are Picture Windows Cheaper than Double Hung?
A picture window is comparatively cheaper than a casement or double-hung windows. A glass and frame are to note when considering the prices of the windows.
First and foremost, fixed windows are maintenance-free and have good air, water, and moisture tightness. Thus, it requires lesser fixtures and materials in these windows – thus, saving money.
On the other hand, the installation costs of the picture windows are way lesser than that of the double-hung windows.
Secondly, in the long run, the double-hung windows require some maintenance every couple of years – which later keep adding to the overall costs of the window.
What is the Difference Between a Picture and Fixed Window?
The main difference between the picture and fixed window type is the frame size. A picture window is comparatively larger in size and are constructed cohesively with the surrounding window types.
These windows tend to exhibit a more contemporary and modern look, whereas on the other hand, a fixed window is usually smaller in size and comes in various materials that may or may not align with the surrounding theme of the room.
A fixed window is not specific to a certain interior design style – rather can deviate towards any.
What's the Difference Between a Casement Window and a Picture Window?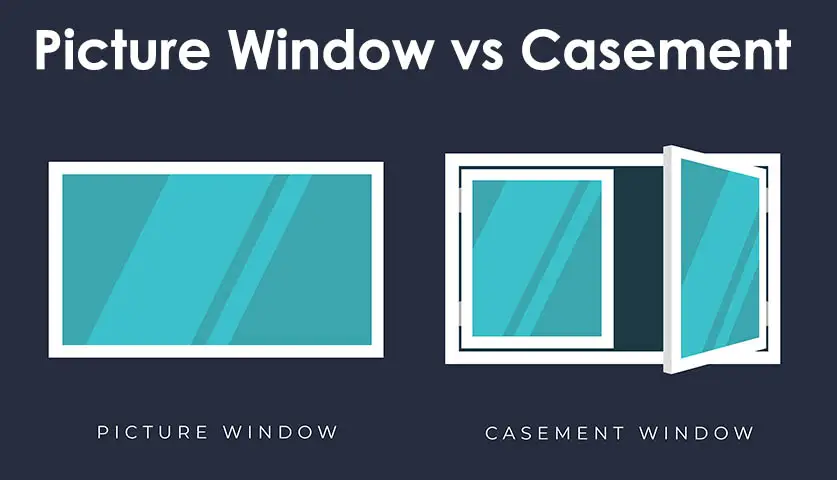 Just like a big picture frame, a picture window offers unobstructed views of the surrounding landscape. It is an ideal window type to let in ample daylighting while controlling the ventilation in case of extreme climates.
A picture window has tight seals around the frames – hence, it is great for insulation and weather and waterproofing. On the other hand, a casement window is a great option if the homeowner is looking to let in ample fresh air and maintain operability through the windows.
A casement window can be easily closed and opened (since it is hinged), so if you have great panoramic views and you want to welcome light and air – a casement window would be a great option.
However, if you are looking for an energy-efficient option – these casement windows might not be an ideal option for you.
Additionally, a casement window might cost more as compared to a fixed and picture window. So, it is important to consider the costs before choosing the window typology.
When talking about cutting down the energy bills, choosing a picture window is better than a casement window since it ends up leaking air to the exteriors.
So, are you planning to use this window in homes? Do let us know your thoughts in the comments below.