In this gutter sizes guide you'll standard gutter sizes dimensions, downspout sizes and how to size gutters and install downspouts.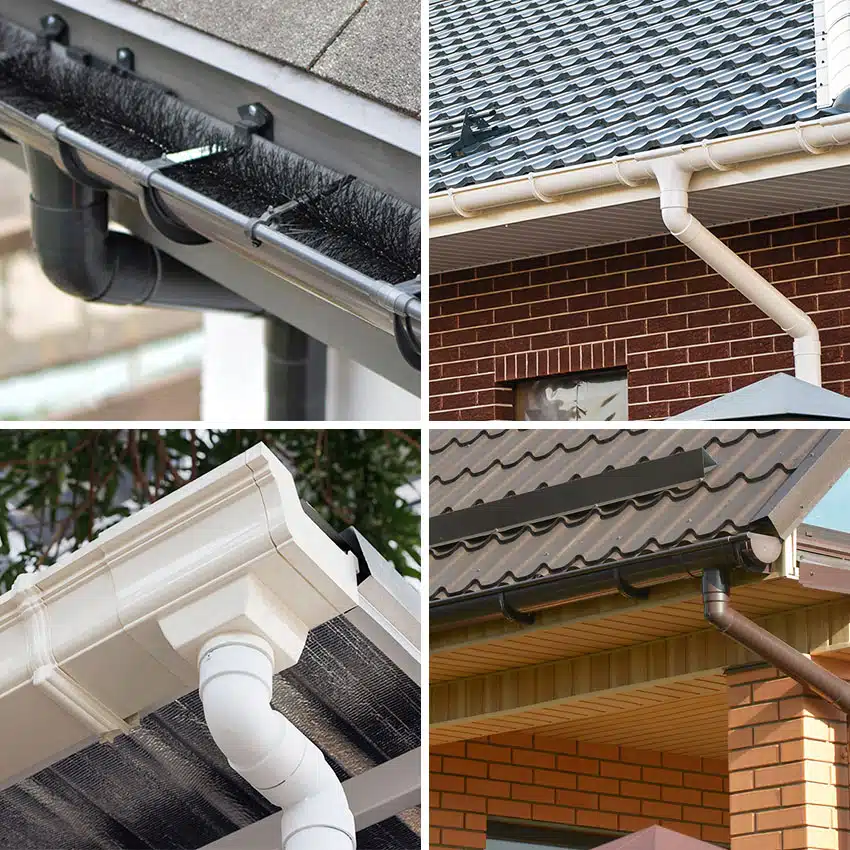 Gutters are an essential component of any roofing system. It directs rainwater and other precipitation away from the building's foundation and protects the structure from water damage. With this in mind, one can see why properly sized gutters are crucial for ensuring they function and flow effectively and efficiently.
The sizes of gutters can vary depending on several factors, including the amount of rainfall in a particular region, the size of the roof, and the roof slope. Typically, gutters come in various sizes, with the most common being 5-inch and 6-inch widths, and length and depth will vary to cater to different needs.
Standard Gutter Dimensions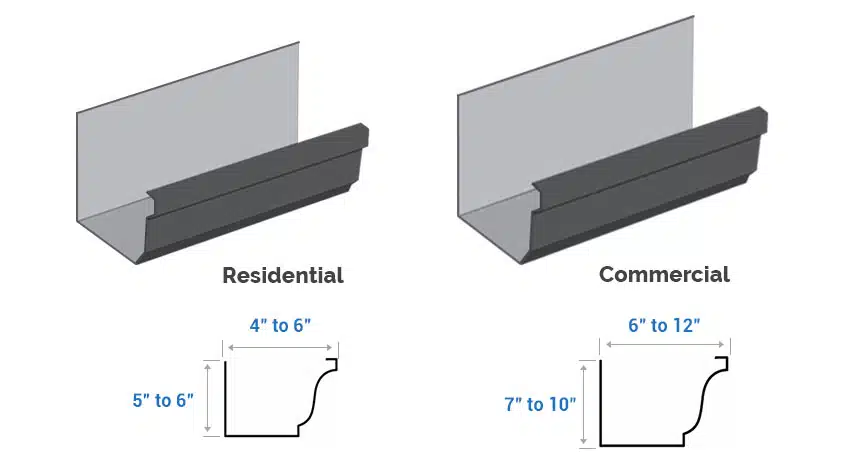 The sizing of gutter systems may vary depending on several factors, including the size and slope of the roof, the climate, and local building codes. Still, there is a gutter and downspout standard size that many builders and homeowners consult with to gauge what will be needed for a particular home.
The standard gutter dimensions for residential buildings range from 4 to 6 inches or around 10 to 15 centimeters in width and 5 to 6 inches or 13 to 15 centimeters in depth.
In comparison, the standard gutter dimensions for commercial buildings range from 6 to 12 inches or about 15 to 30 centimeters in width and 7 to 10 inches or 18 to 25 centimeters in depth.
Residential gutters are typically smaller than commercial gutters and are designed to fit most homes' roofing systems, which are generally smaller than most commercial spaces.
4 Inch Gutter Dimensions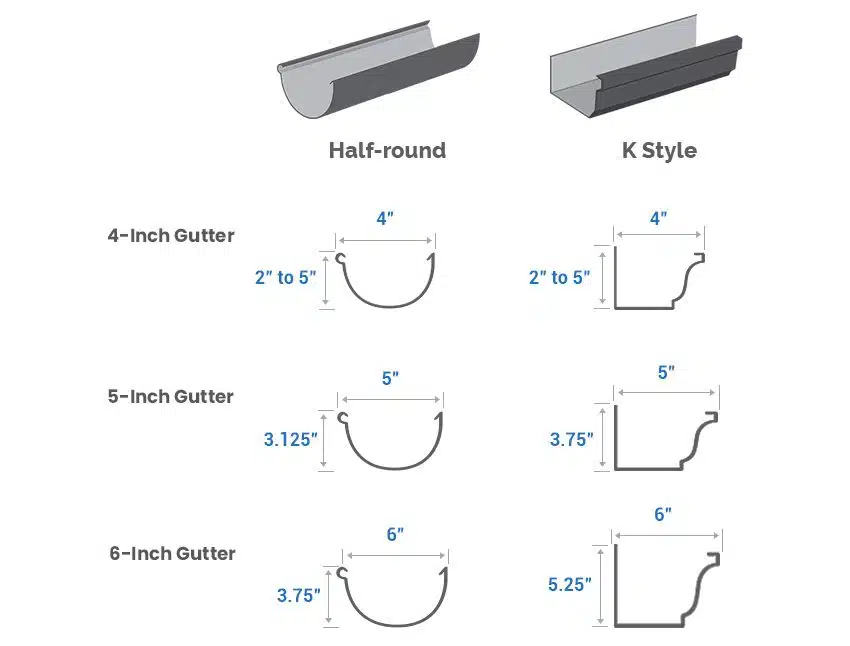 Gutters are essential to any roofing system, as they help channel water away from a home or commercial building's foundation and prevent water damage. If homeowners are looking for the right gutter size for their home, a 4 inches or 10 centimeters gutter is a standard and effective option.
It's important to understand that the dimensions of 4 inches gutters refer to the width of the opening at the top of the drain. Specifically, a 4-inch rain gutter has an opening width of 4 inches or around 10 centimeters.
The height and depth of the gutter can vary depending on the manufacturer and the specific model of what the homeowners need. Still, a typical 4-inch gutter will be around 2 to 3 inches or 5 to 8 centimeters in height and 3 to 4 inches or 8 to 10 centimeters in depth.
5 Inch Gutter Dimensions
The first of the two standard gutter sizes is the 5 inches or 13-centimeter gutter. The 5-inch gutters are the best for areas with easier weather conditions or drier areas. Most of the time, the best option is 5-inch half-round gutters.
Half-round 5 inches or 13-centimeter gutter will have a height of 3.125 inches or 7.938 centimeters. In contrast, K Style gutters that are 5 inches in width will have a gutter size of 3.75 inches or around 10 centimeters. Although a 5-inch gutter will work efficiently, options like the roof size or the weather condition in the area should be considered.
6 Inch Gutter Dimensions
The other standard size is the 6 inches gutter, whether the homeowners are looking to get a half-round or a K Style gutter installation.
A 6 inches half-round gutter will have 3.75 inches or around 10 centimeters of height, while K Style 6 inches gutter will have a height of approximately 5.25 inches or 13 centimeters. Depths for a K Style 6 inches gutter are more or less 4 inches or 10 centimeters.
K Style Gutter Dimensions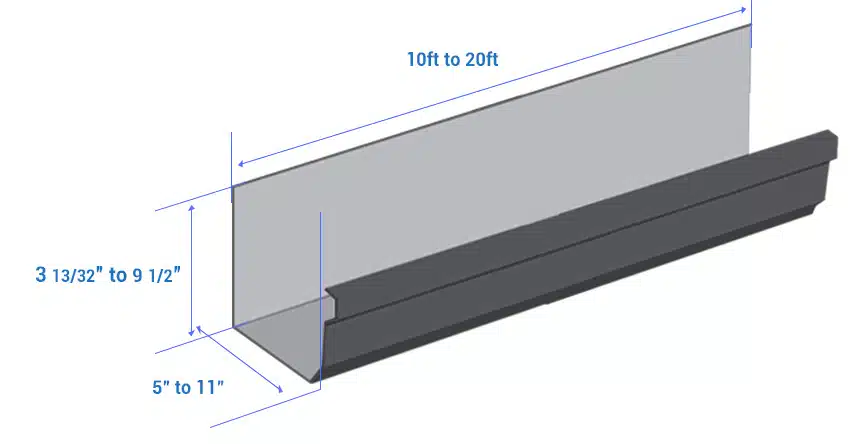 Whether used for residential or commercial purposes, one of the most popular styles of gutter is the K Style gutter. They are made from different materials and have features and accessories unique to each other depending on where it is bought. The length of many K Style gutters will range from 10 to 20 feet or around 120 to 240 inches.
Widths for this gutter style will vary from the standard 5 inches, or about 13 centimeters, to the broader 11 inches, or approximately 28 centimeters. Most will have a depth ranging from 3 13/32 to 9 1/2 inches or around 9 to 24 centimeters.
Standard Downspout Sizes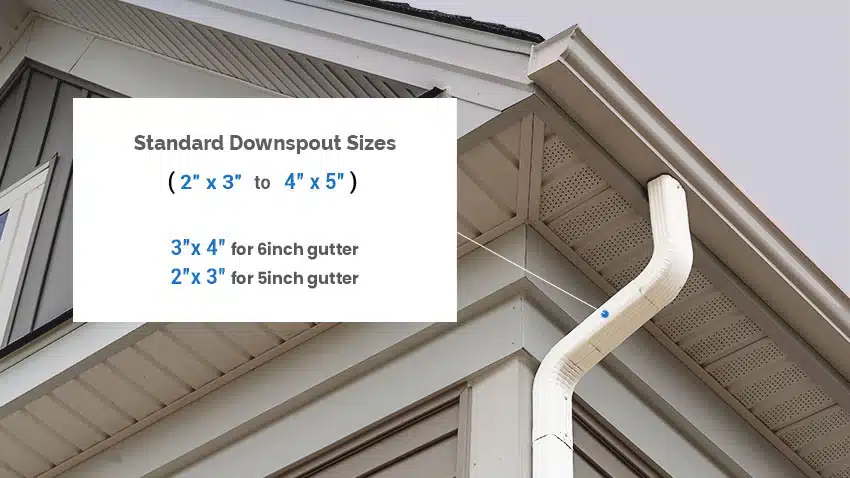 Downspouts are essential for residential homes gutter systems, and many factors will affect what the right size will be, from the roof size to the gutter volume to the level of rainfall an area receives every season. Downspouts start with the size of 2 by 3 inches or 5 by 8 centimeters to 3 by 4 inches or 8 by 10 centimeters.
Sometimes these downspout sizes are matched together. For a standard 6 inches gutter, the best downspout for this is the 3 by 4 inches or 8 by 10 centimeters downspout. In contrast, a 5 inches or 13 centimeters gutter will require a 2 by 3 inches or 5 by 8 centimeters downspout.
How To Size Gutters and Downspouts
The widths of most new gutters are standard, but if a home is looking to get a whole new gutter system, it's essential to do a little measuring to see what gutter size will be the best fit.
The foremost thing to do is to determine the roof's square footage. One can do that by calculating the measure of both lengths and widths of every roof area and then multiplying both to get the square footage of the roof system. After that, adding both numbers will yield the total square footage.
The second part is getting the pitch of the roof, which involves measuring the space from the top end touching the roofing to the bottom of the level. Read more about how to calculate roof pitch here.
Once this is done, the third step will require multiplying the roof's square footage by the roof pitch. Once that is determined, the product will determine the gutter measurement homeowners need for their houses.
A properly sized system of gutters and downspouts, in good working condition, constitutes preventive maintenance. -Albert Jackson, David Day, Popular Mechanics Complete Home How-to
Should You Use 5 or 6-inch Gutters?
Now that sizes are discussed, the question of whether to get a 5-inch or 6 inches gutter still remains. Since both of these sizes are the standard gutter sizes for many homes, they are the first gutter option that most homeowners and builders look at to gauge what the house would need.
The best option if the homeowners have an extensive and long roof is to get the 6 inches or 15 centimeters gutter top installed. Because of the extra inch, this is more likely to support the weight of flowing water effectively. This is also the better choice if trees surround the home or the homeowners live in a place with more heavy rainfall than usual.
For homes that are not too big or for home locations that are not in a rainy or tree-filled area, the best gutter size to get is 5 inches or around 13 centimeters.
Are Wide Gutters Better?
Some homeowners will think that the bigger the gutter for their home, the better, but is that the case? What are the benefits of getting oversized gutters?
The first benefit is efficient drainage. In essence, a gutter that is 6 inches compared to the smaller 4 or 5 inches ones will drain more water which can avoid standing water or clogging pipes.
Although it has more space, regular maintenance and cleaning of the gutter guards is still expected to keep things running smoothly.
The second benefit of a wider gutter is that it will protect from water damage. This is partly because more water is removed from the roof, and little water will drop into the soil or land.
The last is the benefit concerning how a wider gutter will work better with more complex gutter systems, preventing clogging and effectively doing drainage work.
Another alternative to the size of the gutters and downspouts is installing extra downspouts. This can be useful if the gutters are overflowing. Consult with a contractor to get professional help when dealing with flooding and to avoid potential problems with water damage.
See more related content in our article about the types of gutter guards here.