This comparison of foam back vs cork back vinyl flooring shares the differences in their design, uses, benefits, durability, and which is the better option.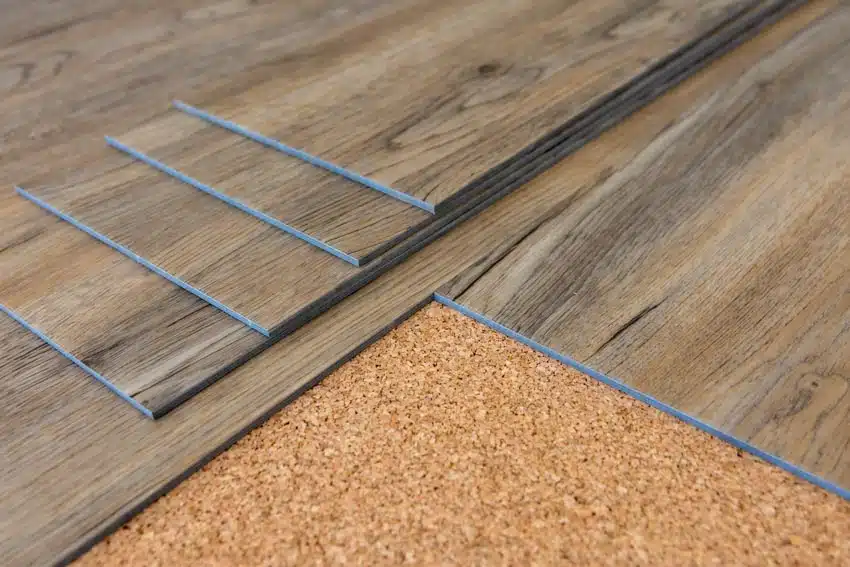 Renovating your home is one of the most rewarding yet exhausting projects you can undertake. And we are sure that you will agree that updating your floors can make a huge impact on the overall appearance and ambiance of your house.
Indeed, if you are going to ask different homeowners as well as interior designers what would be the most practical and cost-effective type of flooring, they'd probably say vinyl floors.
Making the right flooring choice is only one of the many difficult choices that come with this endeavor. Although there are various practical flooring options, it may be reasonable to say that it primarily comes down to two vinyl options: foam-back vs cork-back vinyl flooring.
To give you a brief overview, foam-back vinyl floors are recognized for their substantial softness and comfortable underfoot. They are largely preferred by homeowners who are on a tight budget.
However, for those homeowners who want a more eco-friendly flooring option and excellent noise reduction, cork-back vinyl floors may be a more appropriate option. Well, to help you make the right decision, we'll give you accurate information as well as professional recommendations about the use of foam-back and cork-back vinyl flooring.
What Is Foam Back Vinyl Floor?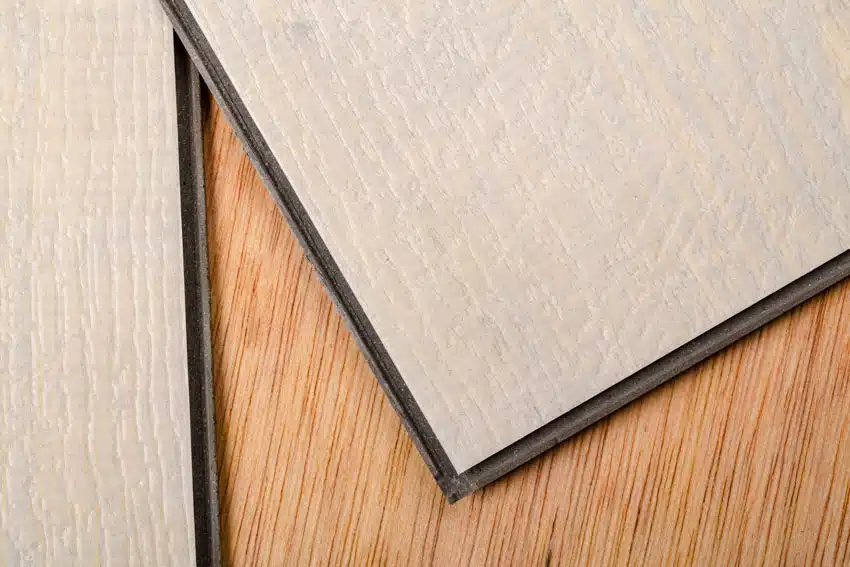 Foam-back vinyl floors have a slightly thick layer on their back that is made out of foam, and it primarily functions as a comfortable cushion to provide a soft underfoot.
This foam layer not only provides sufficient comfort but also decent noise reduction, henceforth making it a wise option for homes with very active children and noisy pets.
What makes foam-back vinyl floors extra appealing is that it is on the cheaper side. We also think that this vinyl flooring option is very easily accessible in a vast array of patterns, styles, colors, and designs.
Hence, it is always effortless to find the ones that our clients will like, and it is easy to find the option that matches the existing decor of the home we are designing.
Furthermore, foam-backed vinyl floors are popular because of their exceptional shock absorption. Whether you're young or old, you'll appreciate the gentle landings that this flooring provides for your joints.
These vinyl floors can, in fact, substantially decrease the adverse effects of falls. We've learned that parents with small children appreciate foam-back vinyl floors, especially when their children are still learning how to walk.
Minimal maintenance and ease of cleaning are also the perks of installing foam-back vinyl floors, making them popular among homeowners who have very busy schedules. The top vinyl surface is moisture- and stain-resistant, and wiping it with just a damp cloth can conveniently make it clean already.
Aside from that, unlike ceramic, porcelain, or stone types of floor tiles, these foam-back vinyl floors are extremely easier to install – they can even be performed as a DIY project, according to FlooringInc.

As interior designers, we tend to pick foam-back vinyl floors in bedrooms with irregular shapes since these floor materials are very easy to cut, customize, and lay.

What Is Cork Back Vinyl Floor?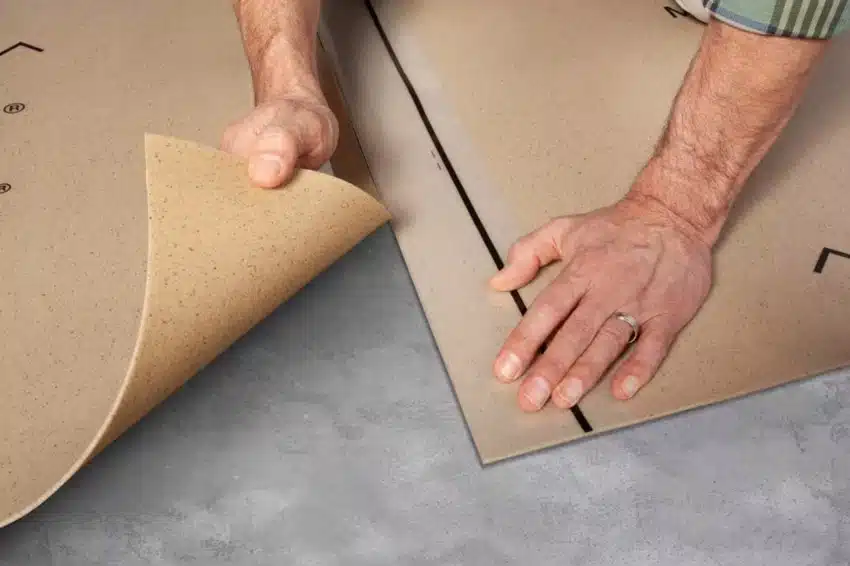 See this cork back vinyl flooring at Home Depot [sponsored link]
Cork-back vinyl floors, the same as the foam-back ones, are both under the vinyl category. However, they mainly differ in terms of the base material used.
Cork-back vinyl floors, as the name implies, primarily use cork layering on their back/bottom side. In terms of durability, longevity, and comfort, most interior designers and homeowners believe that this vinyl option is far better than the foam-back vinyl floors.
Cork-back vinyl flooring is composed of a vinyl-based top surface, thus it is a very durable and waterproof flooring material. The base material, which is the cork layering, greatly helps in providing a significant level of padding that enhances the flooring material's comfort and noise-reducing properties.
Moreover, since cork-back vinyl floors are moisture-resistant, they can be installed even in damp areas and become viable options for washrooms, laundry rooms, and those in need of waterproof kitchen flooring ideas.
Plus, just like the foam-back version, cork-back vinyl floors are also available in a broad range of colors, styles, and patterns. Therefore, it would be very easy to find one that will complement your existing home decor.
The edge of this vinyl flooring option against the foam-back version is its sustainability and eco-friendliness. As we know, cork is sourced from the cork oak tree's bark, which implies that it is a renewable supply.
If you are worried that trees are harmed during the production of cork, keep in mind that the harvesting procedure is harmless. The bark of a cork oak tree continuously grows.
If you are a DIYer, whether an experienced or inexperienced one, there will be no problems installing cork-back vinyl floors as they can be easily glued or clicked together. A popular brand of cork backed vinyl is Nucore that Diane Heckler reviewed here.
Comparison Of Foam Back Vs Cork Back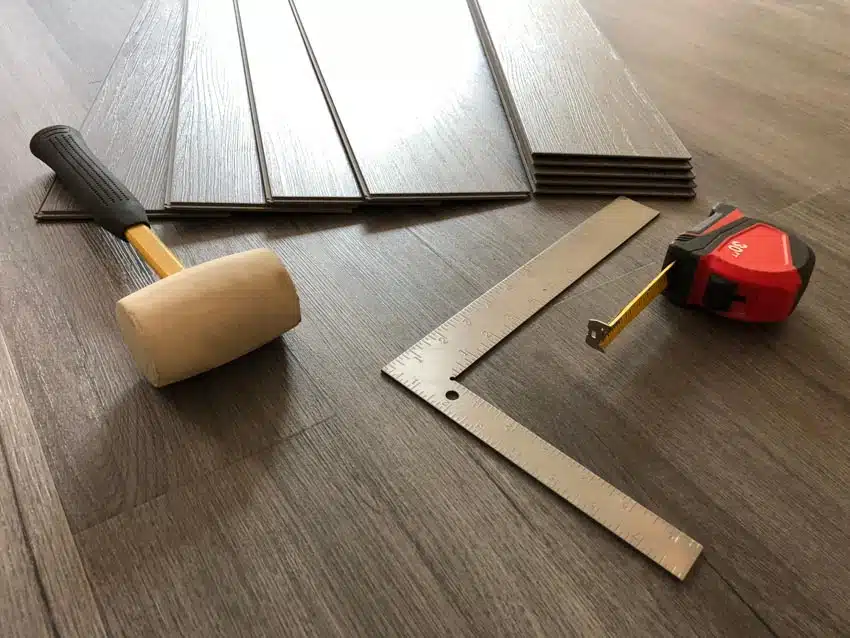 We often receive questions about the primary differences between these vinyl flooring options when it comes to several factors. To give you a much clearer idea about the comparison of foam-back and cork-back vinyl floors, read the details we have provided below.
Comfort: Foam-back vinyl flooring is very well-known for the highly soft underfoot it provides to every home interior. Hence, this vinyl flooring option is regarded as a perfect option for homes with youngsters and older people.
Plus, standing on this flooring for extended durations won't be an issue as the foam layering will certainly provide adequate comfort, preventing you from getting foot fatigue.
On the other hand, cork-back vinyl floors also provide comfortable underfoot since cork is a soft flooring material that tends to bounce back. However, it does not have that plush feeling that foam-back vinyl floors give. The absence of foam in cork-back vinyl floors slightly affects its level of comfort.
Sound Absorption: Cork-back vinyl flooring has better noise-reducing properties in comparison to its foam-back version.
Appearance: Both foam-back and cork-back vinyl flooring are available in a vast array of designs, colors, patterns, and shapes. Hence, both vinyl flooring options are sure to complement every home decor.
However, if you want to achieve a slightly more natural feel, you might want to pick cork-back vinyl floors as they are partly made out of natural materials, giving that rustic and natural vibe.
Longevity: In terms of longevity, we must say that both of these vinyl flooring options can last for many years.
However, cork-back vinyl floors are generally more long-lasting since their base material is made of natural cork, which is sourced out of cork oak wood. Over time, the foam layer of foam-back cork wood may gradually get thin, especially in high-traffic areas.
Maintenance: Both foam-back and cork-back vinyl floors are considered low maintenance. Their top surfaces can be easily wiped clean using a damp cloth and mild soap.
Although their top surfaces are moisture-resistant, keep in mind that the bottom layers might be badly affected if they are constantly in contact with water.
Therefore, we suggest you prevent installing them in rooms where persistent contact with water or moisture is present such as shower rooms. Installing these vinyl floors in slightly damp rooms, such as washroom and laundry room flooring, would be fine.
Cost: Foam-back vinyl flooring wins the contest against cork-back ones when it comes to their cost. Indeed, the foam-back version is generally more affordable, henceforth it is a more ideal option for homeowners on a limited budget.
Nevertheless, although cork-back vinyl floors are slightly on the more pricey side, many homeowners still pick them because of their eco-friendliness, which makes them worth the extra cost.
Cork Back Vs Foam Back Durability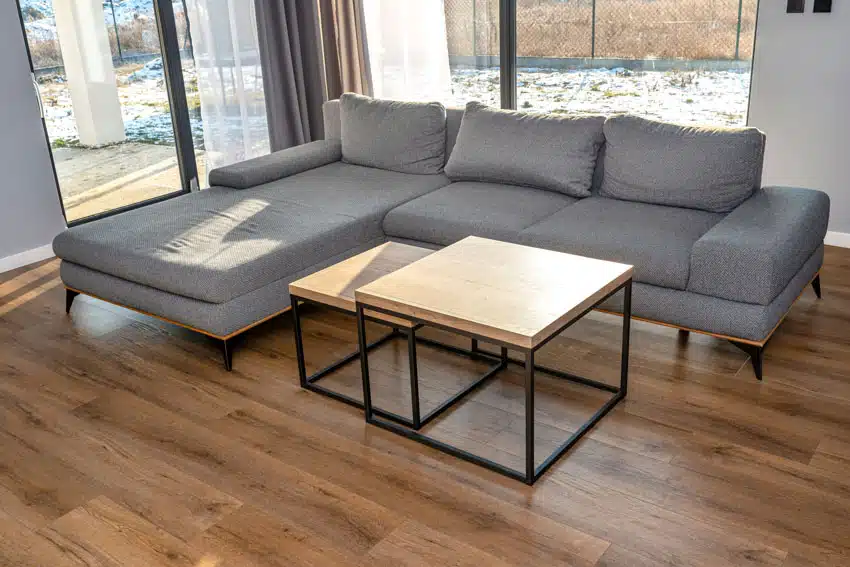 In terms of the durability of these vinyl flooring options, we believe that they are somehow even. Both of their top surfaces are resistant to dents, scratches, and moisture, which makes them ideal for busy areas.
However, since foam-back vinyl floors are on the cheaper side, replacing them once they get damaged may be far easier as you will not be required to spend so much money on the replacement. And since cork-back vinyl floors are more expensive, replacing them will cost you more money.
Meanwhile, as experienced interior designers, we have observed that some of the foam backings of the foam-back vinyl floors gradually get thin over time. But, since cork is a slightly hard material, it will not get thin over time, which also means that it can withstand heavier foot traffic.
What Is Better: Foam Back Or Cork Back?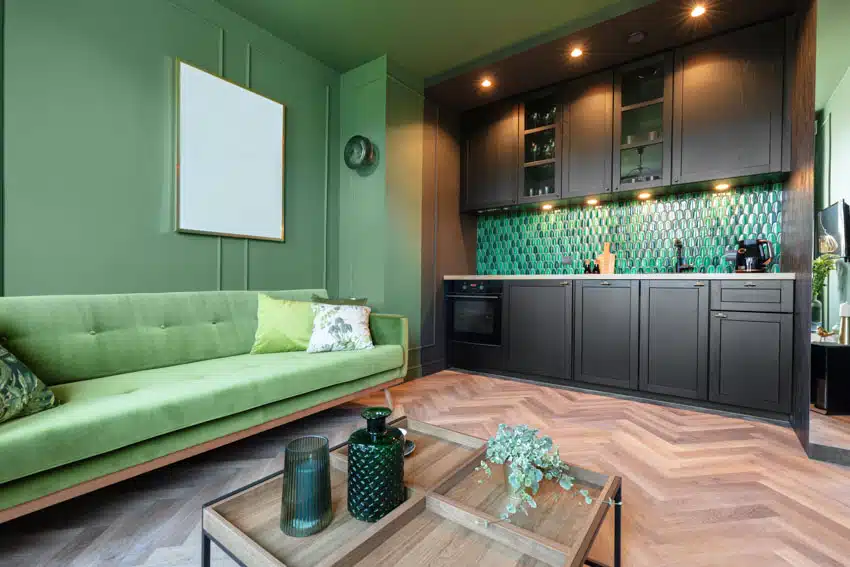 This question may be hard to answer as homeowners and interior designers have their own sets of preferences, requirements, ideas, and budget-related reasons. Nevertheless, we will give you a summary.
In terms of cost and comfort, foam-back vinyl flooring would be the better option. But in terms of longevity, sound absorption, and eco-friendliness, cork-back vinyl flooring is better. But again, the final decision will still depend on your needs, preferences, and budget.
Which is Better On Concrete?
The answer to this question depends on your goal. For instance, if you want to achieve a softer and more comfortable underfoot in your concrete-surfaced interiors, foam-back vinyl floors might be the better pick.
But if you care more about noise reduction and endurance to heavy foot traffic, the cork-back version might be the better pick. However, in terms of adherence to concrete, both cork- and foam-backed vinyl floors work excellently.
See more related content in our article about stone look vinyl flooring on this page.