Here's our guide to laundry room flooring including the popular types of flooring such as vinyl, tile, concrete, laminate and engineered wood for your laundry room design.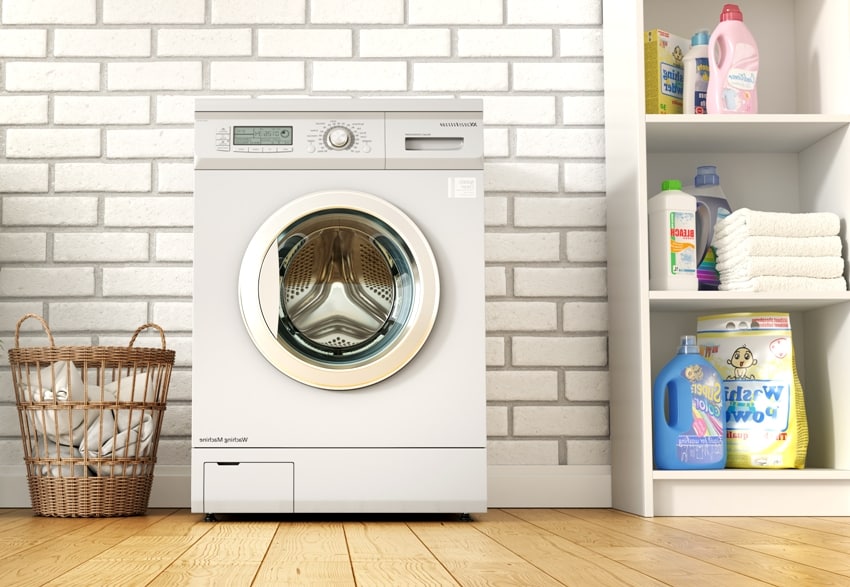 While the flooring one chooses for the laundry room should be attractive and durable. The laundry room is an essential part of the home that you will frequently use. This is why it makes sense that the flooring you select can handle high use and is resistant to moisture.
Types Of Laundry Room Flooring
Here are some of the most popular flooring materials for your laundry room.
Vinyl Flooring

There are two types of vinyl flooring to choose from: sheet vinyl or luxury vinyl. Let's start with the first one.
Sheet Vinyl Flooring
If what you're looking for is the best single sheet material that's absolutely moisture-proof for your laundry room area, then you should definitely take a look at sheet vinyl flooring. Measurements can be a bit limited though as it cannot work well with laundry rooms with excessive space.
Sheet vinyl flooring will only work for laundry rooms that span an area of 12 feet or less as they come in rolls measuring at 12 feet.
It is best to use this with a thermoplastic rubber wall base to maximize its lifespan. It's extremely waterproof and doesn't have any seams.
The only downsides to this is that it doesn't contribute much to the aesthetics as its appearance can be quite plain and it can be difficult or even impractical to install in laundry areas that have large spaces.
Luxury Vinyl Flooring
This material is made out of planks that are usually 48 inches long. Remarkably, they can resemble real wood from a distance and that's part of its appeal. It has a 7mm thickness and has a very solid and rigid core.
It would be even fair to say that it resembles laminate flooring more than actual vinyl. These boards are perfect if you're the type who would opt to DIY your laundry room flooring. You just need to pay extra attention to seaming the boards tightly on all sides to ensure that it stays waterproof.
It is 100 percent waterproof so it's perfect for the laundry area. It is also quite inexpensive so if you're remodeling on a budget, then this will work best for you. Also, it can be quite easy to install as you would only need high grade adhesives or rubber cement, even.
The only downsides to luxury vinyl flooring is that it's a seamed material so you still run the risk of having water leak through and its core is rigid so you run the risk of breaking or cracking it. Read more about vinyl flooring in bathroom pros and cons here.
Tile Flooring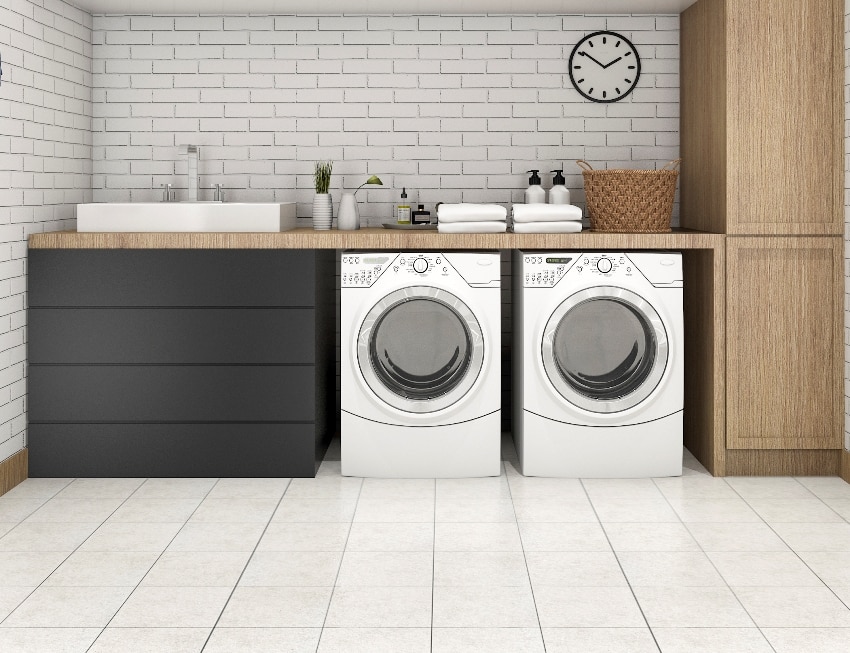 You can go for ceramic or porcelain tiles as tiling options for your laundry room. They're classic materials to use because they're easy to clean, they're durable, and more importantly, if installed properly, they can be waterproof as well. See ceramic tile flooring pros and cons here.
Granted, there may be times wherein the tiles can be hard to stand on especially during the cold months but this can easily be remedied with radiant heating. Tiles come in a wide range of sizes and design options so your only limit would be your creativity.
They're easy to clean and there's no danger of getting them damaged if you scrub them hard so they're perfect for any spills or stains in the laundry room.
The only downside to tiles is that they need to be installed professionally because they require solid substrates and novice applications might be prone to water leakage as well as uneven surfaces.
Concrete Flooring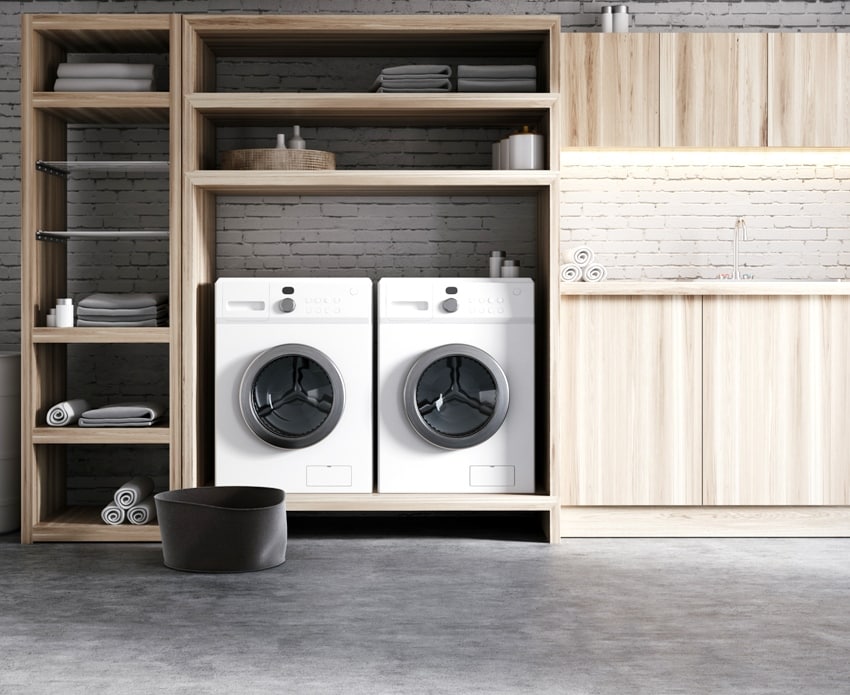 Technically speaking, by default, all homes come with basic concrete flooring. If you don't want to spend much or add on to what you already have, there are plenty of ways to stick with it and do slight upgrades with either staining, painting, or acid etching.
If you want to add in a little bit of warmth for your feet, you can definitely lay on a thick rug to soften the look a little bit.
Concrete flooring is durable and technically speaking, it's quite easy to clean and is waterproof by default. However, it can be very cold to the feet and without add-ons, can be unattractive.
Laminate Flooring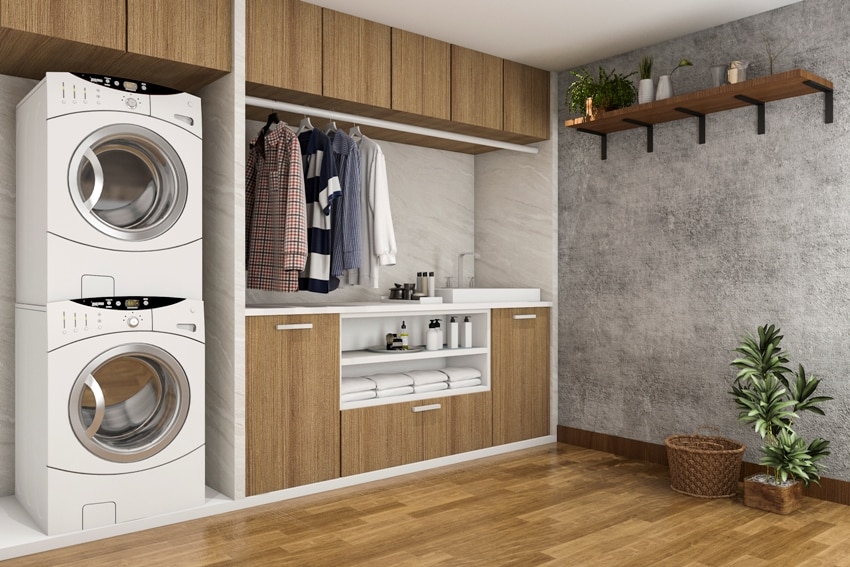 Laminate flooring has been every DIYer's go-to material for decades and with good reason. It's economical and fairly easy to install and even maintain.
Although it can be used in the laundry room, it's good to make a mental note that this type of flooring runs the risk of getting damaged during flooding or when pools of water might stay on the floor.
If you're planning to use this for your laundry room flooring, always make sure that you tightly seam it and as an extra precaution, keep an extra pan that will serve as a catch-basin under the washing machine.
One downside to be aware of is that laminates can delaminate over time and you will need to replace every once in a while.
Engineered Wood Flooring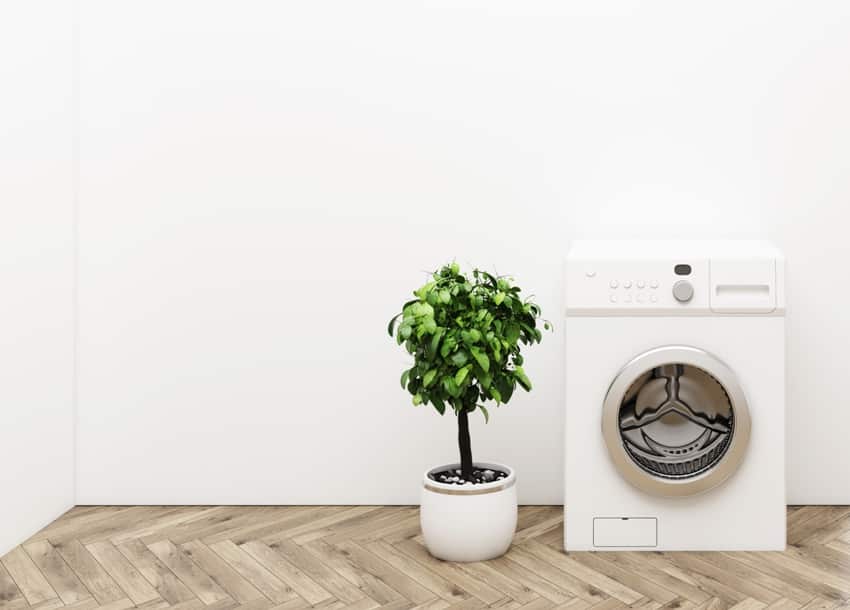 It can be a bit on the expensive side but engineered wood flooring is a great option to go for if you want to bring in the aesthetics of real wood without the difficulties that come along with it. It's a dimensionally stable type of plywood and can withstand moisture better than natural wood.
The only downside to this is that it can be quite expensive and can delaminate if exposed to water and laundry chemicals over time.
Best Flooring For Laundry Room
Generally, the best flooring for a laundry room is considered to be sheet vinyl flooring due to its waterproof nature, cost and durability.
However, there really is no so-called best option for your laundry room flooring because in the end, it will all depend on your budget, priorities, and preferences as well.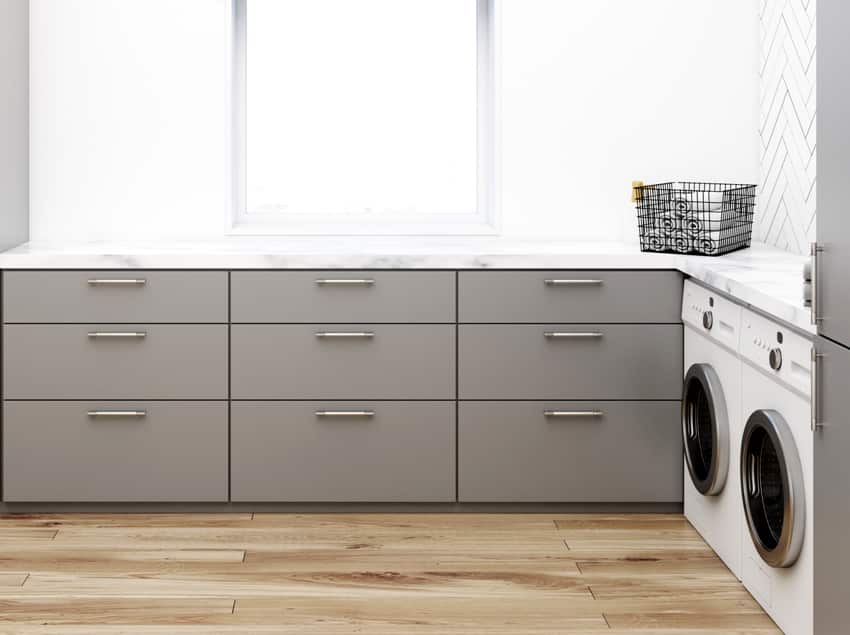 One thing that you need to keep in mind though despite all of these considerations is that it always needs to be leak-proof as much as possible.
Some of the hardiest flooring materials mentioned above that are quite resistant to water leakage would be the tile options, concrete flooring, and on the cheaper end, vinyl sheet flooring. Read more about types of flooring for interior design here.
You could look into slightly more expensive flooring options that have aesthetic value but also run the need for constant maintenance or go for other cheaper options that run the risk of water leaking through and still requiring more maintenance.
Again, like we've mentioned, it's important to weigh out the things that matter the most to you, be it the budget, or the convenience, or the aesthetics, even. Once you've done that, you will easily be able to pick out your material of choice for your laundry room flooring.
For more related ideas, visit our laundry room paint colors page.