This gallery of laundry room floor tile ideas showcase the different types of tiles, how to choose, and the best tile to use for laundry room flooring designs.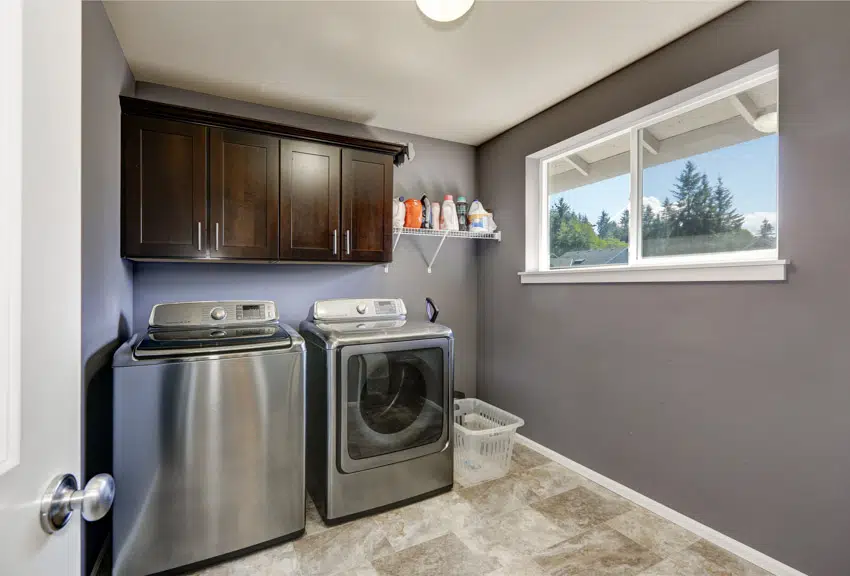 The laundry room is one of the spaces in a home most prone to messes. It is vulnerable to stains, spills, build-ups, mold growth from appliance leaks, and dents from moving and vibrating washers and dryers. With this in mind, it is quite challenging to outfit the space, especially when there are endless options in the market.
When choosing the right laundry room tile, you do not only need something that is attractive but also a material that is functional and comfortable to work with. It has to be resilient and must be able to withstand not only wear and tear but also, heat, humidity, and moisture.

Below we give you our very own guide on laundry room floor tiles. Read on as we zero in on some of the best options which you can use to create the laundry room of your dreams.
How Do I Choose Laundry Tiles?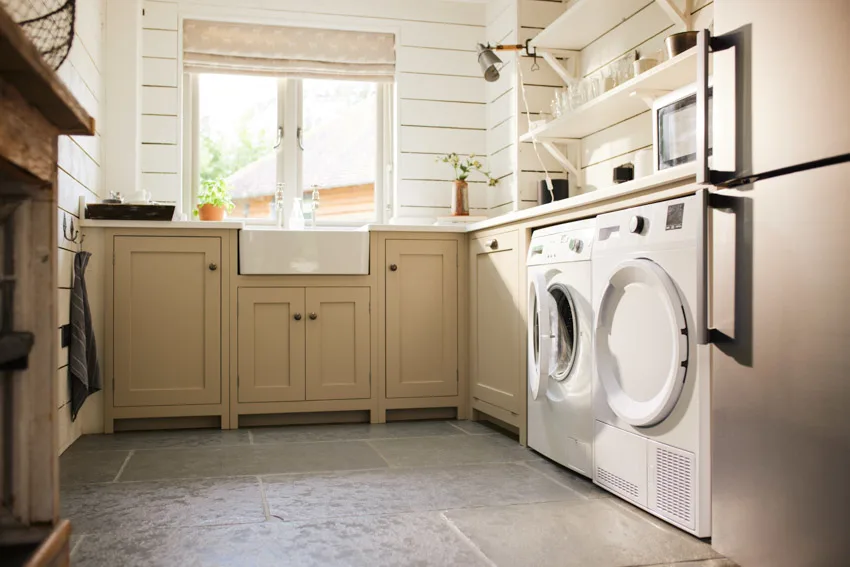 There are numerous flooring options available in the market that you can use for laundry rooms. These are all specifically made to hold up against moisture, dirt, and chemicals.
Although these materials come in a wide variety, it is very significant that they share some positive and practical qualities.
The first and foremost concern you must consider when choosing laundry room flooring is moisture. Water will always be present in laundry rooms — whether you're doing a load of dirty clothes or an issue stems from an overflowing washing machine, a broken water supply pipe, or a clogged drain.
Because of these reasons, laundry room flooring must be moisture resistant. In addition to resistance to moisture, durability is another factor to consider when choosing types of laundry room flooring. Since the area will be used frequently, your flooring must be able to withstand daily wear and tear.
Floor Tile Considerations
Below are some laundry room flooring considerations:
• Moisture-resistant: Laundry room flooring must have a low moisture absorption rate and be resilient to humidity. Choose flooring that will not swell, warp or crack when exposed to moisture.
• Mold-resistant: Laundry room flooring must also resist mold growth to prevent bacteria build-up — a common problem in high humidity areas.
• Stain-resistant: Laundry room flooring must prevent everyday spills from permanently settling on the surface and body of the material.
• Durability: Laundry room flooring must resist impact and must not dent, scratch, or crack easily from foot traffic or the load of appliances. It must be able to support not only the heavy weight of the washer and dryer but also the movement when you are using the equipment.
• Long-lasting: Laundry room flooring must last long for years so you do not have to replace it
• Low-maintenance: Laundry room flooring must be easy to clean because messes are guaranteed to happen on it. Low upkeep also translates to greater savings over time and time spent waiting on business services.
• Attractive: Your laundry room flooring must also be aesthetically pleasing and must offer a range that fits the design style and color scheme of your laundry room
• Cost-effective: Budget is another big consideration when choosing finishing materials and products for any project. Opt for laundry room flooring that is within reasonable cost yet ticks all the practical benefits mentioned above.
Types Of Laundry Room Tile Flooring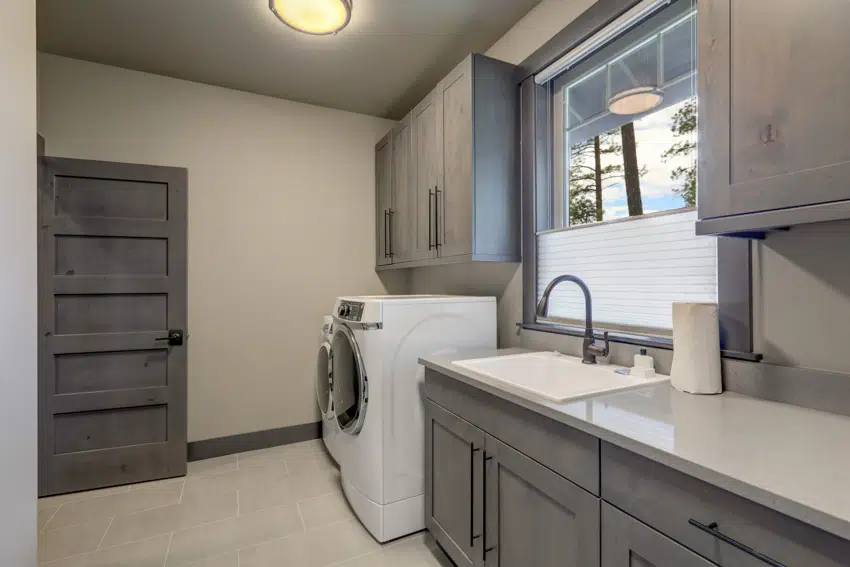 Given all the factors mentioned above, here are some of the best modern flooring choices to consider for laundry rooms:
Ceramic Tile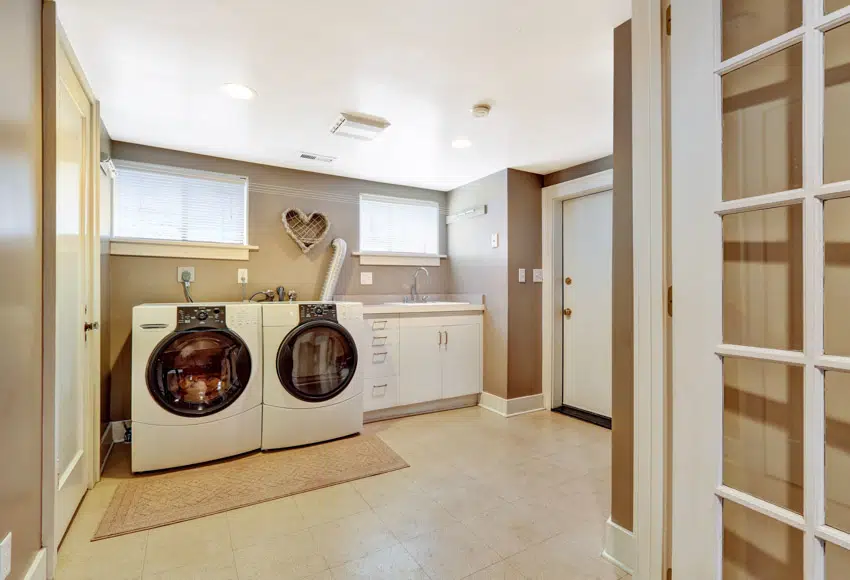 Ceramic tile is a classic choice for laundry room flooring but it proves to be one of the most reliable options in the market. Ceramic tiles are durable and easy to clean and maintain.
They also offer the most design flexibility since they come in a wide range of styles, colors, designs, and patterns. In general, ceramic tiles have a lifespan of 10 to 20 years even when exposed to standing water, provided they are properly installed and well maintained.
By definition, ceramic tiles are made with coarse clay with a small ratio of kaolin clay. Regarding moisture resistance, ceramic tiles can be slightly more prone to water absorption than porcelain tiles because they are fired at lower temperatures during production.
Ceramic tiles have a water absorption rate of 3 to 7% but this can be lessened when the tile is glazed. Unglazed ceramic tiles need to be treated with a protective penetrating tile sealer to make them moisture resistant.
One of the drawbacks to using ceramic tile flooring for laundry rooms is it can be hard to stand on for long periods. It is also inherently cold and would require radiant heating especially if your home is located in cold regions.
Installation-wise, ceramic tile requires a solid substrate and a smooth surface. It is best installed by a professional but it can also be undertaken as a DIY project.

Another problem with ceramic tiles, when used for laundry areas, is that it tends to be slippery when wet especially if it is glazed or in a glossy finish. However, you can look for textured designs since they offer more traction.
The surface of ceramic tiles is generally easy to clean, but the grout line in between needs more upkeep. You'll need to scrub it with an abrasive cleaner like baking soda. If you want dirt to be less noticeable, you can opt for tinted grout instead of a light-colored one.
Cost of Ceramic Tiles: ceramic tiles cost anywhere between $0.85 to $2.50 per square foot – the best starting price for any laundry room flooring.
Porcelain Tile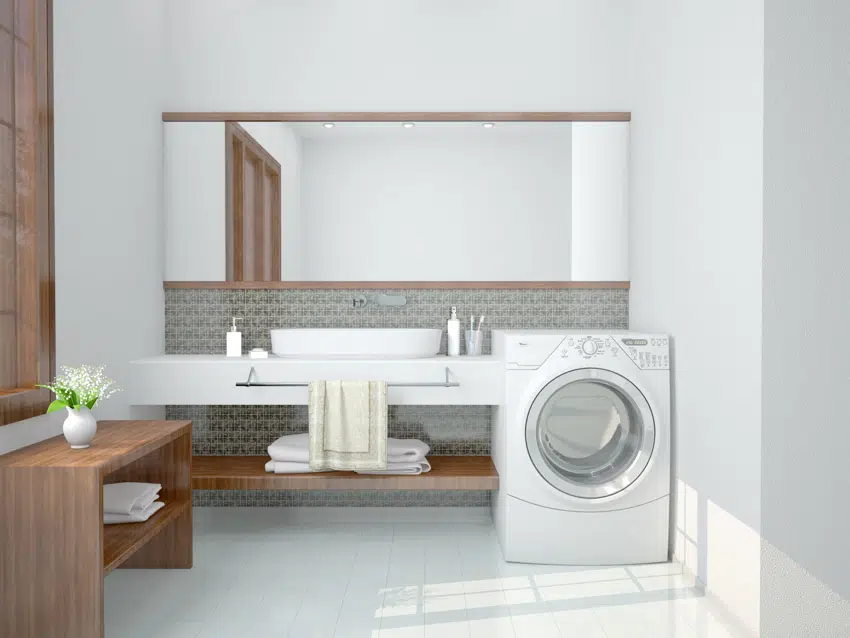 Porcelain tiles are another top choice for laundry room flooring. At first glance, it may be hard to distinguish the difference between porcelain and ceramic tiles. They look very much alike but their main difference lies in their material composition and the way they are made.
The primary characteristic which makes porcelain tiles suitable for laundry rooms is their resistance to moisture. Impervious porcelain tiles have less than 0.5% water absorption rate while vitreous porcelain tiles have a 0.5 to 3% absorption rate which makes them more resistant to moisture compared to ceramic tiles. [Source: SAI.] In addition to water resistance, it can also stand up well to heat.
Porcelain tiles are also harder than ceramic tiles because of their through and through body composition. It is much stronger and more durable too, thus they tend to chip less.
If ever they chip, the damage is less noticeable because their color is uniform all throughout. Provided that it is properly cared for, porcelain tiles in laundry rooms can last for decades.
Regarding design, porcelain types of floor tiles nowadays are manufactured in impressive designs which usually mimic a wide range of natural materials like stone, marble, granite, and even wood. If you want a pristine clean white laundry room, then porcelain tiles give the desired results.

This makes it an excellent choice if you want the look of hardwood for your laundry room without having to worry about the wood's susceptibility to water damage.
Just like ceramic tiles, porcelain tiles also require low maintenance. Clean-up is easy and can be done by mopping using a mild soap and water solution. Installation wise, porcelain tiles need to be laid by a professional contractor. It is slightly more brittle and is safer to be cut by a professional tile setter using special tools.
Cost of Porcelain Tiles: In terms of cost, porcelain tiles are more expensive than ceramic tiles. The price range begins at around $3 per square foot and may run up to $35 per square foot.
Fun Laundry Room Tile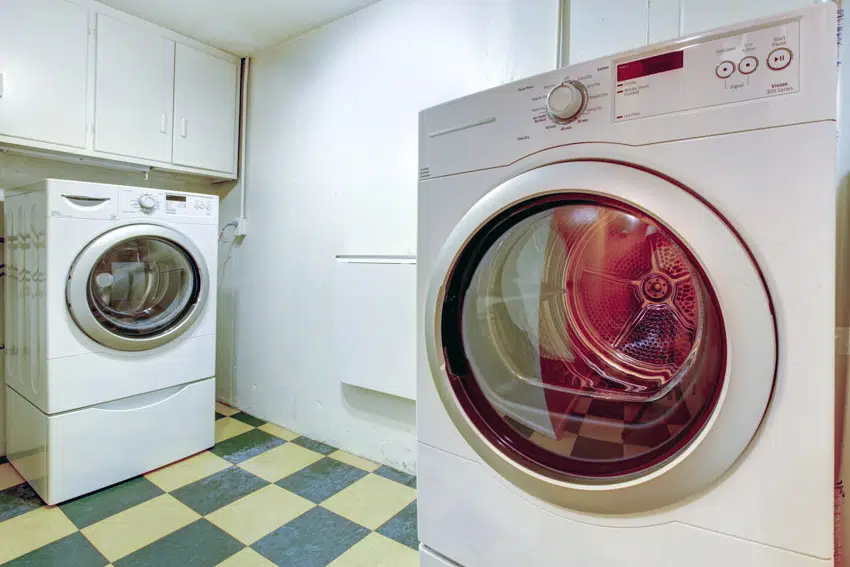 There are several tile flooring designs that you can use to create a fun vibe for your laundry room. Unique and lively patterns like geometric forms, stripes, and florals do not only increase the visual interest in a space but also help produce a more laid-back feel. Fun laundry room tiles are perfect if your home has a contemporary, modern, or retro inspiration.
In addition to patterns and designs, you can also find ceramic tiles in different shapes. Aside from the traditional square and rectangular tile, one popular tile shape in the market is hexagons and pentagons.
Another option to create a fun vibe in your laundry room is to use mosaic tiles. Mosaic tiles combine different shapes, sizes, colors, and materials in a single sheet to produce a unique pattern. Mosaic tiles typically use glass, ceramic, porcelain, natural stone, metal, and mirror.
The use of colored tiles also helps create a heightened lively feel in a space. Depending on your laundry room's color scheme and motif, you can either opt for simple black and white patterned tiles or an elaborate tile design that combines different colors.
Patterned Tile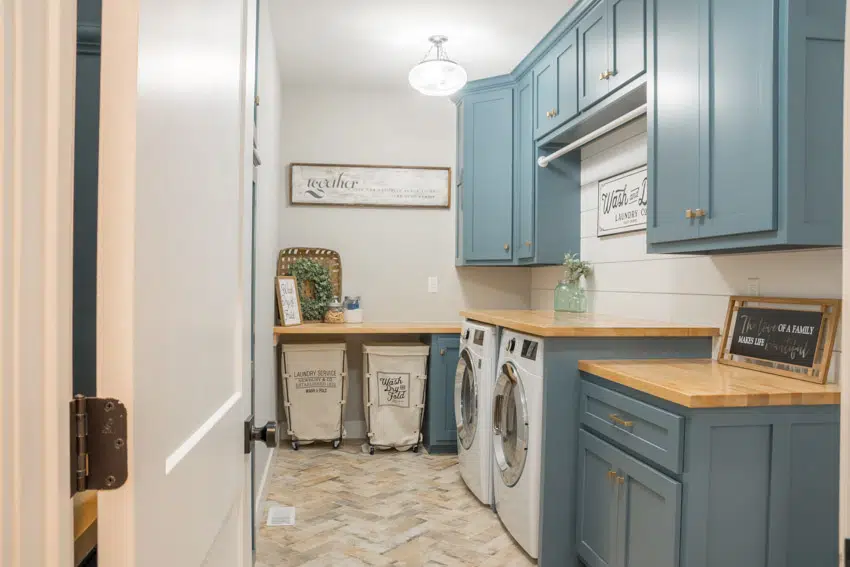 Patterned tiles have been around for centuries and continue to have staying power. With their bold designs, vibrant colors, and incredible aesthetic value, patterned tiles have become a go-to for most homeowners who want to create eye-catching home spaces, including laundry rooms.
Remember to complement your house style and design aesthetic when choosing the right patterned tile for your laundry room. Geometry and stripes are more suitable for modern designs, while elaborate patterns lean towards a more traditional vibe.
Also, do not forget to consider your overall color scheme. Ensure that your tile patterns' colors tie your laundry room's palette cohesively.
Patterned tiles are also perfect for introducing an accent and focal point for your laundry room. Bold patterns help direct the eyes to the floor.
Just make sure that when you choose a heavily patterned tile, combine it with plain built-in types of furniture to make the space less overwhelming. Large pattern tiles are ideal in small laundry rooms because they make a cozy space look larger.
Peel and Stick Floor Tiles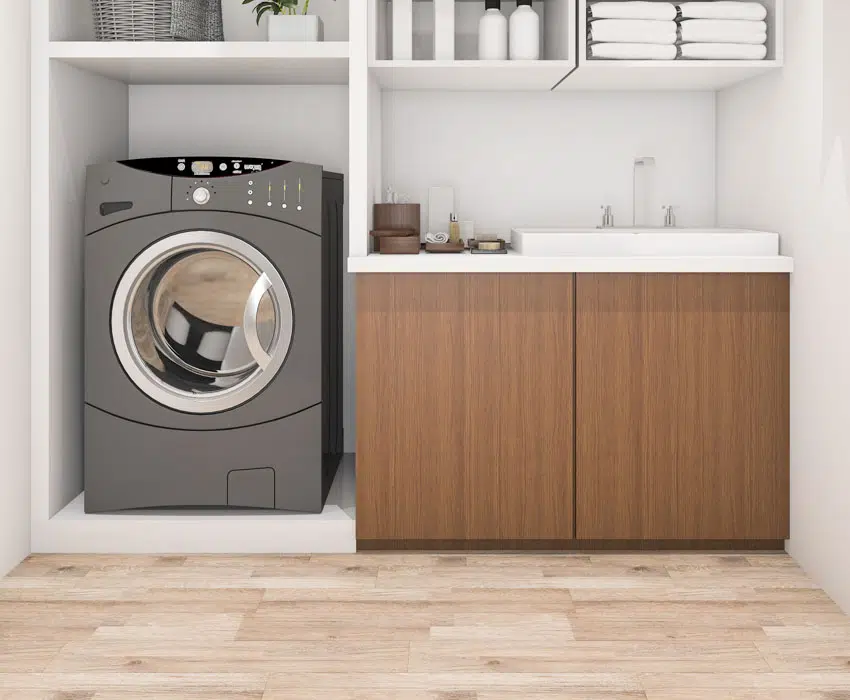 Peel and stick floor tiles offer a quick and inexpensive way to finish laundry room flooring. Also known as self-adhesive vinyl tiles, peel and stick tiles are thin layered materials made of PVC or polyvinyl chloride.
It can also be made from glass or metal and other compounds are added to it to reinforce its strength, hardness, durability, and flexibility. These tiles have an adhesive backing that sticks to a wide range of surfaces and can be typically used as a finishing for floors, walls, and backsplashes.
Since peel and stick tiles are made of multi-layer vinyl, they are moisture resistant and suitable for wet environments like laundry rooms. They can repel water well and withstand spills and outdoor moisture.
Although waterproof, one of the main problems with using peel and stick tiles in laundry rooms are the seams because water can penetrate the gaps, which can then lead to damage to the subfloor.
This can be solved by covering the tiles with a sealant to give them an added layer of protection. Also, make sure to wipe off any spills immediately to prevent seepage.
Just like regular ceramic tiles, peel and stick tiles come in a wide range of patterns and designs. Some peel and stick tiles mimic the look of natural wood and stone and premium variants come with an impressive texture that makes them look like the real thing.
Perhaps, the most practical thing that peel and stick tiles offer is convenience in terms of installation. Because they have an adhesive backing, you can easily install them in a space using less effort and time.
Just peel off the paper backing and lay the tile into place. Unlike ceramic, porcelain, or natural stone tiles, it does not require grout and creates a more seamless look.
Best Tile For Laundry Room Floor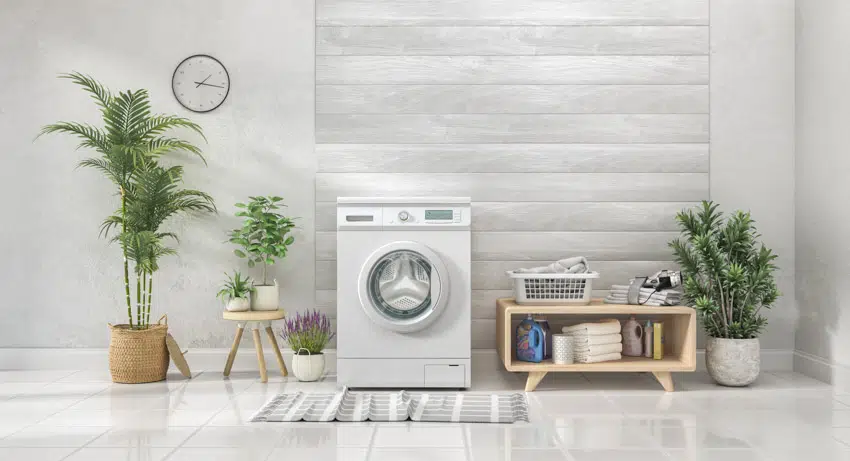 Porcelain is the clear winner for the best laundry room flooring materials between ceramic tiles and porcelain tiles.
Porcelain tiles are structurally harder, denser, and heavier making them more impervious to water. Due to its thorough body composition makes it better suited for heavy usage and moisture exposed areas.
What did you think of these ideas for laundry room tile? If there is any information we missed or questions unanswered please let us know. See more related content in our article about laundry room backsplash on this page.