Here we share our colors that go with beige design guide including the ideal options for walls, matching hues for beige, accents, curtains, and furniture pieces.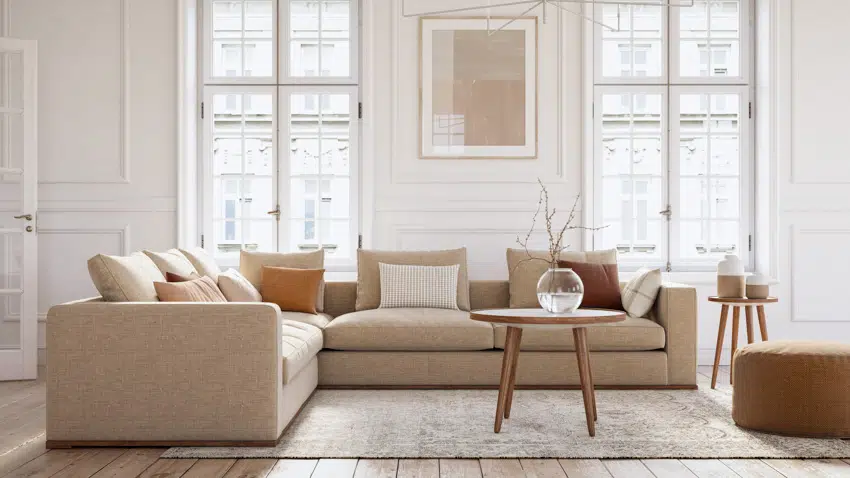 If there's one common misconception that homeowners who are currently redesigning their homes have, it would have to be the fact that beige is boring. This couldn't be more wrong.
Beige is actually one of the best colors to work within the home interior space because it's a neutral that can serve as a canvas to the rest of the other colors that you might play around with.
Beige is a color that can work with a wide variety of room sizes, amounts of natural lighting, style, look, or even mood. Believe it or not, whatever your preferences might turn out to be, there is bound to be a beige shade or color out there that's a match made in heaven for you.
This color has become so versatile that it can pair well with a lot of other darker or even vibrant colors, pair it up with interesting accents, or even with the rest of the other neutrals out there.
Beige Color Combinations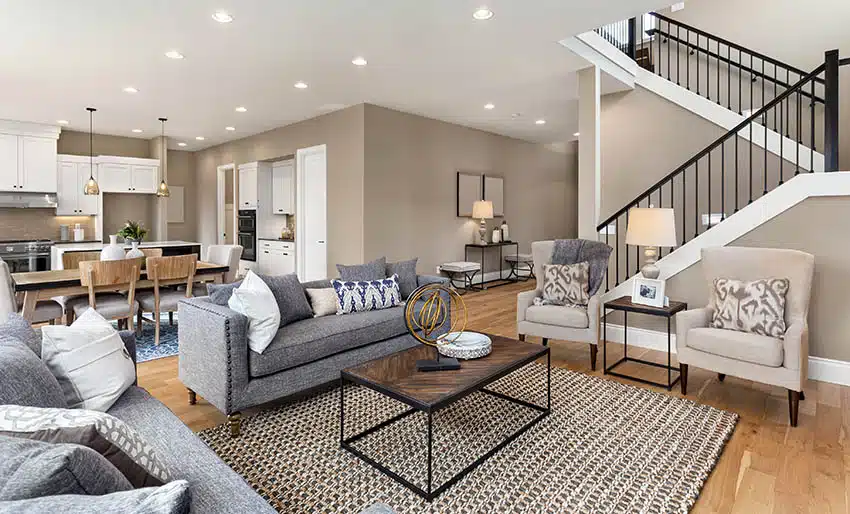 Beige is such a versatile neutral color having an endless range of undertones that pairs perfectly with all shades, even bold colors and it layers beautifully when mixed with complementary neutrals. It is an incredibly easy color to decorate creating exciting contrasts alongside muted accents.
The color beige has the ability to alter the mood of a room, it can be used to warm up a space that is too white or cold as well as soften strong dark hues. Beige can also balance the boldest shade of color from getting too ludicrous.
When a color is so adaptable and flexible like beige, it can be tough to know what to do with it. Beige has the power to compliment different colors making it a popular choice for walls. As a wall paint, it can serve a variety of functions from formal to casual. There is a limitless combination of colors that go best with beige walls proving that beige is in fact not a boring hue.
A dynamic duo is a super neutral hue of beige and white that has a bit of contrast but will allow your wall color to shine. Offset your beige-colored walls with classic white to make your space feel cozy, crisp, and clean. This combination keeps the overall look of the room mostly monochrome, which offers a warm and minimalist color scheme.
This classic pair of beige and burnt orange is perfect for the living room since it offers a welcoming and relaxed ambiance and plays well with other vibrant shades. The mix of colors will give you striking and earthly warm neutrals that add an interesting visual element to your design scheme without messing up your monochromatic palette.
Gray is a subtle neutral color that is similar to beige which creates a calming color scheme in a room. For a simple, refined, and sleek composition, combine your beige wall with hues of gray that is exactly in the same light tone. However, if you prefer a higher contrast of mix, try charcoal gray for a bolder vibe.
Bringing a captivating beige and bright blue hue into your home suggests a bold and sophisticated pair that is a match made in heaven. The warm undertones of beige allow the bright blue color to look richer and evoke a dramatic and elegant feel to the room.
Colors with both warm and cool undertones such as beige, sea green, turquoise, or teal have the same visual weight that matches. These combinations feel fun, exciting, welcoming, and one of the most sophisticated blends of colors. Consider having this color palette for a teen's room for its youthful and playful vibe.
Black, white, and gray look great with everything. These colors are in their own right eye-catching and versatile. The contrasts of these neutral colors make working with warm beige tones more dynamic since beige is earthier the combination will give you a textured feeling and sophistication.
Several accent colors go well with beige, including rust, pink, red, orange, or yellow. These colors have a brown undertone that offers an inherent warm quality in them.
Keep in mind that the rule for using an accent color for any space should be sixty percent allotted for the main color, thirty percent should be allocated for the main accent color, and the last ten percent should be for the secondary accent color.
Window treatments are the second most important aspect of a room since they offer privacy. Curtains should always be one shade lighter or darker than your walls. Nowadays, the trend is going for tone-on-tone shades and so, best to pair beige walls with darker or lighter beige curtains to give it a more cohesive look.
However, as mentioned before there is a variety of colors that compliments beige walls including using warm hues such as charcoal gray, burgundy, mauve, yellow, brown, or chocolate. For contrast, selecting colors in the opposite of your wall's beige undertone works perfectly as well. Printed and floral curtains can give a fresh and natural look.
As a neutral color, the best way to compliment beige furniture is by using mid-tone walls such as soft medium blues, restful grayish-greens, creamy tans, or soothing greys. Wall colors that are a few shades deeper than your beige furniture will create the perfect coziness in your space.
You want wall colors that will give a soft and warm balance – Benjamin Moore's Hale Navy or Knoxville Gray are excellent choices that work well with beige furniture turning your room into a relaxing sanctuary.
If you are leaning towards a more natured-inspired room using beige furniture as the grounding color, create an inviting color scheme by applying navy blue and forest green.
This will give a brilliant contrast color choice while soft rose, warm peach, and warm golden yellow can add life to the neutral shade of beige.
Mellow hues of white and creamy ivory walls like Benjamin Moore's Swiss Coffee and Navajo White when paired with beige furniture create an elegant sophistication to a room that provides a rich chic feeling that is classic and timeless.
For a bold and daring visual punch of color, choose one wall as an accent and go for a tangerine or an orange shade that is as close to an actual orange as possible. This will add a big dose of a cheerful vibe to any space.
A deep and glossy brown wall can actually create a sensational and rich continuity with your beige furniture.
Choose a high-gloss paint for your accent walls to help reflect light and will make beige furniture feel extra special.
What Colors Go With Beige Walls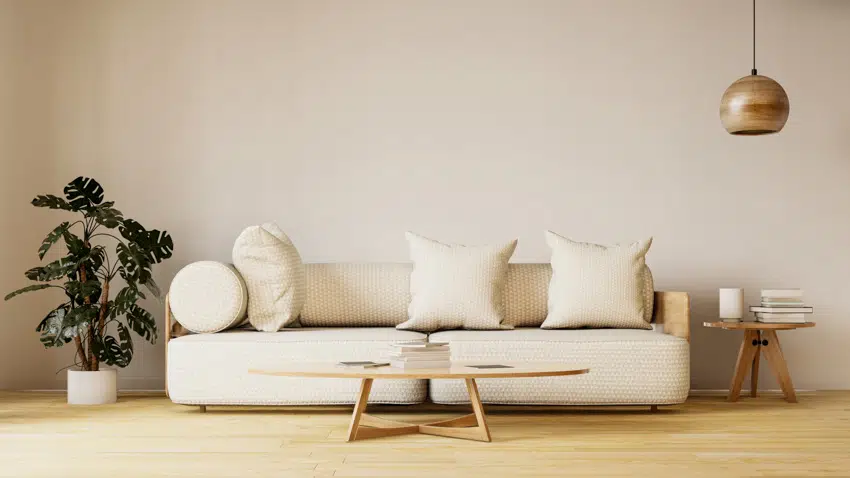 Beige and white. White can go great with beige walls. The truth is, white technically goes along with literally anything but even more so with beige. If you happen to want to work with beige walls, it really is a no-brainer. White is a complementary yet at the same time safe option for you to go along with.
It helps keep the space looking neutral and spacy while at the same time still add in a little bit of warmth to the space. You can play around with off whites or stark and icy ones for variety. Trust in the fact that whatever your preferences may be to the type of white you want to go for, it is bound to work.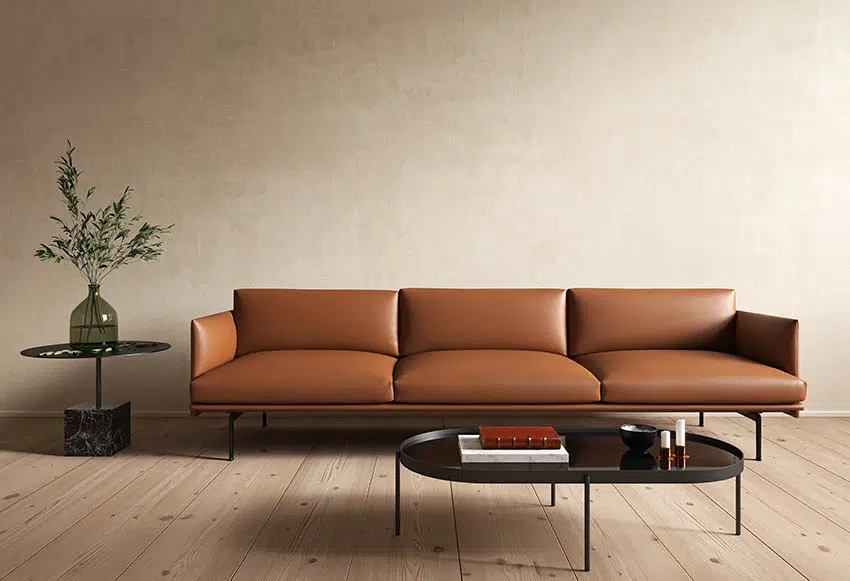 Beige and burnt orange. We don't really know what it is about the burnt orange color but it adds in that vintage element that is also cozy. That can turn out to be quite a striking addition to the space that you're working on.
Beige walls can look really lovely paired along with some burnt orange accents. You can add them in as a headboard, as curtains, or even as an extra accent wall. Throw it in with some of your furniture or art pieces and you've got something visually striking to run with for your interior decorating efforts.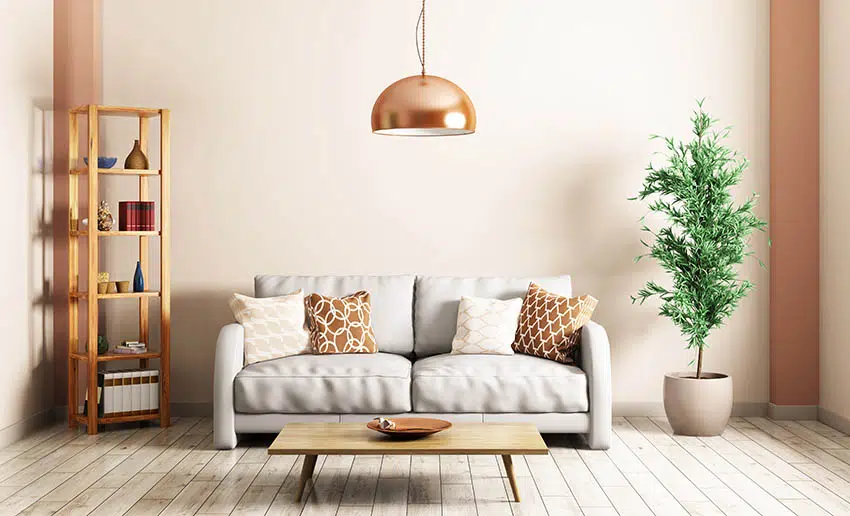 Beige and gray. Beige is a popular color and there's a pretty good reason behind it. it's almost as versatile as white without ever coming off as plain or boring especially when it's paired up with different colors and accents. It never has to be boring at all.
A very light, almost white beige can pair very well with grey accents such as curtains, rugs and furniture. It's a great way to add some depth in the space without risking darkening the space up while you're at it.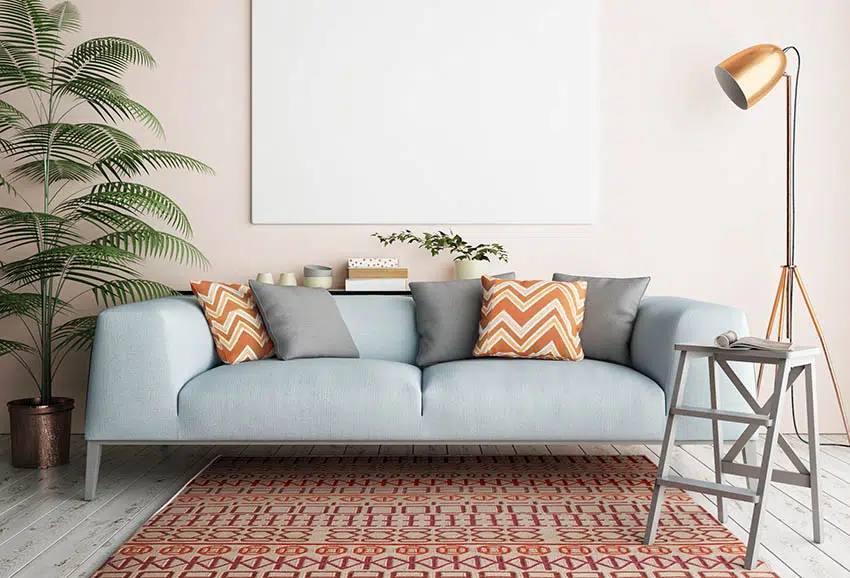 Beige and bright blue. If you want to create a space that has a bit of personality to it and doesn't really go with the usual norm, you might want to incorporate a little bit of bright blue with your beige walls.
Beige is a great color to pair up with loud colors such as bright blue because it really makes the color look more vibrant and can make the accents stand out. Read more about our guide on what colors go with light blue walls here.
Colors That Match With Beige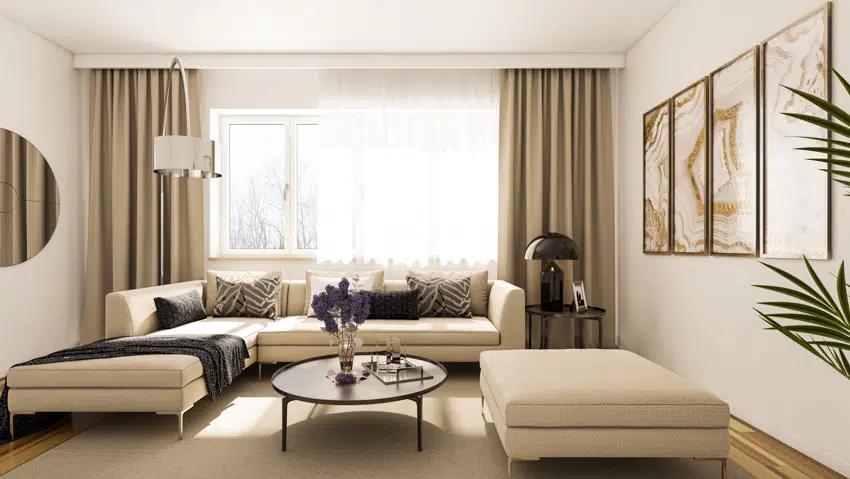 The truth is, working with colors that'll match beige isn't rocket science. You can work with just about any vibe, design scheme, or color available.
It's a light and neutral color that can open up any space. You have every freedom to spruce up the space with the colors that you want but here are the best colors to match with your beiges.
Colors with both warm and cool undertones. Beige isn't just one color. It's actually a bit of a catchall name for a wide spectrum of colors ranging from tans to creams all the way to the almost whites.
When deciding on your color choices, it's important to figure out what kind of undertone your specific beige has. It's important for you to remember that warm beige undertones also work with other warm colors whereas cool beige undertones work with cool ones as well.
You may also pair it along with pastels and cool greys if you want to go for a soothing effect for the space.
Sea green, turquoise, or teal. These colors paired along with beige take their inspiration from the sea and the sand. These colors work well with yellowish sandy shades of beige. Imagine a long and soothing stretch of sand by the shoreline with crystal blue waters crashing in. It can create a calming and relaxing effect in the room.
Black, white, and gray. Although this may sound like it's a lot of colors to work with, it actually isn't because white basically blends with everything and black and grey serve as contrasts to the beige.
They can make for a textured, interesting combination. If you want to go for something that has a bit of spunk to any room, this is the color combination to go for. Read more about our guide on colors that go with gray floors here.
Accent Colors That Go With Beige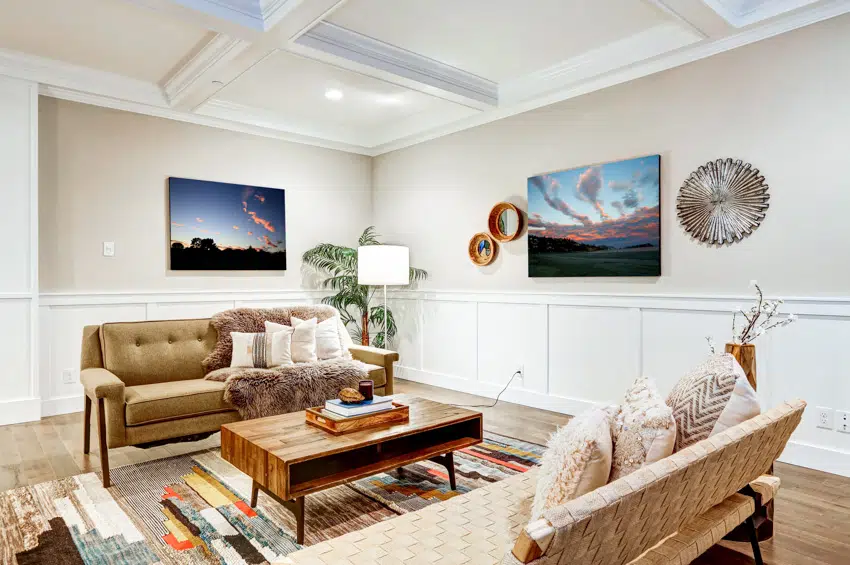 Orange. Like we've mentioned earlier, beige actually works really well just with just about any color that you can think of but its best matchup is orange.
Pairing shades of orange with your beiges can create a striking space that plays warmly on its overall interior ambiance.
The best shades of beige to play around with orange accents are sandy brown, tan, and even fawn. Read more about our guide on colors that go with orange here.
Curtain Color For Beige Walls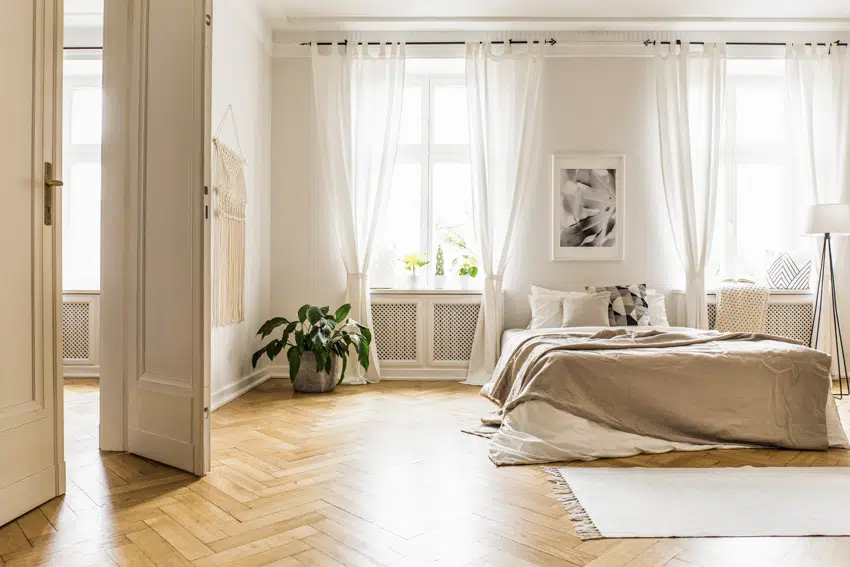 Curtains are one of the cheapest updates you can give out to any room and if you happen to be working with beige walls, you might want to entertain the thought of spicing it up a bit.
It's wondrous how a few pieces of fabric can turn out completely transforming the interior design of a room and here are the best colors for you to check out:
White. This curtain color works well with any room. It is something that's classic and timeless and you can rest assured that it will brighten up the room almost right away. To make the curtains really stand out, try to pair them up with some polished bronze rods for added effect.
Dark blue florals. Beige walls can benefit from a little bit of color but if you don't think it through, you might end up making the room like you're trying way too hard. Blue floral curtains will bring in that pop of color you've been looking for without making the room tacky and overwhelming.
Burgundy. Having beige walls generally means that your space has a lot of light to work with. One great way to really make it pop and look pretty would be adding burgundy curtains.
It's a rich huge that can pop up from a beige background and it's a great option for decorating if you happen to fancy fall colors.
Wall Colors For Beige Furniture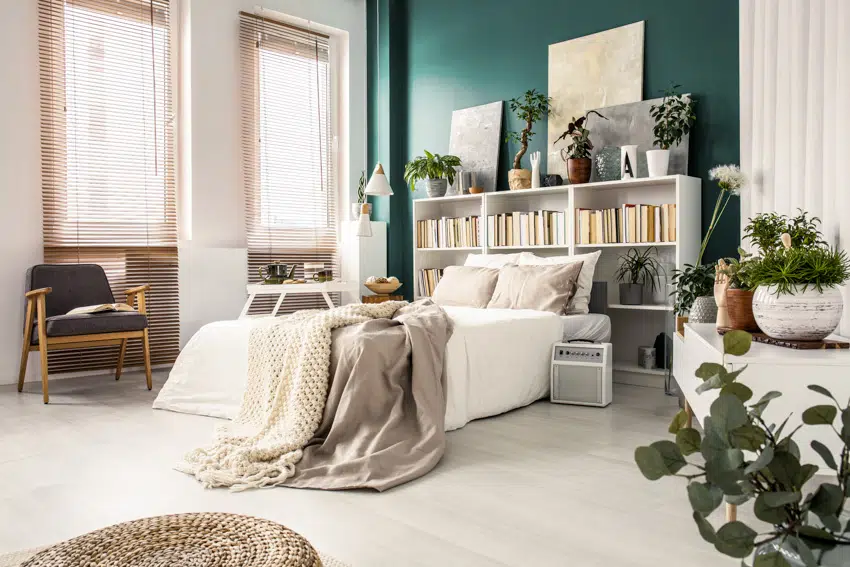 Beige furniture pieces are veritable design chameleons. What this technically means is that this is a neutral color that can work with practically any type of wall paint or color.
If you want to stay on the safe side and still keep it neutral, just remember to bring in prints or accents so as not to risk making the space end up looking too monochromatic. The best décor advice though are the following:
Go for contrasting colors. As much as possible, you want the space to look multidimensional. Shades such as burgundy, black, brown, forest green, and navy glue can really do that for you without making the space look too crazy or too avant-garde.
Bright colors. Oranges, greens, yellows, and reds. This can liven up any space surrounding your beige furniture. Feel free to play around with patterns and solid colors alike. These bright and loud colors can work well for a space if you want to come up with something modern or contemporary.
Prints. This is a great way to spice up any neutral type of theme, beige or not, to be honest. You can work with a wide variety of prints from animal prints, to stripes, to chevron, and so on and so forth.
You can go for sophistication, or even an exotic look; depending on the kind of prints you choose to go for with your beige furniture. See more related content at our article about accent wall colors on this page.