On this page we discuss what colors go with light blue walls including design ideas for complementary & contrasting paint colors and accent walls.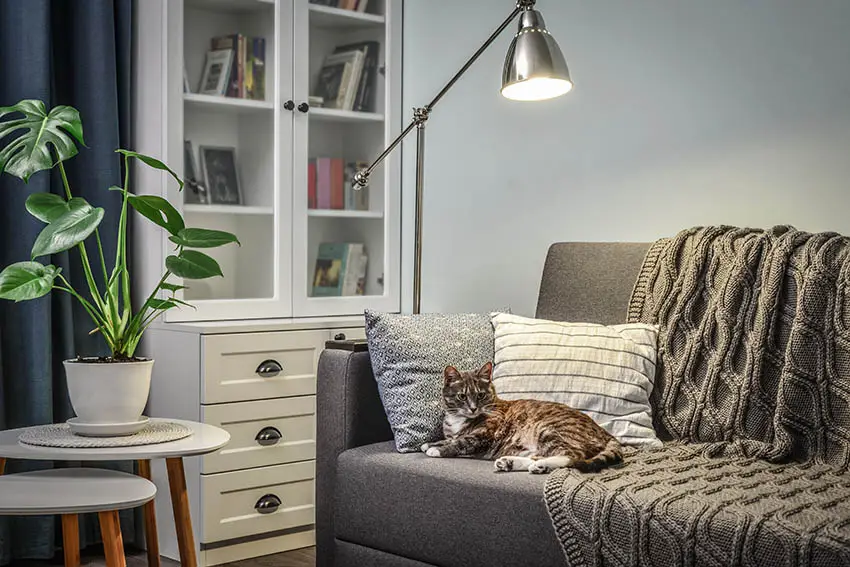 Light blue walls are popular in many homes and the pureness of blue promotes a calming and welcoming feel in any room.
There are countless shades of light blue including well-known hues such as robin's egg, baby blue, powder blue, and angel blue.
Light blue is a classic color choice for walls and includes true-blues only; blues without green, red, gray, or yellow tones.
Historically, light blue walls are more common in traditional and colonial interior design but homeowners find it a perfect color as a backdrop for eclectic and contemporary room designs.
In this guide, you'll discover what colors go with light blue walls including curtain colors, color accents, and contrasting colors.
---
Using Light Blue to Brighten Your Interior Design
We asked interior designer Danielle Porter for her thoughts on using light blue for your interior designs and here's her reply:
If you're like many homeowners who seek to make their home a haven – lighter, calming, and soothing colors like light blue could be the way to go.
Now, there's a fine line between creating a space that feels like a baby boy's nursery (unless that's what you're going for!) and a sophisticated living space and choosing just the right tone of light blue, and the colors it goes with make all the difference.
First, you'll want to decide a few things, including whether light blue is the focal or accent color, and if you're looking for a statement of contrast and interest or something truly more spa-like.
There are options on both ends of the spectrum and everywhere in between, and there are a few helpful guides below that can help you find just the right balance.
Complementary Colors
Complementary colors are colors that are opposite each other on the color wheel. When paired together, they create a striking contrast that makes both colors stand out.
Directly opposite blue on the color wheel is orange – and because we're using a light blue, naturally using a lighter shade of orange, like the options below, is sure to create a space that's uniquely yours.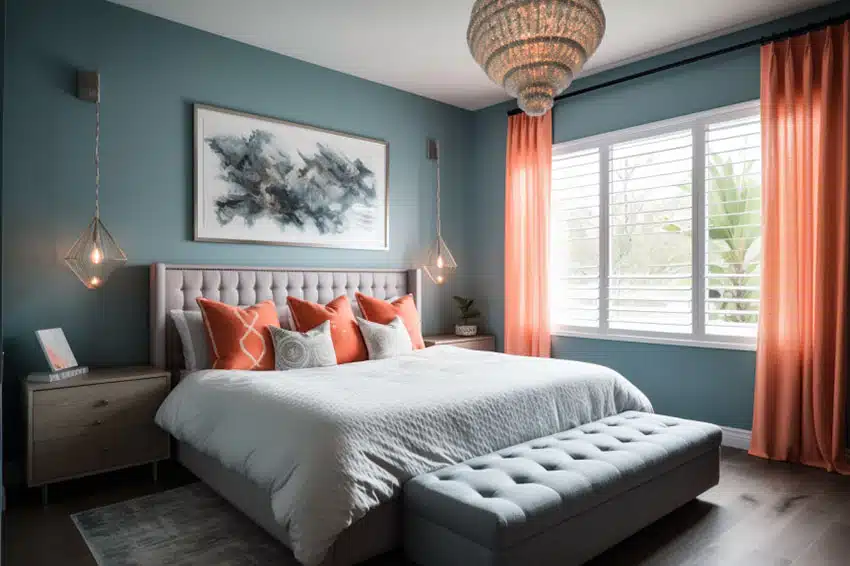 Coral: Coral is a warm, vibrant color that pairs beautifully with light blue. This color combination is perfect for a beachy or tropical-themed room, as it alludes to the colors of the ocean and sand without being kitschy.
Mustard Yellow: Mustard yellow is a bold, warm color that can add a pop of energy and interest to a room with light blue walls. This color combination can work well in a modern or eclectic space.
Peach: Peach is soft and feminine. Pairing peach with light blue is perfect for a bedroom or nursery as it counters the naturally masculine tones of light blue for a balanced color palette.
Contrasting Colors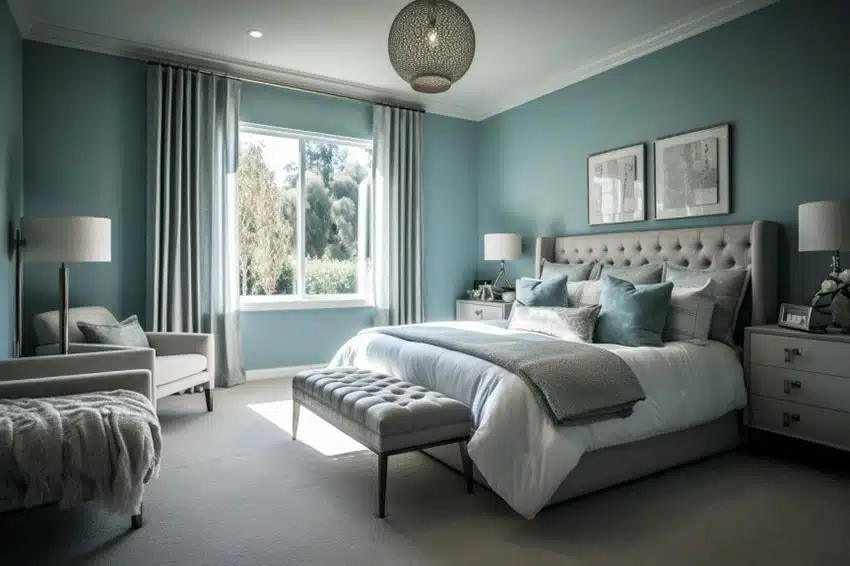 Contrasting colors may still be complementary in nature but are inherently more visually striking. Pairing a bold color with a light blue can create a bold and dramatic effect.
Some interesting options to explore for contrasting colors to pair with light blue walls include:
Navy Blue: Navy blue is a classic, sophisticated color that pairs beautifully with light blue walls. This color combination is perfect for a living room or study, paired with beautiful walnut wood bookshelves.
Dark Gray: Dark gray is a cool-toned, modern color that can add depth and contrast to light blue walls. This color combination works well in a contemporary or minimalist space where simplicity or a more monochromatic vibe is desired.
Black: Black is a bold, dramatic color that can make a statement when paired with light blue walls. This combination works well in an industrial space – possibly paired with metals and concretes.
Accent Walls
If you're not ready to commit to painting an entire room a complementary or contrasting color, or even light blue, consider creating an accent wall instead.
An accent wall is a single wall in a space that is painted a different color than the other walls – possibly turned into a gallery wall, or simply anchoring the sofa or largest piece of furniture in the room – which can create a grounding sense in the space.
Some great accent wall colors that go with light blue walls include:
Teal: Teal is a deep, rich color that can add depth, dimension, and contrast. This color works well as an accent wall in a living room or bedroom.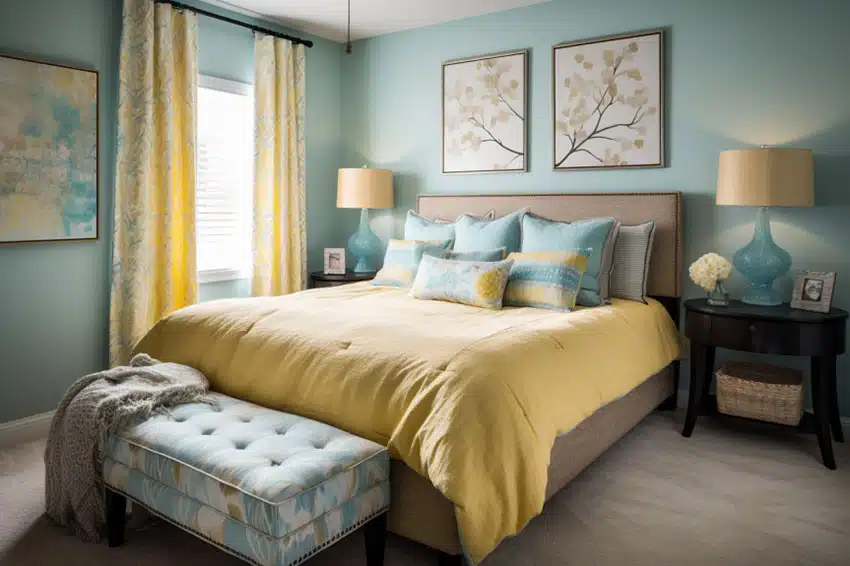 Pale Yellow: Pale yellow is a soft, sunny color that can add a cheerful touch. It works well as an accent wall in a kitchen or dining room where it will also evoke a sense of cheeriness in spaces of gathering.
Blush Pink: Blush pink is a soft, romantic color that pairs beautifully with light blue walls. Blush pink works well as an accent wall in a bedroom or nursery.
Light Blue Paint Ideas
If you're looking for ways to incorporate light blue into your home without painting the walls, or even in addition to painting the walls, consider using it as an accent color in your space. Some great options include:
Painted Furniture: Consider painting a piece of furniture, such as a dresser or bookshelf, in a light blue color, even with gold leaf accents. This can add a pop of color and charm to a room without overwhelming the space.
Accessories: Use light blue accessories, such as throw pillows or curtains, to add a subtle touch of color to a room.
Accent Wall: Create an accent wall in a light blue color to add a calming and soothing effect to a room – paint the other walls a neutral tone and anchor a larger piece of focal furniture along the accent wall, and you have yourself a statement space!
Whether you paint an entire room, create an accent wall, or use light blue as an accent color, there are an endless amount of ways to incorporate this calming and soothing color into your home design.
---
Pairing Light Blue Paint With Complementary & Contrasting Colors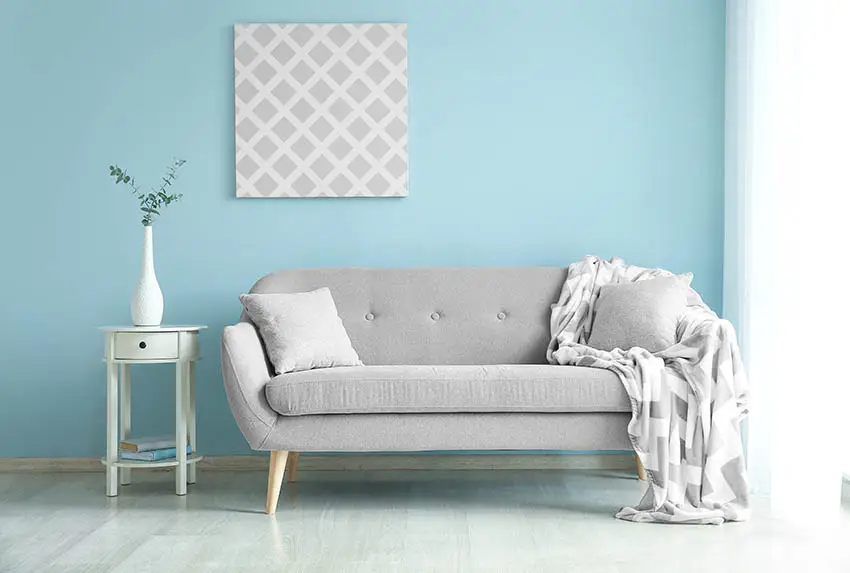 Light blue walls go well with complementing neutral colors such as bright white, off-white, gray, beige, cream, and others.
For a stark contrast, light blue makes a soothing backdrop for yellow, gold, black, orange, and brown.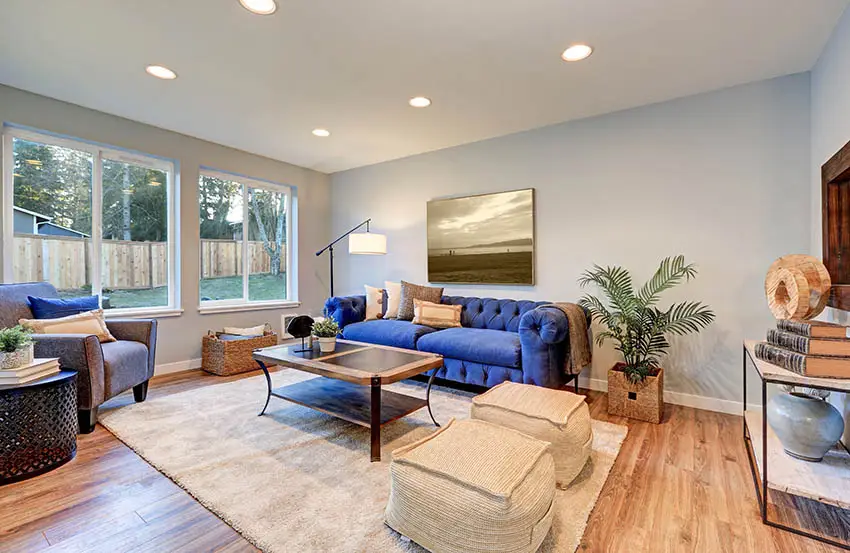 Whether paired with complementing colors of furniture, wall décor, and fixtures, or contrasting colors by way of accent walls, floors, or trim, light blue walls are versatile and timeless.
What Color Curtains Go With Light Blue Walls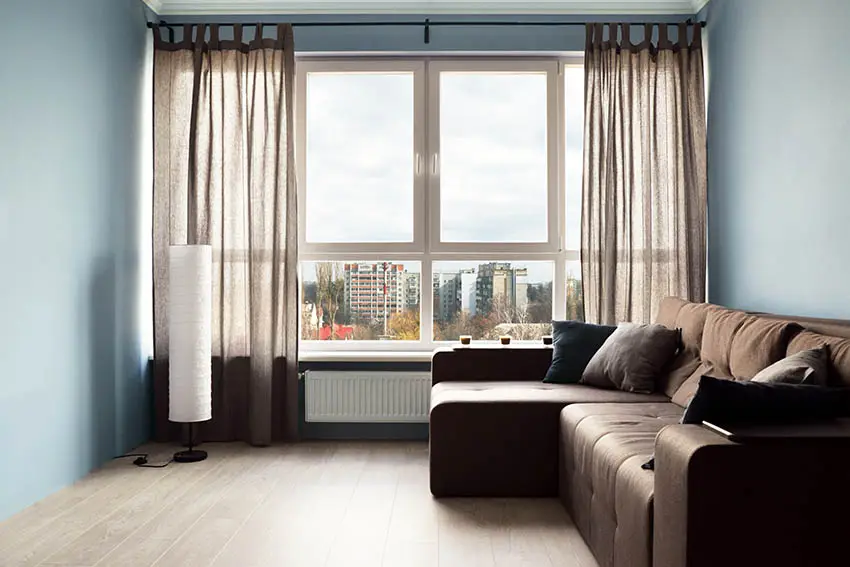 Blue living room with brown furniture and curtains.
Curtains make or break a room by the type of fabric, length, height, valance type, hanging hardware, or density. Curtains protect a room from excess sun and heat, or cold temperatures, and enhance a room's décor style.
When planning on purchasing and hanging curtains in a room with light blue walls, keep in mind the color scheme of the room.
Do the trim, furniture, and wall décor complement the light blue walls, or are these items contrasting colors?
The curtains should follow the same color relationship. Curtain types or patterns aren't as important as the main color.
A room with light blue walls and eclectic, black furniture, dark wood floors, and rust-colored trim looks regal with dark-blue, royal-blue, or dark brown themed curtains.
Typically, a heavy-weight or light-blocking curtain sets off a contemporary room.
For a room with light blue walls and neutral furniture such as a cream-colored couch, nautical-themed wall décor, and a white-washed floor, choose types of curtains that are sheer, flowing, and made with neutral colors such as white, off-white, beige, or soft gray.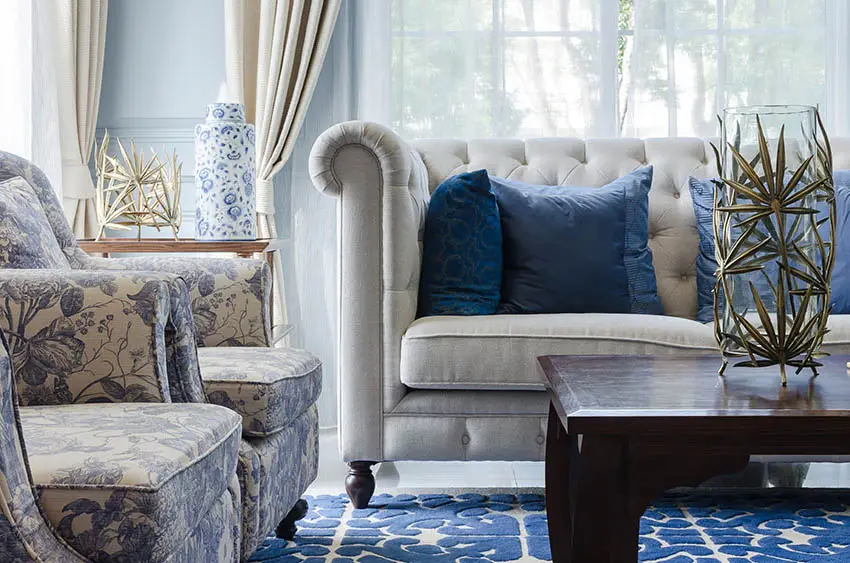 Combine sheer curtain panels with a layer of a patterned fabric, staying within the complementary colors to unify the room. A monochrome curtain panel, one with white and only one other color, also works well.
Adding a valance made with the same patterned fabric makes each window a design element itself.
What Color Accent Wall Goes With Light Blue?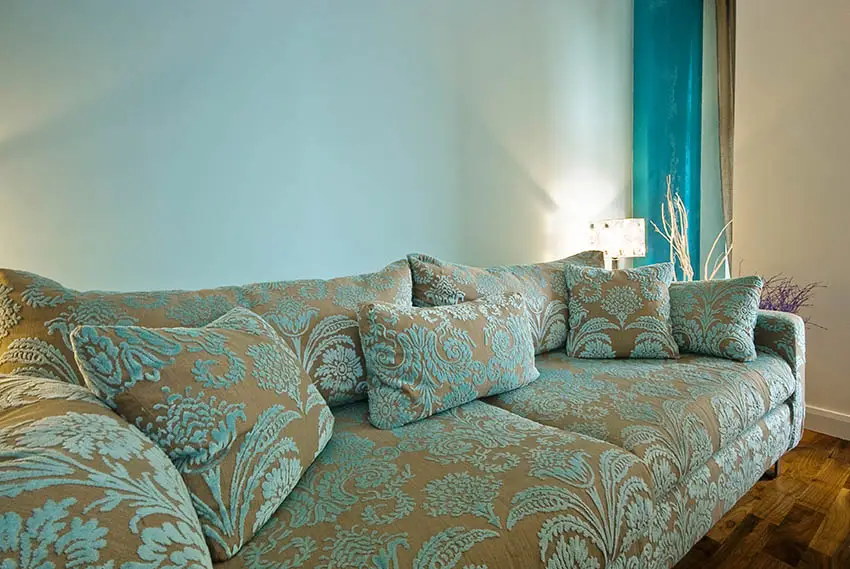 An accent wall color sets off an area of a room and adds depth, additional dimension, or personal design features to express the homeowner's style.
The accent wall is either a plain wall with a differing shape or angle or a wall used to surround a fireplace, window grouping, or artwork.
When the walls of the room are painted light blue, the accent wall, much like the curtains, will be either a flowing, unifying color or a stark departure from the main wall color.
Once you designate the accent wall, decide whether the color needs to complement or contrast the rest of the walls.
As previously mentioned teal, pale yellow and blush pink all work well when paired with a light blue painted room.
For an accent wall that ties the other walls together, consider off-white, pale-white with light blue accents, a sandy color, or any neutral tone that goes well with the room's décor style. It's helpful to obtain paint samples for a preview of the accent wall color.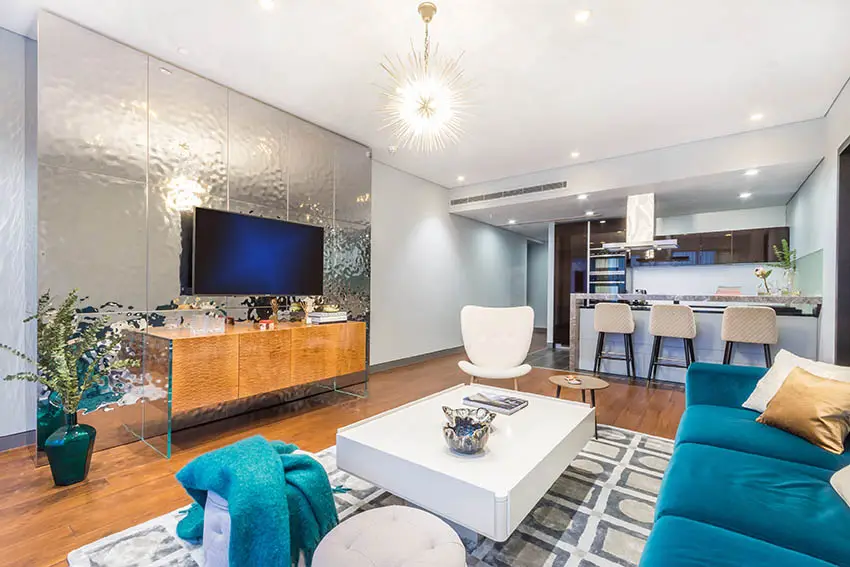 For the ultra-modern, contrasting color scheme, an accent wall should be bold and beautiful, unifying the wall décor and furniture. As an alternative to an accent wall a mirror can be used to enhance the room's brightness and add additional light by placing it opposite a window.
A room with light blue walls, dark brown furniture, burgundy-patterned curtains, and brown wooden floors, looks cohesive with an accent wall painted burgundy, deep orange, or dark brown.
What Contrasting Colors Go Best With a Light Blue Wall?
A room with light blue walls takes on a fresh, clean, and vibrant style with contrasting colors. Floors, furniture, curtains, wall décor, ceilings, and artwork that provide contrasting colors can all either match with one color or offer a variety of warm colors to off-set the cool, light blue walls.
Some attractive contrasting colors for light blue walls are red, orange, dark brown, purple, and yellow.
When choosing colors to contrast with the light blue walls consider each element of the room and what colors you want to incorporate.
For example, light blue walls can support room décor such as orange wall art, yellow-themed accents such as flower arrangements and ceramic pieces, and dark blue furniture.
Deciding what colors go with light blue walls provides a wide expanse of choices and design ideas.
Read more about living room accent walls on this page.