Here we share our ideas for decorating a kitchen corner window including decor & window treatment tips.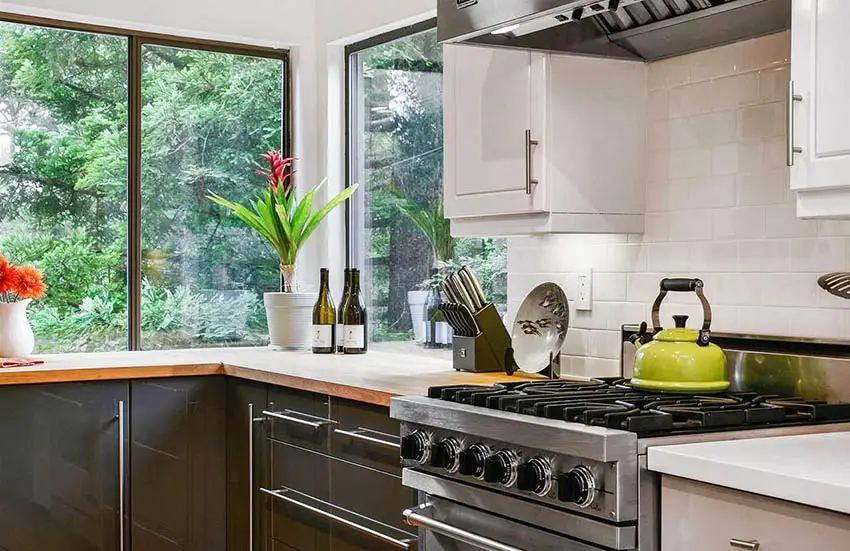 There are a ton of perks to having a kitchen window. Allowing sunlight to enter the kitchen area is monumental when it comes to having a bright, open kitchen space.
This being said, it is sometimes difficult to decorate or cover a window in the kitchen due to the areas being in a corner, or on the far side of a counter. Below are some creative ways to add decor, as well as the best window treatments to use.
How Do You Decorate a Kitchen Corner Window
Usually the first thing that comes to mind when decorating the corner of a kitchen is adding things that will help free up counter and cabinet space. These could be items such as storage containers, spice racks, cookbooks a wine tray or even a coffee station.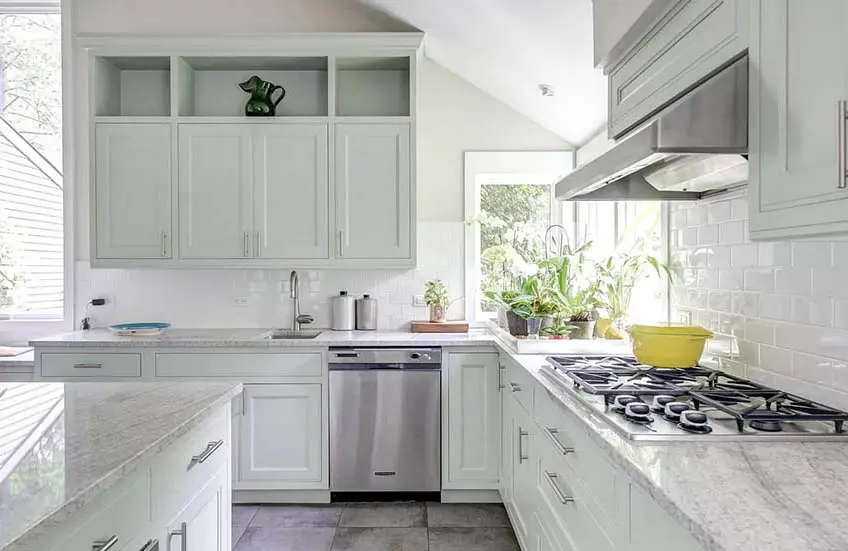 However, before we look at individual ideas, lets explore some of the more general ways you can enhance this space.
Add Color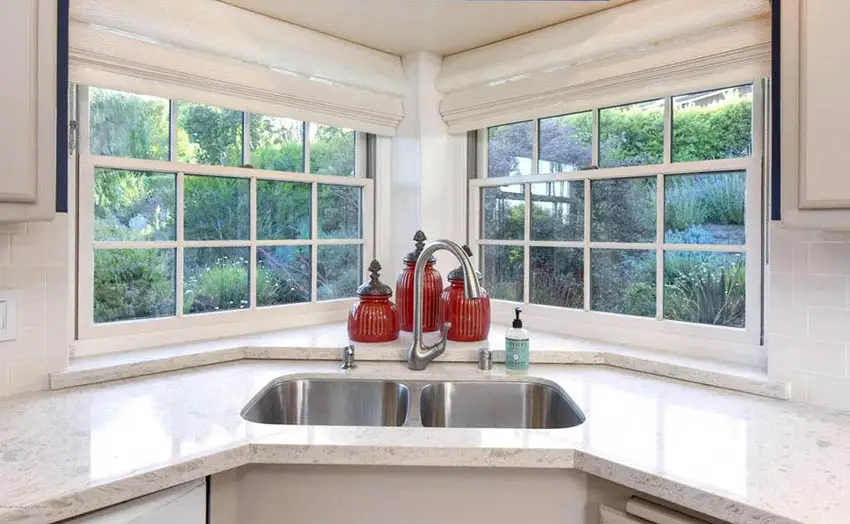 One of the best ways to decorate your kitchen window is by adding a pop of color. This can be as easy as the addition of fresh fruit, an elegant flower arrangement, an attractive green houseplant or an accent piece. – interior designer Savannah
Selecting a few accent pieces of the same color will help it pop against neutral color kitchen countertops or cabinetry. Whatever you decide to choose make sure not to overcrowd the space. In many cases less is more when it comes to window decor.
Asymmetrical Decor
For a wraparound corner window using asymmetry can enhance the look. By placing two or more matching items on each side, one can achieve a balanced look.
Open Shelving
Placing open shelving on one or both sides of the corner window can present a place for decor items that is up and away from valuable countertop space.
See our gallery of kitchens with open shelving here. You can also try adding shelving directly above your window which will have the added effect of making it appear larger.
Decorative Trimming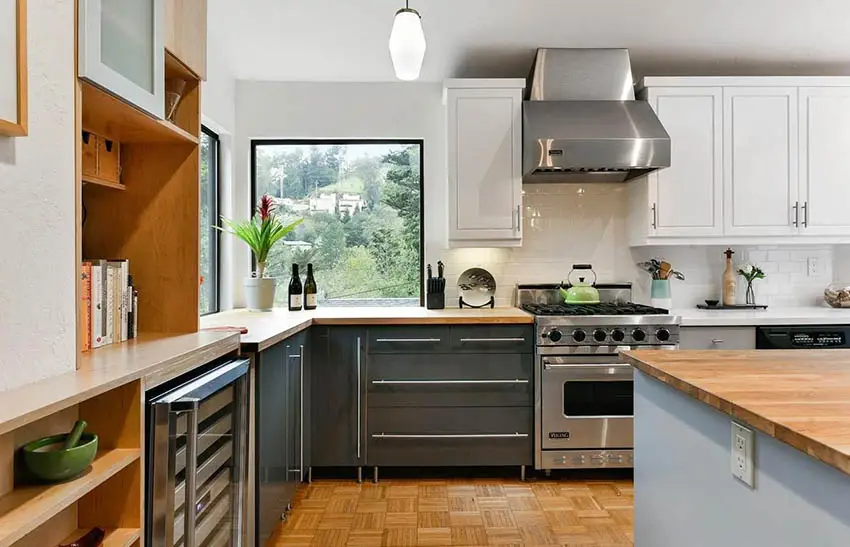 The trim around the window is a great area to show some unique and homey designs. Whether there is a modern trim used or a thick farmhouse style wood trim, adding these decorative features brings the windows allure up.
Corner Moldings
Just as the trim can radiate style and help elevate the presence, moldings can too. Decorative moldings can be placed in the corners or the windows, carved into the trim, or even be placed alongside the window.
Moldings are by no means required to build a window, but the decorative aspect speaks for itself, with the extra work taken to add them to the window.
Replace the Window
Sometimes one of the best ways to spruce up your kitchen area is by replacing old outdated windows with new replacements.
One can expect to pay between $300 to $1200 for the purchase and installation of a new window in the kitchen. See our gallery of the most popular types of windows here.
Corner Kitchen Window Decor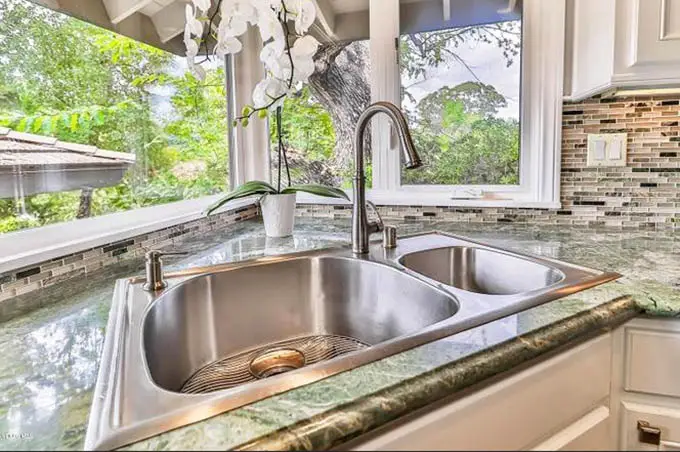 When it comes to décor for the corner windows in a kitchen, it seems the options are unlimited.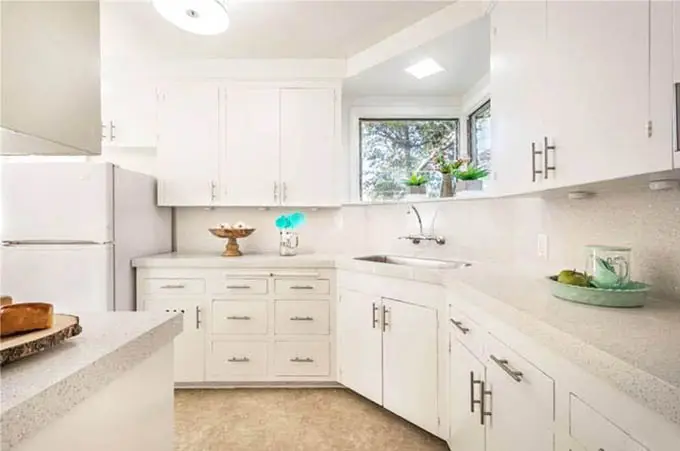 Plants – Plants are a great addition to the windowsill of a corner window. If a plant is places near a window it should have an abundance of sunlight. Being in the kitchen also puts it pretty close to the sink, hopefully being a good reminder for you to water it on a regular basis.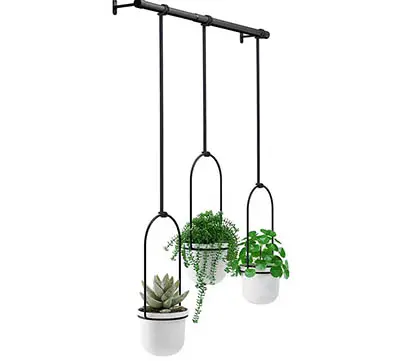 See these hanging planters at Amazon
Seasonal – The windowsill is a great place to keep your small seasonal items! At each holiday or season you can change up the little nick nacks or even soaps and such that you have placed on the windowsill. This makes doing the dishes a little less boring if you don't have to stare at the same items for years straight!
Decorative Containers – Adding matching storage jars or containers can allow you to keep useful ingredients at your fingertips while adding your own personal touch to the space.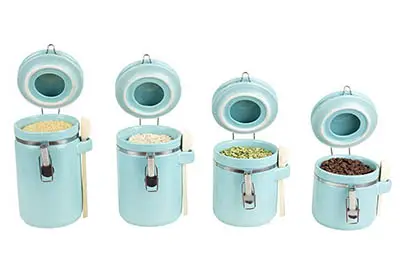 See these decorative containers at Amazon
Trinkets – Really anything that you can imagine could be displayed in the corner window, as long as it is small enough and won't be damaged by the sun. Customs plates or mugs, lights, lanterns, fake leaves, candles, etc. Any form of décor that fits your design style can be incorporated in this setting.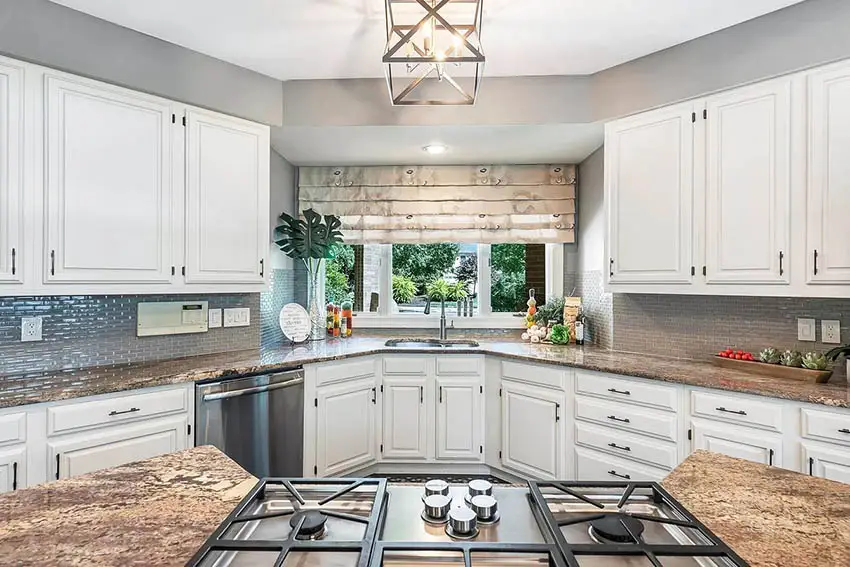 When it comes to decor just be mindful of the old adage less is more to avoid overwhelming the senses. Read more about how to declutter kitchen countertops here.
Corner Kitchen Window Treatments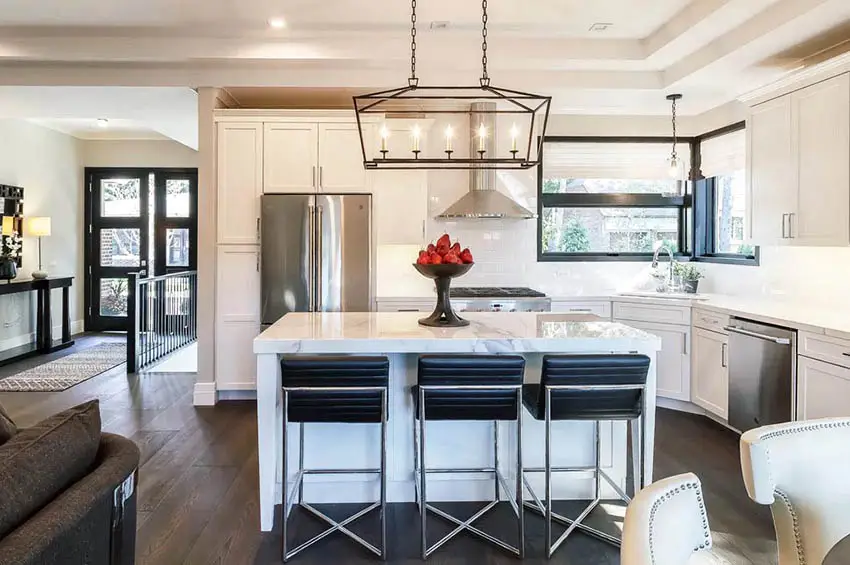 There are a great deal of options when it comes to window treatments on a corner kitchen window. Some selections are described below.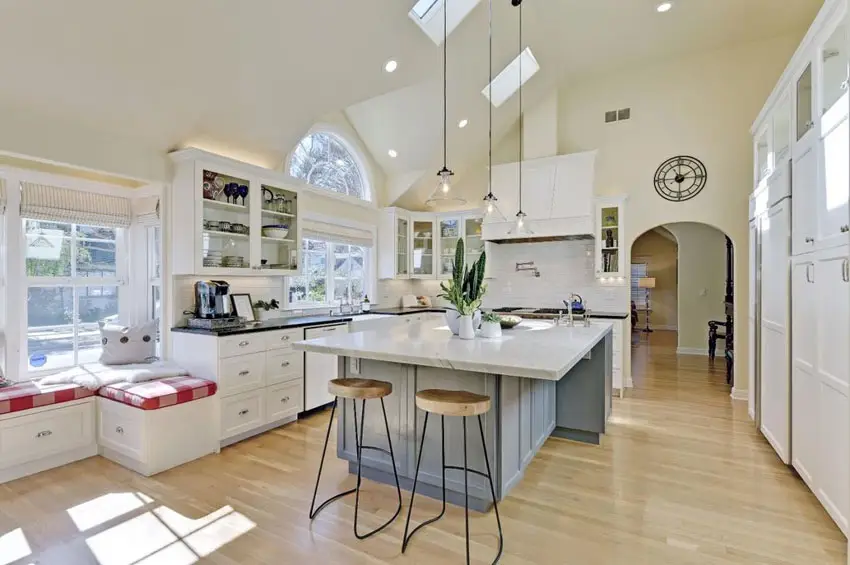 Roller Shades – Rollers do a good job of evenly blocking or letting in the outside light. Roller shades let you pick the percentage of light you can see through the material – from almost translucent to complete blackout shade. These can also be roller up and down based on preference.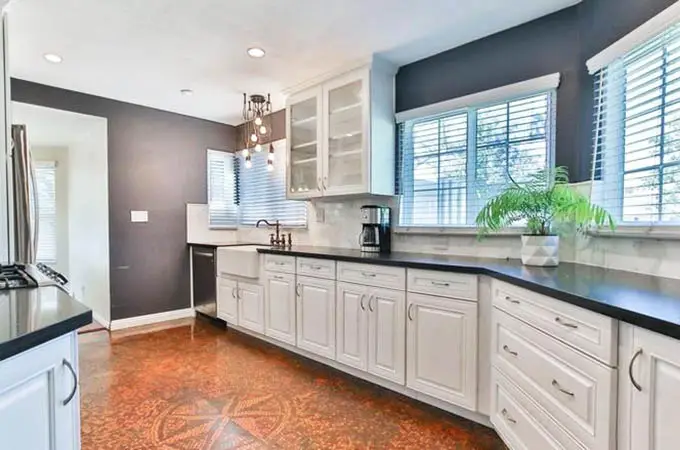 Blinds – Blinds are the typical plastic blinds that you get for the rest of the house. This is nice because it will match the rest of the home. Blinds have an open and closed setting while they are rolled down, as well as being able to be rilled all the way up to let the full light of the outdoors into the space.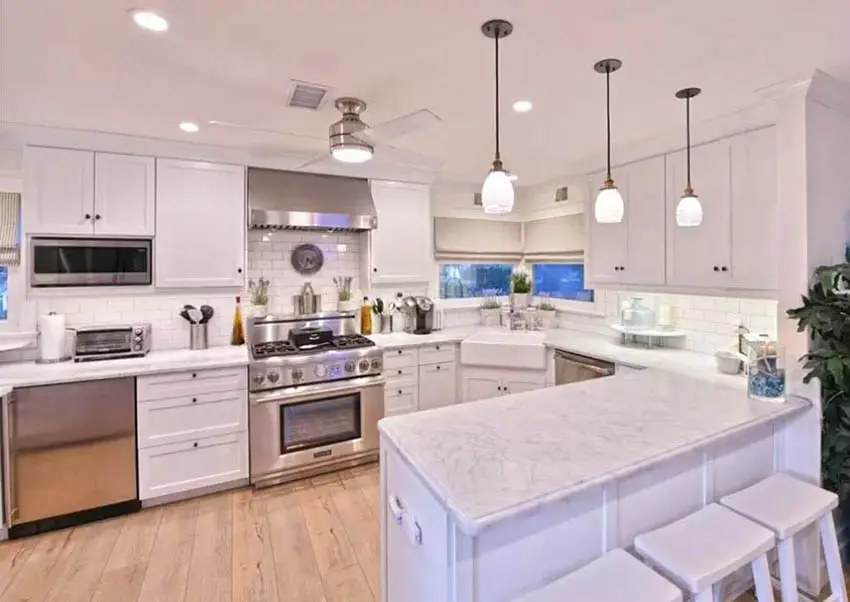 Between the shades and blinds those are two of the best options when it comes to kitchen blinds, as they are able to be put up inside the frame of the window if needed. These are also pretty cleanable when it comes to splashing of food or water. While there are some opportunities for these types to have pops of color and design, they are typically made in pretty standard, neutral colors.
Curtains – Curtains are a great way to soften up windows. Curtains help absorb sounds and can liven up a room with limitless colors and patterns. In a kitchen application it is recommended to use a lightweight fabric so light can still come through it.
It is hazardous to use natural fabrics as they could have negative reaction to the water and food that could potentially splash onto the curtains if they are near a sink or place where food is being handled. See our gallery of the different types of curtains here.
Valances – Valances have pretty much the same qualities of the above mentioned curtains, except they do not cover the entire window. They typically only go about 4 inches down the window. This lets in a good amount of light, but loses some privacy when it is wanted. Valances can also be used with the other mentioned applications to add extra color and design.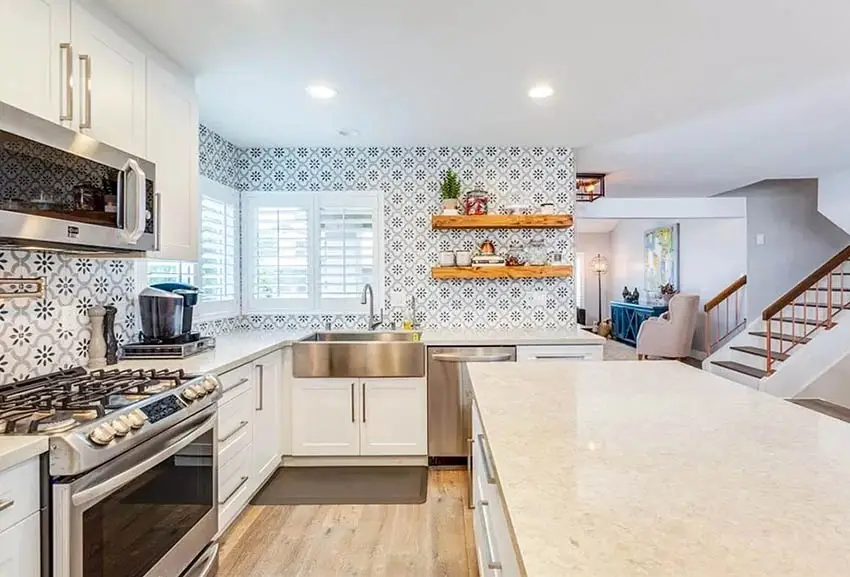 Plantation Shutters – To get plantation shutters for your corner windows you will most likely need to buy a customized corner window application design with bi-fold shutters.
Curtains, valances and plantation shutters can become a tricky installation if there is not enough room to install the hardware, curtains rods or, especially if there are two windows in the corner.
For more designs check out our gallery of kitchen countertop decorating ideas.