Welcome to our quick guide on how to declutter kitchen counters including the best tips for storage and organizing.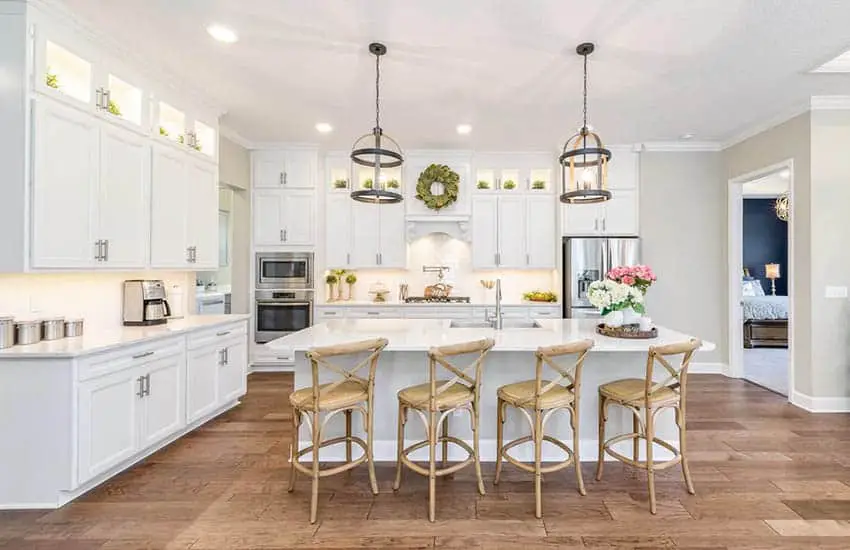 Often times we find our kitchen counters filled with miscellaneous small appliance, utensils, décor and glasswear. After a few years of collecting, this could go from tasteful to cluttered. There are some easy and some more time consuming ways to declutter and refresh and get your kitchen looking sharp again.
Step 1: Completely empty your countertop. Clean the stack of dishes, unplug the toaster, coffee maker, scensy burner, etc and put them elsewhere for now. This is a great time to dump the crumbs and clean out these items too. Once the counters are empty give them a good wipe down and really take a look at the space you have.
Step 2: Decide what stays. How often do you really use that Panini maker that you got for Christmas in 2013? If you use items daily – like a coffee maker, that items should be placed on the counter. Those items often require other things, sugar, cream, kcups or coffee filters and grounds. Consider only leaving the machine out and finding a close but tucked away home for these items. Just because it is no longer on the counter doesn't mean you cannot use it.
Step 3: Relocate extra items. When you have decided all the items that deserve a spot on the counter and picked the ideal locations, it is time to find new homes for the leftovers. Do you ever use these? Is it something that you can get rid of, or does it need to be placed in a cabinet or drawer?
Once those decisions are made it is good to think about where the items in kitchen cabinets are in relation to the ones on the counters. In a perfect world, mugs and coffee extras would be in the cabinets and drawers near the coffee maker. The bread cabinet near the toaster, things of that sort. For decorative items, can you hang them on the wall? Maybe put them on top of the cabinets or the fridge?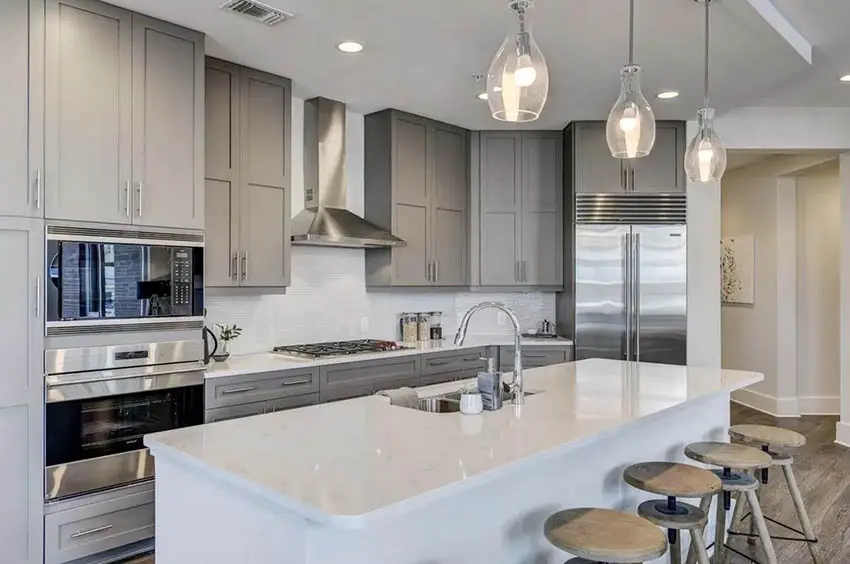 Helpful Decluttering Tips
So now we have a general idea of how to declutter kitchen counters lets discuss exact steps to make it happen for the entire area. If the cabinets are starting to get full and cluttered as well, move the least used items to the higher shelves to make room for the more important items. If they get too dusty at the top, maybe that means they can be donated during the next cabinet purge!
Do you have random vases filled with spoons, ladles, spatulas, wisks etc? Option one is to toss those items into a drawer. Putting them with or near the measuring spoons and silverware can be a good way to remember where they are located. Save the counter space for your knifeblock, because you do not want to stick your hand into a drawer full of those.
If you are out of drawer space, you can look into hanging hooks either on the bottom of the cabinets or on the walls. This saves counter space, keeps the items out in the open, and can add a decorative look to the space. Just note that if there are too many it can cause the space to appear more cluttered than it is.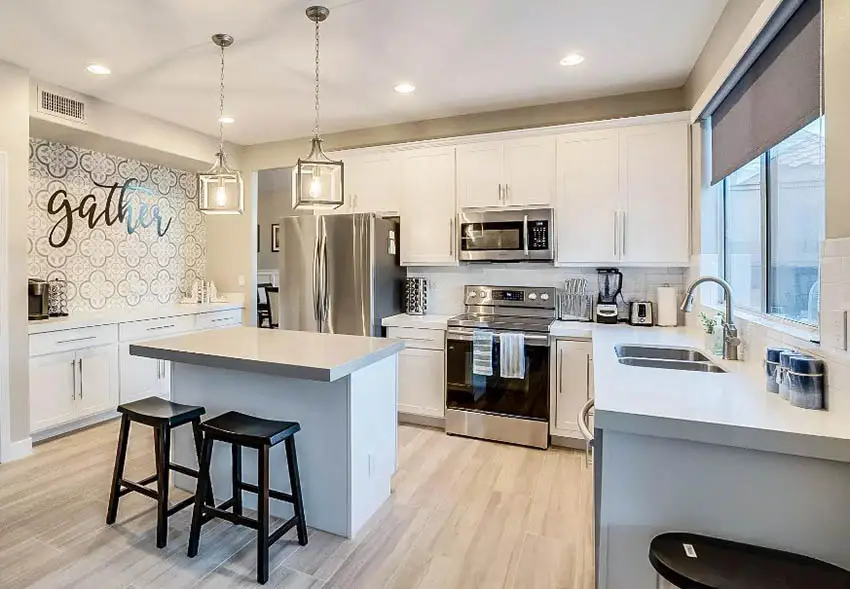 Wall mounting things like paper towel dispensers, spice racks, etc is a great way to get them up and off the counter. Even ceiling hung items are hand too, hanging baskets for fruits and foods that do not need to be refrigerated can save from the typical bowl on the counter solution.
The all mighty JUNK DRAWER, as wild as having a junk drawer helping declutter sounds, it is a lifesaver. This gives a space for the random items that usually sit on the counter for months, or is always reappearing there. Keys, batteries, elastic hairbands, those felt stickers that go on the bottom of chairs, one extra command strip, you name it toss in this drawer and somehow you will always find it again. This keeps all those items from cluttering up the counters.
Sometime having a drying rack is not always a good thing. This takes a lot of counter space as well as promotes leaving dishes on the counter to dry. Consider using just a towel or drying pad and putting it in a drawer after use that promotes completing the task so the kitchen looks like the normal standard you set.
A more difficult, but extremely space saving tactic can be to place your microwave underneath the counter or built into the cabinetry. This is more of a remodeling situation, but could always be a little mini project!
Cutting boards can take up a lot of space, but you would think they would not with how thing they are. A fabulous way to get them out of the way is to create a strap or a little sleeve in the door of your cabinets to place the cutting boards.
If your room's layout can accommodate a portable kitchen island, they can be a great addition for even more storage space. Many portable island offer under counter cabinet space that can be useful for stowing pots, pans and other commonly used utensils.