We've put together a gallery of black kitchen cabinets with white countertops, complete with the advantages, how to choose the right countertop, and the best accent colors.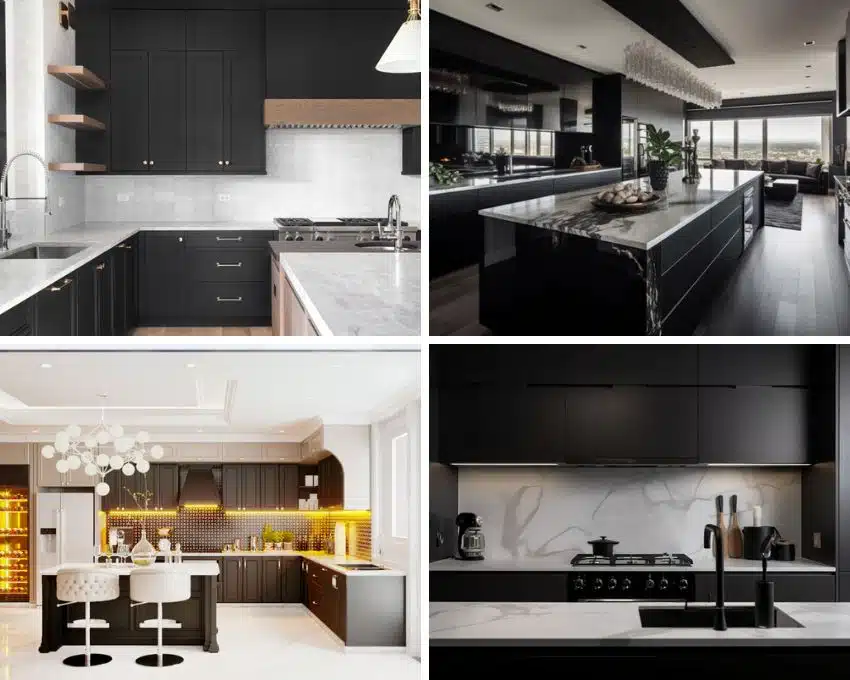 Cabinets take up a considerable percentage of visual space in a kitchen setting. This significant coverage means the color of your kitchen cabinets can greatly influence the feel and look of the room.
The preference for black kitchen cabinets is derived from their versatility and also due to the color's ability to have a modern and clean look.
The following discusses the advantages of black kitchen cabinets, how to use black kitchen cabinets and create a dramatic kitchen interior.
Advantages Of Using Black Cabinets In A Kitchen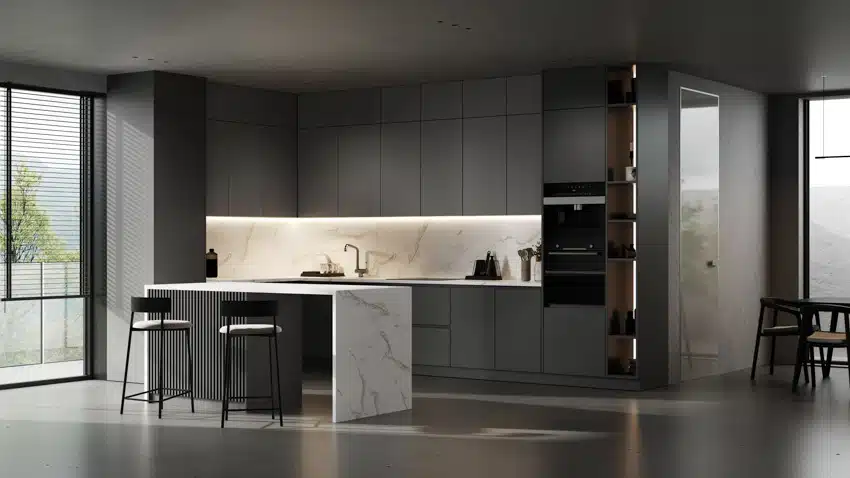 Makes a kitchen look elegant and high-end: Black cabinets with white countertops lend a sophisticated edge to a kitchen, as black is associated with formality and intelligence.
Helps elements to stand out: As the darkest neutral color, black makes other elements stand out without losing their command in the space.
With a well-put-together design, black kitchens help balance the ensemble without overwhelming the space.
Opportunity to add bold and unusual colors: With taking much visual space, a black kitchen remodel can provide a backdrop for vibrant and unique accents.
Eye-catching hardware, such as rich metal tones, or strong colors, such as yellows and oranges, is easy to incorporate.
Serves as a median color to elements: Black cabinets can create a striking contrast when paired with lighter countertops, appliances, backsplashes, and floors. This contrast can create balance in the kitchen and make it feel more cohesive.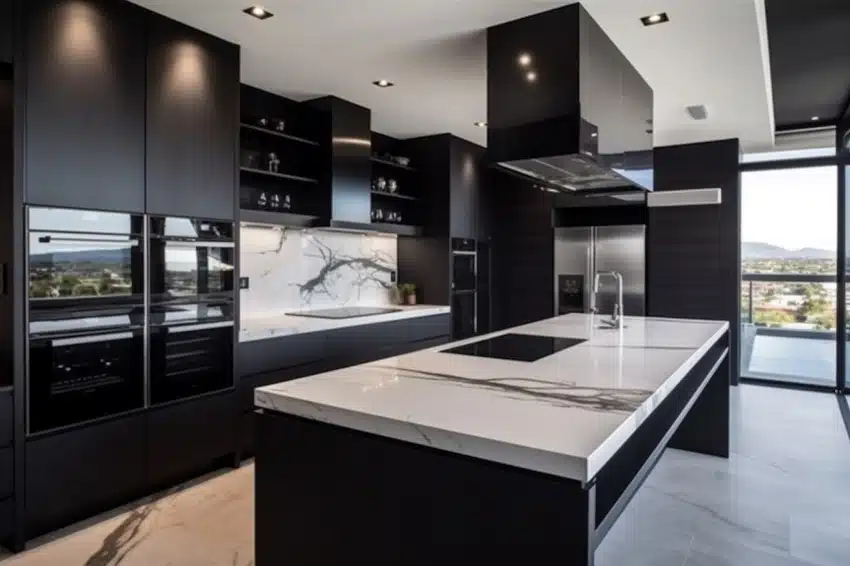 A stone kitchen island can be a beautiful focal point that enhances the primary and black island cabinets. White quartz counters are used for many modern kitchen ideas.
Does not show stains or dents easily: Even the most durable kitchen will receive a few dents here and there. Black cabinets, especially in the matte finish, are great in obscuring damages that occurred over time and can be easily repainted to give a fresh look.
Base cabinets are one of the easiest areas to receive smudges, dents, stains, and other types of damage. With a black base cabinet, these imperfections are less obvious and can be easily repatched and repainted when needed.
Showcase dramatic lighting: With so many lighting design options, creating impactful kitchen lighting is easier with black cabinets as it contrasts with the luminance and creates varying shadows. The play of light and shadow produces depth and highlights decor and finish elements.
Increases home value: Beautiful black kitchen cabinets with white cabinets can increase the resale value of a home as they are considered high-end and luxurious features.
Choosing The Right Countertop For Black Color Cabinets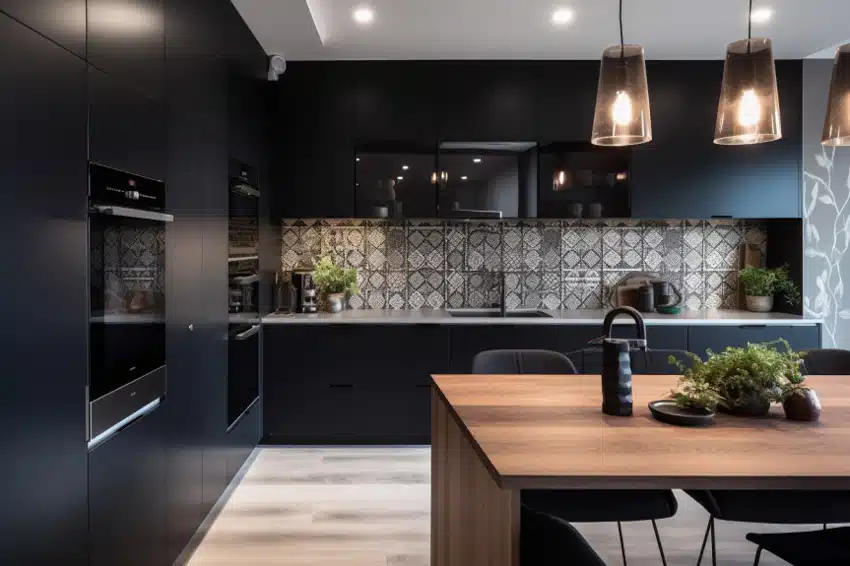 An experienced interior designer can offer important information, tips, and photos of their work for ideas and inspiration. It's important to consider your family's needs and personal preferences when designing a kitchen layout.
High-Contrast Colors – White Quarried Stone Countertop: Aside from creating a grounding element, the black color creates an illusion of a floating element with a white quarried stone and emphasizes the horizontal profile.
These black kitchen cabinets with white countertops help establishes the island as a focal point. The flecks and veining are showcased for white marble or quartz stones without the distraction from its base cabinets.
Warm Materials – Wood Countertop: Color contrast is a great choice for black cabinets, but another design option is to pair black kitchen cabinets with warm materials such as natural wood.
Natural materials such as wood introduce a warm and welcoming atmosphere and work perfectly with the neutral backdrop. There are many options for wood countertops with varying shades and undertones.
Black on Black – Black Countertops: Whether going with wood or quarried stone, a black-on-black combination makes the counters and cabinets look sleek and modern. The continuous color joins the two sections (slab and counter), creating a minimalistic look.
Glossy Materials – Metallic Countertops: A contrasting finish is another design option for modern kitchens. Pair stainless steel kitchen countertops with matte black finished cabinets. The combination makes it a great design for industrial-inspired kitchens.
Industrial-Inspired – Concrete Countertop: As both convey a modern and tactile quality, it's the perfect combination for a kitchen countertop. The classic pairing works well with contemporary kitchens and creates that industrial and masculine quality.
Using Black To Create A Dramatic Look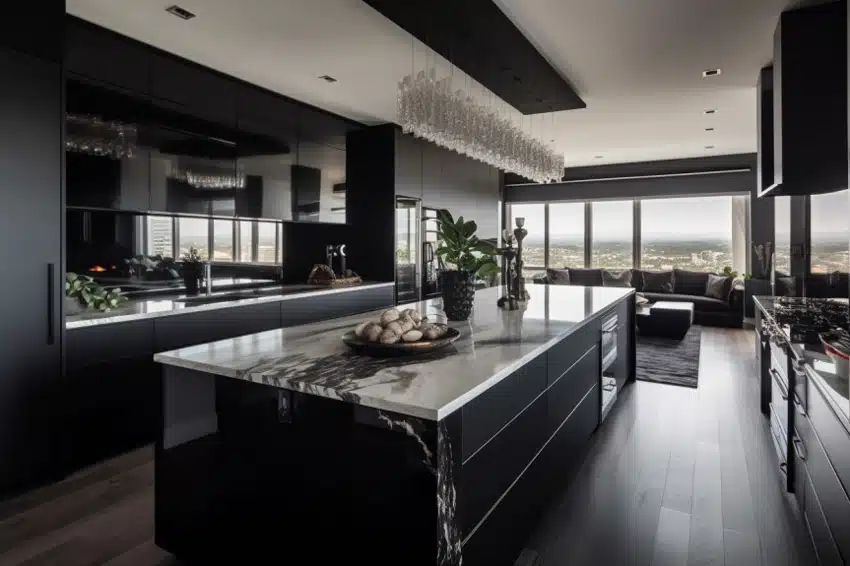 You can have great results and beauty by pairing white with black to create an inviting place for the entire family. It's important to incorporate adequate lighting features to meet the needs of the people using the space.
Having a versatile color, black cabinets can use design foundations such as scale, pattern, texture, contrast, and lighting, creating stimulating environments with lasting impressions of the space.
Emphasize scale – Showcase Grandeur: Kitchens with an island are often the gathering space of the room and a versatile space for prepping or serving food.
With a black base cabinet, the expansive counter can create a visual illusion of a floating slab. This makes the counter more prominent but without having that overbearing look of a large base.
Balance patterns – Showcase Richness: When opting for that heavily patterned countertop, an ambiguous base helps to showcase the richness and avoids a busy design.
Think tiled or epoxy kitchen countertops with rich swirling or intricate graining or patterns. The black base cabinets are obscure to the rich design and instead help to draw the eyes to the showcase.
Layer textures – Showcase Materials: Aside from the visual side of the design, a black color, especially with a matte finish, creates a grounding element to layer several different textures. This explores the sense of touch, elevating the room's overall experience.
Magnifies the light and shadow effect – Configure Space Perception: Black kitchen cabinets with white countertops cover a significant horizontal and vertical space and can manipulate the size and perception of depth when light is strategically placed.
A kitchen can look dreary without any variation. For instance, a backlit against a frosted door panel with black cabinets emphasizes the light's color and its effect against the semi-opaque material.
Using Contrast – Match with White: Pair black cabinets with white countertops, backsplash, or walls to create a high-contrast look. This creates a strong visual impact and makes the black cabinets stand out even more.
How To Balance Cabinets That Are Black With White Countertops?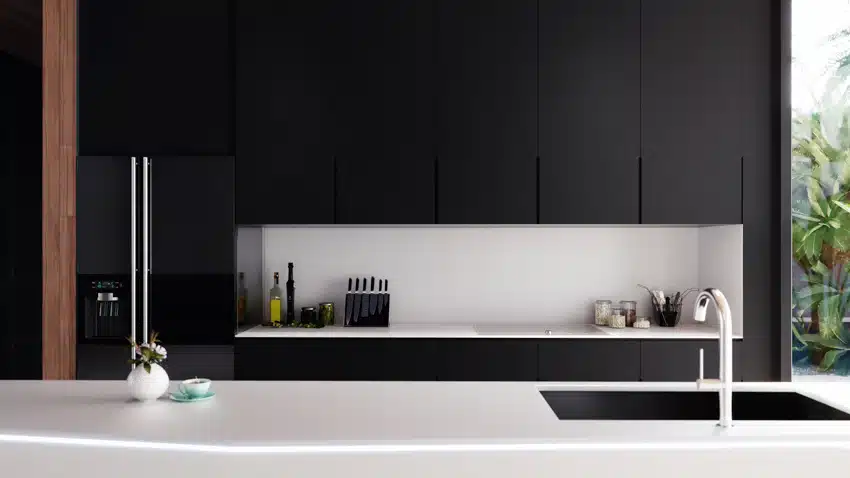 Matte black cabinetry with white quartz countertops and slab backsplash can bring sophistication to the space. Bring in matching black accessories, appliances, and a granite sink to create a cohesive look.
Balance is all about having a harmonious relationship between the two elements. Having equal amounts of color helps but is not necessary as there are other elements at play, such as the profile, use, and location of the elements.
For base cabinets painted all in black, have white walls or backsplashes against the white countertop. This helps balance the colors as seen vertically as the white backdrop compensates for the white slab and continuous the white color upward.
Strong contrasts are encouraged for modern kitchen designs, but specked stone countertops or grayish undertones in white countertops can be an option for that subtle transition of colors, especially when creating a monochromatic effect.
Adding other elements, such as plants and organic materials, help tone down the strong contrast of the neutrals. Incorporating plants or flowers can help soften the stark contrast between black and white and add a touch of nature to the space.
Wood is a popular addition to the black-and-white combination. Choose obvious graining to add a layer of texture.
Accent Color Options For Cabinets And Countertops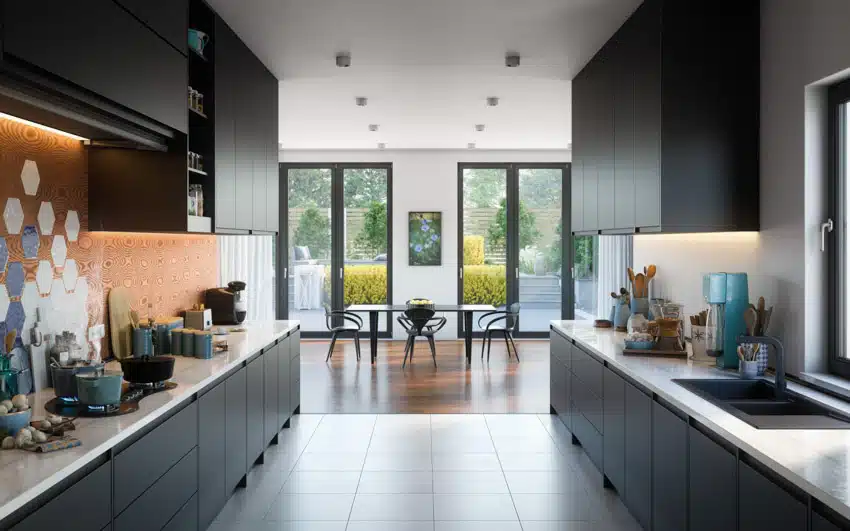 This open concept galley kitchen features light color porcelain tile floors with modern granite cooktop and colorful glass backsplash to provide warmth. Large overhead cupboards offer plenty of storage opportunities for homeowners.
The versatility of black can be challenging when you need to go through a myriad of colors available. But there are accent colors that flawlessly work for black kitchen cabinets.
Gold: The color of luxury, gold, is eye-catching and doesn't need to have an intricate design to add enhance a black kitchen cabinet and white countertop combination.
Run three thin strips of gold (1.5mm) spaced half an inch along the longest side of the white countertop surface.
For a waterfall countertop, continue to run along each side. Aside from countertop insets. Gold hardware can further enrich the look of a black kitchen cabinet which can work for both traditional and modern hardware.
Silver and Gray: Another metallic color is silver accents. Metals such as stainless steel, aluminum, nickel, or pewter have silver coloring, which can be used as hardware or as insets. The cool tone gives the design a modern aesthetic.
Gray, also a neutral color, can be a grounding color for black and white, and with a wide range of shades and undertones, in combination with lighting, the accent color can create a stunning monochromatic kitchen.
White gold: The gold alloy produces a whitish color with a silver-like appearance but notes that white gold can be expensive. Like silver tones, it makes the kitchen element look sleek and clean and can easily work with any shade or undertone of black.
Pink: The feminine color perfectly contrasts black cabinets and works well with a pure white countertop. The color softens the strong and heavy tone and gives a youthful and chic look to the ensemble. Paint the black cabinet's middle, door, or section with pink color.
Mint: Pink is a fun and rare color to combine with black cabinets. Urban and modern kitchens can create geometric patterns with a cool tone to have a unique design.
Brown: The color of wood or wood itself is a popular accent for black cabinets and white countertops as it softens the hard and bold impression of black with its earthy tones.
The black backdrop is also perfect for emphasizing the natural graining or knots in the wood. Look for wood tones that offer plenty of warmth to draw attention and add elegance.

Navy Blue: Another dark color can be in combination with black as it adds a variation in color and depth. Also, a dramatic color in combination with black creates a timeless and sophisticated look.
What Lighting To Use With Black Cabinetry And White Countertops?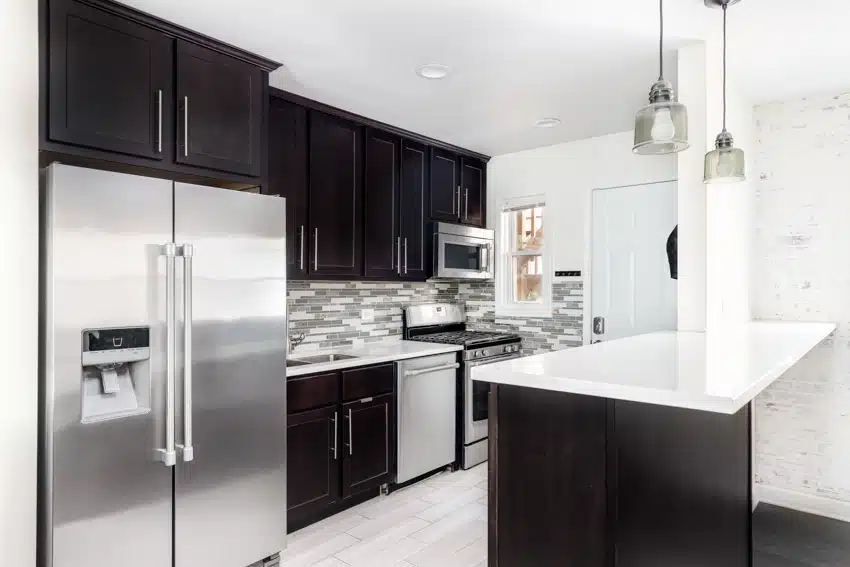 Recessed and pendant lighting in this peninsula kitchen helps keep the layout bright to prevent the black cabinetry from appearing too dark. Light color products and accessories like door hardware, tile, and appliances can enhance the details and elevate the mood.
Generally, a larger percentage of cool white lights is recommended for kitchens as it ensures a lively atmosphere. The countertop, in particular, is an active space where cooking and prepping food, which makes it suitable to be lit by cool lighting.
Cool white ranges from 3500 to 4100 Kelvin, the scale used to measure color temperature.
The Color Rendering Index (CRI) is a numerical system that rates the color rendering ability of fluorescent light compared with natural daylight. – Gearhead Garage Projects, Richard Newton
Cool whites bring a fresh and neat atmosphere but can be layered with accent lights that have a warmer and soft quality. A cool soft white makes a space more inviting and cozier, which works well with expansive kitchens.
The 3000-kelvin light is considered a soft white. For lighting black cabinets, using a 3000-kelvin light is recommended by lighting experts, as darker tones typically dominate space, and the cool luminance softens the look. The 300-kelvin can also highlight wood grains when used as trims or accents in a black kitchen cabinet.
Remember to layer light fixtures to accommodate different functions and consider the ambient light. For black cabinets with angular cabinet designs, using kitchen under cabinet lighting can highlight the profile and helps to illuminate corners and other dark areas and help accessibility and see items easily.
LED lights are a popular choice for under-cabinet lighting because they are energy-efficient and easy to install. Popular lighting fixtures for countertops and kitchen cabinets are under-cabinet, pendant, recessed, and track or monorail lighting.
Kitchen Designs With Black Cabinets And White Countertops
This farmhouse kitchen offers inspiration with its perfectly coordinated white textured subway tile backsplash combined with marble countertops to add contrast, personality, and style to the design concept.
Timeless and Casual – Matte Black Kitchen Cabinets: This simple kitchen design employs simple lines and fewer embellishments while integrating light-colored wood. The matte black kitchen cabinets balance off the sleek and glossy finishes of stone and tile.
The straight stacked white tile horizontal mosaics extend the white countertop to create a neat backdrop for the bold color. Grounding the colors is the warm wood floors and island base cabinets.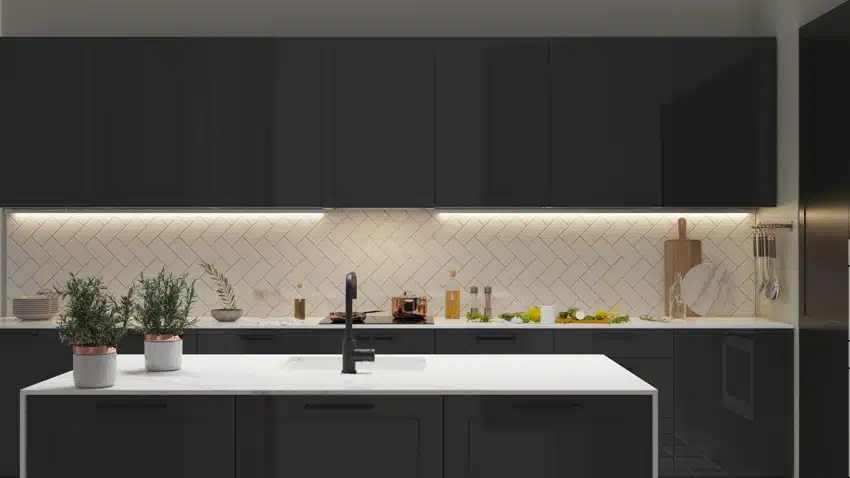 Contemporary and Cozy – Black and White Cabinets: The black cabinets with prominent framing give a more custom look to the kitchen. Combine a black base cabinet with white wall cabinets to balance off the neutrals.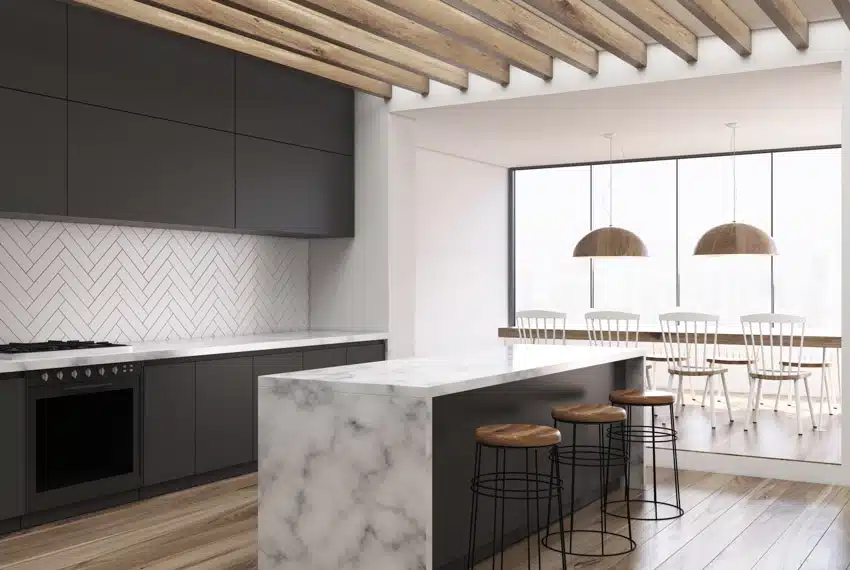 Warm Backdrops – Handless Black Cabinets: The sleek black cabinets and pure white waterfall island are contrasted with a herringbone backsplash in a cream tone. The dimensional surround adds an exciting element to the interior.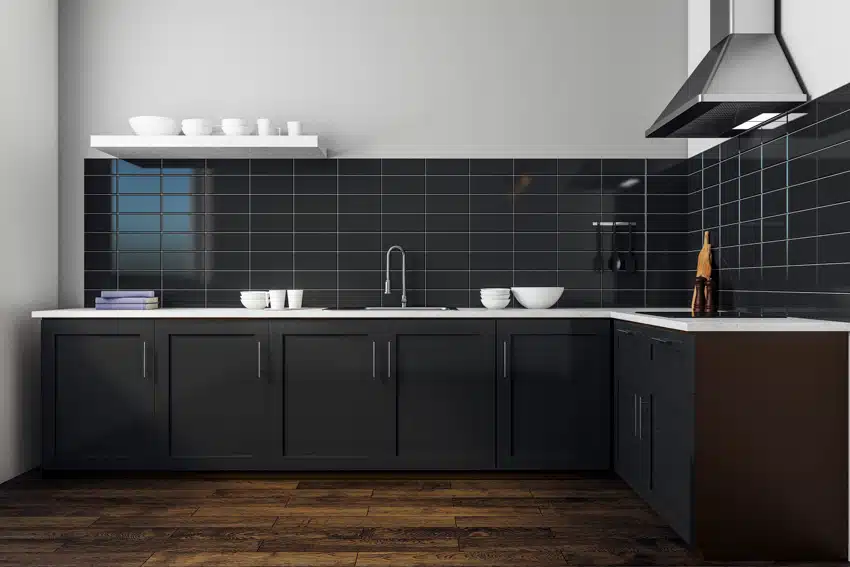 Layered Textures – Minimalist Black Cabinets: The minimalist kitchen cabinets give an opportunity to explore the ceiling area. This kitchen showcases the wood trusses running through the entire ceiling and is matched with wood floors.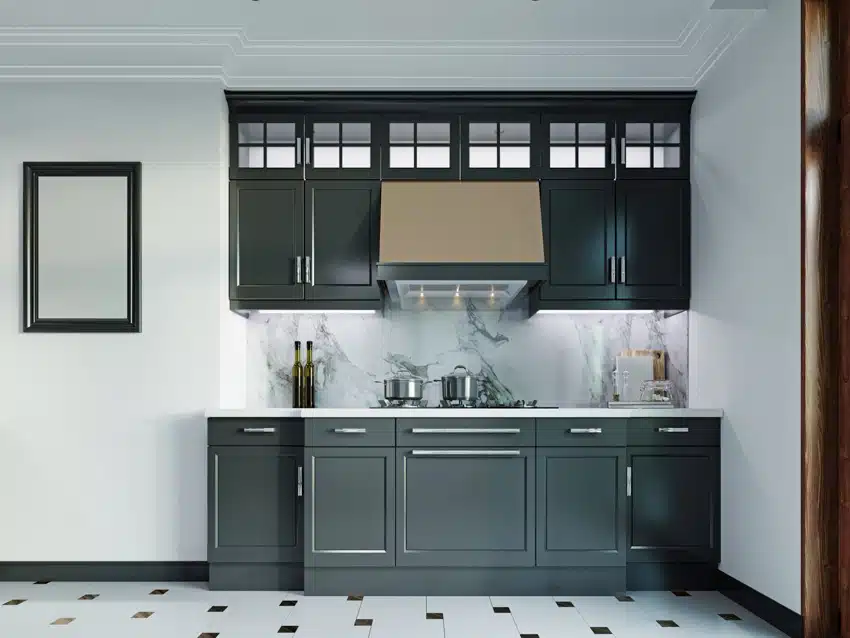 Section Areas with Black and White Combination – Black and White Cabinets: Break the traditional linear elements and zone out elements or functional areas with color. Pair black with white kitchen cabinets for a lighter design and elegance.
Look for two tone kitchen photos for ideas and inspiration. Also, color elements in the same black color, like this range hood, create a unified look among the elements.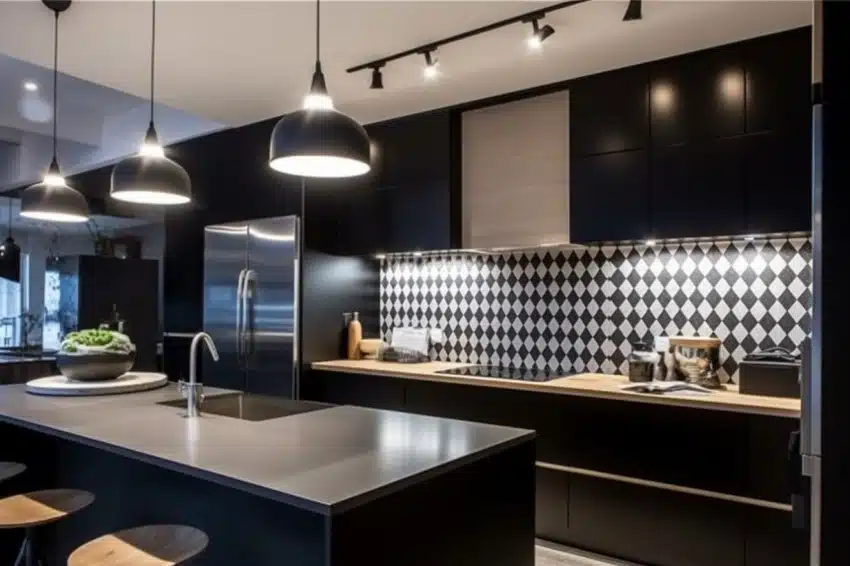 Add Fun Patterns with White and Black Colors – Checkered Backdrop: To tie together black and white elements have a patterned square tile backsplash with white and black colors. This checkered black and white wall creates a homely vibe to the kitchen area.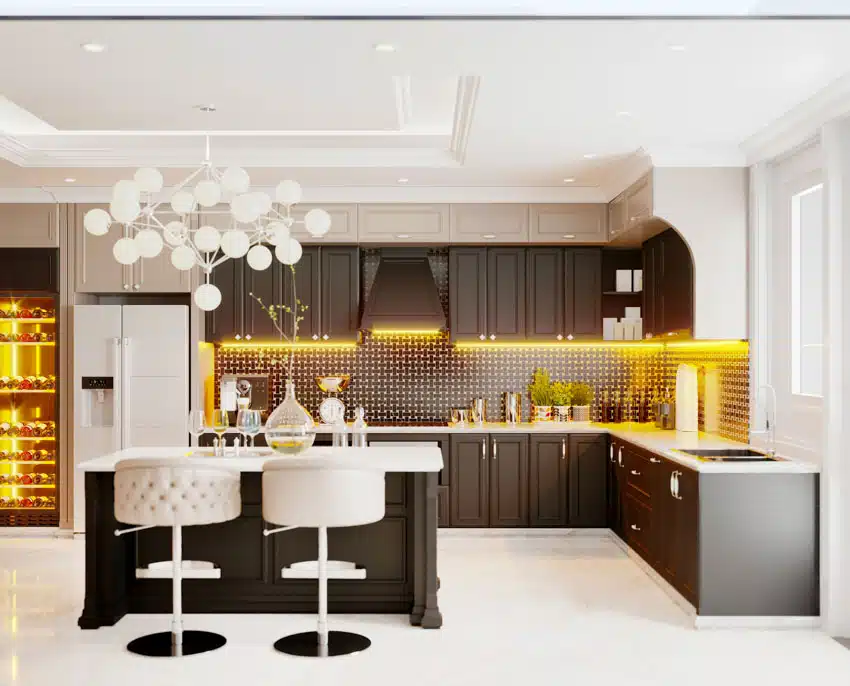 Black Cabinets with Dramatic Backlighting – All-Black Storage System: The great thing about black cabinets is that the effect of lighting can be enhanced. This kitchen design uses yellow backlighting seen below the black cabinets.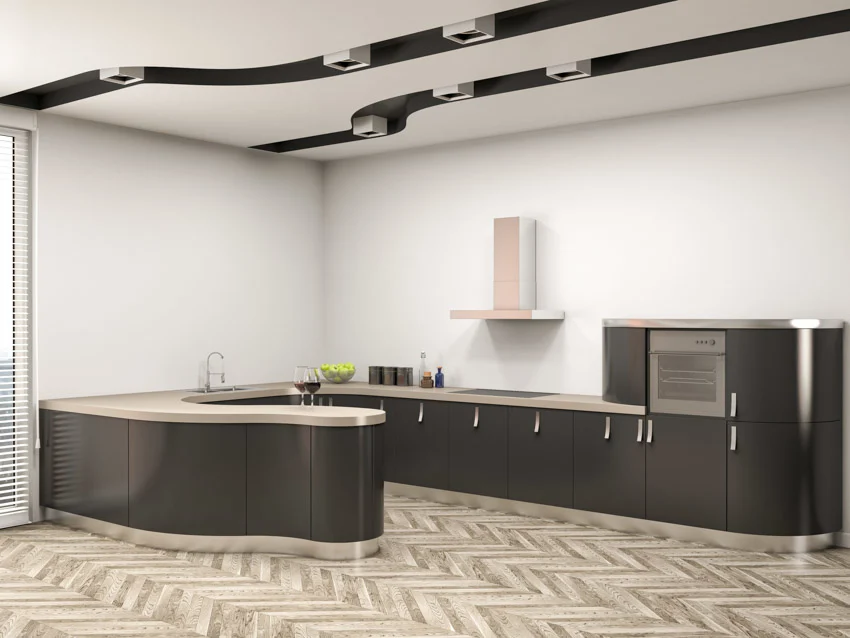 Curved Black Kitchen Cabinets – Retro and Futuristic Kitchen: Black cabinets are not hard to find and can fit any kitchen theme. This retro-inspired kitchen uses black base cabinets lined with an aluminum toe kick.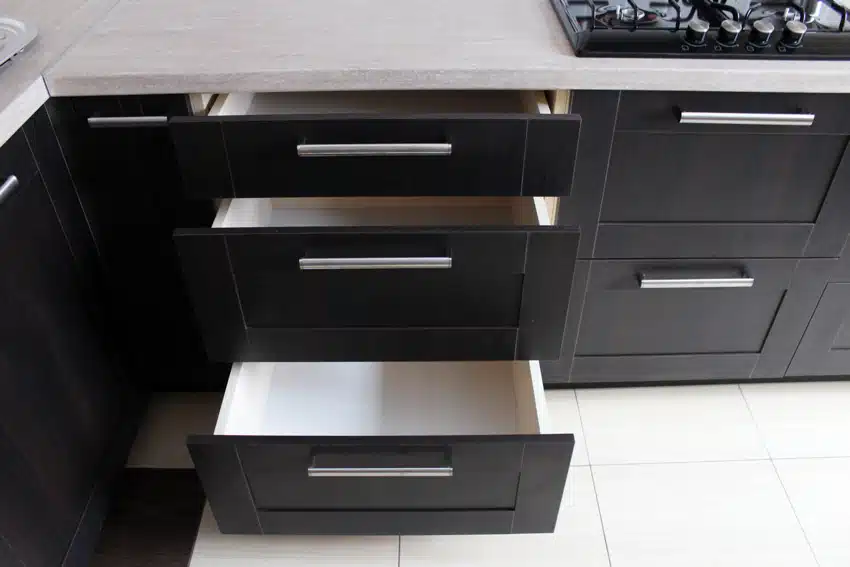 Black Kitchen Cabinets with White Drawer Boxes – Practical Designs: Choose to paint the inner part of the black cabinets with a white color to easily see stored items inside.
See more related content in our article about the pros and cons of black kitchen cabinets on this page.