Here is our epoxy kitchen countertops design guide including their durability, cost, installation tips & pros and cons.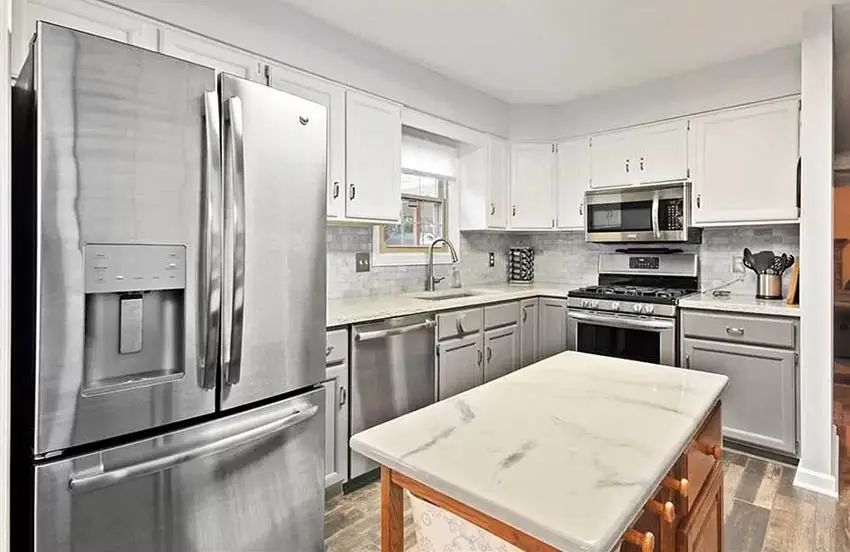 Epoxy kitchen countertops can be an attractive addition to a kitchen design, especially when cost is considered. Below we will investigate what epoxy resin is and whether it is worth investing in an epoxy countertop for your home.
What Are Epoxy Resin Countertops?
Epoxy resin is a compound of multiple materials that react with each other; this resin is different from polyester resins as it cures by being mixed with a hardener. This material is considered superior to many others as it barely shrinks upon curing, it has good insulating properties, it is chemically resistant and some epoxy resins are extremely waterproof, although not all are.
All epoxy resins have different applications, due to their different compounds, therefore it is important that the correct one is used based on application; their most common uses are for metal coating, electrical insulation, structural adhesives, materials that are made out of fiber-reinforced plastic and as electronic and electrical parts.
Epoxy countertops do not come pre-made and are not available to be purchased in blocks; epoxy resin instead allows to refinish existing countertops and is sold in kits with which homeowners can either refresh the look of their kitchen themselves or call in a professional and get it done quite quickly, although the hardening process may take some time, for some even months.
How Durable Is An Epoxy Countertop?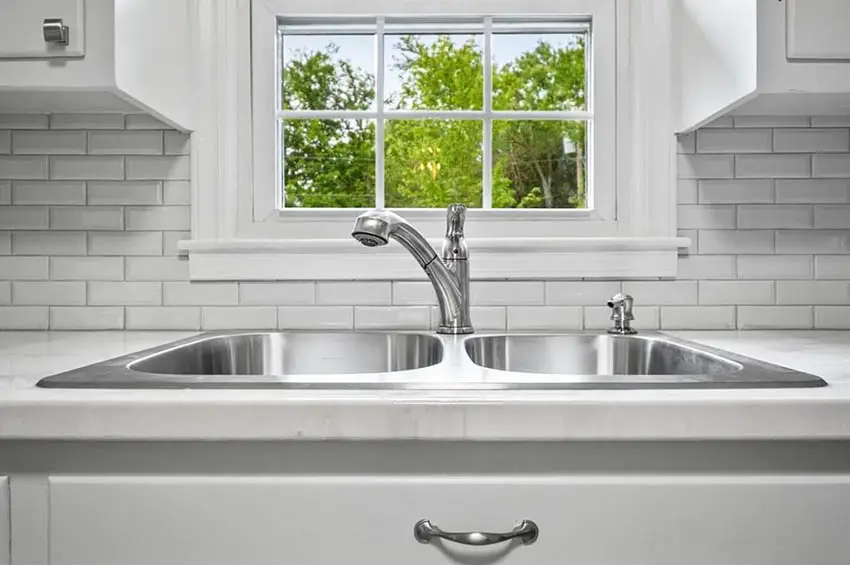 Epoxy countertops are quite durable and if taken care of properly, can last a lifetime; it is very important that the homeowner understands how to use and maintain an epoxy countertop in order for it to look top-notch for a long time and not only for the first week after its installation.
Do Epoxy Countertops Scratch Easily?
If installed properly with the correct composition, epoxy countertops are somewhat scratch resistant. Epoxy resins are made in different ways and when selecting the one to use it is mandatory that the product mentions that it is scratch-resistant.
Kitchen countertops are used in many ways throughout the day therefore the correct formula must be purchased to ensure the top continues looking great way after it has been installed.
Is Epoxy Safe For Countertops?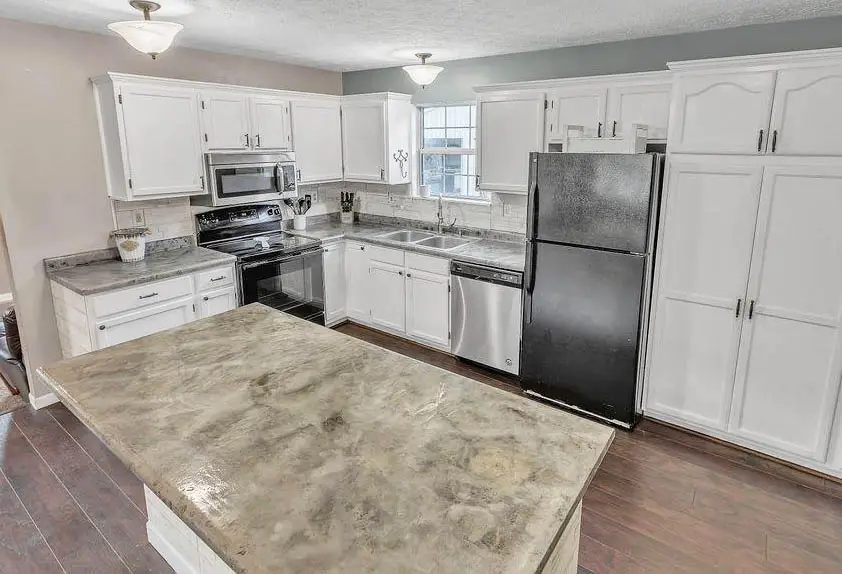 Epoxy countertops have been used in laboratories for many years and are extremely safe to use in kitchens, as most of them are non-toxic and food safe after they have been cured.
How Much Does An Epoxy Material Countertop Cost?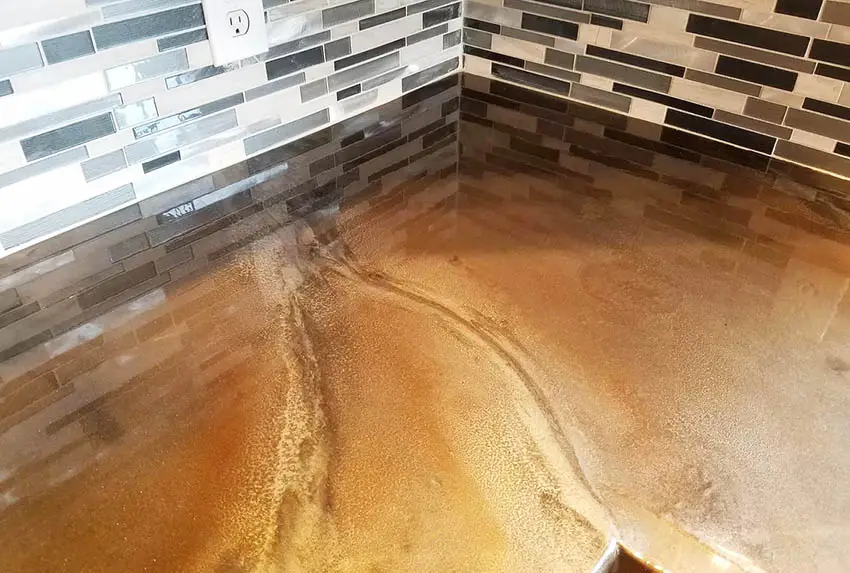 Epoxy countertops are an excellent choice when the budget is a concern and when it is not! As this material is used to refinish others and it comes in countless colors, finishes, and designs, the costs can vary a lot, satisfying multiple color schemes, budgets, and needs.
An epoxy kitchen countertop can cost from as little as $6 per square foot, up to (and over) $45 per square foot, depending on the one chosen.
When comparing the cost with other materials, such as marble countertops which start at about $45 per square foot, epoxy is much cheaper, yet it has an enormous degree of flexibility with its look!
Epoxy Countertops Pros & Cons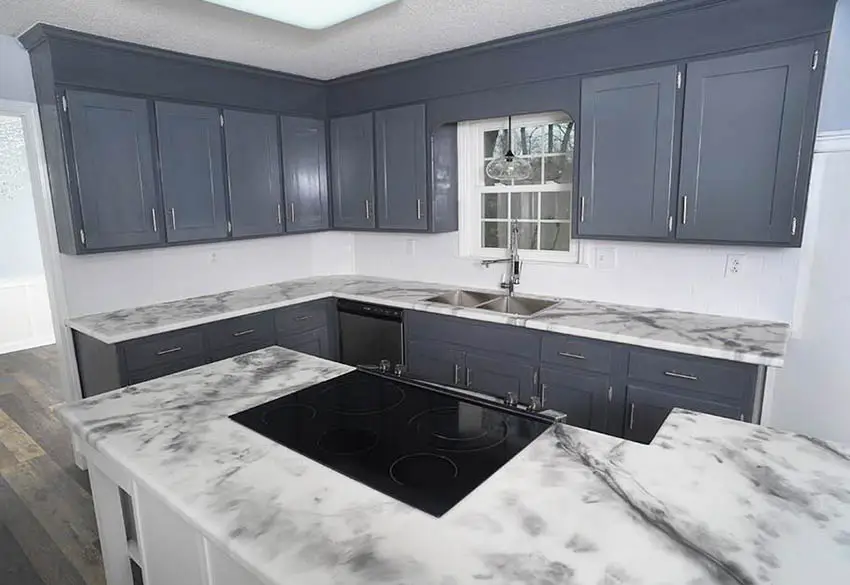 This kitchen with epoxy resin presents a look similar to white quartz countertops.
Epoxy countertops have multiple benefits, given they can be made in different ways to satisfy different needs.
Sanitary – Epoxy countertops are extremely sanitary as they are non-porous and smooth, therefore can be wiped clean easily for sterilization. By following maintenance instructions, these countertops can be kept shiny and looking like new for many years to come. When selecting an epoxy countertop kit, it is important to read the main qualities and when one is heat and scratch-resistant, it can be kept scratch-free for many years to come.
Moisture Resistant – Kits for kitchen countertops are made of compounds that make the epoxy highly moisture resistant, meaning they can be used also around the sink without any repercussions.
Many Different Styles – Epoxy countertops are contemporary and chic and can be chosen in different styles, colors, and finishes. This means that if marble or quartz countertops are out of the budget, the marble/quartz effect can still be reached with a fraction of the cost.
Moderately Heat Resistant – While generally heat resistant at low levels, it's not a good idea to put hot pots and pans directly on epoxy surfaces. They will usually allow items that are below 135F to be placed without incurring any heat damage.
Low-Maintenance – As they are durable and easy to clean they are considered a lower-maintenance alternative to surfaces such as butcher block, quartz, granite or marble.
However, they are not without maintenance and care should be taken when it comes to scratches and cleaning up spills right away to avoid staining.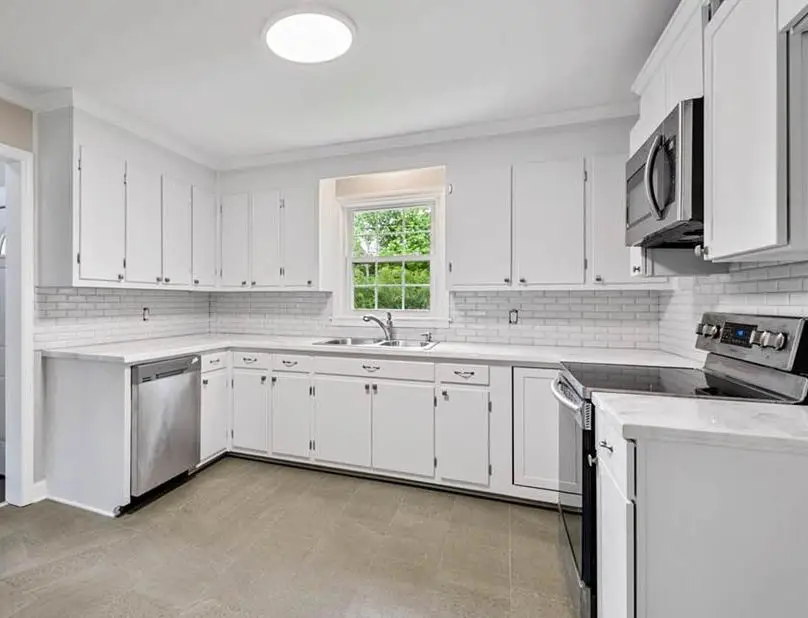 Unfortunately, not even epoxy is perfect and has some cons!
Requires Careful Installation – Like all resins, epoxy countertops require very careful installation, as any mistake can take a long time to be fixed, as the whole needs to be removed and the process needs to be started again with a new kit.
Any installation should not be rushed, the method followed precisely and the result will not disappoint, although to see the result it will take a bit longer than other installations.
Before installing an epoxy kitchen countertop, it is mandatory that the surface on which the installation will happen, is completely clean and dry as any minuscule level of moisture may cause the countertop's finish to be uneven. Professionals will usually carry out a moisture test prior to installation and select a kit that has a self-leveling agent in it for these reasons.
Time Consuming to Install – The process of manufacturing epoxy countertops material kits can take some time, therefore do ensure you place your order with plenty of time to spare, as you will need to have some patience while waiting for this to be prepared.
While this material has multiple benefits once installed, it is recommended that if one is not a DIY expert, one is called in to carry out the process of installing the epoxy resin kitchen countertop as, as mentioned before, the installation method needs to be followed precisely as no room for error is allowed.
Once the epoxy countertop is installed, it is important that maintenance is followed, as unfortunately some of these mixtures can stain easily! Red and yellow foods can leave marks and need to be cleaned as soon as possible with specific methods, while non-heat resistant epoxy will need to be protected from hot pots and pans. But again, as mentioned before, if maintenance is followed, then epoxy is still a great choice.
DIY Epoxy Resin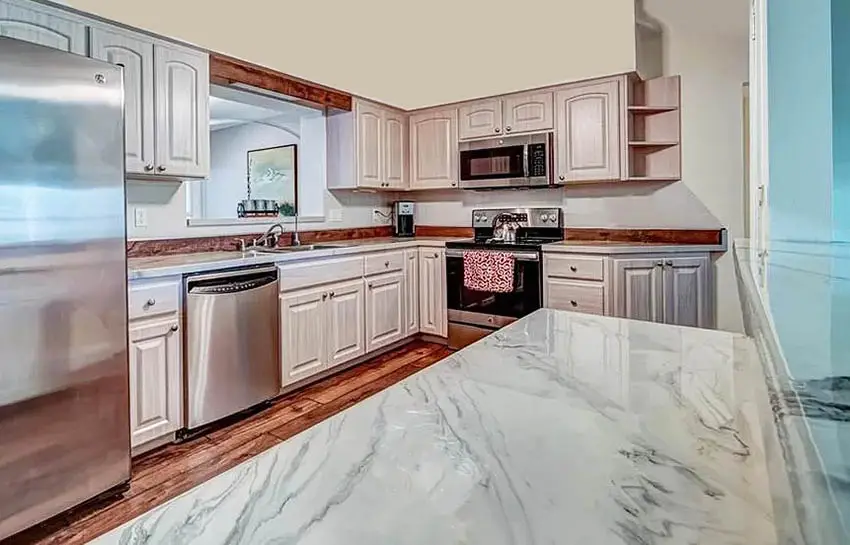 DIY Epoxy Resin Kitchen Countertops are widely available and if you have some DIY experience, a lot of patience, and the will to follow instructions without diversions, then you are good to go. The countertops that will be refinished need some careful preparation prior to the work commencing and there are multiple guides available for this.
Before the coating starts it is important to ensure the edges of the countertop are rounded, as the epoxy resin will need to be able to flow across and over the edges, any gaps and seams will need to be filled and then the whole surface will need to be sanded down in order to give some grip to the epoxy and allow it to bond easily.
As the installation of epoxy countertops can get very messy, it is essential that everything that is not going to be refinished is covered! Starting with the floor, the cabinets, walls, and the sink, it is simple to protect these with plastic sheets and tape, while extra drips can be collected with cardboard in the more exposed areas.
Once everything is protected, confirm you have everything needed in sufficient quantity! As stated a couple of times prior, the installation process requires to be followed precisely, and once started it cannot be stopped if the quantity has been miscalculated or an error has been made in proportion.
Once you are certain you have everything and all of the items are sufficient to carry out the project, go for it. However, remember to allow yourself enough time not only to install this but also to look after it for a while after you are done and it is curing.
Extras along the edges will need to be scraped off, so not to dry in a drop shape, dust and bugs will need to be removed immediately with tweezers or toothpicks and after an hour it should be left to dry for the next day or so.
After drying you can begin finishing off with the protective layer, which will need another week at least to completely cure, putting an end to this DIY project.
These kits can be purchased in DIY shops that offer a paint section, kitchen and bathroom shops as well as off the internet.

Epoxy Paint For Countertops
Epoxy paint is a brilliant solution as it bounds to most materials, such as marble, laminate, and even Formica, although it is not as resistant as the epoxy coating. While epoxy coating can be purchased to be stain and heat resistant (not all of them, check the label!), paint is often much more subject to staining and may peel back or crack.
The preparation and installation process of epoxy paint is extremely similar to the epoxy coating. The countertops need to be scrubbed and repaired before being cleaned and dried completely prior to application; just like an epoxy coating, also epoxy paint requires two or three coats, but it is not poured over the counter, it is either rolled or sprayed on top.
All in all, epoxy paint is not as durable and resistant as the coating option, but, as the drying process is much quicker than the curing one, sometimes it is preferred, especially as the installation can be a little bit less technical; if the finish desired is a bit more particular, such as a marble look, it is a good idea to select an epoxy coating and have the work done by a professional contractor, in order to be able to enjoy the result for a long time ahead.
For more related designs, visit our gallery of white granite kitchen countertops.