Welcome to our gallery of modern kitchen cabinets showcasing styles, colors, hardware and design ideas.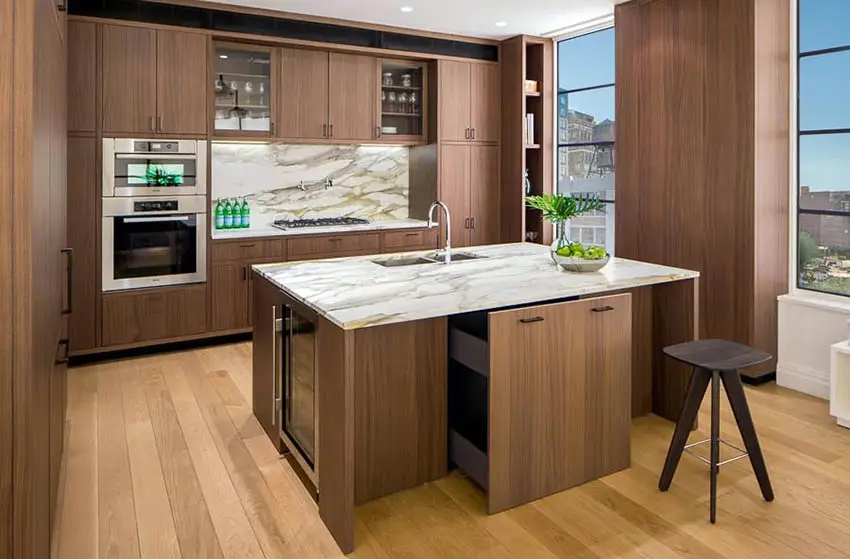 The term "modern " encompasses a lot of things when it comes to interior design. In general, it can mean something which is current, trending and less traditional. We instantly think that it pertains to something that is up to date, but in fact, the modern style was formed through various inspirations from different periods in time.

Below we explore some of the key design features of modern kitchen cabinets to help you decide whether their stunning stylish aesthetics is the right fit for your home. (Visit this page to see our full list of kitchen cabinet ideas)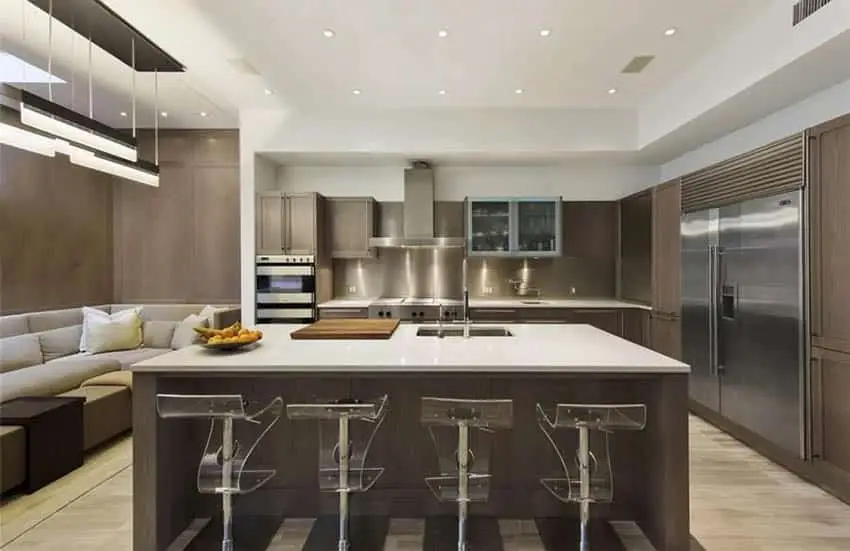 Designs for Modern Kitchen Cabinets
Modern kitchen cabinet design favors flat smooth surfaces, bold geometric forms, sharp lines and no ornamentation and this is reflected through the different design elements, including the kitchen cabinets.
Modern kitchen cabinets directly reflect the design sensibilities and trademark characteristics of the modern design. They are very simple, yet puts premium on functionality.
Another important facet of modern kitchen designs is the use of sharp lines to produce prominent forms. It puts emphasis on horizontal lines – like grooves on cabinet faces, long cabinet hardware, stacks of cabinet drawers which are lined in a row, a strip tile backsplash accentuating kitchen cabinetry or pronounced horizontal graining on wood.
Traditionally, the graining pattern of wood for doors or panels follow a vertical orientation but modern kitchen cabinets follow the opposite and can sometimes have grooves which match its horizontal graining pattern.

Modern Style Cabinet Doors for the Kitchen
In general, modern kitchen cabinet doors are characterized by their simple, sleek, stylish look. It is streamlined in form, composed of very prominent angular lines, has little to no ornamentation and has a very smooth surface.

The signature characteristic of modern kitchen cabinet doors is that they are very simple. The design is very straightforward and puts emphasis on the absence of ornamentation. Although geared towards a heavy use of straight lines, modern kitchen cabinet doors may also use prominent curved lines and angles.

The flat panel door style is the most common type of cabinet door design that is used in modern kitchen cabinets. Also referred to as the slab door style, the flat panel door style is characterized by a frameless appearance.
It takes after its name because it is composed of a single, un-ornamented, flat slab of wood. The cabinet doors feature smooth surfaces with no details of intricate carvings, decorative moldings, edgings or raised and inset panels.

The construction type of modern kitchen cabinet doors usually follow a frameless, full overlay type of construction, which means that the door fully overlays or overlaps the cabinet box or carcass.
The full overlay cabinet construction method results into a sleeker look compared to a flush inset cabinet. Frameless kitchen cabinets also do not show any type of framing at all between each cabinet door, resulting to a smooth transition and equal spacing between all the cabinet doors and drawers.

Modern kitchen cabinet doors also alternatively make use of frosted glass doors to create a more sleek look. In some cases, the Shaker door style is also used, however the overall design of the kitchen tends to lean towards the Transitional theme rather than modern.
However, this type of door design can still be used as long as all the other elements in the space conforms to minimalist aesthetics.

Although plain, modern kitchen cabinet designs are very stylish and elegant. They do not lack in character because of their stylish appearance brings punch and contrast to a room.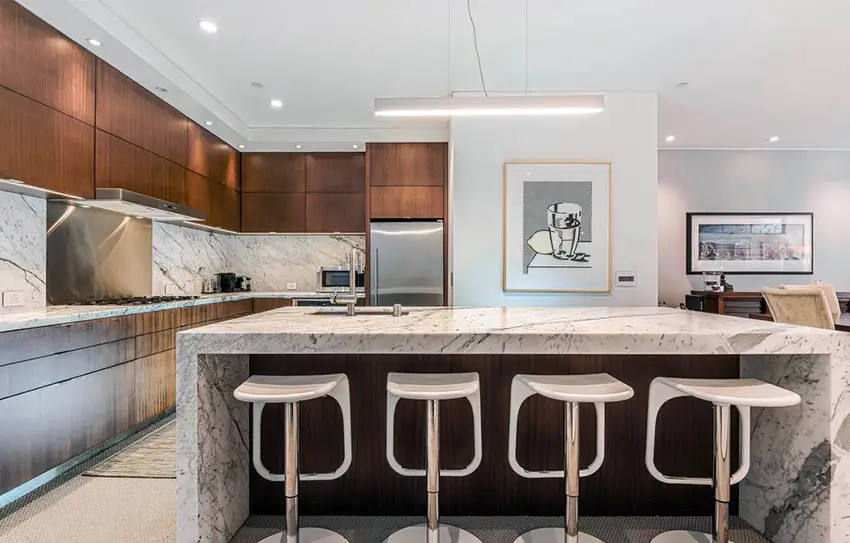 Materials Used for Cabinets for the Kitchen
Traditionally, kitchen cabinetry make use of natural materials such as solid wood as its primary material for construction, however for modern kitchen cabinetry, both natural and manmade materials can be used.
Modern kitchen cabinet doors typically make use of wood, MDF, plastic,glass and metals like aluminum and stainless steel. In some cases these materials are also mixed to produce more interesting designs, like a frosted glass cabinet door with an aluminum frame.

Wood is also used in this style, but instead of using one type, modern kitchen cabinets style combines different finishes. The most preferred type of wood for modern kitchen cabinets are those that have a prominent horizontal graining pattern.
Modern Cabinet Finishes
Modern kitchen cabinets are also typically finished with high quality laminates and wood veneers. Unlike traditional cabinets which go for glazing, distressing or antiquing for a time worn and weathered look, modern kitchen cabinets pt for a fresher look, a brighter appearance and a more updated vibe.
To create a very sleek look, modern kitchen cabinets are typically finished with high gloss materials or plain smooth surfaces.
Modern Design Hardware for Cabinets
Another important feature of modern kitchen cabinets is sleek hardware. Cabinet hardware for modern kitchen cabinets are plain, simple and clean.
The essence of modern kitchen cabinet design is to have minimal embellishment. The cabinetry and the materials used typically take the center stage for modern kitchens and with that, the cabinet hardware is not overpowering.
Rather than standing out, modern kitchen cabinet hardware has a more integrated look. Typically, they are flushed to the cabinet door surface or if not, they run the full length of the cabinet doors and drawers to accentuate its lines. In addition, they do not have any decorative details like etchings, motifs or engravings.

Subtle cabinet hardware with the right finishes can make a big impact on modern kitchen cabinetry design. A simple, long liner brushed satin cabinet pull, for example, looks stunning on high gloss kitchen cabinets.
Another example are oversized horizontal metal handles matched with horizontal grained wood veneer kitchen cabinets. Both types of cabinet hardware are understated, yet a perfect complement for sleek, modern cabinetry.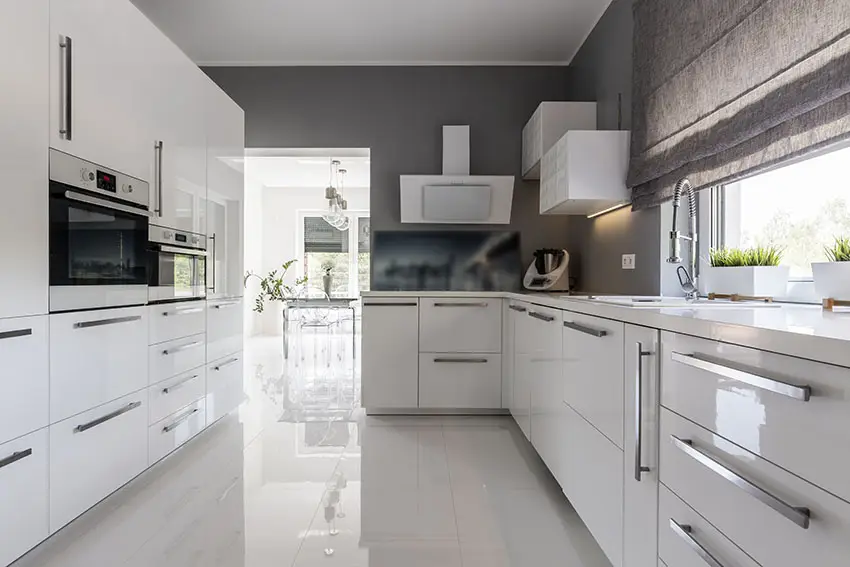 Here are some other types and examples of modern kitchen cabinet hardware :

Flat bar pulls – Flat bar pulls have square edges and a very prominent angular profile. You can use this type of hardware if you want to accentuate the angular elements in the kitchen design by adding a strong linear feel to the cabinets.
This type of cabinet hardware is best used with horizontal drawers or flat panel cabinets with horizontal graining pattern.
Cut out flat bar pulls – This type of hardware is a variation of the flat bar pull. It also has square edges but instead of having a plain design, it has a small rectangular cut out at the center. You can opt for this if you want to add a subtle accent and an extra punch to your kitchen cabinets.
This also work best with modern flat panel kitchen cabinets in high gloss finish. Solid, plain colored cabinetry makes the cut out more noticeable as compared to a wood grained cabinet.
Recessed pulls – Recessed pulls are flushed entirely to the cabinet door or drawer face, rather than sticking out. They have a functional and utilitarian nature as they do not get in the way of the users. This is also your best option if you want to maintain a flat surface for your cabinetry.
Recessed pulls are typically used for drawers, bypass doors and slab style doors. They look best on wood stained cabinets compared to high gloss cabinets.
Tubular stainless steel pulls – This type of cabinet hardware design is considered a classic and is commonly found in flat panel cabinets and shaker style kitchen cabinets.
Characterized by a long straight piece of metal that has a round profile and end caps which are flushed, this type of kitchen cabinet hardware contributes an industrial feel to modern kitchens.
Tubular stainless steel pulls are typically set on a length that is almost the same size as the cabinet or drawer. The longer the cabinet pull is, the bolder the statement it creates.
Bar pull – It is also another classic cabinet hardware design that was made popular from Italy and Spain. Up until this day, this cabinet hardware design is one of the favorites in the kitchen design scene, and it has proven to never go out of style over the years.
Compared to the tubular stainless steel pull which has a flushed end, this type have ends which stick out, longer than the part that is screwed to the cabinet face. Bar pulls also have a sleek appearance and work well with flat panel or slab style cabinet doors. This is usually made up of stainless steel and comes in brushed satin or chrome finish.
Tab pulls – Tab pulls are a type of kitchen cabinet hardware that is edge mounted to a cabinet. It has an "L" shape profile and is usually attached to the top most part of the cabinet door or drawer face. It can either be small or can run the full length of the cabinet door or drawer.
Tabs are very functional yet create a strong statement for modern kitchen cabinets.This type of hardware, whether stainless or black looks like design accents which give character to the overall look of a kitchen.
Black tab pulls, for example, provides a bold contrast when used with ultra white high gloss modern kitchen cabinetry. This is also commonly used for slab style or flat panel doors and a perfect match for high gloss and wood veneer cabinets.
Wire pulls – Wire pulls have a thinner profile that has a thin, elongated "C " profile with rounder edges. This type of cabinet hardware has a simple,subtle, classic design and is perfect if you want a hardware that does not compete with the rest of your cabinetry.
It is small in size and works well with any type of modern kitchen cabinet, whether high gloss or wood veneer. It is also the perfect complement to stainless steel kitchen appliances.
J or C channel metal rail pulls – J or C channel metal rail pulls are characterized by their "C" and "J" shaped profile, which is entirely flushed into the cabinet door or drawer face.
This type of cabinet drawer has a very sleek look and create integrated cabinetry design because the pulls do not stick out of the surface of the cabinet doors.
However, one drawback of using this type of cabinet hardware is that dirt and dust can easily accumulate inside the channels. J or C channel metal rail pulls run the full expanse of each cabinet door and drawer unit, thus they accentuate the linear design more.
It is also installed at the top part of the cabinet door, creating sort of an accent. This cabinet hardware design is well suited for flat panel doors and looks good on both wood grained kitchen cabinets and high gloss cabinetry.
C channel integrated wood pulls – If you do not like the look of mixed materials in your kitchen cabinets and prefer a more purist design, then this type of cabinet hardware is the perfect match for you.
This type of cabinet hardware is almost similar to the C and J channel metal rail pull, but takes on a "C" shaped profile. C channel integrated wood pulls create a seamless look and smooth transition between the cabinet faces and the cabinet hardware, in fact, the result is like a "handleless" design.
Since it is made up of wood, it does not contrast with wooden kitchen cabinets, but instead it blends perfectly. This is well suited for modern kitchen cabinets in wood veneer or wood laminate finish.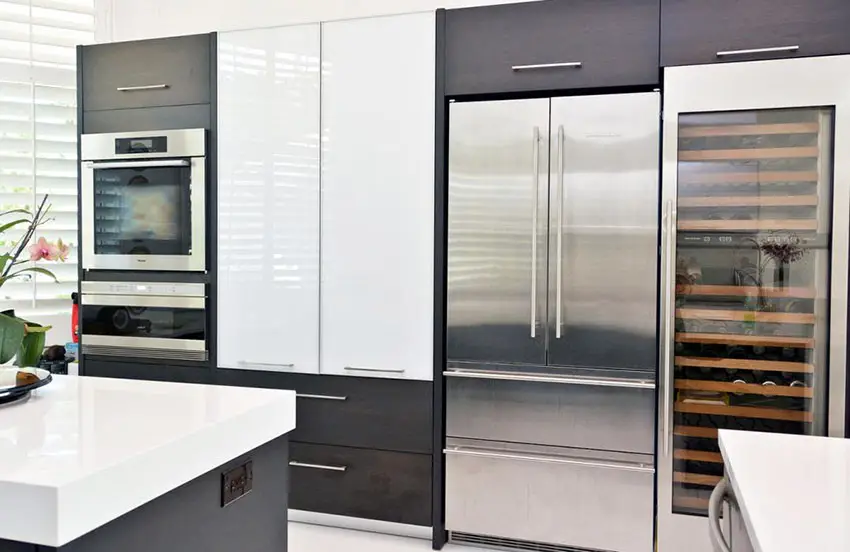 Modern Cabinet Hardware Finishes
Aside from the design, hardware finishes are also important in creating the perfect kitchen design for your home. As they say, the small details matter and the proper layering of texture and finishes ensures a cohesive overall look for your kitchen.
Some popular finishes for modern cabinet hardware are:
Here are some other types and examples of modern kitchen cabinet hardware finishes:
Stainless Steel – Stainless steel cabinet hardware is known for its resilience and high durability. This type of cabinet hardware finish has a very sharp color, which offers a clean look and shiny texture.
It is best paired with both light and dark colored modern kitchen cabinets and is the perfect complement to the smooth, sleek surface of high gloss kitchen cabinet finish.
Silver Satin – Satin finish cabinet hardware has a softer look compared to its polished counterparts. Unlike its polished cabinet hardware, silver satin cabinet hardware have a matte, brushed appearance.
Silver satin finish cabinet hardware is best suited for dark colored modern kitchen cabinetry and also blends well with stainless steel appliance. This type of kitchen cabinet hardware finish also gives an added benefit in terms of maintenance as fingerprints do not easily mark on its surface.
Brushed Nickel – Brushed nickel has a more subtle look compared to polished nickel and is characterized by a soft sheen. You can use this type of hardware if you want your pulls and handles to blend rather that stand out. It matches perfectly well with dark colored modern kitchen cabinetry.
Polished Chrome – This type of cabinet hardware is characterized by its bright silver color. Its shiny appearance contributes a lustrous appeal to kitchen cabinetry. Polished chrome is best aired with matching kitchen appliance and dark colored modern kitchen cabinetry.

Black – Black cabinet hardware offers neutrality yet gives a strong statement in kitchen cabinetry without overpowering all the other design elements in the space.
You can use this type of cabinet hardware finish if you want to create contrast with white kitchen cabinets . Overall black cabinet hardware produces an elegant and stylish look.

Cabinets Colors Ideal for the Kitchen
One of the trademarks of modern kitchen cabinets that distinguishes them from the rest is the use of minimal colors and textures however, it is also the only kitchen cabinet style which freely makes use of vibrant shades.
Colors for modern kitchen cabinets lean toward neutrals, but contrasting tones and bright colors are also used to add a splash of color to the space. For modern minimalist kitchen interiors use naturals hues like white, black, brown and gray for kitchen cabinetry.
However, if you want to be more adventurous, bold colors can be part of your modern kitchen cabinet palette. Bold accents like deep reds,vibrant oranges,fluorescent yellows green and blue are also added to give a splash of color and create a more modern retro inspired vibe.

Neutral cabinet colors provide flexibility in terms of mixing and matching with the different accessories in the space.
Neutral colored cabinetry also act like a blank canvas which allows the homeowners and designers to introduce accents in the space, like vibrant appliances or contrasting finishes. Alternatively, natural wood and wood veneers can also be used if you prefer its natural coziness and warmth.

Bold colored cabinetry, on the other hand, are commonly used to liven up the ambiance of a kitchen cspace. If you also want to make your modern kitchen cabinetry the focus of the room, you can explore vibrant hues to create a bold statement and strong visual interest.
When using bold colors for modern kitchen cabinetry, just make sure to introduce a neutralizing element to temper the mood of the space. Here are some examples of vibrant colors for modern kitchen cabinets: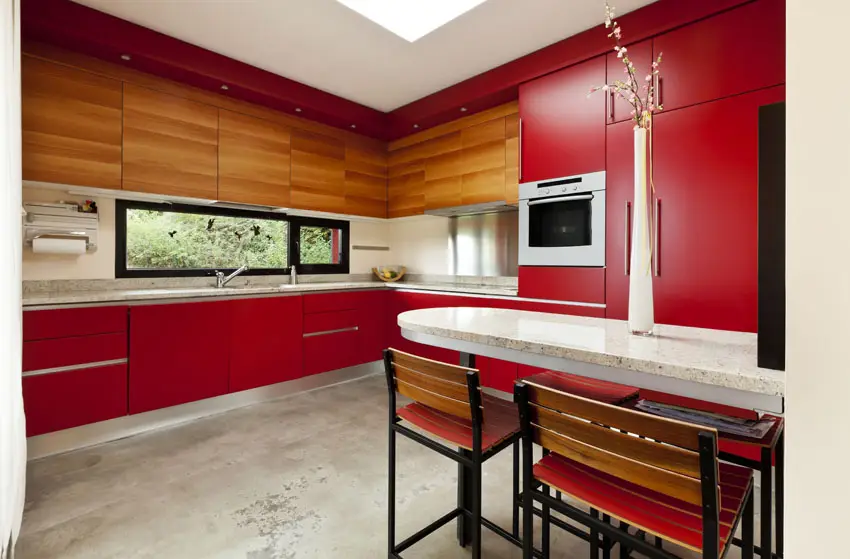 Red – Red is considered to be a popular "go to" color in modern kitchens because of its warm and welcoming appeal. This vibrant shade is believed to be an appetite stimulant that is why it is commonly found in kitchen settings. Red paint looks stunning as a high gloss finish.
Some popular shades of red for modern kitchen cabinetry are cranberry red, firetruck red and scarlet. If you want a more sophisticated kitchen space, you can use variations of the color red such as magenta, coral and hot pink.
However, these colors must be used sparingly and balanced with neutrals like white or a dark colored wooden accent to create a less overwhelming effect.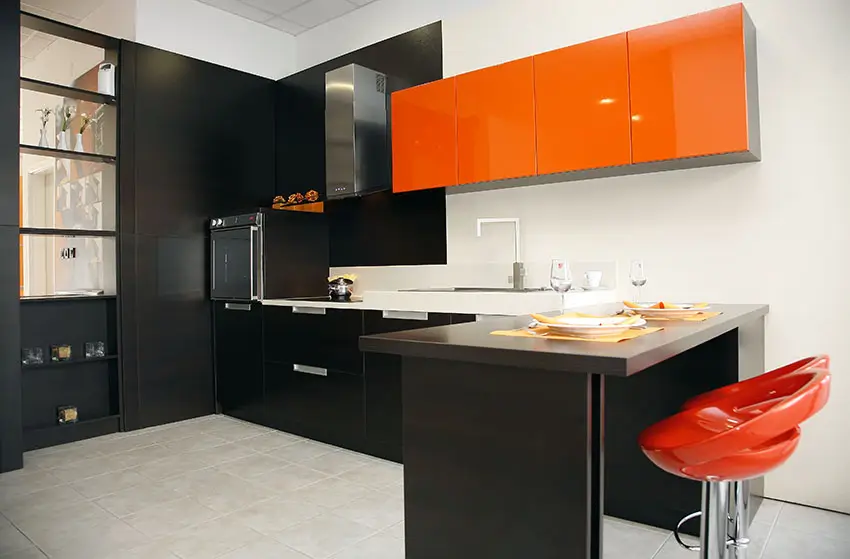 Orange – Orange contributes an energizing appeal to modern kitchen cabinetry. For a more contemporary flair, use shades like tangerine.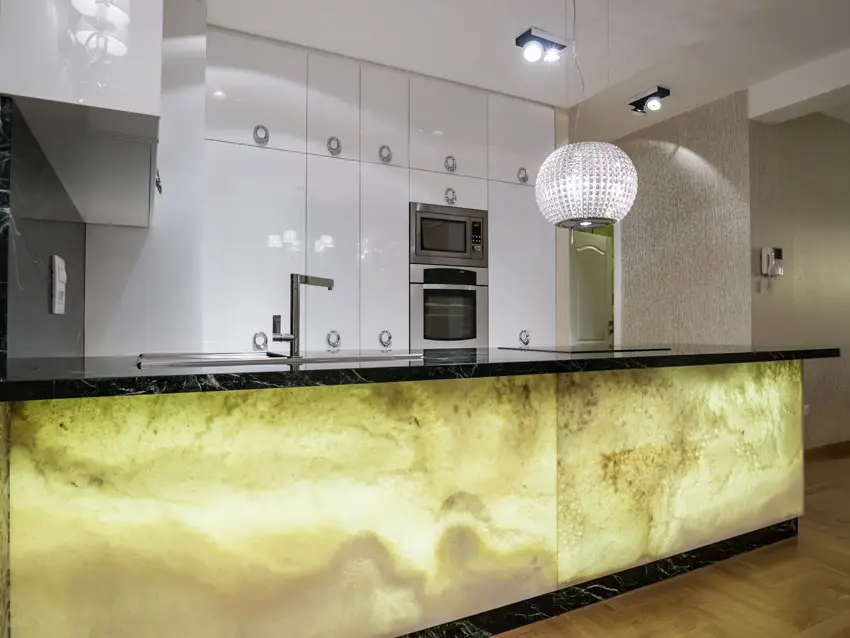 Yellow – Yellow kitchen cabinetry contributes a cheery vibe to kitchen spaces. This sunny hue is known for instantly brightening up the palette and mood of a kitchen space.
You can use yellow as the main kitchen cabinetry color, or as a finishing for a modern kitchen island to really make a statement. Alternatively, it can also be used on an accent wall. For a more modern spin, look for bold, bright shades that have hint of neon as it can make your kitchen cabinetry to really pop.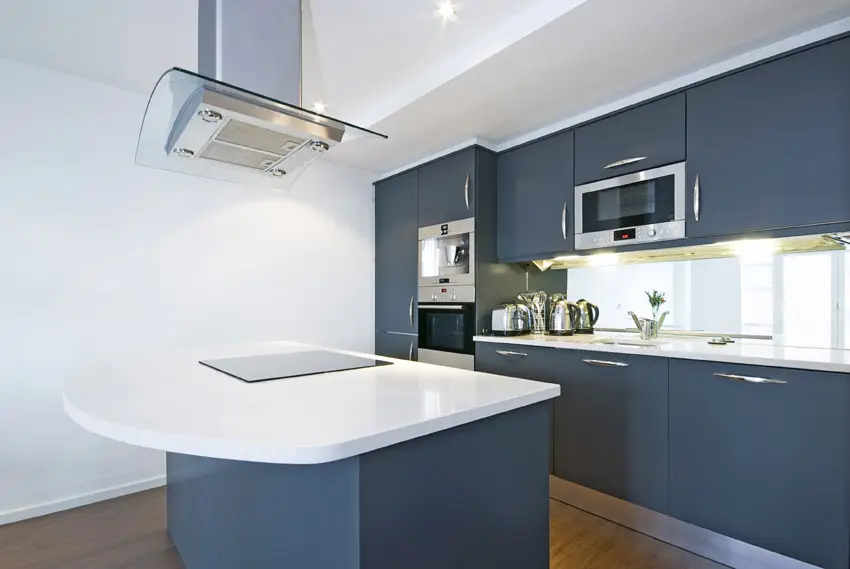 Blue – Bue, in general, is a very refreshing color, and the beauty of it is that each of its shade produces a different character to a space.
Most homeowners and designers consider navy blue as the new black, and this color works for modern kitchen cabinetry in the same way as a neutral color works. Navy blue kitchen cabinetry offers a great way to introduce a dark color to your kitchen, plus it is not too intense and overpowering.
Cobalt blue is another popular shade and it offers a more vibrant, pop of color that is both sophisticated and fun. Blue modern kitchen cabinetry can also be balanced with the use of lighter shades such as gray, white, lighter shades of blue or a contrasting color like pale yellow.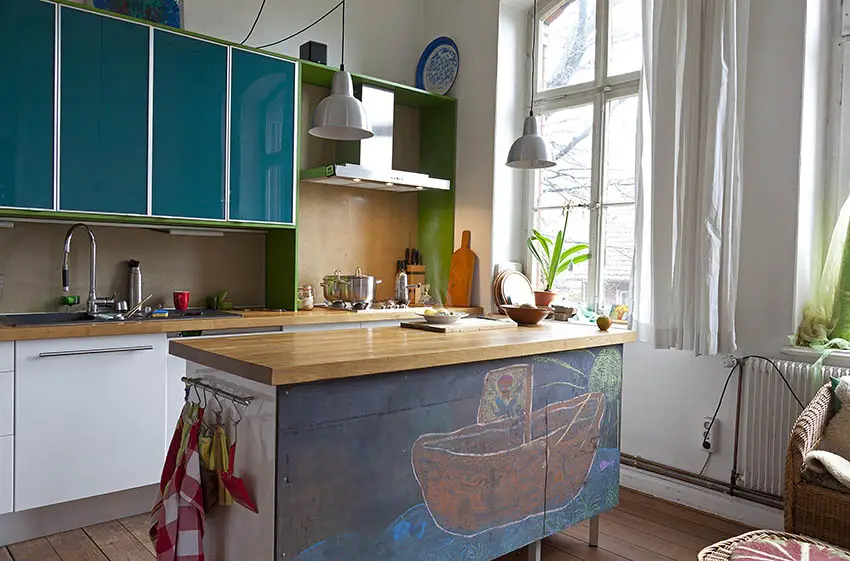 Green – Green is commonly used for both traditional, contemporary and modern settings because it is considered to be a safe accent color.
However, if you are going for the latter, make sure to go for shiny, vibrant shades such as lime green, aqua, chartreuse, emerald green or mint green. Lime green and chartreuse kitchen cabinetry can instantly bring out energy into a modern kitchen space. Mint green, is a more subdued hue and a less intense alternative which can contribute a sense of freshness to a space.
Lighter earthy greens are also another alternative, but they do not contribute the same "pop" of color that intense green shades have. Green modern kitchen cabinetry is best paired with chrome nickel hardware if you want to enhance its color. It is also the perfect match to stainless steel kitchen appliances.
Cabinet Ideas to Try for Your Kitchen
As mentioned earlier in this article, modern kitchen cabinets are geared towards neutrals and bold, bright colors. Neutral kitchen cabinets can be used if you are aiming to achieve modern minimalist aesthetics, while vibrant and bright colors may be used if you want to create a bolder look.

Among the neutrals, black and white are classic color choices for modern kitchen cabinets. Both colors are timeless and offer versatility.

Modern White Cabinets
The crisp look of modern white kitchen cabinets makes them a well fitting cabinet color for modern kitchen settings. In fact, it is one of the most popular cabinet color for modern kitchen cabinets. White kitchen cabinets are a timeless choice and they are proven to never go out of style even for decades.

There are a number of other advantages of modern white kitchen cabinets. First is that it contributes added aesthetics and visual interest. In general, modern white kitchen cabinets project elegance and sophistication. The color white in itself looks classy, what more if you use for a super sleek, ultra high gloss kitchen cabinet. The overall result is just stunning and stylish.
Another added benefit is that modern white kitchen cabinets bring in a positive aura to a room. It radiates into a room and can instantly create a light, energizing mood in a space. It is easy on the eyes compared to dark kitchen cabinetry
White kitchen cabinets are also highly suitable for small modern kitchens because it creates an impression of a bigger space. Modern white kitchen cabinets also make spaces appear brighter by enhancing the lighting conditions.
If you also want to make your kitchen look more clean, you can also use modern white kitchen cabinets as they embody hygiene and sanitation. Dirt and dust can be easily seen on white cabinet surfaces, thus it is much easier to spot and clean.
White is also considered to be a fail proof cabinet color because of the flexibility and versatility it offers in terms of mixing and matching other elements in the kitchen.
Modern white kitchen cabinets can be complemented with any color of decor or appliance. When you have a full expanse of modern white kitchen cabinets for your home, it acts as a perfect black canvass for introducing an accent color that can make your kitchen more interesting.

However, some may find modern white kitchen cabinets too dull, plain or boring. But there are a lot ways to enhance the mood of all white kitchen cabinetry. You can either incorporate a splash of color through the accessories, or introduce an accent through the wall paint, flooring material or kitchen backsplash.
A contrasting kitchen island is also another way to break the monotony of dull white kitchen cabinets. Adding contrast through color gives depth, dimension and balance to a space.

Another drawback of modern white kitchen cabinets is that they need frequent cleaning and wiping. Although it has a hygienic appearance, modern white kitchen cabinets show off dirt easily and reveal scratches, smudges and splashes more quickly.
Since dirt and dust are easily to spot, frequent wiping is required to ensure that flawless, spick and span look. If not properly cared for, modern white kitchen cabinets can also fade or turn yellowish as they age. However, choosing a supreme quality high gloss finish will ensure a better performing and longer lasting kitchen cabinetry.
Modern Black Cabinets
Black is another staple color for modern kitchen cabinets. Just like white kitchen cabinets, black kitchen cabinets are stylish, sleek, elegant and sophisticated. Compared to its white counterpart, black modern kitchen cabinets are more bold and offer a striking statement in a space, despite their simplicity.
Modern black kitchen cabinets with glossy finishes also bring in a sense of luxury to space. It can instantly transform a dull space, without committing to the intensity of a vivid color.
Modern black kitchen cabinets are also known for bringing in drama to a space. High gloss modern kitchen cabinets with sleek hardware also projects a high end look, thus making an impression that you spent a lot of money on your kitchen.
Since black is a neutral, this kitchen cabinet color is also versatile and flexible in terms of design. It provides a lot of options for cabinet hardware and kitchen appliances. It also matches well with a lot of finishes and materials.
Modern black kitchen cabinets are also typically used if you want to project contrast within a space. Pairing it with white walls creates a classic look that can surely stand the test of time. Alternatively, modern black kitchen cabinets can also be complemented with bright colored accessories to fit into a more modern aesthetic.

Although considered to be the opposite of white, black modern kitchen cabinets also possess a clean appearance.
However one major disadvantage of modern black kitchen cabinets is that it tends to show scratches more easily. Its high gloss variants may also require more frequent wiping as they tend show fingerprints, dust particles and watermarks more easily. To prevent such, black modern kitchen cabinets need to be wiped down with a damp cloth more frequently.

Modern black kitchen cabinets can also make a kitchen look heavy, but the key to creating a visually interesting and less drab mood in a space is to mix it up with different materials and finishes This can be avoided by introducing a balancing element into a space to even out the color palette.
Combine modern black kitchen cabinets with lighter or brighter colors using wall paint, flooring, backsplash material, decor and accessories.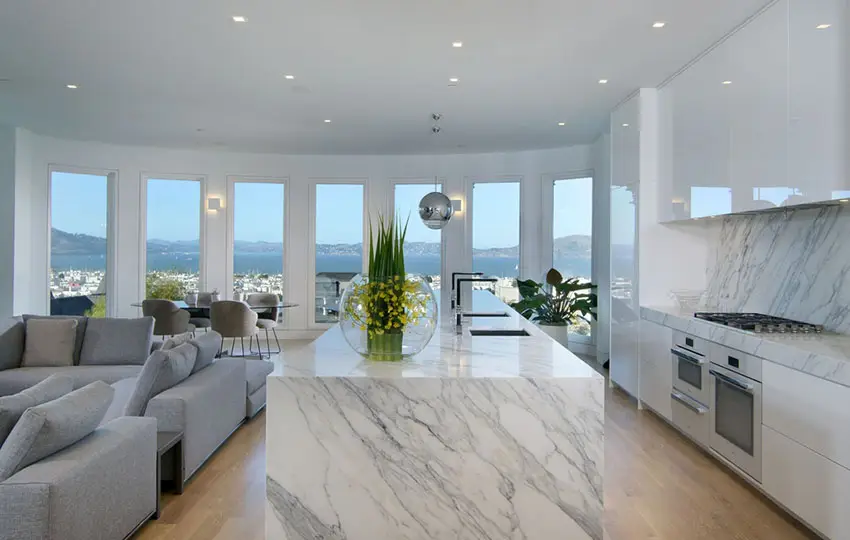 European Style Modern High Gloss Kitchen Cabinets

European kitchen cabinets are well known for their stunning sleek appearance and high gloss finish. Another outstanding attribute of European kitchen cabinets is their simple and straightforward design which make them a perfect fit for the modern kitchen setting. In general, this type of kitchen cabinetry is characterized by a highly functional and industrial appeal.

The European kitchen cabinet style is greatly influenced by the American style, but has a more sleek character. This kitchen cabinetry design aims to focus more on efficiency and functionality rather than ornamentation.
Due to the existing nature of European flats and apartments, the design trademark of European kitchens were born. The limited area and size of residential spaces and rental apartments in Europe posed a great need to create a more compact sized kitchen.
Fully functional kitchen cabinetry which maximizes space was then developed to add accessibility and ease in terms of use.
European kitchen cabinets also sometimes refer to a high quality form of modular cabinet systems. European cabinet makers are well known for their exquisite craftsmanship for modern modular cabinetry.
This type of kitchen cabinetry promotes customization and personalization as the homeowners can freely add any design feature that fits their existing kitchen space. It also offers versatility in terms of application and flexibility in terms of design as the cabinets can be finished in any color that suits the homeowners taste and personal preference in style.
One key facet of European style kitchen cabinets is its frameless design and construction. This type of cabinet construction method does not use a cabinet frame but instead uses a thicker cabinet carcass or box construction for stability.
Frameless kitchen cabinets use full overlay doors which are directly attached to the sides of the cabinet box or carcass. This cabinet construction type also incorporates the use of hidden or concealed hinges.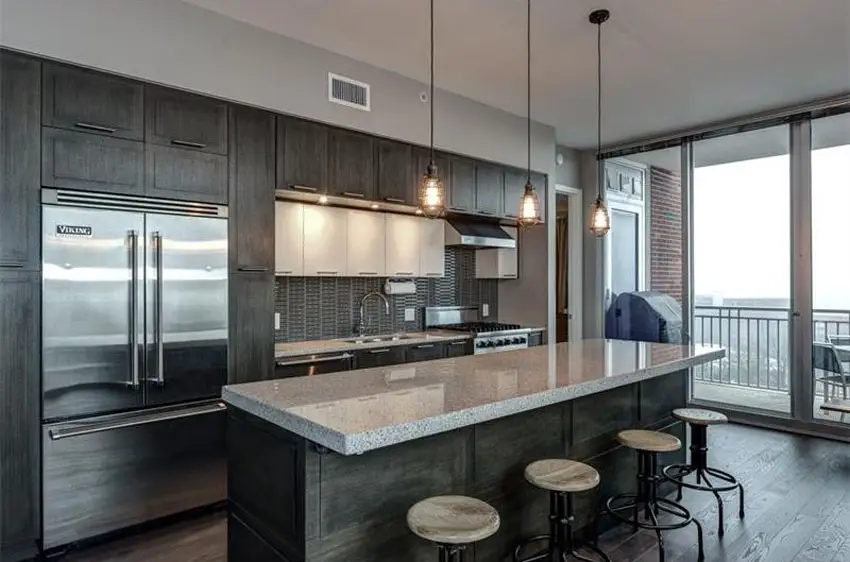 The European frameless cabinet design is both aesthetic and utilitarian in nature since it provides maximum access and optimum storage capacity. It is also referred to a "full access" kitchen cabinet because there are no cabinet face frames which hinder its use.
And since European kitchen cabinets do not have frames, the cabinetry blend more seamlessly with each other, ensuring a more smooth transition between different elements of the space and promoting a more integrated design.
European style kitchen cabinet design also do not feature any horizontal rails and vertical stiles. The cabinet's surfaces are mostly plain and flat, with no use of decorative ornamentation like carvings, paneling or moldings. In terms of kitchen cabinet hardware, European style kitchen cabinets make use of simple metal handles and pulls which have streamlined shapes and sharp lines.
The materials used for European style kitchen cabinets vary as it ranges from natural materials like wood to more modern alternatives like MDF and particle board.
Another key feature of European kitchen style cabinets is their high gloss finish. This signature ultra smooth, mirror like surface is almost similar to an automotive finish. This highly reflective, polished surface is achieved through the use of different finishing techniques which require a labor intensive process.
Some methods of producing high gloss cabinets are rolling or brushing on coats of high gloss paint, spray painting through the use of a compressor, application of polyurethane and lacquering. Often times, it requires multiple layers of the finishing material, followed by buffing which follows the same process that is involved automobile manufacturing.

In some cases, high pressure laminates are used as an alternative to paint finish. Laminates are available in a broad spectrum of vibrant colors and neutrals that can work well with the striking aesthetic of European kitchen cabinets.
And aside from that, most of its manufacturers offer a series which mimic the appearance of real wood, while some produce a "high gloss" variant which is perfect if you want to achieve an super polished look.
Typically, these ultra glossy high pressure laminates are machine pressed to a substrate then used as the main material for European high gloss cabinet production. Subjecting the laminated cabinet boards to high heat and pressure allows the material to bind together more firmly, while reinforcing the strength and durability.

Due to this labor intensive and time consuming finishing process, high gloss European cabinets can get quite pricey and may cost the same as a custom painted cabinetry. The finishing process is also usually done off site, in a manufacturing plant or specialty shop. Touch ups and repair for high gloss European kitchen cabinets may also require removing the whole cabinet door then sending it to a shop for repair.
The main benefit of using high gloss European kitchen cabinets is its high durability. Since the finishing is comprised of several layers of materials, the color does not easily wear off, as compared to a regular painted cabinet door.
In addition to that, European high gloss kitchen cabinets are considered a lifetime investment which can significantly add value to your home. In terms of aesthetics, the ultra shiny appearance of this type of modern kitchen cabinets contribute an elegant and stylish flair to spaces, while instantly making them feel more luxurious. It can also give small kitchens a brighter, more spacious and cleaner atmosphere.

Modern Custom Cabinets
Modern custom cabinets are "made to order" kitchen cabinetry. Unlike stock kitchen cabinets which are usually pre made and purchased "as is", custom made kitchen cabinets allow for maximum personalization and modification. None of its components are pre-assembled as everything is cut, crafted, assembled and manufactured from scratch according to the client's specific needs and design requirements.

Most cabinet manufacturers offer a line of cabinetry design that fits the modern aesthetics. You can either choose from their signature lines and have it tailor made according to the existing size of your kitchen or you can also create your own design to produce seamless cabinets that fit the modern style. These cabinets can later on be finished with lacquer, paint, laminates or wood veneers. You can also opt for high gloss finished when purchasing modern custom cabinetry. Materials for custom made kitchen cabinets are solid wood, MDF, plywood, thermofoil or melamine.

The main advantage of modern custom made cabinetry is creative freedom. It allows you to create an ultra stylish kitchen design, in any size, length or width, using any material or finish. No matter how complicating the existing layout of your kitchen is, custom modern kitchen cabinetry can me made to perfectly fit into it. Modern cabinetry is also often set up close to the floor to create a more open concept kitchen layout.

Custom kitchen cabinets are typically built by craftsmen and skilled cabinetmakers and carpenters. The amount of time and effort that goes into its manufacturing process make it expensive. And since it takes a labor intensive process to manufacture, consider a lead time when purchasing modern custom kitchen cabinetry.

Cabinets for Small Modern Kitchens
If space is a limiting factor in design your modern kitchen, opt for custom kitchen cabinetry because it can be tailor made into any type of space and layout. In addition, you can optimize the storage capacity of your kitchen cabinets and make everything compact yet fully functional. European style kitchen cabinets are also known for producing compact kitchen designs.
For small modern kitchens, use light or white colored kitchen cabinetry as they create an impression of a bigger space. White kitchen cabinetry also opens up a space and makes it more bright and airy. High gloss white kitchen cabinets specifically can instantly brighten up a small kitchen and make it feel less cramped.

To maximize every inch of space in your kitchen, incorporate smart storage solutions in your modern kitchen cabinetry. Organizers and wire baskets can help improves organization and storage, while smart features like pullouts and drop downs also help improve accessibility, while maximizing limited space. You can also integrate multipurpose storage solutions or furniture like a small collapsible table to allow users to engage into different activities in the kitchen without taking up much space.

In addition, integrate open shelving units in the overall design of your modern kitchen cabinetry as they tend to make the space feel less heavy and cramped compared to a full expanse of overhead kitchen cabinets.
Modern Wood Cabinets
Wood will always be the top material for kitchen cabinetry, in general. It adds a natural coziness to kitchens, making them feel more warm and inviting.
Aside from the high gloss paint finish that is popularly used for modern kitchens, another type of finish is wood. Compared to traditional cabinets which make use of real solid wood, modern kitchen cabinets can either be made up of natural wood or an artificial material like a laminate or veneer.

Wood for modern kitchen cabinets must also follow the minimalist, sleek and streamlined aesthetic. Since the modern design puts emphasis on the use of sharp lines, modern wood kitchen cabinets typically have a horizontal graining pattern. The colors are geared towards a darker shade compared to lighter tones. Some popular wood colors for modern kitchen cabinets are espresso, wenge, dark walnut and black.

Another noticeable attribute of modern wood kitchen cabinets is that they usually have a handle free design for a more seamless look. In some cases they use a C channel integrated wood pull to create a smooth transition between the cabinet door face and the hardware.


How to Make Old Cabinets Look Modern
If you want to give your old cabinets a fresh look and modern appeal, there is really no need to replace the whole cabinetry itself. As long as the frames and doors are in good shape, structurally sound, and still in their best quality, you can implement several quick fixes for a more updated look.
There is also no need to spend loads of money in order to make old cabinets look more modern. You can do an easy make over for your kitchen cabinets for a fraction of the cost, using the following design guidelines.
In general, resurfacing is one of the easiest and most cost effective ways to update the look of old kitchen cabinets. Resurfacing is a method used to give kitchen cabinets a new look, without the need for replacing the whole cabinetry itself. This process is also known as "refacing" because it involves changing the cabinet face or door.
Resurfacing may either mean replacing your cabinet doors, refinishing the cabinets face, adding decorative details or trading in old hardware for new ones. It also includes laying a piece of finishing material over the existing cabinet doors and frames in order to create an entirely updated look.
The main advantage of resurfacing is that you spend only half as much as replacing kitchen cabinets and you consume less time and effort. It is an easy way to transform the look of old kitchen cabinets, while eliminating the need for laborious tasks such as tearing out kitchen cabinets. In addition to that, resurfacing allows you to use your existing kitchen cabinets and does not let anything go to waste.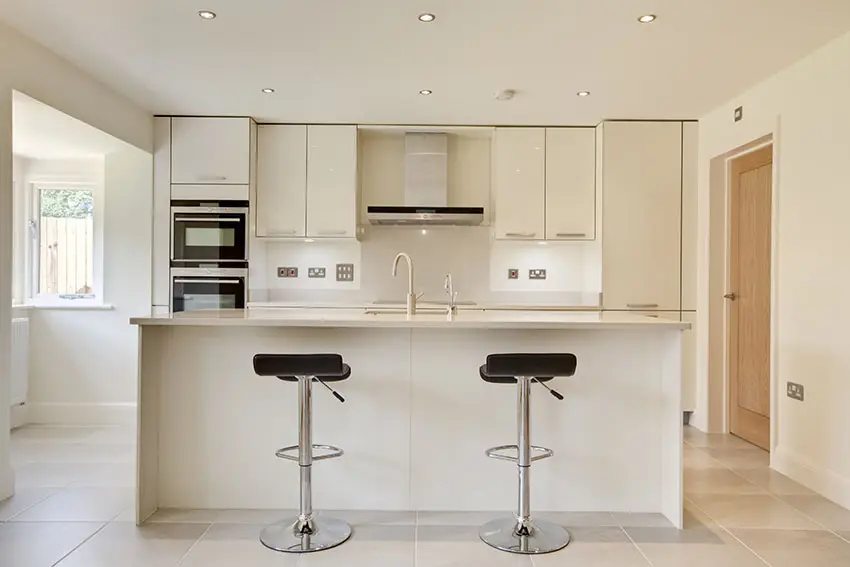 Here are some other tips on how to make old kitchen cabinets look modern:

Replace old cabinet doors with minimalist designs. – One integral facet of modern kitchen cabinets is a minimal, unornamented cabinet door design. If you have traditional looking kitchen cabinets which have raised panel, inserts, decorative moldings or carvings, the first step that you need to take is to let that go and change it with a more simple and streamlined design.
You can explore the flat panel cabinet door or the slab style cabinet door as replacements for your existing cabinet doors. Both of which have flat surfaces with no extra details and is a trademark for modern kitchen settings.

Replacing your cabinet doors is the major step that transforms the whole look of your kitchen cabinetry because it dominates the whole kitchen setting. It is the first thing you see and making a good impression through modern kitchen cabinet doors will instantly reflect the stylish vibe you are aiming to achieve.

You can purchase ready made kitchen cabinet doors at local home improvement stores and specialty suppliers. Custom cabinet makers also manufacture slab style and flat panel kitchen cabinet doors for a minimal amount of $15 per square foot.
Change your kitchen cabinet's finish using veneers and laminates. – There are three types of finishing material which one can explore to update the look of old kitchen cabinets, namely wood veneers, plastic laminates and rigid thermofoil.
These three materials provide a wide range of color options and pattern choices, allowing the homeowners to choose a design which perfectly matches the modern style. Each of these material also presents their own negative and positive features which contribute to the quality and longevity of your kitchen cabinets.

Wood veneers are less than 3 millimeters thick slices of wood which are typically applied on top of the cabinet door and frame to give them the distinct natural beauty of real wood. It is the most expensive finishing material for kitchen cabinets but makes up for its durability and resilience.
This is the best option if you want to give old kitchen cabinets a different look which possesses the natural coziness and warmth of wood.
For a more modern vibe, try applying real wood veneers with a horizontal graining pattern to your old kitchen cabinets. Also, opt for darker colors. Installing veneers on old kitchen cabinets requires an adhesive or in some cases, it is offered in a peel and stick variant which makes the work a lot more easier.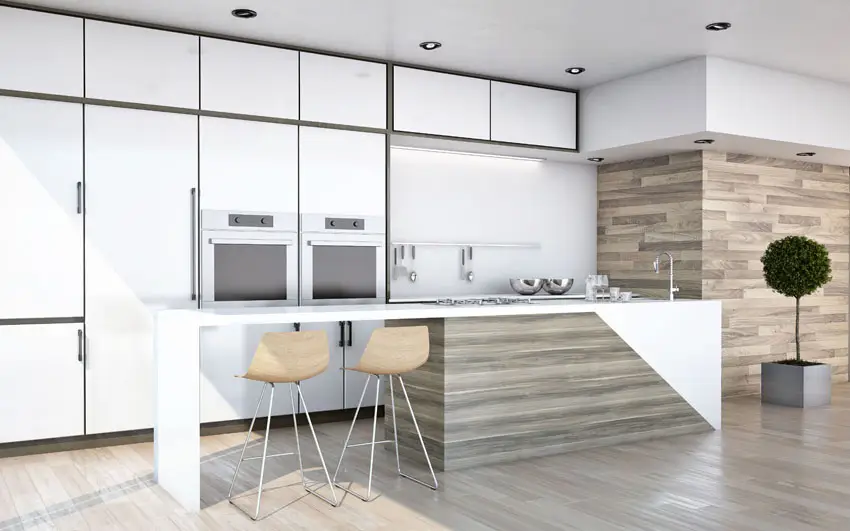 Another type of finish which you can use to update the look of old kitchen cabinets are plastic laminates. Plastic laminates are made up of layers of materials which are topped with resins. It usually has a decorative layer which shows patterns that mimic natural materials or different color finishes.
It is one of the leading kitchen cabinet finishes not only for the aesthetics that it contributes but also because it is durable, moisture resistant and does not fade. Applying laminates over existing kitchen cabinets typically involves attaching the material to the frame or door using an adhesive.

Plastic laminates are available in hundreds of choices. It comes in wood like design which captures the distinct natural beauty of real wood. But one of its distinct variations which is highly suitable in creating modern kitchen cabinets are the "High Gloss" laminates.
High gloss laminates have an ultra shiny appearance and creates a sleek, smooth surface that reflects an elegant, stylish flair. When updating the look of old kitchen cabinets, go for high gloss laminates which are in white or black. However, if you want to add a bit of punch to your color scheme, opt for high gloss laminates in intense reds, lime greens, tangerine or vibrant blues.
Repaint or restain with a different color. – Repainting and restaining are the easiest and quickest fixes to change the color of old kitchen cabinets. You can instantly bring old cabinets to life by treating them with a fresh coat of neutral or bold colored paint.
However, if you still want to preserve the look of wood, go with wood stains, but opt for a darker color like wenge, espresso, coffee or dark walnut. Some paint options which you can choose to transform old cabinets into modern looking ones are black, white, gray and vibrant hues like reds, greens and blues.

If you want a sleeker look and a smoother surface, you can explore paint finishes like the high gloss or semi gloss duco paint finish. The duco finish will hide the natural grain of your wood cabinets through the use of a layer of opaque paint.
This will give you kitchen cabinets a more expensive look and luxurious feel. However, the duco finish for kitchen cabinets requires the services of a professional and may cost you an extra in terms of labor cost.

Repainting and restaining can be undertaken as a DIY project using simple tools like a strong cleaner, sandpaper and paintbrush. It is also a very affordable options and does not take much time and effort to accomplish.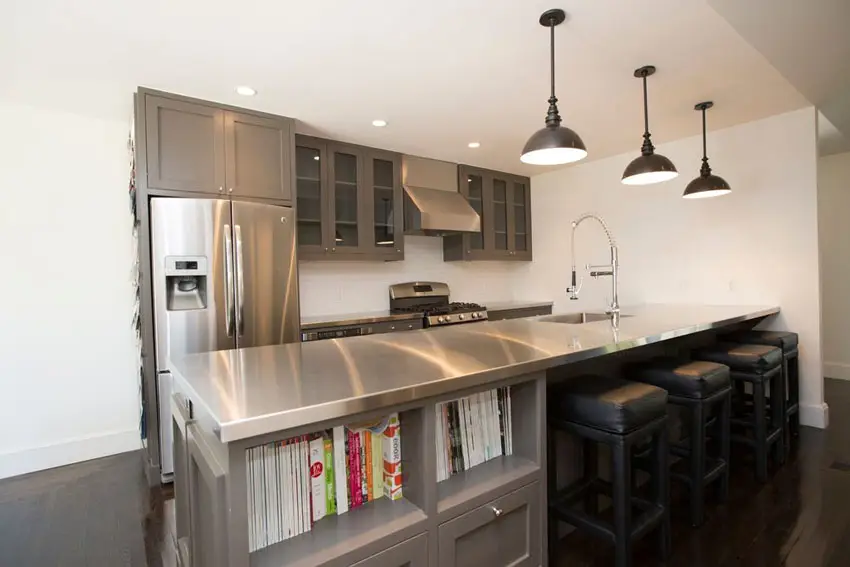 Add glass door inserts to old wooden cabinets. – If you want a softer look for your kitchen cabinetry, you can try incorporating glass inserts into the door frames. The use of mixed materials gives a more modern vibe.
Adding glass inserts do not only improve your kitchen cabinets aesthetics but it also allows you display beautiful dinnerware and provides you a view of your cabinet's contents, which means things are easier to locate when you need them.
Adding glass inserts to old cabinet doors is also a project which you can do over a weekend, without having to spend much. There are also several types of glass panels which one can explore to transform the look of old kitchen cabinetry, such as clear glass, frosted glass, etched, crackled, colored, painted and fluted glass.
For those looking for a touch of color, opt for graphic coat glass or back painted glass as it comes in a wide array of interesting color finishing. Lastly, set off the look of modern glass kitchen cabinetry with the use of interior cabinet lighting.
Swap old cabinet hardware with sleek pulls and handles .- We often hear that the cabinet hardware is the jewelry of the kitchen, and even though it is a very small design details, it is as equally important as the kitchen cabinets in creating a cohesive and well balanced look for your kitchen.
For a more modern and fresher take on cabinet pulls, knobs and handles, replace your old, boring hardware with sleek, smooth designs such as flat bars, tubular stainless steels handles, wire pulls, bar pulls, etc. Look for cabinet pulls and handles which have little to no ornamentation and opt for those in brushed satin, polished and matte finish. Avoid antique, weathered or brass handles, but instead choose chrome or stainless steel.
Changing the cabinets pulls and handles is a very affordable way to make old cabinets look more modern. Cabinet pulls and handles typically amounts to $2 to $4 per piece, but can go up to $20 to $50 per piece for premium high end hardware. You can explore a lot of these modern kitchen cabinet hardware at local home improvement stores, home depots or specialty retailers.
Install cabinet lighting. – Good cabinet lighting can make a significant difference and it is also a significant part of modern kitchen design. Interior cabinet lights and under cabinet lighting do not only help in terms of accessibility but they also improve the ambiance of your kitchen.
Task lighting can be easily added beneath overhead cabinets or under open shelves to provide added illumination when accomplishing food preparation work and other tasks in the kitchen. Interior cabinet lights help you to easily look for what you need inside the cabinets. You can also use lights with a dimmer switch for a dramatic accent lighting which can help you set the mood in your kitchen.
How to Make Oak Cabinets Look Modern
Oak wood is a favorite in the kitchen design scene. It golden yellow hue is popularly used for kitchens which have a traditional flair such as craftsman kitchens, country kitchens and farmhouse kitchens.
Overall,oak wood has a rustic vibe and can sometimes look out of place in a more modern setting. However, this doesn't mean that oak kitchen cabinets cannot be used to create a more updated look for your kitchen.

Without putting the prevailing style of your oak cabinet doors in question, you can easily transform the look of old oak kitchen cabinets into a more modern one by changing its color. Changing its color can make a huge difference as it helps you formulate a whole new color palette which conforms to a more modern kitchen style.

Here are some ways to make oak cabinets look modern:
Give oak cabinets a fresh finish using wood stain – When you say "update" , you need to change the color of the oak cabinets completely rather than restoring it to its original stain.
Do not keep the same golden oak hue but instead try exploring a more current wood stain color for an updated look. Chose a darker shade as it tends to create a more modern vibe. Opt for espresso or dark walnut. Alternatively, black stain is also another good option. Avoid wood stains which have yellow, orange and red tones as they look outdated and do not suit the modern style.

Staining oak cabinets involves sanding the cabinet faces, door and frames then applying a coat of gel stain. Going darker in terms of the original color of a cabinet is relatively easier to pull off compared to going lighter. If you want to get a more consistent and high quality look, leave it to the professionals instead of undertaking it as a "do it yourself" project.
Update using paint – You can also entirely cover up the whole graining pattern of oak kitchen cabinets and cover it with a fresh coat of paint. Lose that "wood look" completely and instead be bold and experiment with a splash of new color.
Remember, one of the trademark characteristics of modern kitchen cabinets is that they are geared towards neutral colors or lively vibrant hues. You can choose from white, black, gray if you want a flexible neutral base color. But if you want your kitchen cabinets to pop out in a space, explore vibrant reds, bright greens, sunny yellows and bold blues.
Here's a video on how to change outdated oak cabinets to a more modern looking kitchen design:
Painting oak kitchen cabinets can require a lot of steps. Your first goal is to minimize the grains as much as possible through the application of a wood grain filler and several coats of primer.
The primer is applied after several courses of cleaning, sanding and deglossing. Then after the primer is applied, you can now apply the desired paint color using a paint brush, roller brush or better, a spray gun or paint compressor.
How can you hide the natural grains of oak wood to give them a more updated look?
There are several ways to conceal the natural wood grains of oak cabinets. A quick guideline to remember in painting oak kitchen cabinets is that the shinier or the glossier your paint is, the more visible the natural grains of oak are, so choose the right amount of sheen, and if possible, avoid a high gloss finish in order to achieve a more modern looking oak kitchen cabinet.
Another option to minimize the wood grain of oak is to is to use a "sanding sealer". A high quality sanding sealer helps to keep the grain dorm bleeding through the paint and the primer.
You can also use a "wood grain filler" or putty for this purpose. Again, you can ensure a more consistent look and finish through the help of a professional.
Facelift your oak cabinets with new hardware. To complete the new look of your old oak kitchen cabinets, step up your cabinet door design using clean, streamlined hardware. Old cabinet hardware will definitely look off if you want to completely transform the overall appearance of outdated oak cabinets.

As mentioned earlier, go for flat bars, pull bars, tubular handles or wire pulls – all of which reflect clean lines and an unornamented design. Go for sharp colors and lose the weathered finish by choosing brushed satin, polished chrome or stainless steel handles. Look for handles which run the full expanse of your cabinet or drawer length as they give off more prominent lines.

Modern Cabinet Manufacturers
Kraftmaid – Kraftmaid is the most popular brand of kitchen cabinets and has made it mark with 40 years of experience in building high quality cabinetry.
Kraftmaid is known for producing stock kitchen cabinets and it offers semi custom and custom made cabinetry. Its kitchen cabinets are widely available in local home improvement stores and home depot outlets.

Kraftmaid produces a wide variety of kitchen cabinet styles and designs, from traditional to contemporary and modern ones. Kraftmaid offers a diverse options when it comes to kitchen cabinetry, with overy 65 finishing materials, 100 door styles and over 200 storage solutions.
When it comes to materials,they use high quality solid wood like oak, cherry and maple. Kraftmaid stock kitchen cabinets are available off the rack at a reasonable price, allowing the homeowners to build a starter kitchen that is fully functional without compromising its beauty. Their semi custom and custom made options allow full flexibility when it comes to kitchen cabinetry design.

Kraftmaid produces modern style kitchen cabinets with slab door and flat panel designs. They also offer modern finishing materials like thermofoil which has a white color. Other finishing options from Kraftmaid which are suited for creating modern style are the painted finish and the paint with glaze finish.
Kraftmaid colors which fit the modern kitchen cabinet aesthetic are Greyloft, Midnight, Onyx, Pebble Gray and Moonshine. You can also choose glazed colors such as the Greyloft with Sable glaze, Midnight with Onyx glaze, Pebble Gray with Cocoa glaze and Mushroom with Cinder glaze.

Snaidero USA – Snaidero USA is named after its CEO and founder Dario Snaidero. It is well known for producing high end, European style kitchen cabinets for the American market. Snaidero kitchen cabinets embody fine modern luxury and are characterized by their sleek and stylish appeal.

Snaidero kitchen cabinets are created by designers and architects which have years of expertise in fine cabinet craftsmanship, thus it can be assured that their products have excellent high quality standards. Their designs are tailor made to the client's needs and preferences, assuring that each kitchen design is unique and completely personalized.

Snaidero offers different design options and features, from the storage types,accessories and colors. They use a wide range of cabinet finishes and materials like solid wood, laminate, melamine, polished or satin glass.
Another distinct finish that they make is lacquering which is available in a broad spectrum of colors. In addition to that, they can also make custom colors if you have a specific shade that you desire. They can take any Pantone color and apply it to kitchen cabinets.

When it comes to the cabinetry design, they take pride in their details like recessed handles or soft touch mechanisms. Modern kitchen cabinet designs include slab style doors which have elegant profiles and no handles. They also offer signature kitchen designs which are ultra luxe and modern.
Merillat – Merillat is also another well known kitchen cabinet manufacturer. It is a Michigan based company, owned by Maso, the same owner of Kraftmaid and Mill's Pride.

Merillat produces a wide range of kitchen cabinet style, colors and finishes. But those that particularly fit the modern aesthetic are the Merillat Classic Lanielle Square, Merillat Classic fusion, Merillat Masterpiece Glencoe Square and and Merillat Masterpiece Epic, which are slab style cabinet doors.
However the finishes that Merillat produce are mostly wood like and the best color options that you can get for modern kitchen cabinets are their dark woods, black and white.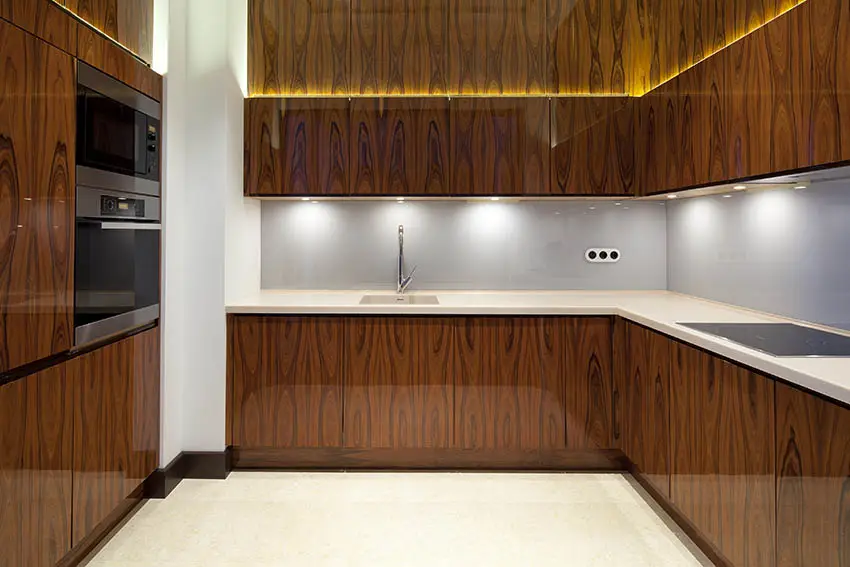 IKEA – Everyone of us is fairly familiar with IKEA for it is well known as a big box furniture and home accessory supplier. IKEA is popular for making easy to assemble furniture. It does not specialize in kitchen cabinetry, but it's worth the mention because it is a major distributor of ready made kitchen cabinets.

IKEA offers low cost options for modern kitchen cabinetry. They make a variety of design styles but majority of which fit the contemporary and modern setting. You will be surprised at how beautiful the modern kitchen cabinetry is at IKEA .
They have frameless designs, slab type cabinet doors and handle free doors. While the finishes can go anywhere from light to dark woods, neutrals like black, white and gray or semi gloss to high gloss finish. IKEA kitchen cabinets are also available in glass insert designs.
These cabinets are typically stock options and come in several standard sizes.The vast options that they for the materials, finish, color and hardware allow room for mixing and matching to create a functional and cost effective modern kitchen design.

Aran Cucine – Aran USA is a branch of Aran World, a known manufacturer of high end Italian kitchen cabinetry. Aran Cucine is a well known, leading, family owned company in creating refined luxury kitchen cabinets and they have 60 years of high quality Italian craftsmanship to back that up. Their cabinets are all imported from Italy and promised to have only the finest materials and best construction.

Aran Cucine offers 30 different kitchen lines and they manufacture kitchen cabinets which fit the traditional, contemporary and modern style. But they produce outstanding sleek European style kitchen cabinets that can fit seamlessly into different home interiors. These modern kitchen cabinets have an uncluttered look that is perfect for creating a minimalist inspired kitchen design.

Aran Cucine puts prime in both aesthetic, quality and functionality. They custom make all their designs to fit the specific needs of each of their clients.
ARAN Cucine offers hundreds of color combinations and finishes which include light and dark woods, neutrals and vibrant accents. Their modern kitchen cabinets can either have smooth appearances or highly reflective surfaces which may or may not come with sleek, streamlined hardware.
Another trademark design that they have are handle free kitchen cabinet doors which have a seamless and integrated design.Another added bonus from ARAN kitchen cabinets is that they give a 10 year warranty – the longest one offered in the kitchen cabinet industry.
What Is Modern Design
Modern design originated during the late 1800's when the Modernism movement through the German Bauhaus School of Design. It gained popularity during the early to mid 20th century, that is why it is also often referred to as "mid century modern design". This style embodies simplicity and function.
Often times, the term "modern" is also confused with the word "contemporary", and although these two can be used interchangeably, these are entirely different when it comes to their trademarks in design and style.
Modern design is from the 1920's to the 1950's, while contemporary design refers to what is trending now, current or existing. Modern design follows a strict streamlined look, while contemporary can sometimes be quite eclectic as it borrows inspiration from different eras and period styles.
The same ideology goes for kitchen design. Modern kitchen design follows a strict minimalist look – streamlined, clean and unadorned. This sleek and industrial appeal is directly reflected on the design of modern kitchen cabinets.
Visit this page to see our gallery of kitchen cabinet designs for even more ideas for your space.