In this fluted kitchen cabinets guide you'll see what they are, how this grooved cabinet design is used, different door materials, and what a fluted filler is.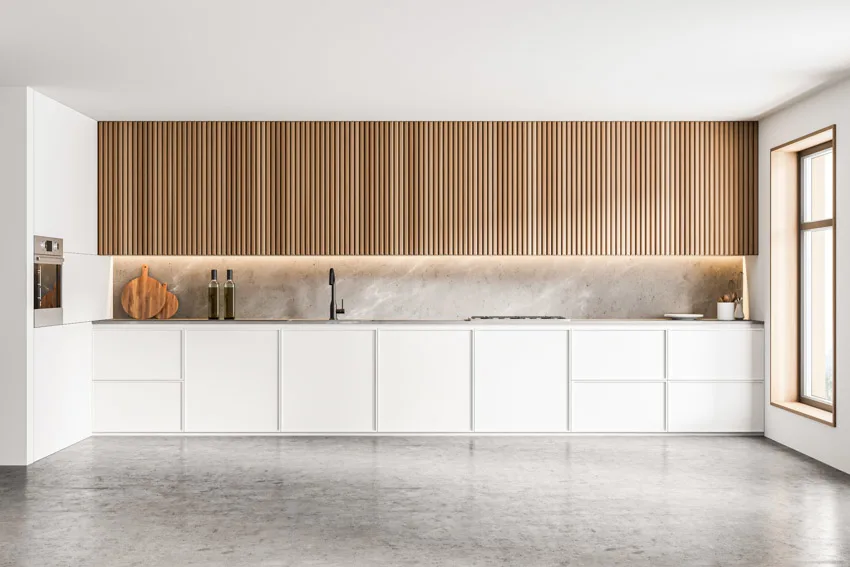 You've probably seen the grooved surfaces before on everything from vintage art deco-style buildings to furniture, and even kitchen cabinets. Fluting treatment has been around for centuries, and today the simple yet striking aesthetic has found its way to modern interiors casting a lasting impression.
Fluted kitchen cabinets are definitely a trend worth considering for your next project. They are a break from your traditional cabinetry construction, and the historic architectural element intriguingly sits well even with the most modern themed home.
While wood-paneled backdrops are also making a trend in today's modern interior, paneling has that wider and more rustic look. Meanwhile, fluted kitchen cabinets have that delicate and sleek characteristic favorable for a modern or minimalistic look.
What Are Fluted Cabinets?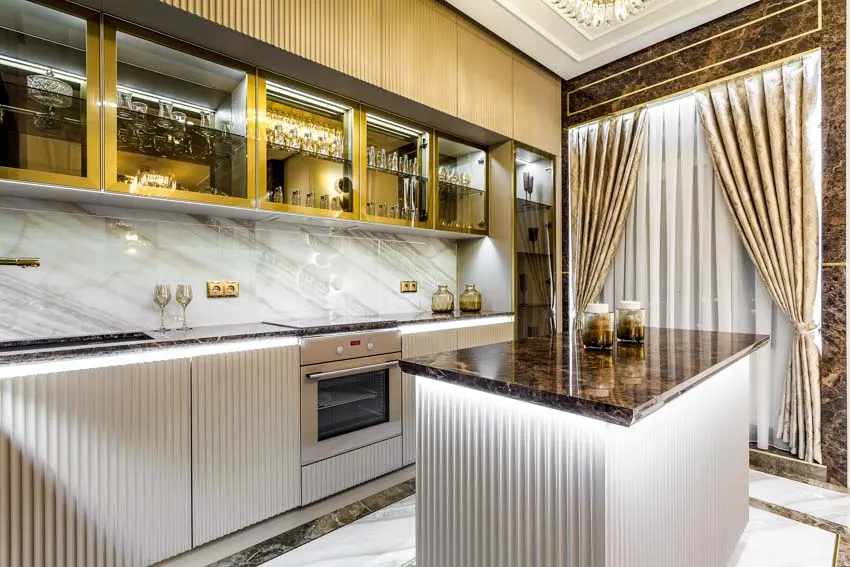 Fluted cabinets are when the exterior surfaces of your cabinet's side panels are covered with a series of vertical strips (usually wood molding), creating a shallow, grooved surface. You'll also find hardwood panels that already have a series of vertical grooves dented on their surface.
These grooved panels usually come in modular sizes that are then constructed into the cabinet side panels, not needing to add the second layer of strips. Wood is a popular material for fluted door designs, but you'll also find laminated, HDF, Acrylic, and thermofoil cabinets, among others.
The fluted treatment on the surface of your kitchen cabinets is mainly for decorative function, which gives it a sleek and clean yet textured look. Fluting in furniture and other architectural elements has been derived from the fluted shafts of Egyptian columns, which emulated the reeds tied together in bundles. Other terms associated with the fluting treatment are ribbed, scalloped, and ridged.
Fluted Wood Kitchen Cabinets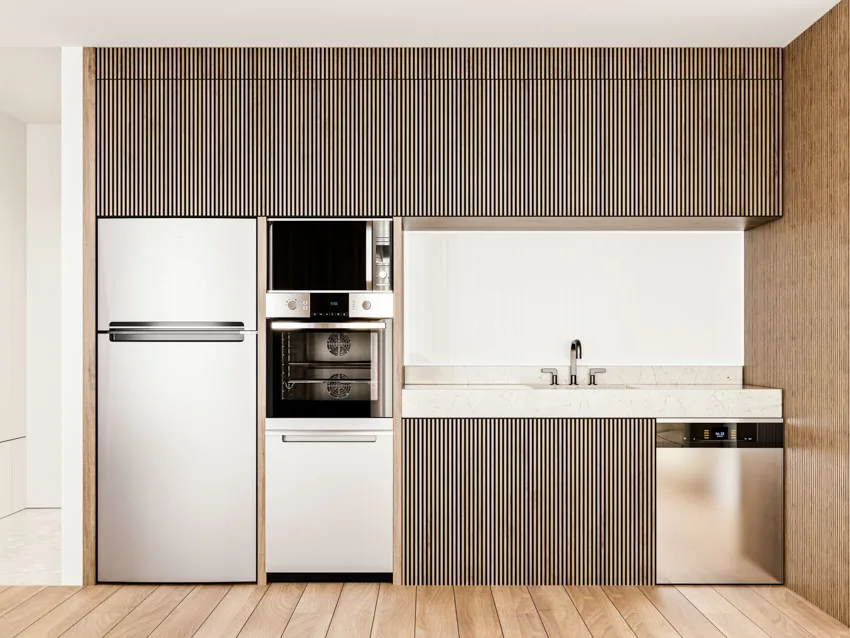 Whether you're going for the painted or natural finish, fluted wood kitchen cabinets look great with any color. There's a good selection of fluted wood kitchen cabinets in the market, but you can also have it as a DIY project. Depending on whether you need to cover a section or the whole wall of kitchen cabinets, you'll need a number of trims and iron-on wood veneers for the edges.
When sprucing up an existing wood cabinet with the fluting detail, there is a wide range of trim widths and profiles for you to choose from, but the most common trim size you can use for your fluted wood kitchen cabinet are ¾" to 1″ half-rounds.
For your DIY fluted kitchen cabinet, it is important to calculate the spacing between flutes. Be mindful of not ending up with a half flute in between doors. See more DIY grooved kitchen cabinets here.

Fluted Kitchen Cabinet Doors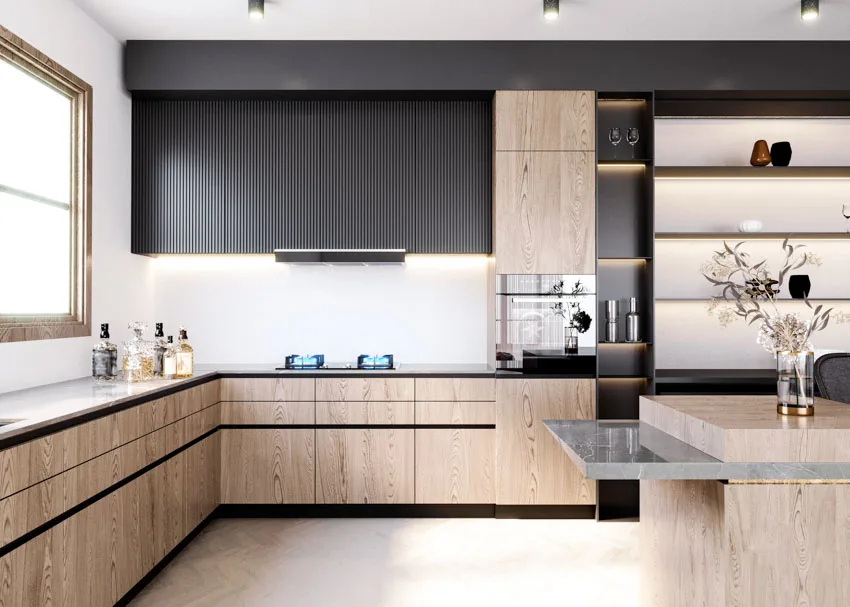 Like your fluted wood kitchen cabinets, you can either purchase a ready-made fluted kitchen cabinet or add the fluting treatment yourself. You can purchase fluted kitchen cabinet doors separately, so you can simply detach your existing door and add the grooved door panels.
Big furniture shops typically have door options for their kitchen cabinets, and you'll likely find fluted doors in varying colors and finishes for that particular furniture product line.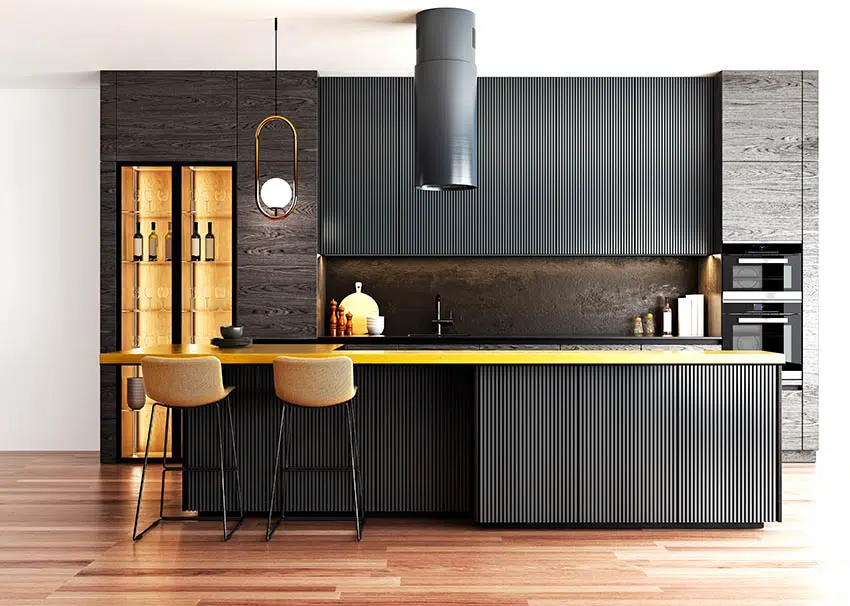 Adding fluted fillers to an ordinary framed cabinet door can also be an option and is likely cheaper for a DIY project. These are small panels with vertical grooves that can be cut using your miter saw to fit side by side on the surface of your kitchen cabinet door. Use liquid nails to secure your fluted fillers on the cabinet doors.
Fluted Glass Kitchen Cabinet Doors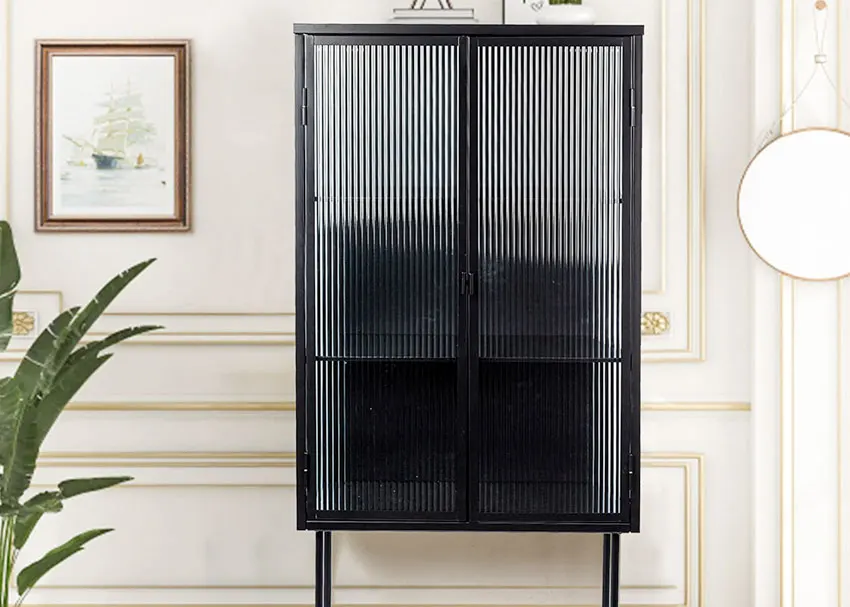 See this fluted glass cabinet at Amazon [sponsored link]
A fluted glass kitchen cabinet door is able to protect your kitchen items from dust or dirt while still having a visual cue on the items inside. The vertical grooves also add texture to your kitchen interior without being too busy or overbearing to the rest of your aesthetic.
Matching your fluted glass with a matt black metal framing for a contemporary vibe or a painted wood cabinet frame will equally create a good-looking kitchen cabinet.
If you're concerned with glass breaking or the weight of the glass doors, you'll find acrylic material as a good alternative, though it's harder to find ready-made fluted acrylic kitchen cabinets.
Fluted Kitchen Island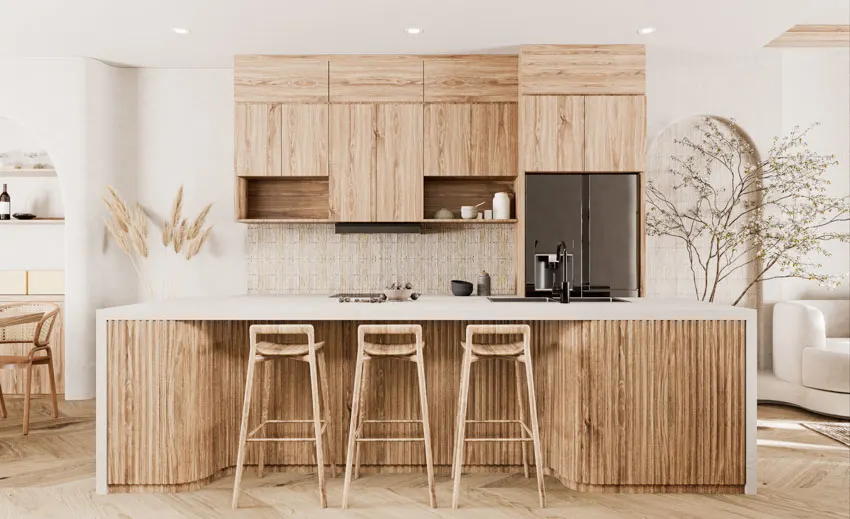 When you're looking for a way to tone down the brutalist look of your stone counters, or you simply want to add chic or elegant detail to your white-washed kitchen, a fluted kitchen island is a great option. Fluting treatment is an uncomplicated construction that even first-time DIYers can easily put together.
The sleek vertical strips running through the sides of your kitchen island create a contrasting dimension to your horizontal island counter. Whether you have a straight-edged kitchen island or a curved one, the flutings create a pleasing visual aesthetic.
You can install treated wood moldings or panels for kitchen areas or have a more moisture-resistant MDF, stainless steel, PVC, or glass. You'll also find fluted claddings with matching stone or marble patterns to match whichever types of kitchen backsplash you're using.
Curved fluted kitchen islands are trending right now as they provide a continuous flow of spaces where you can run the flutings around the island. Depending on your preference and the size of your kitchen island, there are trims or molds with slender widths.
You can also go with half-arched molds. You do have an option to deviate from the continuous vertical arrangement and have some sections diagonal or horizontal to add dimension to the look.
When creating something bespoke, it's important to calculate the spacing between the flutes so you don't end up on a half flute between doors, so it can take some mathematics. Another option altogether is to use a beadboard kitchen cabinet design which includes a small bead in between the grooves.

What Is A Fluted Filler?
A fluted filler is a small panel with repetitive vertical grooves or scalloped details running through the panel resulting in a textured surface. The fluted filler is used on cabinets or furniture to add textured detail in between doors or is also used to conceal gaps.
You can purchase custom widths of fluted fillers from 3 inches to 15-15/16 inches with a variety of wood finishes and materials. A fancier version of fluted filler is the pilaster, which is distinctly more ornate, usually having top and bottom corbels typically pre-attached when purchased.
The pillars are mainly used to create an illusion of having pillars on your cabinet or the corners of your kitchen island or bars.
See more related content in our article about MDF kitchen cabinets on this page.