Here's the types of sofa beds with pictures of the different design styles, their features, mattress sizes, how long they last, and the best sofa sleeper options for homeowners.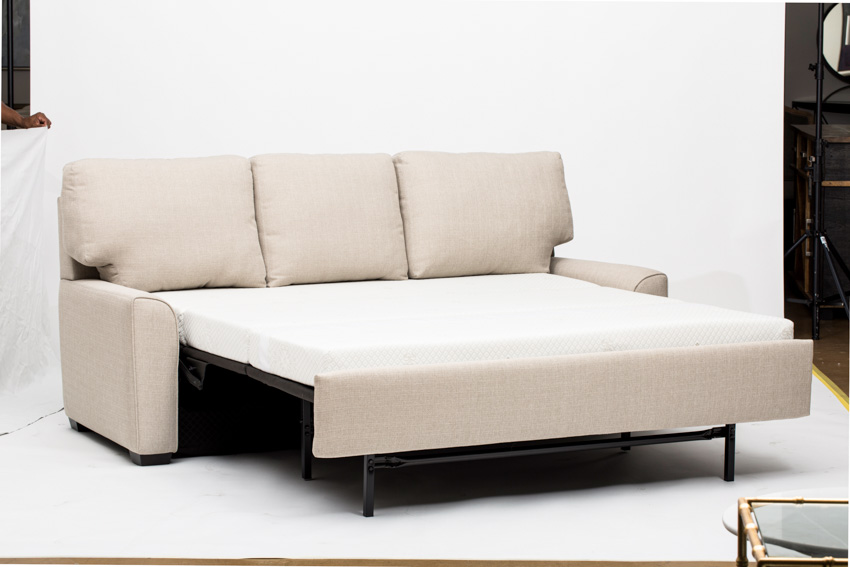 Sofa beds provide an effective way to effectively use the space in a room. Their design versatility enables them to quickly transform into a bed when needed for friends and family. A great thing about these types of sofas is they come in all sorts of shapes and sizes.
They've become quite popular because they're portable compared to the other types of beds available. They range from the extremely basic models that you simply tug to unfold, to the more sophisticated setups that have built in storage.
When looking around for a new sofa bed to purchase for your home, it's important to consider the features you may need for your room. You may also want to consider anyone who may potentially use the sofa bed and their needs. With that in mind, here are the different types of sofa beds for you to acquaint yourself with.
Sleeper Sofa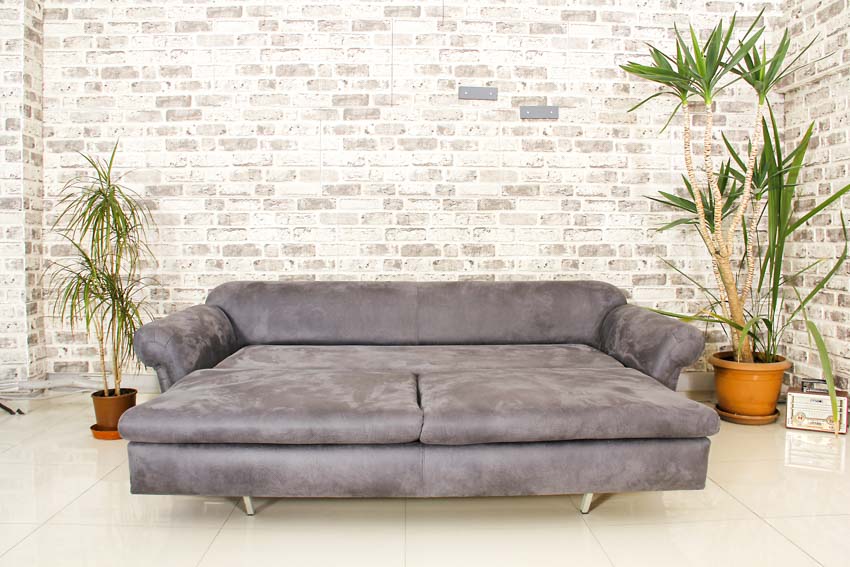 A sleeper sofa is unique from most of the sofa bed types available. This is because as opposed to a typical sofa bed that is meant to have all of the pieces laid out flat in order to form a bed, it has a regular mattress to sleep on.
A sleeper sofa has an actual full-sized mattress hidden right inside its frame. This same mattress can be folded and unfolded for various uses. Having a regular mattress makes sleeping much more comfortable. It can transform any room in to an inviting guest bedroom easily.

Storage Sofa Bed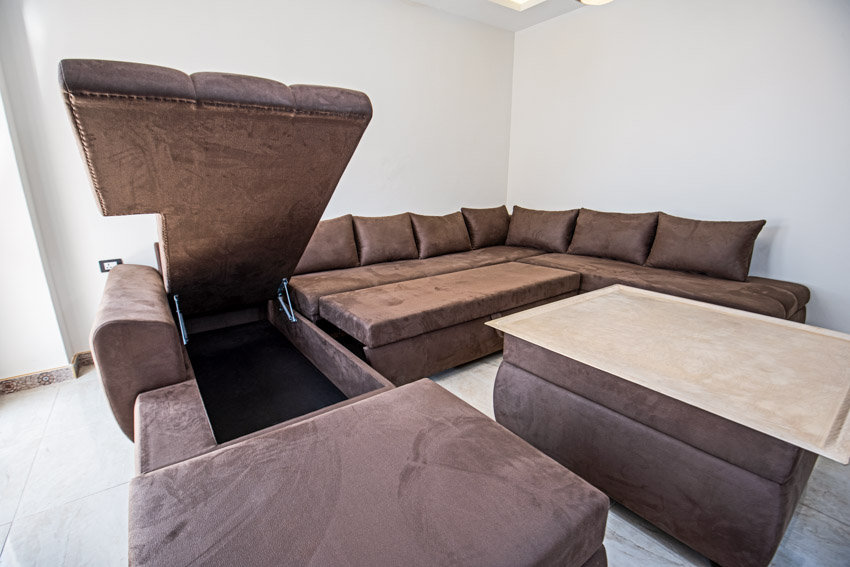 If you want to make the most out of what the floor area your sofa bed consumes, a storage sofa bed can be the answer. This type of sofa bed is far more practical and far more spacious compared to the other types of sofa beds available in the market right now.
On top of this, you get tons of storage space, of course. There are different types of storage beds from full-sized sofa beds to compact futons, to sofa beds with portable under-mattress storage.
If you don't happen to have a lot of storage space available in the area but would like to get the added benefit of having some, a storage sofa bed will serve its purpose quite well for you.
Pull-Out Couch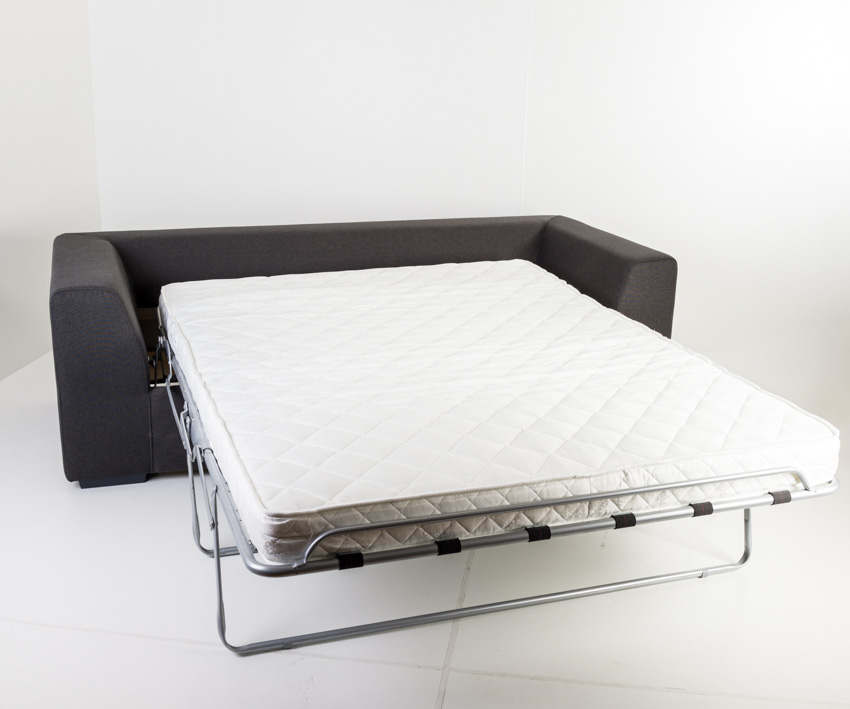 A pull-out couch is a type of sofa bed that uses a pulley system of sorts. As the name suggests, a pull-out couch is a type of sofa bed that well, pulls out. It is also equipped with a trolley that works by rolling out from under the sofa bed seat itself.
The same seat then pushes upwards and outwards. A pull-out couch is extremely easy to use. It doesn't require much to set up. Once it's out and you've successfully pulled it out, all you really need to do is to add a comfortable duvet and you're pretty much good to go. Your sofa bed is ready.
Daybed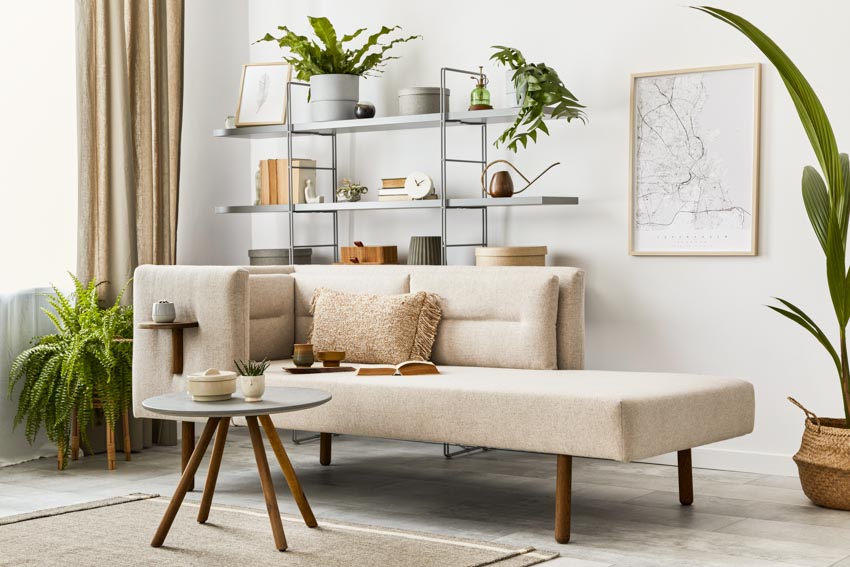 Daybeds are well-loved and prized for their attractive aesthetics. But more than that, they also save space so if you are looking for a sofa bed that's space-conscious, you might want to consider getting a daybed.
It's great because it can easily transition from a sofa to an actual full-sized bed at the drop of a hat. You can usually identify a daybed straight away because it usually has a headboard that is extended along one side of it. Certain types of beds have headboards installed at the actual head of the bed.
Clic-Clac Sofa Beds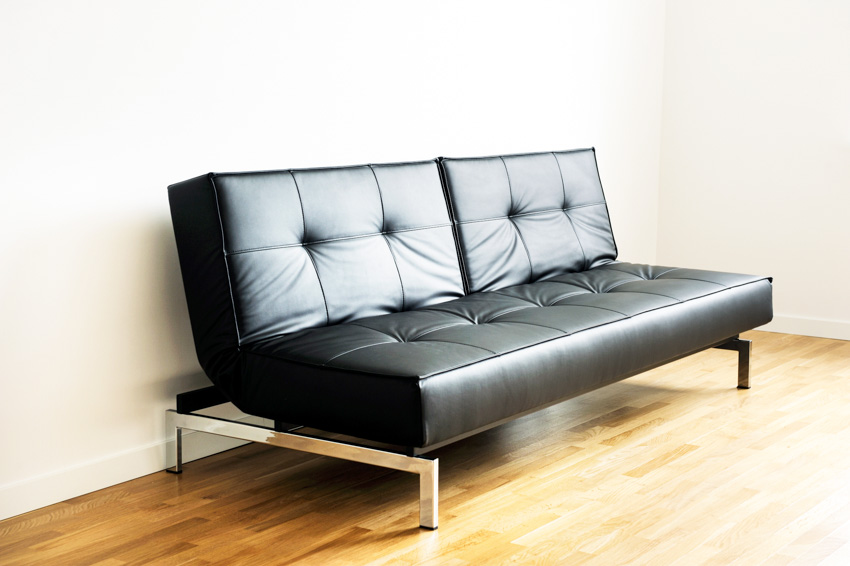 Clic-clac sofa beds have a fairly fun and interesting name but apart from their somewhat whimsical name, they can also be quite unique in terms of how they get transformed into a full-sized bed. How they work is that you first need to lift the bottom part of the sofa bed.
Once that is done, you need to make sure that you tilt the head of the bed back. This means that you are going to need ample enough floor space for the bed to have all of the needed moving parts.
Once the entire mattress has been lain flat on the floor, you can then click the pieces together and in position. This type of assembly can be done with just one action so if you aren't the type who wants to go through a lot of actions just to get the bed assembled, then a clic-clac sofa bed is definitely for you.
Corner Sofa Beds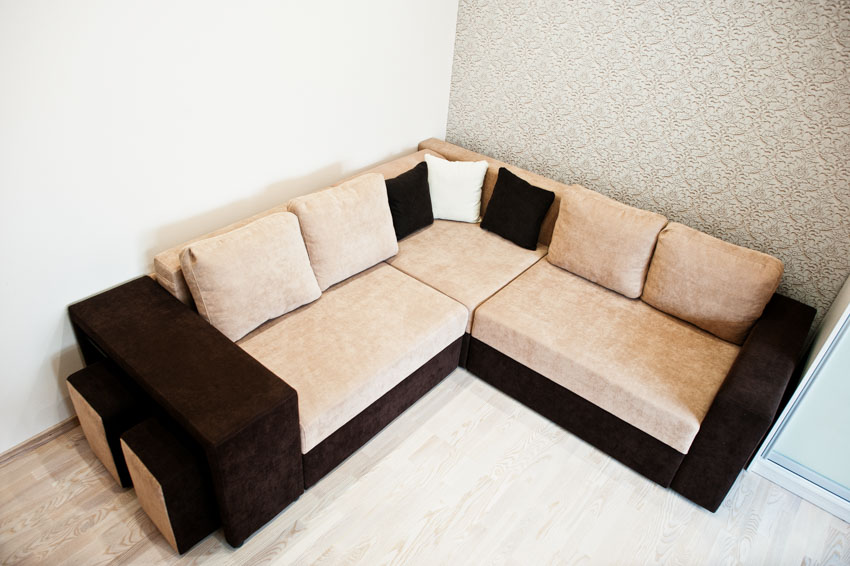 One of the most popular types of sofa beds would have to be the corner sofa bed. The reason why they're so popular is that they make efficient use of whatever space you have. Corners are usually dead spaces but a corner sofa bed utilizes them in the best possible way.
If you don't have that much floor space, to begin with, and if you have dead spaces near the corner of your room that you would like to utilize, then a corner sofa bed just might work for you.
This type of sofa bed offers far more sleeping space compared to the typical L-shaped bed. It can also be quite easily converted into a much bigger sleeping space. This sofa bed is ideal if you constantly have a lot of guests sleeping over in your home or if you are quite fond of having get-togethers in your living room with a large number of people. Read more about the types of sectional sofas here.

A-Frame Sofa-Beds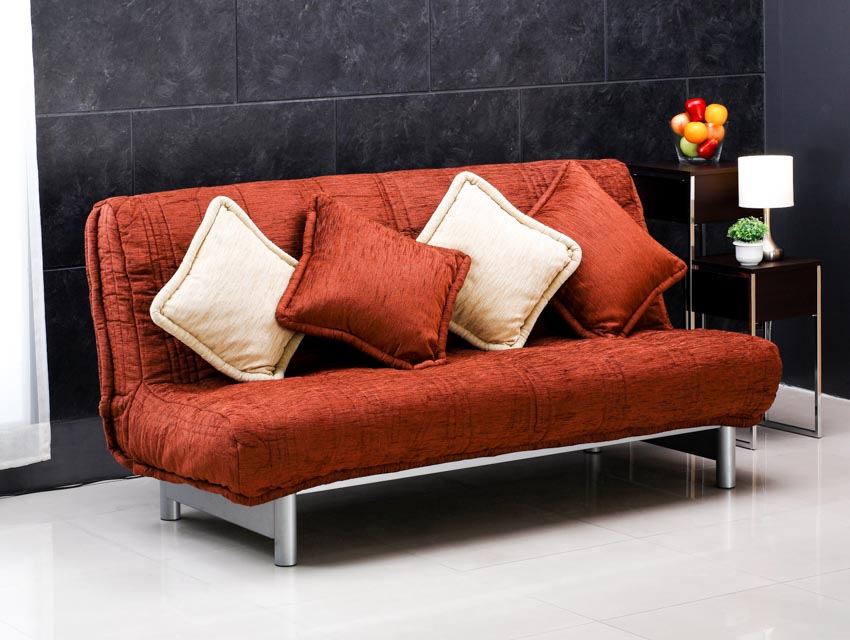 An A-frame sofa bed works by folding out the back part of the bed instead of the seat part, which isn't typical of a traditional sofa bed. There is an A-frame structure that supports the part of the bed that folds out.
This is a nifty way to ensure that the bed stays stable and level at all times. The A-frame sofa bed is easily one of the most comfortable sofa bed types to sleep in so if that's something particularly important to you, then this type of sofa bed is definitely something worth looking into.
Chair Beds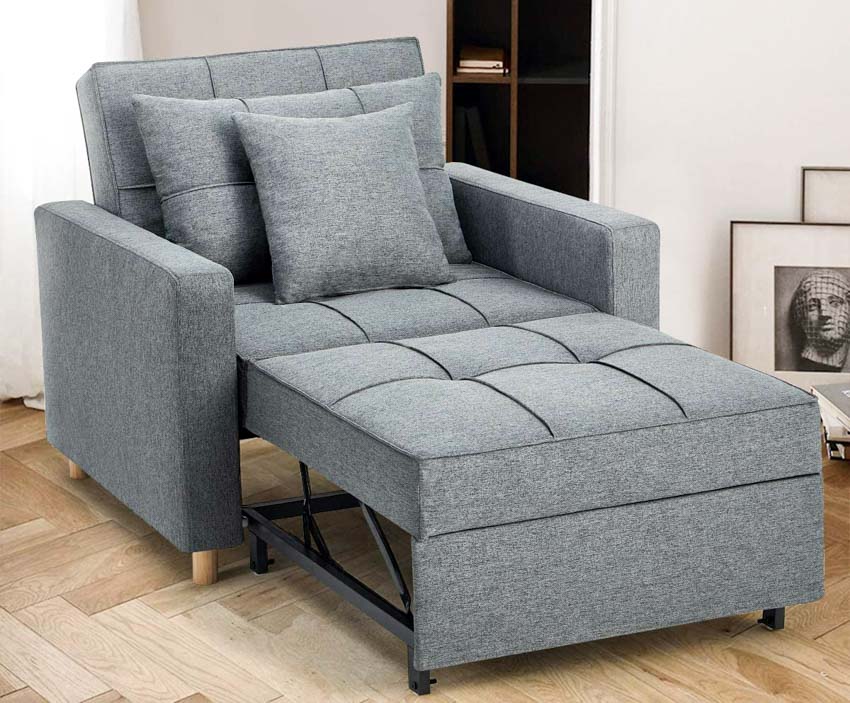 See this adjustable chair bed at Amazon [sponsored link]
Chair beds are convertible pieces of furniture that are a marriage between a living room chair or couch and a bed. They are oftentimes equipped with retractable seats that extend all the way out and they usually have a backseat that can be lowered in case you want to convert it into a bed.
Chair beds are quite popular for the elderly or for people who want to have a convenient piece of furniture situated in front of the television. Higher-end chair beds come with massagers and can come in all sorts of materials from lux sofa fabrics to faux leather, to actual expensive leather.
Some even have additional attachments such as cup holders and even portable attachable tables. The sky's the limit, really. They can come in a single size (or for the use of one person only), or it can also be a loveseat, where it can accommodate two people or more.
Futon Sofa Bed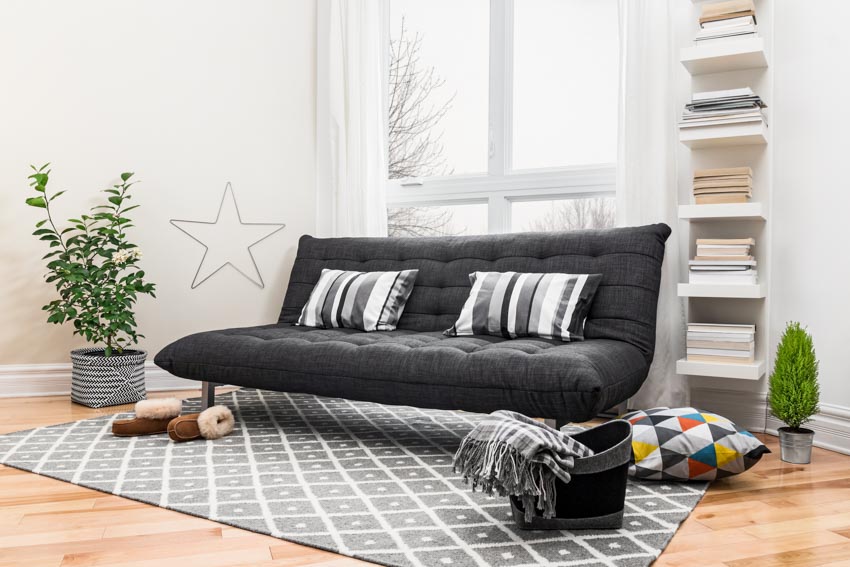 A futon sofa bed is quite popular and is one of the most common types of sofa beds out there. It is a type of bed that can be a sofa during the daytime, and a full-sized bed during the nighttime or whenever you have a need for it.
There are so many types of futons out there. The term futon actually came from the Japanese and when directly translated, is the actual equivalent of the word "bed".
How a futon sofa bed typically works is that it has a backrest that you would have to push down. This transforms the furniture into a flat surface that you can then sleep on.
Power Open Sofa Bed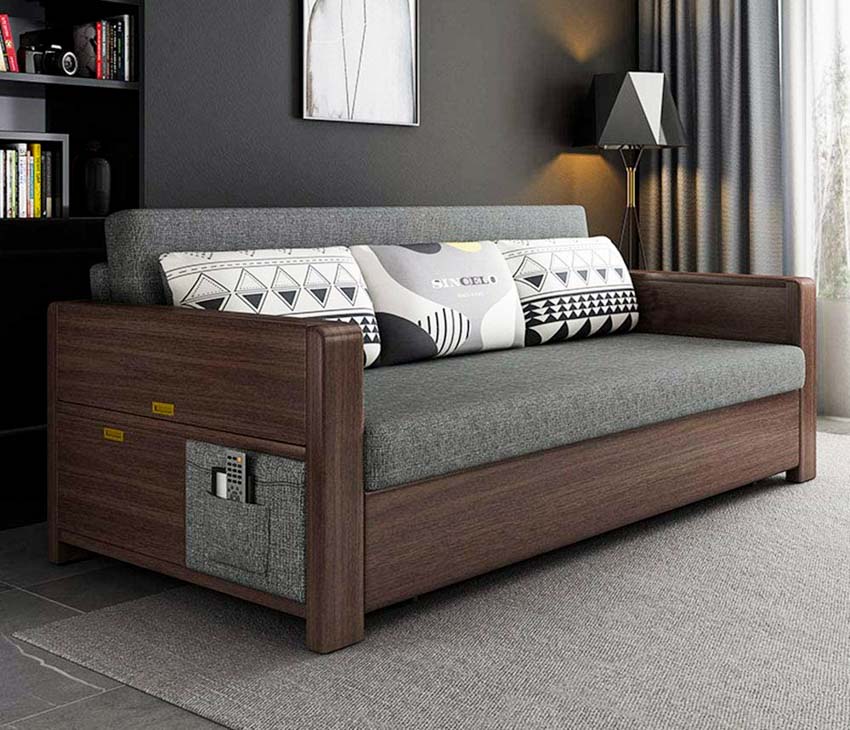 See this multifunctional sofa bed at Amazon [sponsored link]
A power open sofa bed is particularly interesting as it is a type of sofa bed that opens itself up all on its own the moment that you or anyone else enters the room. They are quite convenient but on top of this, they are quite easy to operate.
One thing to keep in mind though is that if you happen to have a space-challenged area, a power open sofa bed might not be the best sofa bed option for you. This type of bed has a lot of moving parts so this means that you will need quite a lot of space for it. You can't have it in an area that's cramped.
Loveseat Sofa Bed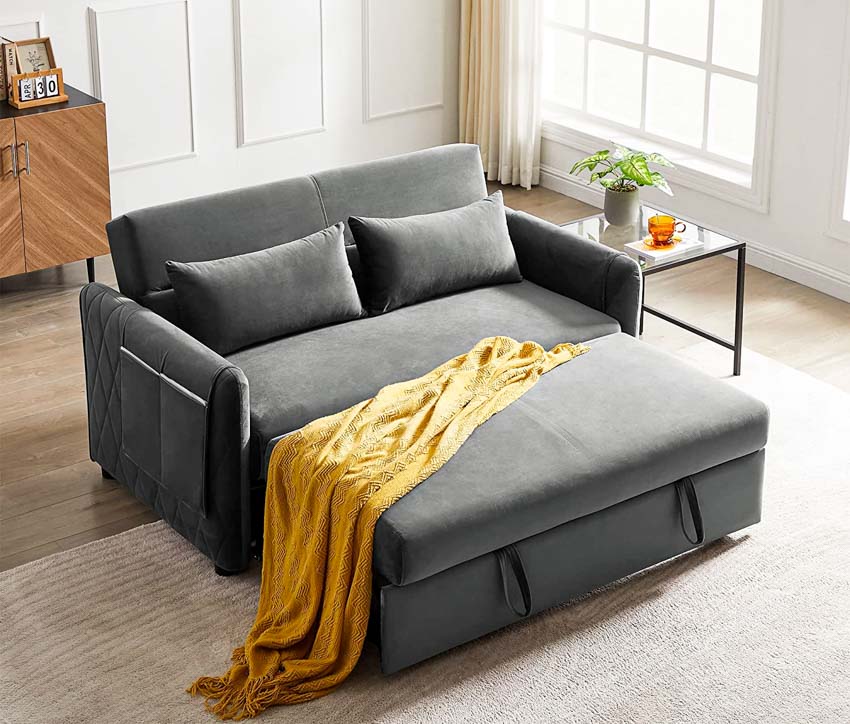 See this loveseat sofa bed at Amazon [sponsored link]
Loveseat sofa beds are much smaller compared to your typical sofa bed. Normally, when not in use or when not extended out fully, a sofa bed doubles over as a couch. A loveseat sofa bed functions in pretty much the same way.
The only difference is that it can only accommodate two people. Hence, the term loveseat. It's much smaller than a sofa at the end of the day. It's more recommended if you don't really have a lot of people at home. If it's just you and one other person at home, a loveseat sofa bed is more recommended. On top of that, it's great for snuggling, of course.
Stacking Sofa Bed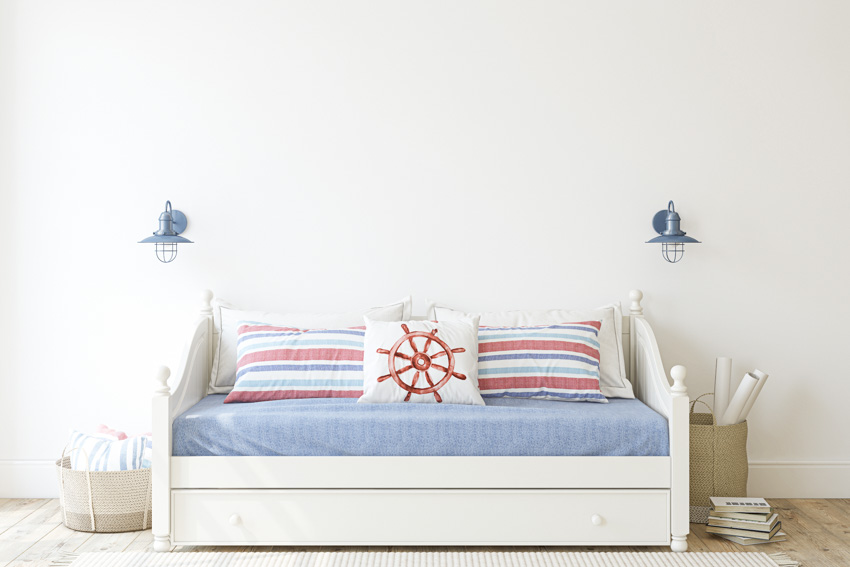 This type of sofa bed has a unique design to it. A typical stacking bed is usually comprised of two actual pieces of furniture. As the name suggests, they "stack" right on top of each other when you push them together.
The first piece at the bottom functions as a base while the second piece stacked atop it works as a seat. Stacking beds are great for very small and cramped spaces. They are compact and extremely lightweight.
One thing to keep in mind though is that in terms of comfort and support while sleeping, they don't really bring much to the table. If you're heavy or if you require a certain sense of comfort and quality when sleeping, the stacking sofa bed might not be for you.
Sofa Bunk Bed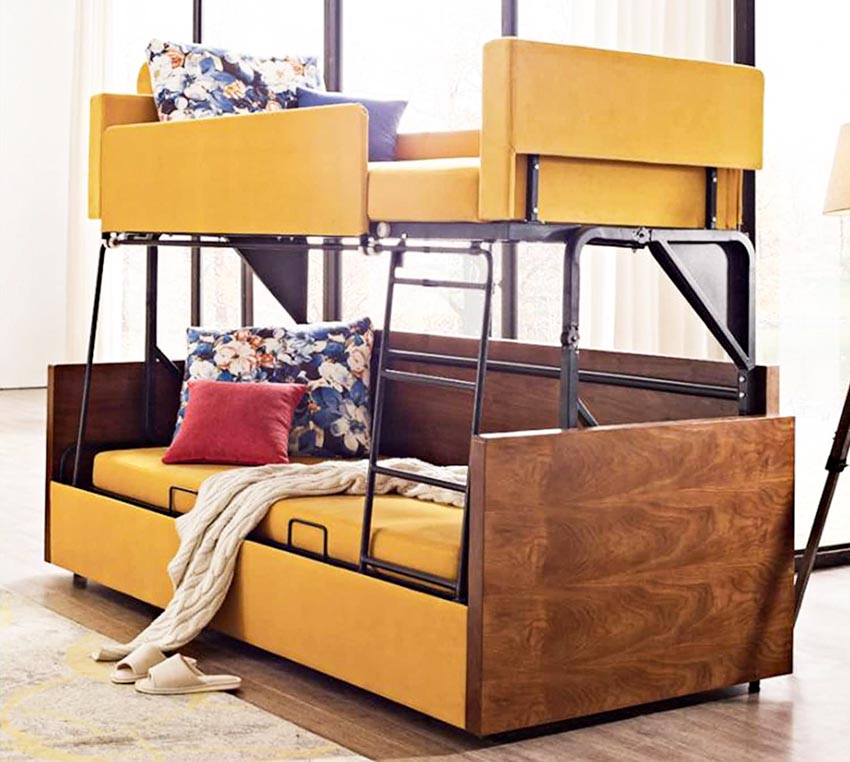 See this sofa bunk bed at Amazon [sponsored link]
A sofa bunk bed is a hybrid type of sofa bed. If the typical sofa bed transforms into a sleeping mattress or bed, a sofa bunk bed transforms into two beds. It's a modern marvel and it will be even fair to say that it's a bit of an engineering feat.
Oftentimes, you can convert sofa types of bunk beds into a full-sized bed in no more than two to three actions. This usually comes with straps to keep the beddings in place for when you fold them down and a ladder attachment that you can climb on in order for you to gain access to the top bunk bed.
If you have kids over or if you just enjoy having a lot of people over but you don't have that much space to accommodate multiple beds, a sofa bunk bed will work for you quite nicely.
Sofa Bed Sizes
The sizing of sofa beds is usually determined by the mattress that's inside the actual sofa bed. That's the first size to consider. After that is the sofa's overall size. Sofa beds that have bigger arms will obviously have bigger sizes compared to sofa beds with smaller or more compact arms.
Here's a basic table of dimensions for standard sofa bed sizes:
| | | |
| --- | --- | --- |
| SOFA BED SIZE | LENGTH RANGE | WIDTH RANGE |
| Chair Bed | 49 to 65 inches | 30 to 34 inches |
| Loveseat Sofa Bed | 50 to 68 inches | 36 to 39 inches |
| Sofa Bed (Double Sized) | 67 to 83 inches | 52 to 55 inches |
| Sofa Bed (Queen Sized) | 75 to 96 inches | 58 to 62 inches |
| Sofa Bed (King Sized) | 84 to 92 inches | 74 to 76 inches |
Read more about different sofa dimensions on this page.
How Long Does A Sofa Bed Last?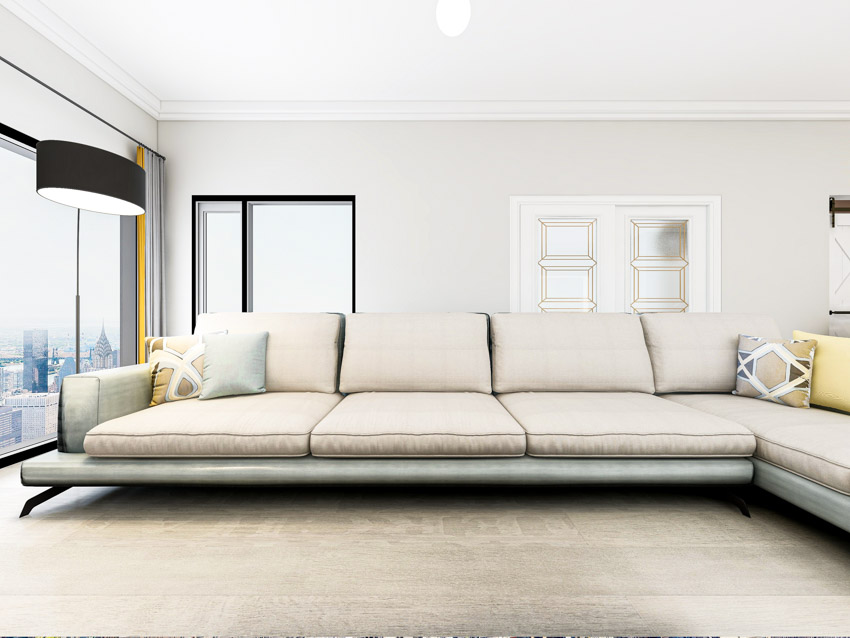 A sofa bed is said to last much longer than an actual mattress. It has been said to have a life span of 7 to 15 years, depending on the degree and heaviness of usage. The reason why they last so long is because of the fact that sofa beds aren't really used that heavily.
Oftentimes, in most households, they serve as extra seating and as extra sleeping space and are only used or pulled out in the event of needing more seats or more sleeping space than normally available, which mainstay sofas and beds offer up.
Ultimately speaking though, there isn't any hard rule or finite calculation as to how long your sofa bed will last. At the end of the day, it all depends on how you use it, how often or how scarce, and what type of daily wear and tear it actually undergoes.
There are a lot of variables that can affect the overall life span of your sofa bed. So to explain it better, if your sofa bed is primarily used as a sofa and only occasionally used as a bed may last longer compared to a sofa bed that's predominantly used as a mattress.
It also depends on how the bed is handled. For example, if you have pets constantly scratching at it or if you have kids constantly jumping on it, it may have a shorter life span as opposed to when it is being treated gently or more carefully.
Best Type Of A Sofa Bed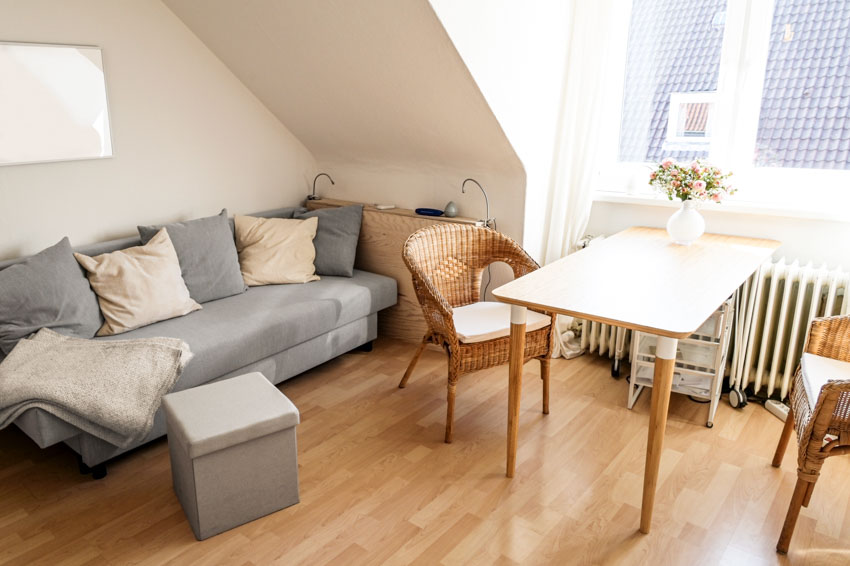 There are a lot of things that ought to be considered when you're trying to decide on what the best type of sofa bed will be for you. A sofa bed type that suits you best may not suit the next person. So the first thing that you need to think about is whether you're going to be using your sofa bed more for sitting or for sleeping.
The next thing to consider is the budget you have for it. And of course, you need to think about the aesthetics, any add-on features, and the amount of space it will actually consume. See more pictures of sofa styles here.

All of these things considered, the conclusion is that a great compromise that can cover most of these things would be the traditional pull-out sofa bed.
A pull-out sofa bed works extremely well as a settee or as a sofa so if you plan to sit on it on a daily basis, it will serve its function immensely well. It is very easy to convert into a bed should you have a need for it so it technically means that it doesn't require so much effort to convert it.
Once laid out flat, it's very comfortable to sleep on and can work just as fine as any other bed mattress. In terms of the price point, it isn't the cheapest option available but neither is it a particularly expensive one. It sits comfortably at the midpoint. Hence, a pull-out sofa bed is the best type of sofa bed available when it comes to general terms.
How To Choose A Sleeper Sofa?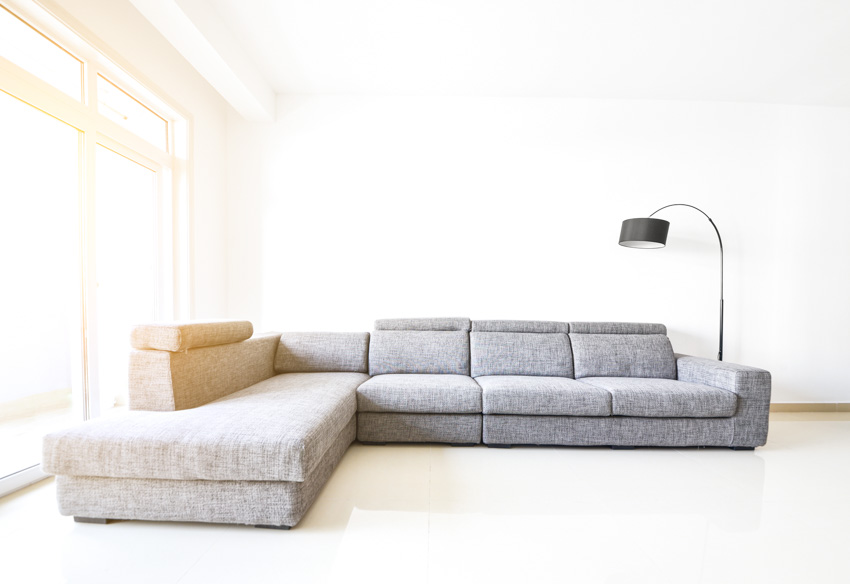 When choosing a sleeper sofa, it's important to remember that you are going to be using it primarily for sleeping; or at least for the most part of it. It's important that you consider the mattress' durability first and foremost and then move down from there.
First, you need to check the quality of the mattress. Since you're mostly planning to sleep on it, you need to ensure that you will be getting great sleep quality out of it.
Look for types of mattresses that support the weight of your body, particularly your hips, shoulders, and lower back when in a supine position. A thicker mattress doesn't always mean it's better so always keep an eye out for ones that are built well, even if they may be thinner.
Second, make sure it has a smooth and sturdy open-and close mechanism. It should be able to lift up and go out in one motion. It should be smooth and shouldn't have any parts sticking or squeaking while you're at it. It's best if you go for sleeper sofas that have lock-down bars.
This will ensure that there's proper closure. It will also ensure that you will be able to open it up quite easily. Inspect the mechanism carefully at all times and make sure that the parts are well put together. You wouldn't want them breaking or coming loose all that easily.
Third, take a look at the frames. You'll want to go for durable frames, maybe sturdy metal or hardwood. Avoid buying frames that are made out of softwoods or MDF boards as they wouldn't last very long.
Fourth, always test it out. Get a good feel for it. Try opening and closing it. Try sitting on it and laying on it. See how it all feels to you. A great sleeper sofa should be easy to open and close and you shouldn't have to strain too much to get the parts moving. Get a good feel for how the mattress feels on your back and whether or not it will give you a good night's sleep.
And lastly, make sure that you measure it. Always take out the exact measurements both of the sleeper sofa you are buying and the space that you are installing it on before committing to buying it.
Also, consider the sofa measurements when it opens up. Keep in mind that it needs as much room as a full-sized bed when it is fully opened. If you plan to pair it up with other pieces of furniture such as tables and footstools, make sure that they are lightweight enough for you to be able to easily move them out of the way before you open your sleeper sofa.
How To Make A Sofa Bed More Comfortable?
Invest in good-quality pillows: Although it may be tempting to just grab a nearby throw pillow or couch cushion, you need to keep in mind that they might not offer support for your spine and neck that will be adequate enough to facilitate high-quality sleep.
Your ideal pillow may depend on your preferences or on how you sleep so go with whatever supportive material works best for you and for your sleeping style.
Use couch cushions to fill in the gaps: There may be gaps in and around the bed frame that need filling once you have the sofa bed fully open. You can use the couch cushions to comfortably fill in these gaps.
This will make sure that you don't have things falling from these gaps such as your phone, your books, or even your main pillows. They can also be used when you want to prop yourself up if you want to be in a sitting position.
Invest in a mattress topper: A great memory foam topper will give you extra support and will actually over a little more warmth. If you don't have an extra topper, an extra duvet will do. Doing this will also extend the life of your sofa bed's mattress.
Clean your mattress and topper every month: We naturally shed skin cells and hair when we sleep and this can accumulate along with dust, mites, food crumbs, and so on. Keep these issues at bay by periodically vacuuming and airing the mattress out. Also, wash the topper according to the manufacturer's instructions.
Flip your mattress regularly: This will keep your mattress from seeing signs of wear and tear. It will keep it from sagging in one focused area. If you like to sit in bed or if you happen to be a side sleeper, your mattress might also show signs of sagging if not flipped regularly.
Treat the metal parts of the sofa bed with oil: This is so that it won't squeak. Beds that have noisy metal parts would mean that they're noisy and this may affect your sleep quality when you're tossing and turning at night.
Also, check the bolts and make sure that they're tightened. Once the metal parts are already oiled and the bed is still noisy, you might want to try jamming pieces of folded paper or cork in the noisy metal joints.
Get your mattress replaced once they're worn out: A great mattress should last you for a good 5 years or so although if you happen to be a heavy user, it may turn out to be a little sooner than that. A few signs you ought to watch out for would be if you wake up with aches in your joints, if you can hear squeaking from inside the mattress, or when you start to see springs popping up.
You might also want to consider the color of the room and the linens as well as the fabric that you're using. Wool is oftentimes durable but also warmer so it may be recommended for a cooler room.
Cotton is comfortable and soft but can hold up moisture so it isn't recommended if you do a lot of eating and drinking in bed. Linen is quite resistant to bacteria and can absorb moisture. However, it isn't that warm. Take these things into account when you're thinking of fabrics to consider for your sofa bed.
See more related content in our article about the different parts of a bed on this page.