Here's our sideboard dimensions guide including different types such as credenza, buffet and server sideboard sizes and how to measure a sideboard.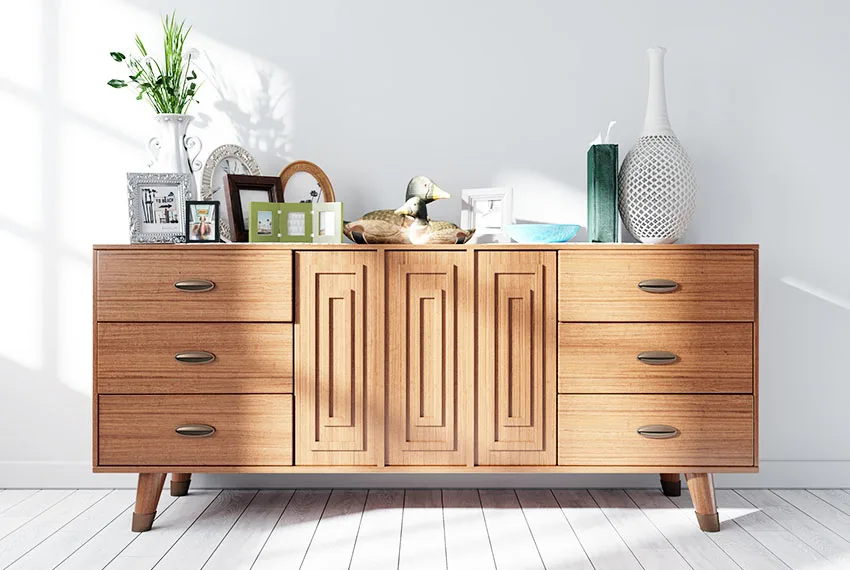 Sideboards are also known as buffet tables, and traditionally you can find them made of wood with a display case made of glass. They are usually seen in dining rooms used to prepare or serve food, especially in the past.
Today, sideboards can be used practically anywhere, with the focus of design and production more on aesthetic and storage purposes. In the past, its cabinets were used to store food before serving, but now they are more or less there as storage for dishes, glasses, table linens, etc.
Standard Sideboard Dimensions

Deciding what size you need for your sideboards, it will first require deciding what type of design you would like. There are three to choose from: the sideboard or the credenza, the buffet table, or the server.
Sideboards, also known as credenzas, are cabinets that almost reach the ground with short legs and maximum storage spaces. The standard credenzas usually have a height of 29 inches or 74 centimeters. They can go as wide as 71 inches or 180 centimeters and have depths of 16 inches or 41 centimeters from front to back.
The second type is the buffet table which is almost similar to a credenza; however, it usually has taller legs. Most buffet tables have a height of 35 inches or 89 centimeters, a width of 62 inches or 157 centimeters, and a depth of 19 inches or 48 centimeters.
The third type is the server sideboards with a shorter width making them perfect for smaller spaces. A typical server-type sideboard usually has a height of 36 inches or 91 centimeters, a width of 42 inches or 107 centimeters, and a depth of 14 inches or 36 centimeters.
Dining Room Sideboard Dimensions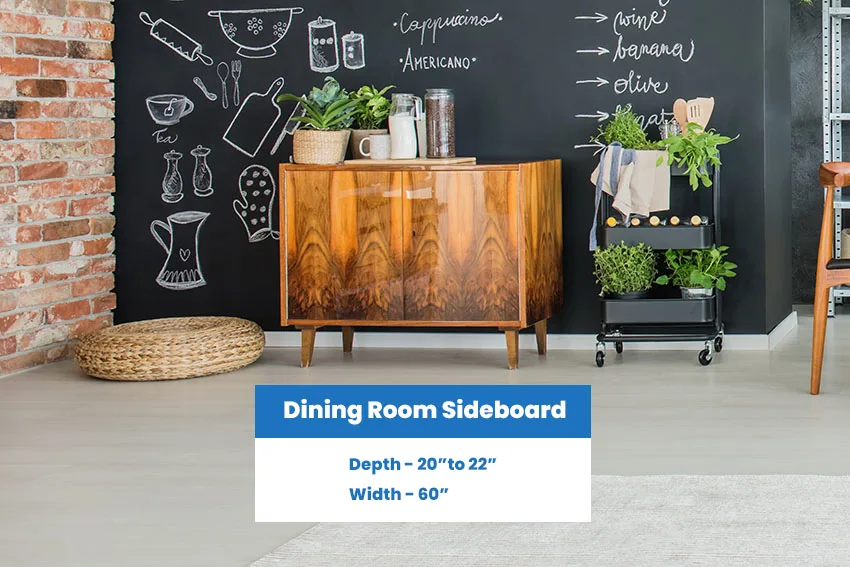 Using a sideboard for the dining room will have many benefits. They can do their traditional purpose, food storage, or they can also act as storage for our precious porcelain pieces.
Depending on the season, the top surface of dining room sideboards can also be interchangeable. You can switch the table runner from the oranges and browns of Thanksgiving and shift it to red and greens or blues and whites of the holidays.
For the dining room, a sideboard with a depth of 20 to 22 inches or 51 to 56 centimeters and a width of 60 inches or 152 centimeters would work perfectly. For the height, anything taller than your dining table would work.
Hemnes Sideboard Dimensions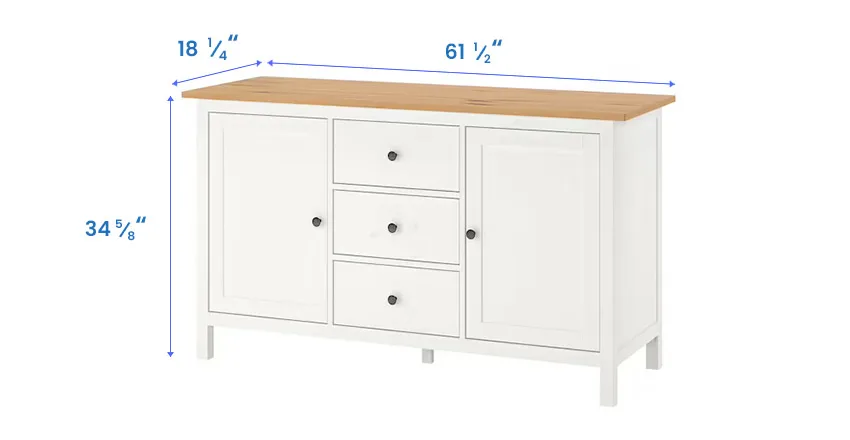 The best example for a sideboard gearing on the buffet type is the IKEA Hemnes sideboard. It is available in black or brown and made of sustainable pine, making for handsome and sustainably sourced furniture.
This sideboard features two doors on each side with three drawers in the middle for maximum storage, whether for your kitchen or dining wares.
The IKEA Hemnes sideboard has these dimensions: a height that reaches 34 5/8 inches or 88 centimeters, a full length from side to side of 61 1/2 inches or 156 centimeters, and a depth from front to back of 18 1/4 inches or 47 centimeters.
IKEA Norden Sideboard Dimensions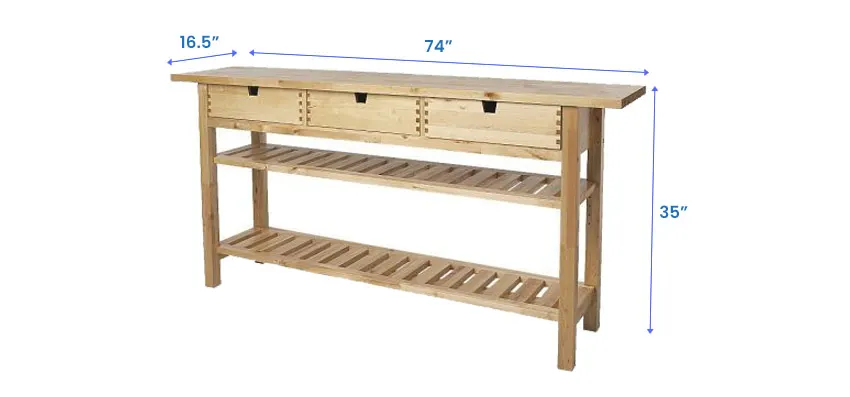 Another IKEA sideboard that is commonly bought is the IKEA Norden sideboard featuring three drawers on top and another two open shelves on the bottom. Aside from being a perfect sideboard for the kitchen, this can also be utilized as an entryway table to keep all your display or practical stuff like keys or wallets.
This sideboard is made in a combination of solid birch and fiberboard. It has a width of 74 inches or 120 centimeters, a sideboard depth from front to back of 16.5 inches or 42 centimeters, and a height of 35 inches or 90 centimeters from top to bottom.
IKEA Bjursta Sideboard Dimensions

True to its name of a sideboard, the IKEA Bjursta is a credenza that falls wider than it is taller. It features adjustable hinges that would allow you to adjust the height, depth, and width of the cabinet itself. Plus, there are two shelves and two cabinets on top for storage options.
The IKEA Bjursta has a length from side to side of 61 inches or 155 centimeters, a height from top to bottom of 27 inches or 69 centimeters, a depth from front to back of 16 inches or 41 centimeters.
What Size Should Your Sideboard Be?
Essentially, the size of the sideboard perfect for your home is the size of the sideboard you want to have that will fit your dining room dimensions without crowding the other furniture pieces. However, taking thorough measurements will make everything look fitting and proportionate to your room.
Here is how to measure for what you need.
Step 1: Measuring the other items of furniture in the room
Your sideboards should be at least the same height as the dining room table, although a little taller than your dining table would be perfect.
Step 2: Measuring the space
To account for your chosen sideboard's depth, measure the room and make sure that there will be enough space that no people will bump on the sideboard, especially for one to be used in narrow hallways.
Step 3: Accounting for Layout
Ensure that there are at least 36 inches of free space between each edge of the sideboards and any other furniture items to allow for safer foot activity. This will also count for hallways and doorways, making sure that they are small enough for safer passage.
How High Should A Sideboard Be?
There is no fixed height, but they will often be in the range of 30 to 36 inches or 76 to 91 centimeters.
What Is The Difference Between A Buffet And A Sideboard?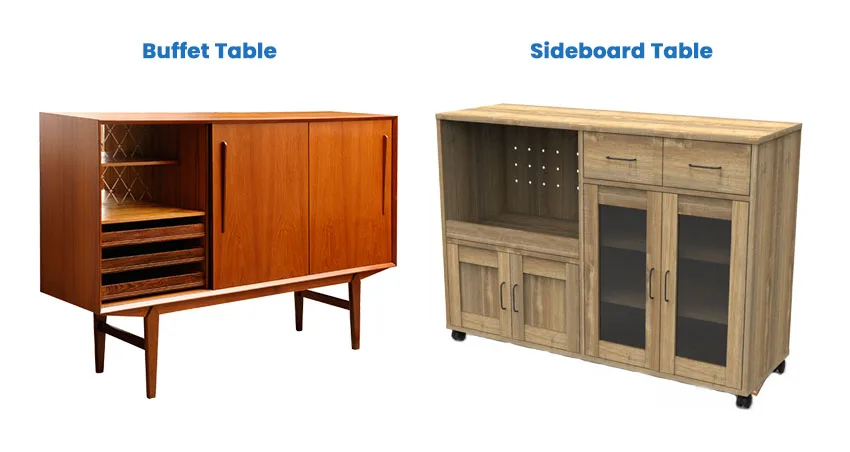 A buffet is under the type of sideboards together with a credenza and a server. It features a flat top to be used as a display both for decors and food, and it most often has cupboards and drawers for storage.
The only difference between the two is that a buffet sideboard will usually have taller legs, whereas a sideboard or a credenza features shorter or no legs at all. Choosing between them nevertheless is also a matter of preference in terms of design and aesthetics.
For more related content visit our sofa table dimensions guide here.