In this gallery of mission style furniture designs you'll see what it is, its characteristics, and pictures of bedroom, living room, dining room and office mission furniture ideas.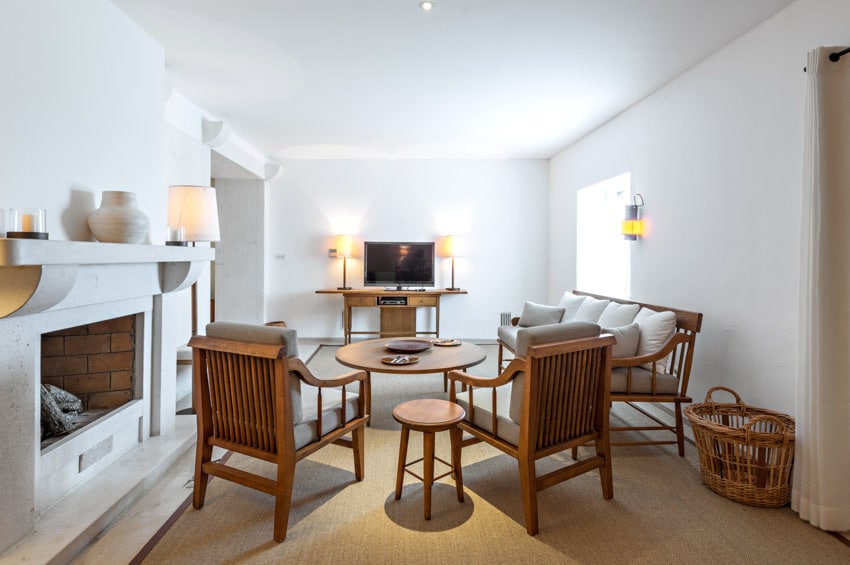 Rectangular forms, angles of ninety degrees, and straight lines in vertical and horizontal planes are signature elements of furniture designed in the mission style. The mission and artisan furniture styles have remained popular in traditional and arts & crafts design circles ever since they first came to be at the turn of the 20th century.
The furniture known as "mission style" honors an unpretentious design with integrity in the craftsmanship and the materials used. As a result of this guiding principle, it has become a well-liked option among Amish furnishings.
The straight lines and horizontal or vertical slats or spindles are defining characteristics of the Mission style. The use of flat paneling and exposed tenon joinery that matches with metal loop hardware.
In other words, furniture designed in the Mission style is functional, well-proportioned, and sturdy. It features a distinct absence of adornment, drawing attention to the wood grain's inherent aesthetic value. This furniture style became popular in the United States during the early 20th century.
What Is Mission Style Furniture?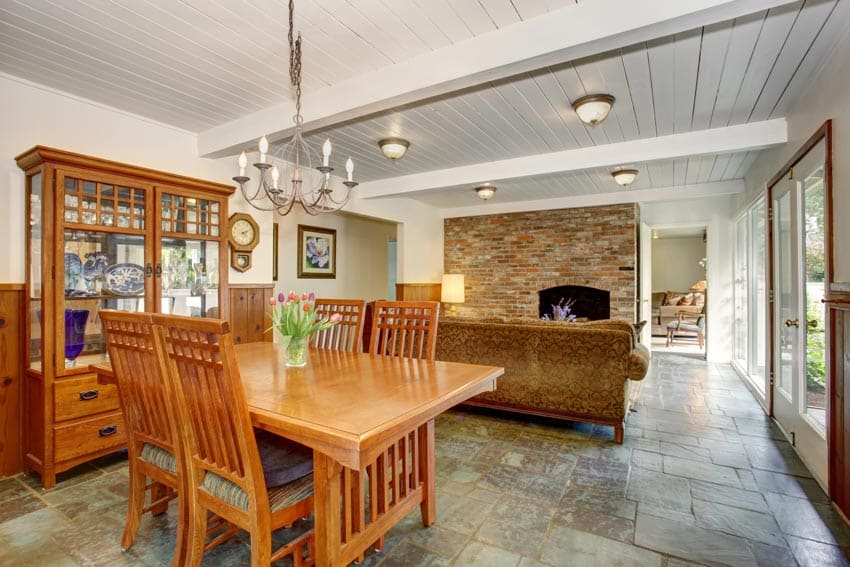 What exactly is furniture that has a mission style? The furniture designed in the mission style is easily recognizable by its uncomplicated, durable, and functional characteristics. Its documentation initially came about in the latter part of the 19th century. Between 1900 and 1915, it saw a meteoric rise in popularity.
It first became popular again in the 1980s, and thanks to the timelessness of its design, it is still considered chic even today.
Many historians and furniture aficionados agree that Gustav Stickley, an American architect, publisher, and furniture maker, is responsible for developing the Mission furniture style. At the turn of the century, the pieces of furniture that he observed the Franciscan churches use in California served as a source of inspiration for him.
At around the same time, the perception was that the industrial revolution that occurred in the early 1800s led us to have a lower regard for handmade things than mass-produced ones at a lower cost.
This sentiment was also prevalent during the same period as the feeling stated above. Between 1900 and 1915, the Mission types of furniture styles indeed took off. It was a direct reaction to both of those developments that were happening at the same time.
Mission Style Furniture Characteristics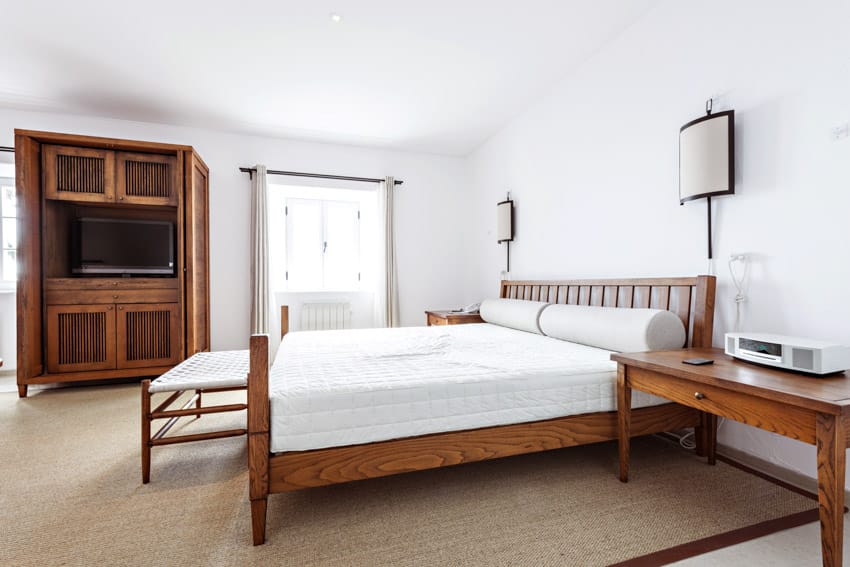 After the decadence of the Victorian era and the onslaught of mass-produced furniture brought on by the Industrial Revolution, consumers were yearning for something different.
This furniture is known as being in the Mission Style, even though Stickley despised the designation. Simple vertical and horizontal lines and flat panels that draw attention to the wood's natural grain are defining characteristics of the Mission design.
Simple and straight lines: The exposed joinery demonstrates the expertise and attention to detail necessary to assemble a piece. Furniture in the Mission style is characteristic of its clean lines and absence of decoration. As a result, it works particularly well in houses with a contemporary sensibility and taste. Still, it looks right at home in a Craftsman or logs cabin environment.
Heavy-set and enduring: Each item comes from using wood of the highest possible quality. The beauty of furniture made in the Mission style is that even while the styles remain the same as when they first came to be, you can distinguish each item from the others due to the type of wood used.
Hardwoods, such as northern red oak, quarter-sawn white oak, mahogany, walnut, hickory, or cedar, are some of the most common variants of wood utilized. Artisans frequently do their utmost to highlight an unusual whorl or grain in their pieces.
When working with a piece of heartwood, attention should be on the variations in the grains. Because of the emphasis on using high-quality wood, a piece of Mission furniture is built to withstand the test of time and can be strong enough to last from one generation to the next.
The pieces range from medium-colored to dark-stained: Your furniture should be sifted through for stains before purchase. The choice of wood stain should protect the wood from being damaged by water and bring out the natural patterns and characteristics—every kind of wood ages in its unique way.
For example, cherry wood will become darker as it gets more exposure to more light. The color of mature mahogany can range from a yellowish to a pinkish tint or from a deep red to a brown tone. It all depends on the species.
It focuses more on function and is free from ornamentation: The ornamentation on Mission furniture is design-centric in bringing things down to a minimum. It is in keeping with the high degree of craftsmanship that is required.
Iron or copper hardware of a straightforward design is typically employed when a material other than wood is part of the furniture piece for a functional reason. These pulls or knobs are substantial, carefully crafted, and installed with care and consideration for an extended usage lifespan.
It stands out in leather upholstery: Leather is frequently the go-to material for Mission designs whenever there is a requirement for a particular material. It lasts for a long time, doesn't go out of style, and can be dyed in various stains and shades to suit the decor of any house.
It is possible to make repairs. And if reupholstering is necessary, the classic appearance of leather means you won't have to worry about dating your furniture or finding a match. Of course, you can make a special request for a particular fabric, but the original design works best with leather.
Even today, Amish people continue to craft furniture in the Mission style. You can choose Mission furniture directly from an Amish family business by shopping at internet sites.
You can then customize the piece to reflect your unique tastes and those of your family by customizing the various aspects of the furniture. There are various additional shopping options available if you need easy access to an Amish furniture store.
Why Is Mission Style Furniture So Great?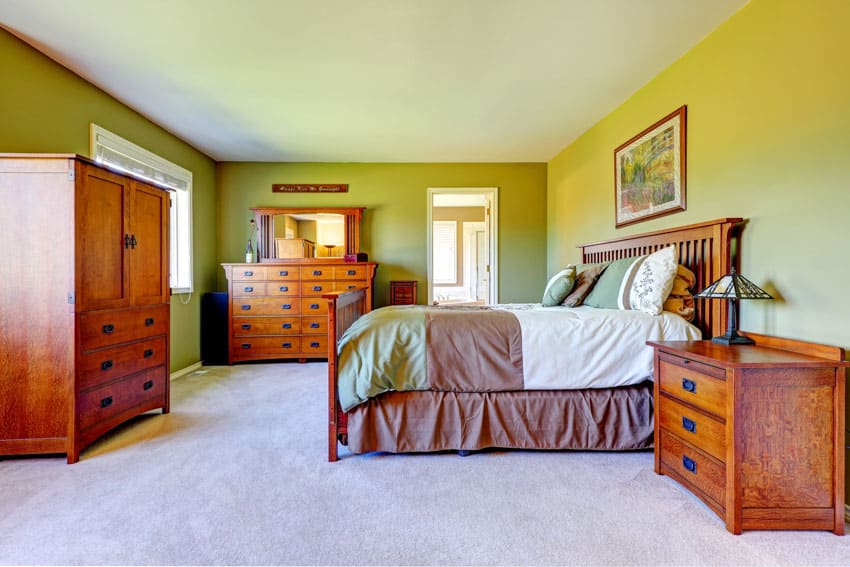 For starters, it's sturdy: This furniture has construction elements that can endure a lifetime or two, to put it more succinctly! It has a remarkable level of durability.
As a result, it is not affected by the tremendous wear and tear that comes with living in a college residence hall. The furniture will likely sustain significant damage in any institutional environment.
Because they are constructed to last a long time and have straightforward designs, these pieces of furniture are excellent candidates for use in living quarters that multiple people share.
It is authentic: However, this is not where it all ends at all. Stickley created it to improve the ambiance surrounding it and lend an air of polished refinement to whatever setting you place. Additionally, the furniture gives off an air of authentic antiquity and vintage charm.
It's sustainable: And finally, in line with Stickley's zealous pursuit of the objective, furniture made of solid hardwood crafted locally and sourced for its materials is sustainable right down to its fundamental foundation. It is popular among homeowners all over the world.
Furniture made of hardwood is to survive for a significant amount of time and functions as a carbon sink. Wood is not only the most eco-friendly and carbon-neutral material for furniture you can purchase but also a renewable resource. Wood is the most environmentally helpful material.
Refinishing, recycling, reusing it for a different purpose, or even upcycling the original piece of solid wood furniture. These are all possible possibilities for restoring the item to the splendor it once held. And the miracle of wood is that over its existence, it can have many different lives, just like a cat.
Mission Style Bedroom Furniture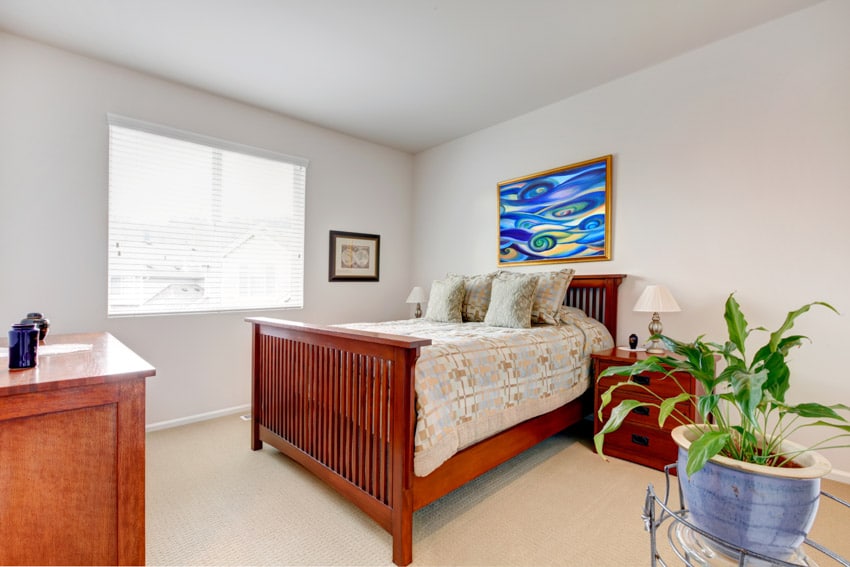 You can get an inviting and traditional look in your bedroom by furnishing it with a bed designed in the mission style and slatted types of headboard made of wood.The simple yet stylish horizontal and vertical lines combined with flat panel cabinet construction can elevate the bedroom especially when combined with rich wood stains.

You can choose a more conventional approach or a more bohemian look by combining this design with contemporary components such as a stylish lighting fixtures and decor pieces. Either way, you can't go wrong with mission style bedroom furniture.
Mission Style Living Room Furniture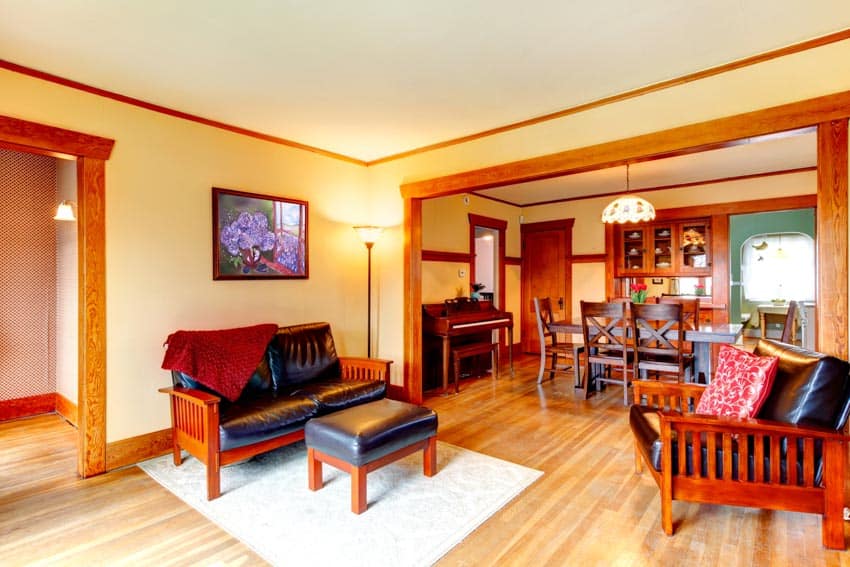 Tables designed in the mission style come with slatted sides, shelves, and drawers. It allows you to combine the aesthetics you admire with a significant amount of storage space you can use.
Mission Style Dining Room Furniture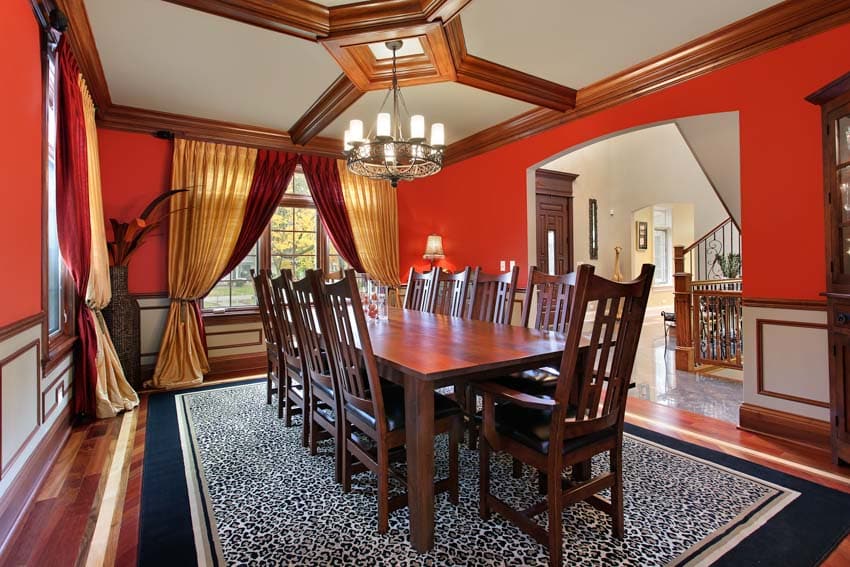 The dining room is an excellent venue for showing off mission-style furniture because it has a formal setting. Suppose you are seeking furniture that is sturdy and dependable.
In that case, it is a professional recommendation that you choose slatted mission dining chairs and a wooden buffet table. These are two pieces that will meet your needs. You can select the color of the stain you want to use, which will contribute to the beauty of the whole thing.
Mission Style Office Furniture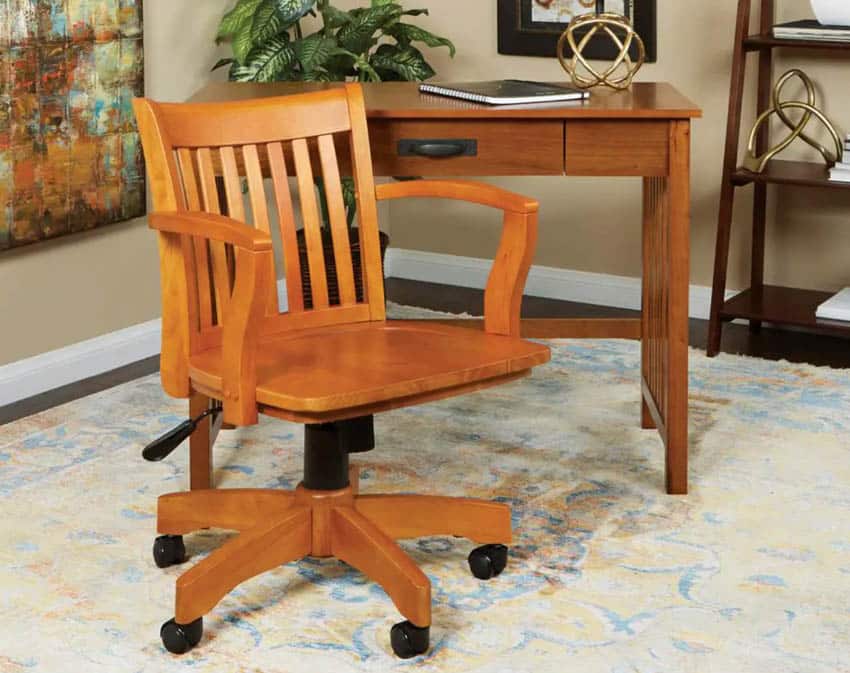 See this mission style swivel chair at Home Depot [sponsored link]
It is vital for office furniture to be not only aesthetically stunning but also have adequate storage space. It is also essential for the furniture to be practical. These three characteristics should all be present in the furniture.
Installing a bookcase that has a design that comes in the mission style into your home office and a slatted desk that comes with add-ons such as a bottom shelf or drawer would significantly improve this quality space.
Mission Style Nursery Furniture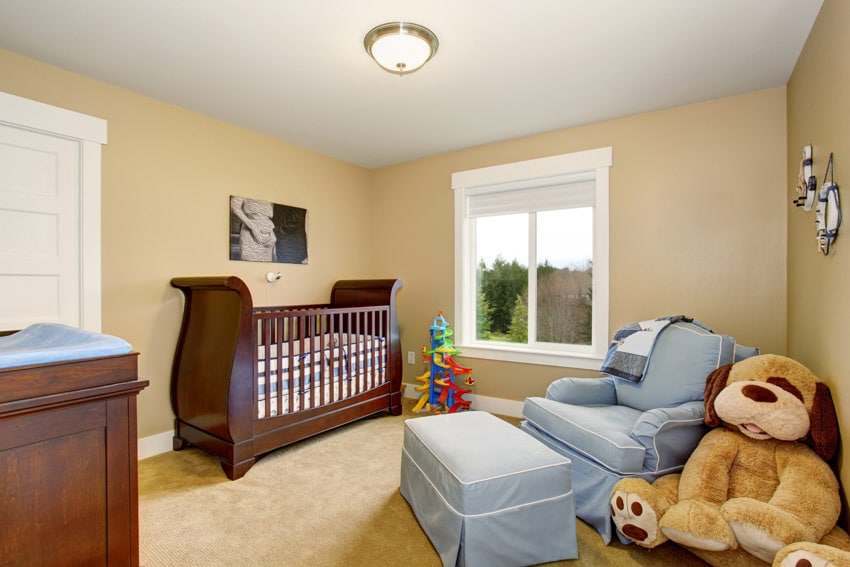 The room in your home that acts as a nursery would benefit significantly from installing a baby crib equipped with slats or a size-appropriate bed for a child of that age.
You could also include in the mix a rocking rocker designed in the mission's style and decorate the room with colorful types of wallpaper and carpets to make it both entertaining and functional.
Mission Vs Shaker Style Furniture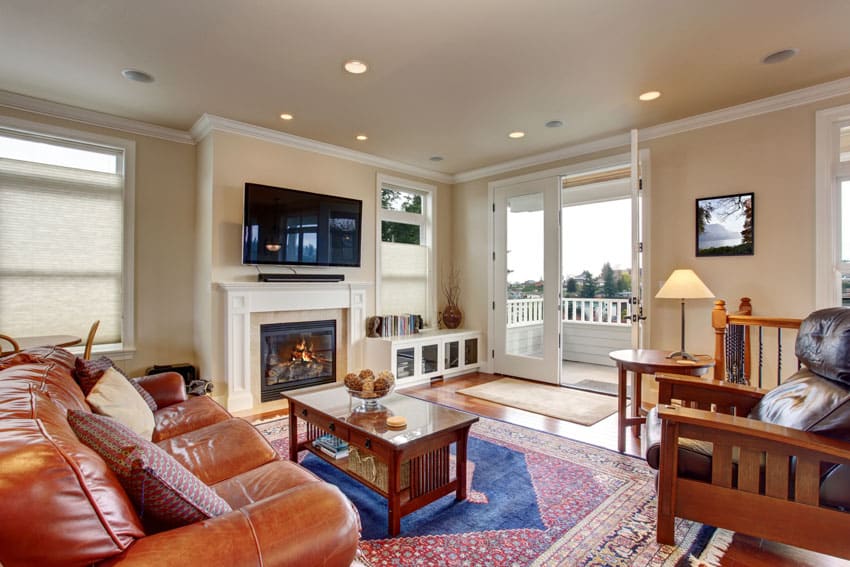 Because traditional furniture artisans have adopted both the mission and shaker styles of furniture, the two styles are frequently connected. Although the Amish are frequently the ones taking credit for being the originators of both design ideas, this is not the case.
In contrast to shaker style furniture, which the Shaking Quakers pioneered in the late 1700s and early 1800s, the mission style of furniture was conceived of by Joseph McHugh and developed further by Stickley.
Shaker-style furniture dates back to this period. In the following few decades, furniture in the mission style became popular. Both of these fashions can trace their roots back to New England.
Mission Vs Arts and Crafts Style Furniture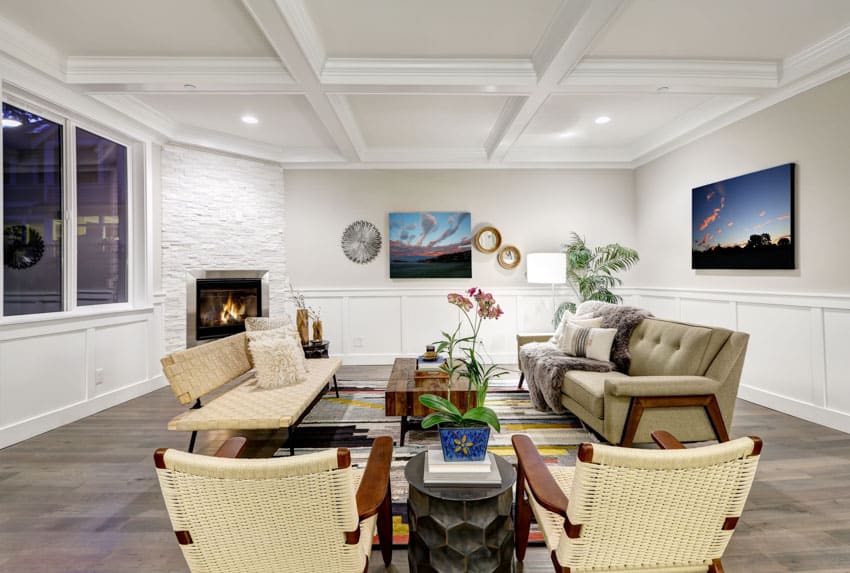 The Arts and Crafts movement emerged as the first of the three styles. This fashion movement developed between 1880 and 1910 in England, Australia, the United States of America, and Canada as a reaction to the ongoing industrial revolution.
The resistance came to be because of craftspeople who objected to "soulless" mass-produced goods from giant manufacturers. William Morris, an artist, and writer began the movement in the 1860s. He is responsible for creating the "Morris Chair," which is still in use even up to this day.
They favored the master craftsman, who was responsible for creating all of an object's component elements and assembling and finishing it with the assistance of apprentices. It contrasts industrial plants, whose objective was to produce the maximum number of individual units possible. Additionally, it was a reaction against the extravagant adornment that was popular throughout the Victorian era.
The beauty of the material, predominantly wood, was emphasized while maintaining an emphasis on the movement's characteristic of simple forms, even to the point of exposing the joinery. They frequently used carvings, inlays, curves, and various other forms of embellishment. They also brought elements they found in British textiles that featured flora and fauna.
The artisans did not categorically reject the use of machinery. In most cases, they used technology to reduce the number of mindless repetitive chores they had to complete, such as sanding. However, we tried to limit our reliance on machines as much as possible.
Is Mission Style Furniture Still In Style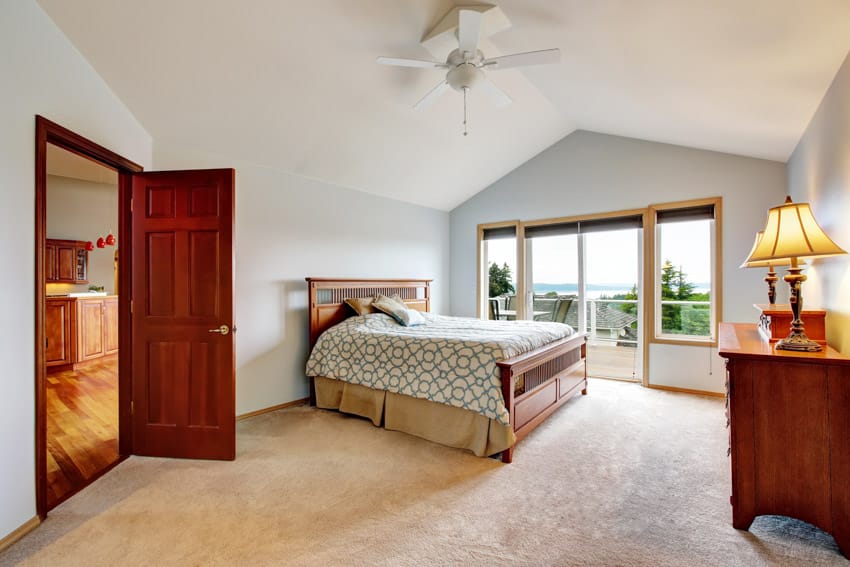 Indeed, we can confirm that this is still the case. To go so far as to assert that it will continue to be fashionable in the years to come is not even stretching the truth.
In the early 1900s, there was a spike in the popularity of furniture designed in the mission style. It has carried over into the present day. The timeless elegance, the versatility of its construction, and its high quality contribute to its popularity.
Because it is painstakingly handcrafted from the most superior quality materials with longevity in mind, Mission furniture has a design meant to last for many years to come. It is because the highest quality materials are part of its construction.
The growth of the arts and crafts movement was a pivotal factor that contributed to the evolution of the mission style of furniture. It ensured that employees in an industrial environment did not feel suffocated.
They may take greater delight in something they have created with their own two hands. The concept of a craftsman sprang to prominence simultaneously as mission furniture achieved broad acceptance. As a result, even while mission furniture items remained unadorned and functional, their artistry level was exceptionally high.
See more related content in our article about craftsman living room designs on this page.