Welcome to our types of leather for furniture buying guide including the best quality types, colors & dyes and leather grades.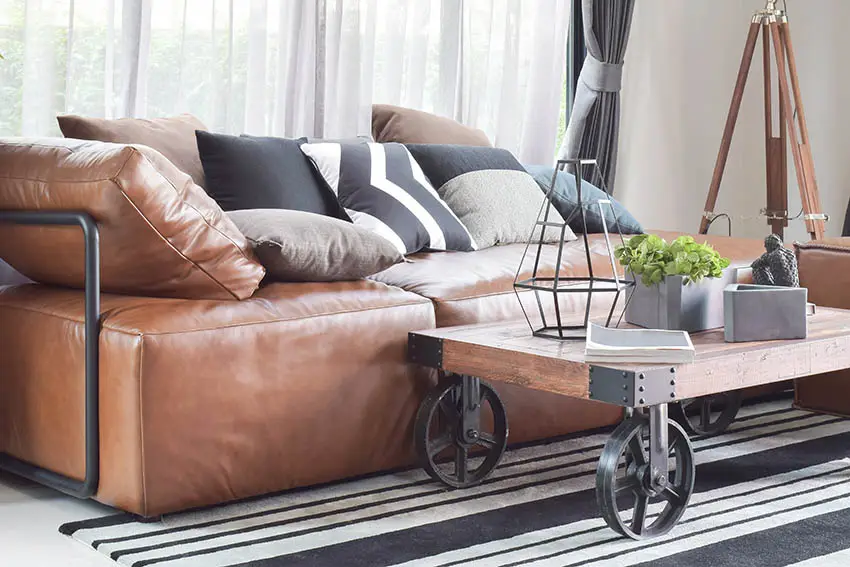 Leather-making goes back 7,000 years, and today's commercial leather-making process enlists the same techniques from yesteryear using modern equipment.
There are three steps to creating leather: preparing the hides for tanning, tanning, and then processing the tanned leather to manufacture items such as shoes, belts, purses, sports equipment, and even industrial buffing wheels.
Tanning takes its name from tannic acid derived from tree bark and plants such as vegetables. It works similar to an astringent, being antibacterial and anti-parasitic.
Wood tannins are typically used for tanning animal hides and skins that are processed into leather. The cowhides can be split into layers after the tanning process to create different surface designs, colors, and leather grades.
Using leather to cover furniture creates long-lasting, comfortable, and luxurious pieces. This informative guide to the types of leather for furniture will help you choose the perfect grade and colored leather to fit your home's décor and style.
Leather Types
The leather types start with five types based on the layers of an original hide that remain when the leather is completely processed. They're categorized as full grain, top grain, genuine, split grain, and bonded leather.
The finish's quality of leather and characteristics differ depending on where the hide came from and the animal it was taken from.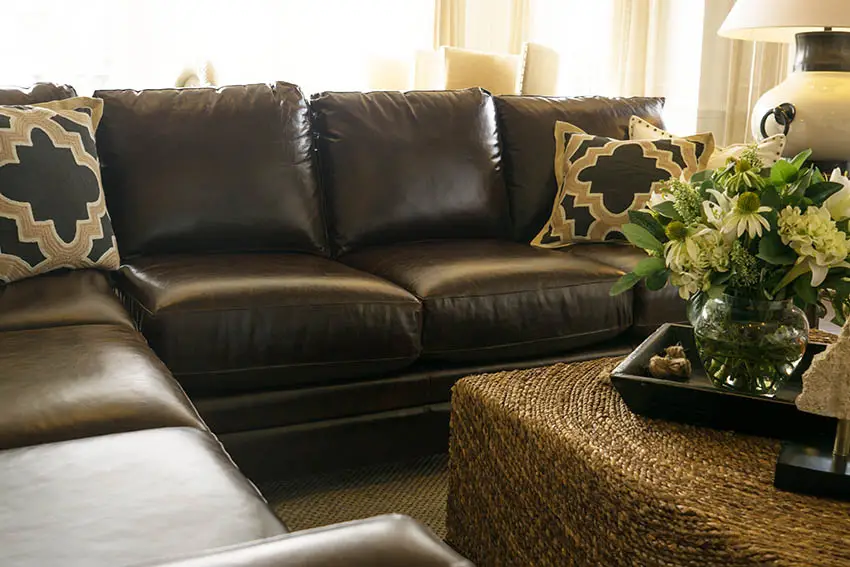 From these five types come the following variations offering consumers numerous choices.
Pigmented Leather
Leather has naturally occurring markings on the surface. While they do not affect the quality of the leather, some homeowners prefer furniture without the markings. To hide these imperfections, dye or pigment is applied to the leather's top layer.
Aniline Leather
Aniline dyes are translucent, and instead of covering up imperfections, they highlight the natural markings and wrinkles on the hide.
The dying of the hide is done in a drum with aniline dye only, and this process is limited to high-quality, soft hides.
Aniline leather is one of the most expensive leathers made because of the hides' quality, and it develops a beautiful patina as it ages. Furniture made with aniline leather is highly desired and usually expensive.
Full Grain Leather
Full grain leather is taken from the very top layer of a hide and left natural with all the original grain and markings.
Full grain leather offers the highest quality and has a rugged finish. It's thick and softens as it ages, often used for saddles, cowboy boots, and of course, beautiful western leather furniture.
Split Grain
While full grain leather is the top layer, split grain leather is made from the layer below it. It remains durable but is soft and velvet-like and often used to make work gloves.
Split leather has a fuzzy surface making it challenging to be water-resistant. When split grain leather is brushed out, softened, and then colored, it becomes suede.
When shopping for suede furniture, be aware that at times, suede will be labeled as coated or laminated split leather, meaning it's been covered with a plastic or low-quality film with a manufactured grain feel. The film does not hold up to wear and tears and splits with age.
Top Grain
Top grain leather is similar to full grain but cut thinner. It's processed by buffing and polishing to make it soft but still retains the durability of full grain.
Top grain leather retains a better saturation of colored dyes making it more versatile. Even though top grain leather is not as breathable, it can be treated with products to make it stain-resistant. Top grain is an expensive leather.
Nubuck
Nubuck leather is made from aniline-dyed leather, both derived from the top of the hide. Sanding and buffing the top surface creates a supple finish and removes visible defects.
Nubuck is more durable than suede or bonded leather but and holds up well to outdoor use.
Bi-Cast
Using either split-grain leather or composite leather, the hide surface is sealed with a polyurethane coating creating bi-cast leather. When finished, bi-cast looks like top grain leather but is very inexpensive and is not durable.
Furniture made with bi-cast leather doesn't typically hold up well to a lot of wear and tear.
Bonded
Hide leftovers, pieces, dust, and shavings are bonded together and finished with a polyurethane or latex sheet, resulting in bonded leather.
It's almost impossible to figure out how much of the material is natural leather, and the manufacturer does not usually supply it. Often, it's spray-painted to mimic full or top grain leather is the cheapest and least expensive leather grade.
Faux Leather
This imitation leather is a good choice for furniture if you prefer not to use real animal hide; however, it won't stand the test of time, such as full grain leather.
Faux leather is made from a plastic material and treated with wax, dye, and polyurethane to create various colors and surface textures. Faux leather furniture is durable and inexpensive versus natural leather and is stain resistant.
Leather Coloring & Dyes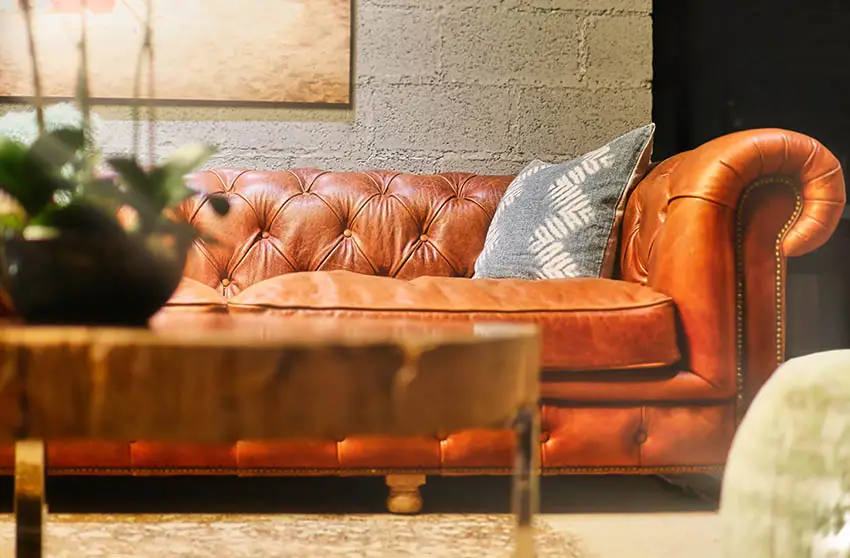 Dyeing leather involves preparing the leather and applying the dye until you achieve the right shade. Changing the leather color is not easy and takes some knowledge of how the dye will penetrate differently tanned hides and surface texture.
Shiny leather needs a lot of preparation for successful dyeing, whereas untreated, natural leather is more effortless.
There are different dye types, and some seep into the leather thoroughly, while other dyes are for the surface only, such as leather paint.
If you need a particular color of leather for your furniture that you cannot find, dying is an option. It's challenging to match the color when dyed leather becomes damaged and needs repair. A leather crafter may have to perform the repair.
When shopping for leather furniture in dyed colors, choose colors that work with your décor while keeping in mind the amount of visual space the furniture uses in the room.
Once dyed, the leather furniture may be overwhelming. Choosing a subdued color dye works well. There are different types of leather dye, each with its own characteristics and use.
Alcohol-based Leather Dye
Leather dye made with alcohol seeps into the leather to go beyond the surface. These dyes provide vibrant colors but do remove moisture and suppleness from the leather.
After the dye fully dries, the leather is commonly conditioned to restore some of the oil. Leather dyed with alcohol-based dye can also be treated with a finishing coat to protect the leather and seal the dye.
Oil-Based Leather Dye
Oil-based leather dye also penetrates the leather beyond the surface resulting in brilliant color. The oil-based dye does not pull out as much oil while drying as an alcohol-based dye.
Water-Based Leather Dye
For a less vibrant color, a water-based leather dye is more subtle, and the dye itself is less toxic than other types. Leather dyed with water-based dye should also be conditioned or treated with a protective coating.
There are several other types of leather dye, such as Low VOC with less chemical fumes, antique leather dye, which changes the surface and adds patina, and leather paint, a surface-only color.
The leather can be left in the sun for long periods to lighten the tone, and for darker leather, shoe polish may be applied to the surface of the leather.
Leather Grade Chart
Print out this handy leather grade chart to take with you when shopping for leather furniture for your home.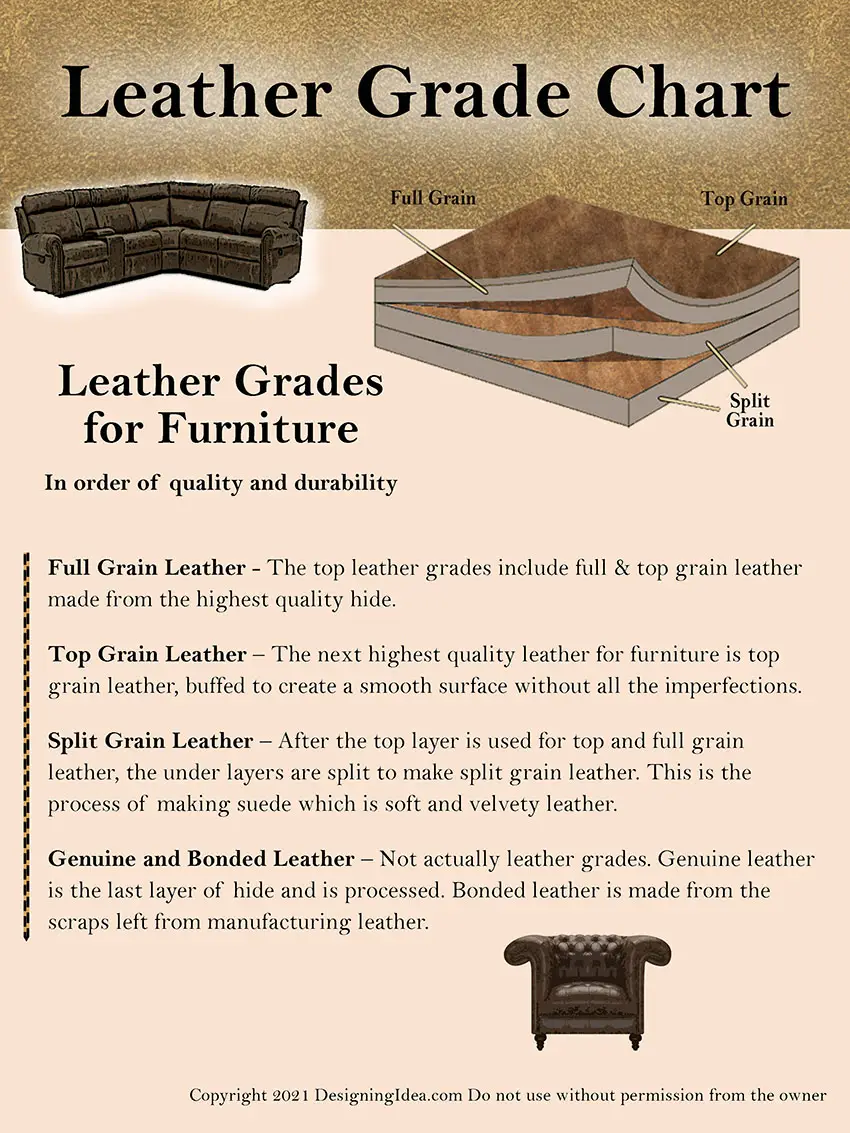 Leather Grades for Furniture
The leather grades or furniture are listed here in order of quality.
Full Grain Leather
The top leather grades for furniture include full and top grain leather made from the highest quality hide. Full grain leather endures less of a finishing process and retains the natural scars and markings. Full grain leather develops a natural patina with time and use.
Top Grain Leather
The next highest quality leather for furniture is top grain leather, buffed to create a smooth surface without all the imperfections. Top grain leather does not absorb water or oil.
Split Grain Leather
After the top layer is used for top and full grain leather, the under layers are split to make split grain leather. This is the process of making suede which is soft and velvety leather.
Genuine and Bonded Leather
These are not actually leather grades, although they are used frequently in the leather industry.
Genuine leather is the last layer of hide and is processed to give it pliability and sheen. Bonded leather is made from the scraps and dust left from the manufacturing process used to create leather.
It's mixed with chemicals and given a plastic-type layer applied to the top to seal and hold the mixture together.
Both genuine and bonded leather are similar to faux leather. When used on furniture, they provide an easy-to-clean surface that is very durable.
Leather Quality Levels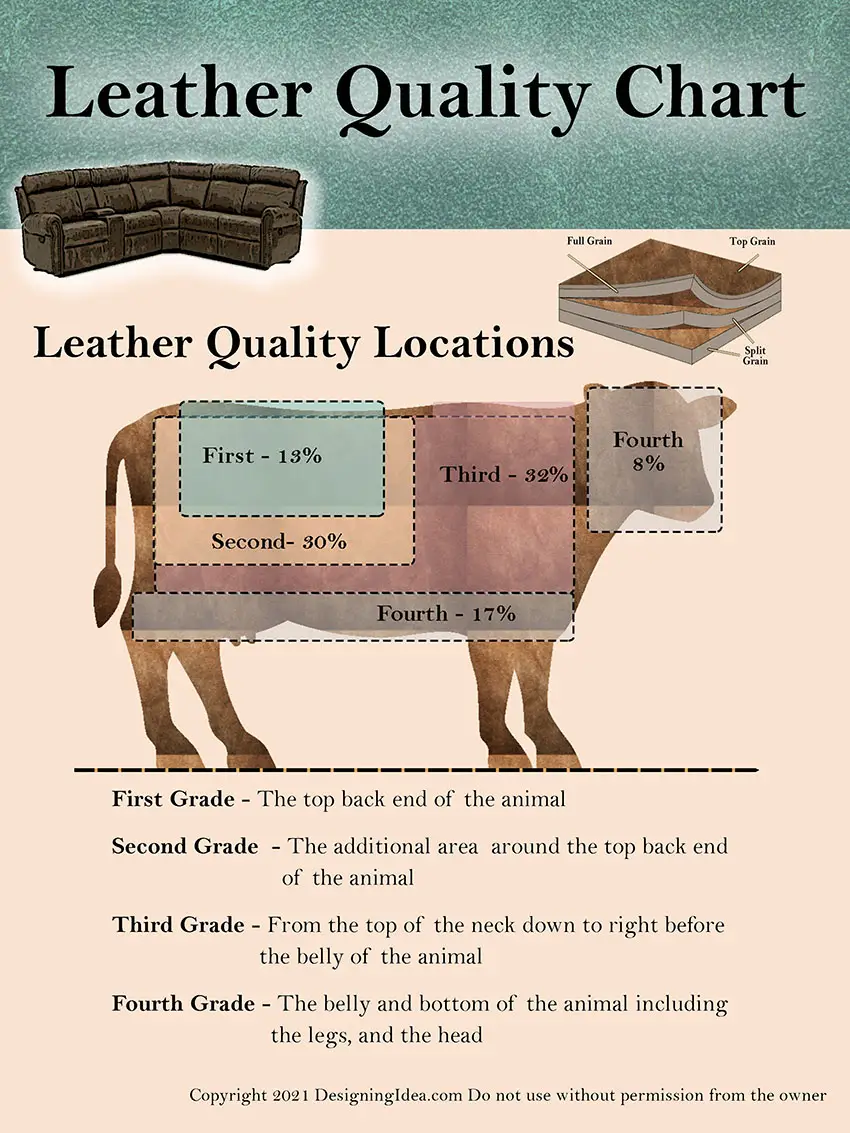 The factors below determine the best leather quality levels:
• The breed of animal the hide came from
• Where the animal was bred and raised
• The cut the hide was taken from
• The layer used to create the leather
• The skill of the tanner
The Quality Levels:
1st – The top back end of the animal
2nd – The additional area of approximately 12 inches around the top rear end of the animal
3rd – From the top of the neck down to right before the belly of the animal
4th – The belly and bottom of the animal, including the legs and the head
Different breeds of cows affect the quality of the hide due to genetics and where they are raised. Hot and humid climates with numerous bugs that bite will scar the hide, and areas with a cold climate result in thicker skin.
The hide came from affects the quality level, such as the top back end of the animal being the best and the head and underbody the least quality.
The lower parts and the head are often scarred from barbed wire, branches and more prone to bug bites. These areas also wrinkle more. The top area towards the back of the animal remains smooth and mostly impenetrable to bug bites.
Is Top Grain Leather Good for Sofas?
Top grain leather is pliable, soft, and easy to wipe clean. It's also resistant to staining, making it an excellent choice for furniture.
What Is the Best Leather for Furniture?
The most durable and easily dyed leather for furniture is pigmented leather furniture. The pigment used to dye the leather leaves a polymer coating on the leather providing better resistance to stains, scuffs, and fading.
Pigmented furniture allows for several types of finishes, including embossed, printed, and solid color.
Full grain leather is the highest quality leather. However, for most furniture pieces, top grain leather is likely a better choice as it is more resistant to stains than full grain. Top grain with a pigment added is even more resistant to staining.
Tips for Buying Leather Furniture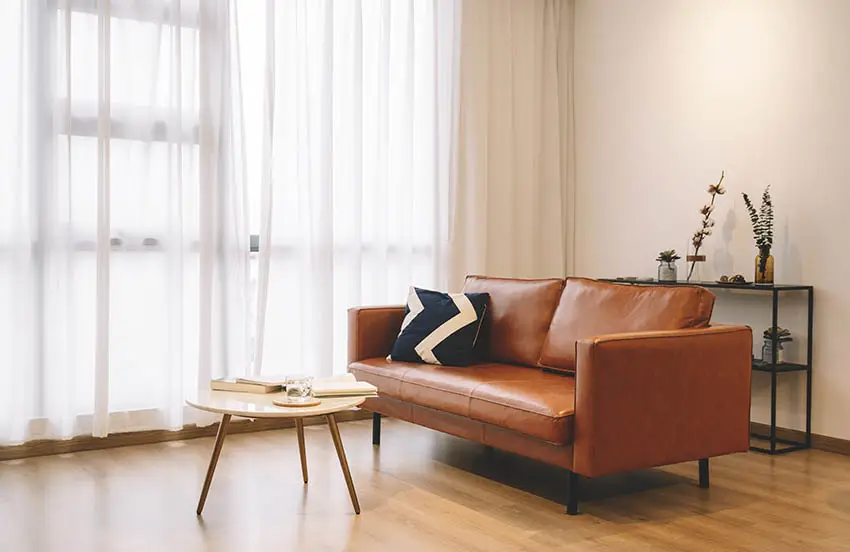 Always consider the room you're buying leather furniture for; the décor, design theme, lighting, and the room's use.
If children and pets will frequently use the furniture, a more durable leather is suggested. A showcase room with exquisite décor and infrequent use leaves the leather furniture choices open.
The many types of leather for furniture discussed in this guide provide information to help you decide what type of leather furniture you need for your home.
Once you decide on the type of leather, you can look for a few other characteristics when it comes to buying leather furniture.
1. Choose leather furniture with zippered seat cushions. The leather will last many years; however, the cushions may need to be refilled after time.
2. Avoid a leather and vinyl combination. Leather will outlast the vinyl, making it difficult to replace only the vinyl.
3. Check the furniture's back to see if there is one large piece of leather or areas with stitched details. The average hide is 3-feet by 6-feet, not large enough for a couch. If there is no stitching, then it's not real leather.
4. Don't rely on the price alone to determine the quality of the leather. Always ask the salesperson what type of leather it is.
5. Check for double-stitched seams with two rows of seams running parallel to each other. Double-stitched seams are stronger and typically used on leather furniture.
6. Check for a sturdy, high-quality frame and suspensions that will last as long as the leather.
The information in this guide provides many considerations when buying leather furniture. Now you can shop with confidence, knowing you've done the research needed to buy the perfect types of leather for furniture.
For more related information visit our guide to leather vs fabric sofas.